Sheet pan pizza is a simple and easy way to get dinner done whether you're serving your family or hosting a gathering! With as little effort and fuss as possible, the results are a crispy golden crust that holds up to all your favorite toppings!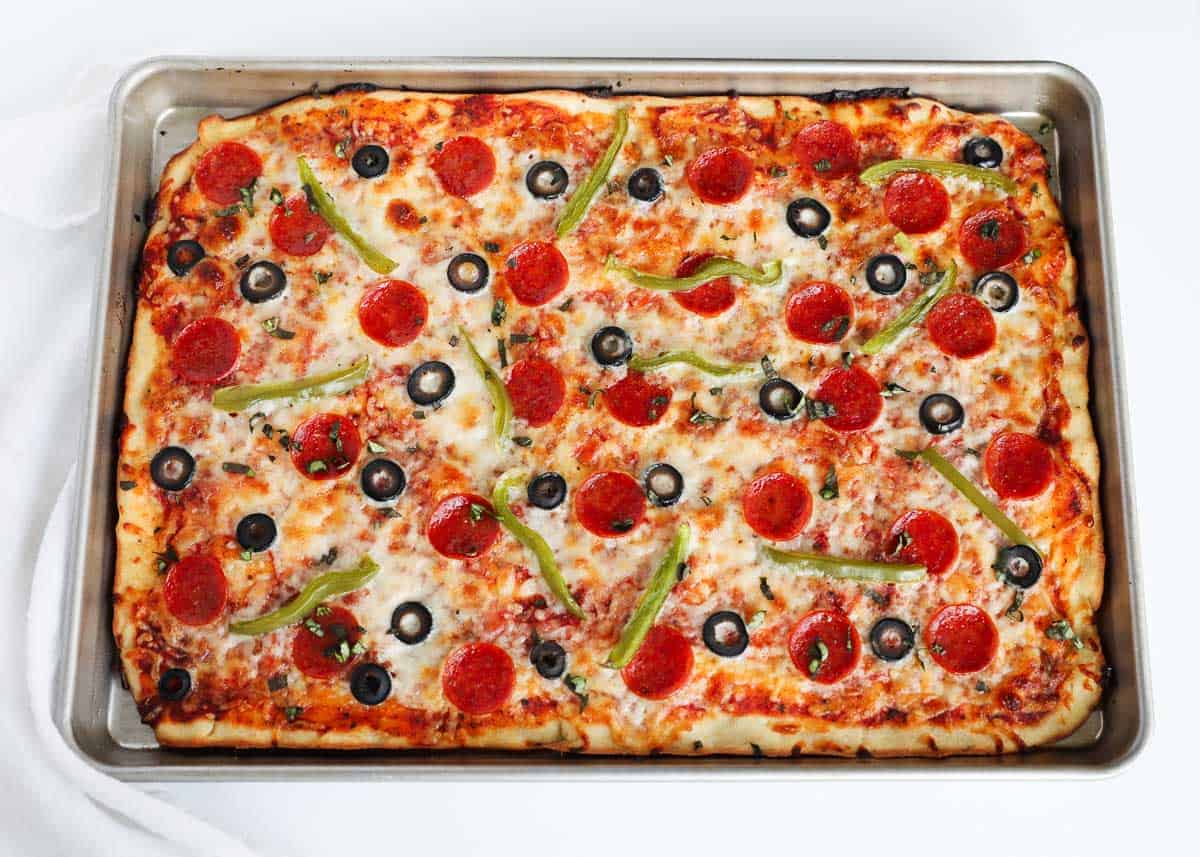 Easy Family-Style Dinner
Pizza night calls for an easy cheesy baked homemade pizza recipe with all your favorite toppings! This sheet pan pizza recipe is an easy way to make it, like my French bread pizza recipe or pizza with crescent rolls which means we can have homemade pizza night even during the week!
As with any sheet pan dinner recipe, there's minimal clean-up because everything is baked on one sheet, but what's great about sheet pan pizza is you can make as many as you want, and bake them at the same time.
The adults and the kids in my home don't always agree on toppings except when we are making heart shaped pizza, then it's cute pepperoni hearts all the way! For this pizza, though, making more than one makes sense and if you're serving a small group of people, there is plenty of room on one pizza to do half a classic pepperoni pizza and half with any other toppings you like!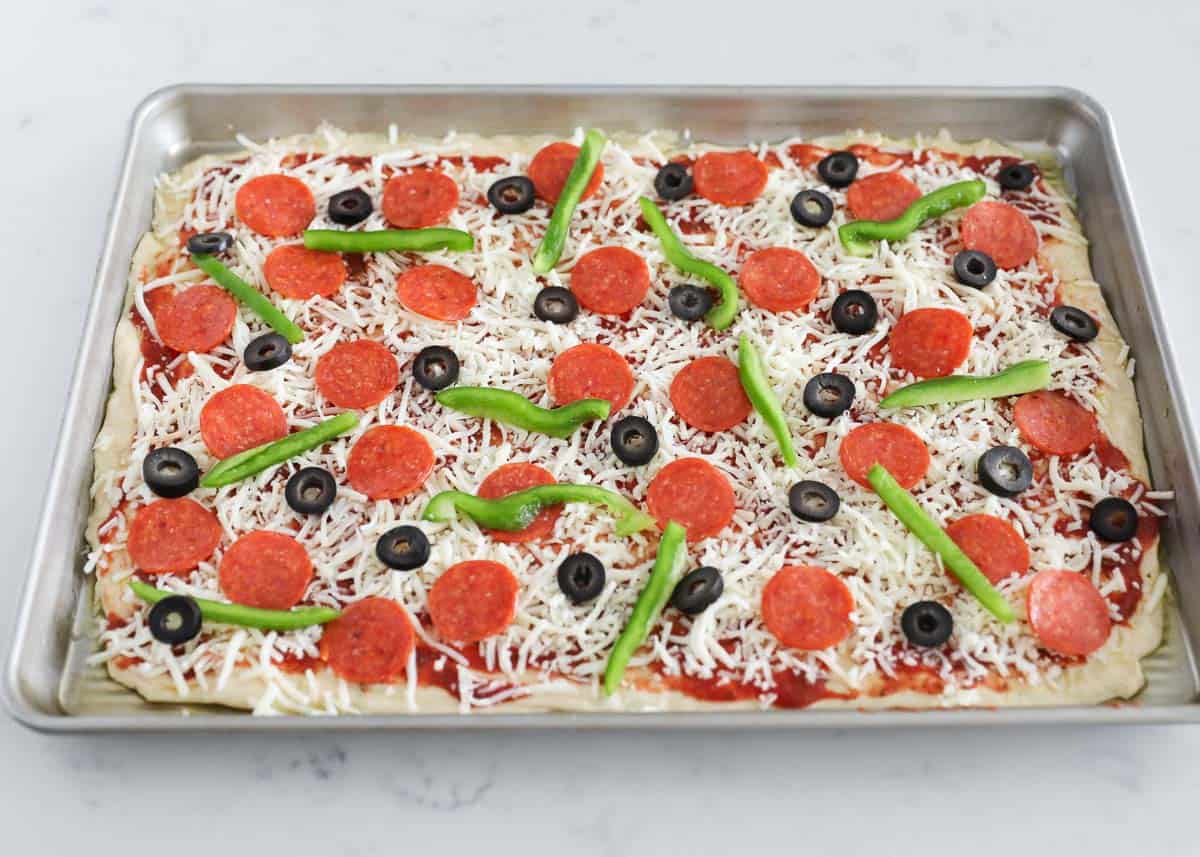 Best Sheet Pan Pizza Dough
If I have some of my regular homemade pizza dough or whole wheat pizza dough on hand, I can use one batch per pizza, however, I find if I use the Trader Joe's store-bought dough, I'll need to use two balls of dough per pizza. Then, it's just a matter of adding the pizza sauce, the cheese, maybe some Italian seasoning for added flavor, and then top it with our favorite meat and veggies!
If you're making the dough from scratch before you begin, it'll factor into the total time it takes for it to be ready. It's always a good idea to make more than one batch and freeze one for later on. That way, next time you just thaw it overnight, and it's ready to go when you are.
A Pizza Party
This sheet pan pizza makes enough for approximately 20 small slices, which is great for serving kids at birthday parties! Skip ordering out and save so much money by making your own! Make it a party activity and get the kids involved in choosing their favorite toppings. Even the pickiest eaters won't be able to resist!
Favorite Toppings
Customize your pizza your way with whatever toppings you love! Here are some of our favorites. Did I miss anything?
Pepperoni
Black olives
Green olives
Red or white onion
Chicken
Crumbles of bacon
Canadian bacon
Sliced mushrooms
Tomatoes
Fresh basil
Jalapeno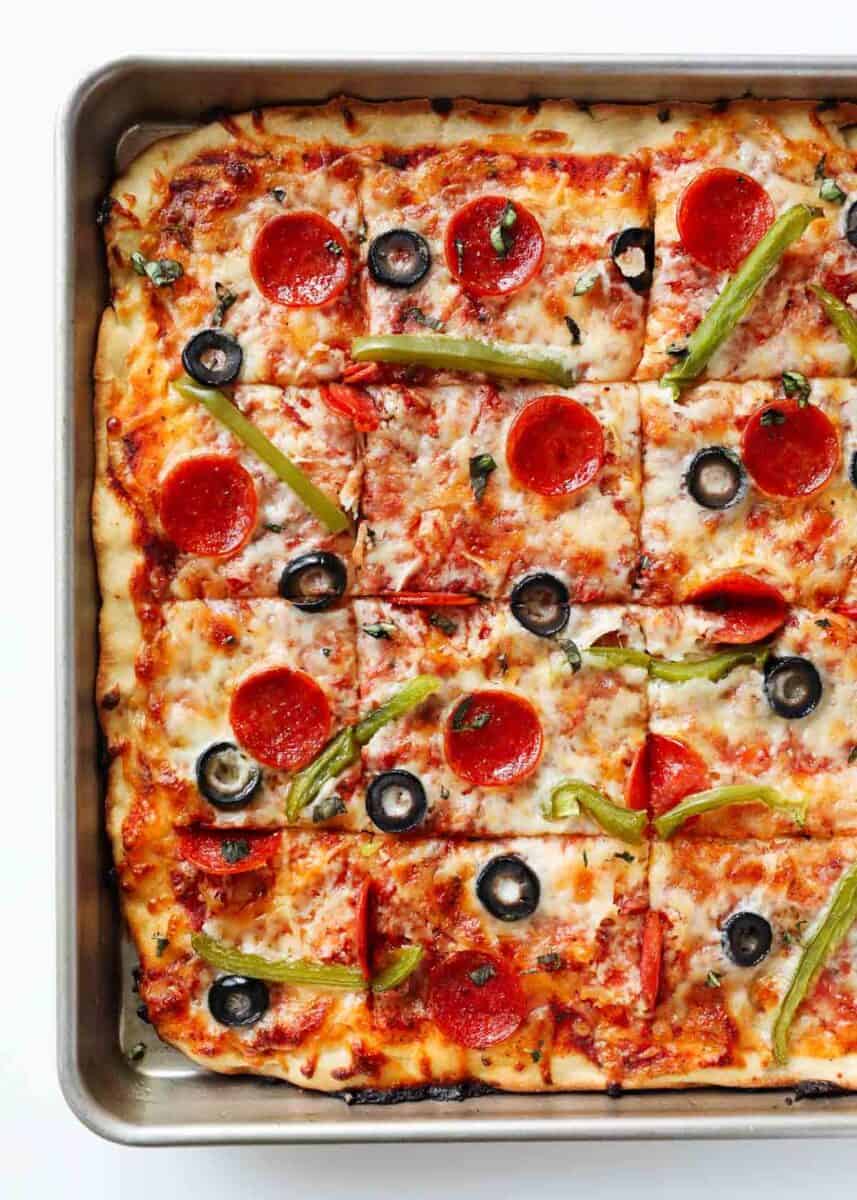 Tips and Tricks
Nonstick. Don't forget to grease the baking sheet, even on a nonstick sheet!
High heat. Baking it on high will give your crust that initial heat to brown nicely on the outside to a crispy crust while keeping it soft and tender on the inside.
Working with the dough. Use a rolling pin to roll out your dough first, if you're having trouble stretching it to the edges. Then, place it on the sheet and stretch it out to the edges.
Rest the dough. If you are finding there is too much bounce back, allow it to rest for a bit and try again.
Dough too cold? Make sure your dough is at room temperature before adding it to the baking sheet, otherwise it will be too hard to work with.
Slices big and small. This recipe will make 20 small slices, but depending on the size of your crowd, you can adjust to make fewer bigger slices.
How to Store & Reheat
Storing: Any leftover pizza can be stored in an airtight container in the fridge for up to 3 days. It's great for packing in school lunches or even reheating them for dinner the next day.
Reheating: For a softer crust, reheat it in the microwave. If you like a crispier crust all over again, use the stovetop or the toaster oven.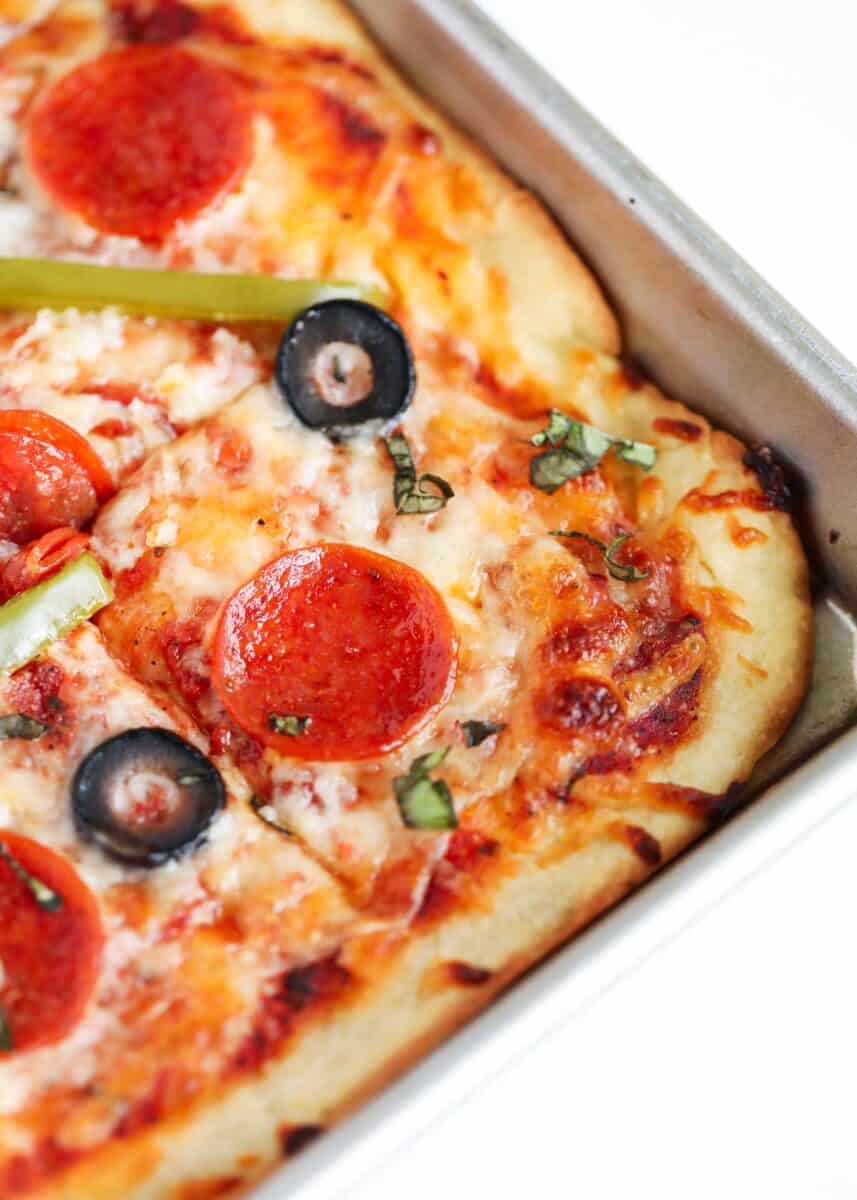 More Recipes for Pizza Night:
HUNGRY FOR MORE? Subscribe to my newsletter and follow on Facebook, Pinterest and Instagram for all the newest recipes!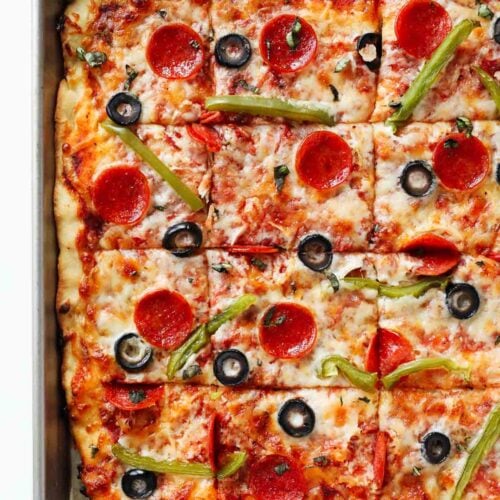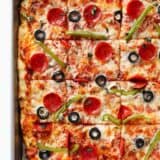 Sheet Pan Pizza
Sheet pan pizza is a simple and easy way to get dinner done whether you're serving your family or hosting a gathering! With as little effort and fuss as possible, the results are a crispy golden crust that holds up to all your favorite toppings!
Ingredients
Optional toppings: sliced tomatoes, pepperoni, sliced bell peppers, olives, sliced onion, mushrooms, Canadian bacon, pineapple, jalapenos, fresh basil
Instructions
Preheat the oven to 450°F. Lightly brush oil onto a 13×18" sheet pan. Press the dough evenly onto pizza pan.

Spread sauce over the dough and add your favorite toppings.

Bake for 15 minutes, or until golden brown and bubbly. Allow to cool a few minutes and then slice into 20 pieces.
---
Notes
Pizza dough: You can use homemade or storebought. If I'm buying pizza dough, I'll typically buy two balls at Trader Joe's. If I'm using my homemade pizza dough, I'll use the whole batch. You can also use my whole wheat pizza dough recipe for a healthier alternative.
Storage: Store leftovers in a covered container for up to 3 days. Reheat on the stove top, the microwave or toasted oven.
Nutrition
Serving: 2slices | Calories: 196kcal | Carbohydrates: 23g | Protein: 9g | Fat: 8g | Saturated Fat: 4g | Polyunsaturated Fat: 1g | Monounsaturated Fat: 3g | Cholesterol: 18mg | Sodium: 566mg | Potassium: 78mg | Fiber: 1g | Sugar: 4g | Vitamin A: 233IU | Vitamin C: 1mg | Calcium: 117mg | Iron: 2mg
Nutrition provided is an estimate. It will vary based on specific ingredients used.
Did you make this recipe? Don't forget to give it a star rating below!