These mouthwatering steak fajitas are made with marinated strips of juicy steak, sautéed onions and peppers, and filled to the brim with all of your favorite zesty toppings!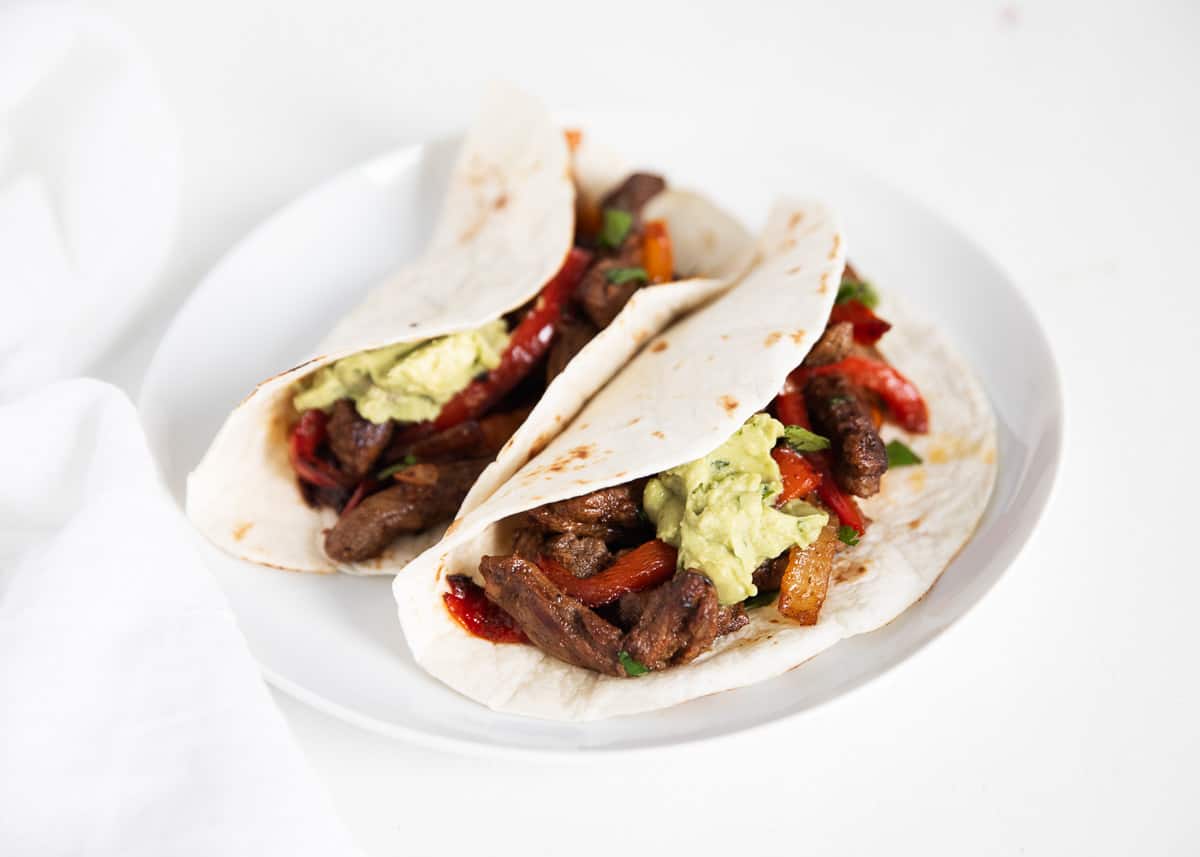 Flank Steak for Fajitas
We've all eaten meals at our favorite restaurants, many times ordering the same dish because we love it THAT much. We think to ourselves, if only I could make this at home, then I could eat it any time I want. Well, now you can!
Enjoy sizzling seasoned strips of tender juicy steak marinated in the ultimate fajita seasoning and steak fajita marinade. Then wrapped in a warm flour tortilla along with beautifully charred sautéed fajita veggies. All of this flavorful goodness is topped only by the best guacamole recipe, shredded cheese, salsa, and whatever else your loved ones enjoy. Maybe even a squirt of lime.
This is a budget-friendly way to enjoy easy homemade steak fajitas any night of the week! You'll also want to check out my post on how to cook steak in oven.
Best Steak for Fajitas
There are a few things to consider when picking what kind of steak to use for your fajitas. One, you want a steak that will remain juicy and absorb all of the delicious dry rub and marinade. Two, you want meat that cuts nicely and can create thin strips of beef. And three, you want slices of steak that you won't be chewing for hours. It needs to be tender and melt in your mouth. Both skirt steak and flank steaks are great cuts and fit the bill on all of these things. You can't go wrong with either choice!
Fajitas vs. Tacos
Across North America, we sometimes refer to tacos and fajitas as typically interchangeable and very similar. In Mexico, that isn't the case at all! Fajita is generally referred to as the filling. It's the grilled meat and cooked veggies like chopped bell peppers and onions. A taco is usually a combination of cooked meat, topped with diced raw veggies and considered almost a sandwich. And did you know, it's only in America that hard shell tacos are a thing?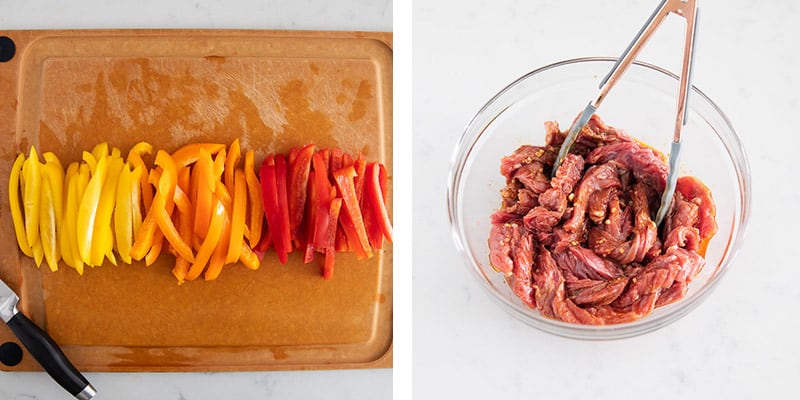 Tips for Tender Steak Fajita Strips
My super easy marinade doesn't require you to cut the steak first, so the choice of when to cut is yours. However, there are a few rules of thumb to follow in order to get tender strips of steak.
Marinating is a must. Allowing the lime juice to break down the fibers in the steak all the while penetrating crazy delicious flavor, is super important.
Cut against the grain. When it comes time to cut, using a sharp knife, cut against the grain. If you choose to cut prior to marinating, it can also be helpful to cut while the meat is still a tad frozen. Then thaw completely before adding it into the marinade.
Meat tenderizer. If you find whatever cut of beef you have chosen, isn't uniform in thickness, you may want to use a meat tenderizer to bang it down a bit thinner.
Favorite Toppings
Typically fajitas are served with the meat and sautéed veggies as a standalone dish. The flour or corn tortillas are served as a side, along with rice, beans, and all other toppings. Choosing how to dress up your fajita is the best part!
Shredded lettuce
Diced tomatoes
Sour cream
Cilantro
Beans
Squirt of lime
Shredded cheese (cheddar, jack, colby, etc.)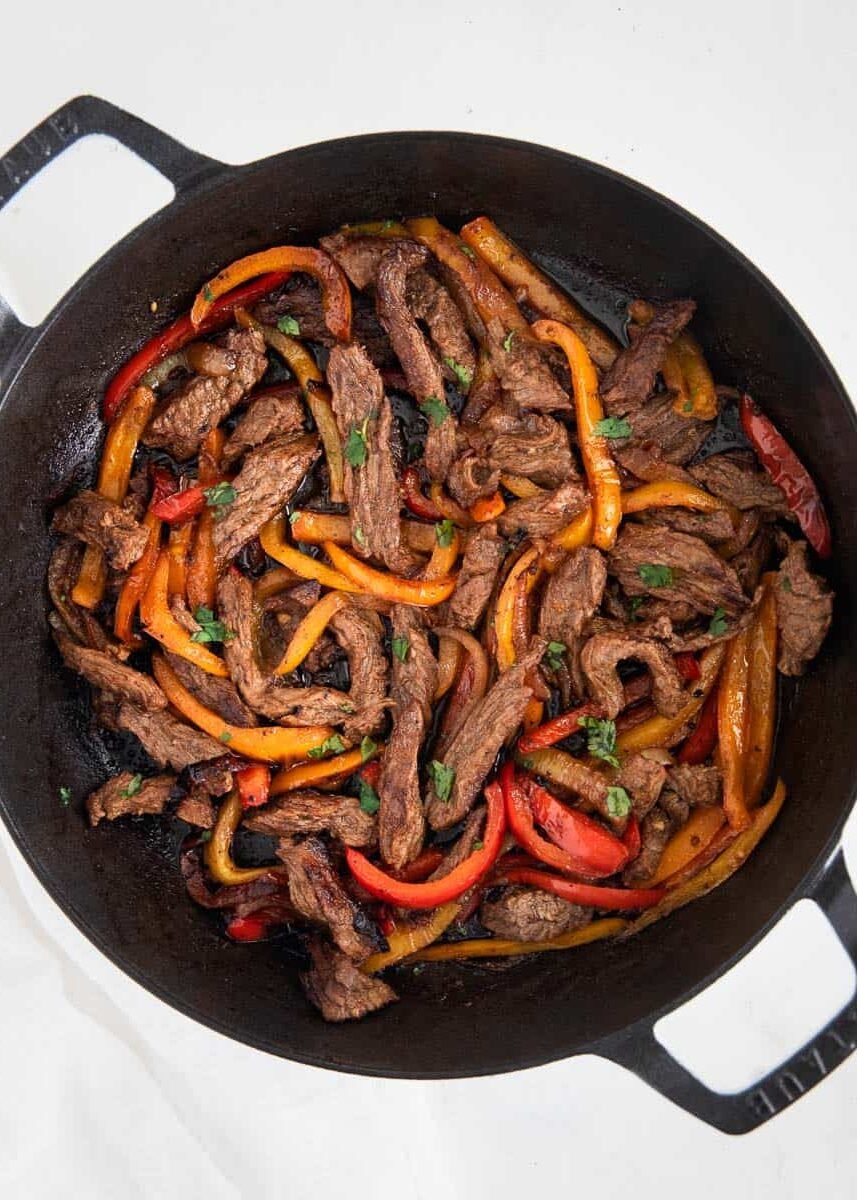 Variations
I love any and all things fajita, whether it's a fajita salad or sheet pan chicken fajitas. If you're like me and easy fajita dinners are your jam, you're about to fall in love with this delicious steak version. You will be enjoying authentic Mexican flavors right at home with this quick and easy, restaurant-quality meal!
Gluten-free. Swap the flour tortilla for a corn tortilla. A sturdy, healthy alternative to flour tortillas.
Low carb options. Skip the tortilla altogether and opt for serving your fajita in lettuce cups, or as a lettuce wrap. You can also serve it on a bed of greens as a fajita salad.
More veggies. Load it up with veggies as a way to sneak in your extra daily servings.
A different protein. This fajita recipe works for chicken, pork or even make a recipe for shrimp fajitas. Just swap out the beef and marinade for a little while less than you would the steak.
Vegetarian. Enjoy a vegetarian fajita for a meatless Monday and skip the meat completely. Substitute tofu, tempeh, or a ton more veggies and season with the same steak fajita seasoning. Mushrooms, zucchini, cauliflower, all work well alongside the bell peppers.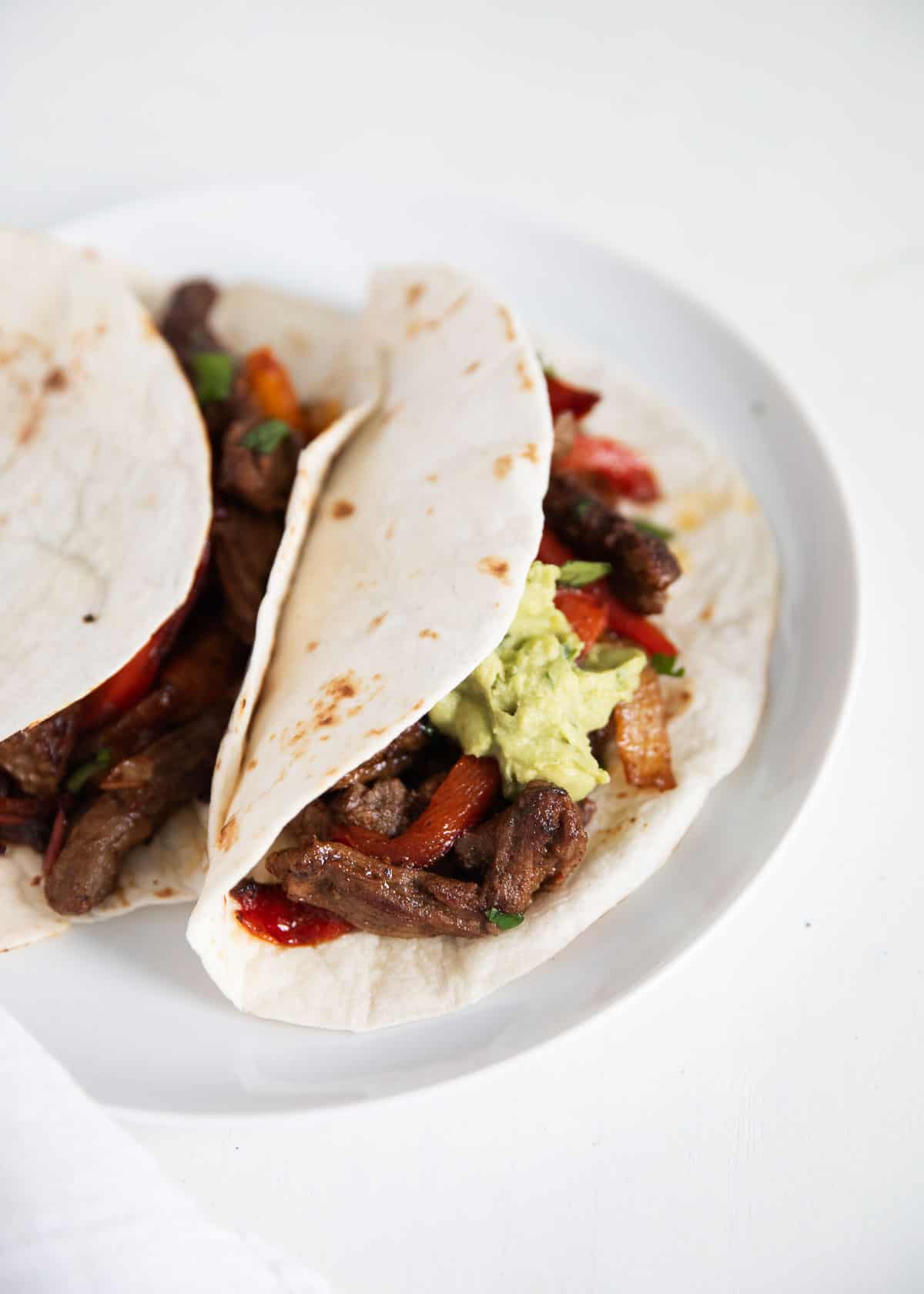 More Mexican Favorites
HUNGRY FOR MORE? Subscribe to my newsletter and follow on Facebook, Pinterest and Instagram for all the newest recipes!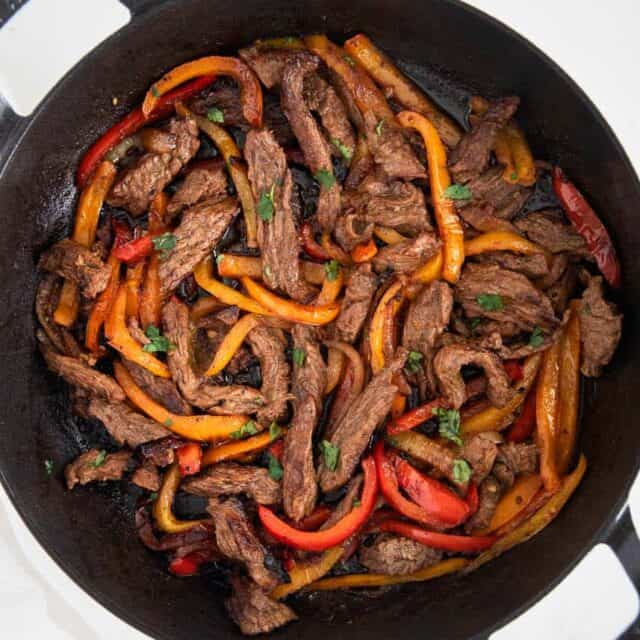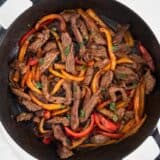 Steak Fajitas
These mouthwatering steak fajitas are made with marinated strips of juicy steak, sautéed onions and peppers, and filled to the brim with all of your favorite zesty toppings!
Ingredients
For Fajitas
1 Tablespoon olive oil
2-3 bell peppers , sliced into thin strips
½ onion , sliced
For serving: Lettuce cups, flour or corn tortillas, rice, beans, cilantro, guacamole, sour cream, cheese and/or salsa
Instructions
Place 1 pound steak in bowl. You can leave it whole or slice into strips (against the grain).

Combine the olive oil, lime juice, fajita seasoning and garlic in a small bowl. Whisk until combined. Then pour over the steak. Cover the bowl and place the steak in the refrigerator and allow to marinate for at least 60 minutes. Best when marinated for 4 hours+.

Heat 1 Tablespoon olive oil in a skillet to medium-heat heat. Place the steak onto the skillet and cook each side for 3-5 minutes or until reaches desired internal temperature. Be careful not to overcook. Then remove and cover with foil. Allow to rest.

Then add the sliced bell peppers and onions to the pan and cook until sizzling hot, about 3 minutes. Salt and pepper to taste. Slice the steak if you haven't yet (against the grain) and add back to the pan.

Assemble the fajitas. Serve in tortillas, lettuce cups or on top of a salad or rice bowl. Add desired toppings. Serve while warm.
---
Nutrition
Calories: 362kcal | Carbohydrates: 9g | Protein: 26g | Fat: 26g | Saturated Fat: 6g | Trans Fat: 1g | Cholesterol: 71mg | Sodium: 79mg | Potassium: 538mg | Fiber: 3g | Sugar: 3g | Vitamin A: 1939IU | Vitamin C: 80mg | Calcium: 77mg | Iron: 4mg
Nutrition provided is an estimate. It will vary based on specific ingredients used.
Did you make this recipe? Don't forget to give it a star rating below!