A nostalgic, economical and easy recipe that feeds the whole family. These homemade sloppy joes are hearty, savory and have the best flavor!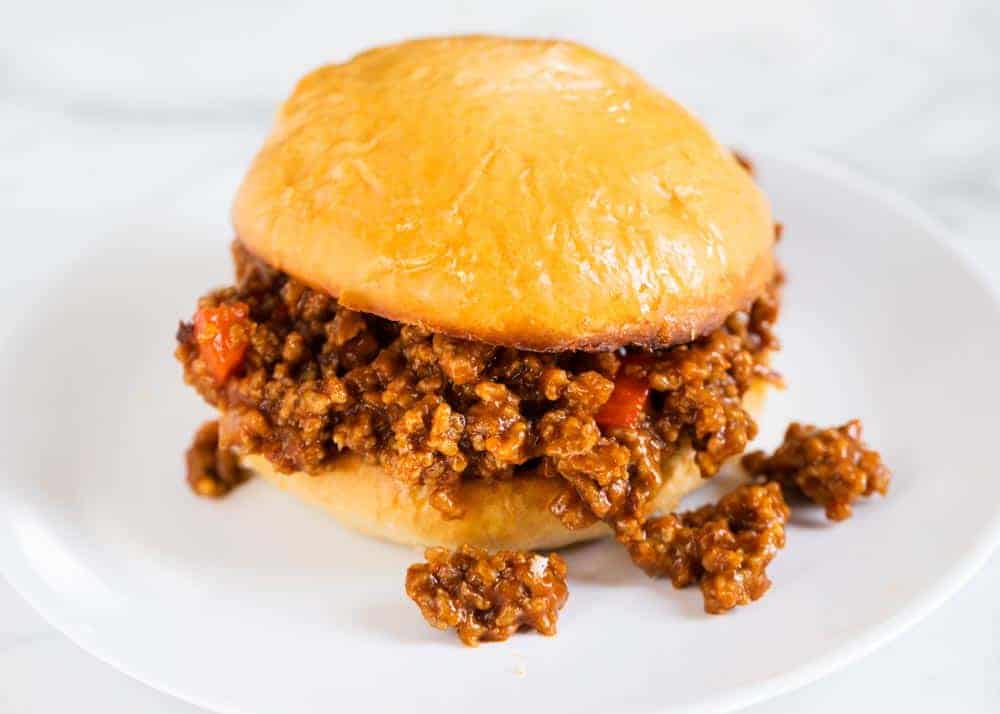 The Best Homemade Sloppy Joes
This is one of those dishes that almost everyone grew up eating. It may not be the prettiest, but it sure is delicious. It was a childhood favorite in our house, as well as meatloaf, chicken pot pie and pot roast.
This sloppy joe recipe was always a childhood favorite. There's just something about family time and sloppy joes! It's a classic 30-minute meal that's super economical and easy to feed the whole family.
Making these sloppy joes from scratch was just as easy as popping open a can, but they have more nutrition from using fresh ingredients (and the more fresh veggies I can sneak into dinnertime, the better!). They're hearty, savory and have the best flavor. Plus the brown sugar adds just the right amount of sweetness.
Why is it Called a Sloppy Joe?
Sloppy joes have been around for as long as I can remember. The name is definitely unique, so many wonder how the sandwich got it's name. Many claim that it was actually invented by a cook named Joe in an Iowa cafe in the early 1900's. He created a "loose meat" sandwich made of beef and tomato sauce, which is now known as the sloppy joe. Over the years, the dish has evolved and now typically includes beef, tomato sauce or ketchup, veggies, mustard, Worcestershire and other seasonings.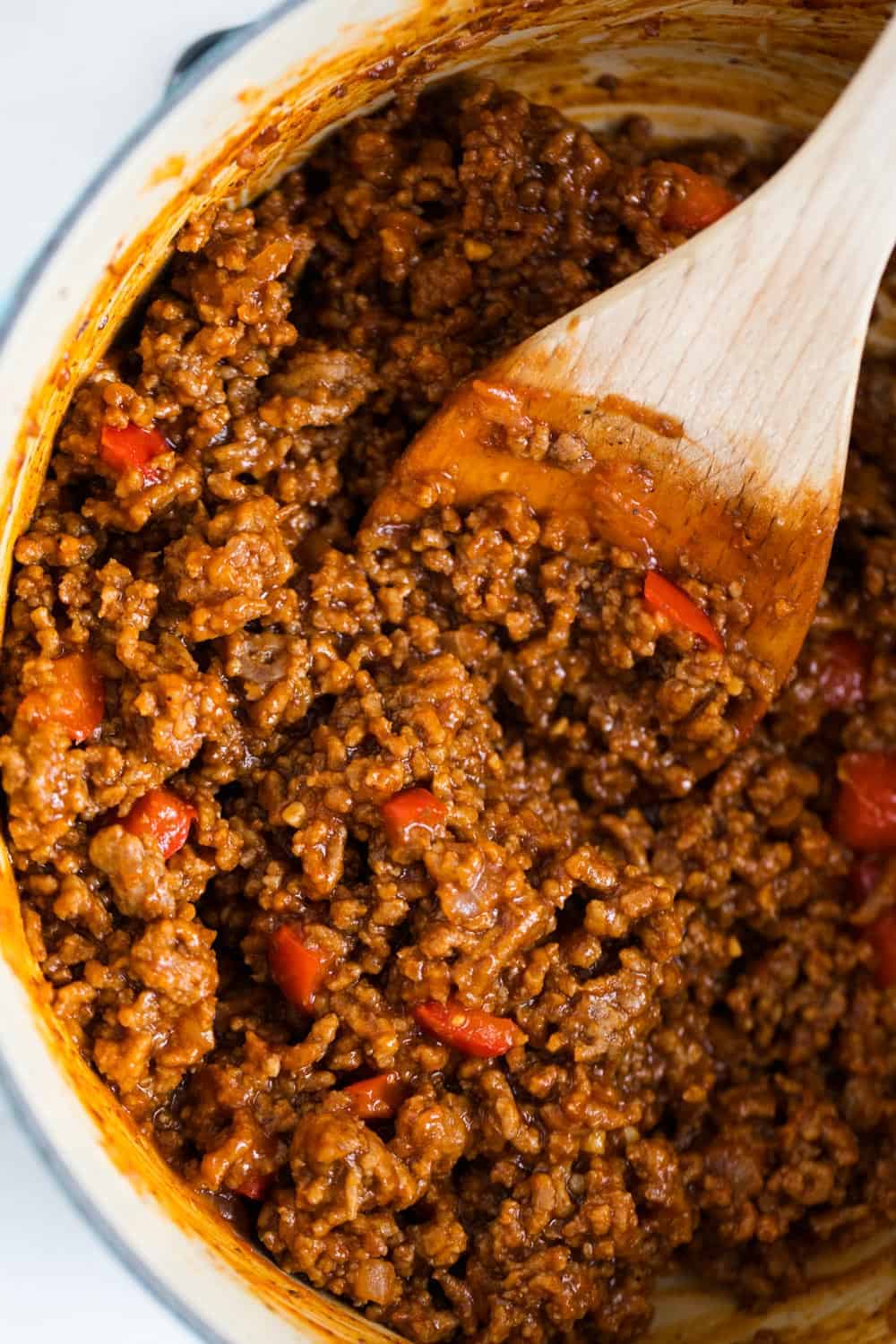 Ingredients
Below are the main ingredients (amounts included in printable recipe below), but feel free to sneak in even more veggies if you'd like. We love to serve them on fresh hamburger buns too.
Ground beef: I use 80-90% lean ground beef. It still has enough flavor, without being overly greasy.
Onion: I prefer to use a white or yellow onion when making sloppy joes.
Red bell pepper: Diced red bell pepper is my go-to veggie to add in. Feel free to add in others like chopped yellow bell pepper, tomatoes or chopped carrots.
Minced garlic: Fresh minced garlic adds so much flavor. You could also use 1/4 teaspoon garlic powder if you don't have fresh garlic on hand.
Ketchup: This gives the sloppy joes that famous red color and tangy taste. The bulk of the sauce is made of ketchup.
Brown sugar: You don't need a lot…just enough to balance out the acidity from the ketchup and add a slight hint of sweetness.
Mustard: Plain yellow mustard works best.
Worcestershire sauce: Adds a savory umami flavor to the sauce.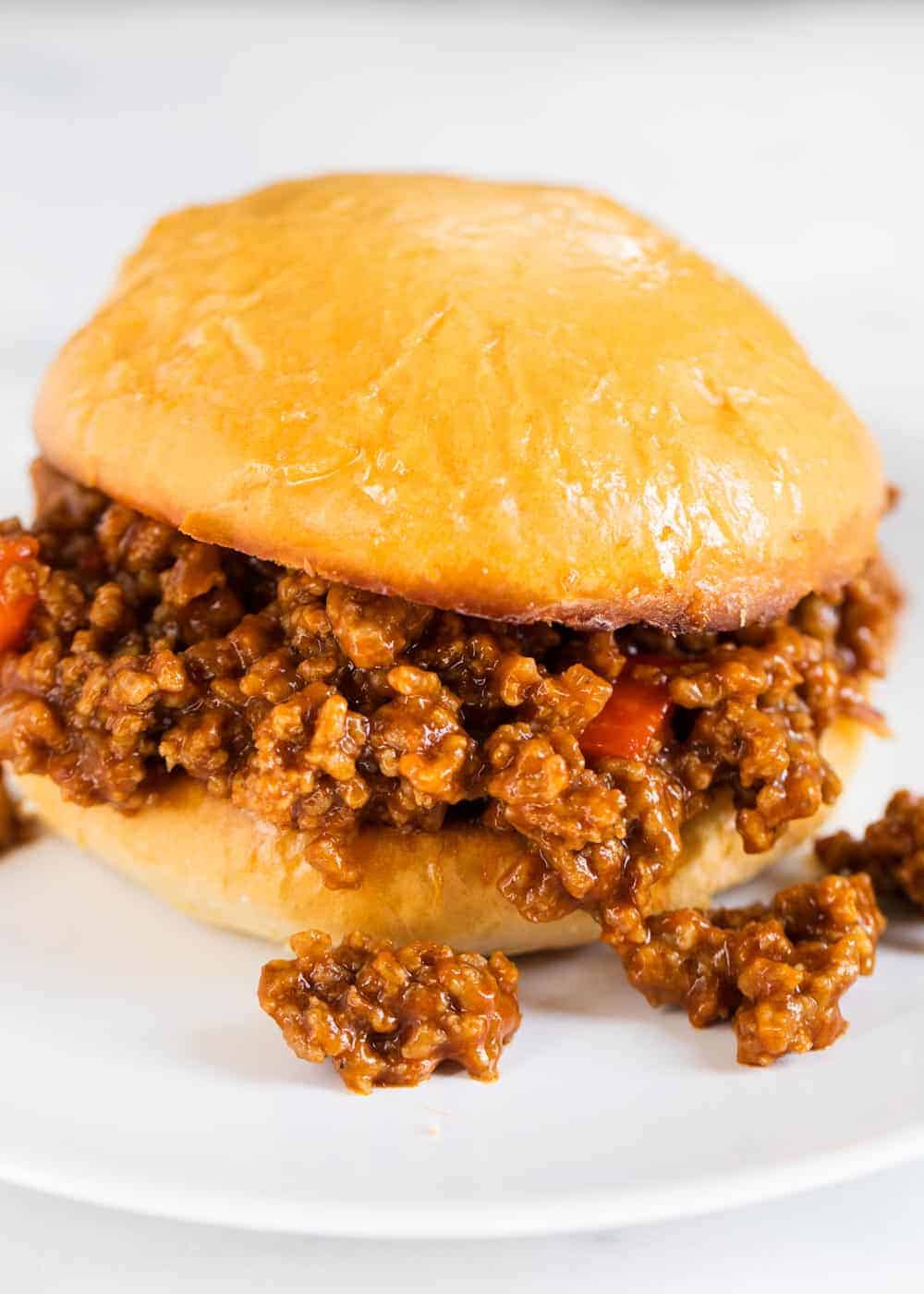 How to Make Sloppy Joes
Scroll down for the printable recipe.
COOK. Brown the beef in a large frying pan with chopped onion, red bell pepper and garlic. Then mix in the ketchup, brown sugar, mustard and Worcestershire and season with salt and pepper.
SIMMER. Cover and let simmer for 10 to 20 minutes (stirring occasionally). If more liquid is needed, add more ketchup or a couple Tablespoons of water.
SERVE on toasted hamburger buns with your favorite sides (we love homemade french fries or mac and cheese).
Cooking Tips
Thickening the sauce. The sauce will continue to thicken as it simmers. If for some reason your sloppy joes have too much liquid after simmering, try adding in some corn starch. Just mix about a Tablespoon of both cornstarch and water together in a small bowl and combine. Then add the mixture to the sauce and stir until it thickens.
Toast the buns. This makes all the difference! Not only does it give a nice flavor, but it helps soak in the sauce without getting soggy. I love to toast mine on a buttered griddle for a few minutes until golden.
Repurpose your leftovers. Use leftovers to make a whole new dish! Serve over a baked potato, in a grilled cheese or on top of nachos.
Freezing Leftovers
This recipe makes a great freezer meal. I love to double the batch and freeze half for a busy night. Let the meat cool, then place in a freezer bag (make sure to seal out any air) and freeze for up to 3 months. Let thaw in the fridge overnight, then reheat in a skillet or microwave until warm.
More Easy Dinner Ideas
HUNGRY FOR MORE? Subscribe to my newsletter and follow on Facebook, Pinterest and Instagram for all the newest recipes!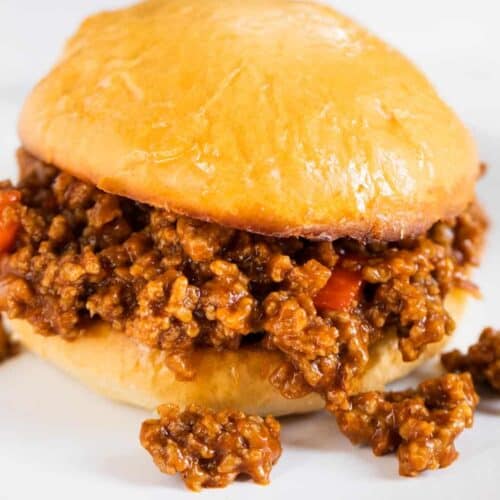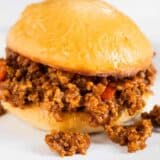 Homemade Sloppy Joes
A nostalgic, economical and easy recipe that feeds the whole family. These homemade sloppy joes are hearty, savory and have the best flavor!
Ingredients
1 pound lean ground beef
⅓ cup chopped onion
⅓ cup chopped red bell pepper
1 teaspoon minced garlic
¾ cup ketchup
1 tablespoon light brown sugar (more to taste)
1 teaspoon yellow mustard
½ teaspoon Worcestershire sauce
For serving: hamburger buns
Instructions
Brown ground beef with onion, red pepper and garlic in a frying pan over medium heat. Add in ketchup, brown sugar, mustard and Worcestershire sauce. Season with salt and black pepper to taste.

Cover and simmer on low for 10-20 minutes, stirring occasionally. Add more ketchup or 1-3 Tablespoons water if need more liquid.

Serve on fresh hamburger buns.
---
Notes
Note: Nutrition value does not include hamburger buns. To toast your hamburger buns, heat 1-2 Tablespoons of butter on a griddle over medium heat. Then place the hamburger buns on and cook 1-3 minutes, or until the bottoms are lightly toasted. This will add great flavor and prevent the buns from getting soggy.
Nutrition
Calories: 152kcal | Carbohydrates: 11g | Protein: 16g | Fat: 3g | Saturated Fat: 1g | Cholesterol: 46mg | Sodium: 342mg | Potassium: 386mg | Sugar: 9g | Vitamin A: 415IU | Vitamin C: 12.6mg | Calcium: 14mg | Iron: 2mg
Nutrition provided is an estimate. It will vary based on specific ingredients used.
Did you make this recipe? Don't forget to give it a star rating below!