Delicious layers of chips, gooey cheese and toppings that are baked to perfection in the oven. These easy skillet nachos take less than 20 minutes and are the perfect appetizer, lunch or dinner!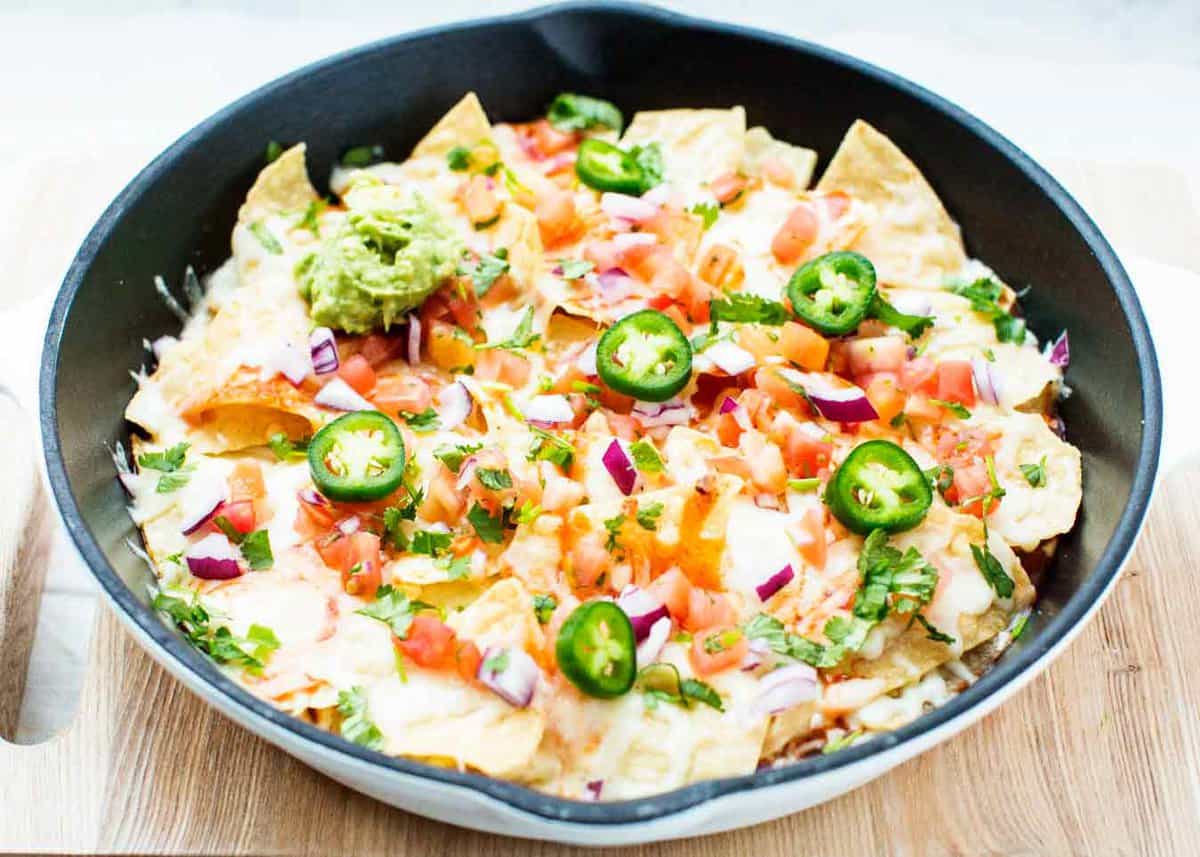 Game Day Skillet Nachos
Is there anything you can't do in a cast iron skillet? Whether it's these cheesy loaded nachos, skillet breakfast potatoes, oven baked steak or even a dessert pizookie, the cast iron is a tried and true kitchen utensil to definitely have in your arsenal.
Now you may be thinking, nachos…do we really need a recipe for chips and cheese? Why, yes we do, friends! Because if you're anything like my husband, you'll grab some pre-shredded cheese from the refrigerator and pile it on top of some chips and put it in the microwave.
The only thing wrong with that picture is the cheese comes out dried and hard. Yuck! I'm all about the ooey gooey cheese. And to achieve that gooeyness factor, it's key to use the right kind of cheese (not pre-shredded!!), layers and piling on the toppings. Plus, nachos are a million times better baked in the oven if you ask me. :)
There is so much goodness on one plate and the flavors are out of this world. Seriously. Look at all that cheesy goodness. And the guac is pretty much a must with these skillet nachos too!
Just 4 Main Ingredients
Simply layer a few items you might already have on hand to create a hearty snack or a full meal.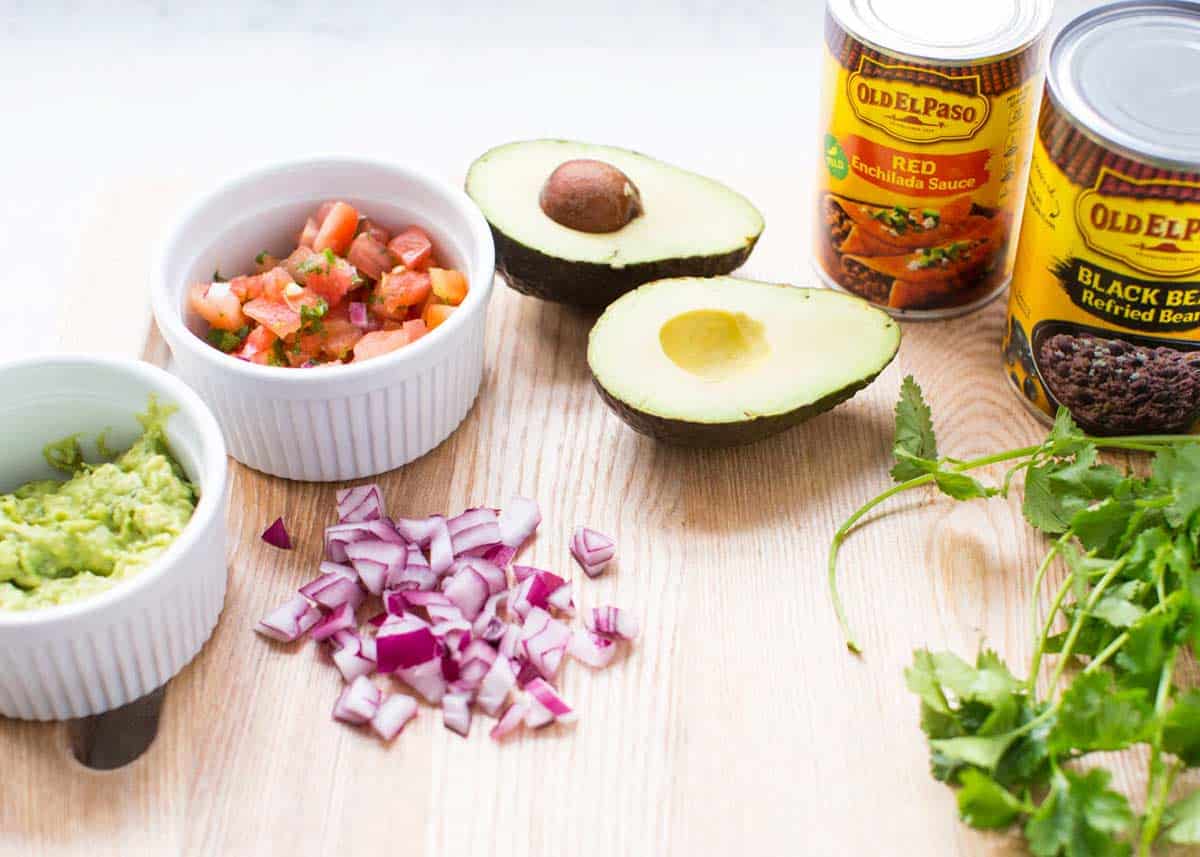 Find the full printable recipe with specific measurements below.
Tortilla chips: It's hard to have nachos without this key ingredient that make it so easy to eat and give the dish its necessary crunch.
Shredded cheese: I like to use a mixture of mozzarella and fontina, but feel free to use your favorites.
Refried beans: I love how this adds a heartiness to the nachos and provides a ton of flavor. I like black beans, but you can use pinto if you prefer.
Red enchilada sauce: This sauce gives the nachos their kick of flavor with a bit of smokiness that rounds everything out.
Favorite Toppings
I'm definitely a toppings kind of girl, so load on the guacamole, salsa, cilantro, queso, jalapenos…you name it. The more, the better! You can even add shredded chicken or taco meat to make it a quick and easy meal.
Cheese (mozzarella, Monterey jack or fontina)
Beans (black, refried or pinto)
Salsa (or salsa verde)
Pico de gallo or diced tomatoes
Sour cream
Jalapenos
Green onions or red onion
Avocado
Cilantro
Black olives
How to Make Nachos in the Oven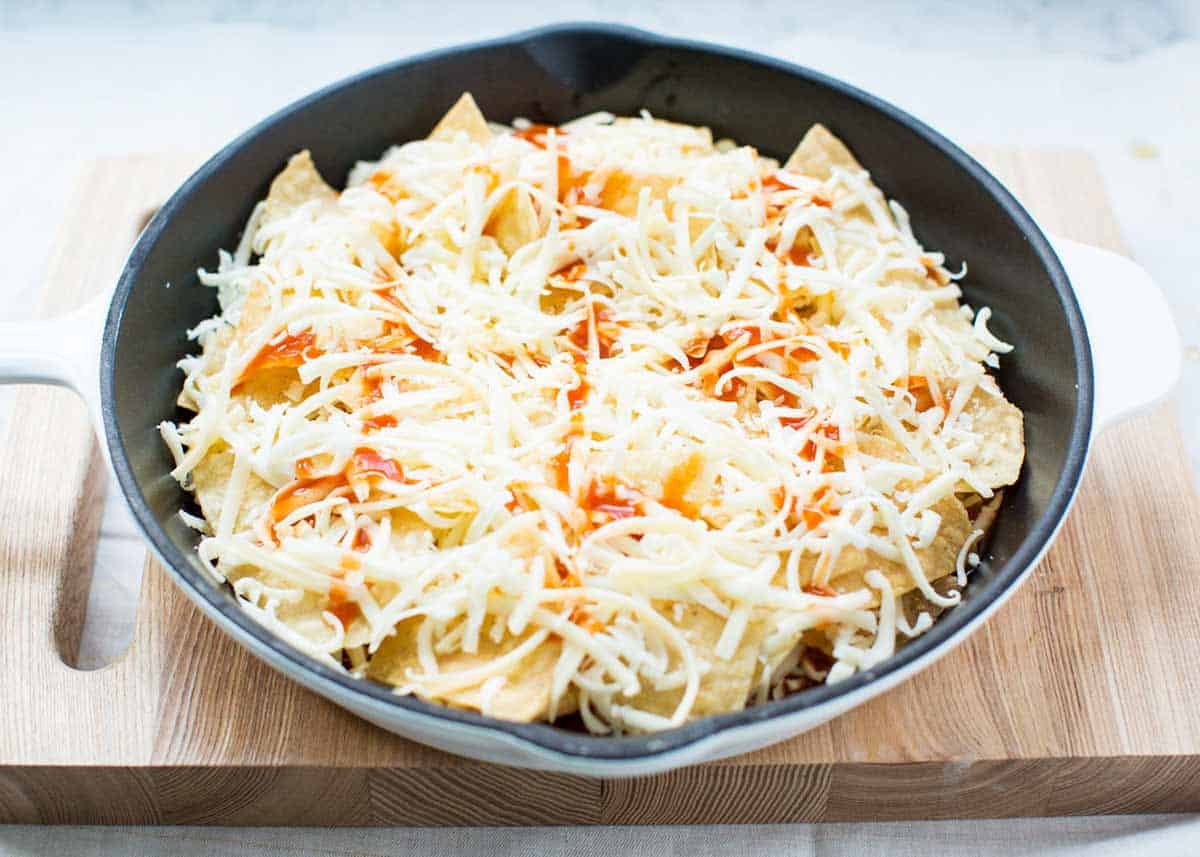 Layer. Start by pouring a thin layer of red enchilada sauce across the bottom of a large skillet. Then spread the refried beans on top, followed by a small sprinkle of cheese. Next add a layer of tortilla chips with another layer of cheese (about 3/4 cup). Repeat with the chips and cheese until you have 3 layers. Sprinkle the remaining cheese on top of the final layer of chips and then drizzle a few Tablespoons of enchilada sauce on top.
Bake. Place the skillet in the oven and bake the nachos until the cheese is bubbly and golden (this usually takes about 15 minutes).
Top. Remove from oven and then pile on any additional toppings of choice (check out my favorites above). Then serve immediately while hot!
Tips for the Best Skillet Nachos
Shred your own cheese. Don't use the pre-shredded bags. Buy a block of cheese and grate your own. The bags of pre-shredded cheese have extra additives that make it harder for them to melt. If you want that ooey gooey cheesy perfection, grate it yourself.
Chips. Make sure you use chips that are thick, so that they don't break and remain sturdy to hold all the toppings. You can even make your own homemade tortilla chips to take the baked nachos up a notch.
Bake the base first. Layer on the base ingredients (chips, cheese, beans and enchilada sauce) and bake those first. Then once out of the oven, add the other toppings (like salsa, guacamole, jalapeños) so that they stay fresh.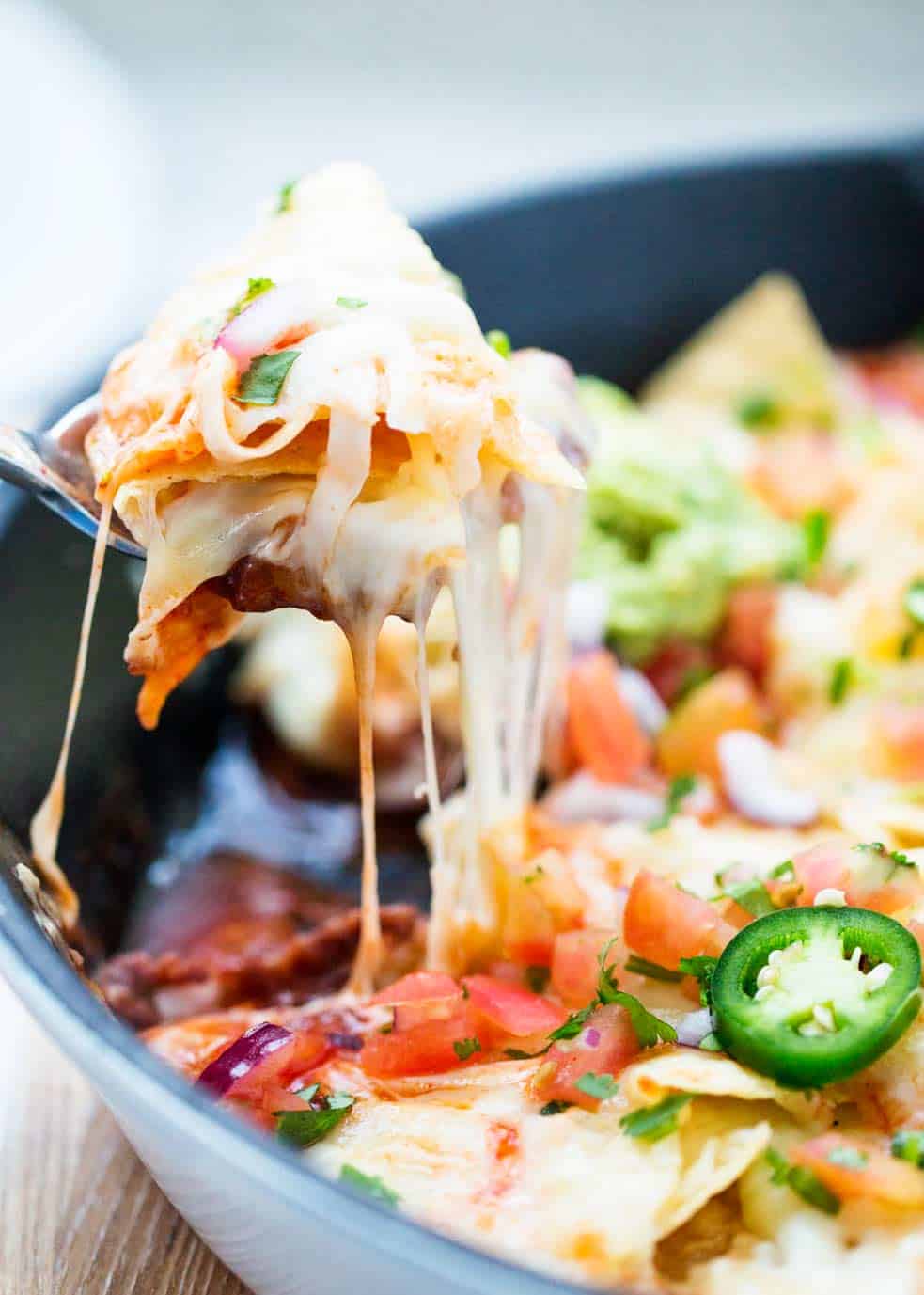 Recipe FAQs
Can I make these skillet nachos on a baking sheet instead?
If you don't have a large enough cast-iron skillet or would prefer to bake the nachos on a sheet pan, you can definitely make sheet pan nachos. Just line the pan with tortilla chips and top with cheese, beans and drizzle with enchilada sauce. Then bake at 350°F for about 5 to 10 minutes, or until the cheese is melted. Then add your favorite nacho toppings and dig in!
More Recipes You Will Love
HUNGRY FOR MORE? Subscribe to my newsletter and follow on Facebook, Pinterest and Instagram for all the newest recipes!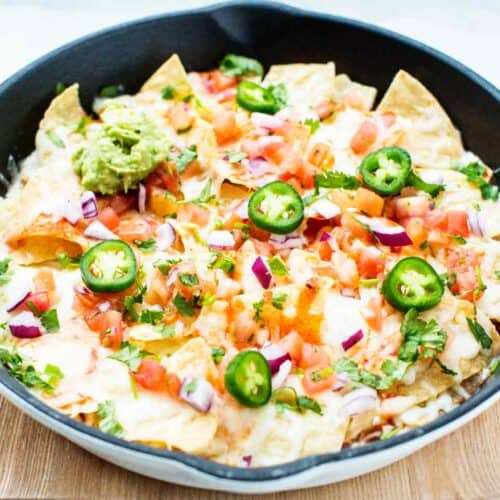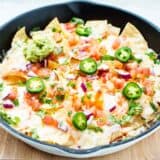 Skillet Nachos
Delicious layers of chips, gooey cheese and toppings that are baked to perfection in the oven. These easy skillet nachos take less than 20 minutes and are the perfect appetizer, lunch or dinner!
Ingredients
1 (10-ounce) can red enchilada sauce
1 (16-ounce) can black bean refried beans
Kosher salt , to taste
Ground black pepper , to taste
3 cups freshly grated mozzarella , Monterey jack, or fontina cheese
1 bag tortilla chips , thick ones work best
Optional toppings: Guacamole, Pico de gallo, Fresh cilantro, Jalapenos, Sour cream
Instructions
Preheat the oven to 375ºF.

In the bottom of a large cast-iron skillet, pour a thin layer of enchilada sauce. Spread the refried beans over the top and add a little salt and pepper, if desired. Sprinkle on a little bit of cheese, about 1/4 cup.

Add a layer of 1/3 of the tortilla chips with another layer of cheese, about 3/4 cup. Repeat with remaining chips and cheese so that there are 3 layers of chips and the top layer is cheese. Drizzle 2 to 3 Tablespoons enchilada sauce over the top. Bake 10 to 15 minutes, or until the cheese is bubbly.

Top with your favorite toppings just before serving. My favorites are guacamole and pico de gallo. Serve immediately.
---
Notes
Variations: To make this a hearty meal, you can add a layer of shredded chicken or taco meat.
Nutrition
Calories: 362kcal | Carbohydrates: 36g | Protein: 15g | Fat: 17g | Saturated Fat: 7g | Polyunsaturated Fat: 5g | Monounsaturated Fat: 5g | Trans Fat: 0.03g | Cholesterol: 33mg | Sodium: 1024mg | Potassium: 103mg | Fiber: 5g | Sugar: 5g | Vitamin A: 569IU | Vitamin C: 1mg | Calcium: 272mg | Iron: 1mg
Nutrition provided is an estimate. It will vary based on specific ingredients used.
Did you make this recipe? Don't forget to give it a star rating below!