Turn any night into a fun family dinner with healthy turkey sloppy joes loaded with meaty filling and a sweet and zesty sauce layered between toasted burger buns. A quick and easy, comforting dinner idea that everyone craves!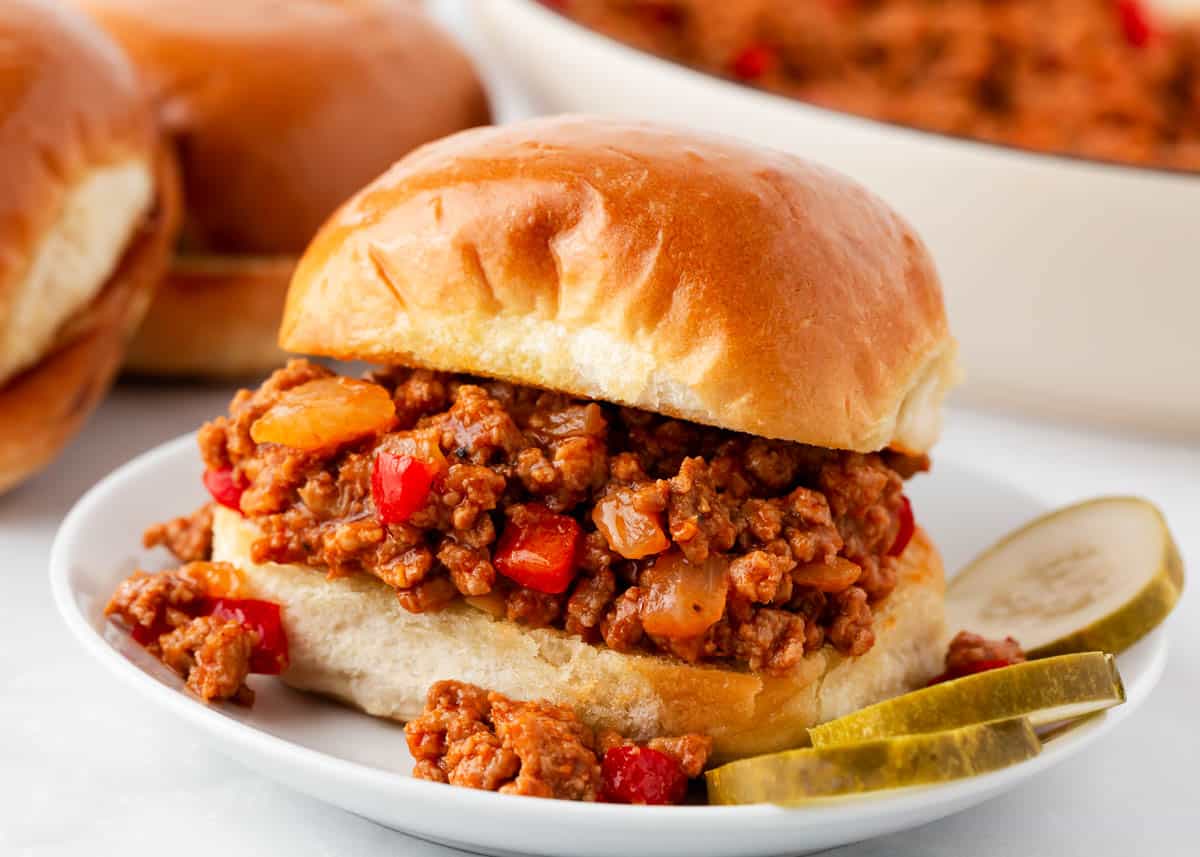 Healthy Sloppy Joes with Ground Turkey
This turkey sloppy joe recipe is a lighter, healthier version than my classic sloppy joes because we're swapping red meat for lean ground poultry. This easy ground turkey recipe comes together in 30 minutes including a homemade sloppy joe sauce!
It's a meaty saucy combination of sweet and tangy flavors without adding any extra sugar. Just a combination of BBQ sauce, ketchup, mustard, and Worcestershire sauce, which is very similar to meatloaf sauce.
I'm all about making mealtime fun. Sure, there are times when I want to make something a little more elegant but for the most part, we're not that fussy! This is a come as you are, the more the merrier type of meal because you can easily double or trip it for a crowd who isn't afraid to make a mess!
Why This Recipe Works
Fuss-free. It's a family-style meal that everyone loves and can be served as a DIY buffet to make it easy to serve!
Comfort food. Does it get any heartier or more satisfying than turkey sloppy joes? It tastes so much better than the canned stuff (I'm looking at you, Manwich)!
Quick and easy. It's one of those fallback meals that you can always count on when you have absolutely no idea what you're going to do for dinner. This one is always a hit!
Recipe Ingredients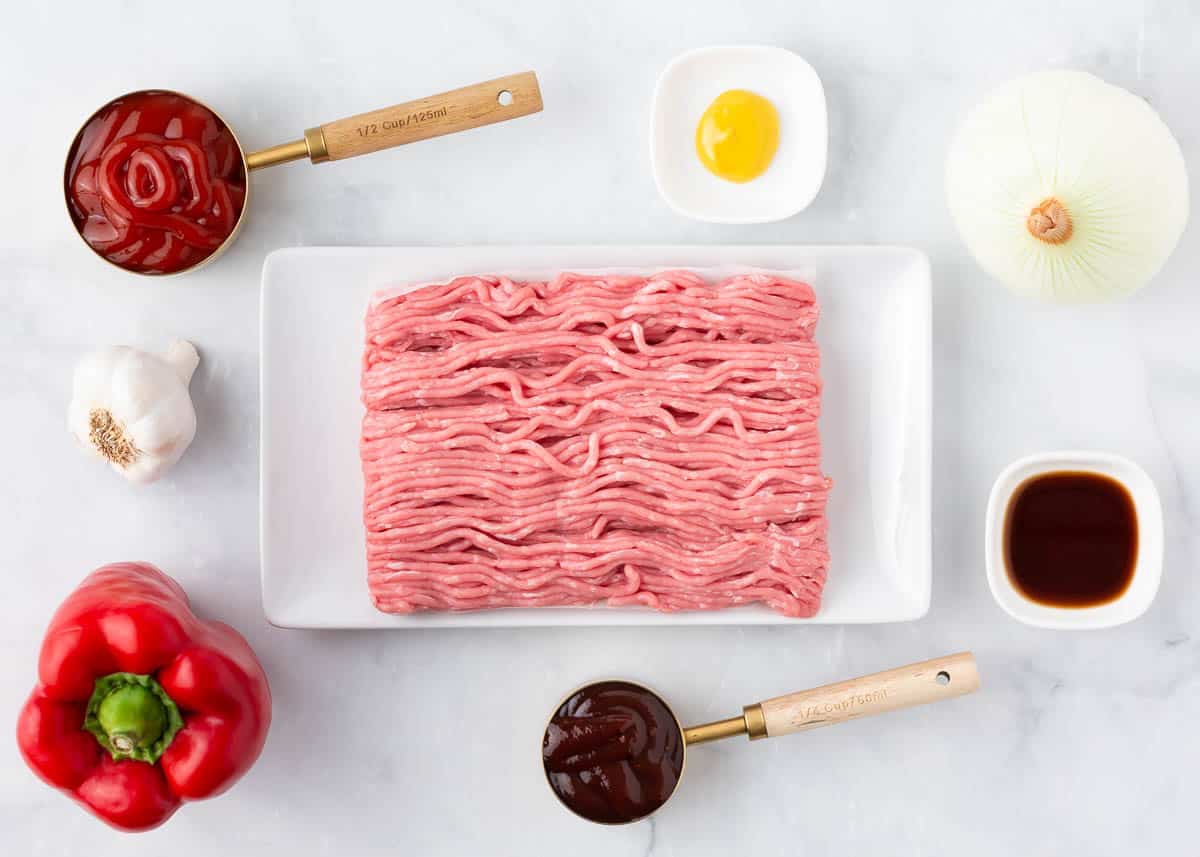 Find the full printable recipe with specific measurements below.
Ground turkey: This is lean meat that won't produce much of its own grease, which is what makes it a less fatty option than ground beef. It's also pretty mild in flavor so it relies heavily on the rest of the ingredients!
Onion, Garlic & Red bell pepper: Chopped onion, chopped bell pepper, and minced garlic are cooked with the meat giving it oodles of flavor. I prefer using red bell pepper because they're the sweetest, but if you want to use orange or yellow, feel free. Green pepper will be very savory but still a great option.
For the sauce: This is a combination of barbecue sauce, ketchup, mustard, and Worcestershire sauce to give it sweet, savory, and smoky notes.
Hamburger buns: If you have a bit of extra time, I've got a fantastic recipe for homemade hamburger buns.
Variations
These healthy sloppy Joes are made with simple ingredients meant to be quick and easy, but there are plenty of ways to switch it up to suit what you've got on hand.
Use a bit of brown sugar for added sweetness. This is especially great when using tomatoes, tomato sauce, or tomato paste instead of ketchup.
Some people like to add a splash of vinegar for the tang.
Swap the ground turkey with ground chicken instead.
Add some paprika or smoked paprika for a little smoky zest.
For some heat add some cayenne pepper, chili powder or substitute the sweet pepper for a jalapeno.
How to Make Ground Turkey Sloppy Joes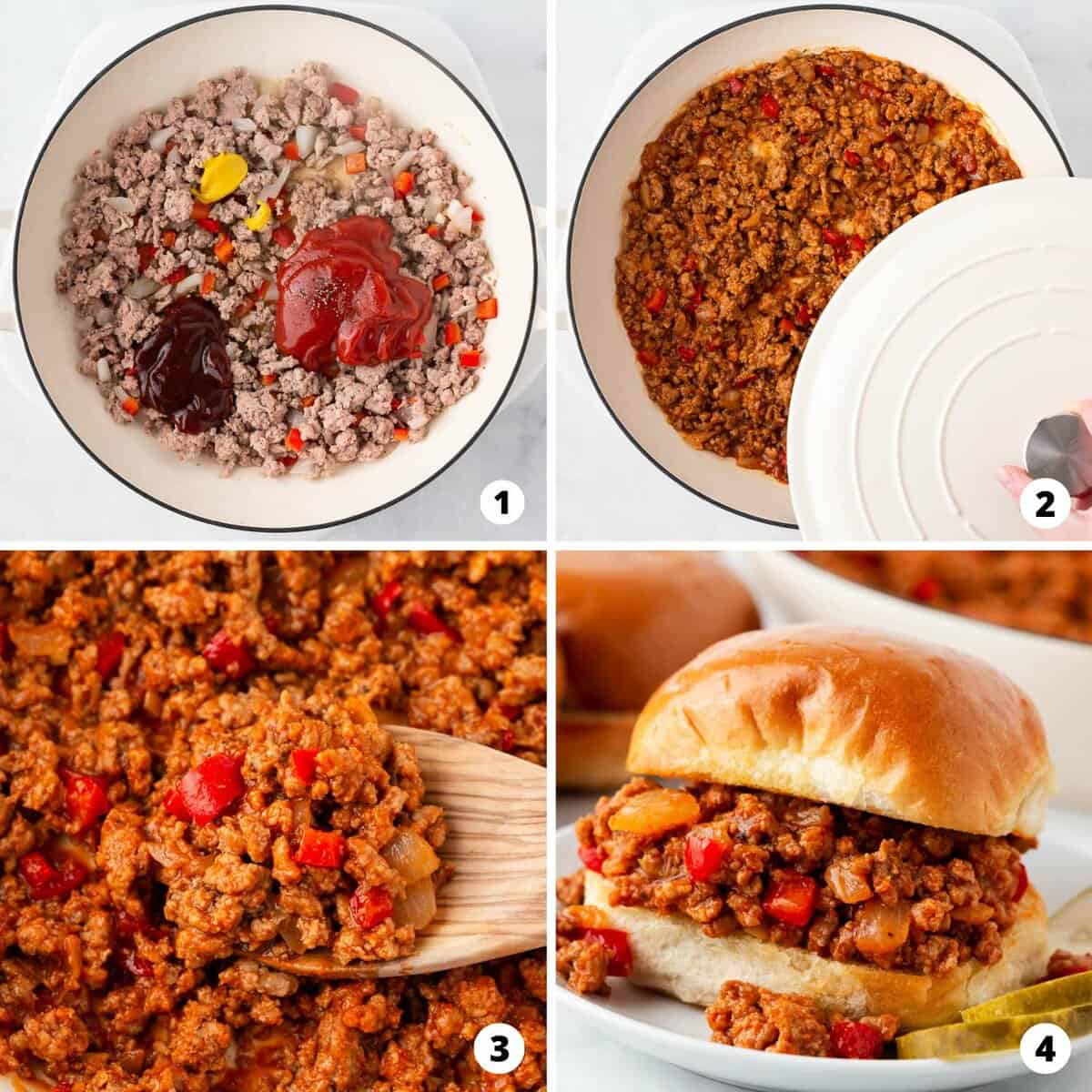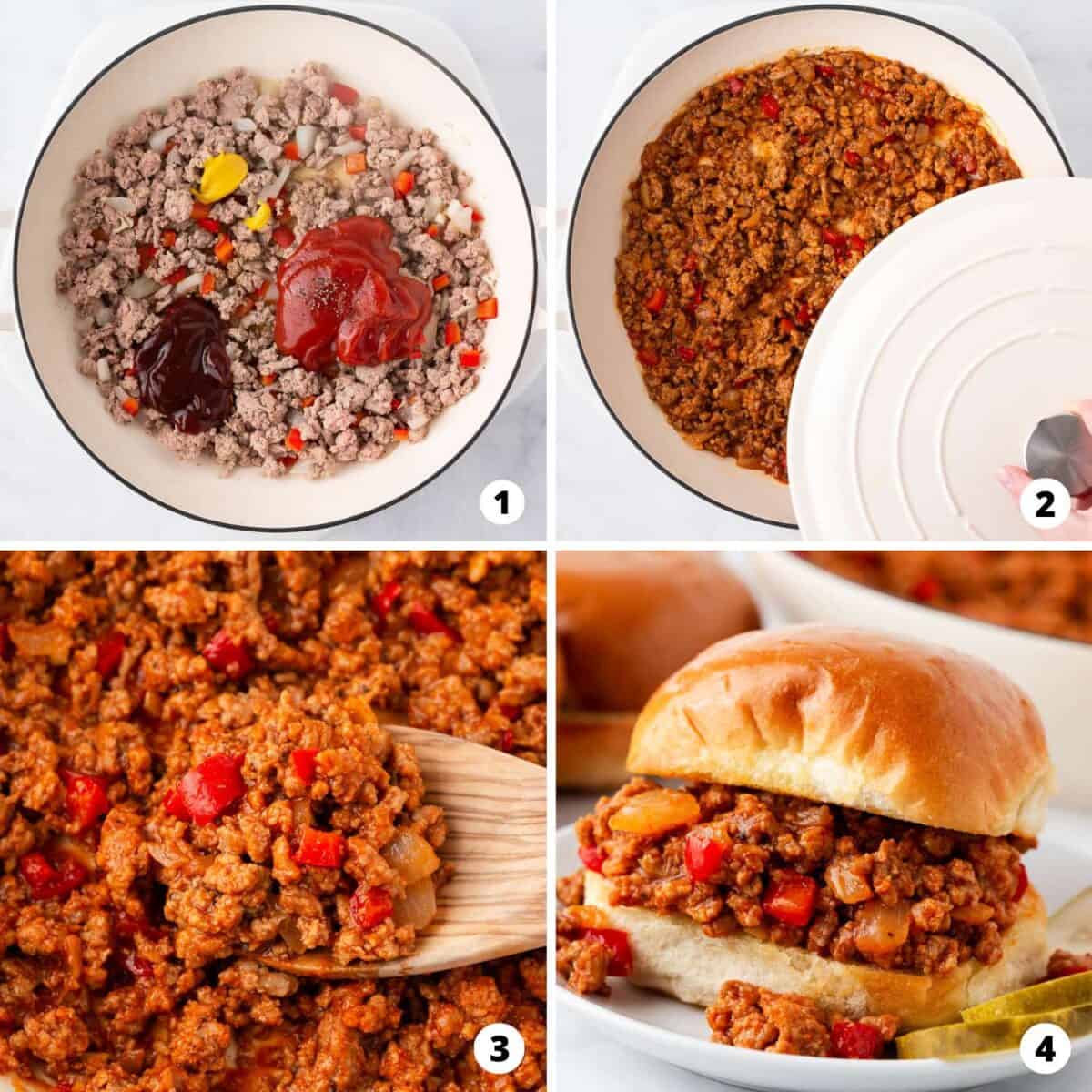 Cook the meat. Add the turkey to a large skillet and cook over medium heat along with the onion, and bell pepper until no longer pick. Break it up into crumbles using a wooden spoon as it cooks. For the last minute of cooking time, add the garlic. Drain any excess fat.
Add the sauce. Pour in the ketchup, BBQ sauce, mustard, and Worcestershire sauce. Stir to combine and season with salt and pepper.
Thicken the meat mixture. Cover with a tight-fitting lid and reduce the heat to simmer on low for 10-20 minutes, stirring occasionally until thickened. Add a bit more ketchup or water if it starts to dry out.
Spoon and serve. Add sloppy Joe with turkey onto hamburger buns and enjoy!
Top It!
There's nothing that stands between my sloppy Joe meat and a toasted bun, but you might like to add a little something to yours.
Lettuce
Cheddar cheese
Pepperjack cheese
Sliced jalapenos
Sliced pickles
Expert Tips
Drain the fat. Turkey won't produce much excess grease, so an easy way to get rid of it is to move all the meat to one side of the pan. Tilt it slightly so the grease pools on one side and use paper towels to absorb the fat.
Make it gluten free. As long as you use gluten free buns, this recipe is completely gluten free!
Best buns. As mentioned above, a homemade bun is the way to go! If you can't do that, then I highly recommend a buttery brioche bun.
Avoid soggy bread. Toast the buns first. Spread 1-2 Tablespoons of butter on each half of the bun then cook for 1-3 minutes on a griddle, butter side down.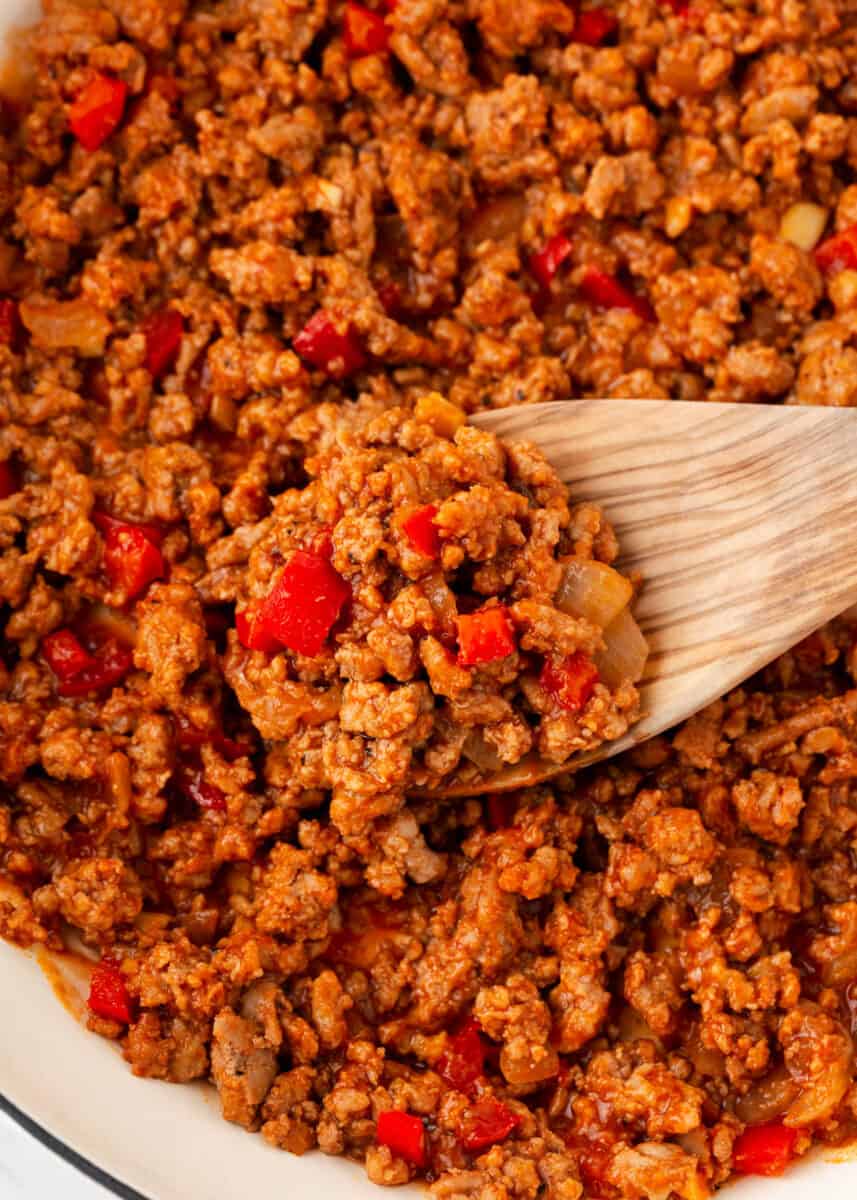 Recipe FAQs
What to serve with turkey sloppy joes?
You can keep it simple with a tossed salad or some sliced pickles. Maybe even some raw veggies like carrots and celery sticks. Potato chips are always a fun idea, as are homemade french fries and baked sweet potato fries.
How to store leftovers?
Keep in an airtight container in the refrigerator for up to 4 days. You can also freeze it, which is very helpful when you've doubled the batch! Keep it frozen for up to 3 months. Thaw in the fridge overnight then reheat in a saucepan on the stove.
Is loose meat the same as turkey sloppy joes?
There is no saucy component to loose meat. It's more like eating a deconstructed burger made of seasoned ground beef. Sloppy Joe's get the slop from the sauce!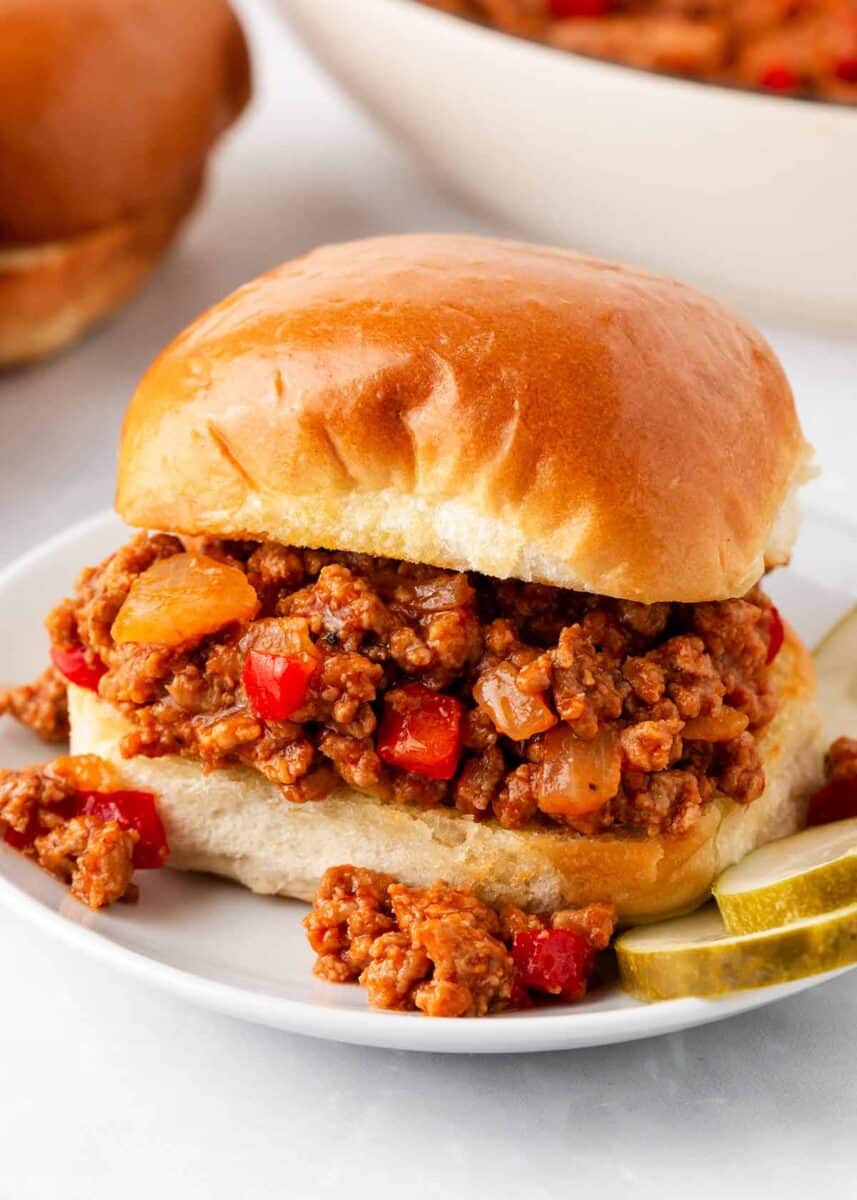 HUNGRY FOR MORE? Subscribe to my newsletter and follow on Facebook, Pinterest and Instagram for all the newest recipes!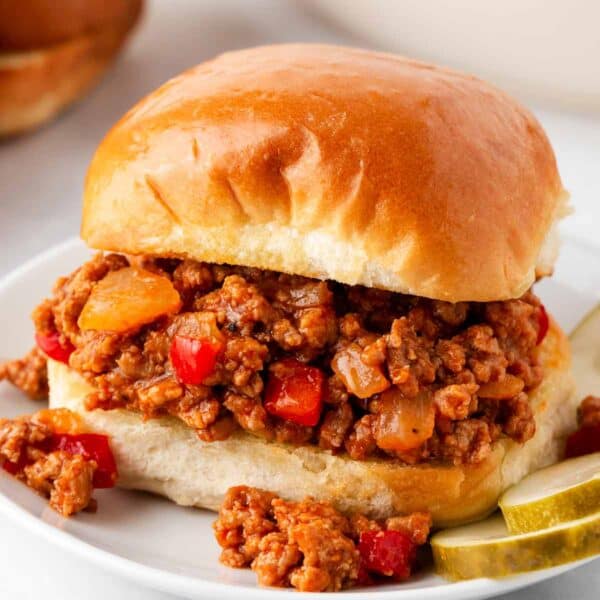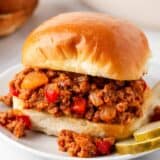 Turkey Sloppy Joes
Turn any night into a fun family dinner with healthy turkey sloppy joes loaded with meaty filling and a sweet and zesty sauce layered between toasted burger buns. A quick and easy, comforting dinner idea that everyone craves!
Ingredients
1 pound lean ground turkey
⅓ cup chopped onion
⅓ cup chopped red bell pepper
Salt , to taste
Ground black pepper , to taste
2 teaspoons minced garlic
½ cup ketchup
¼ cup BBQ sauce
1 teaspoon yellow mustard
1 teaspoon Worcestershire sauce , more to taste
6 hamburger buns , for serving
Instructions
In a large skillet, cook the turkey, onion, and red pepper over medium heat until lightly browned. Season with salt and pepper. Add the garlic the last minute of cooking. Drain any excess fat.

Stir in ketchup, BBQ sauce, mustard, and Worcestershire sauce. Season with salt and black pepper. Cover and reduce heat to low.

Simmer 10 to 20 minutes, stirring occasionally, until sauce is thickened but not too dry. Add more ketchup or 1 to 3 Tablespoons water, if more liquid is needed.

Spoon into hamburger buns to serve.
---
Notes
Toasted buns: To toast your hamburger buns, heat 1 to 2 Tablespoons butter on a griddle over medium heat. Then place the hamburger buns on and cook 1 to 3 minutes, or until the bottoms are lightly toasted. This will add great flavor and prevent the buns from getting soggy.
Nutrition
Calories: 254kcal | Carbohydrates: 34g | Protein: 23g | Fat: 3g | Saturated Fat: 1g | Polyunsaturated Fat: 1g | Monounsaturated Fat: 1g | Trans Fat: 0.01g | Cholesterol: 42mg | Sodium: 578mg | Potassium: 403mg | Fiber: 1g | Sugar: 12g | Vitamin A: 409IU | Vitamin C: 13mg | Calcium: 77mg | Iron: 2mg
Nutrition provided is an estimate. It will vary based on specific ingredients used.
Did you make this recipe? Don't forget to give it a star rating below!