Fruity and tangy strawberry cream cheese frosting made with fresh strawberry puree is both elegant and simple to make. Smooth and creamy, it is perfect for spreading on cakes and cupcakes!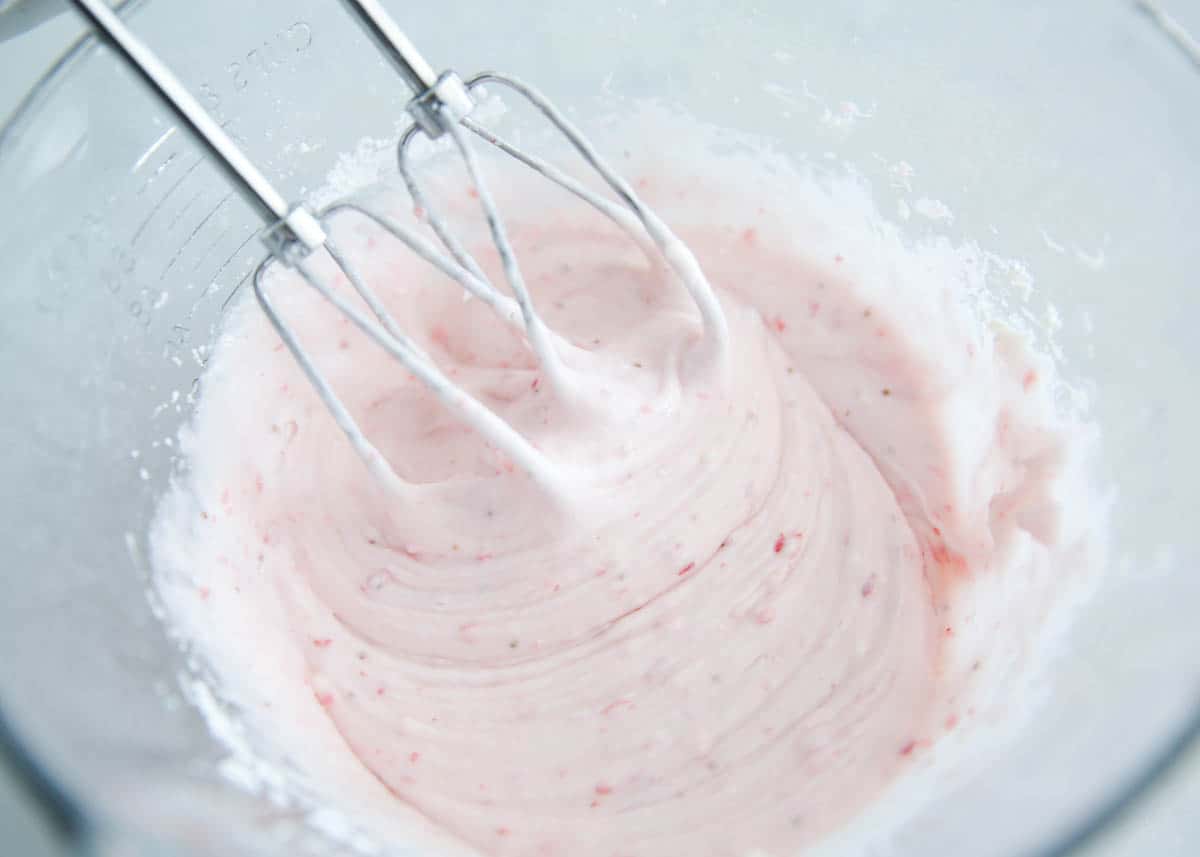 Fresh Strawberry Cream Cheese Icing
This frosting pairs the fresh sweet flavor of strawberries with the familiar tang of cream cheese to make the perfect combination! The silky texture and beautiful pale pink color make it a wonderful way to decorate anything from cookies to my favorite strawberry sheet cake.
I used to use my recipe for strawberry buttercream exclusively in the summer, but since I discovered this frosting, I have a new favorite!
It's best to make this recipe in the spring or summer when strawberries are in their prime. It takes about 10 minutes to make and one of the great things is you can make it ahead of time to use later. It's the perfect way to add a little extra decadence to your next summer baked good.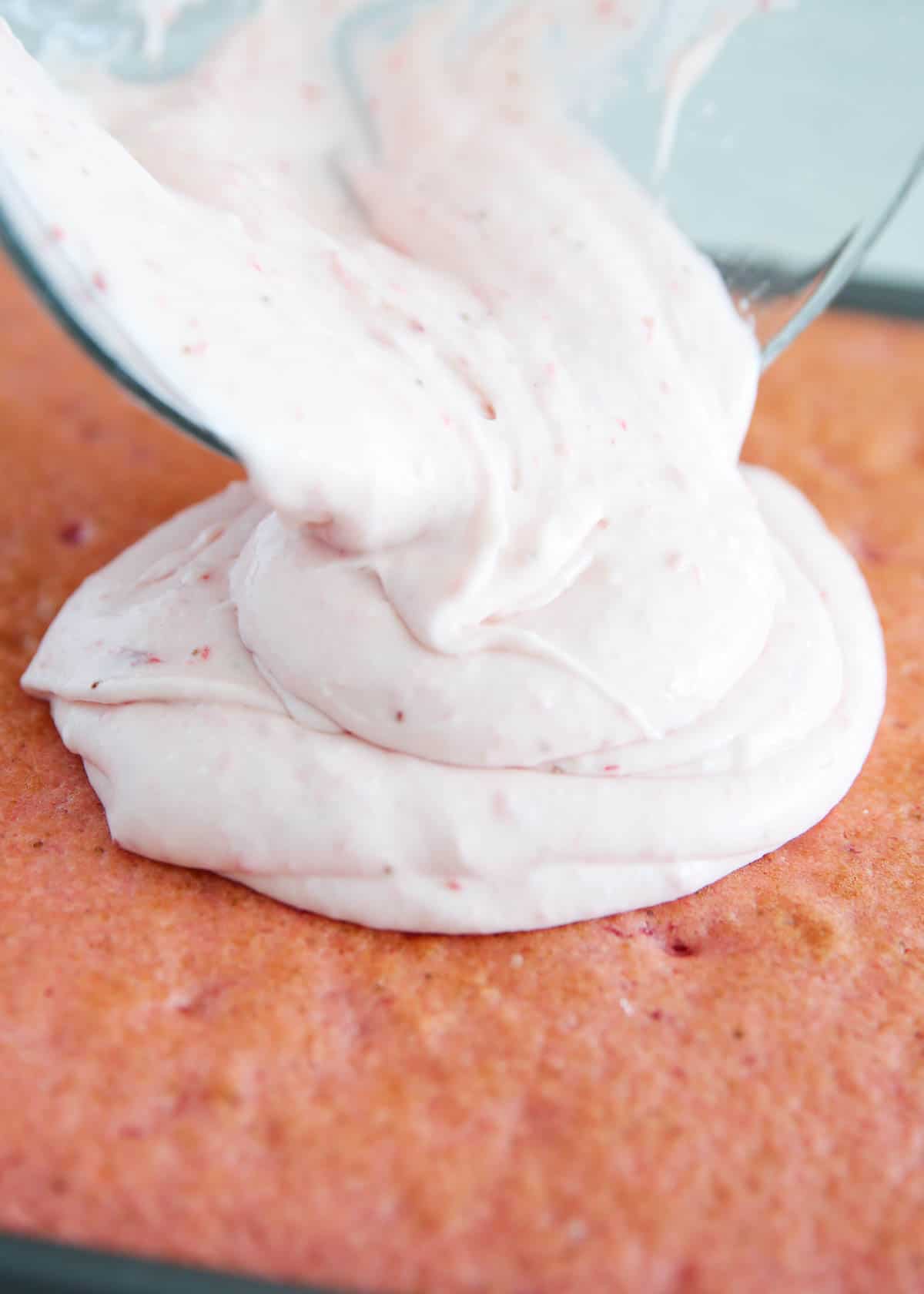 Ingredients for Strawberry Cream Cheese Frosting
Butter: I use salted butter, but if you only have unsalted, just add a pinch of salt when whipping.
Cream cheese: Use full-fat block-style softened cream cheese at room temperature. Reduced-fat cream cheese can make the frosting too runny because of its higher water content.
Powdered sugar: Also known as confectioners' sugar, it creates a smooth creamy texture and helps the cream cheese hold its shape when piped.
Strawberry puree: Use fresh strawberries to make the puree and give your frosting a bold strawberry flavor.
How to Make Strawberry Cream Cheese Frosting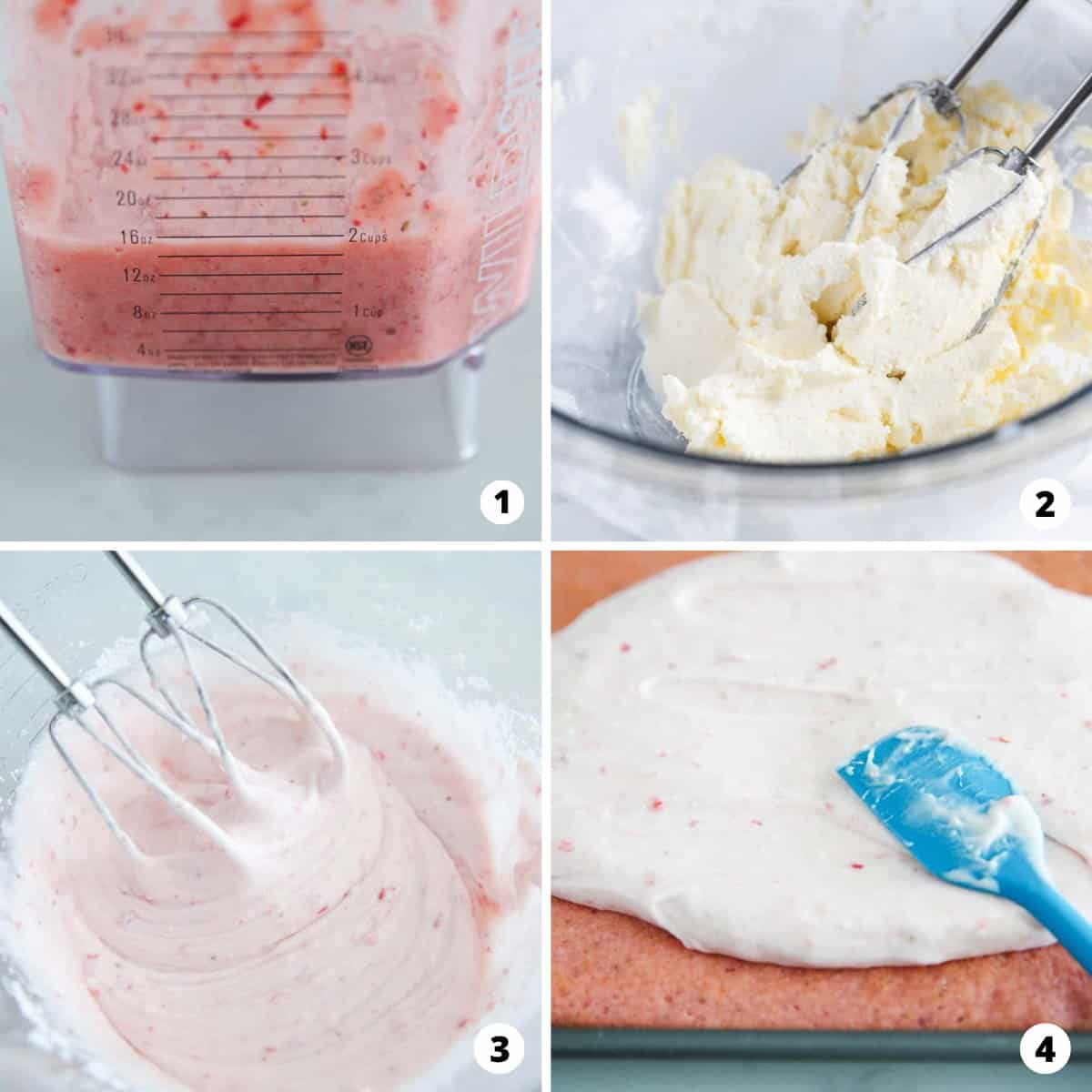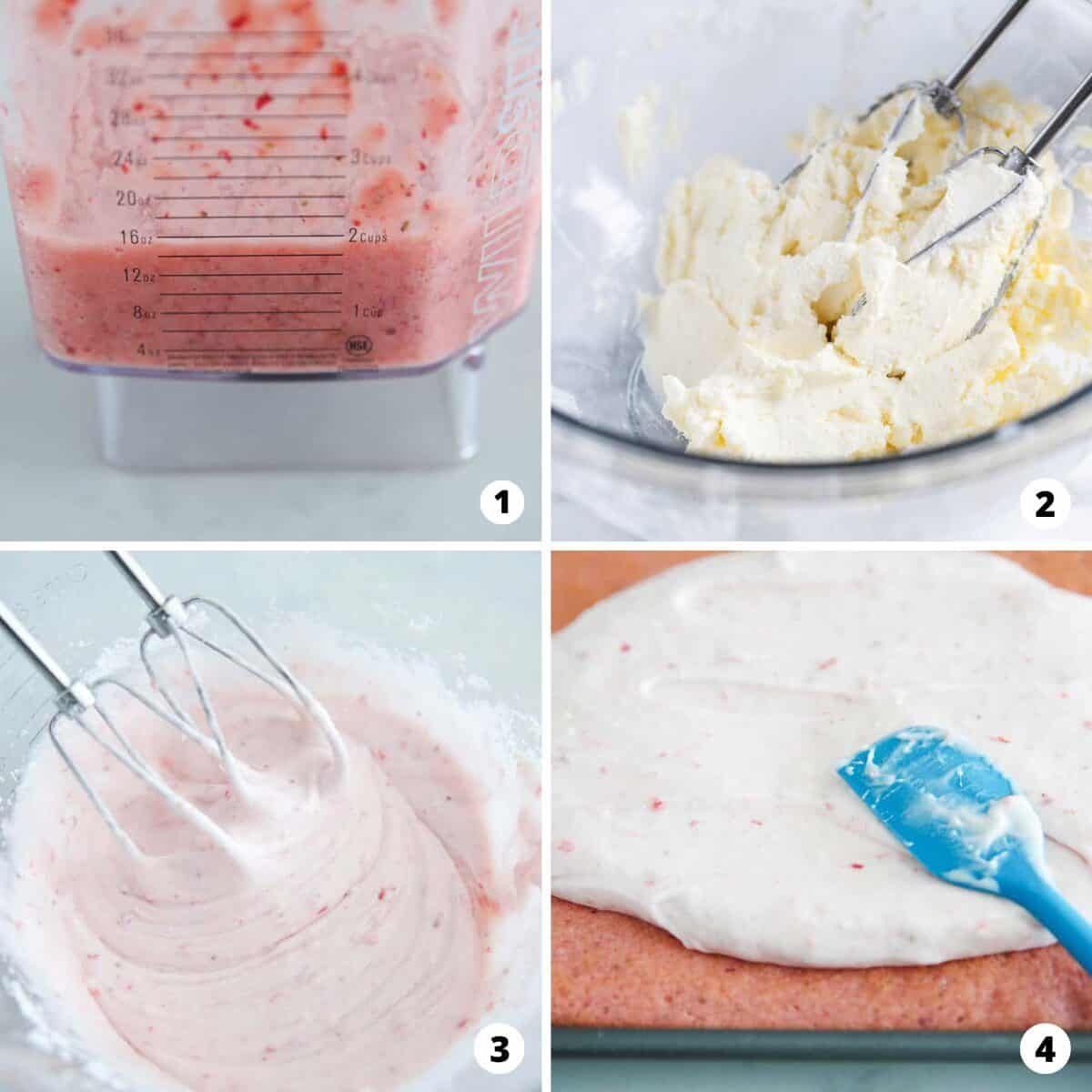 Make the strawberry purée: Rinse the strawberries and cut the tops off before adding them to a blender or food processor. Pulse until they are well blended.
Mix butter and cream cheese: In a medium-sized bowl, or stand mixer, cream the butter and cream cheese together with an electric mixer or paddle attachment on low speed. Mix until smooth and creamy, which will usually take about 1 minute.
Add sugar and strawberries: Pour the sugar and strawberries into the bowl and continue to mix until everything is combined.
Adjust flavors and frost: Taste the frosting and add a pinch of salt or vanilla extract if you think it needs it. Your frosting is now ready to use!
How to Thicken
If you would like the frosting to be a bit thicker, then add some additional powdered sugar. You can also thin it out to make a cream cheese glaze by adding in milk or heavy cream.
Recipe Tips for Success
I've been making this recipe for a while, and these are some easy suggestions I've discovered to help make sure your cream cheese frosting turns out perfectly:
Start with room temperature ingredients. Make sure the butter and cream cheese are soft before you begin to mix. If it's too cold, it will be difficult to achieve a smooth and creamy texture. Learn how to soften butter and how to soften cream cheese easily and quickly.
Be careful not to overmix. Only mix until fluffy. Overbeating can cause the frosting to be thin and runny.
For a bolder strawberry flavor, you could add some crushed freeze-dried strawberries to the frosting. Start with a couple of tablespoons and add to taste. You can sometimes find freeze-dried strawberries in your local grocery store, and you can always order them online.
If you don't have the time to make strawberry puree, try a small amount of strawberry jam instead.
FAQs
Does cream cheese frosting have to be refrigerated?
Yes. If your frosting will be out for longer than 2 hours, it's a good idea to put it in the fridge. The frosting will keep well in an airtight container for up to 3 days.
Can I make cream cheese frosting ahead?
Absolutely! Make your frosting ahead and store it in an airtight container in the fridge. Once you're ready to use it, take it out of the fridge for about an hour to make it easier to spread.
Can I pipe cream cheese frosting?
Yes, you can! You can use a piping bag and piping tip to pipe this frosting, or if you don't have these tools, try putting the frosting into a plastic zipper-top bag and snipping off the corner. You can squeeze the frosting out of the bag and use it to swirl on top of your cupcakes.

If your frosting seems a bit thin, add some more powdered sugar to help it hold its shape.
Do I need to cook down my strawberries after I puree them?
If you are finding that your strawberry cream cheese frosting is too runny then you may want to cook it down some by adding it to a medium saucepan, bringing it to a boil and cooking for 3-5 minutes until it thickens. Cool before adding to the cream cheese mixture.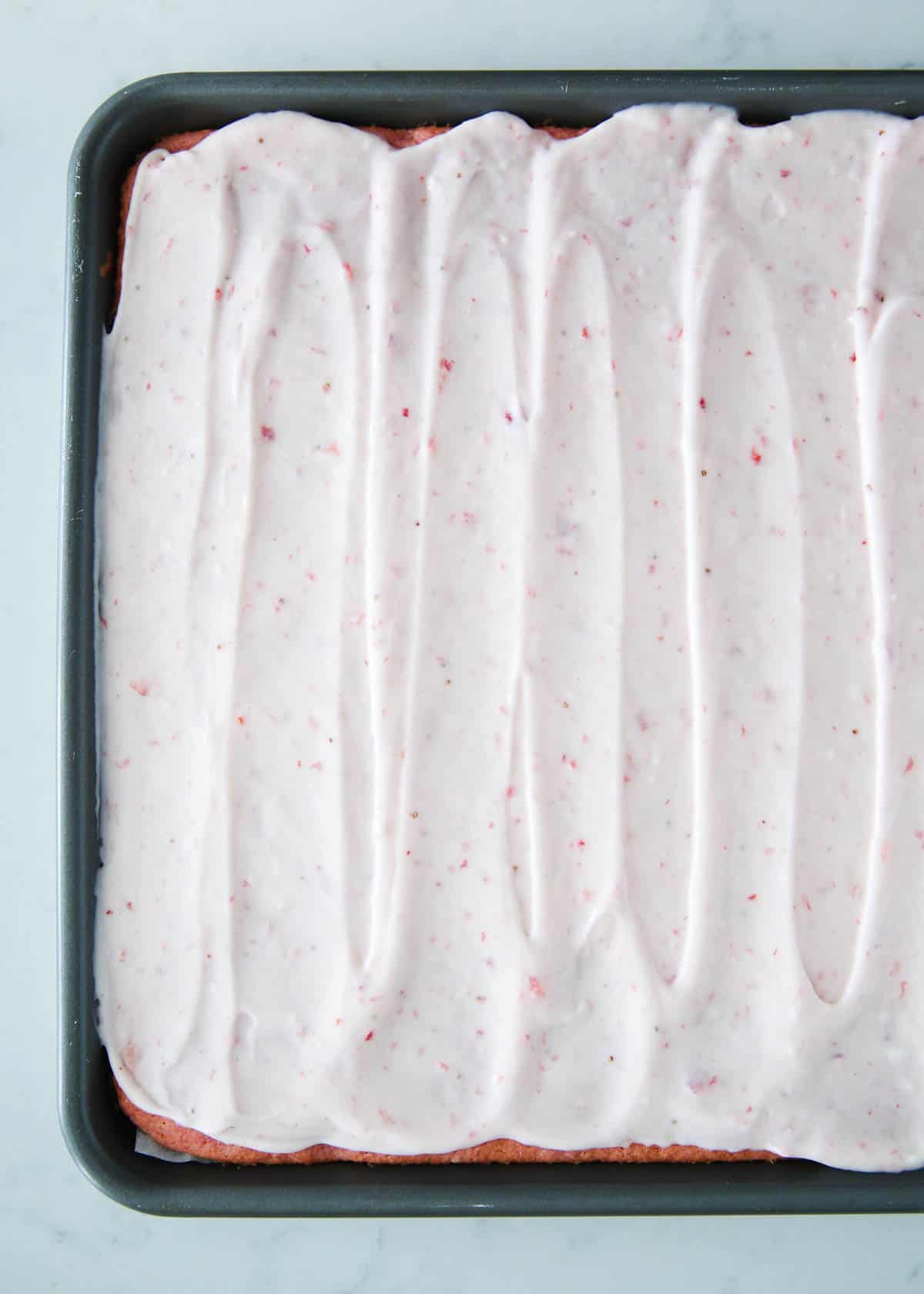 How to Use Strawberry Frosting with Cream Cheese
If you're a fan of luscious cream cheese frosting, then you're going to love this fruity version! It's so easy to prepare and it makes the perfect topping for a strawberry sheet cake, strawberry brownies and vanilla cupcakes.
Add frosting between your cake layers for an impressive neapolitan birthday cake, or wedding shower cake! Pipe it onto your pink velvet cupcakes or make one of the most beautiful chocolate cakes topped with a strawberry frosting!
HUNGRY FOR MORE? Subscribe to my newsletter and follow on Facebook, Pinterest and Instagram for all the newest recipes!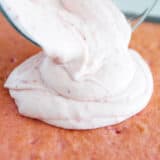 Strawberry Cream Cheese Frosting
Fruity and tangy Strawberry cream cheese frosting made with fresh strawberry puree is both elegant and simple to make. Smooth and creamy, it is perfect for spreading on cakes and cupcakes!
Ingredients
16 ounces strawberries , rinsed and tops cut (more for top if desired)
6 Tablespoons butter , softened (I use salted)
4 ounces cream cheese , softened
3 cups powdered sugar
⅓ cup strawberry puree , reserved from cake
Instructions
Place the strawberries in a blender and pulse until well blended.

Combine the butter and cream cheese together in a medium size bowl. Mix with an electric mixer until smooth and creamy, about 1 minute.

Then add in the powdered sugar and strawberry puree. Mix until combined. Taste and add a pinch of salt or vanilla if needed. Add more powdered sugar for a thicker frosting.

Spread the frosting evenly over top of the cooled cake, cookies or desired dessert.
---
Notes
Storage: Store in a covered container for up to 3 days in the refrigerator, or until ready to use.
Nutrition
Calories: 91kcal | Carbohydrates: 17g | Protein: 1g | Fat: 3g | Saturated Fat: 2g | Polyunsaturated Fat: 1g | Monounsaturated Fat: 1g | Trans Fat: 1g | Cholesterol: 8mg | Sodium: 26mg | Potassium: 35mg | Fiber: 1g | Sugar: 16g | Vitamin A: 92IU | Vitamin C: 13mg | Calcium: 5mg | Iron: 1mg
Nutrition provided is an estimate. It will vary based on specific ingredients used.
Did you make this recipe? Don't forget to give it a star rating below!