Sweet and tart, this silky lemon cream cheese frosting is a delicious way to brighten up your cakes and cookies. Make it with only a handful of ingredients in under 10 minutes!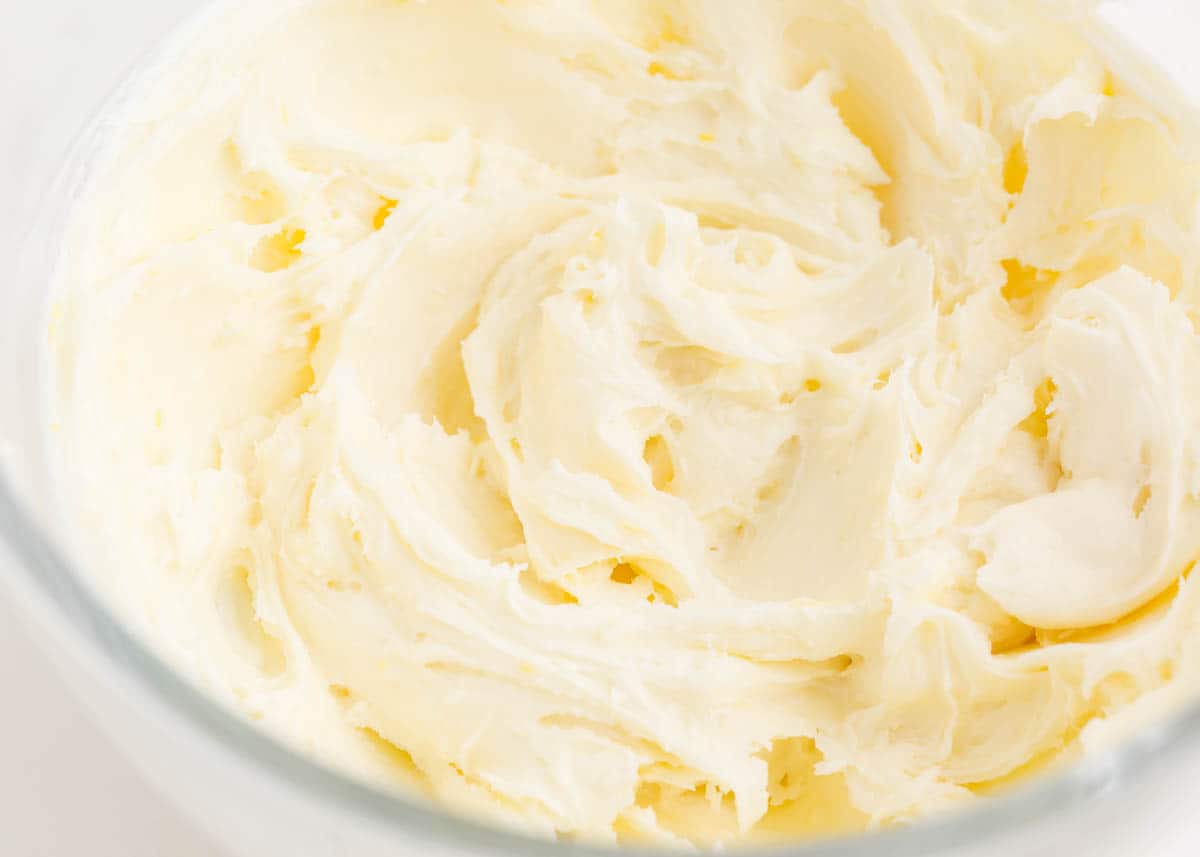 A Light and Creamy Lemon Frosting
It is no secret that I absolutely love cream cheese frosting. I've shared a few variations already including strawberry cream cheese frosting, cinnamon cream cheese frosting, and maple cream cheese frosting, to name a few!
This light lemony version is the perfect companion for your spring and summer desserts. It's creamy and silky with just the right amount of sweet and tart.
Like my traditional recipe, this one starts with room temperature cream cheese, butter, and some powdered sugar. I use fresh lemon zest and juice to get that luscious lemon flavor and sometimes I add some yellow food coloring if I want the color to pop.
Why We Love Lemon Cream Cheese Frosting
Quick & Easy. Super simple to whip up. It's light and elegant and an easy recipe to fall back on even for the fanciest occasions.
Delicious. That tangy, tart and sweet combination is something everyone loves.
Year-round. We think of citrus as a summer and spring flavor, but the lemon flavor can really be celebrated year-round.
Versatile. This frosting goes well with lemon blueberry cupcakes and lemon poke cake. Sometimes I'll even swap out the cream cheese glaze for cream cheese lemon frosting on my glazed lemon cookies. There are just so many delicious options!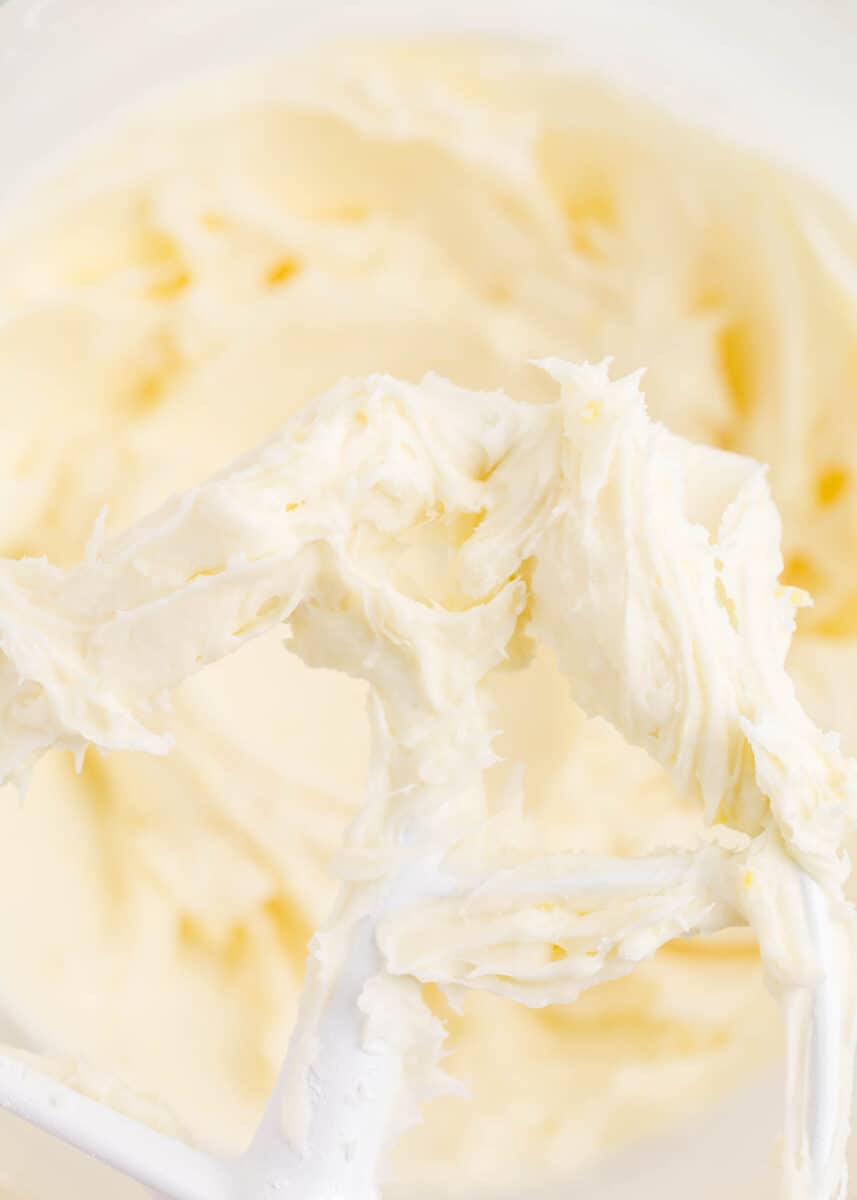 Ingredients Needed
You can easily whip this up with fresh lemon and a handful of ingredients.
Cream cheese: The full-fat block-style kind works the best. Make sure you soften the cream cheese to room temperature. If it's too cold, it won't mix well.
Unsalted Butter: Again, make sure to soften the butter to room temp. If you only have salted butter that's ok! You can omit the salt from the recipe.
Powdered sugar: This works well in this recipe as it incorporates easily without leaving any granules. You can use more or less depending on how sweet you like your lemon frosting.
Lemon: I use both the zest and juice. Learn how to zest a lemon the easy way. You can use lemon extract if you don't have any fresh lemons on hand.
Vanilla extract: It enhances all the other flavors in the frosting.
Salt: Adds balance to the sweetness.
Yellow food coloring: This isn't necessary, and you can leave it out if you prefer not to use it, but it does give you that beautiful vibrant yellow color.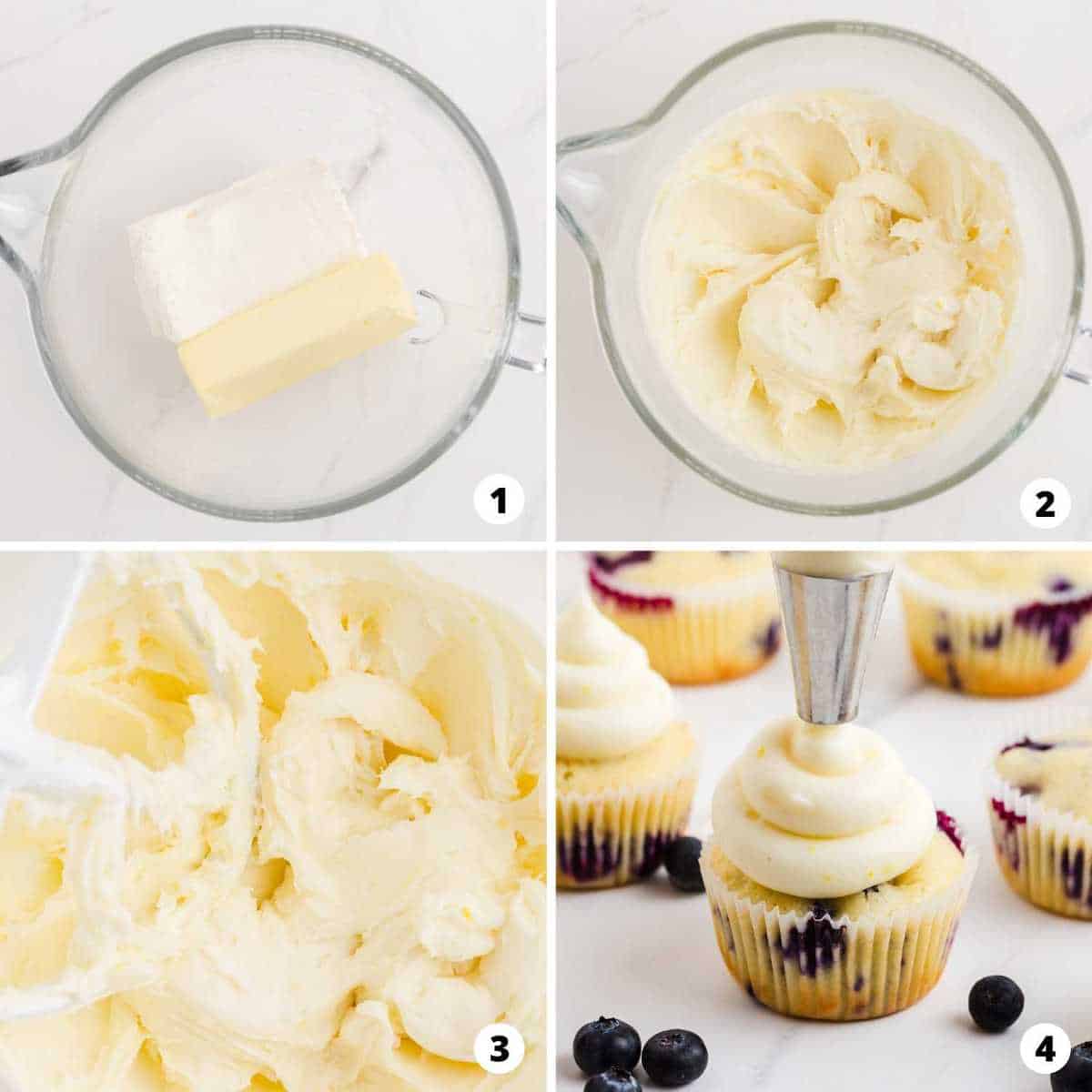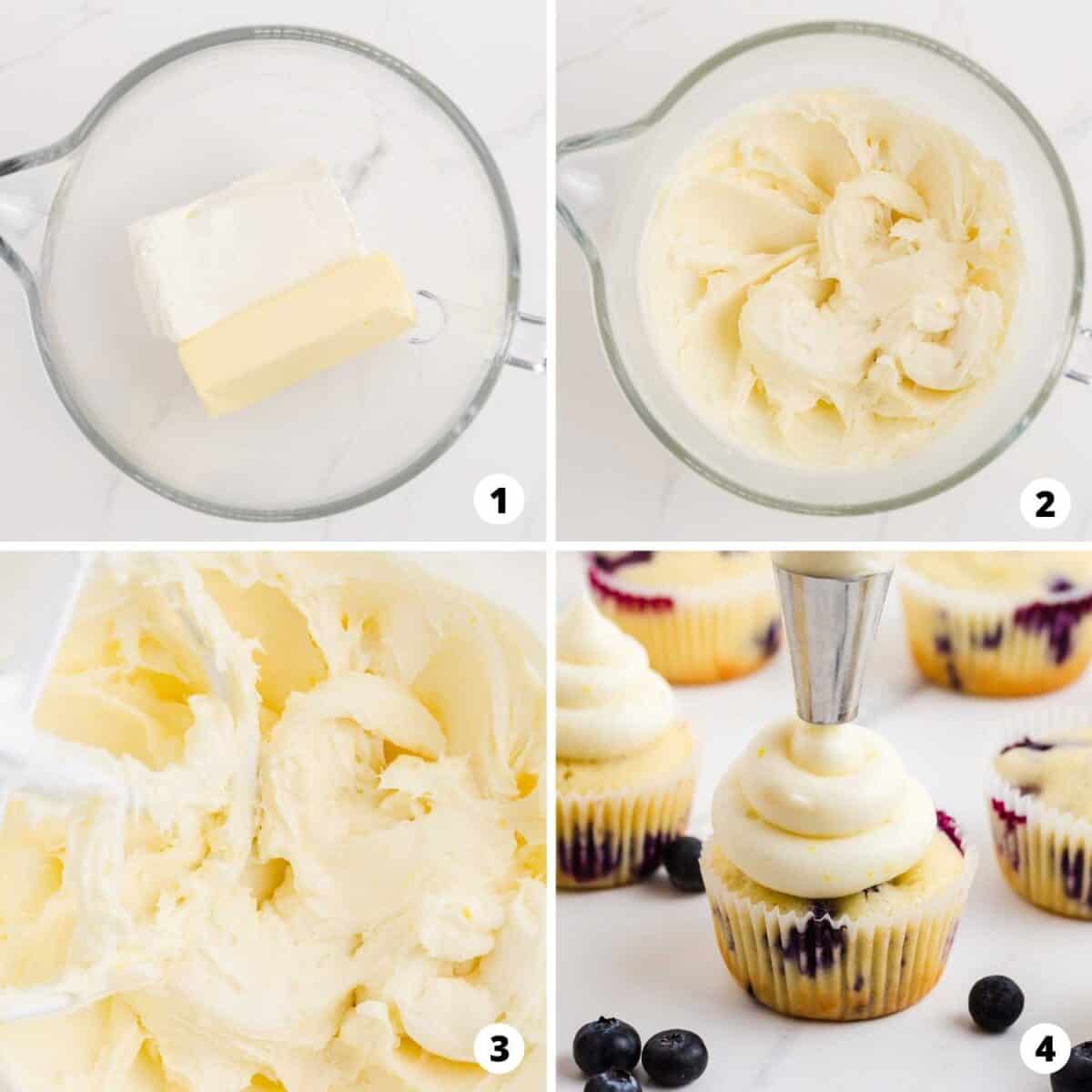 How to Make Cream Cheese Lemon Frosting
Mix cream cheese and butter. Cream them together in a large bowl until they are light and fluffy. An electric mixer works well for this part.
Stir in the remaining ingredients. Stir in the sugar, fresh lemon juice and zest, vanilla, and salt and mix until everything is creamy.
Adjust as needed. Taste and add more lemon if desired. If you need the frosting thicker, add more powdered sugar.
Spread or pipe the icing onto your lemon cupcakes, layered cake, or all your baked treats!
Tips for Making Lemon Frosting
Thin the frosting. If it is too thick, you can thin it out with a small splash of milk until you've reached the desired consistency.
Thicken the frosting. If it is too thin, try adding more powdered sugar, a tablespoon at a time until you've reached the desired consistency.
Sifting or whisking the powdered sugar before adding it to the mixing bowl will help to get rid of any lumps that might have formed in the sugar in storage.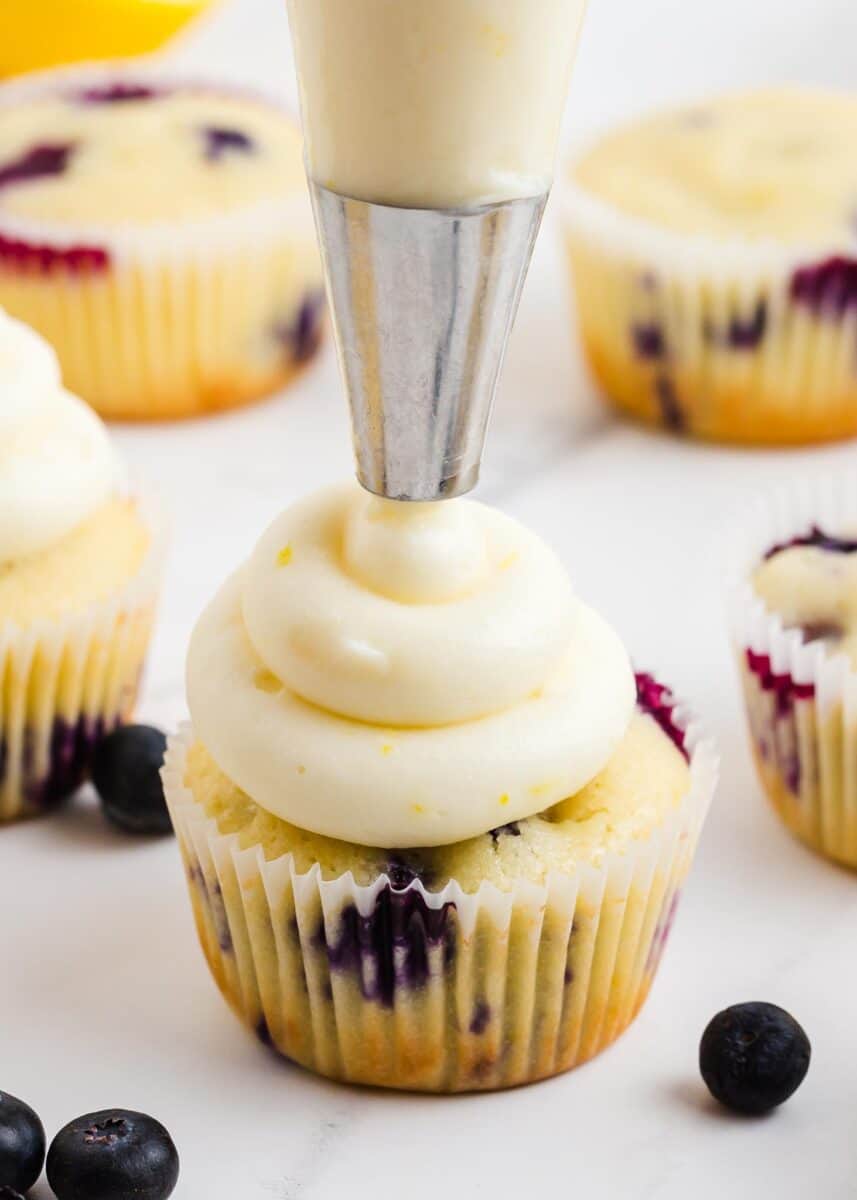 Lots of Ways to Use Lemon Frosting!
Storage
The frosting is best stored in an airtight container for up to 3 days in the refrigerator. Cakes and cupcakes that are frosted should be refrigerated within 2 hours.
Frequently Asked Questions
Can I pipe with cream cheese frosting?

Yes, this frosting is very creamy and smooth so it's good for piping. If you find that your frosting is getting too soft as you're piping, you can put it into the fridge for a few minutes to stiffen up a little bit before you continue piping.
Why is my cream cheese frosting runny?

For best results, use the brick-style cream cheese. The spreadable kind is too soft, and your frosting will most likely be too runny if you use it.
How many cupcakes will this recipe be able to frost?

If you're using a piping bag to create a higher swirl, you'll be able to frost about 16 cupcakes. If you're using a knife to spread it on then you'll be able to do about 24 cupcakes. You'll also be able to cover a 9×13″ cake or an 8″ layer cake.
Can cream cheese frosting be frozen?

Yes, you can store it in the freezer in an airtight container for up to 3 months. Let it thaw out in the fridge and then come to room temperature on the counter. Give it an additional whip for a minute or two before spreading it on your cakes.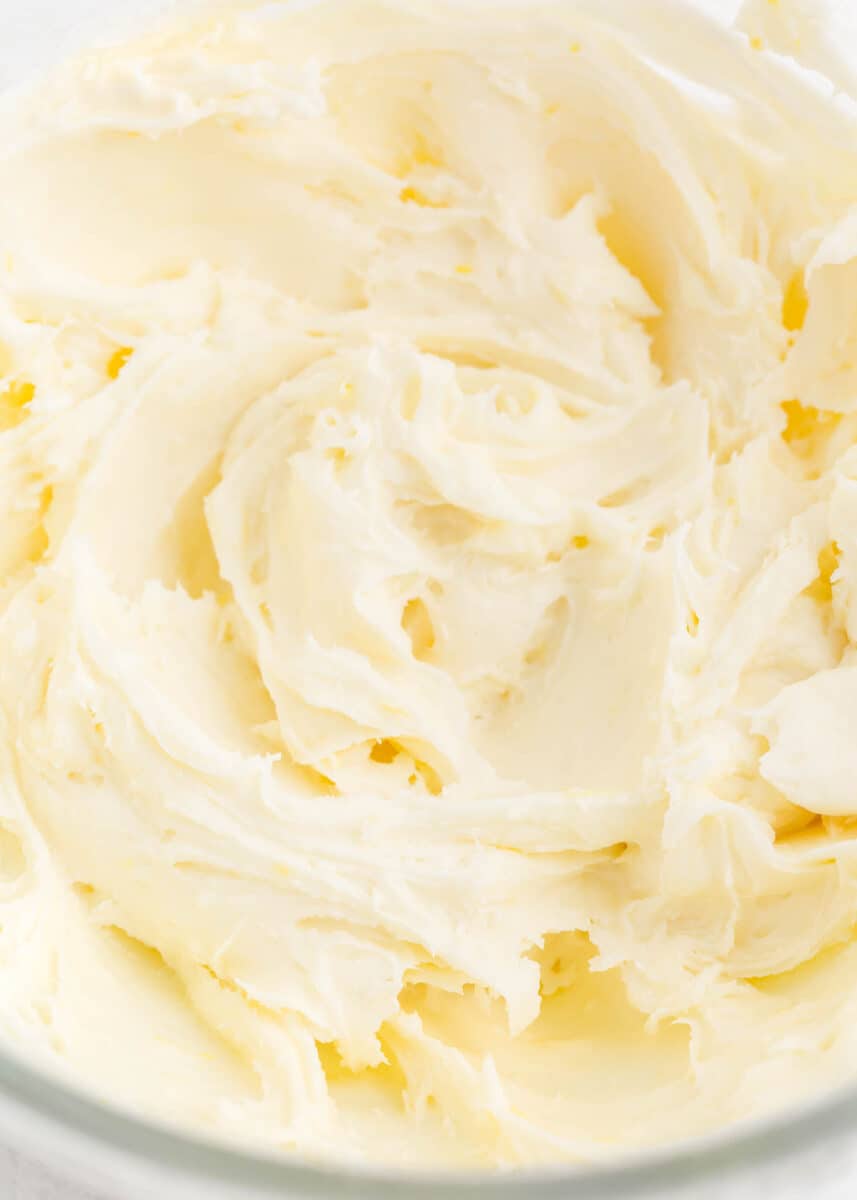 More Ways to Use This Frosting
HUNGRY FOR MORE? Subscribe to my newsletter and follow on Facebook, Pinterest and Instagram for all the newest recipes!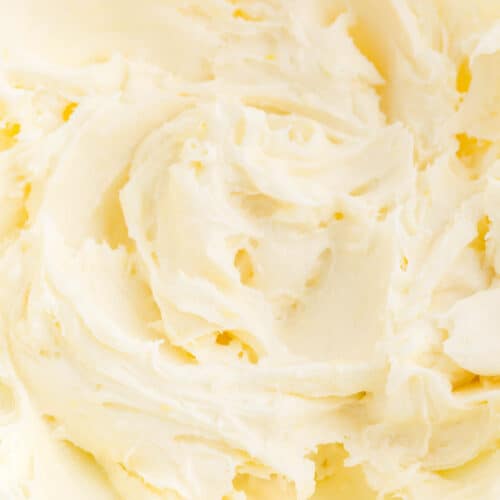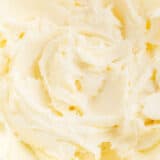 Lemon Cream Cheese Frosting
Sweet and tart, this silky lemon cream cheese frosting is a delicious way to brighten up your cakes and cookies. Make it with only a handful of ingredients in under 10 minutes!
Ingredients
½ cup unsalted butter , at room temperature
6-8 ounces cream cheese , at room temperature
3-4 cups powdered sugar , plus more as needed
1 lemon , zested and juiced (more to taste)
1 teaspoon vanilla extract
Pinch salt
Yellow food coloring , optional
Instructions
In a stand mixer fitted with the paddle attachment, cream together the butter and cream cheese. Beat until fluffy.

Add the powdered sugar, 2 Tablespoons lemon juice, zest, vanilla, salt and yellow food coloring (if desired). Mix until creamy. If you need to thin the frosting, add a dash of milk. If you want to thicken it, add a couple Tablespoons powdered sugar.

Frost cupcakes or cake as desired.
---
Notes
Butter and cream cheese: Make sure to leave the butter and cream cheese out an hour before making or follow these tips on how to soften butter and how to soften cream cheese.
For piping: If using this recipe to pipe frosting onto cupcakes, I like to use only 6 ounces cream cheese and an extra cup of powdered sugar.
Nutrition
Calories: 470kcal | Carbohydrates: 64g | Protein: 5g | Fat: 23g | Saturated Fat: 14g | Polyunsaturated Fat: 1g | Monounsaturated Fat: 6g | Trans Fat: 1g | Cholesterol: 90mg | Sodium: 183mg | Potassium: 168mg | Fiber: 1g | Sugar: 49g | Vitamin A: 794IU | Vitamin C: 15mg | Calcium: 71mg | Iron: 1mg
Nutrition provided is an estimate. It will vary based on specific ingredients used.
Did you make this recipe? Don't forget to give it a star rating below!