Dulce de leche is the star of this caramel cream cheese frosting and it makes a perfect topping for cakes, cookies or sweet rolls. Try it on a cupcake with a sprinkle of sea salt, it's so good!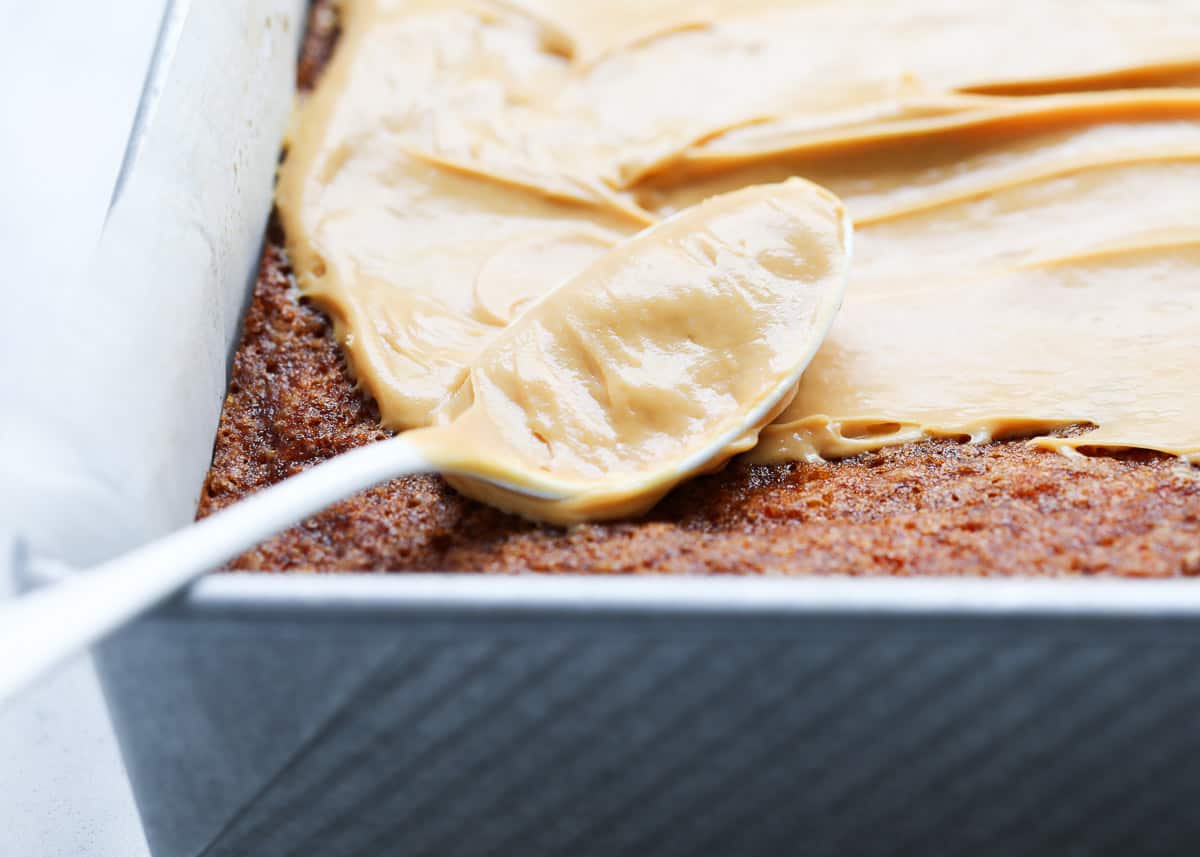 Easy Caramel Cream Cheese Frosting
This rich and creamy frosting tastes like a mixture of caramel sauce and cream cheese frosting. As if cream cheese frosting wasn't already the best thing in the world, add in some caramel flavor and it is simply to die for! It really is the best of both worlds!
Made with only 5 simple ingredients in one bowl, no heavy cream or eggs, it's a no-fuss icing that turns your baking into something really special. It's to-die-for on these pumpkin spice cupcakes or banana bread brownies.
The silky-smooth texture makes it super easy to spread and pipe which makes it great for decorating. If you're a caramel lover, you just have to try this recipe!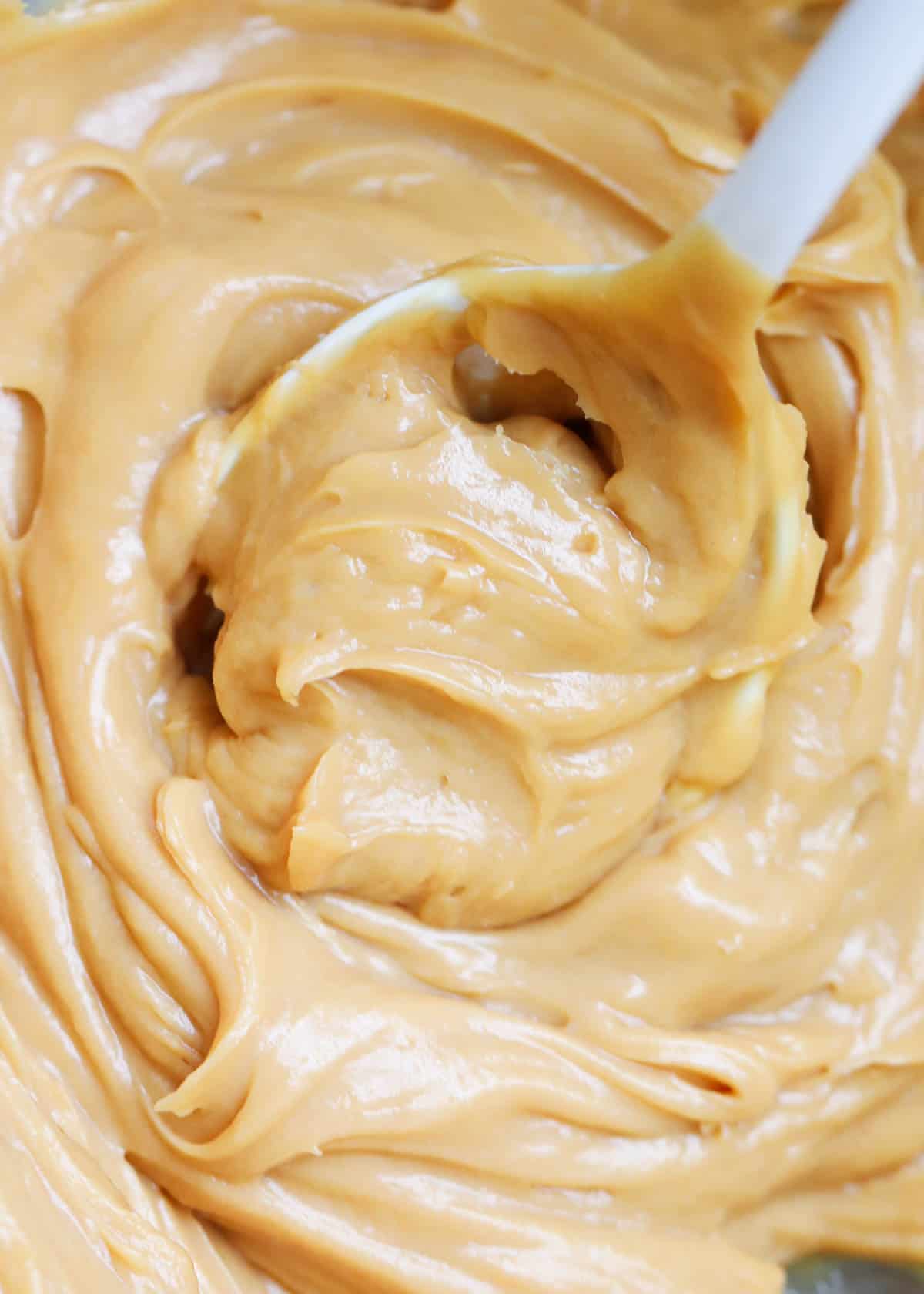 Ingredients
This frosting starts out with all the ingredients in a traditional cream cheese frosting, with the addition of one very special ingredient!
Find the full printable recipe with specific measurements below.
Cream cheese: The full-fat block-style kind works the best.
Unsalted butter: You can add in some salt later if you want to make a salted caramel frosting.
Powdered sugar: Works well in this frosting as it incorporates easily with the butter and the cream cheese.
Vanilla extract: Use this to taste. Keep in mind that the more you use, the thinner the frosting will become.
Dulce de leche: A caramel sauce that is the secret to the frostings amazing flavor.
How to Make Caramel Cream Cheese Frosting
Mix cream cheese and butter: Mix the cream cheese and butter in the medium bowl of a stand mixer or large bowl using an electric mixer. Beat at medium-high speed until smooth. This will take a minute or two. You can do this step by hand using a wooden spoon to stir, it will just take you longer.
Add powdered sugar: Mix the confectioners' sugar with the cream cheese mixture using the electric mixer. Keep mixing on medium speed until everything has reached a creamy texture.
Add caramel: Add in the dulce de leche and vanilla and continue to mix everything until smooth.
Adjust as needed: If your frosting looks too thin, you can add more powdered sugar. If you need to thin it out a bit, you can add a small splash of milk until you've reached the desired consistency.
Helpful Tips
Make sure the cream cheese and butter are at room temperature before you begin to mix. If you need to do this quickly, check out my tutorial on how to soften cream cheese.
Be careful not to overbeat the frosting. As with most cream cheese frostings, overbeating can cause it to become thin and runny.
For even more caramel flavor, drizzle some dulce de leche over the frosting once you've spread it onto your cookies or cakes.
Salted Caramel Cream Cheese Frosting
Salted caramel sauce is a popular flavor for so many things and cream cheese frosting is no exception! If you would like to make a salted caramel cream cheese frosting, then simply add a pinch of salt to taste.
Alternatively, you could use salted butter, instead of unsalted butter to achieve a salted caramel flavor. Add some of the frosting to a piping bag and try it on a chocolate cupcake, it's amazing!
Great Ways to Use This Frosting
FAQs
What is dulce de leche?
Dulce de leche is a sweet South American milky caramel sauce made from condensed milk, or milk and sugar. The condensed milk is cooked down until the sugar caramelizes and the milk becomes a nutty brown color.
Where can I find dulce de leche?
You can find dulce de leche in many local grocery stores either in cans or jars. Look for it in the baking aisle near the condensed milk. Alternatively, you can also buy it online.
Can I use low-fat cream cheese?
I recommend using full-fat cream cheese for this frosting, as it has a firmer texture and will be more stable. That being said, you can opt to use a low-fat variety, but just know that the final product will be a bit runnier.
How do you stiffen cream cheese frosting?
The best way is to just place it in the refrigerator for a bit. As the fats cool from the butter and cream cheese, the frosting will become a thicker consistency.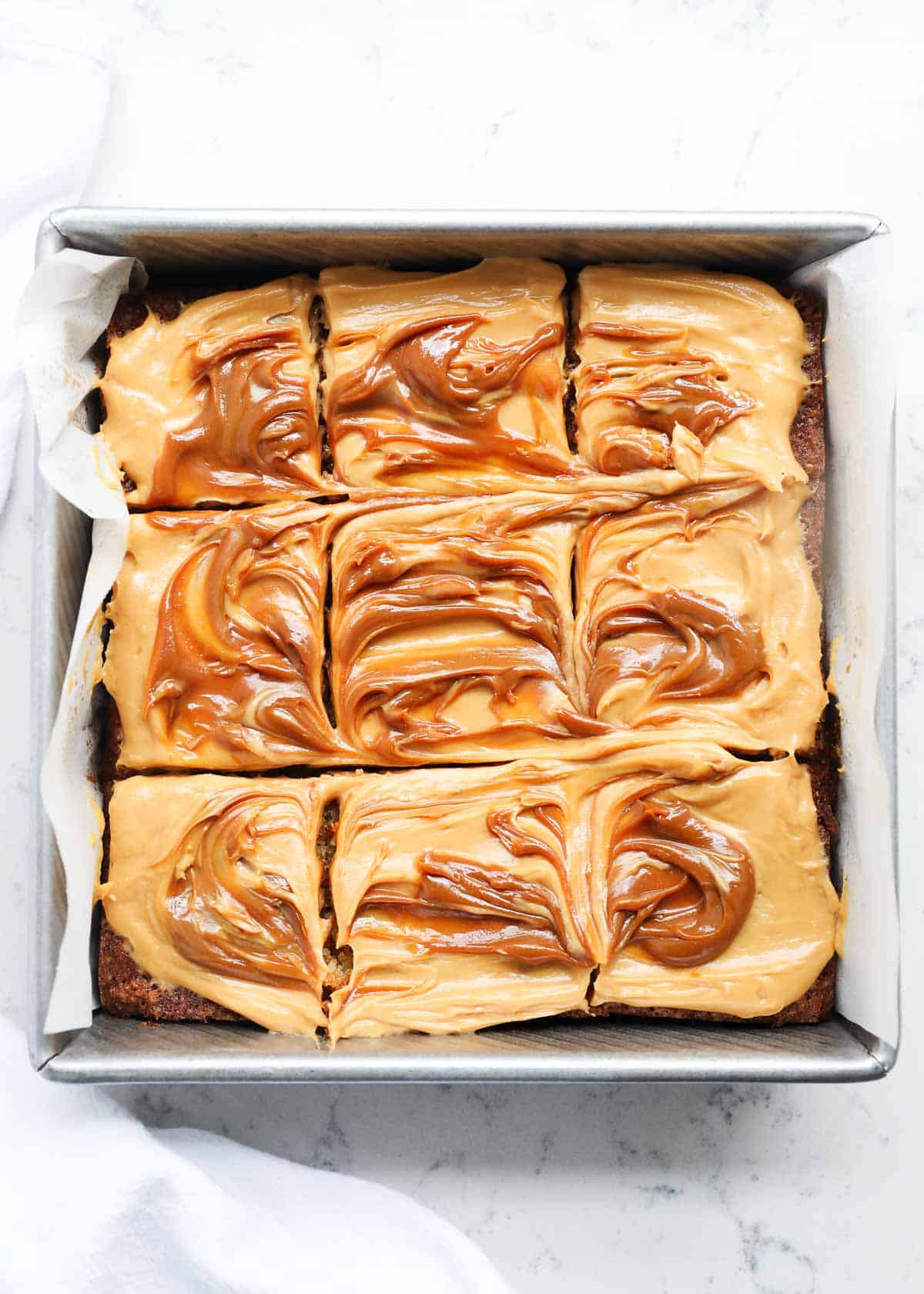 Storage
The frosting is best stored in an airtight container for up to 3 days in the refrigerator.
More Cream Cheese Frosting Recipes
HUNGRY FOR MORE? Subscribe to my newsletter and follow on Facebook, Pinterest and Instagram for all the newest recipes!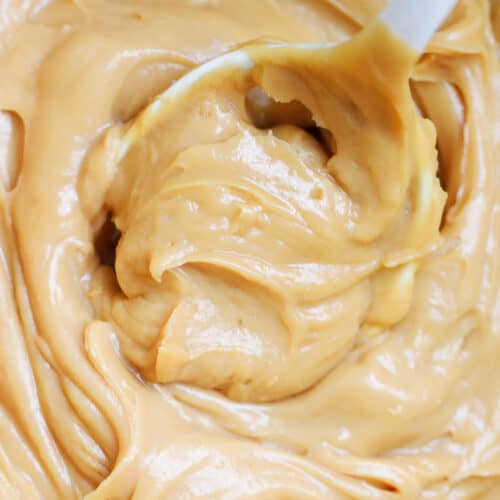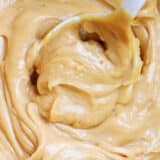 Caramel Cream Cheese Frosting
Dulce de leche is the star of this caramel cream cheese frosting and it makes a perfect topping for cakes, cookies or sweet rolls. Try it on a cupcake with a sprinkle of sea salt, it's so good!
Ingredients
6 ounces cream cheese , softened
6 Tablespoons butter
3 cups powdered sugar , more if needed
½ cup dulce de leche , more for topping if desired
2 teaspoons vanilla extract
Instructions
Beat together the cream cheese, butter and powdered sugar until smooth.

Mix in dulce de leche and vanilla until smooth. Add more powdered sugar until you reach desired thickness and sweetness.

Frost a cake with the cream cheese frosting, then cover until ready to serve.
---
Nutrition
Calories: 223kcal | Carbohydrates: 40g | Protein: 1g | Fat: 7g | Saturated Fat: 4g | Polyunsaturated Fat: 1g | Monounsaturated Fat: 2g | Trans Fat: 1g | Cholesterol: 20mg | Sodium: 64mg | Potassium: 16mg | Sugar: 39g | Vitamin A: 244IU | Calcium: 11mg | Iron: 1mg
Nutrition provided is an estimate. It will vary based on specific ingredients used.
Did you make this recipe? Don't forget to give it a star rating below!