Making stabilized whipped cream with gelatin is an easy way to get that beautiful sturdy whipped cream that holds its shape. Perfect for piping desserts, filling cakes, and licking the spoon!
Fresh whipped cream is the best dessert topping! Homemade whipped cream and this homemade Cool Whip are two other favorites.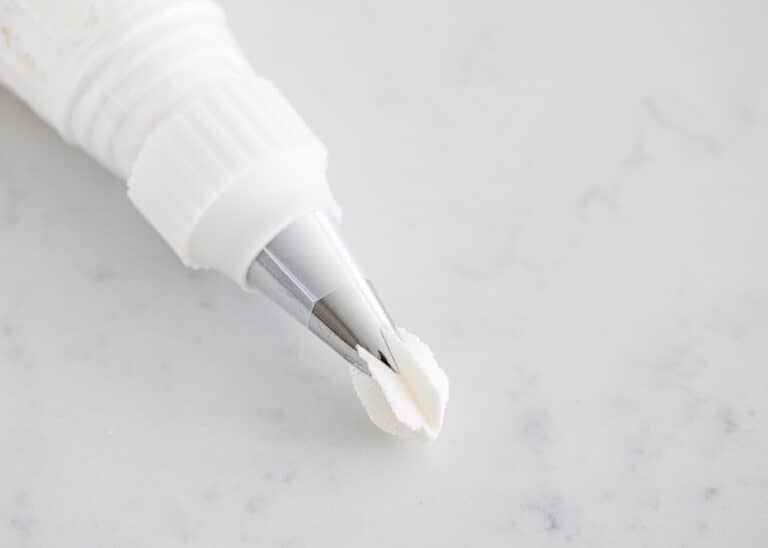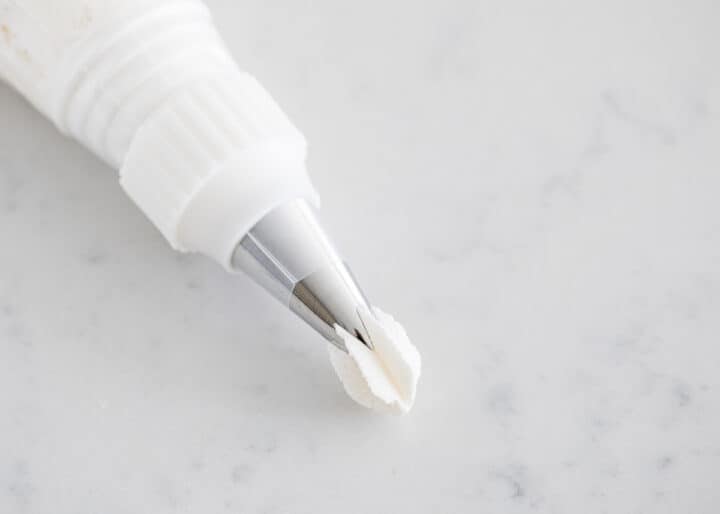 What Is Stabilized Whipped Cream?
If you're looking for something to hold it's shape a little longer, this stabilized whipped cream recipe is a great option. I love to use it in my jello poke cake, watergate salad and my no-bake chocolate lasagna.
Have you ever wondered why your whipped cream becomes a runny mess and doesn't hold its shape a little while after you've used it in a dessert, even when it's in the fridge? It's because you're not using stabilized whipped cream which makes all the difference in the world!
With the addition of simple gelatin and added sugar, you get a sturdy, perfectly sweet cream ready to use for all of your baking needs! Cool whip is a great example of stabilized whipped cream!
There are slight variations in ways of making a stabilized whipped cream and this recipe is the best and easiest version. If you've got a bowl, a microwave, and a hand mixer, you're ahead of the game!
Recipe Ingredients
The simple addition of gelatin takes this from a whipped cream to a topping that will hold its shape and can be used in so many ways.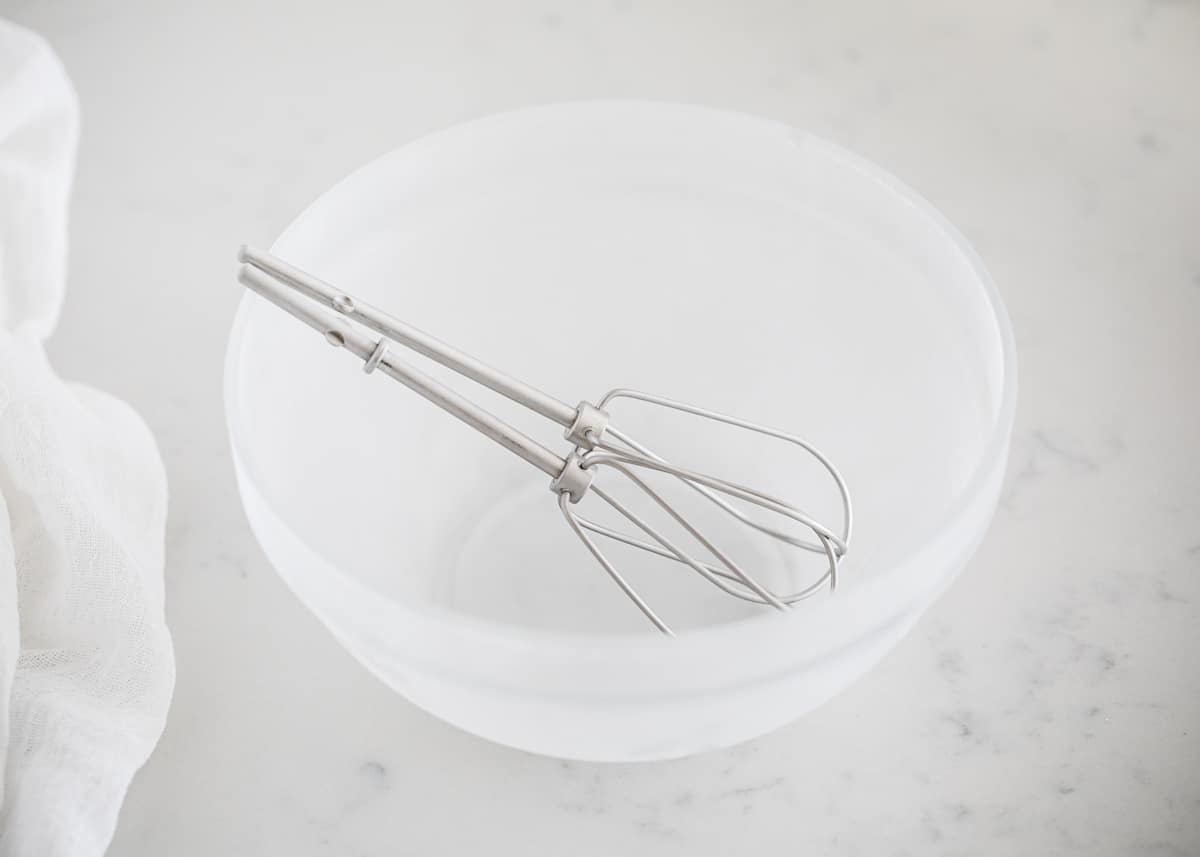 Find the full printable recipe with specific measurements below.
Gelatin: Make sure to get unflavored gelatin. Knox is an easy-to-find brand.
Water: The gelatin dissolves into the water until it's thick and gelatinous.
Heavy cream: It needs to be cold in order to make this recipe.
Sugar: I like to use powdered sugar, but granulated sugar will also work.
Vanilla: This is my flavor of choice. You could always sub other extracts in it's place.
How to Make Stabilized Whipped Cream
It just takes a few steps to create a stabilized whipped cream.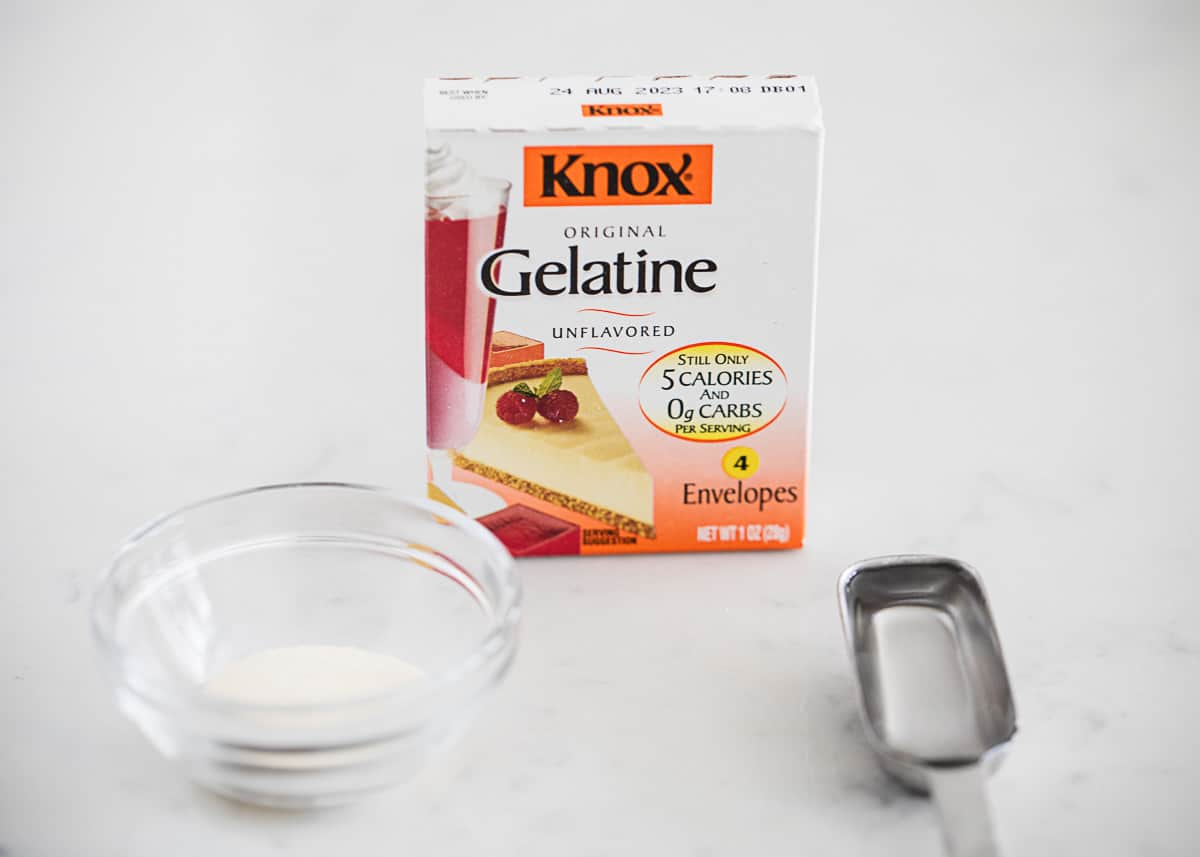 Prep. One of the major components of any good whipped cream is temperature. It needs to be cold! Beforehand, put a medium-large mixing bowl and the beaters into the freezer for about 15 minutes.
Dissolve. In a separate microwavable bowl with the water, dissolve the gelatin. Let it sit until it has thickened.
Microwave. Place the bowl with the dissolved gelatin in the microwave for about 10 seconds to allow it to turn back to liquid.
Pour. Take the chilled bowl out of the freezer and, to it add the cream, sugar, and vanilla. Beat on low until ingredients are blended then beat on high until soft peaks form. Slowly mix in the liquid gelatin while continuing to beat. Do this until a peak forms.
Enjoy. Use this for cake fillings, cheesecakes, cupcake frostings, and more!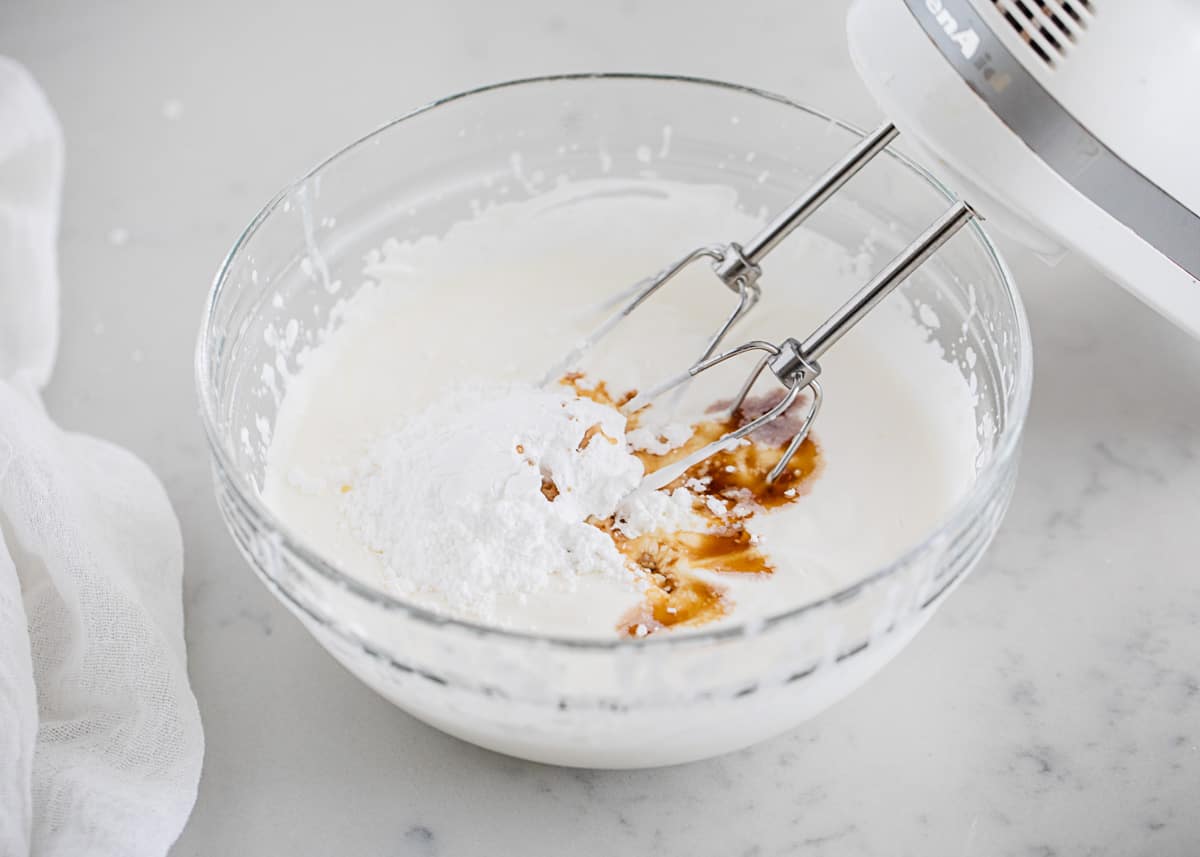 Tips for Success
Chill out. Heat is not what you want when using whipped cream. Chilling your bowl and beaters ahead of time is a great way to keep it nice and cold.
The gelatin. Use unflavored. If you don't, then you're essentially using jello and then things start to get weird. Also, make sure you let it cool a bit before adding it to the whipped cream. Adding hot gelatin to it would be counterproductive.
Make ahead. It is great for making a couple of days ahead of time. Just keep it in the fridge until ready to use.
Substitution. You can use this whipped topping in place of cool whip in most recipes.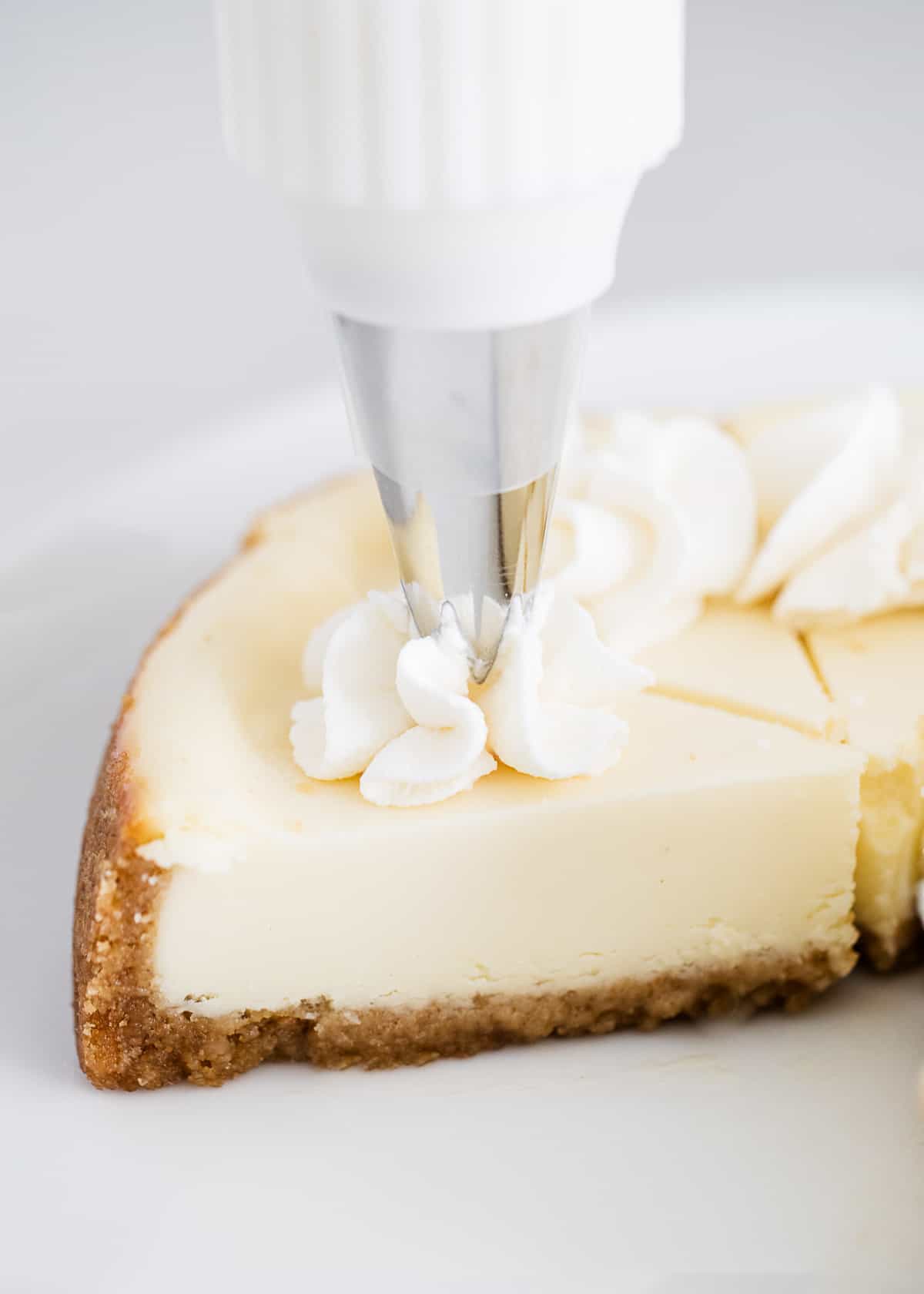 Recipe FAQs
Can I make this easy homemade cool whip recipe dairy-free?
I haven't tried it, but I have heard that coconut cream can be a great dairy-free substitute that works well.
Can I try this whipped cream recipe with other flavors?
If one day, you'd like to try using a different flavor, such as peppermint, lemon, orange, or almond to name a few then it's just a matter of swapping out the vanilla for almond extract, or a few drops of citrus or zest. Flavor alternatives might be nice depending your taste.
Can I freeze this stabilized whipped cream?
Guess what? You can! Just be sure to make it with heavy cream and I recommend piping it into the shape or onto the dessert before freezing as it doesn't pipe well after freezing.
Storage
Once you have made it, store it in the fridge. It can be made 1 to 2 days ahead of time. It will keep its shape at room temperature for a couple of hours, but you'll want to put it in the fridge sooner rather than later.
Use as a Topping on
HUNGRY FOR MORE? Subscribe to my newsletter and follow on Facebook, Pinterest and Instagram for all the newest recipes!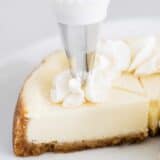 Stabilized Whipped Cream
Making stabilized whipped cream with gelatin is an easy way to get that beautiful sturdy whipped cream that holds its shape. Perfect for piping desserts, filling cakes, and licking the spoon!
Ingredients
1 teaspoon gelatin (unflavored)
1 Tablespoon water
1 cup cold heavy cream
2-4 Tablespoons powdered sugar or granulated sugar
½ teaspoon vanilla extract
Instructions
Place a medium to large bowl and electric beaters (or whisk attachment and the bowl of a stand mixer) in the freezer and chill 15 minutes.

In a small microwave-safe bowl, dissolve the gelatin in the water. Let sit a few minutes until thickened. Microwave 5 seconds, or until it turns back to liquid.

In the chilled bowl, add the cream, sugar, and vanilla. Using an electric mixer fitted with chilled beaters, beat on low until combined. Beat on high 1 minute, or until soft peaks form. Slowly mix in the gelatin mixture while the beaters are on. Beat until soft peaks forms.

Chill until ready to use. It will stay stable for 24 hours. Replace in any recipe using cool whip, cup for cup.
---
Notes
Make-ahead: This recipe can be made 1 to 2 days in advance and stored in the fridge. Storage: Store in an airtight container in the refrigerator up to 24 hours.
Nutrition
Calories: 56kcal | Carbohydrates: 1g | Protein: 1g | Fat: 5g | Saturated Fat: 3g | Polyunsaturated Fat: 0.2g | Monounsaturated Fat: 1g | Cholesterol: 17mg | Sodium: 5mg | Potassium: 14mg | Sugar: 1g | Vitamin A: 219IU | Vitamin C: 0.1mg | Calcium: 10mg | Iron: 0.02mg
Nutrition provided is an estimate. It will vary based on specific ingredients used.
Did you make this recipe? Don't forget to give it a star rating below!