A taco braid is pizza dough stuffed with cheesy saucy taco filling which makes for a quick and easy crowd-pleasing way to satisfy everyone's pizza and taco cravings in one go!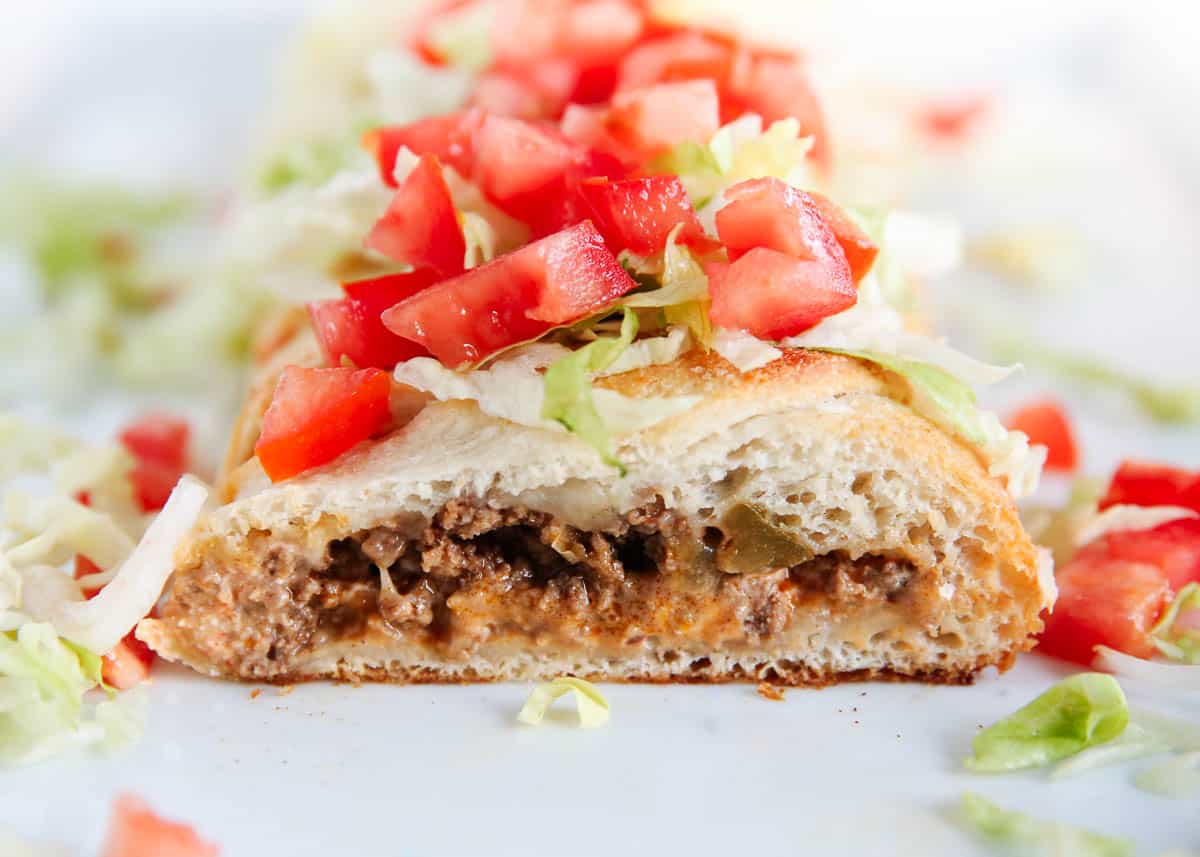 Simple Stuffed Taco Braid
Italy meets Mexico in this easy taco braid recipe! It's made with pizza dough that gets stuffed with taco meat, homemade taco seasoning (or store-bought), salsa, and cream cheese! It's the perfect shareable appetizer and easy dinner idea especially if you're using leftover taco meat.
We're taking a shortcut by using premade pizza dough, but if you're up to making homemade pizza dough, by all means. I love this version just the way it is but you can switch up the filling ingredients to add some extras! Once baked and golden brown, this taco braid with pizza dough is a simple and impressive way to switch up Taco Tuesday!
Ingredients for the Best Taco Braid
These ingredients are pantry staples that are easy to have on hand making this taco braid a weekly menu item. It is simple to make and comes together quickly. It is a complete meal with all the toppings!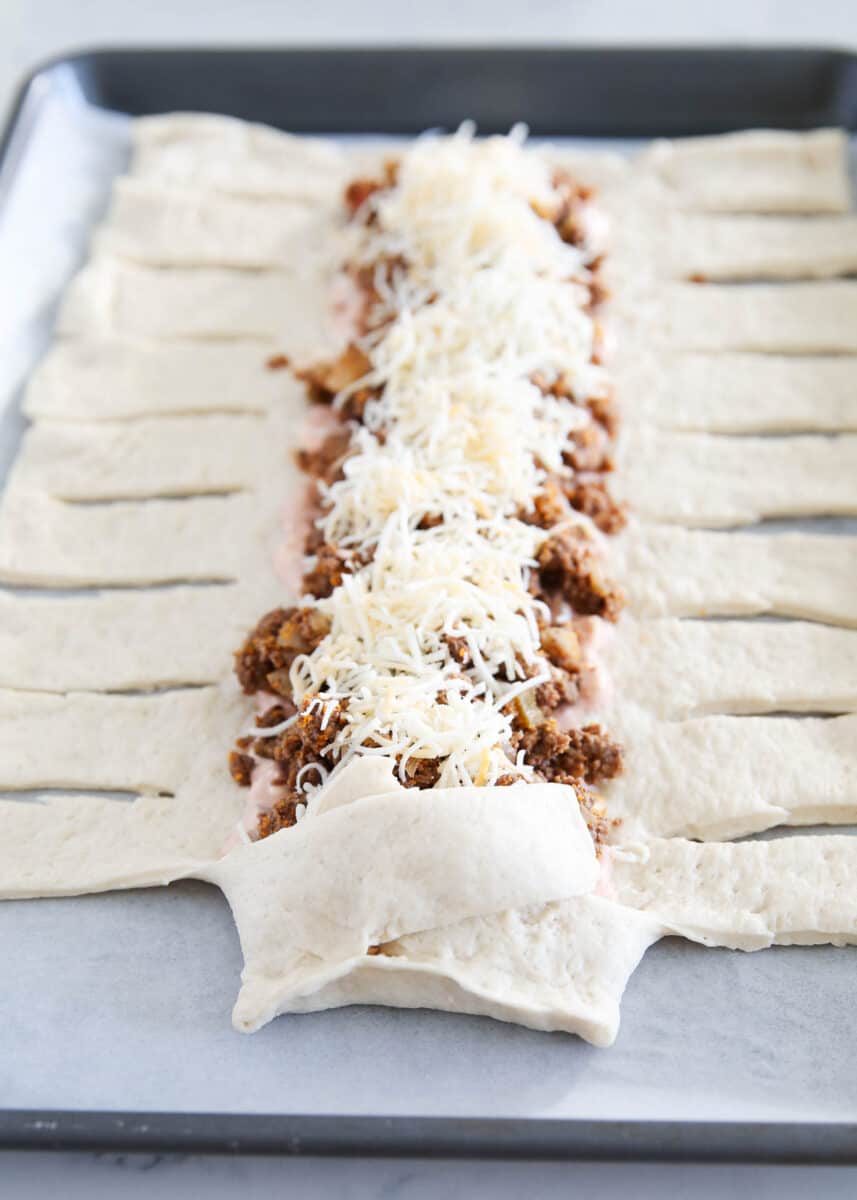 Find the full printable recipe with specific measurements below.
Beef: Ground beef is sauteed and seasoned for a delicious flavor.
Onion: Finely chop an onion for a zest of spice and flavor that is sauteed with the beef mixture.
Salsa: Fresh-made salsa is delicious or pick up your favorite blend of salsa.
Taco seasoning: Add all the spices at once using a package of seasoning or homemade taco seasoning you can store in a jar.
Pizza dough: Make your own homemade pizza dough or purchase the refrigerated pizza dough in a can to roll out. Cut the sides in a slant for the braid to form.
Cream cheese: Soften the cream cheese to help it spread easier.
Cheddar cheese: Sprinkle the shredded cheese on the inside. This gives the braid that melty cheese appearance and taste.
Butter: Melt your butter ahead of time. Use a brush to evenly distribute over the top of the dough.
Garlic Salt: Adds extra flavor over the taco braid as it is baking.
How to Make the Taco Braid
This is the best dinner recipe for a busy weeknight! It is loaded with all the flavors, easy to make, and has simple ingredients that come together quickly. Bake this taco braid in the oven and it is ready in 15 minutes!
Cook meat: Brown the beef in a skillet, drain the grease, and then add the taco seasoning and salsa. Using lean ground beef makes for less excess grease.
Roll dough: Line a rimmed baking sheet with parchment paper and roll out the pizza dough into a rectangle. Press it out with your fingers. You want it about 15 x 10 inches.
Cut strips: Along the long sides of the dough use a pizza cutter to cut 1/2″ strips along the entire length. Do not go right to the middle.
Spread: Spread the cream cheese and salsa combo along the middle of the dough and top with meat mixture and cheese.
Fold: Start at one end of the braid and fold over the two end strips to meet each other, overlapping. You might find they naturally fold at an angle, which is great. Then, pinch them together to secure them.
Pinch: Continue wrapping the braid in alternating strips as you move down the long side of the braid. Pinch the remaining end together to secure it. That way it'll hold in all of the fillings as it bakes.
Brush: Brush the outside of the braid with melted butter then sprinkle with garlic salt.
Bake: Bake until golden brown. This should be about 15-20 minutes. Allow it to cool on the pan before slicing it into about 6 slices.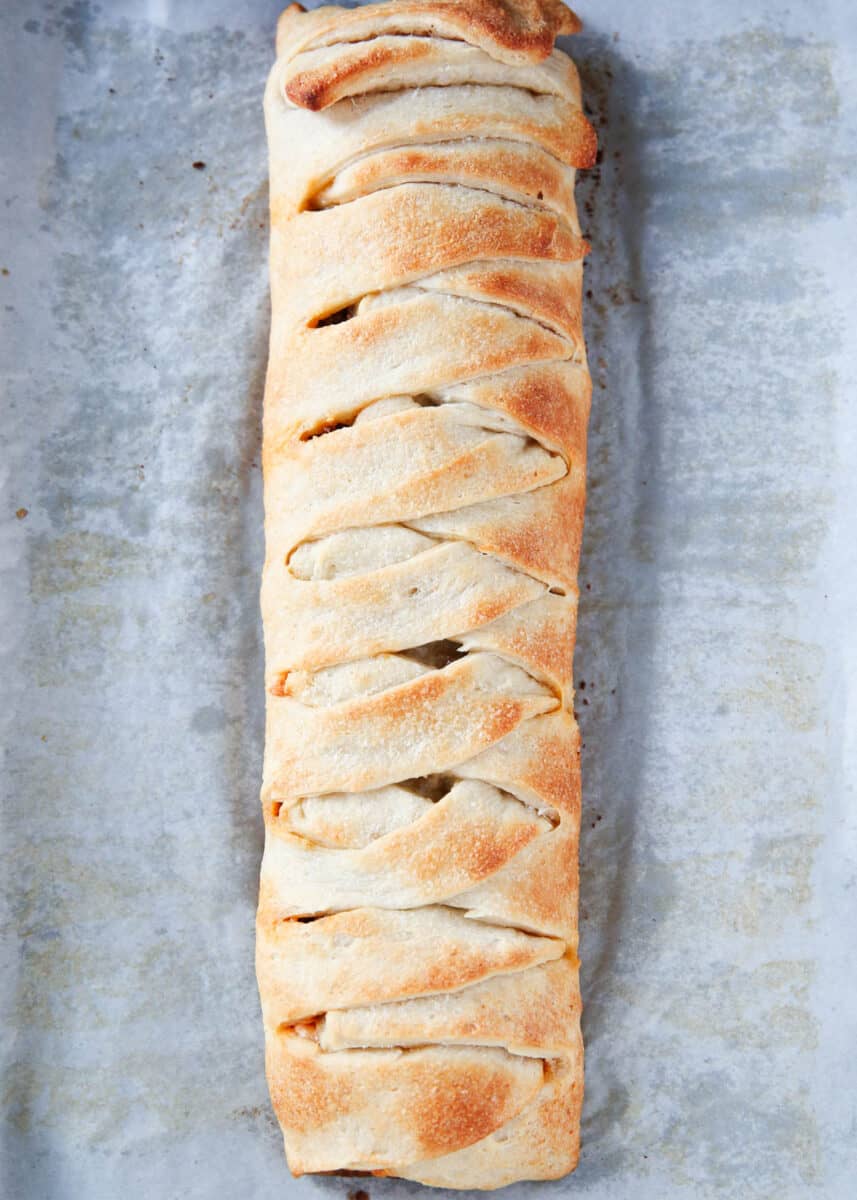 Yummy Variations
Here are some ideas to make this taco braid even better! Make a few changes, variations, or substitutions to make this dinner your way. Taco braid is a versatile dinner that is great for any weeknight!
Beans: Add 1/2 cup of pinto beans or black beans with the taco meat.
Filling: If preferred, you can completely omit the cream cheese and salsa base, or replace it with refried beans.
Cheese: For a cheesy top, sprinkle 1/2 cup of cheese on the braid halfway through the baking time.
Substitute: You can use taco sauce instead of or in addition to the taco seasoning.
Oil: Swap the melted butter for brushing of olive oil instead.
Salt: Coarse sea salt is also great if you can't find garlic salt.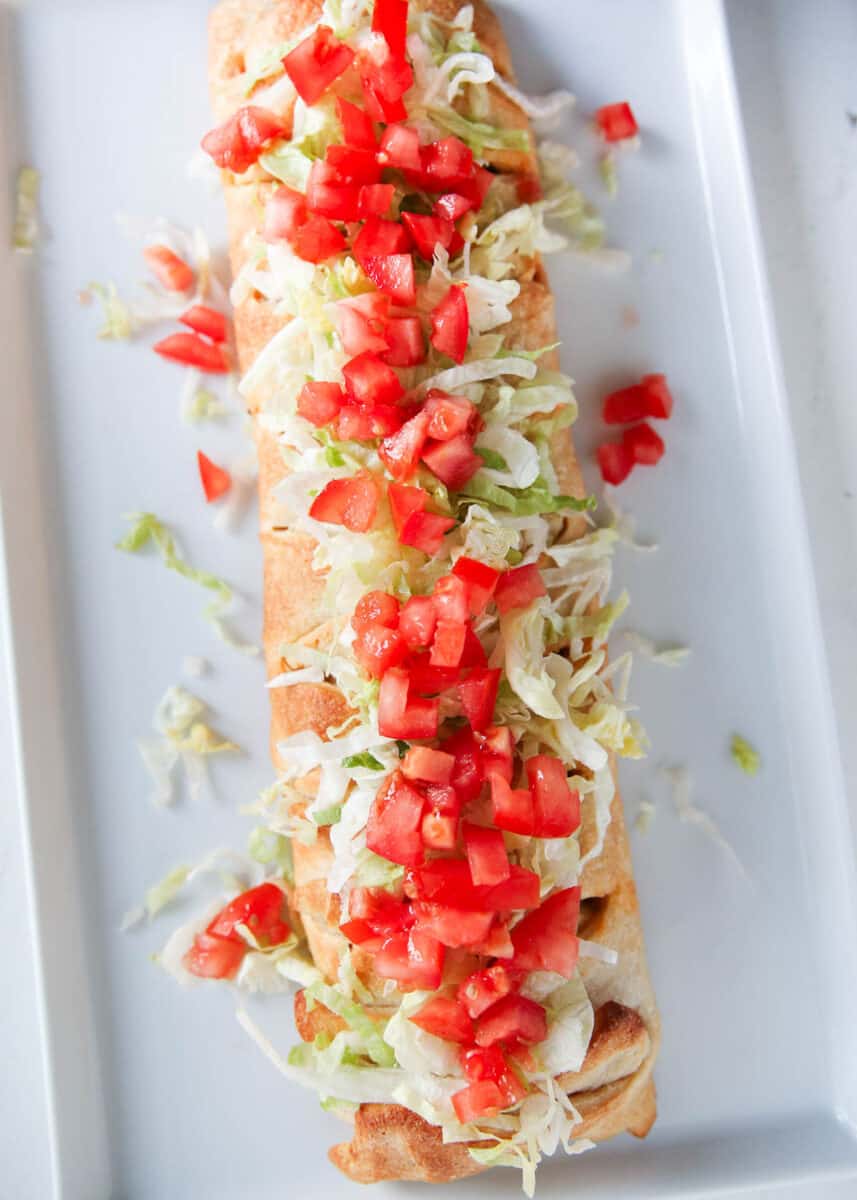 Favorite Toppings
Grab some fresh produce and toppings to add right on top of this easy taco braid recipe! It is satisfying and can be a complete meal with all the toppings on top. It is a delicious dinner!
Shredded iceberg or romaine lettuce
Diced tomatoes or pico de gallo
Taco sauce
Sour cream
Recipe FAQs
Can I use my own homemade pizza dough?
Yes! Homemade pizza dough is highly encouraged. It is easy to make and tastes amazing with this recipe.
How do I make this a vegetarian braid?
You can make this vegetarian by using tofu and adding in mushrooms, bell peppers, and zucchini. This is wrapped in pizza dough.
Can I make this a breakfast braid?
Yes! This is simple to do with eggs, bacon, ham, or sausage. Scramble your eggs, sprinkle cheese, and pick your protein to add on top. Then, wrap it all in the pizza dough and bake.
What can be served with a taco braid?
Make this a complete meal with a side of salad, rice, beans, and/or a side of grilled corn.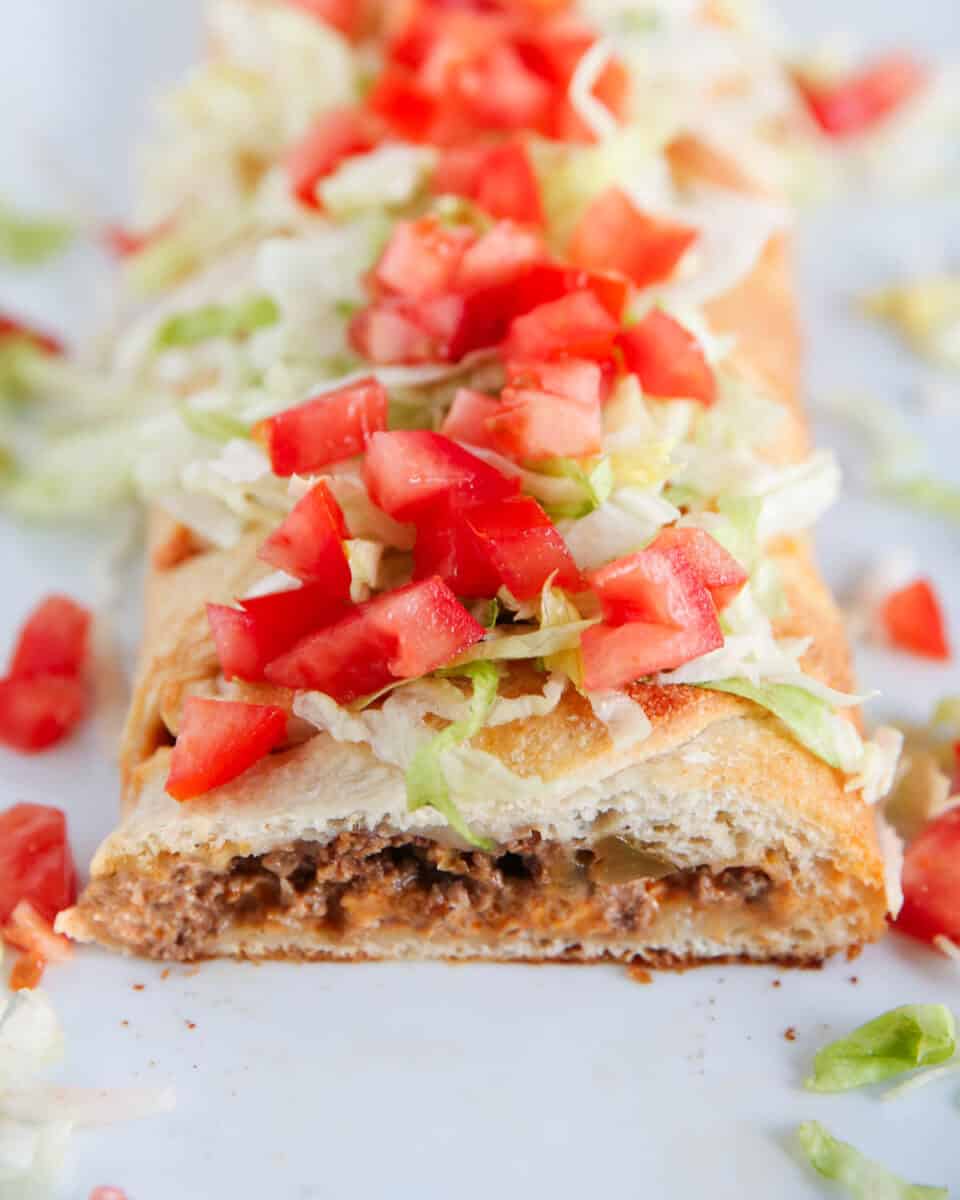 5 star review
"This is so delicious! My family is in love!"

-Lila
Storing, Freezing, & Reheating
Taco braid is an easy recipe that can be stored or even frozen. It is perfect for giving and serving others but also a great way to have an extra meal on hand for those nights you are in need of a freezer meal.
To store: Any remaining slices of the braid can be stored but best to do it without any toppings. Keep stored in an airtight container for up to 2 days.
To freeze: Transfer any leftovers to a freezer-friendly container or Ziploc bag and keep frozen for up to 1 month.
Reheat: In the oven at 350 until heated through.
More Mexican Favorites
HUNGRY FOR MORE? Subscribe to my newsletter and follow on Facebook, Pinterest and Instagram for all the newest recipes!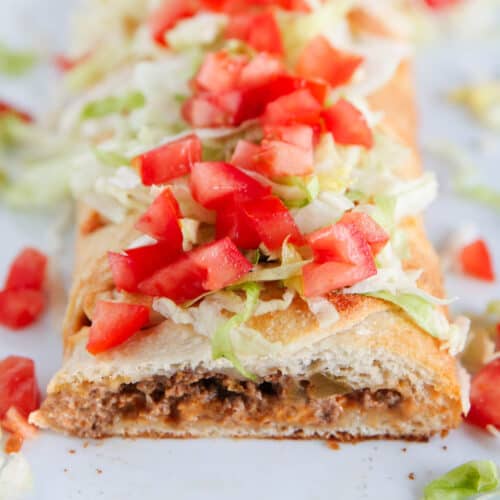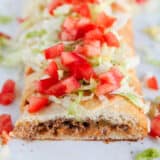 Taco Braid
A taco braid is pizza dough stuffed with cheesy saucy taco filling which makes for a quick and easy crowd-pleasing way to satisfy everyone's pizza and taco cravings in one go!
Ingredients
Braid
1 pound pizza dough , 1 can or homemade dough
2 ounces cream cheese , softened
¼ cup salsa
½ cup shredded cheddar cheese , more if desired
2 Tablespoons butter , melted
garlic salt
Optional toppings: Shredded lettuce, tomatoes or pico de gallo, olives, sour cream, guacamole
Instructions
Preheat the oven to 375°F. Heat a large skillet over medium heat. Add the ground beef and onion and cook until browned, stirring occasionally breaking up any large pieces.

Once browned, drain off any extra grease. Then add in the taco seasoning, salsa and 2 Tablespoons of water. Bring to a light simmer and then turn off the heat.

Line a baking sheet with parchment paper. Then press the pizza dough into a rectangle about 15×10 inches. Then cut 1 1/2" wide strips about 3 inches long down both sides of the pizza dough.

Mix together the cream cheese and salsa in a bowl. Then spread on the center of the dough. Add the meat and cheese on top.

Beginning on one side, fold the end up and wrap the two end strips over top to secure the braid. Pinch the seams together. Alternate folding in strips, all the way across. Pinch the end seams together to secure the taco braid.

Brush the melted butter over top and sprinkle with garlic salt.

Bake for 15-20 minutes, or until golden brown and cooked through the center.

Allow the taco braid to cool on the pan for a few minutes. Then slice into 6 large slices or 10 small slices. Top with desired toppings.
---
Notes
Variations:
Add a 1/2 cup black or pinto beans in wit the taco meat.
You can omit the cream cheese and salsa base or you could spread refried beans instead on the base.
Sprinkle an extra 1/2 cup of cheese across the top half way through baking for a cheesy top.
Nutrition
Calories: 322kcal | Carbohydrates: 30g | Protein: 15g | Fat: 16g | Saturated Fat: 8g | Polyunsaturated Fat: 1g | Monounsaturated Fat: 4g | Trans Fat: 1g | Cholesterol: 55mg | Sodium: 744mg | Potassium: 226mg | Fiber: 2g | Sugar: 5g | Vitamin A: 481IU | Vitamin C: 2mg | Calcium: 92mg | Iron: 3mg
Nutrition provided is an estimate. It will vary based on specific ingredients used.
Did you make this recipe? Don't forget to give it a star rating below!