Learn how to make white cheddar popcorn at home! This salty, cheesy snack is so easy to make right on your stovetop. Get the bowls ready because your family is going to love it!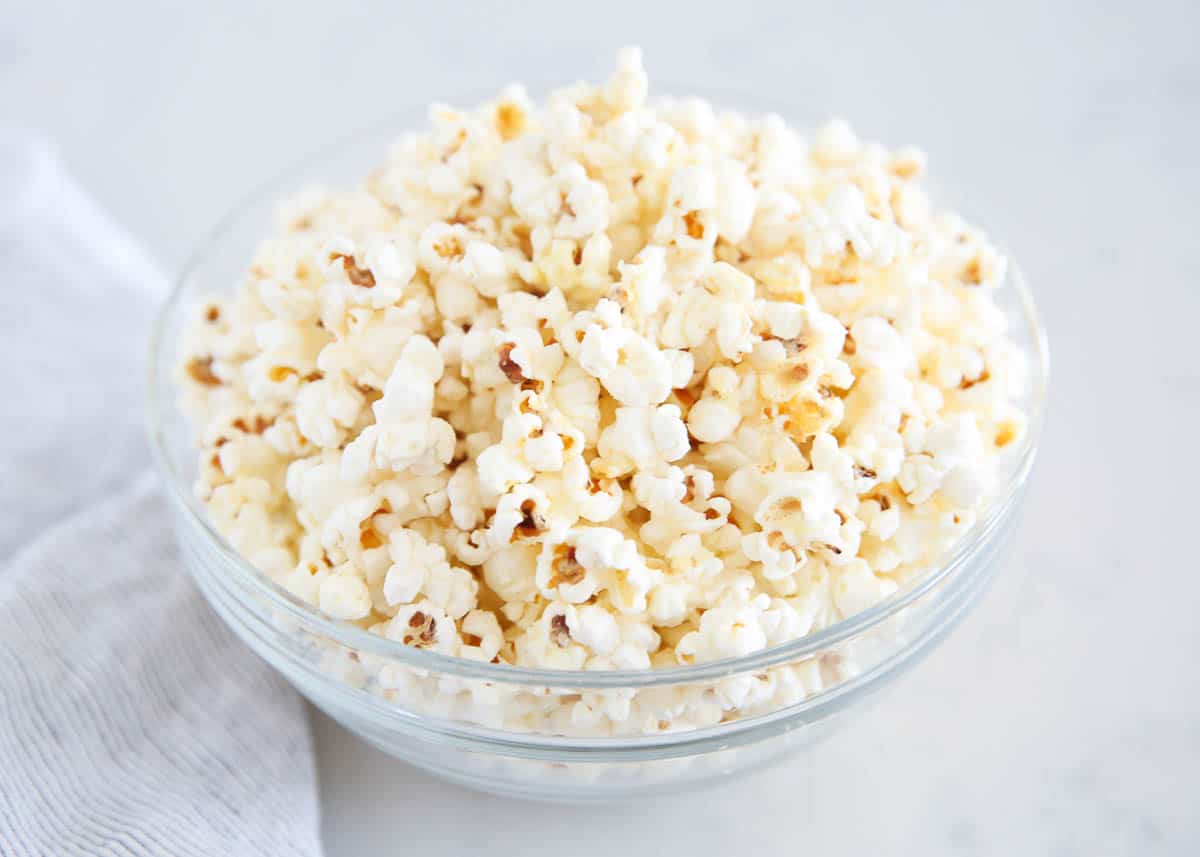 Cheesy Popcorn
If you're anything like me, you know how essential it is to have easy, great-tasting snacks that you can whip up in a matter of minutes. This white cheddar popcorn recipe is salty, crunchy, and full of delicious cheesy flavor. Your family will go crazy for it!
We love popcorn snacks in this house and I've shared sweet versions like this homemade caramel corn or white chocolate popcorn, but I thought it was time to share a savory recipe as well.
Right after plain butter, delicious white cheddar cheese is one of the most popular flavors. It's not hard to see why. There's just something about the combination of popcorn and white cheddar cheese powder that is so satisfying!
Why This is The Best White Cheddar Popcorn
Delicious. It's a homemade version of the popular Smartfood white cheddar popcorn and it's made right on your stove top without any fancy equipment required. The light and crunchy snacks are tossed in melted butter and white cheese popcorn seasoning that is finger-licking good!
Convenient. Making it on the stovetop is an easy and convenient way to make homemade popcorn. I also find it to be less expensive than buying bags of microwave kernels. Plus there aren't any of the preservatives you'll find in the microwavable kind.
Easy. Once you get the hang of it, you'll be popping all the time, and movie night will never be the same! Check out my step-by-step guide on how to make the perfect stovetop popcorn for extra tips!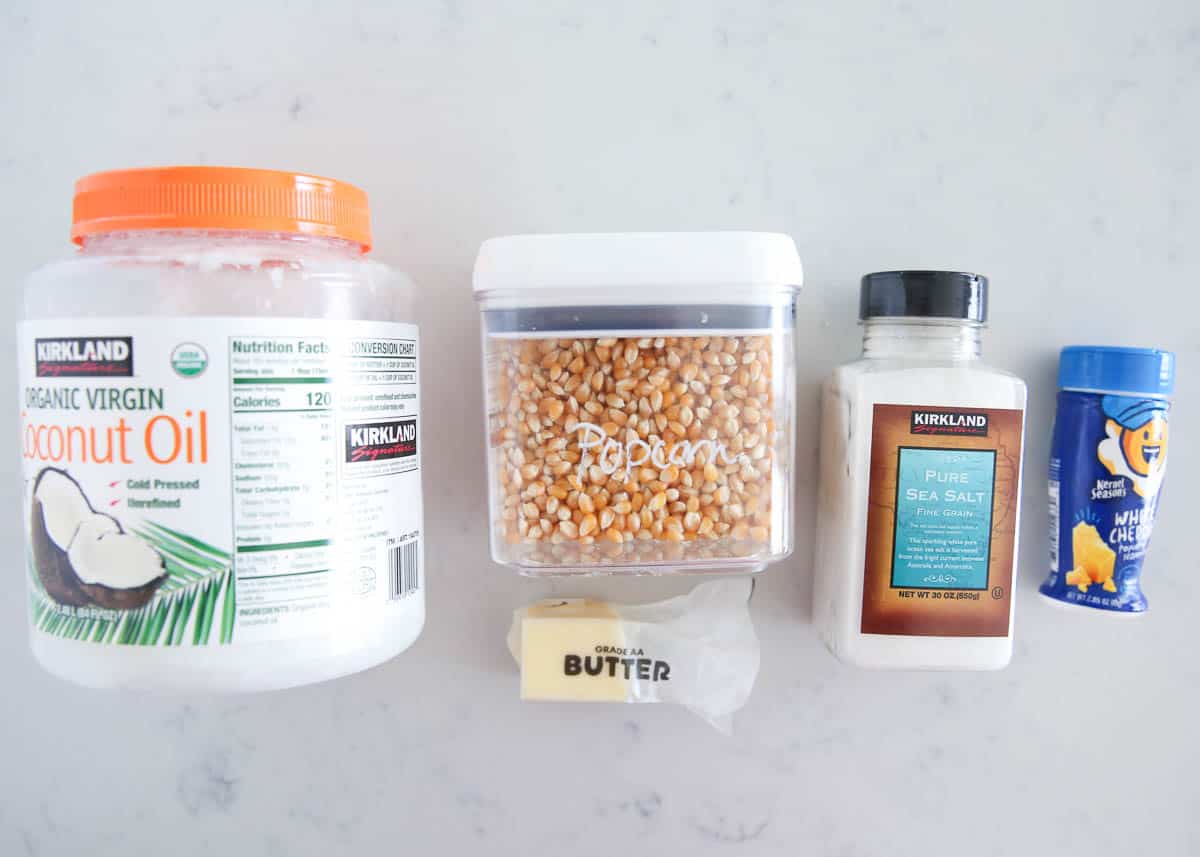 Here's What You'll Need
This recipe is completely pantry friendly! Keep the ingredients on hand for when your salty cheesy cravings strike.
Cooking oil: Coconut oil or extra-virgin olive oil works well. You can also use canola oil, vegetable oil, or sunflower oil if preferred.
Popcorn kernels: Use the freshest kernels possible. Ideally ones you've purchased within the past 6 – 12 months.
Unsalted butter: Melted butter is what helps the cheese powder stick.
White cheddar powder: I like the Kernel Seasons brand. I find mine at Kroger or Target stores. It has the natural flavor of fresh-tasting cheese in a convenient little shaker!
Fine sea salt: Sprinkle this over everything for added great taste.
What is The Best Pan for Making Stovetop Popcorn?
You want to use a heavy-bottomed pan that conducts heat evenly. Either a stainless-steel pan or a large enameled Dutch oven are both good options. Make sure your pan has a lid as it helps to keep the popping corn from flying all over your kitchen!
You can also buy pots that are specifically designed for the stovetop method. These pots come with a hand crank that let you toss the kernels around instead of shaking the pot by hand. Fun to have but definitely not a necessity.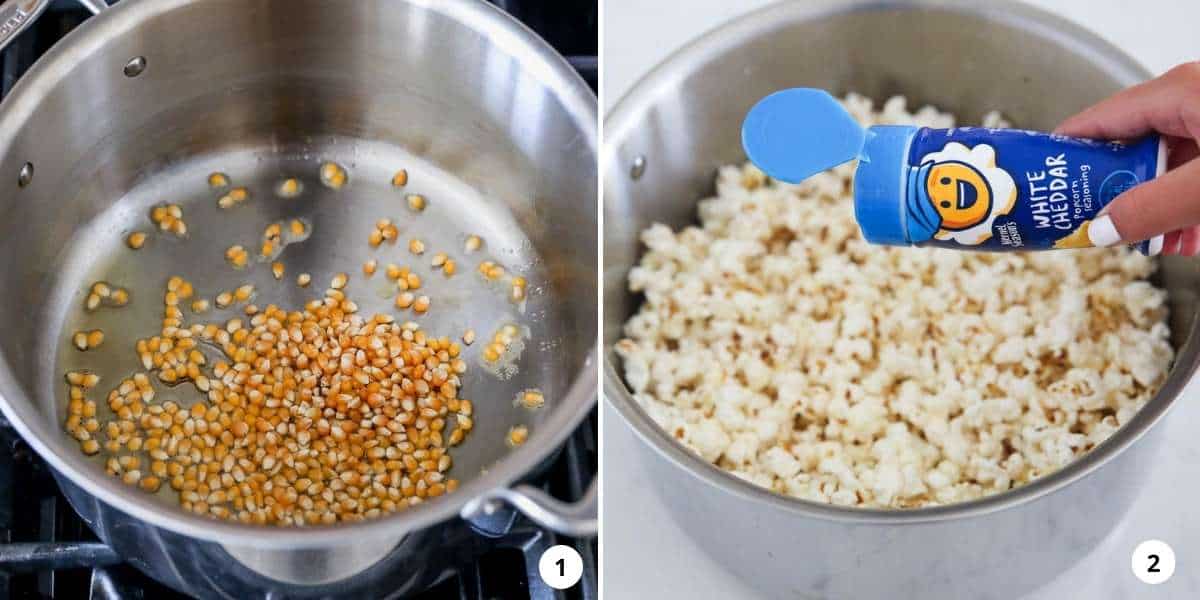 How to Make White Cheddar Popcorn
It couldn't be easier to make stovetop white cheddar cheese popcorn. All you need is some oil, kernels, and a heavy-bottomed pan. In less than 5 minutes, you'll be digging into this delicious savory snack.
Pop your kernels on the stovetop and remove the pan from the heat.
Drizzle over the melted butter and sprinkle on the white cheddar powder. Put the lid on and give everything a good shake. Serve immediately.
Testing That The Oil Is Hot Enough
I always use this simple trick to test that the oil is hot enough for popping. Place 3 kernels in the oil as it heats up. Once those kernels have popped, then you can go ahead and add the remaining kernels in a single layer. So easy!
Helpful Tips
Follow these tips to get the best white cheddar popcorn every time!
The larger the pot you have the better as it gives you plenty of room to shake shake shake the seasoning! You could use a smaller pot and then transfer the popcorn to a large bowl before tossing in the butter and seasoning.
Take a bite of your finished product before adding the additional sea salt. You might find that the white cheddar powder provides enough saltiness for your taste!
It probably goes without saying, but never leave your pan unattended on the stovetop. The popping process happens pretty quickly, so you run the risk of popcorn burning if you get distracted by other things.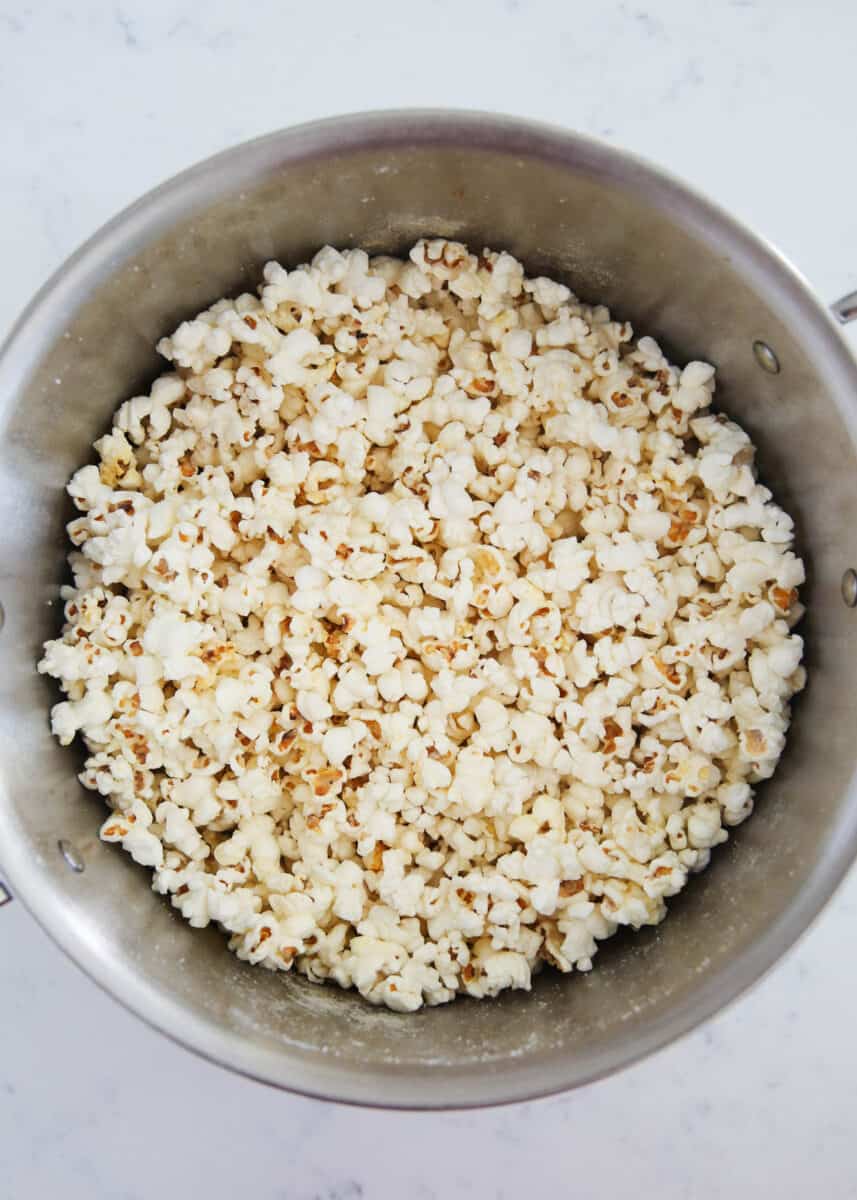 Storage
I find the popcorn to be best when eaten fresh and at its crunchiest. If you do end up with leftovers, store the popcorn in a brown paper bag so it does not become too soft.
You can store it for up to 3 days. Paper bags help to absorb any moisture, so the popcorn doesn't become too soggy.
Variations
White cheddar is one of my favorite flavors. I can't get enough of it! Although sometimes, I'll kick it up a notch by adding additional seasonings. I know! I can't be stopped. If you love flavored popcorn as much as I do, you might enjoy adding a pinch or two of these suggestions to the white cheddar:
FAQs
How long does it take to pop popcorn on the stovetop?
It usually takes around 5 minutes for the kernels to pop. Place a couple of kernels in the pot as you're heating the oil, so you'll know once it has reached the right temperature – when the kernels pop.
Why does my stovetop popcorn burn?
Make sure your oil doesn't get hot enough to smoke and burn! Never raise the temperature above medium heat.

Also, a heavy-bottomed pan is essential. Thin pans heat up too quickly and they can often distribute heat unevenly which can result in burnt popcorn.
Do unpopped kernels expire?
Try to use unpopped kernels within 6 – 12 months as they tend to start losing their moisture after this time. Since the kernels depend on the moisture inside to turn to steam resulting in the pop, you might find that older popcorn does not pop in the same way.
Is white cheddar seasoning a gluten-free product?
The Kernels brand is. It's also made with real cheese, whey, and lactic acid. Just be sure to check the label!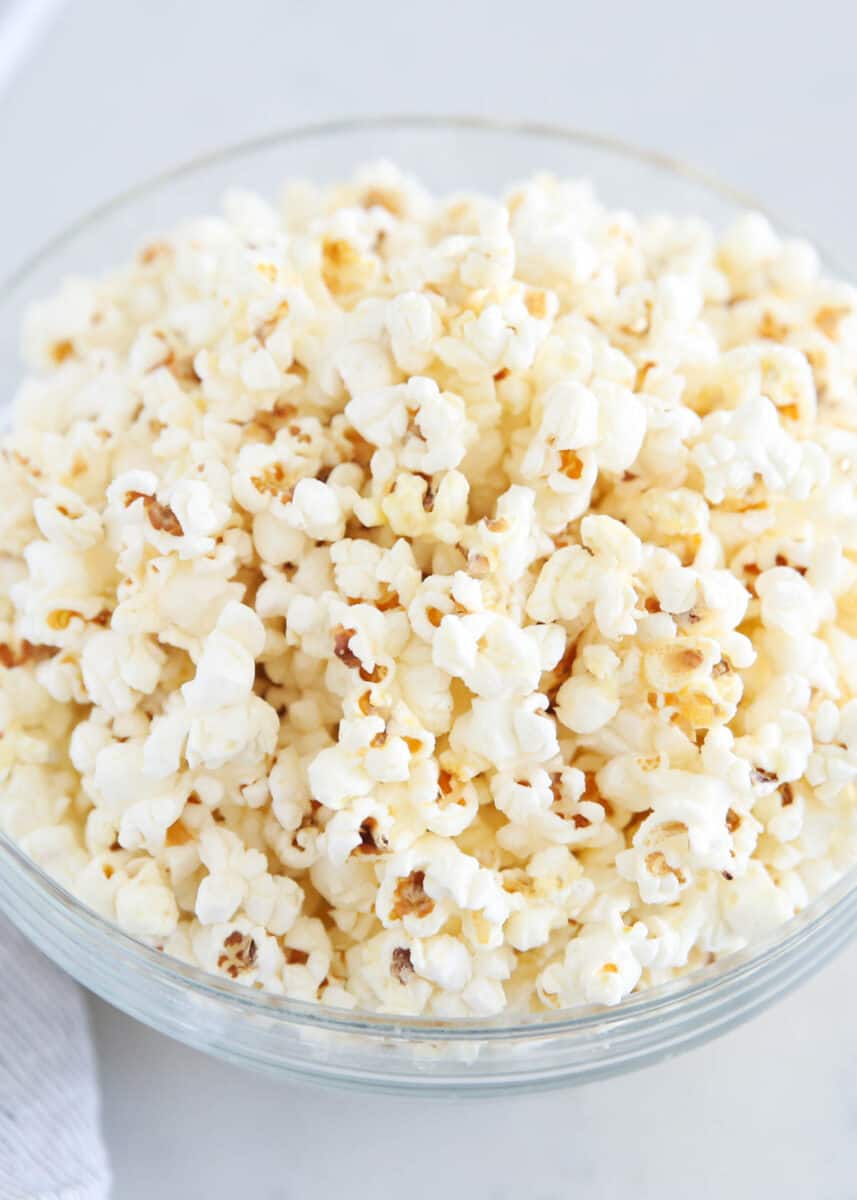 Below are some other easy and delicious snack ideas that your family will love!
HUNGRY FOR MORE? Subscribe to my newsletter and follow on Facebook, Pinterest and Instagram for all the newest recipes!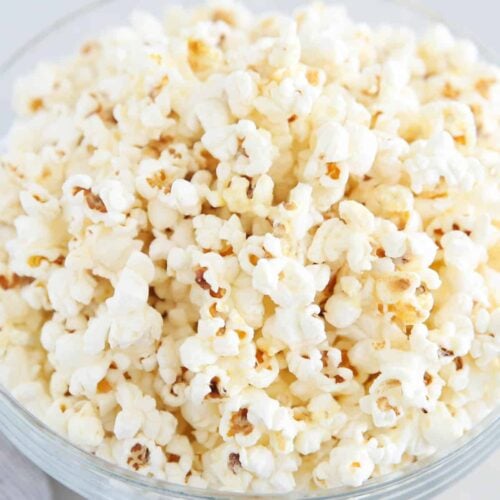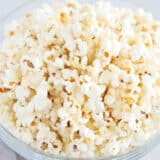 White Cheddar Popcorn
Learn how to make white cheddar popcorn at home! This salty, cheesy snack is so easy to make right on your stovetop. Get the bowls ready because your family is going to love it!
Ingredients
3 Tablespoons coconut oil , or extra-virgin olive oil
½ cup popcorn kernels
3 to 4 Tablespoons unsalted butter , plus more to taste
1-2 Tablespoons white cheddar powder , plus more to taste
fine sea salt , to taste
Instructions
In a large, heavy bottom pan, heat the oil. Place 3 kernels into the oil. Let them heat up. Wait for them to pop before adding the remaining kernels.

Once the kernels have popped, add the rest of the kernels in an even layer. Remove from the heat. Count to 30 seconds (out loud so you don't forget). After 30 seconds, return the pot to medium heat.

Using hot pads, gently shake the pan. As it starts popping, tip the lid slightly to allow steam to escape.

Cook the popcorn until you hear it slow down (several seconds in between pops) and then immediately remove from the heat. Drizzle butter over the popcorn and sprinkle with the cheddar powder (I like to start with about 1 Tablespoon). Put the lid on and shake the popcorn.

Pour into a large bowl. Add more cheddar powder, if desired, and salt to taste.
---
Notes
White cheddar: I like the Kernel Seasons brand. I find mine at Kroger or Target stores. To add a little heat to your popcorn, you can add a pinch of cayenne powder or chili pepper. Storage: Store leftover popcorn in a brown paper bag so it does not become too soft up to 3 days. Yield: This recipe makes about 14 cups of popcorn.
Nutrition
Serving: 2cups | Calories: 137kcal | Carbohydrates: 9g | Protein: 1g | Fat: 11g | Saturated Fat: 8g | Polyunsaturated Fat: 1g | Monounsaturated Fat: 2g | Trans Fat: 1g | Cholesterol: 13mg | Sodium: 1mg | Potassium: 34mg | Fiber: 1g | Sugar: 1g | Vitamin A: 150IU | Calcium: 2mg | Iron: 1mg
Nutrition provided is an estimate. It will vary based on specific ingredients used.
Did you make this recipe? Don't forget to give it a star rating below!