Easy homemade kettle corn contains only 4 ingredients and is ready to eat in under 10 minutes! This stovetop popcorn treat is so simple to make at home and is the quickest way to enjoy everyone's favorite sweet and salty snack.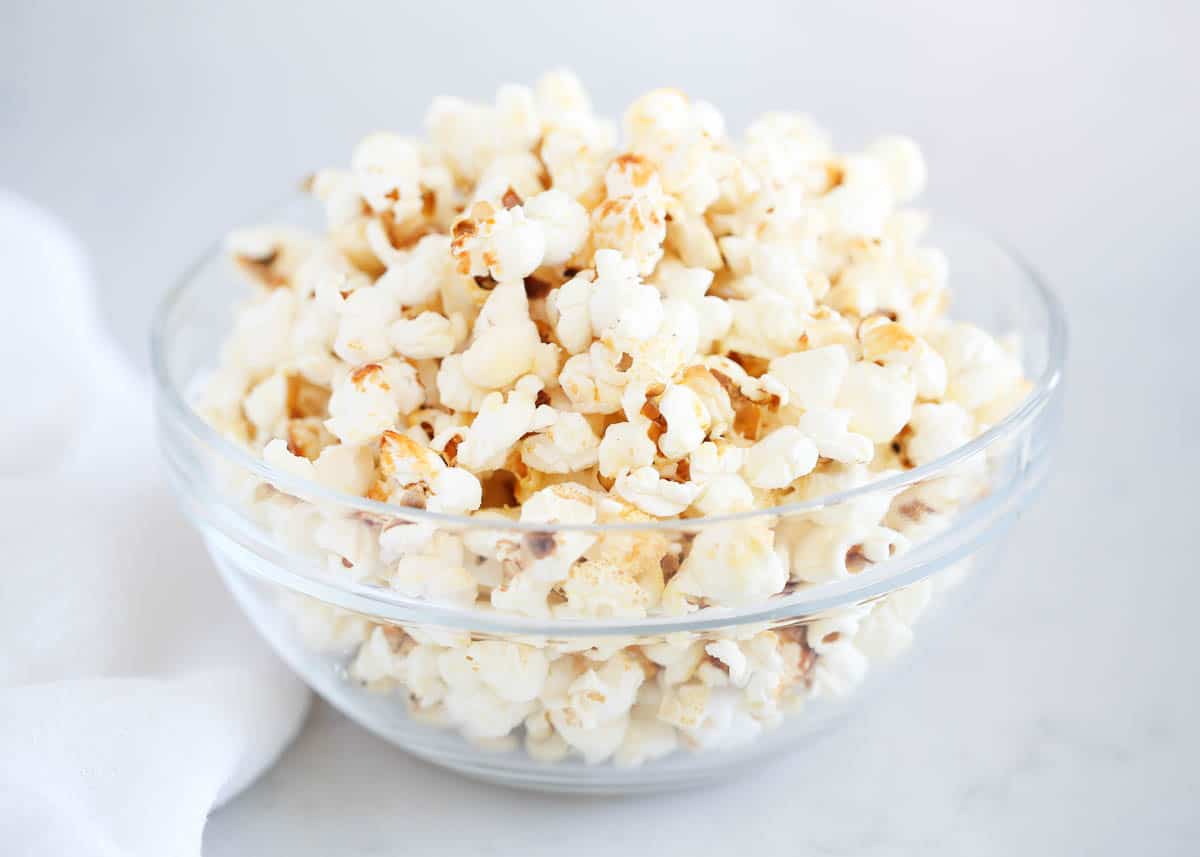 Easy Stovetop Kettle Corn
Settle in for movie night with a sweet and salty homemade kettle corn popcorn that you can easily make at home with just 4 ingredients! It's a sweetened version of stovetop popcorn that doesn't quite cross into caramel corn territory giving it the perfect balance of opposing flavors.
The added sugar delivers the sweetness turning it into an irresistible treat much the same way that M&M popcorn does! We also love marshmallow caramel popcorn and white chocolate popcorn.
If you've never used coconut oil to make popcorn, you may never go back to anything else after this. When you combine high fiber popcorn and healthy coconut oil, you've got a powerhouse guilt-free, gluten-free and dairy-free snack fit for anything from kids school lunches and healthy afterschool snacks to movie nights and birthday parties!
What is Kettle Corn vs. Popcorn?
Kettle corn vs. popcorn is a distinction worth noting. If you've ever been to a summer fair you've probably had, smelled, or drooled over some kettle popcorn. The difference between the two is that sugar is added to the oil when making a classic kettle corn so that it cooks along with the popcorn, coating each kernel with sweet and salty flavor! Traditional plain popcorn doesn't have sugar.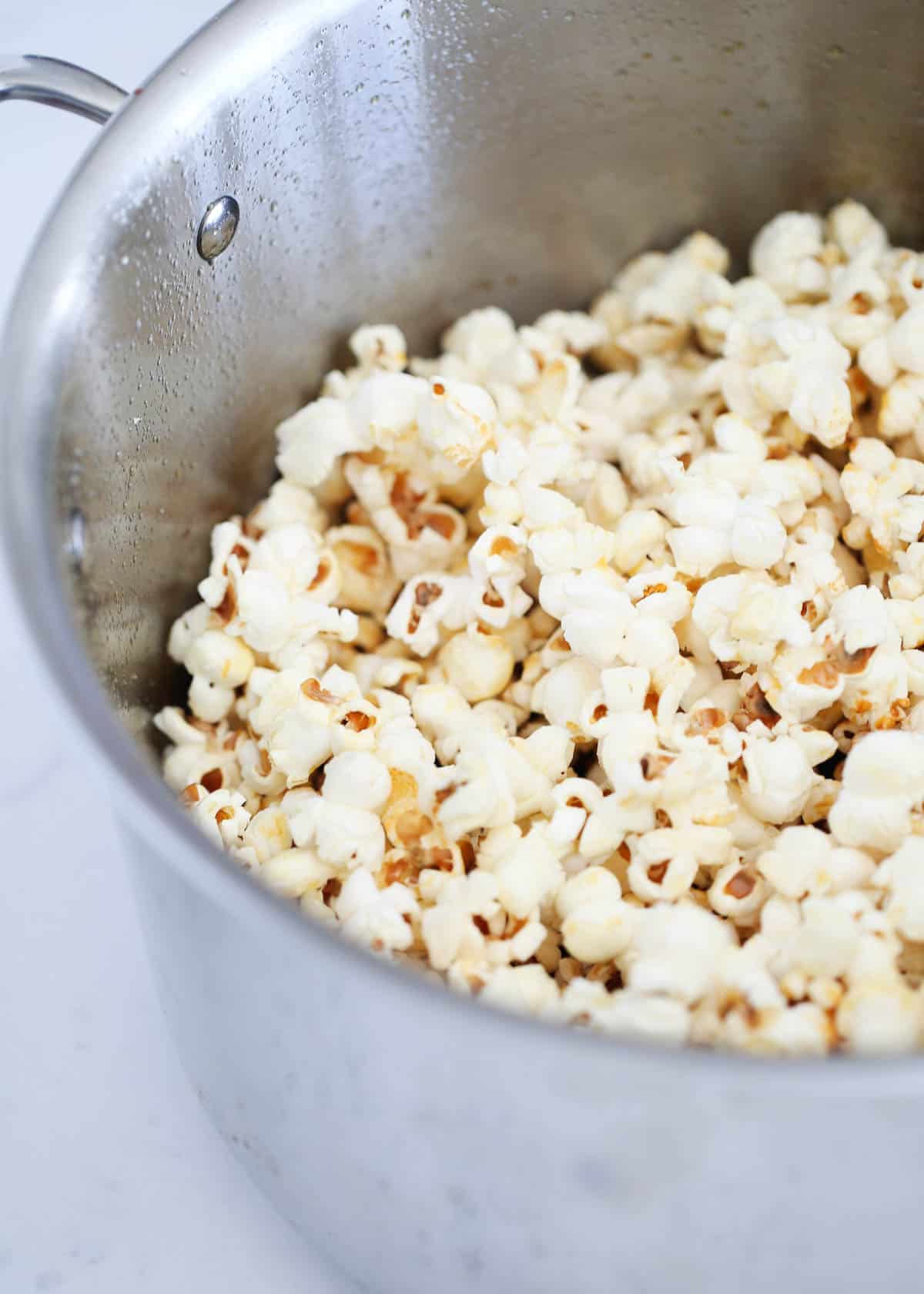 Ingredients Needed
Coconut oil: Refined coconut oil is best or try peanut oil or vegetable oil.
Popcorn kernels: Fresh popping kernels are best. Yellow kernels will be larger and sturdier while white kernels will be more tender.
Granulated sugar: Normal granulated sugar is best for kettle corn.
Fine sea salt: Balances the sweetness and adds a salty taste to the popcorn.
How to Make Kettle Corn
Learn how to make kettle corn at home and you'll never buy store bought again!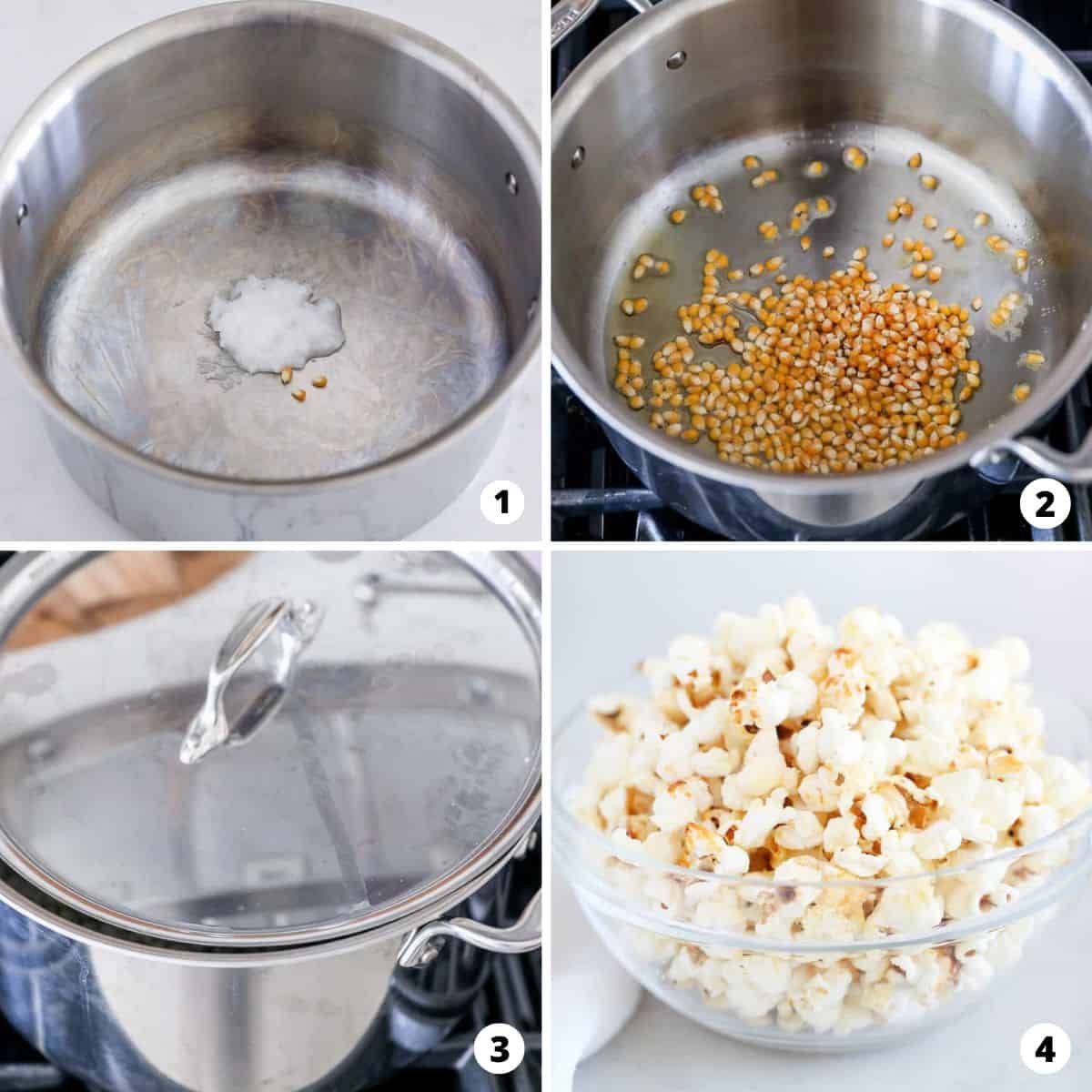 Heat: Start by heating the oil in a large pot. Add 3 kernels of popcorn and wait for them to pop before adding the remaining kernels in an even layer.
Season: Immediately remove the pot from the heat and count to 15 seconds out loud (trust me!). Then, sprinkle the kernels with salt and sugar. You want to make sure your oil is hot and ready to pop the popcorn before you even think about adding the sugar. If you add the sugar too soon before the oil gets hot, it'll have more of a chance to burn.
Pop then remove from heat: Return the pot to medium heat and shake the pot every 5 seconds until the kernels start popping. Tip the lid slightly to allow steam to escape and wait for the kernels to finish popping. This will help you get crunchy crispy popped kettle corn rather than soft and chewy popcorn. When it gets to a point where there are a few seconds in between pop, immediately remove from heat.
Cool and serve: Transfer popcorn to a large bowl or a parchment-lined baking sheet and allow it to cool slightly. The bottom portion of the popcorn can easily burn, no matter how fast you move (sugar, am I right?) so transfer it out of the pot as quickly as you can. Discard any unpopped remaining popcorn kernels before serving.
Tip!
You want each kernel to have a good amount of both melted sugar and salt, so keep shaking the pan often to make sure they're all evenly coated.
Helpful Tips
This will not work with microwave popcorn! For best kettle corn results, use popcorn kernels meant for the stovetop.
A great way to avoid any burnt popcorn is to turn off the heat even before you notice a few seconds in between pops. Once most of your popcorn has popped, turn off the heat but leave the pot where it is. Then, once you notice a few seconds in between each one, remove it from the heat completely.
Easily leave out the sugar for a delicious salty snack.
Adjust the amount of sugar as needed in this homemade kettle corn recipe. Start with 1/4 cup sugar and work your way up if you like super sweet popcorn. Taste it as you go.
I say count out loud for 15 seconds so you don't lose track of time!
FAQs
How much does this popcorn recipe make?
This recipe for kettle corn makes around 12-14 cups of popcorn.
Why is my popcorn chewy?
If too much steam gets trapped inside from a tight fitting lid, it will results in chewy popcorn. Crack the lid slightly next time to allow air to escape.
What gives kettle corn its flavor?
Both salt and sugar give this popcorn it's signature taste! The oil from the pot is what keeps the seasonings on the popped kernels.
Is kettle popcorn just sweet popcorn?
Pretty much! The sugar is what makes this different than regular popcorn. Instead of coated with butter and salt this popcorn is coated with sugar and salt.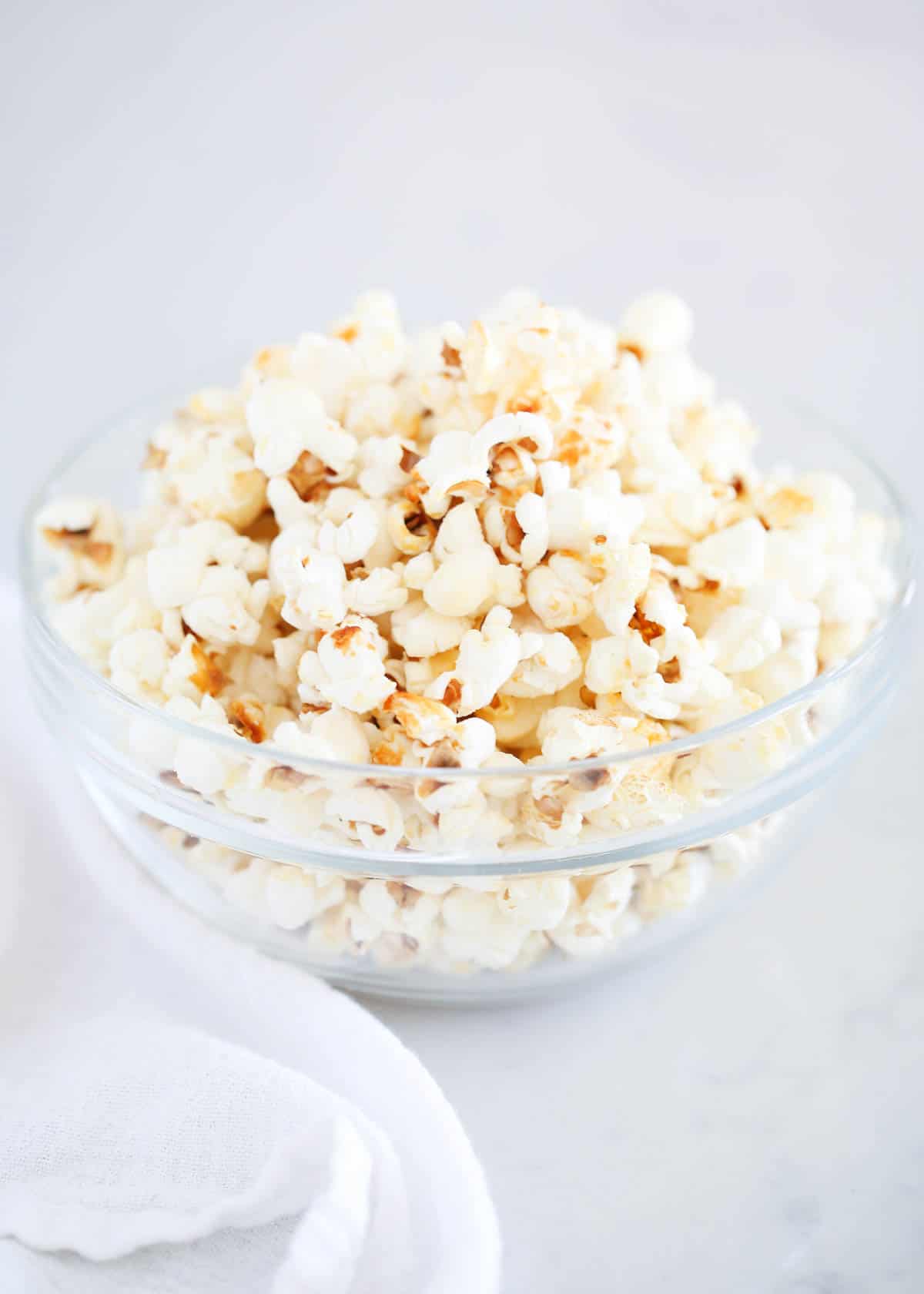 How to Store Kettle Corn
Popcorn tends to get soft after a while. To maintain its freshness for as long as possible, keep leftovers in a brown paper bag for up to 1 week.
HUNGRY FOR MORE? Subscribe to my newsletter and follow on Facebook, Pinterest and Instagram for all the newest recipes!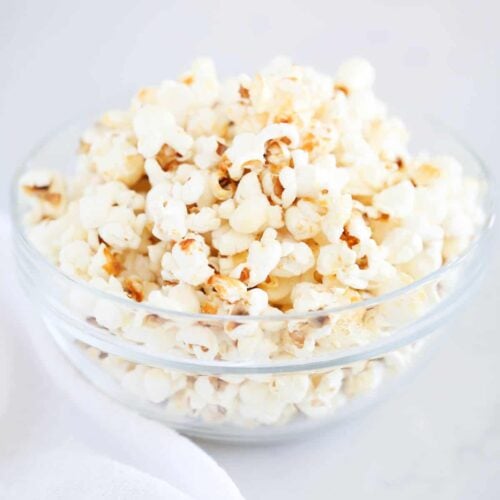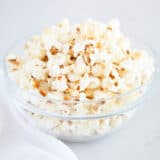 Homemade Kettle Corn
Easy homemade kettle corn contains only 4 ingredients and is ready to eat in under 10 minutes! This stovetop popcorn treat is so simple to make at home and is the quickest way to enjoy everyone's favorite sweet and salty snack.
Ingredients
¼ cup coconut oil , or cooking oil of choice
½ cup popcorn kernels
¼ cup (50 grams) granulated sugar , more to taste
½ teaspoon fine sea salt , or to taste
Instructions
Heat the oil in a large heavy bottom pan with lid over medium heat. Place 3 kernels into the oil. Allow them to heat up and wait for them to pop before adding the remaining kernels.

Once the kernels have popped, add the rest of the kernels in an even layer. Remove from the heat. Count to 15 seconds (out loud so you don't forget), and sprinkle the sugar and salt over the top.

Return the pot to medium heat. Using hot pads, gently shake the pan every 5 seconds. As it starts popping, tip the lid slightly to allow some steam to escape.

Continue to cook (and shake the pot) until you hear it slow down (several seconds in between pops) and immediately remove from the heat.

Pour into a large bowl or on to a piece of parchment paper. Allow to cool a few minutes (sugar will be hot). Pick out any kernels and serve.
---
Notes
Storage: Store leftover popcorn in a brown paper bag so it does not become too soft. This recipe makes about 12 to 14 cups of popcorn.
Nutrition
Serving: 2cups | Calories: 168kcal | Carbohydrates: 20g | Protein: 1g | Fat: 10g | Saturated Fat: 8g | Polyunsaturated Fat: 1g | Monounsaturated Fat: 1g | Sodium: 195mg | Potassium: 38mg | Fiber: 2g | Sugar: 10g | Calcium: 1mg | Iron: 1mg
Nutrition provided is an estimate. It will vary based on specific ingredients used.
Did you make this recipe? Don't forget to give it a star rating below!