A 3-ingredient homemade popcorn seasoning recipe that'll take the flavor of your popcorn to the next level!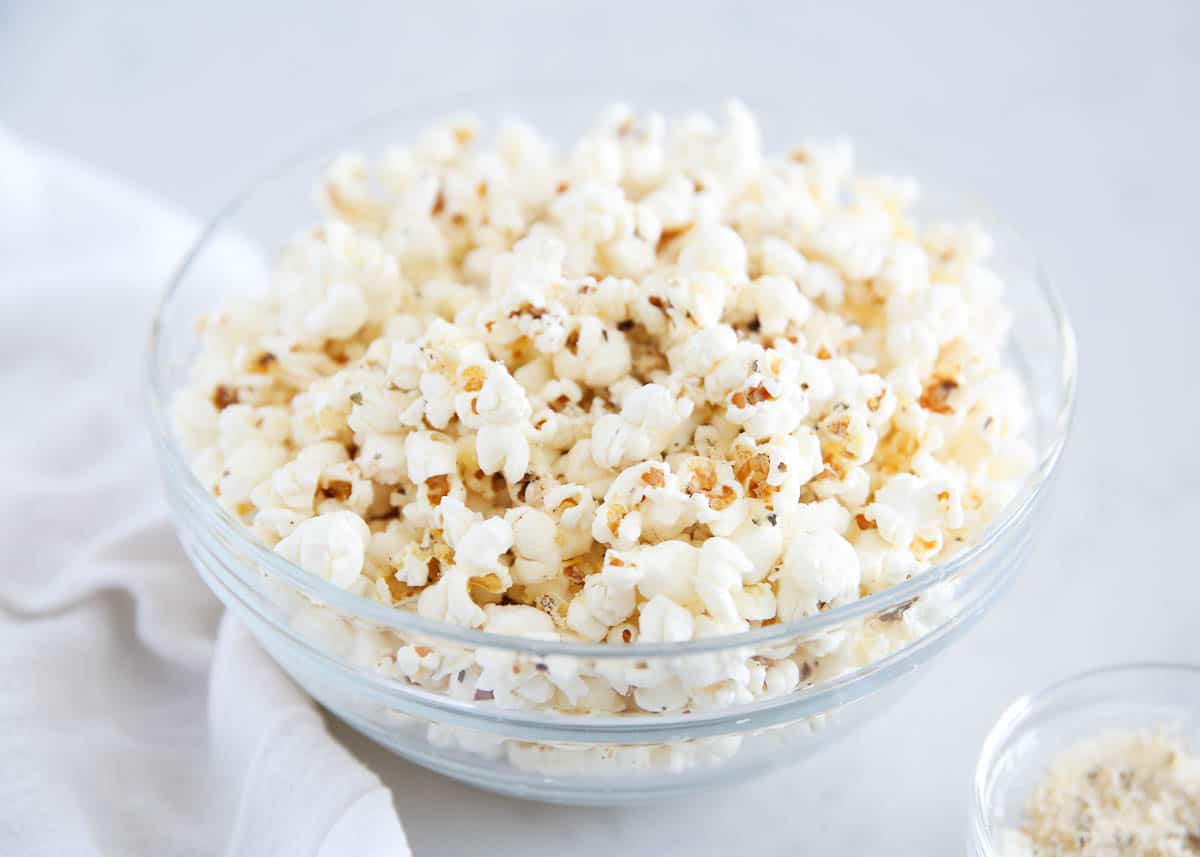 DIY Popcorn Seasoning!
Whoever decided one day to heat a dried kernel of corn to see what would happen is basically a hero. We love popcorn around here! Whether it's stovetop popcorn with a bit of melted butter and salt or white cheddar popcorn, this timeless snack food never gets old.
Adding homemade popcorn seasoning just makes it even better! It's one of my favorite healthy snack ideas to enjoy for movie night. You know, along with the cookies and ice cream. It's called balance ;)
I ditched store-bought microwave packs for homemade years ago when I learned just how easy it is to make a lighter, healthier version myself. In their original form these little gems are a whole grain without preservatives, added sugars, or salt. You control what goes in and what stays out and this time, we're going all in with the taste of parmesan cheese, garlic, and Italian seasoning.
Why We Love Homemade Popcorn Seasoning
The extra flavor. This addicting snack can be made savory, salty, or spicy. You can play around with the combinations and the amounts to suit your needs, and I am here for all of it!
It's cheap! This recipe makes 14 cups! Just 1/2 a cup of kernels is all you need, which means you'll have tons leftover for your next movie night.
Easy. There's nothing to it. It's a quick snack that feeds a crowd and is almost effortless. I even share my tricks with you on how I avoid burnt kernels!
Healthy. It's high in fiber, low in calories, and provides antioxidants. Something this healthy shouldn't be so delicious, but it is!
Ingredients Needed to Make Popcorn
Oil: Both coconut oil and extra virgin olive oil work. You won't taste the coconut oil and if you do, it'll be faint and won't affect the taste of the seasoning.
Popcorn kernels: I buy this in bulk because it has a long shelf life. It's a favorite for Friday night movies but also playdates, sleepovers, and parties, so I always have some on hand.
Unsalted butter: I will sometimes use salted butter if that's all I'm using, but with other seasonings, being able to control the amount of extra salt is critical.
Salt: To taste.
Red pepper flakes: An option to add a bit of heat to your other spices!
What's in this Popcorn Seasoning Recipe?
Just 3 ingredients are all you need for this homemade popcorn seasoning!

We're using Parmesan cheese for that umami flavor, and a bit of cheesiness. Garlic powder, which pairs well with both herbs and Parmesan, and Italian seasoning which balances it out with a little herbaceous flavor.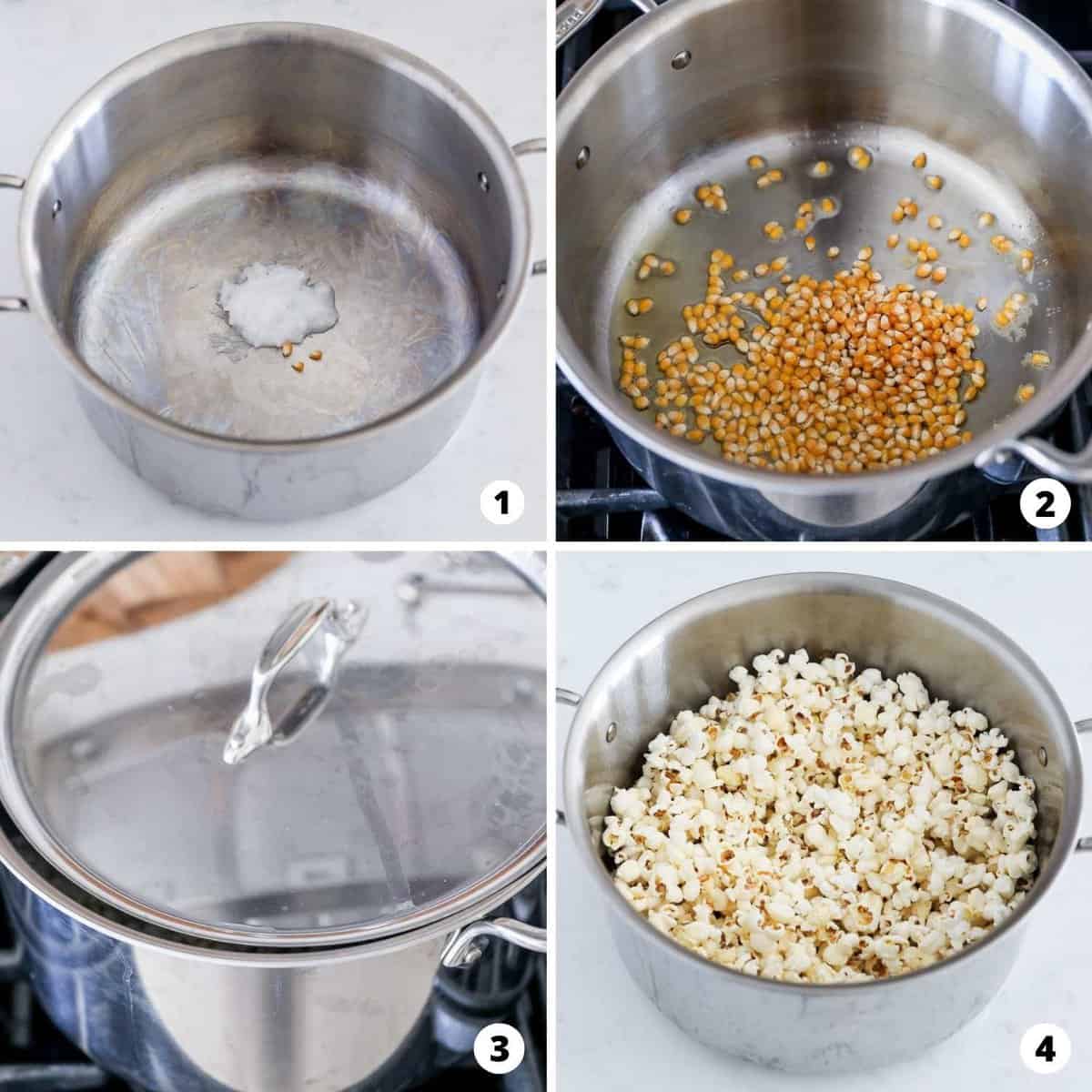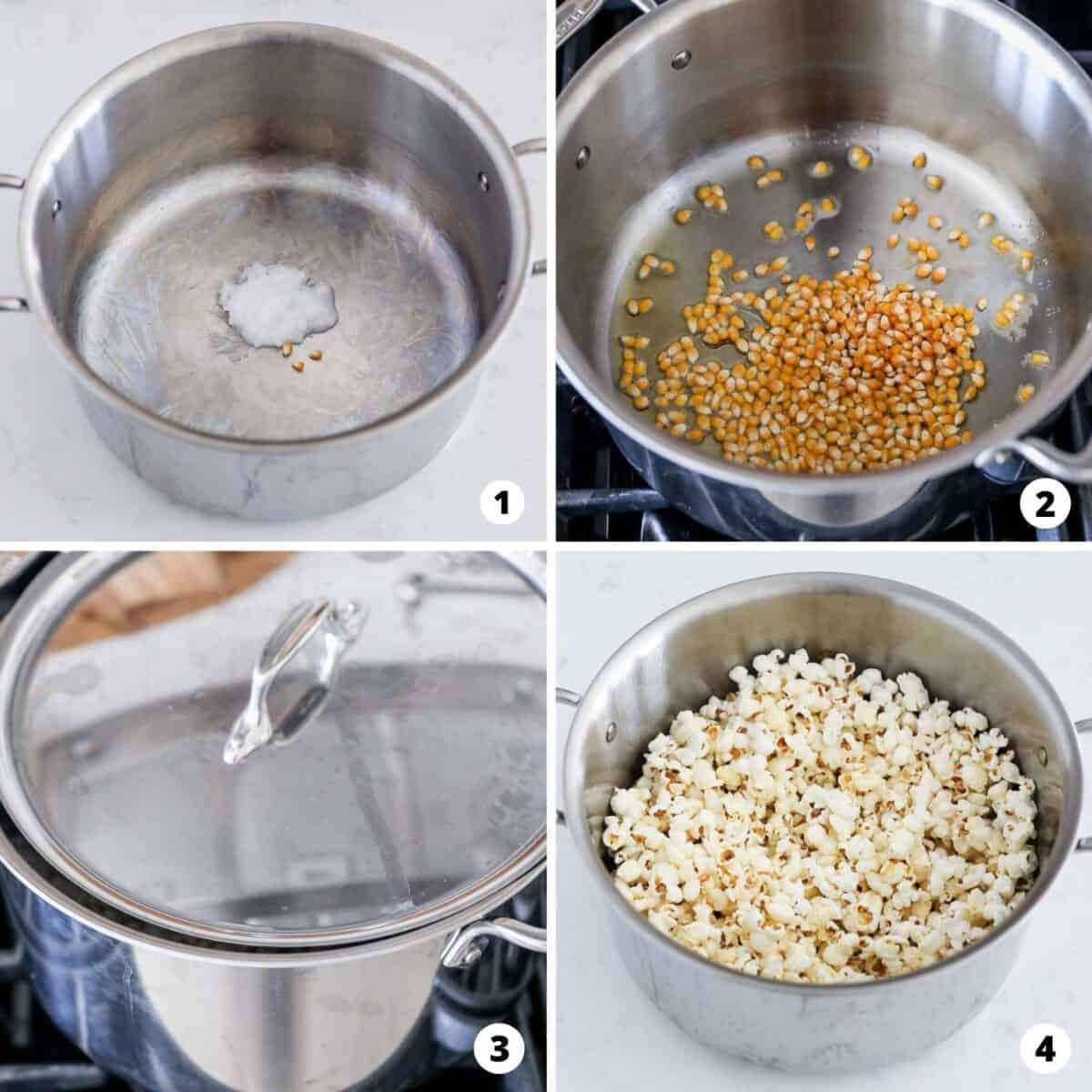 How to Make it
Melt the oil. A heavy-bottomed pan works great for popping corn. Place it over medium heat and once the coconut oil has melted place 3 kernels into the oil.
Add kernels. Once the 3 kernels have popped, add the remaining kernels in an even layer. Remove the pot from the heat and count to 30 out loud. That's just so you don't forget! Return the pot to medium heat.
Pop and shake. Cover the pan with a lid and use 2 hot pads or oven mitts to gently shake the pan over the heat. Once it starts popping, move the lid slightly to allow the steam to escape.
Cook until popping slows. Once you notice several seconds in between pops, immediately remove the pan from the heat. Open the lid, drizzle butter over top, and sprinkle with homemade popcorn seasoning!
How To Make Seasoning to Stick to Popcorn
Don't skip drizzling the butter over the top then to make sure every homemade popcorn kernel gets coated with savory seasoning, replace the lid once more and shake everything to coat. Pour it into a large bowl and add more seasoning to taste.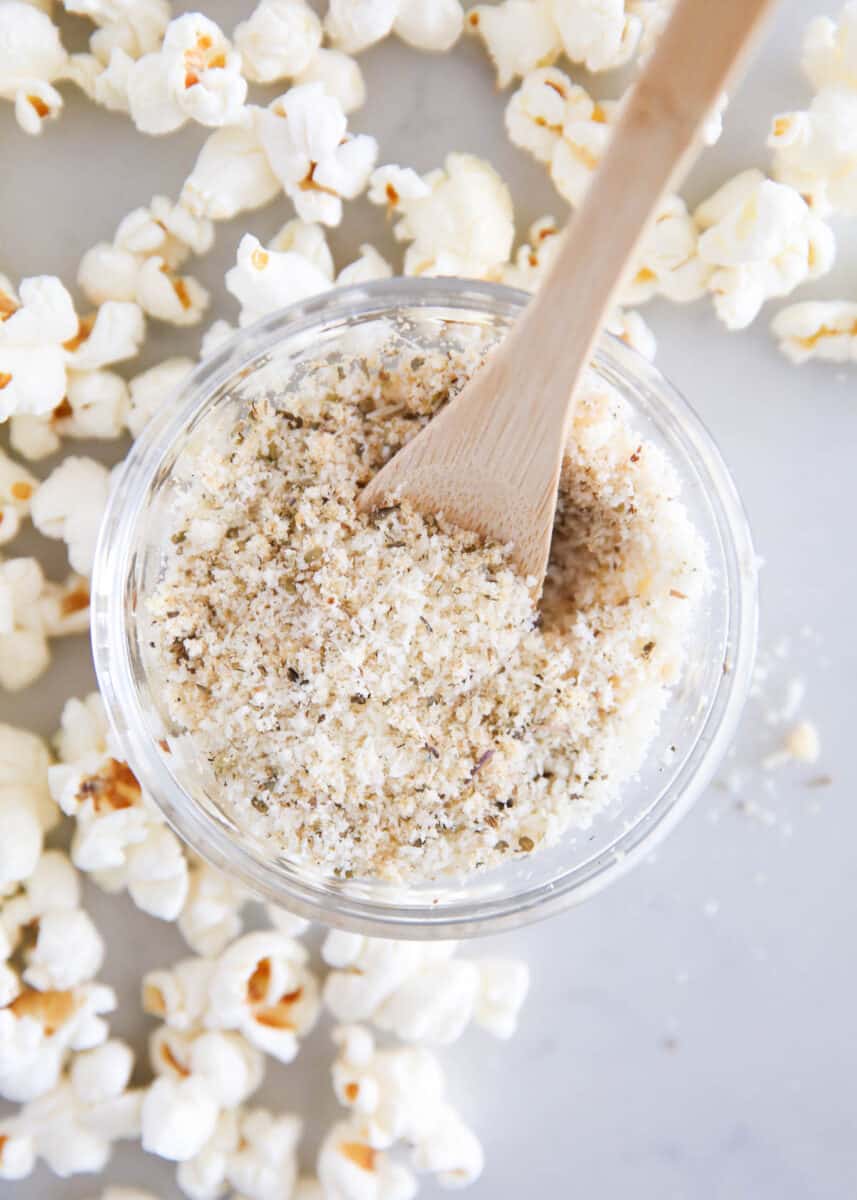 Make Ahead
Combine the seasoning ingredients and set them aside in a bowl until you're ready to use them. You can double or triple the recipe and keep some on hand in a jar with a tight-fitting lid in the fridge for a few extra days.
Other Savory Seasonings
Part of the fun is getting creative and making your own combination of flavors. Try some of these next time!
Chili powder
Cinnamon
Paprika
Cumin
Onion powder
Dill
Ranch
Chives
Nutritional yeast
Parsley
A bit of lime juice and salt
Or salt and vinegar
FAQs
Can you add the seasoning before popping?
I recommend always adding it after popping. By the time it has popped, the seasoning will have either become burnt or lost some of its flavors.
How do you flavor popcorn without making it soggy?
With the dry seasoning, you won't have a problem, it's the butter that you need to consider. One of the best ways to avoid a soggy snack is to drizzle it lightly all over and then shake it immediately. This way you avoid pooling butter in one area.

You can also wait until your popcorn cools a bit, but then again the heat is what helps the seasoning stick!
Best way to keep popcorn crisp?
Once it has cooled completely, we keep ours stored in a brown paper bag. It stays nice and crisp this way, for up to 3 days.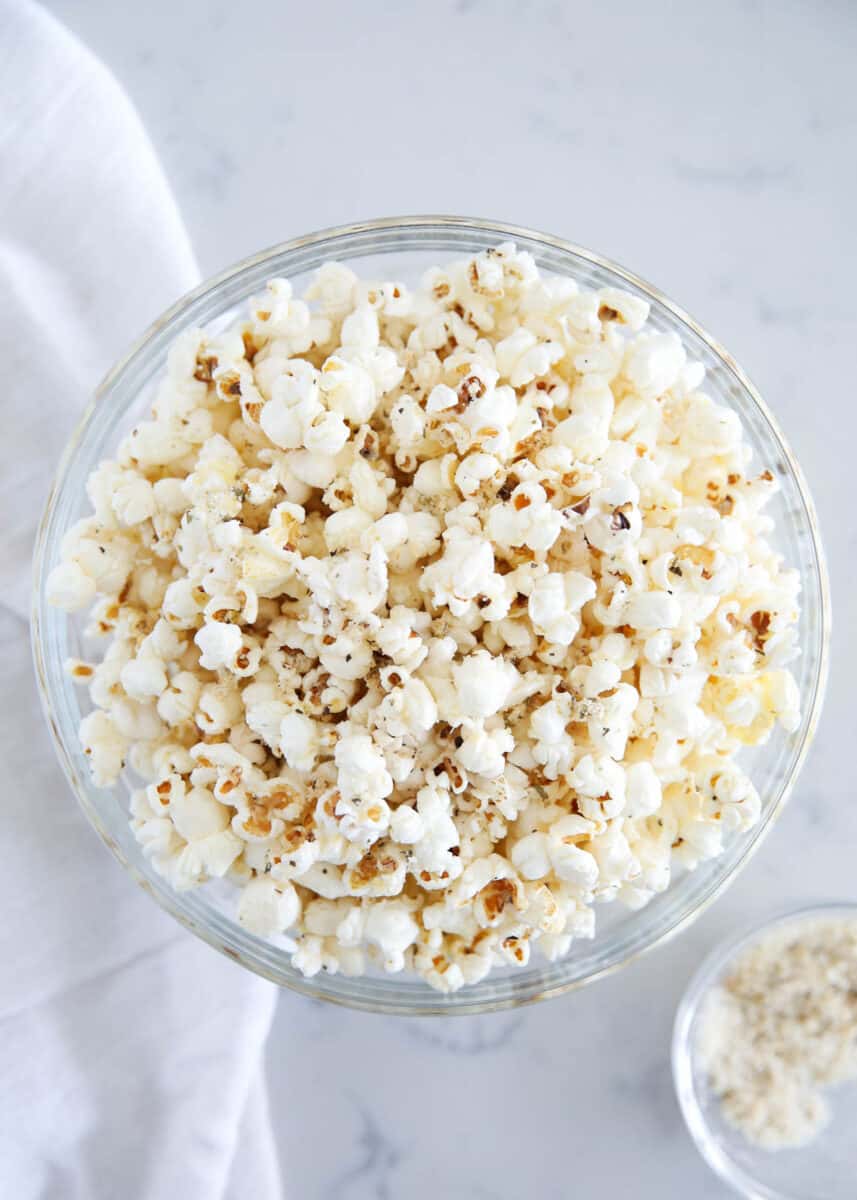 HUNGRY FOR MORE? Subscribe to my newsletter and follow on Facebook, Pinterest and Instagram for all the newest recipes!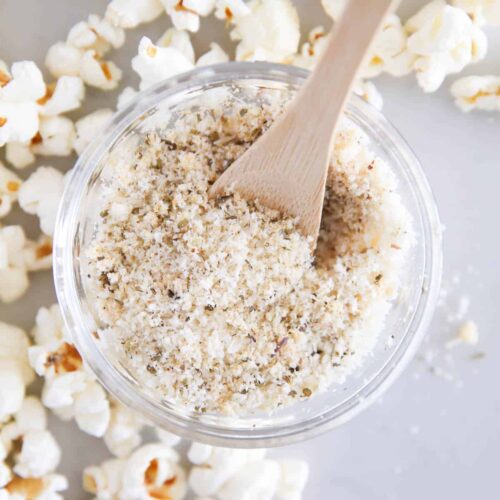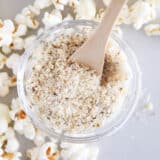 Homemade Popcorn Seasoning
A 3-ingredient homemade popcorn seasoning recipe that'll take the flavor of your popcorn to the next level!
Ingredients
Popcorn Seasoning
2 Tablespoons grated parmesan cheese
½ teaspoon garlic powder
½ teaspoon Italian seasoning , plus more to taste
Popcorn
3 Tablespoons coconut oil , or extra-virgin olive oil
½ cup popcorn kernels
3-4 Tablespoons unsalted butter , plus more to taste
Fine sea salt or table salt , to taste
Red pepper flakes , optional
Instructions
Popcorn Seasoning
In a small bowl, mix together the parmesan cheese, garlic powder, and Italian seasoning.
Popcorn
In a large, heavy-bottomed pan, melt the coconut oil over medium heat. Place 3 kernels into the oil. Wait for them to pop before adding the remaining kernels in an even layer.

Remove the pot from the heat. Count to 30 (out loud so you don't forget). After 30 seconds, return the pot to medium heat.

Cover with a lid. Using 2 hot pads, gently shake the pan over the burner. As it starts popping, tip the lid slightly to allow steam to escape.

Cook the popcorn until you hear it slow down (several seconds in between pops) and immediately remove from the heat. Drizzle butter over the popcorn and sprinkle with the popcorn seasoning (I like to start with about 1 Tablespoon). Replace the lid and shake to coat the popcorn.

Pour into a large bowl. Add more popcorn seasoning, if desired. Salt, to taste, and add red pepper flakes for heat, if desired.
---
Notes
Storage: Store leftover popcorn in a brown paper bag to keep it crisp for up to 3 days. Quantity: This recipe makes about 14 cups of popcorn.
Nutrition
Serving: 2cups | Calories: 144kcal | Carbohydrates: 9g | Protein: 2g | Fat: 12g | Saturated Fat: 8g | Polyunsaturated Fat: 1g | Monounsaturated Fat: 2g | Trans Fat: 0.2g | Cholesterol: 14mg | Sodium: 27mg | Potassium: 41mg | Fiber: 2g | Sugar: 0.1g | Vitamin A: 165IU | Vitamin C: 0.01mg | Calcium: 17mg | Iron: 0.4mg
Nutrition provided is an estimate. It will vary based on specific ingredients used.
Did you make this recipe? Don't forget to give it a star rating below!