Learn how to make perfect stovetop popcorn in just 5 minutes with this easy recipe. Warm, crispy, crunchy and salty popcorn that tastes super fresh and delicious!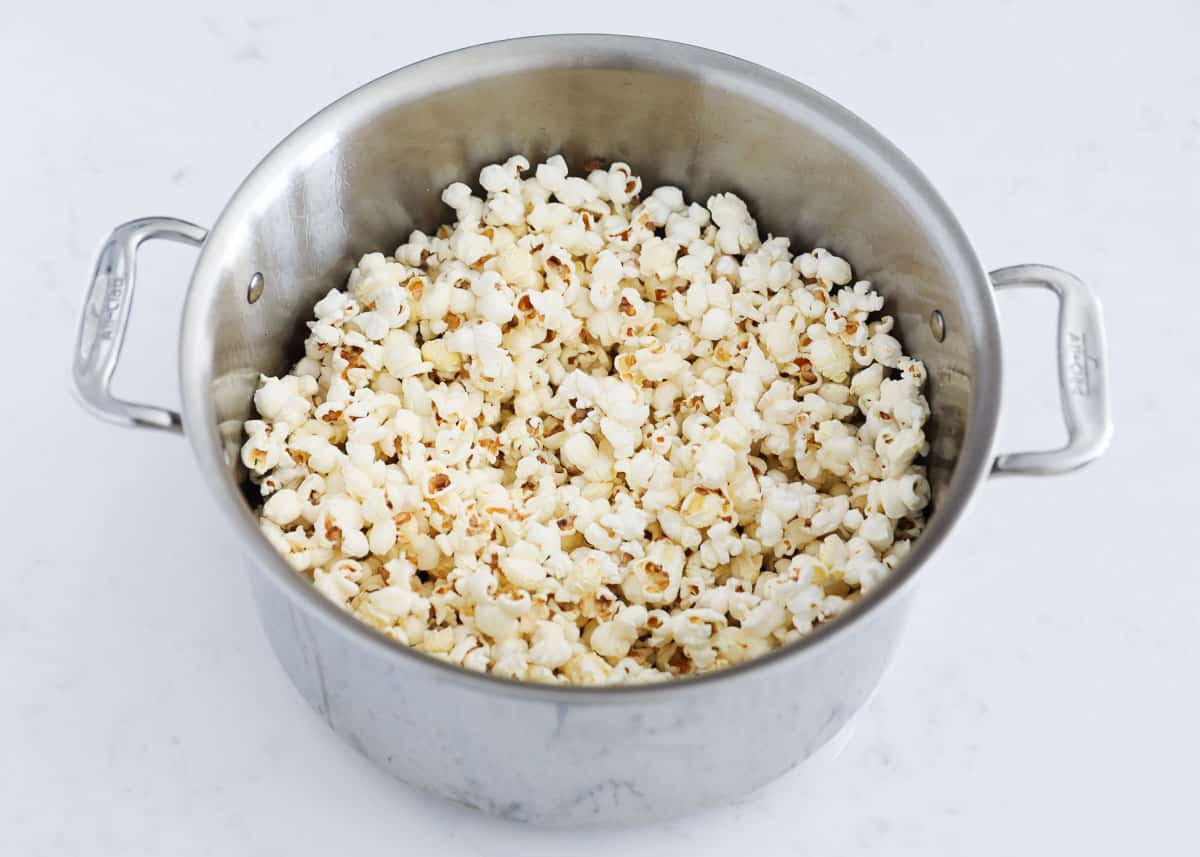 Easy 5-Minute Snack
The next time you're craving popcorn, try making it the old-fashioned way…on the stove! I've been making stovetop popcorn for as long as I can remember and trust me, it's SO much better than the microwave version.
Not only does it taste more fresh and flavorful, but it's also less expensive and made without any extra additives, which makes it the perfect healthy snack idea for your family. No popcorn maker needed, just a large, sturdy pan with a lid. In 5 quick minutes, you'll have perfectly warm and crunchy popcorn that's ready to devour.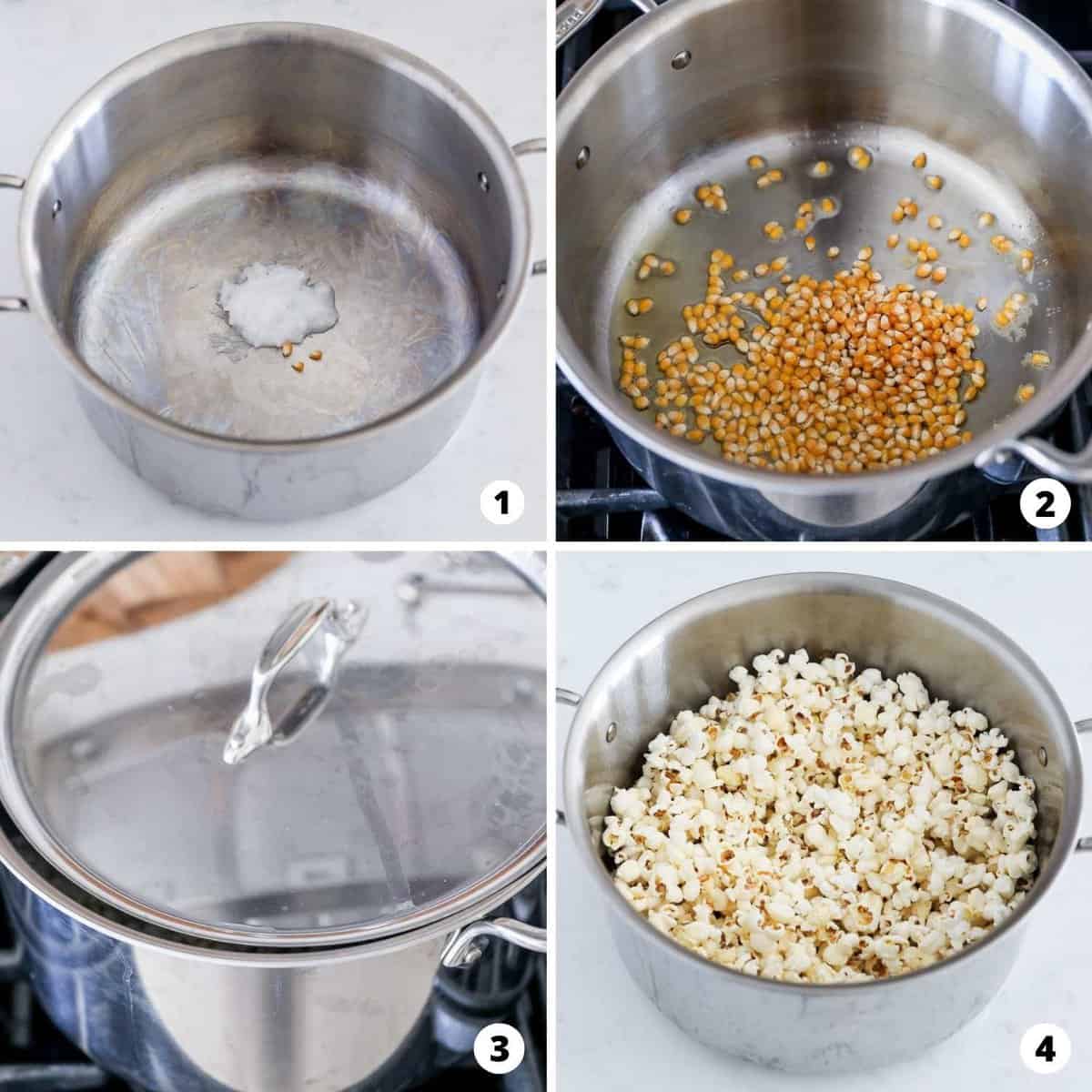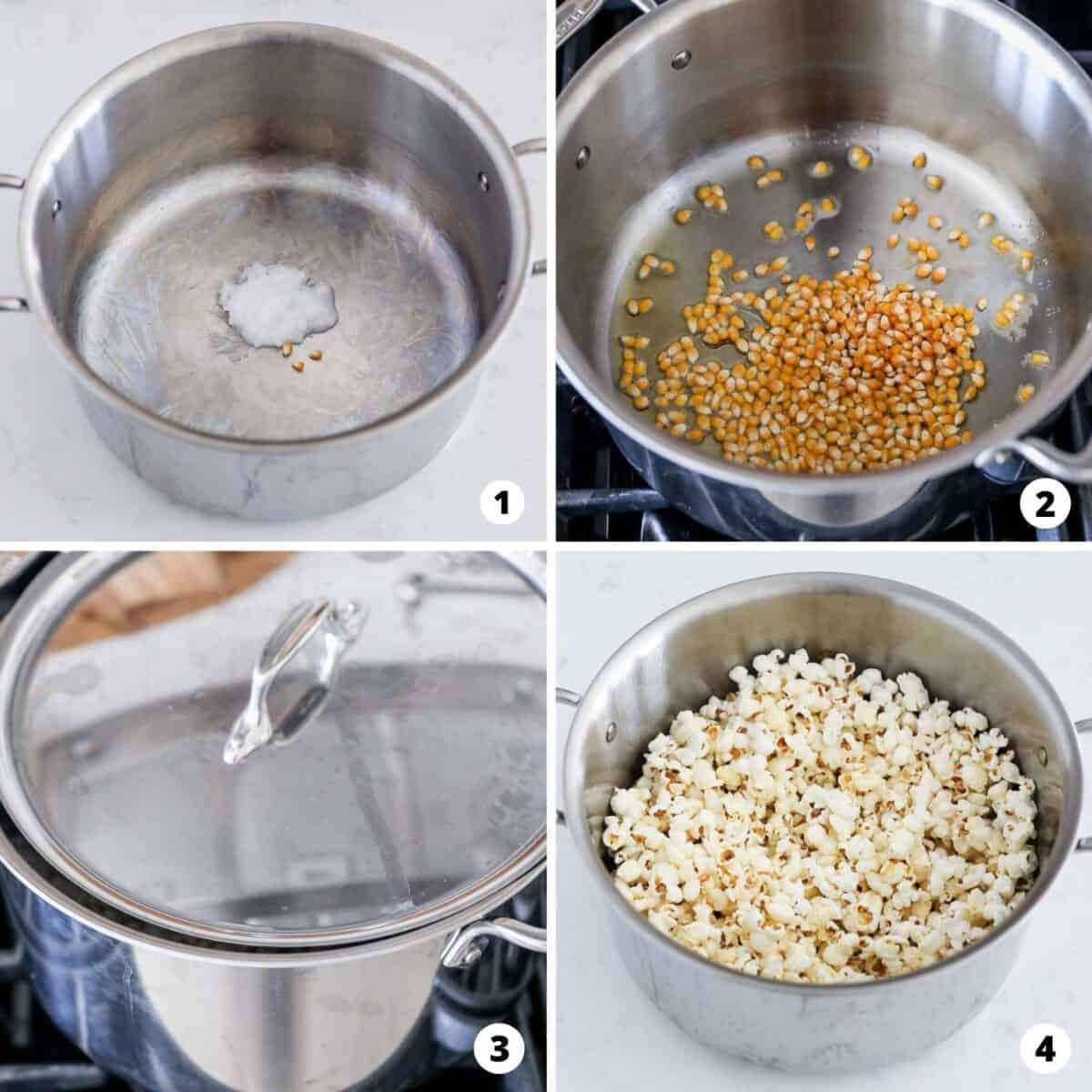 How to Make Popcorn on the Stove
Use a large pan with a heavy bottom. Because the popcorn expands while cooking, the pan should be large enough to hold about 14 cups of popped popcorn. The bottom of the pan should also be on the sturdier side, so that the heat distributes evenly throughout.
Gauge the temperature. While the oil heats in the pan, add in 3 or so kernels. This is a good way to gauge the temperature of the pan. Once those 3 kernels begin popping, then you can add in the rest and cook over medium heat.
Give it a shake. Use hot pads to gently shake the pan while the popcorn cooks. This helps distribute the heat, so that each kernel has a chance to pop.
Partially cover with lid. Tip the lid slightly while cooking to allow some steam to escape from the pan. No one wants soggy popcorn!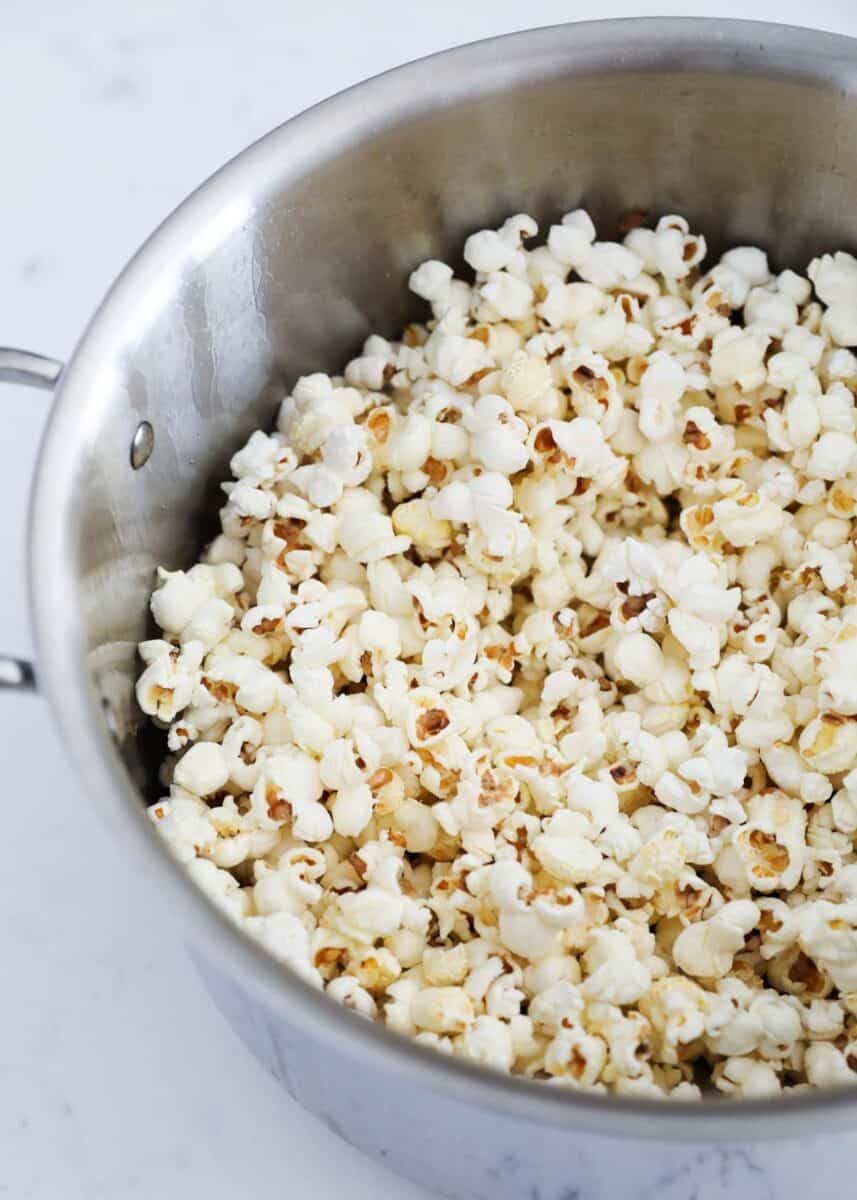 Ways to Season Stovetop Popcorn
Keep it simple with butter (or oil) and salt. Or experiment with both sweet or savory flavors if you'd like. There are so many ways to make this stovetop popcorn your own! Below are a few delicious ideas.
A sprinkle of grated parmesan cheese or nutritional yeast
Make kettle corn by adding in some coconut oil sugar and sea salt
Some cracked black pepper
Pinch of cayenne or chili pepper for some heat
Some white cheddar powder to make white cheddar popcorn
Sweeten it up with a sprinkle of cinnamon sugar
Some taco seasoning for a Mexican flare
Start small with flavor
Season a little at a time and taste as you go. This way you don't overdo it and ruin the flavor. You can always add more seasoning in, but you can't remove it once you add too much!
Storing Leftovers
If you have any popcorn leftover, I'd recommend storing it in a brown paper bag so that it stays crunchy. A plastic zip top bag will trap moisture and can make the texture soft and soggy.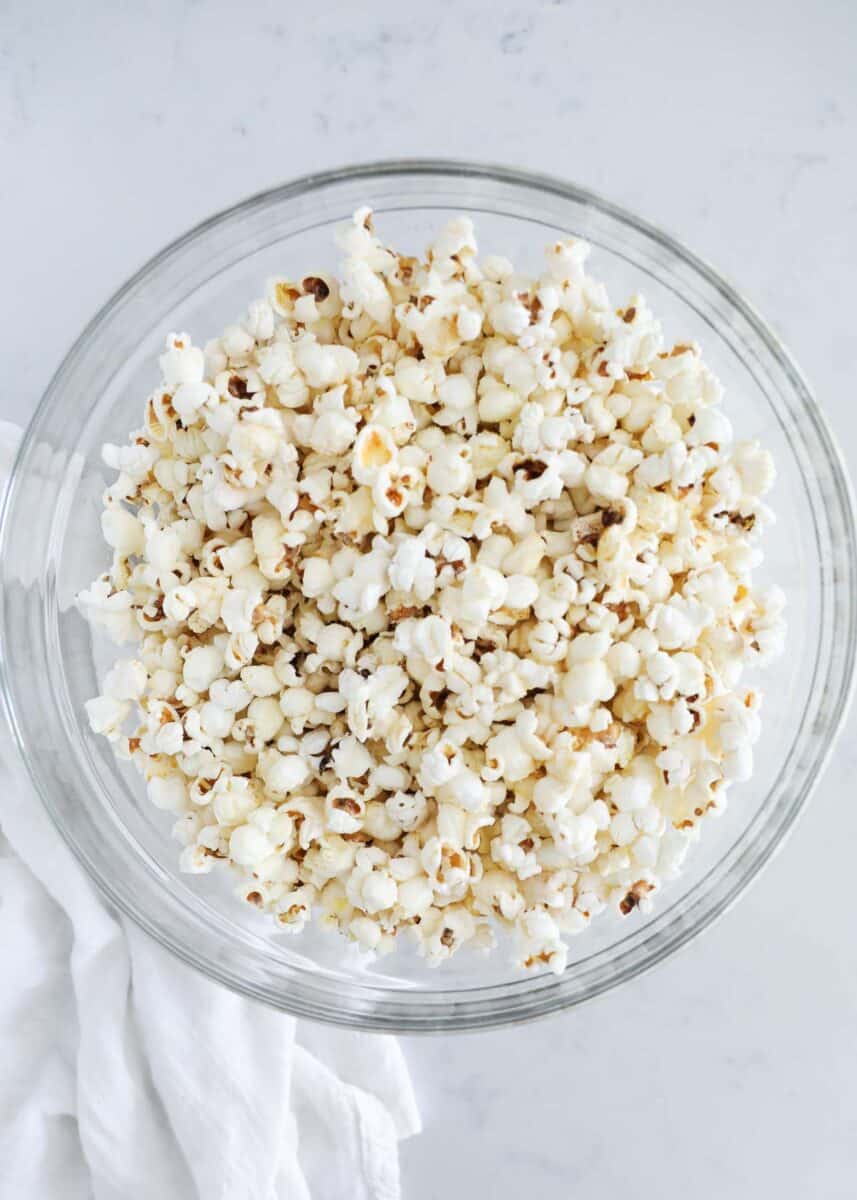 More Fun Flavor Variations:
HUNGRY FOR MORE? Subscribe to my newsletter and follow on Facebook, Pinterest and Instagram for all the newest recipes!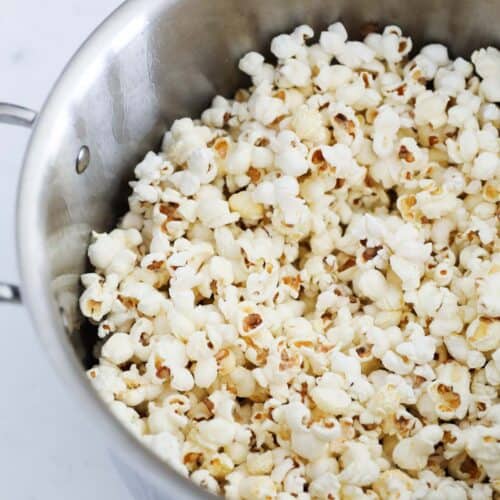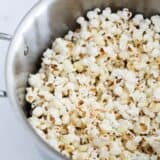 Stovetop Popcorn
Learn how to make perfect stovetop popcorn in just 5 minutes with this easy recipe. Warm, crispy, crunchy and salty popcorn that tastes super fresh and delicious!
Ingredients
3 Tablespoons coconut oil , or extra virgin olive oil
½ cup popcorn kernels
2 to 4 Tablespoons butter , more to taste
fine sea salt , to taste
Instructions
Heat the oil in a large heavy bottom pan. Place 3 kernels into the oil. Allow them to heat up and wait for them to pop before adding the remaining kernels.

Once the kernels have popped, add the rest of the kernels in an even layer. Then remove from the heat. Count to 30 seconds (out loud so you don't forget).

After 30 seconds, return the pot to medium heat. Place lid on top. Using hot pads, gently shake the pan. As it starts popping, tip the lid slightly to allow some steam to escape.

Cook until you hear it slow down (several seconds in between pops) and then immediately remove from the heat. Pour into a large bowl. Then add the butter back into the pan to melt and drizzle on top. Salt to taste.
---
Notes
Seasonings: To add a little heat to your popcorn, you can add a pinch of cayenne powder or chili pepper. You could also sprinkle on some nutritional yeast. For a sweeter version, you could sprinkle on some cinnamon sugar.
Storage: Store leftover popcorn in a brown paper bag so it does not become too soft.
This recipe makes about 14 cups of popcorn.
Nutrition
Calories: 218kcal | Carbohydrates: 15g | Protein: 2g | Fat: 17g | Saturated Fat: 13g | Polyunsaturated Fat: 1g | Monounsaturated Fat: 2g | Trans Fat: 1g | Cholesterol: 15mg | Sodium: 51mg | Potassium: 58mg | Fiber: 3g | Sugar: 1g | Vitamin A: 175IU | Calcium: 3mg | Iron: 1mg
Nutrition provided is an estimate. It will vary based on specific ingredients used.
Did you make this recipe? Don't forget to give it a star rating below!