EASY ham and cheese roll sliders with poppyseed sauce
EASY ham and cheese roll sliders with poppyseed sauce -perfect for game day, a picnic, party, appetizer or main dish for any day of the week! They are a crowd please EVERY time.
This  "fancy" ham and cheese rolls recipe is one you'll want to use the day after Christmas. I know you're probably thinking… ham and cheese rolls? Really? I promise this fun twist makes them absolutely delicious! Today I'm going to share the yummy recipe with you. I know most people cook a baked ham for Christmas dinner… and if you're like me you'll have TONS left over. Have I mentioned I love baked ham? Especially with the honey glaze… mmm…
These ham and cheese rolls are a great way to use up the leftover ham and rolls (here's another great recipe: potato and ham soup). They are definitely a crowd pleaser. ;) My mom made them for us last Christmas and everyone devoured them in a matter of minutes. They are best fresh out of the oven. MMM…. Can't wait to make these again next week. ;) 
YUMMY ham and cheese rolls
Ingredients:
24 Hawaiian dinner rolls
24 pieces sliced deli ham (or leftover ham)
24 small slices Swiss cheese
2/3 cup mayonnaise
Poppy seed sauce
1-2 teaspoons poppyseeds
1 Tablespoon yellow mustard
1/2 cup butter, melted
1 Tablespoon minced onion
1/2 teaspoon Worcestershire sauce
Directions:
1. Preheat oven to 350 degrees F. Spread mayo onto both sides of your rolls. Then place a slice of ham and cheese inside of each roll. Next place your rolls into a 9x13 baking dish close together.
2. In a small bowl, whisk together the poppy seed sauce ingredients. Pour evenly over all of the rolls (I only used about 1/2 the sauce). Let sit about 5-10 minutes or until the butter sets slightly. Cover with foil and bake for 12-15 minutes. Uncover and cook for 2-3 additional minutes to brown the top of the buns. Serve warm. ENJOY!!
Also, don't miss these yummy recipes:
Thanks for reading. Come back soon! :)
Post originally published December 19, 2012; republished with new images February 7, 2016. Below is an original photo from the original publish date.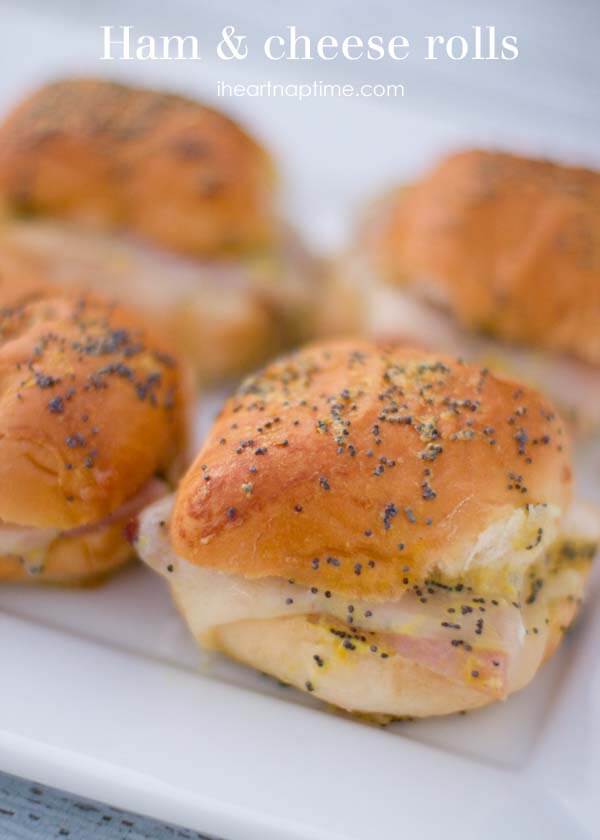 Join in! Leave a comment!
Comments