Crispy rolls filled with melty cheese, and savory ham, brushed with a Dijon glaze and topped with poppy seeds are what make these baked ham and cheese pinwheels so tasty! A popular appetizer or snack made in under 30 minutes!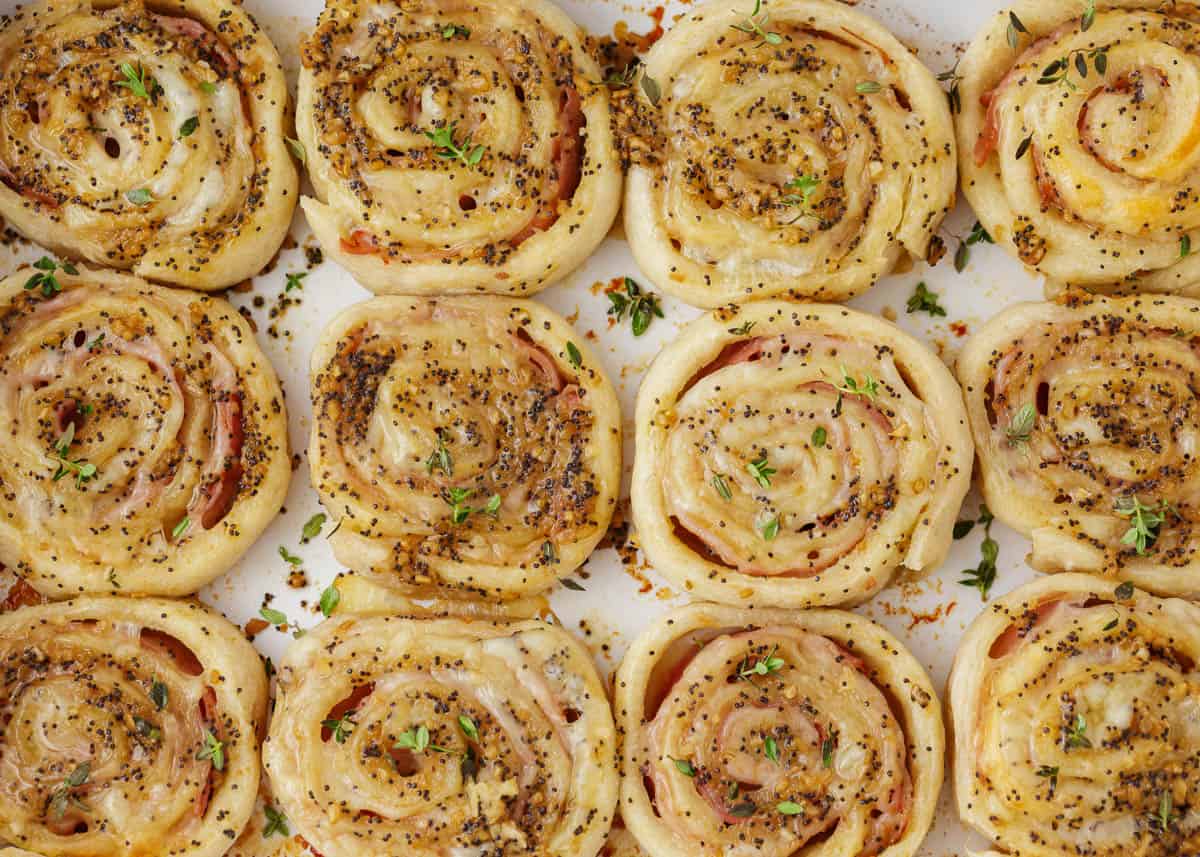 Easy Appetizer Recipe
Ham and cheese pinwheels are the kind of finger food you have to make way more than you think you'll need because they're addicting and never last long!
They're similar to ham and cheese sliders, even right down to the Dijon mustard and Worcestershire sauce, but rolled up in pizza dough instead of sandwiched between Hawaiian rolls.
Made with just 3 simple ingredients, plus a few more to make the sauce if you want to use it, these mini appetizers couldn't be easier. I mean, what's better than having a quick go-to recipe that you know is always a hit with a crowd?! It takes the guesswork out of entertaining!
Why This Recipe Works
Quick and easy. Baked ham and cheese pinwheels are a life-saver when it comes to entertaining. A tried and true party food that everyone loves that takes so little effort.
Delicious! Crispy edges, gooey cheese, and sweet and smoky ham, glazed with a tangy mustard sauce that gives a bit of zing to every bite.
Perfect for any occasion. Make them for game day parties, birthday parties, and the holidays, or as an after-school snack. Enjoy them for breakfast, brunch, or lunch instead of your everyday sandwiches or wraps!
Make ahead. This recipe is so easy, it just makes sense to whip up a couple of batches at a time and freeze some for later!
Ingredients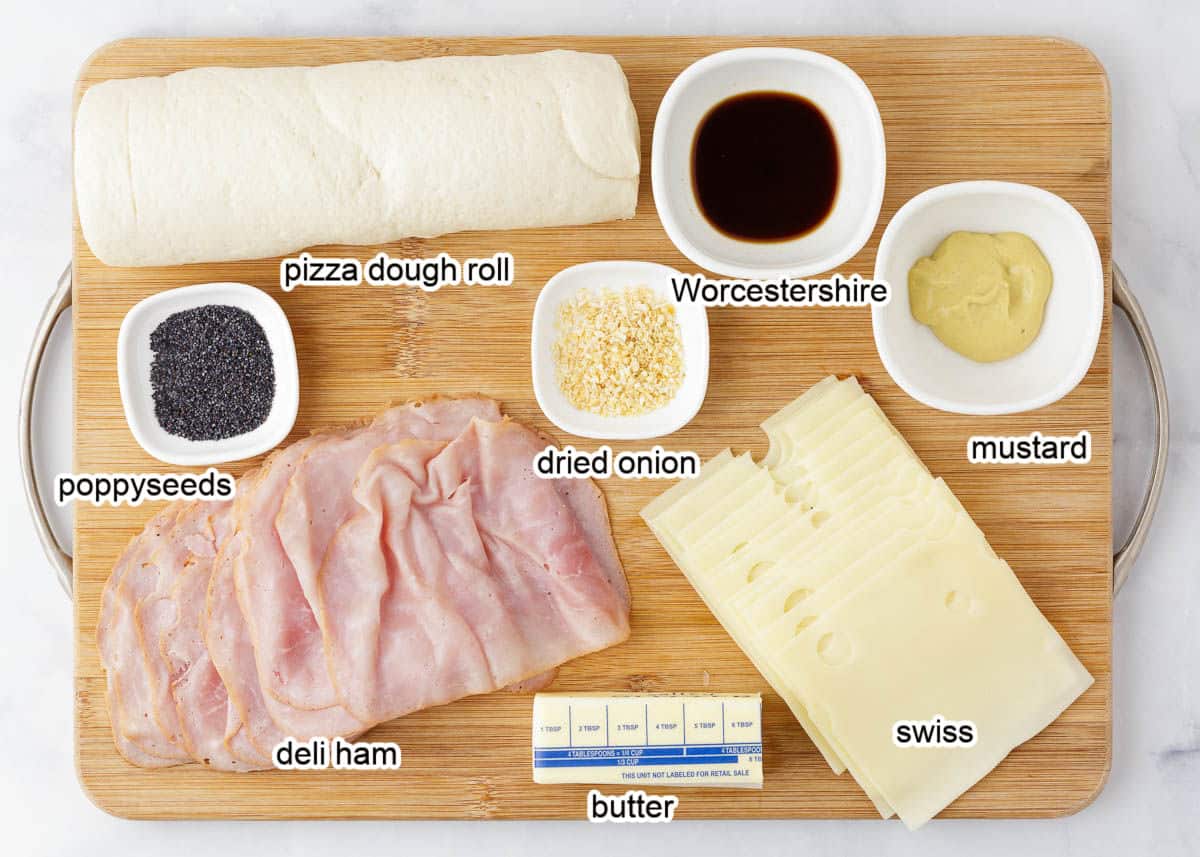 See full printable recipe below.
Pizza dough: If you have some extra time, I recommend making homemade pizza dough, it's always nice to go that extra mile. However, store-bought absolutely works too! You can also use a crescent dough or, for a flakier finish, puff pastry.
Ham: Thinly shaved deli ham slices are used, however, keep reading to find out ways you can switch up the filling if desired.
Swiss cheese: Thin slices, and again, Swiss isn't written in stone.
The Glaze (Highly Recommended!)
I love brushing these baked ham and cheese pinwheels with this zesty sauce just before finishing in the oven. It adds another layer of flavor that you miss if you don't use it! It's made with melted butter, Dijon mustard, Worcestershire sauce, and the option of minced onions and poppy seeds to top it off.
Variations
As mentioned above, baked ham and cheese pinwheels using Swiss cheese are just one combination. Get creative and find the duo that you like best. You may also decide to make a few different kinds the next time you throw a party, and that way you'll have a variety on the table. Start with pizza pinwheels and go from there!
Bacon
Turkey
Salami
Pepperoni
Roast beef
Chicken
Honey ham
Cheddar cheese
Cream cheese
Monterrey Jack
Mozzarella
Provolone
Gouda
How to Make Ham Pinwheels
Just 10 minutes of prep time and 15 minutes in the oven, and you've got the perfect appetizer in under 30 minutes. Here's how: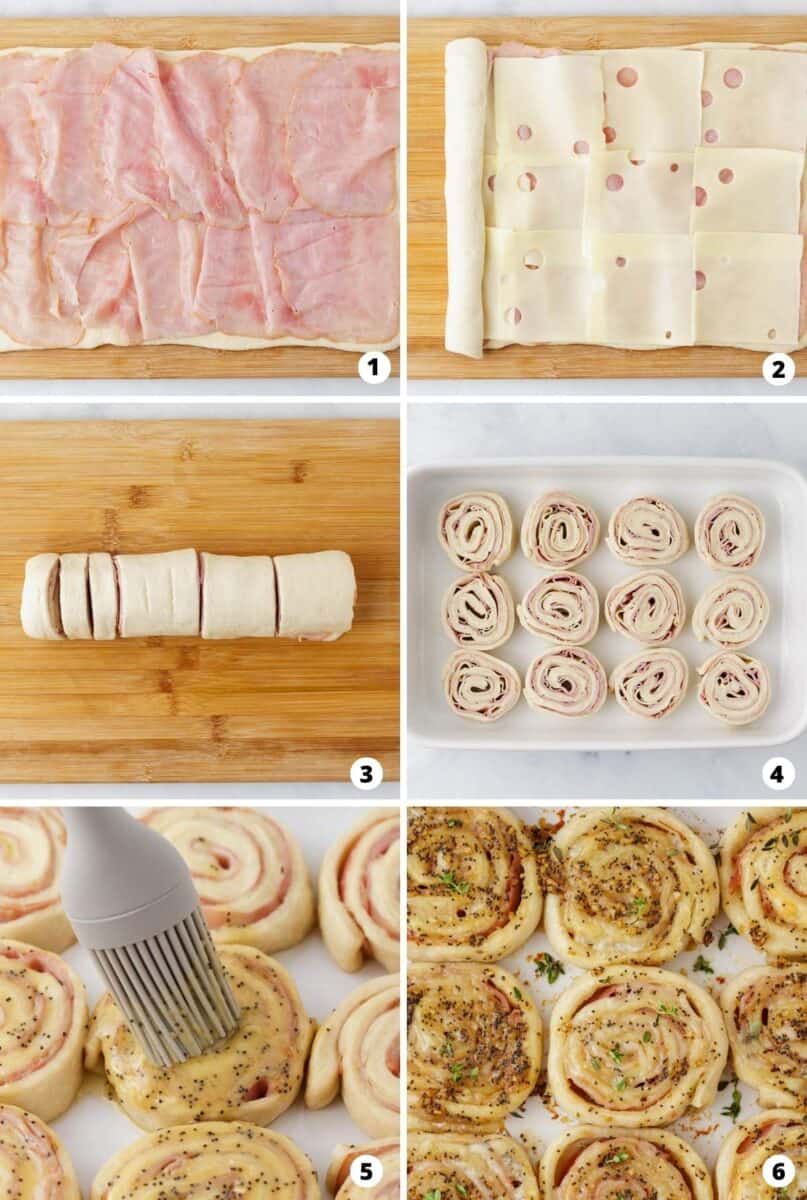 Roll out dough and layer ham. On a cutting board, unroll the pizza dough to an even rectangle. Place the ham evenly on top of the dough.
Add cheese. Top the ham evenly with slices of cheese. Start with the short edge and roll up the dough tightly into a log.
Cut into slices. It's easiest to cut the log in half first, rather than trying to slice through the log as a whole. It helps to keep its shape this way. Once you have cut the log in half, cut each half in half (you should now have 4 pieces). Then, slice each smaller log into 3 slices, ending up with a total of 12 rounds.
Bake the wheels. Place all of the rolls into a baking dish and bake for 15 minutes. In the meantime, make the glaze if you're going to be adding it.
Brush with glaze. In a small bowl, whisk together all of the ingredients for the sauce. Remove the rolls from the oven and gently brush the sauce evenly over the top.
Last bake. Continue baking for 10 more minutes until golden brown and then let them sit for 5 minutes in the pan before serving. Enjoy!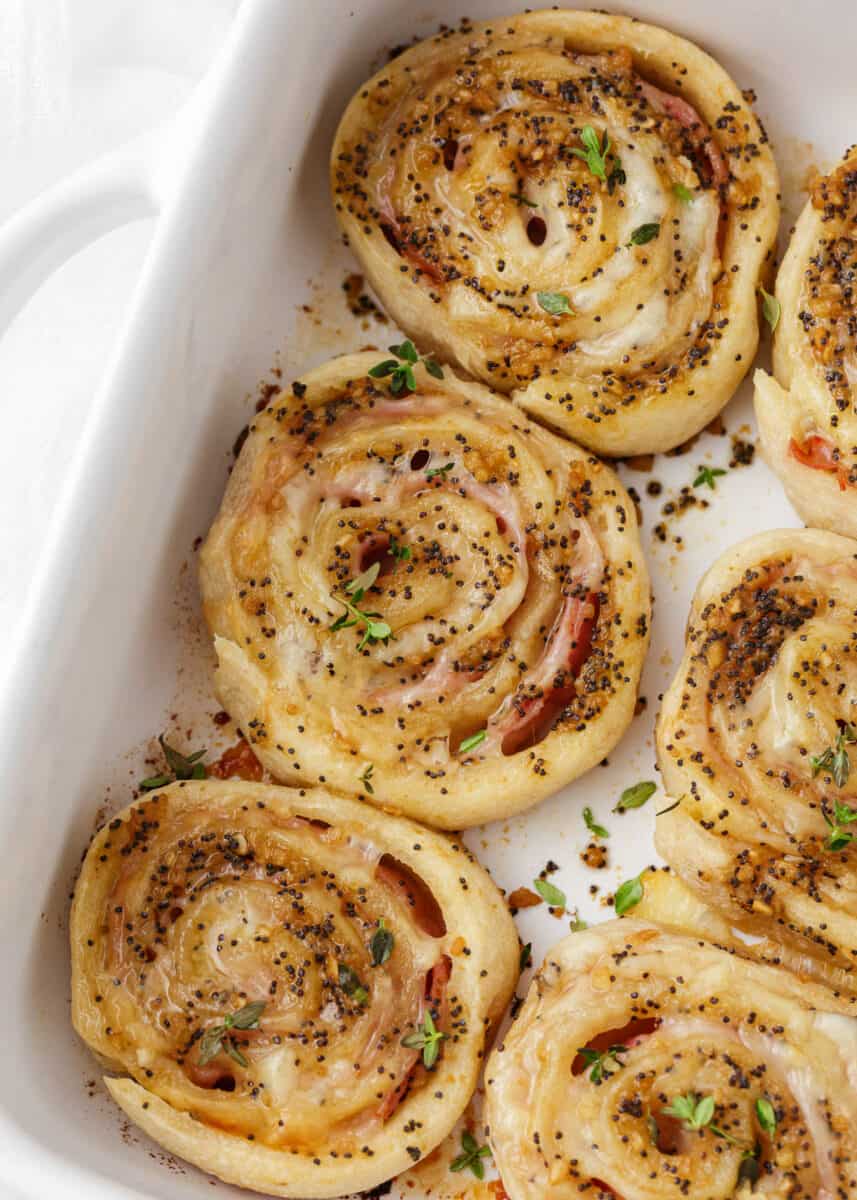 Expert Tips
As easy as this recipe is, there are still some things to keep in mind:
Nonstick. Make sure to butter the baking dish first. You can also use a cooking spray or line it with parchment paper.
For slicing. Use a serrated knife for easy slicing. Make sure it's sharp that way you won't need much pressure to slice, keeping the rounds, well, round!
Make ahead. To make these the night before, assemble them into the baking dish just before you'd bake them. Cover with plastic wrap and keep it in the fridge overnight. Bake when ready and then carry on with instructions for the sauce.
Storage. Store leftovers in the fridge for up to 3 days. I've had friends who say they enjoy eating them cold straight out of the fridge too.
Recipe FAQs
Are these pinwheels the same as ham and cheese roll-ups?
What you might be thinking of are the ham roll-ups, sometimes known as tortilla roll-ups that are not baked, served cold, and made with flour tortillas. They too are filled and rolled and are a great appetizer. Just slightly different!
How many days in advance can you make pinwheels?
If you plan on serving them the day off, bake them and allow them to sit at room temperature. When you're ready to party, reheat in the oven just before serving.

If you don't plan to serve them right away, I recommend freezing them. Allow them to cool completely, flash freeze them until solid, then transfer them to an airtight container or freezer bag. Store them for up to 1 month.
Should I refrigerate pinwheels before cutting?
Not necessary for this recipe when using pizza dough. If you're using puff pastry, then yes, you would.
How to serve them?
As an appetizer or snack, they don't need much. They are loaded with flavor as is, but you can provide a dipping sauce on the side if you'd like. A honey mustard sauce or some ranch dressing.

If you're eating them as a light lunch, then a chopped salad or some veggies on the side would be great!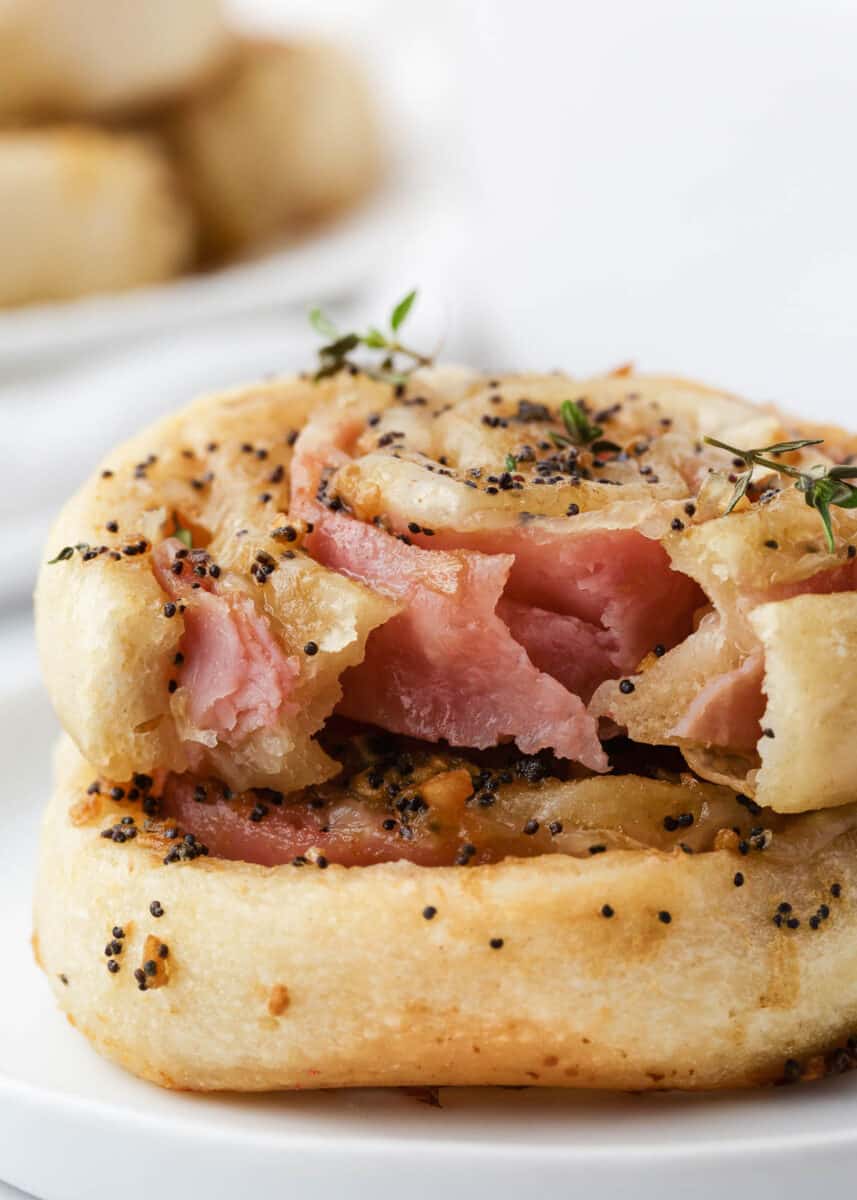 HUNGRY FOR MORE? Subscribe to my newsletter and follow on Facebook, Pinterest and Instagram for all the newest recipes!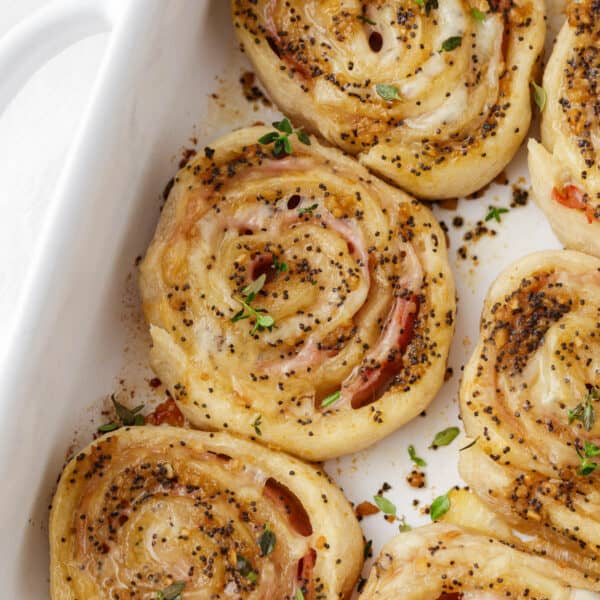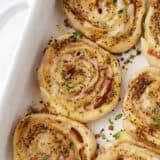 Ham and Cheese Pinwheels
Crispy rolls filled with melty cheese, and savory ham, brushed with a Dijon glaze and topped with poppy seeds are what make these baked ham and cheese pinwheels so tasty! A popular appetizer or snack made in under 30 minutes!
Ingredients
1 (14-ounce) can pizza dough , regular
12 slices deli ham , thinly shaved
9-12 slices swiss cheese , thinly sliced
Sauce
6 Tablespoons butter , melted
½ Tablespoon Dijon mustard
2 teaspoons Worcestershire sauce
1 teaspoon minced onions , optional
1 teaspoon poppy seeds , optional
Instructions
Preheat the oven to 350°F. Butter a 9×13-inch baking dish or line with parchment paper.

Unroll the pizza dough onto a cutting board. Press out edges so that it is even rectangle.

Place the ham evenly on top of the pizza dough. Top evenly with cheese.

Start with the short edge and roll up the dough tightly. Cut the log in half, and then each log in half again. Cut each log into 3 slices, so you have a total of 12 slices. Place rolls into the baking dish.

Bake 15 minutes.
Sauce
In a small bowl, whisk together the butter, mustard, Worcestershire sauce, onions, and poppy seeds, if using. Remove rolls from the oven and gently brush the sauce evenly over the top. Bake 10 more minutes, or until golden.

Remove from the oven and let sit in the pan 5 minutes before serving. Serve while warm.
---
Notes
Dough: You could use a homemade pizza dough, if preferred. You could also use a can of crescent rolls. Make ahead: You can make the rolls the night before. After step 4 cover and refrigerate until ready to bake. Then you can follow with the sauce. Storage: Store leftovers in a covered container in the refrigerator for up to 3 days. Some said they enjoyed these cold as well.
Nutrition
Serving: 1roll | Calories: 254kcal | Carbohydrates: 17g | Protein: 12g | Fat: 15g | Saturated Fat: 8g | Polyunsaturated Fat: 1g | Monounsaturated Fat: 5g | Trans Fat: 0.2g | Cholesterol: 44mg | Sodium: 660mg | Potassium: 108mg | Fiber: 1g | Sugar: 2g | Vitamin A: 282IU | Vitamin C: 0.4mg | Calcium: 123mg | Iron: 1mg
Nutrition provided is an estimate. It will vary based on specific ingredients used.
Did you make this recipe? Don't forget to give it a star rating below!