7 layer dip cups are cute little single portions of a classic party dip but with all of the flavor explosion of the original! Layers of refried beans, guacamole, sour cream, and more, means there is a bit of everything in every scoop!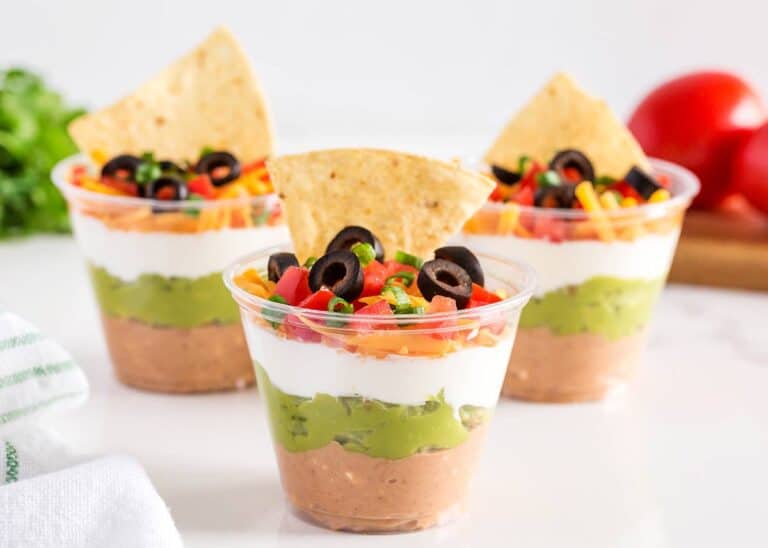 A Fun Party Appetizer
7 layer dip cups are a fun and adorable take on everyone's favorite 7 layer dip. Set up in individual portions, these snack-sized appetizer cups are great for grabbing, mingling, and make for super easy serving!
If you're looking for a Mexican appetizer to go along with tortilla chips and guacamole for a Mexican-themed party or just something a little different to bring to a potluck, 7 layer bean dip in individual cups is your easy and delicious answer!
This recipe will help guide you to building the perfect 7 layers, but it is totally flexible! Build each cup and leave the toppings out for everyone to pick and choose their own. Serve with a side of crispy nachos and with each scoop, you'll get a little bit of everything. Unless you're being dainty, in which case, you'll probably work your way through each layer.
What is 7 Layer Dip?
Well, it's 5-layer dip with a couple of extra bonus ingredients! It's got refried beans which are made creamy and flavorful thanks to a blend of cream cheese and taco seasoning, then it has layers of guacamole, sour cream, shredded cheese, and diced tomatoes. Finally, you can top it with any additional toppings such as black olives, salsa, green onions, or some chopped cilantro.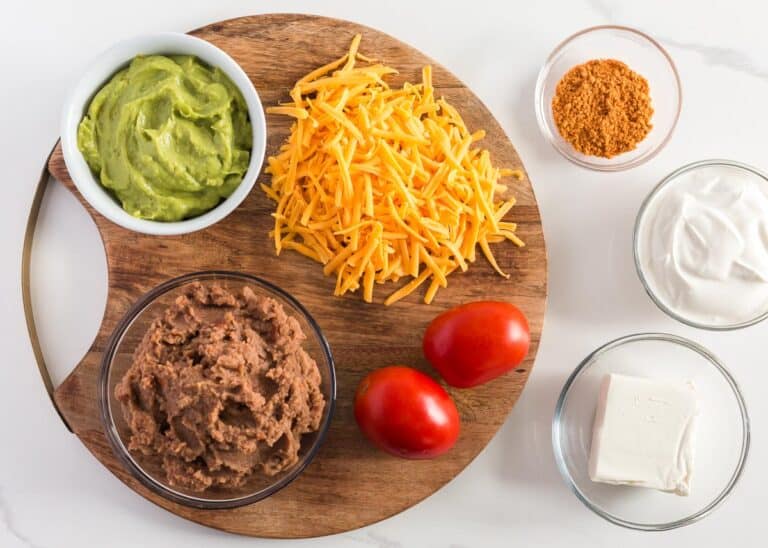 Let's Talk About the Layers
Refried beans: This is going to be the bottom layer because it's the thickest and sturdiest. That way, it won't buckle under all of the other layers. It will be mixed with cream cheese and taco seasoning to give it a deliciously creamy texture and added flavor.
Guacamole: The pop of green from this layer is eye-catching. It's also guacamole and who doesn't love guac! It's creamy, silky, and delicious! Store-bought guacamole works in a pinch, but homemade guacamole just takes it to another level.
Sour cream: A cool, rich, and creamy layer that just works in almost any dip!
Cheese: Freshly shredded sharp cheddar works best here. You can also use a blend of Mexican cheese. Try and avoid prepackaged shredded cheese as it won't taste the same!
Tomato: Fresh diced tomatoes, add an acidic component that offsets the richness of the other layers. It works so well!
Optional add ons for added layers: Black olives, fresh cilantro, sliced green onions, are all ways to keep the layers going. This dip is totally customizable.
Make Ahead Individual 7 Layer Dip Cups
Since there are many layers to this dip, it's best to prepare them ahead of time, but layer them just before serving. You can make the bean layer dip as well as make the guacamole, and keep everything stored in the fridge overnight. Alternatively, if you wanted to start layering each portion, you could start with the bean layer and the sour cream layer, but switch up the order and leave the guacamole layer until just before serving.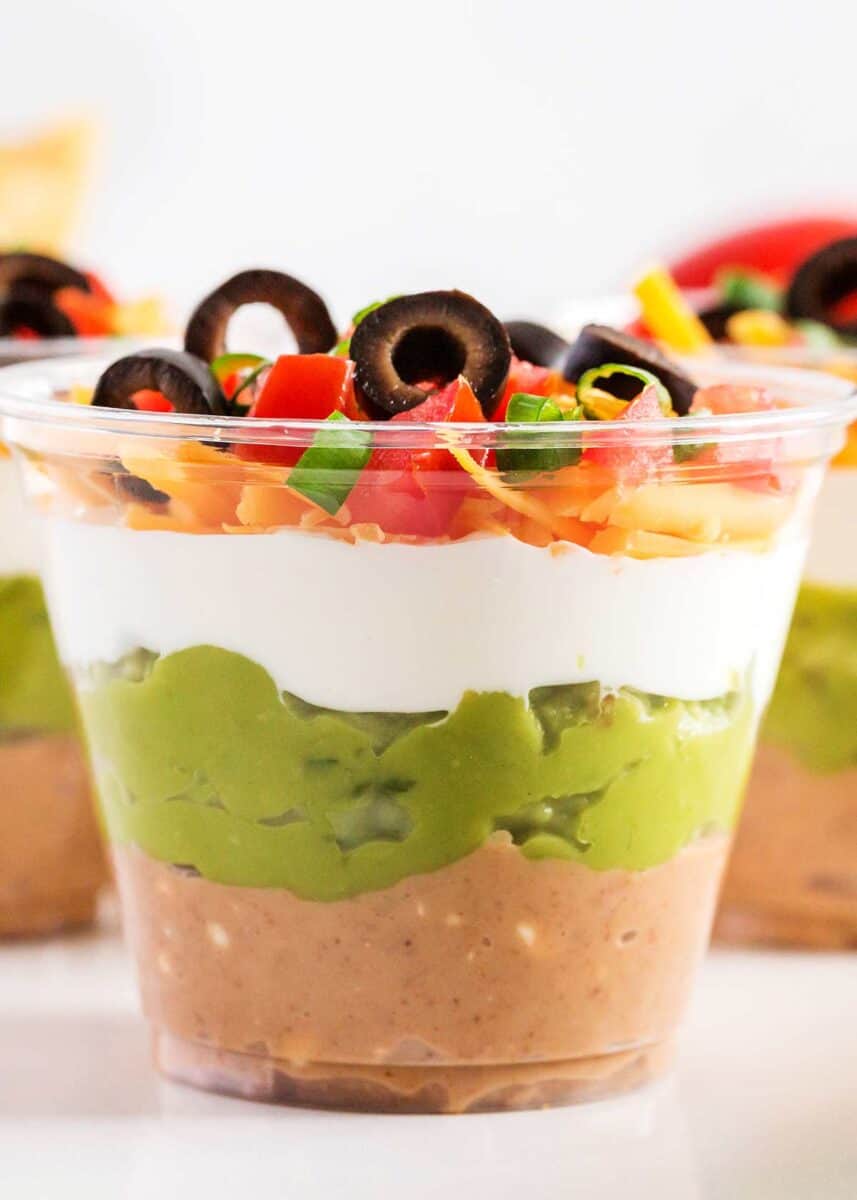 Tips & Variations
Add an entire layer of salsa and omit the diced tomatoes on top. Or do both!
A layer of taco meat would be nice too. Brown the ground beef and use the taco seasoning to give it flavor.
For a little extra flavor in the sour cream, you can mix a little ranch seasoning in there.
A slight variation would be adding sour cream and taco seasoning to the sour cream layer instead of the bean layer.
For cleaner layers, use a piping bag for the sour cream and salsa and squeeze out the layers in a circular motion.
Make sure to serve in clear cups that way your guests can see all the layers at once.
Serve with a side of tortilla chips, crackers, veggies, and whatever else you love to dip.
As adorable as individual 7 layer dip is, you can easily revert back to making a single portion using a baking dish or pie dish. Double the recipe to make even more.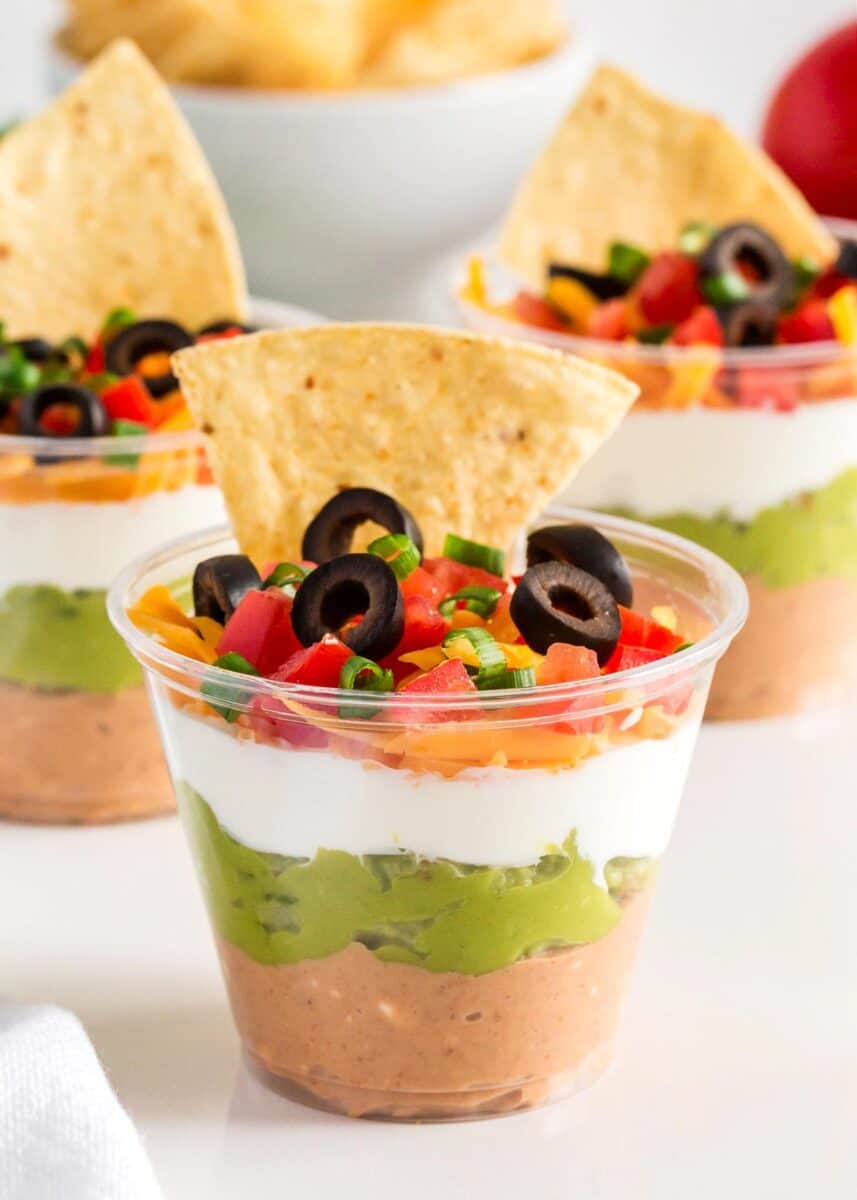 More Mexican appetizers: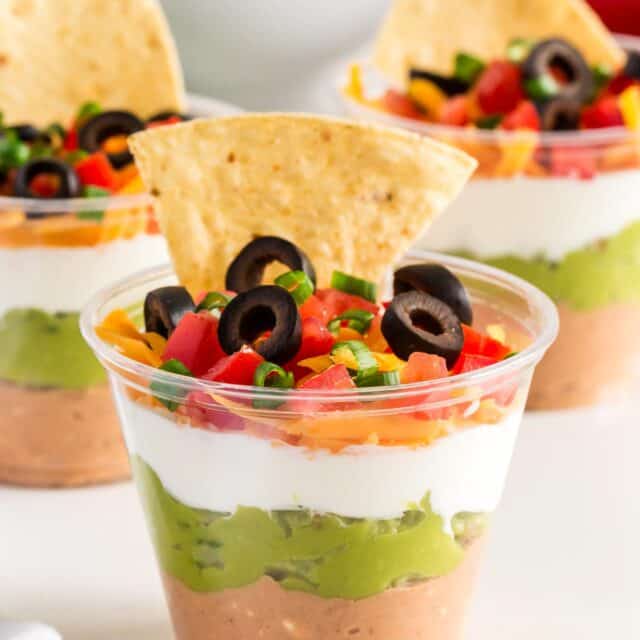 7 Layer Dip Cups
7 layer dip cups are cute little single portions of a classic party dip but with all of the flavor explosion of the original! Layers of refried beans, guacamole, sour cream, and more, means there is a bit of everything in every scoop!
Equipment
8 (9-ounce) plastic tumblers
Ingredients
16 ounce can refried beans
4 ounces cream cheese , softened, optional
1 1/2 Tablespoons taco seasoning ,1 packet
1 cup guacamole
1 cup sour cream
1 cup shredded cheddar cheese
2 roma tomatoes , diced and drained of juices
Optional (for topping): salsa, sliced olives, chopped cilantro, sliced green onions, S&P
For serving: Tortilla chips or Fritos
Instructions
In a small bowl, combine beans, cream cheese (if desired) and taco seasoning. I like to microwave the cream cheese for about 20 seconds beforehand, to make sure it's smooth and creamy.

Then spread about 2 Tablespoons of beans on the bottom of the cup. Next spread 2 Tablespoons guacamole evenly over top. Then add your third layer, the sour cream.

For the top layer, sprinkle the cheese and diced tomatoes over top. If desired you can add sliced olives, green onions and cilantro on top. Sprinkle a little salt and pepper on top if desired.

Cover and store in the refrigerator until ready to serve. The dip is best to eat the day that it is made. Serve with fresh tortilla chips or Fritos. Enjoy!
---
Notes
Substitutions:
Alternatively you can mix the cream cheese and taco seasoning in with the sour cream.
You could also add in a Tablespoon of ranch seasoning mix to the sour cream if you prefer.
You can substitute the salsa for tomatoes.
Make ahead: If you are wanting to make ahead of time, I would do the bean and sour cream layer and refrigerate. Then add the guacamole and toppings right before the event, so it stays fresh.
Calories: 236kcal | Carbohydrates: 11g | Protein: 8g | Fat: 18g | Saturated Fat: 9g | Cholesterol: 42mg | Sodium: 497mg | Potassium: 252mg | Fiber: 5g | Sugar: 3g | Vitamin A: 729IU | Vitamin C: 6mg | Calcium: 162mg | Iron: 1mg
Nutrition provided is an estimate. It will vary based on specific ingredients used.
Did you make this recipe? Don't forget to give it a star rating below!