Let the slow cooker do the work with this easy bean dip with cream cheese recipe. Made with refried beans, salsa, green chiles, sour cream, taco seasoning, and 3 kinds of cheese, this party dip is sure to impress!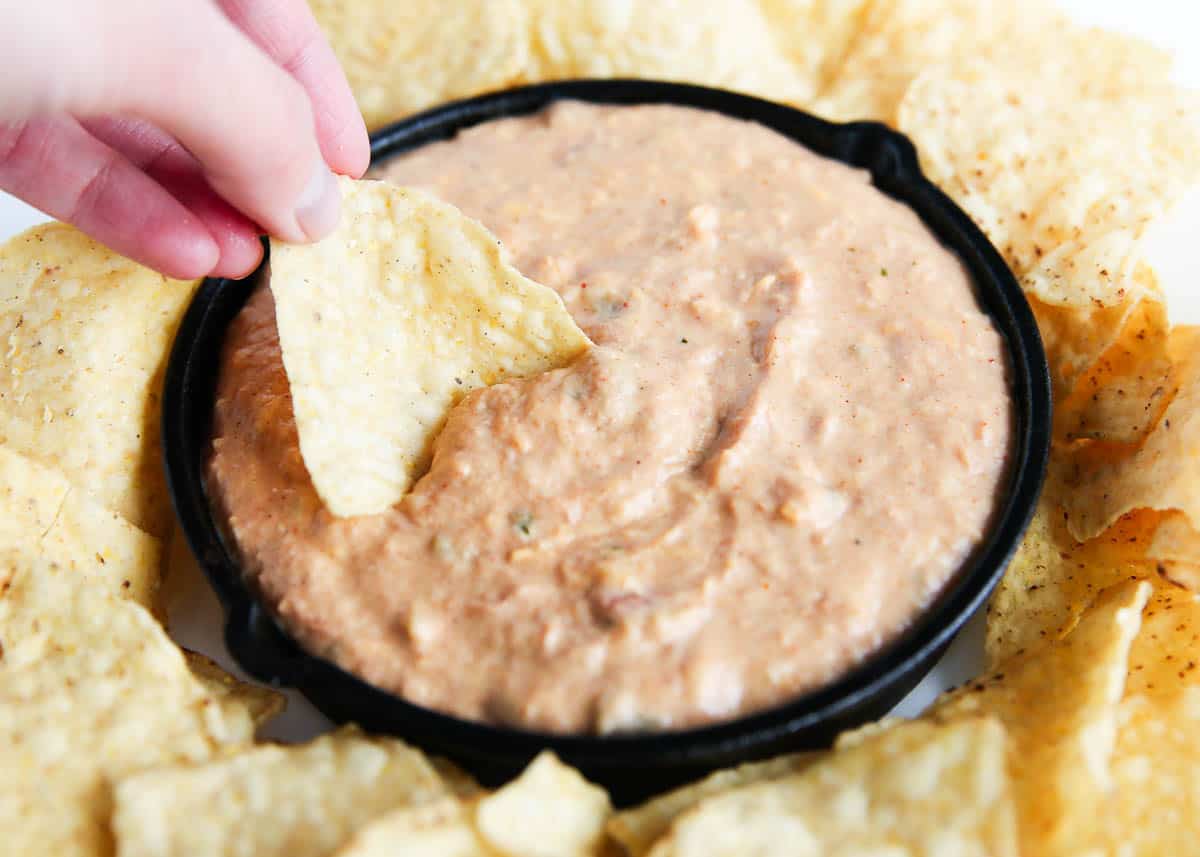 Bean Dip is a Party Favorite!
A good old-fashioned refried bean dip with cream cheese is one of those dips that you literally can't stop eating way past the time you should have!
This easy bean dip is made in the crockpot, which means it basically makes itself. With refried beans, cream cheese, sour cream, salsa, tasty taco seasoning, green chilis, and melty cheese, each scoop is a Mexican-inspired flavor party in your mouth!
A delicious and hearty Mexican recipe that rivals any homemade bean dip you've had!
Serve it as one of the easy appetizers great for game day parties alongside other dips like rotel dip, 7 layer dip, and cream cheese and chili queso dip. Or have a bowl of tortilla chips and dip as a snack just because!
It doesn't matter how you eat this dip, just as long as you come prepared to wear your stretchy pants!
Why This Recipe Works
Delicious. If you love a good homemade bean dip, refried beans, or a creamy hearty warm dip, then this is the recipe for you. It is crazy addictive.
Easy. Dump all the ingredients in, set the timer, and let the slow cooker do all the work.
Great for entertaining. It's the perfect party food and super easy to double or triple the recipe for a crowd. The fact that this simple recipe is essentially hands-off means there's more time for spending with friends or focusing on other parts of your Super Bowl menu.
Recipe Ingredients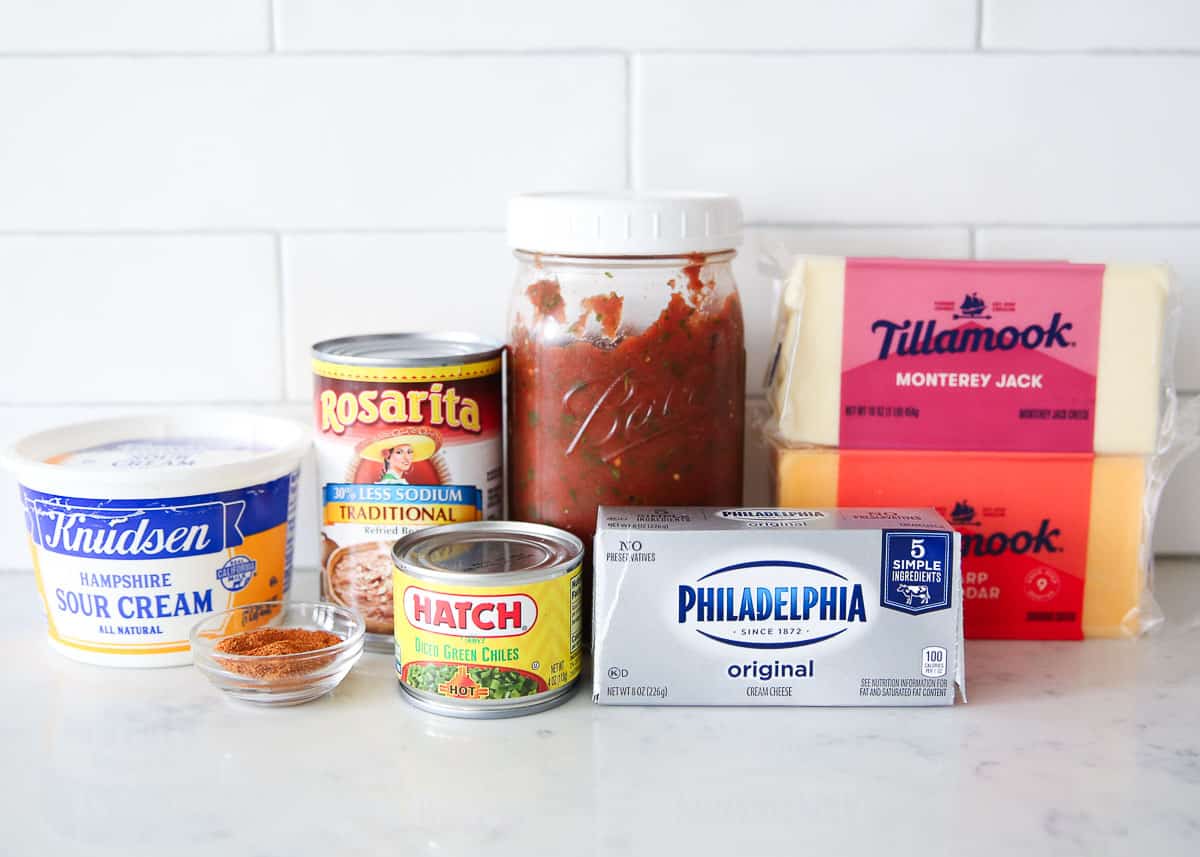 Find the full printable recipe with specific measurements below.
Refried beans: You'll find the cans in either the canned food aisle at the grocery store, where you find the taco kits, or in the "International food" section. Despite the name, they have not been cooked twice. It's a way of cooking and mashing the beans into a thick consistency and then adding delicious seasoning.
Cream cheese & sour cream: Both of these will add creaminess to the dip. Cream cheese will add a bit more tang and body, while the sour cream will lighten it up a bit. Use softened cream cheese if you can so that it doesn't take too long to melt into the dip.
Salsa: I have a delicious homemade salsa recipe I like to use, but any store bought jar can be used. Keep in mind they do come mild, medium, or hot, so it's up to you which you prefer.
Taco seasoning: A combination of cumin, chili powder, paprika, garlic powder, onion powder, oregano, salt, and pepper. I like to keep a homemade taco seasoning on hand at all times, I find the flavor so much better than the store-bought stuff.
Diced green chiles: These give the dip a delicious spicy edge!
Shredded cheese: I use both shredded Monterey Jack and cheddar cheese grated from a block. It melts nicely into the dip adding a sharp cheesy punch.
Toppings: Sliced green onions, diced tomatoes, or fresh cilantro.
Variations
This bean dip recipe can be made to suit your tastes and still be the best bean dip anyone has ever had!
Swap the diced chiles for jalapenos or Rotel tomatoes, or instead of Cheddar and Monterey Jack, you can use a Mexican-style cheese blend.
Top with chorizo at the end, or keep it vegetarian and use black olives instead.
A finish of fresh lime juice is also a nice addition.
How to Make Refried Bean Dip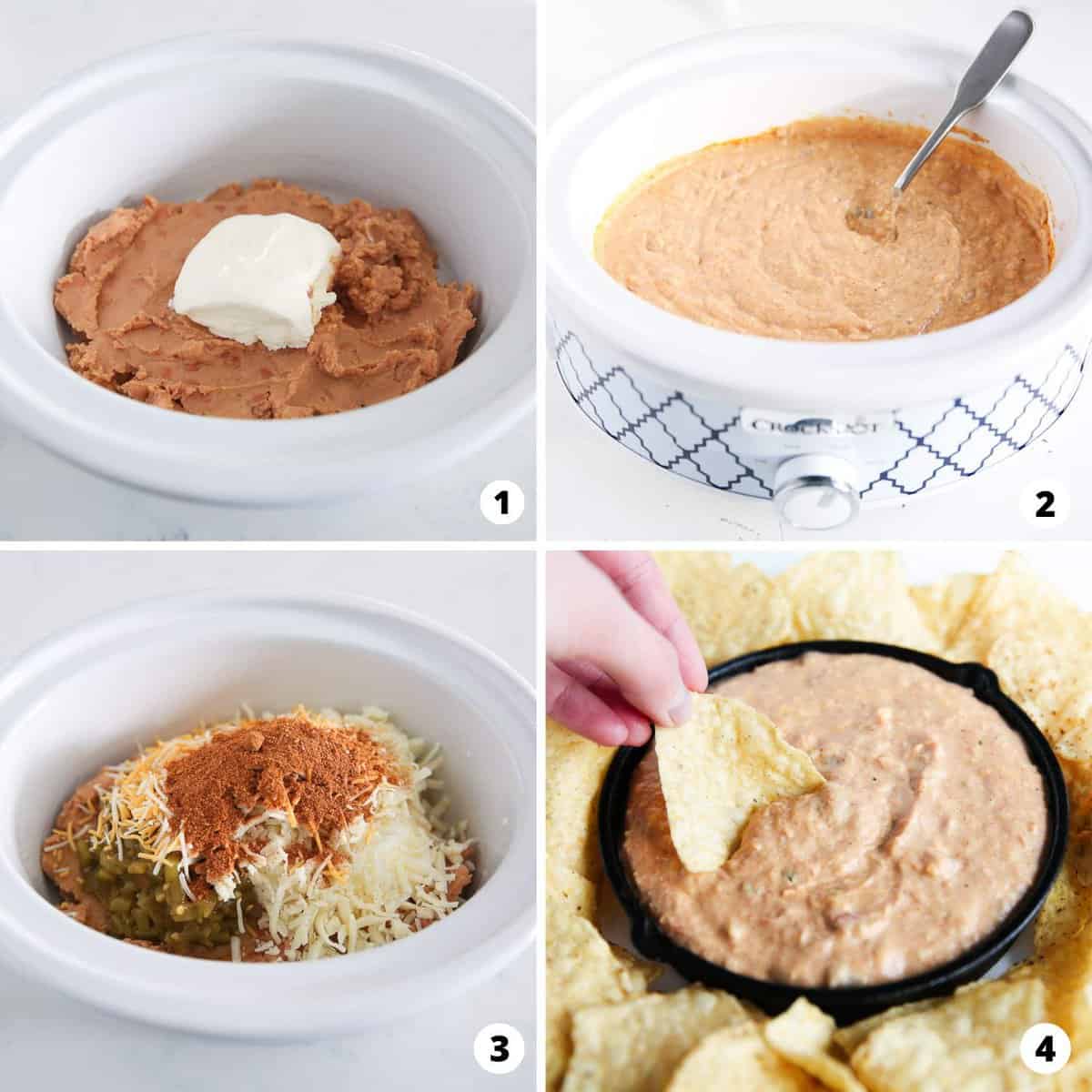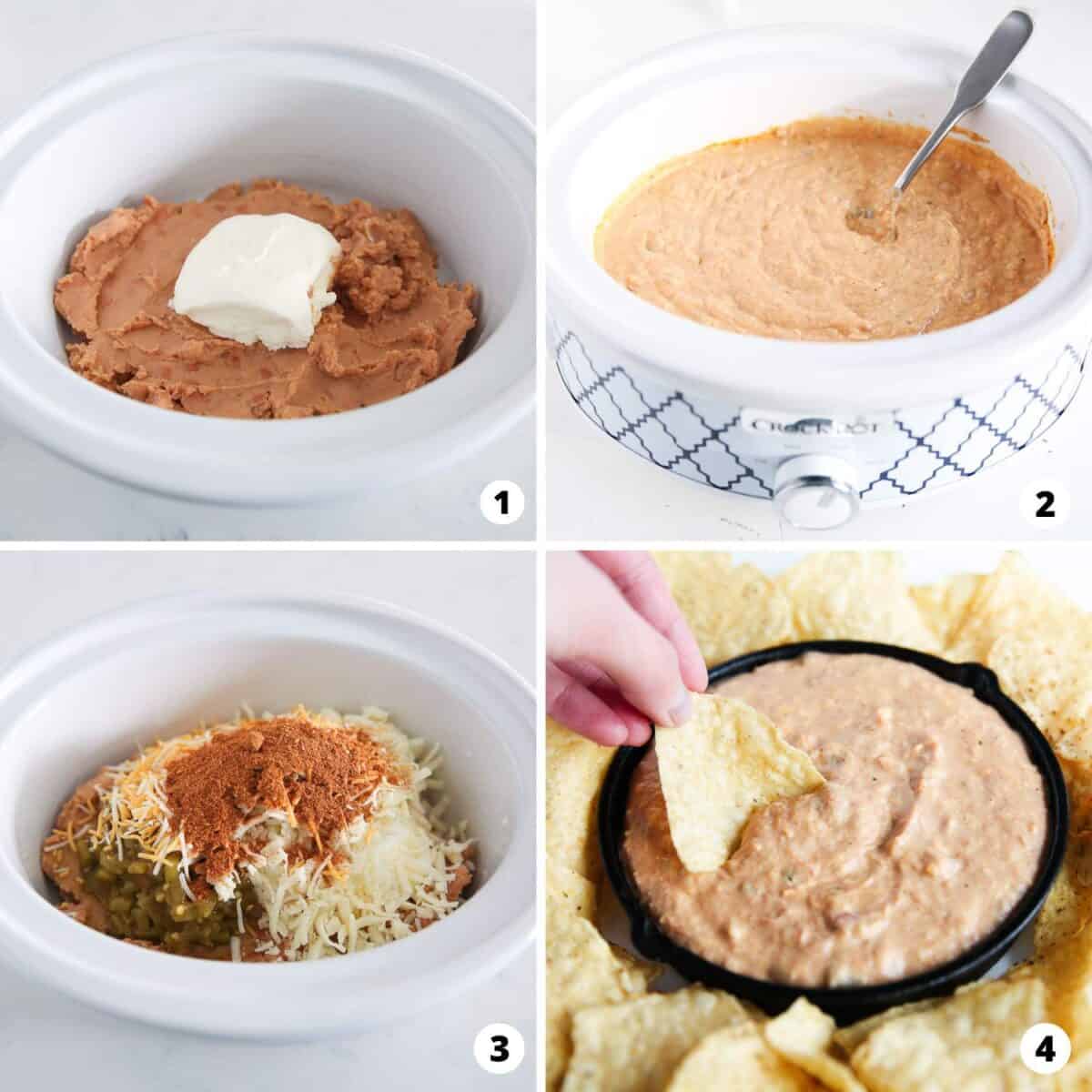 Spread the refried beans into the bottom of the crockpot, using a spoon or spatula. Once removed from the can, the beans will still be in the shape of the can. They'll need a little help to spread out.
Then add the cream cheese, sour cream, and salsa, and mix to combine.
Fold in the chiles and cheese stirring until smooth. Then, place the lid on the crockpot and cook on high for 1-2 hours, until hot.
Top with your preferred toppings and serve while it's warm. Enjoy with a basket of tortilla chips or your favorite dippers.
Expert Tips
Serve warm. If you're not eating it right away, keep it on the warm function until you're ready to serve it. If you are, you can always transfer it to a skillet or serving dish and bring that to the table.
Shred the cheese yourself. Skip buying the pre-shredded stuff, it won't melt as nicely and just doesn't taste the same!
Make a mild dip. If you're concerned about spice, you want to make sure to use a mild salsa and skip the green chiles. You also want to make sure you're not adding cheese that has any spice to it.
Spice it up. To make it a little spicier, add in a dash of chili powder and some minced jalepenos.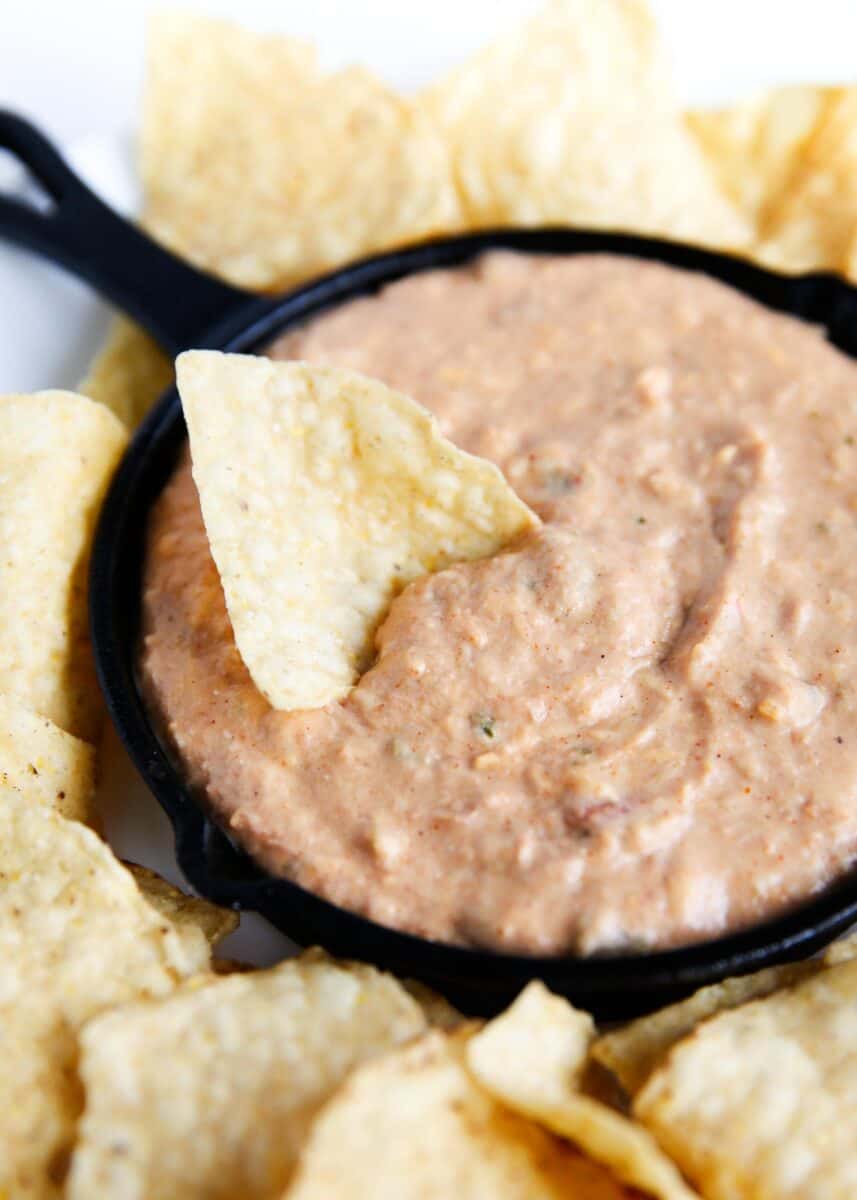 Recipe FAQs
How to make bean dip a bit thinner?
You can adjust the amount of salsa you use and add a bit more. The more you use, the more it will alter the flavor of the dip. You can also add in a Tablespoon or two of water. Try to avoid adding too much.
Can I make it in the oven?
Certainly! If you like a baked bubbly cheesy top, this is the way to go. Combine the dip ingredients (minus the shredded cheese) in a bowl. Spread it on the bottom of an 8×8 baking dish. Sprinkle the cheese over top and bake in a preheated 375°F oven for 20-25 minutes.
What about the stovetop?
Definitely. Combine everything in a pot on the stove and stir to combine over medium heat and serve.
Serving Suggestions
My homemade tortilla chips are my go-to. Bean dip with cream cheese is pretty hearty, so it needs something sturdy to hold all of that deliciousness.
Crackers, raw veggies, and crusty bread are other options.
Use it as a topping for sheet pan nachos for dinner, or spread it on toast with a side of eggs in the morning.
I love to use leftover bean dip as a quick and easy bean and cheese burrito filling served with a tossed salad. It makes an easy lunch or meatless dinner idea fully loaded with tons of protein.
Storing
Keep any leftover dip stored in an airtight container in the fridge for up to 4 days.
You can reheat it in the microwave, or if you've got larger portions in the oven or on the stovetop. It will thicken as it cools, so you may need to add a splash of water to loosen it up again.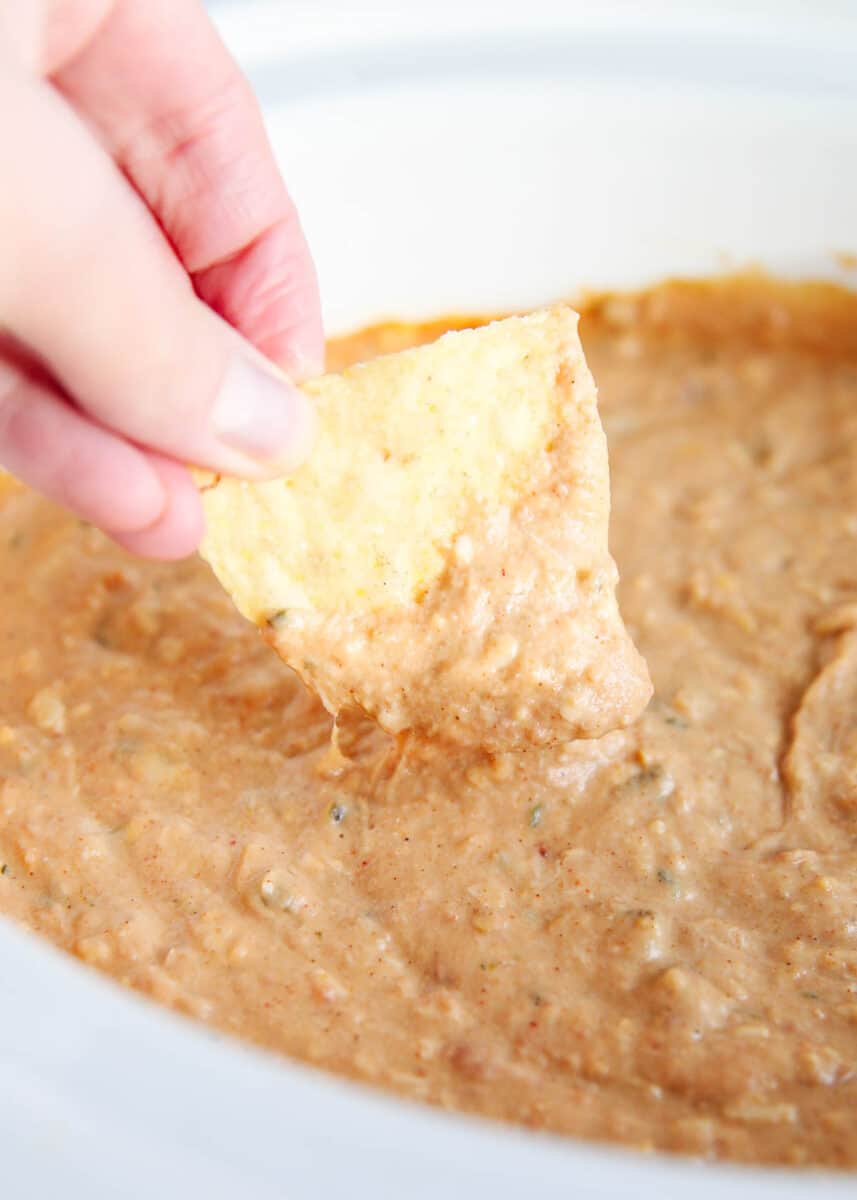 HUNGRY FOR MORE? Subscribe to my newsletter and follow on Facebook, Pinterest and Instagram for all the newest recipes!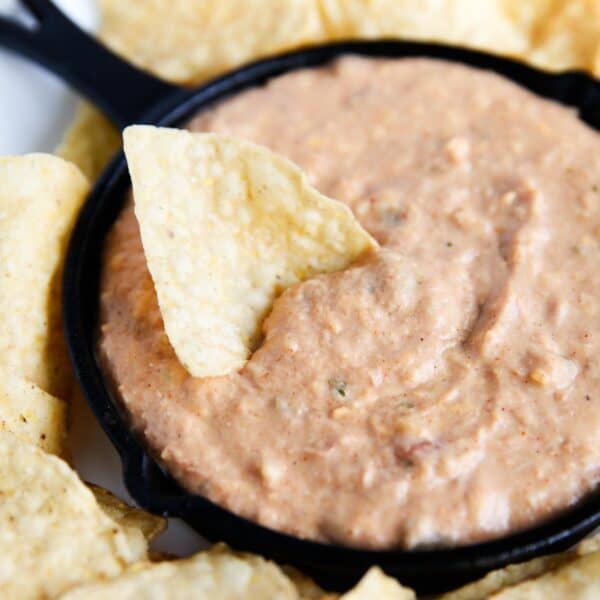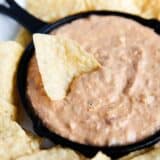 Bean Dip Recipe
Let the slow cooker do the work with this easy bean dip with cream cheese recipe. Made with refried beans, salsa, green chiles, sour cream, taco seasoning, and 3 kinds of cheese, this party dip is sure to impress!
Ingredients
1 (15-ounce) can refried beans
4 ounces cream cheese , softened
¼ cup sour cream
¼ cup salsa , more if desired
1 Tablespoon taco seasoning
1 (4-ounce) can diced green chiles , drained
1 cup shredded monterey jack cheese
½ cup shredded cheddar cheese
Salt and Pepper , to taste
Optional toppings: Sliced green onions, Chopped cilantro, Diced tomatoes
For serving: Tortilla chips
Instructions
In the base of the crockpot (or in a medium bowl), mix together the cream cheese, beans, sour cream, salsa, and taco seasoning. Fold in chiles and cheese until smooth.

Place lid on top of crockpot and cook on high for 1-2 hours, or until hot.

Top with your favorite toppings and serve with tortilla chips.
---
Notes
Variations:
Cheese: Feel free to substitute both for a Mexican style cheese.
Meat: Add in cooked chorizo over the top at the end.
Cook in the oven:
Preheat the oven to 375°F.
Spread evenly into an 8×8-inch baking dish. Sprinkle cheese over the top. Bake 20 to 25 minutes, or until the dip is hot and the cheese is melted.
Storage: Store leftovers in a storage container for up to 4 days. Reheat in the microwave, oven or stove top. Add a Tablespoon of water if needed.
Nutrition
Calories: 123kcal | Carbohydrates: 5g | Protein: 6g | Fat: 9g | Saturated Fat: 5g | Polyunsaturated Fat: 0.3g | Monounsaturated Fat: 2g | Cholesterol: 25mg | Sodium: 375mg | Potassium: 44mg | Fiber: 2g | Sugar: 2g | Vitamin A: 351IU | Vitamin C: 0.3mg | Calcium: 131mg | Iron: 0.4mg
Nutrition provided is an estimate. It will vary based on specific ingredients used.
Did you make this recipe? Don't forget to give it a star rating below!