Jump to Recipe⌄
One Pan Balsamic Chicken and Veggies
One Pan Balsamic Chicken and Veggies …a healthy, EASY and delicious dinner recipe! A meal the whole family will love!
This One Pan Balsamic Chicken and Veggies is one of our go-to recipes! I've been making a few different variations for a few years now (ever since I first did the Whole 30), but this version is our favorite. It's SO easy to throw together and you can use whatever vegetables that are in your fridge. The best part about this recipe is it requires absolutely no dishes. Maybe this is why my kids love it after all… hmm? ;)
Everything cooks on a sheet pan, and you can roll up the foil afterwards, leaving you a clean pan. The chicken and vegetables are so full of flavor and super tender.
How to make this Balsamic Chicken
This recipe starts out with chicken breasts, vegetables, olive oil, balsamic glaze (or vinegar), salt and pepper. I usually just drizzle it all over the chicken and vegetables, or toss it all in a zip top bag and let it marinate for an hour or so, depending on how much time I have. If you do have the time, I suggest marinated the veggies and chicken, they will really soak in the flavor! If I have fresh herbs, such as basil or parsley, I like to add a few on top as well.
Then all you'll need to do is line a baking sheet with foil and spread everything out in an even layer. Then you'll roast the dish for about 30 minutes.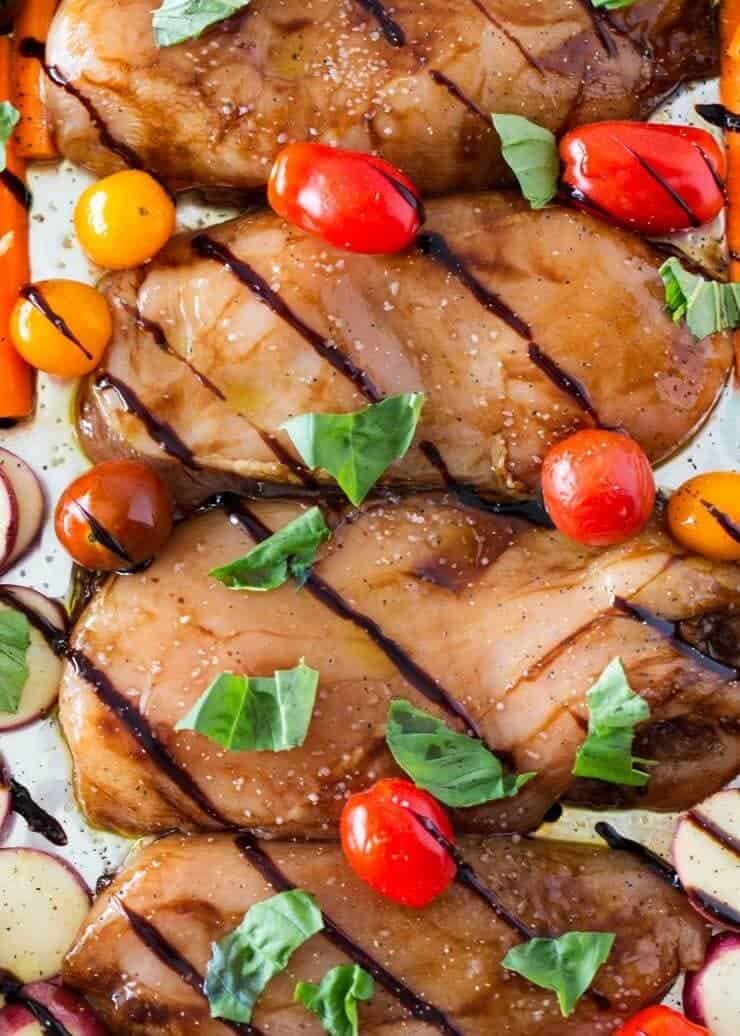 Some of our favorite vegetables to roast with the chicken are: red potatoes, carrots, tomatoes, broccoli, cauliflower, asparagus, bell peppers and green beans. Roasting the vegetables truly brings out their best flavors and makes them so tender. SO good! It's one meal my family can all actually agree on.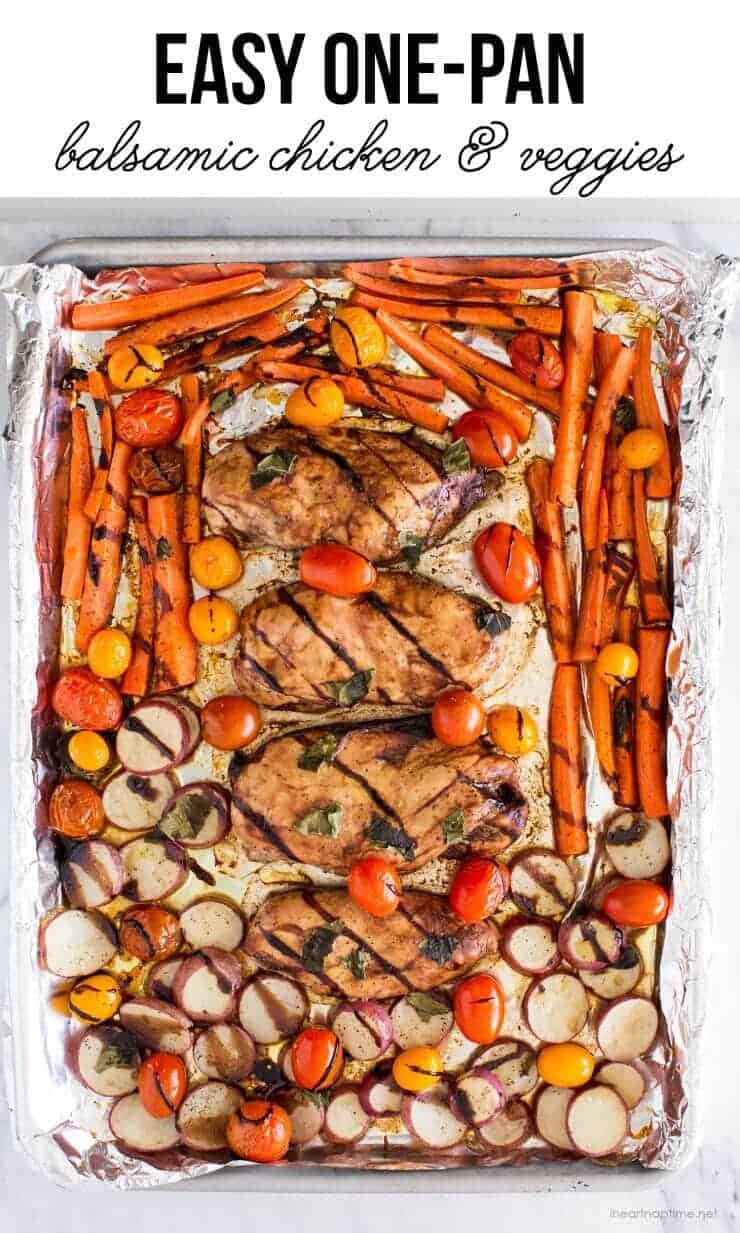 One Pan Balsamic Chicken and Veggies Video
One Pan Balsamic Chicken and Veggies Printable Recipe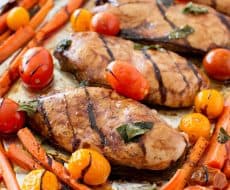 One Pan Balsamic Chicken and Veggies
Ingredients:
4 skinless, boneless chicken breasts (about 1 1/2 pounds)
4 to 5 cups chopped vegetables (we love to do sliced red potatoes, carrots, broccoli and/or tomatoes)
1/4 cup balsamic glaze (DeLallo makes a yummy one)
1/4 cup olive oil, more if needed
Fresh basil, optional
Kosher Salt & Pepper
Directions:
Preheat the oven to 400°F. Line a sheet pan with foil.
Place the chicken in a zip top bag and drizzle on 3 Tablespoons of the balsamic glaze. Let sit for at least 10 minutes. Place vegetables in a zip top bag with the olive oil, 1 Tablespoon of balsamic glaze, salt and pepper.
Alternatively, arrange the chicken and vegetables onto the pan in an even layer and drizzle olive oil and the balsamic glaze over the top.  Add fresh basil if desired. Sprinkle salt and pepper over the top.
Bake for 30 to 35 minutes, or until the chicken is no longer pink and the vegetables are fork tender. The chicken may get done faster than the vegetables, so check at 30 and remove the chicken before the vegetables if needed.
Enjoy while hot! Add extra balsamic glaze, salt and pepper if desired.
If you would like to make your own balsamic glaze, simple place 1/2 cup of balsamic vinegar in a small pot and simmer over low heat until it has reduced to 1/4 cup.
All images and text ©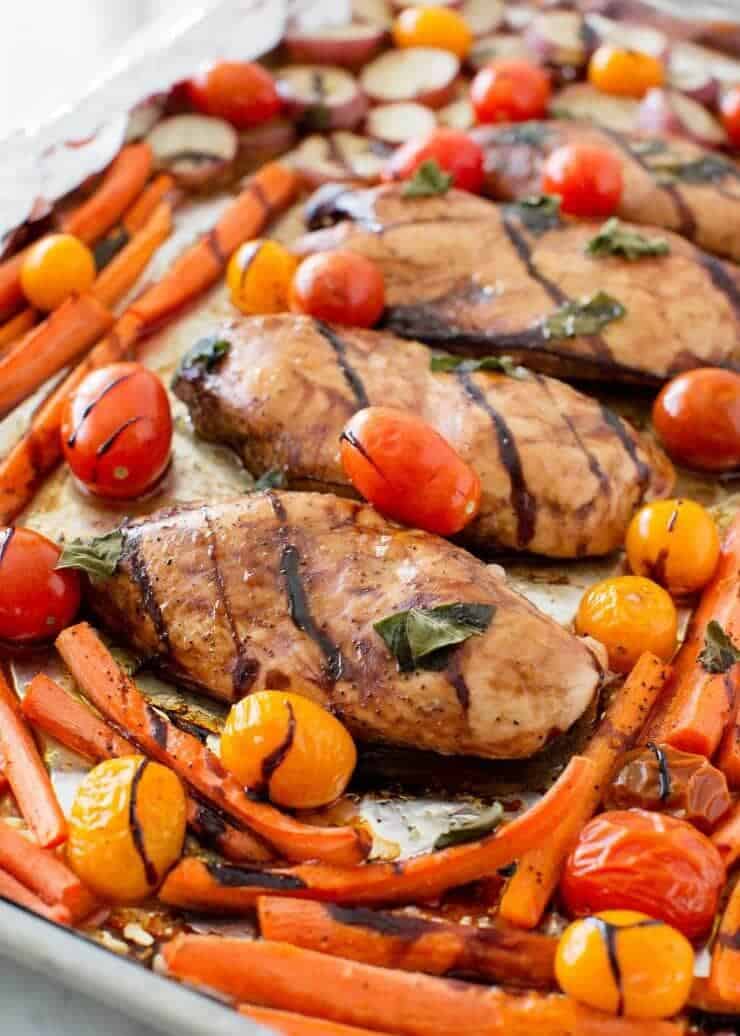 Hope you enjoy!
Looking for more easy dinner ideas? You'll love these too: