This one-pan balsamic chicken and veggies is a healthy, EASY and delicious dinner recipe that's full of flavor. A meal the whole family will love!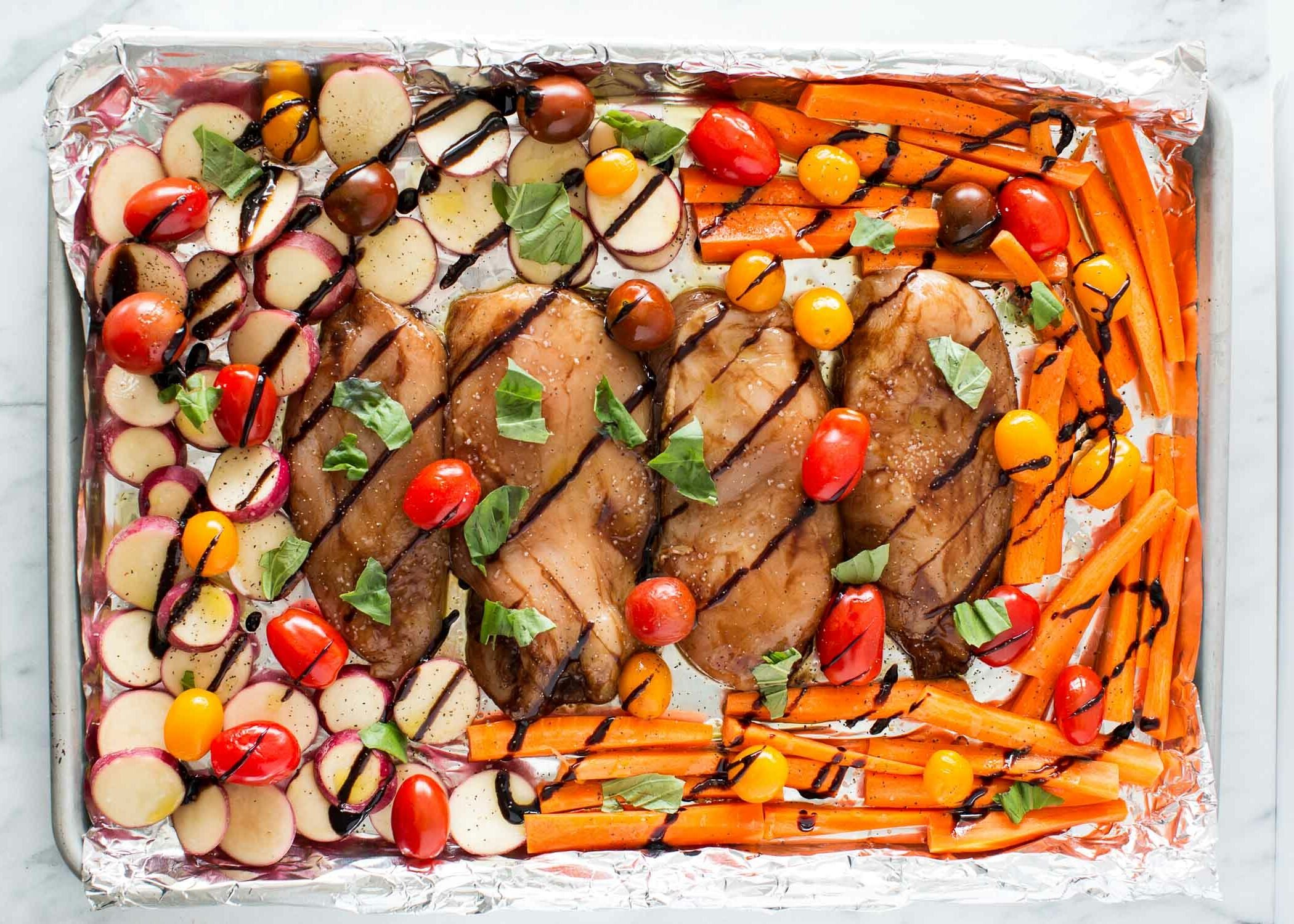 Healthy Sheet Pan Dinner
Whenever I'm looking for a healthy dinner idea, this recipe always comes to mind. Not only does it have clean ingredients, but it's loaded with flavor and has virtually no clean up. It's one of my favorite sheet pan dinners and is always one meal that my family can all agree on!
This one-pan balsamic chicken with veggies is one of our go-to recipes! I've been making a couple of different variations of sheet pan chicken and veggies for a few years now (ever since I first did the Whole30), but this version is our favorite. It's SO easy to throw together and you can use whatever vegetables that are in your fridge. Plus the chicken and vegetables are so full of flavor and super tender.
The best part about this recipe is that it requires absolutely no dishes. Maybe this is why my kids love it after all…hmm? ;) Everything cooks on a sheet pan and you can roll up the foil afterwards, leaving you a clean pan. Super easy and perfect for busy weeknights!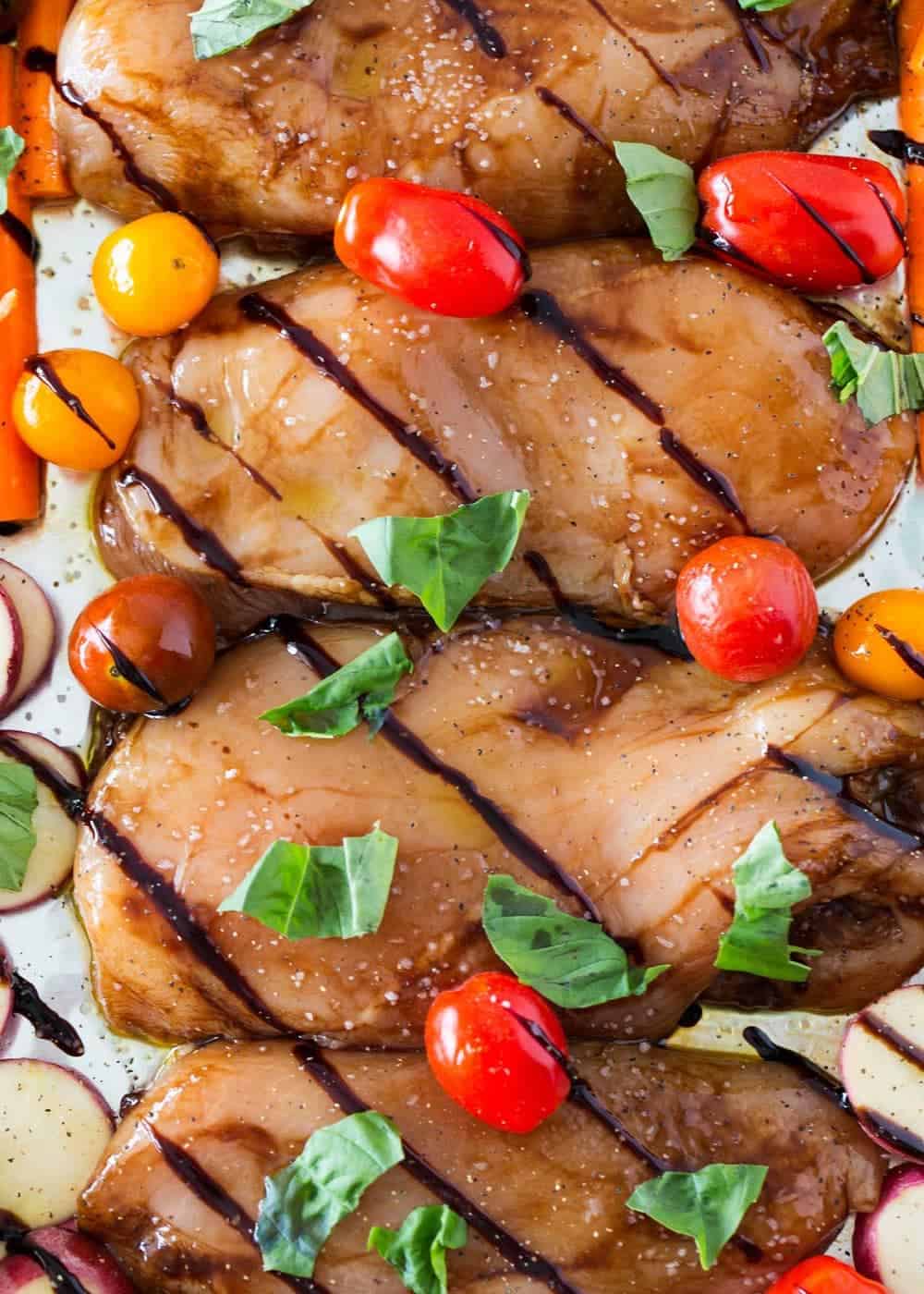 Ingredients
Chicken: I used boneless, skinless chicken breasts. They're lean, tender and bake up beautifully in the oven.
Vegetables: Really any veggies that you have on hand will work. Some of our favorite vegetables to roast with the chicken are: red potatoes, carrots, tomatoes, broccoli, cauliflower, asparagus, bell peppers and green beans.
Balsamic glaze: You can make a homemade balsamic glaze or buy one from the store (DeLallo brand is my favorite). You can also use plain balsamic vinegar if preferred.
Olive oil: Not only does this add flavor, but also helps the veggies and chicken roast perfectly in the oven.
Basil: Right before baking, I love to sprinkle on some freshly chopped basil. This step is optional, but it adds another delicious layer of flavor.
How to Make Balsamic Chicken
PREPARE. Start by preheating the oven to 400°F and lining a baking sheet with foil.
SEASON. Next it's time to season the chicken and veggies with the oil, balsamic glaze and salt and pepper. You can either let them marinate in a zip top bag or arrange them on the baking sheet and drizzle the oil and balsamic on top. Feel free to sprinkle some fresh chopped basil on top before baking.
BAKE. Bake in the oven for about 30 to 35 minutes, or until the chicken is cooked through and the veggies are tender. If the chicken is ready before the vegetables, you can remove the chicken from the oven and let the veggies cook a little longer.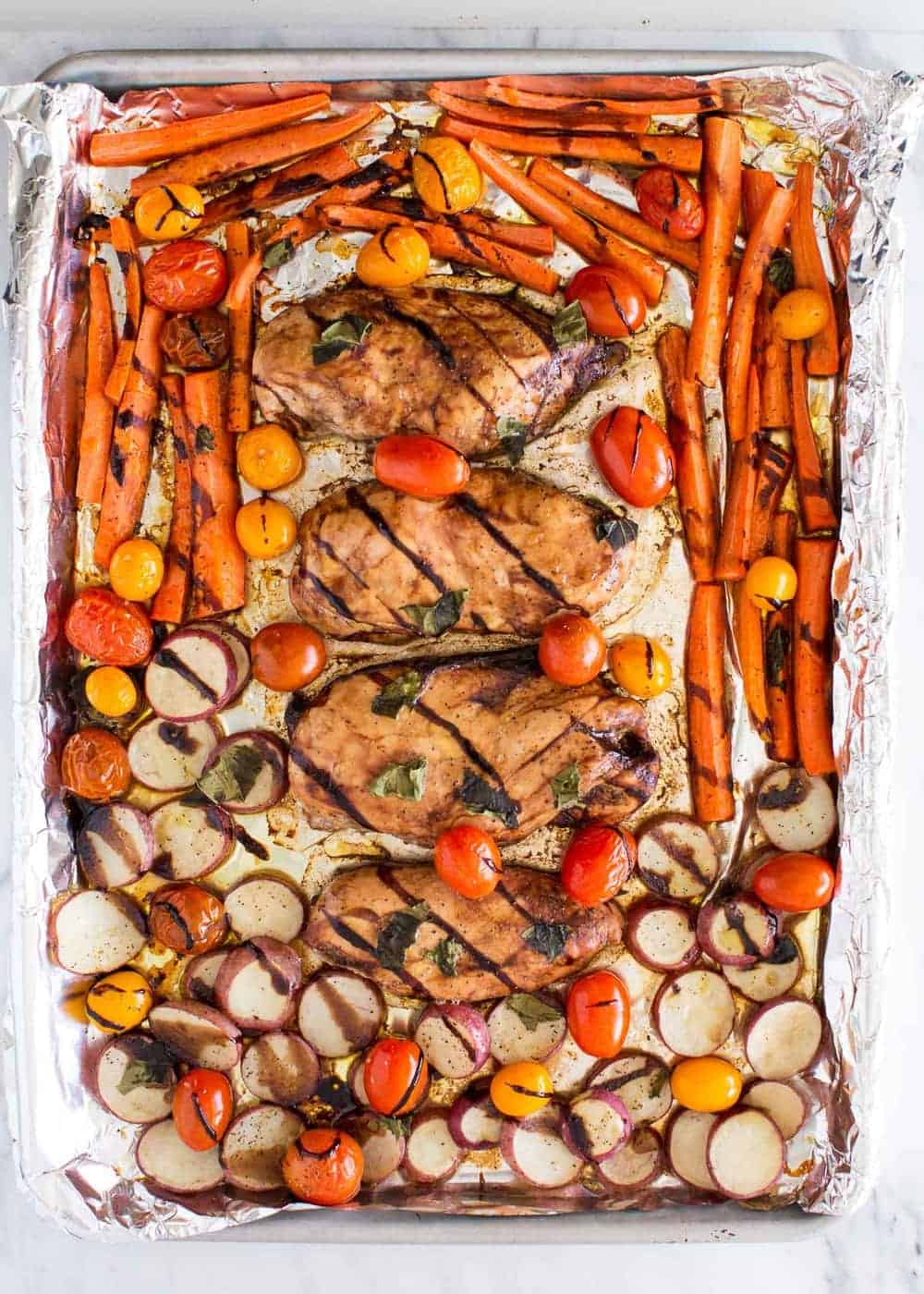 Cooking Tips
Line your pan. Make sure to line your pan with foil so that there's basically no clean up. That's the beauty of sheet pan meals! Sometimes I'll add a double layer of foil to ensure the oil and balsamic glaze won't leak through.
Marinate longer. If I have time, I like to marinate the chicken and veggies in a zip top bag for about an hour or so. I suggest doing this because they really soak in the flavor. If I have fresh herbs, I like to add a few on top as well (such as basil or parsley).
Spices. This dish is definitely not lacking flavor, but feel free to add a few more spices like garlic powder, Italian seasoning or onion powder.
Don't overcrowd. Make sure not to overcrowd the pan. You want to assemble the chicken and vegetables in a single layer so that they don't overlap. This will help them roast and get perfectly crispy and delicious.
Cooking time. The chicken may get done faster than the veggies, so check at the 30-minute mark and remove before the vegetables if needed. Then continue cooking the veggies until tender.
5 star review
"The entire family enjoyed this recipe! And I loved how easy it was to throw together…and the fact that cleanup was a total breeze! The chicken was super moist and delicious and the roasted veggies were perfection. We will definitely be adding this to our rotation"

– Stacey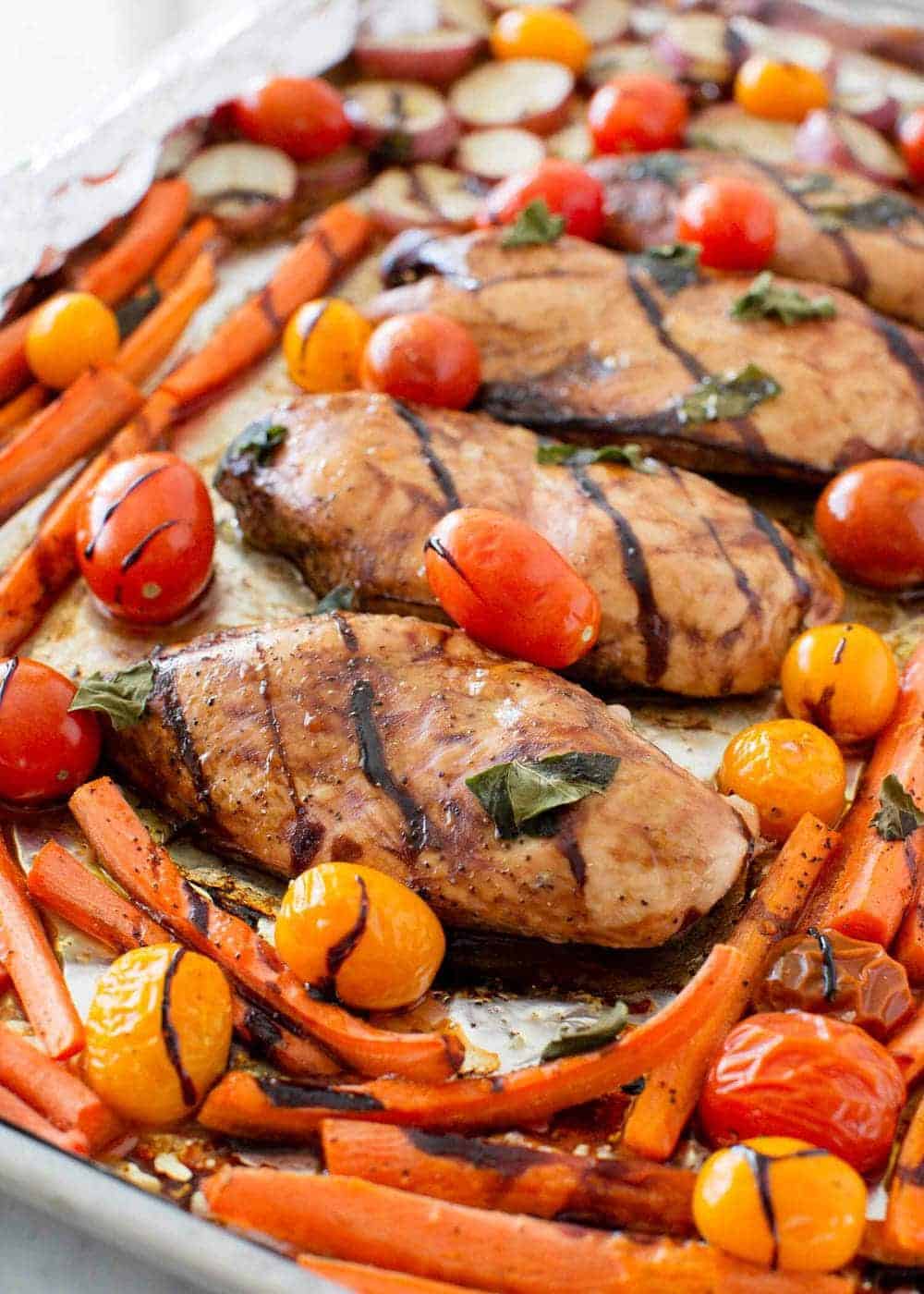 More Healthy Dinner Ideas
HUNGRY FOR MORE? Subscribe to my newsletter and follow on Facebook, Pinterest and Instagram for all the newest recipes!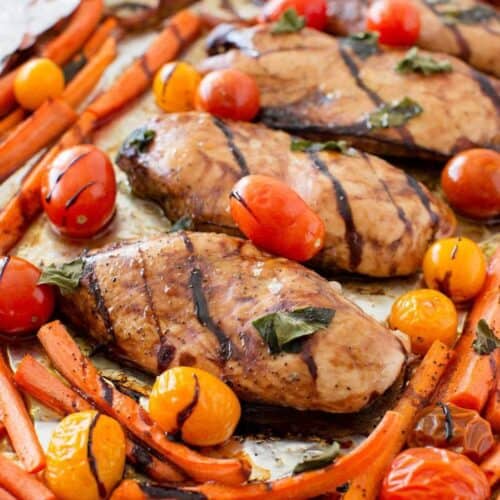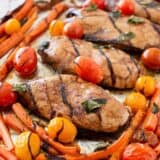 Balsamic Chicken
This one-pan balsamic chicken and veggies is a healthy, EASY and delicious dinner recipe that's full of flavor. A meal the whole family will love!
Ingredients
4 boneless, skinless chicken breasts (about 1 1/2 pounds)
4 to 5 cups chopped vegetables (we love sliced red potatoes, carrots, broccoli and/or tomatoes)
¼ cup balsamic glaze (DeLallo makes a yummy one)
¼ cup olive oil , more if needed
Fresh basil , optional
Kosher Salt & Pepper
Instructions
Preheat the oven to 400°F. Line a sheet pan with parchment paper or foil. Place the chicken in a zip top bag or bowl and drizzle on 3 Tablespoons of the balsamic glaze. Let sit for at least 10 minutes. Place vegetables in a separate zip top bag with the olive oil, 1 Tablespoon of balsamic glaze, salt and pepper.

Alternatively, arrange the chicken and vegetables onto the pan in an even layer and drizzle olive oil and the balsamic glaze over the top. Add fresh basil if desired. Sprinkle salt and pepper over the top.

Bake for 30 to 35 minutes, or until the chicken is no longer pink and the vegetables are fork tender. The chicken may get done faster than the vegetables, so check at 30 minutes and remove the chicken before the vegetables if needed.
---
Notes
Before serving, add extra balsamic glaze, salt and pepper if desired.
Nutrition
Calories: 272kcal | Carbohydrates: 6g | Protein: 23g | Fat: 16g | Saturated Fat: 2g | Cholesterol: 72mg | Sodium: 131mg | Potassium: 418mg | Sugar: 2g | Vitamin A: 35IU | Vitamin C: 1.3mg | Calcium: 6mg | Iron: 0.5mg
Nutrition provided is an estimate. It will vary based on specific ingredients used.
Did you make this recipe? Don't forget to give it a star rating below!
Hope you enjoy!