When you can throw an entire meal onto one baking sheet and have dinner on the table in 40 minutes, I call that a win! Sheet pan pork chops with potatoes is complete with flavorful juicy chops, crispy green beans, and roasted potatoes.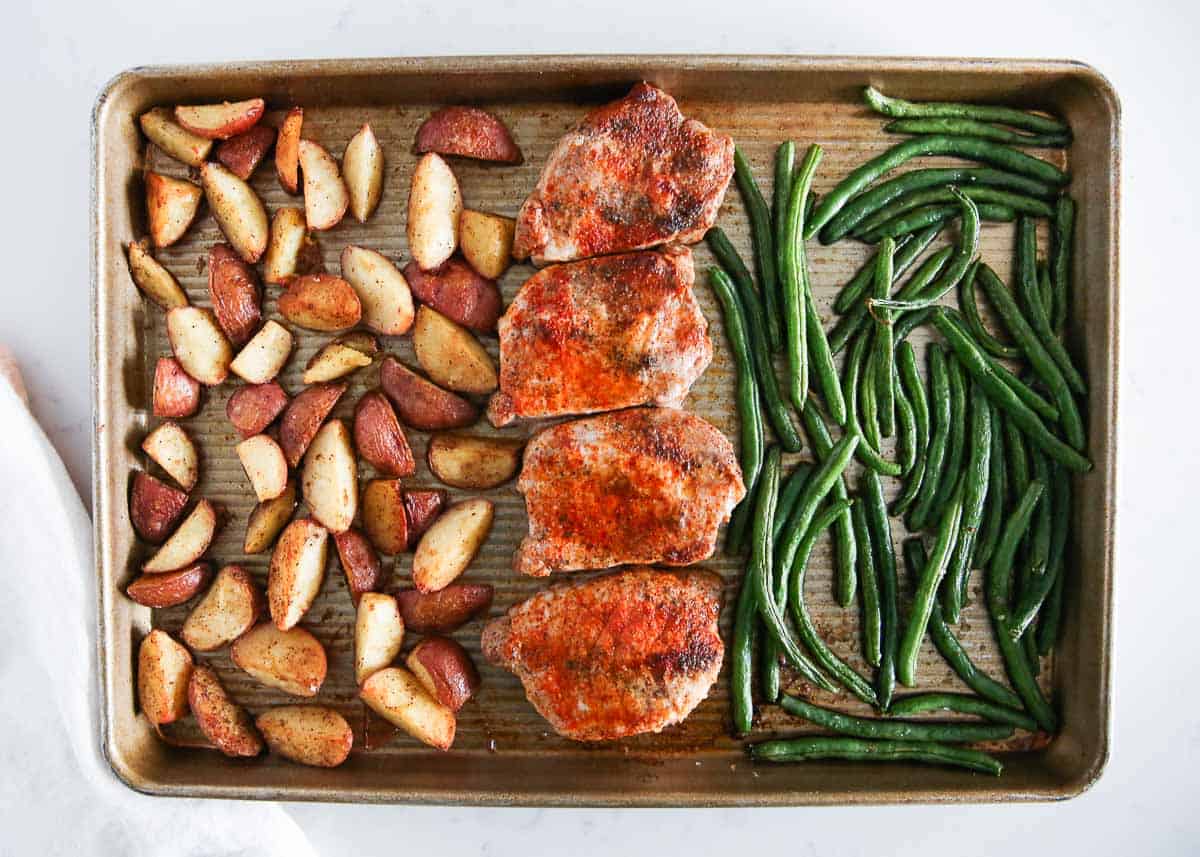 Easy Pork Chop Sheet Pan Dinner
Pork, no matter how it is prepared, is delicious! From this baked pork chops and potatoes, to my easy baked pork chops to grilled pork chops, it's lean, has so much flavor, and when cooked to perfection, it's moist and juicy on the inside.
We love everything from herb crusted pork tenderloin and roasted pork tenderloin to pulled BBQ pork in this family, but if we're talking super easy and convenient dinner ideas? Sheet pan dinners are always a winner!
Sheet pan pork chops come complete with juicy chops seasoned with smoked paprika, crispy red potatoes, and tender green beans all roasted on one baking sheet!
It's casual and simple enough for a quick weeknight meal, but elegant enough to serve a crowd. You can easily double this recipe just as long as you've got an extra sheet!
Why This Recipe Works
As easy as it looks. With just 10 minutes of prep time, you'll have dinner ready in just 40 minutes, complete with a main protein and side dishes. The easy clean up is a bonus on busy weeknights.
Customizable. I like to cook seasonally, and sheet pan dinners are great for that! Swap out the veggies depending on what you've got at home.
Delicious and nutritious! Beautiful caramelized outside, crispy edges, tender insides, and I'm not just talking about the meat! Pork is lean and high in protein, and it's paired with fresh veggies and simple seasoning for added nutrients.
Recipe Ingredients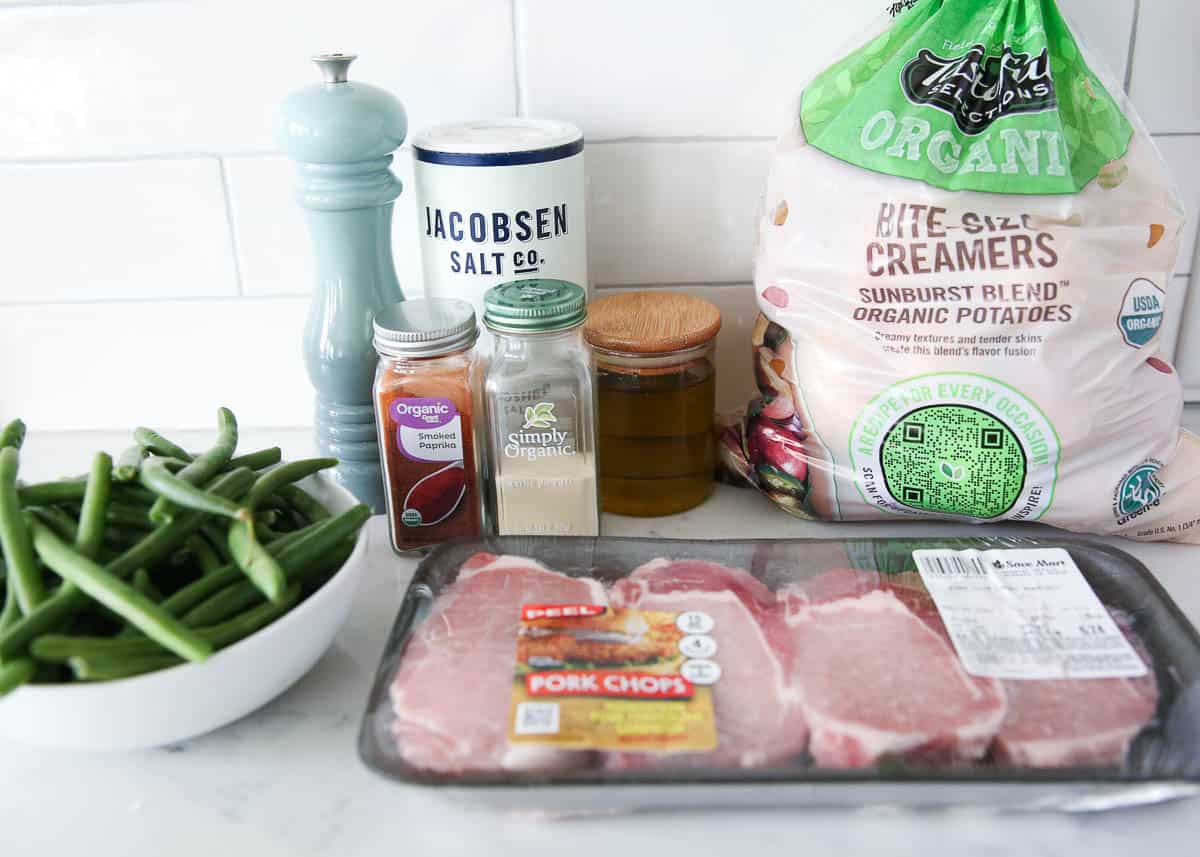 Find the full printable recipe with specific measurements below.
Potatoes: Wash red potatoes, then cut them into quarters. I like roasting the open flesh side down so that they get extra crispy. You can swap with another type of potato if you'd like.
Seasoning for potatoes: Garlic powder, salt, and pepper are all they need.
Pork chops: Thick cut and boneless. Using boneless is easier to serve and has more meat per piece.
Seasoning for the pork: Just a bit of salt, pepper, and smoked paprika for that beautiful color and smoky flavor.
Green beans: Fresh, washed, and trimmed. Be sure to pat them dry as best as you can.
Seasoning for green beans: Just some salt and pepper!
Variations
There are so many ways to make these sheet pan pork chops and potatoes your own! Add different veggies or seasonings to switch up the flavors and it'll be a completely different meal every time you make it.
Different veggies: Some of our other favorites are sweet potatoes, carrots, zucchini or squash, Brussels sprouts, and broccoli. If I use these, I make a side of green bundles with bacon to complete the meal.
Other potatoes: Swap the red potatoes for baby potatoes, russet potatoes, Yukon gold potatoes, or fingerling potatoes. Whichever you prefer!
Bone-in pork chops: If that is all you have that is fine to use just be careful not to overbake them as they are thinner in size.
Seasonings: I have a great dry rub for pork tenderloin that could be used. A dry ranch mix for the potatoes would be yummy. You can also use Italian seasoning, regular paprika, onion powder, rosemary, minced garlic, oregano, or any combination of seasoning mix. Even brown sugar can be used!
How to Make Sheet Pan Pork Chops and Potatoes
Although one pan dinners are all made on one sheet, the items are not always cooked at the same time. Pay close attention to when to roast each one!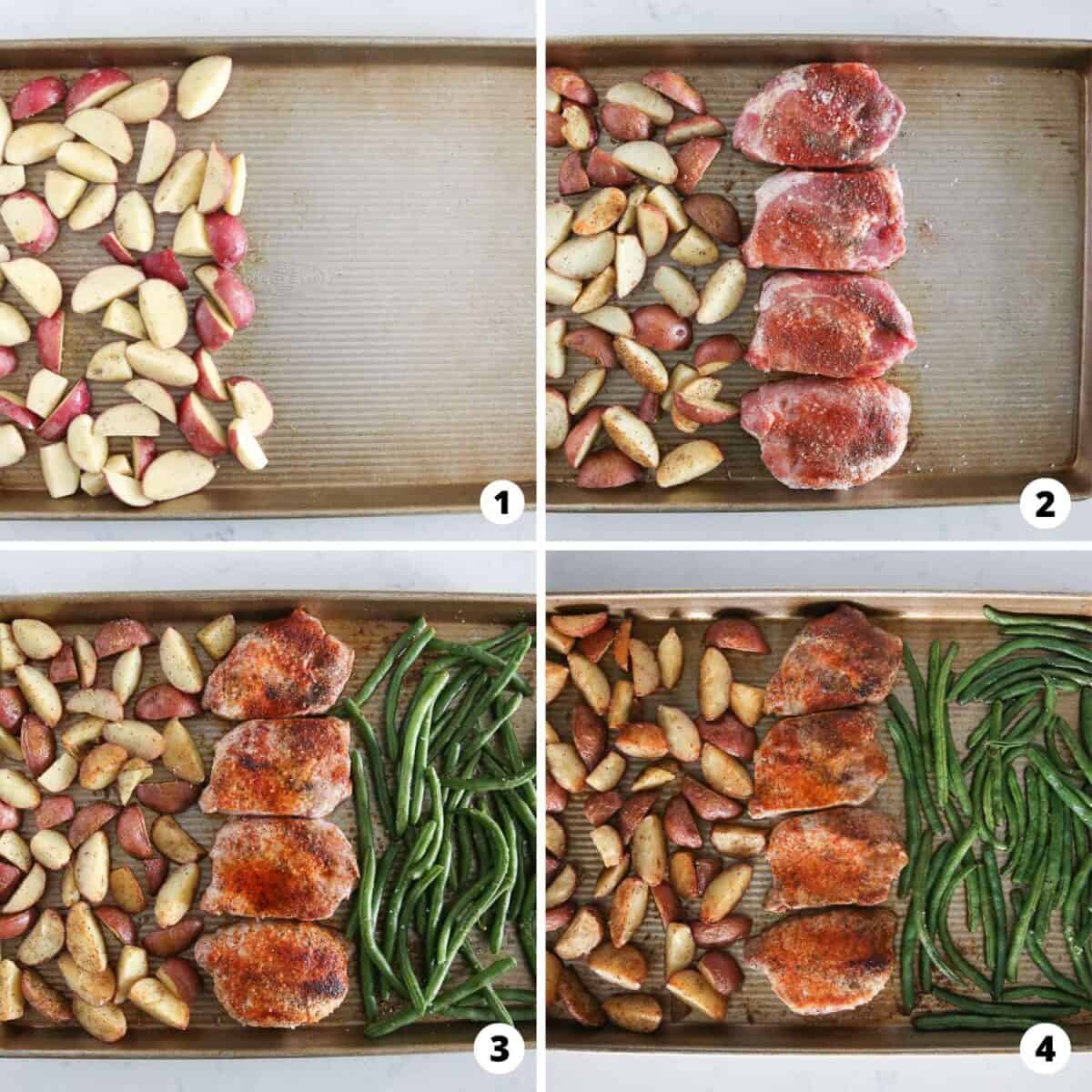 Roast the potatoes. Arrange the potatoes on 1/3 of the prepared baking sheet. Drizzle with olive oil and sprinkle the seasoning. Toss to coat and roast for 10 minutes while you prepare the meat.
Season the chops. Use just the dry rub, no need to add any oil. Don't be afraid to get your hands dirty, you want to make sure to coat them well with seasoning. Add them to the middle 1/3 of the baking sheet. And cook for another 10 minutes.
Flip the meat and add the beans. Before placing the sheet back in the oven, drizzle the beans with oil and season with salt and pepper. Now, finish them in the oven for another 10-15 minutes!
Remove and serve. Once the internal temperature of the pork reads 145°F and the potatoes are fork-tender, remove the tray from the oven and allow everything to cool for 5 minutes before serving.
Expert Tips
Let the meat rest. You want to give it time to allow the juices to settle before slicing into it. Otherwise, it'll dry out.
Add a garnish. Fresh parsley just to finish it off is always a nice way to serve it.
Prepare the baking sheet. I only use a nonstick spray because I really like roasting right on the pan. I think it helps give it an even crispier finish. You can line yours with aluminum foil if you'd like to make clean up even easier.
Double the recipe. You can make two identical sheets and work through the recipe as written, or use one sheet for all the veggies and another sheet for the chops. It's up to you.
Meal prep. Plan for the week and portion out what you'll be taking for work or packing up to have quick and easy dinners throughout the week in individual containers.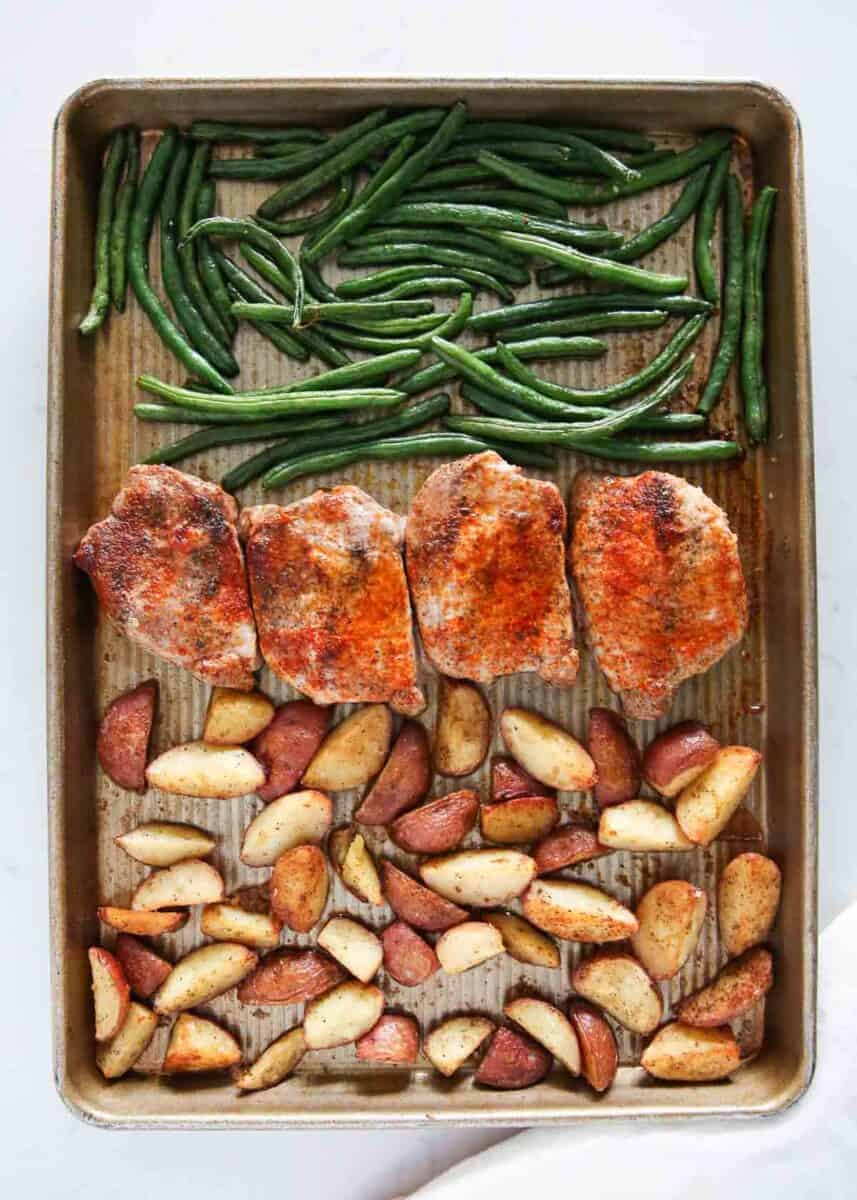 Recipe FAQs
Can I use bone-in pork chops instead?
You can! You'll just have to account for the difference in time. Bone-in pieces are usually thinner and may take a shorter time to cook. However larger bone-in pieces will take longer.

Take into account the size of your chops and go from there.
How do you get the perfect crust on pork chops?

The way we do ours is we make sure to add them to an already hot baking sheet. It comes in handy that potatoes need a longer time to cook through. Once the meat hits the sizzling pan it starts to form a crust that then helps to seal in the moisture. The inside then catches up without overcooking.

Another part of this is the dry rub. It helps create caramelization. Using anything that contains sugar in it will do this too.
Why do my pork chops always come out tough?
It's a pretty safe bet to assume they've been overcooked. It's easy to do this with any kind of lean meat!
How do I keep boneless pork chops from drying out in the oven?
Baking your sheet pan pork chops a high temperature for a shorter amount of time is the best way to keep them from drying out. I suggest baking them for 10 minutes then checking with a thermometer to see if they are at 145 degrees F. Remember, the temperature will rise a degree or two if you allow them to rest outside of the oven after baking.
Storing
Keep leftovers stored in an airtight container for up to 5 days. Reheat in the oven or air fryer at 350°F until warmed through.
HUNGRY FOR MORE? Subscribe to my newsletter and follow on Facebook, Pinterest and Instagram for all the newest recipes!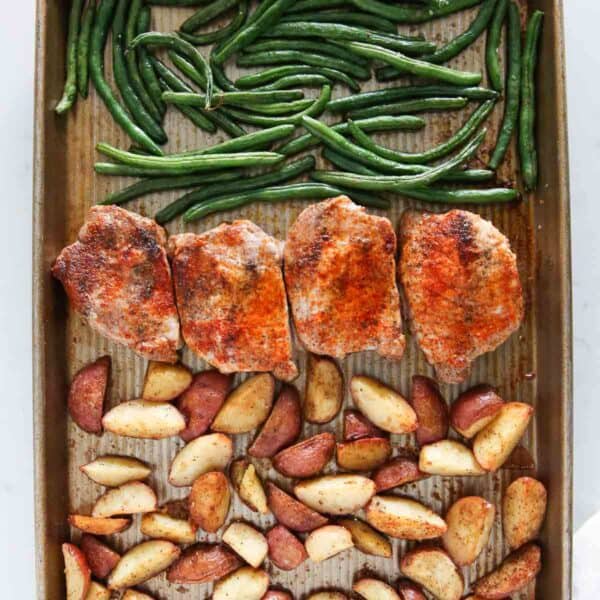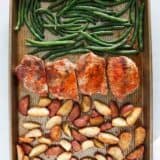 Sheet Pan Pork Chops with Potatoes and Green Beans
When you can throw an entire meal onto one baking sheet and have dinner on the table in 40 minutes, I call that a win! Sheet pan pork chops with potatoes is complete with flavorful juicy chops, crispy green beans, and roasted potatoes.
Ingredients
Potatoes
1 pound red potatoes , washed and quartered
2 Tablespoons olive oil
1 teaspoons garlic powder
1 teaspoon Kosher salt
¼ teaspoon ground black pepper
Pork Chops
4 thick-cut, boneless pork chops
1 Tablespoon olive oil
1 teaspoon Kosher salt
¼ teaspoon ground black pepper
1 teaspoon smoked paprika
Green Beans
½ pound fresh green beans , trimmed
1-2 teaspoons olive oil , plus more as needed
½ teaspoon Kosher salt
¼ teaspoon ground black pepper
Instructions
Preheat the oven to 425°F. Spray a baking sheet with nonstick spray.
Potatoes
Arrange the potatoes on 1/3 of the baking sheet. Drizzle with olive oil and toss with garlic powder, salt, and pepper. Bake 10 minutes while you prep the pork chops.
Pork Chops
Season pork chops with salt, pepper, and paprika.

Place pork chops in the center third of the baking sheet. Return to the oven for 10 minutes.
Green Beans
Flip the pork chops and add then green beans on the remaining 1/3 of the baking sheet. Toss green beans with oil, salt, and pepper.

Return pan to the oven and bake 10 to 15 minutes, or until a digital thermometer inserted in the center of the pork chops reads 145°F and green beans and potatoes are easily pierced with a fork.

Let pork rest 5 minutes before serving with potatoes and green beans. Enjoy!
---
Notes
Variations: You can use any vegetables that are in season. Some of our other favorites to add in are sweet potatoes, carrots, zucchini or squash, broccoli and brussels sprouts. Storage: Store any leftovers in an airtight container in the refrigerator up to five days. Reheat in an oven preheated to 350°F until warmed through.
Nutrition
Calories: 411kcal | Carbohydrates: 23g | Protein: 32g | Fat: 21g | Saturated Fat: 5g | Polyunsaturated Fat: 3g | Monounsaturated Fat: 12g | Trans Fat: 0.1g | Cholesterol: 90mg | Sodium: 1543mg | Potassium: 1161mg | Fiber: 4g | Sugar: 3g | Vitamin A: 653IU | Vitamin C: 17mg | Calcium: 46mg | Iron: 2mg
Nutrition provided is an estimate. It will vary based on specific ingredients used.
Did you make this recipe? Don't forget to give it a star rating below!