Hello fellow Lovers of Nap Time!
I'm back this month with one of my favorite (and easiest) meals. Do you all eat breakfast for dinner?! We sure do, the only kicker for me though is Husband doesn't like maple syrup (weird, I know!). So instead of making your typical pancakes or waffles for breakfast for dinner we normally make these super easy breakfast burritos. If you can turn on your oven and scramble an egg then you can totally make these.
I love all this eggs (having three backyard chickens means I always have eggs), tater tots, and anything involving tortillas. When you combine all three I'm in heaven.
These easy breakfast burritos are great because you can get all of the ingredients and toppings ready, and then everyone in the family can make their own burrito to taste. I have really young kids and they absolutely love being in charge of their dinner. And I love that I can add all of the hot sauce and pickled jalapenos that I want. Sometimes I miss being able to make super spicy meals :)
I'm positive you'll love these, so put them on your meal plan for this week. If you have the tater tots then chances are good you have everything else in the fridge for these. Enjoy!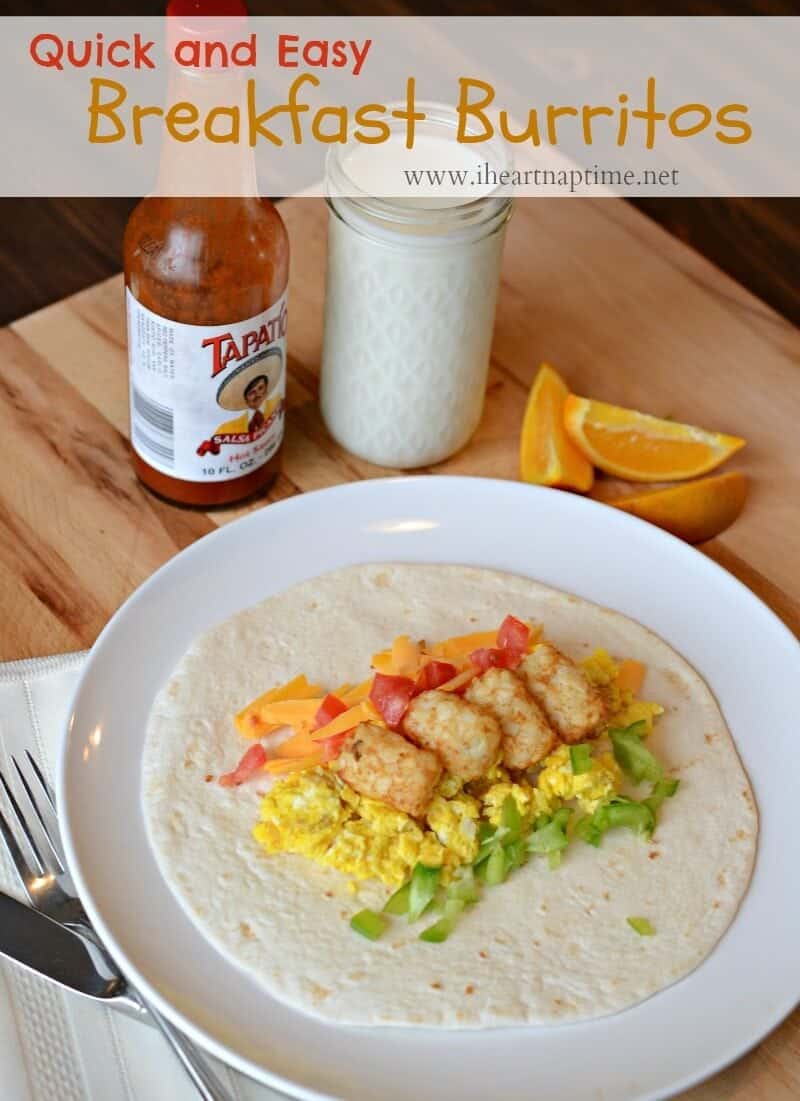 Ingredients
16-24 tater tots
6 eggs
4 large flour tortillas
Shredded cheese
Optional:
1/2 green pepper, chopped
1 tomato, chopped
Chopped ham
Bacon crumbles
Sour cream
Salsa
Hot sauce
Pickled Jalapenos
Instructions
Cook the tater tots according to package directions. While the tater tots are cooking scramble and cook the eggs. [Tips on scrambling eggs here/http://www.blessthismessplease.com/2011/03/scrambles-eggs-without-teflon.html]. And then warm the tortillas according to the package directions.
To assemble the breakfast burritos lay a tortilla out and fill it with 1/4 of the scrambled eggs, 1/4 of the tater tots, shredded cheese, and any of the "optional" ingredients to taste. Roll up the tortilla and enjoy!
https://www.iheartnaptime.net/easy-breakfast-burritos/

" data-jpibfi-post-url="https://www.iheartnaptime.net/easy-breakfast-burritos/" data-jpibfi-post-title="Easy Breakfast Burritos" data-jpibfi-src="http://www.iheartnaptime.net/wp-content/uploads/2013/04/breakfast-burritos.jpg" >