These hash brown egg cups are packed with protein for on-the-go mornings to keep you full all day! Whether they're served with a salad for lunch, rice for dinner, or as part of an Easter brunch, everyone loves these savory breakfast bites!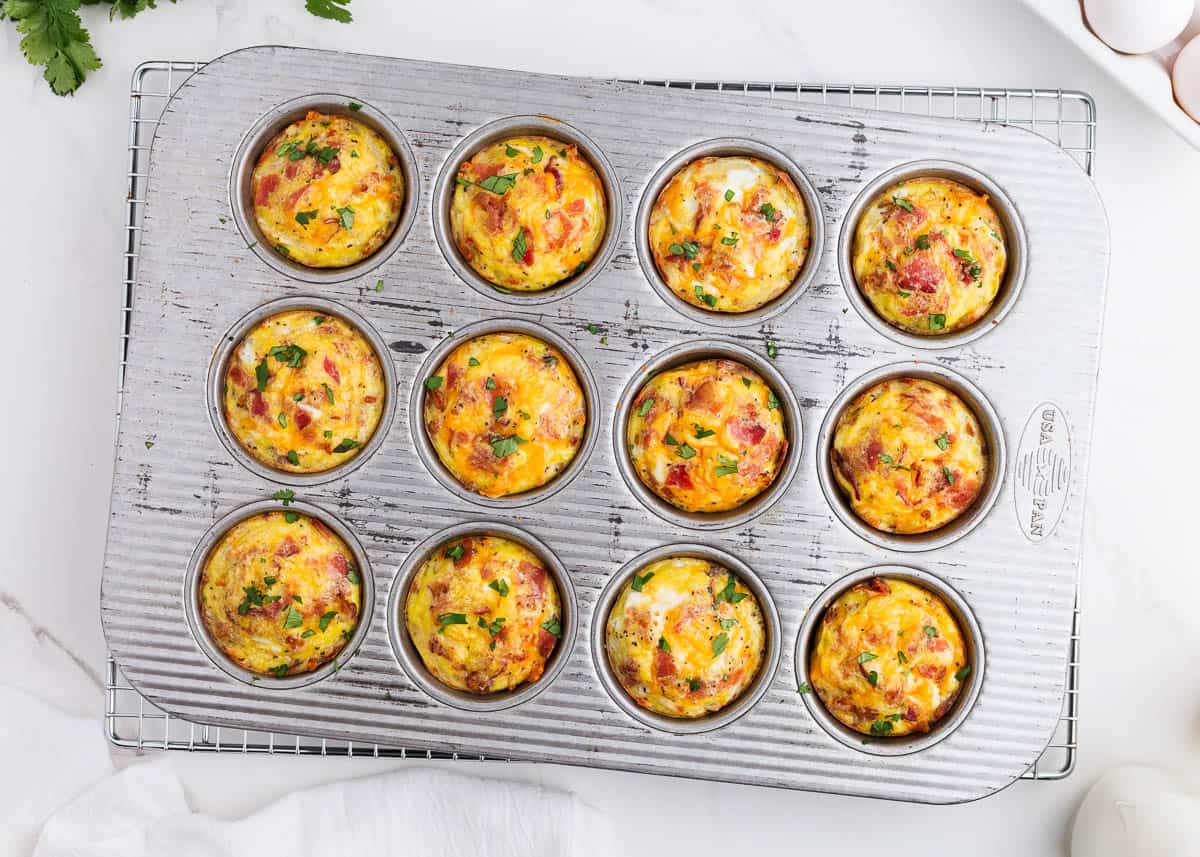 An Easy Grab 'N Go Breakfast!
These cheesy hash brown egg cups are similar to my mini egg frittatas and egg white muffins but with golden crispy hash browns at the bottom to give them a nice crunch and to hold everything in place. If you love my breakfast hashbrown casserole with sausage, you're bound to adore these tasty mini breakfast cups!
I don't know if it's because it reminds me of hash brown egg nests or that it's simply because they're adorable but these have definitely become one of my favorite Easter brunch recipes.
They're made in a muffin tin and although I do love keeping it simple by loading with cheese and bacon, the individual portions mean you can customize each one to your liking, which is great for serving guests. Add whatever diced veggies and meat you want to it ramping up the flavor!
Recipe Ingredients
These cheesy egg cups contain only 6 ingredients and that includes salt and pepper!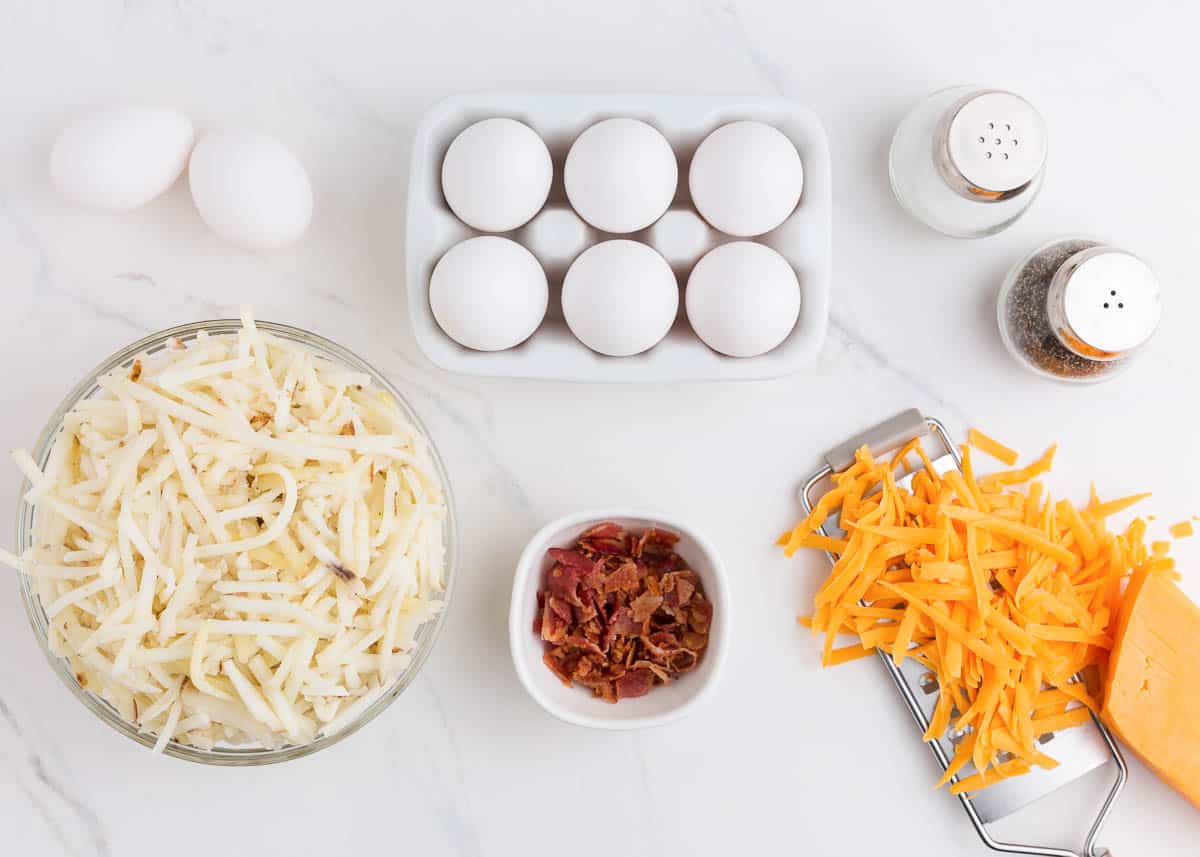 Find the full printable recipe with measurements below.
Hash browns: If using frozen be sure they are thawed first.
Eggs: You will need 8 large whole eggs. I have not tried egg whites only, I just make egg white muffins.
Cheese: Sharp cheddar cheese, freshly grated is best.
Bacon: Cooked and crumbled, use your preference for bacon. Regular, low sodium, turkey bacon, it all works.
Salt and pepper: To add taste.
Variations
Use whatever ingredients you have on hand for these egg muffins. It's a flexible recipe so get creative with it and even use some leftovers!
Veggies: Spinach, mushrooms, bell peppers, or onions. Broccoli is great, too, like in this egg frittata. Sauté them first!
Meat: Diced baked ham, Italian sausage, breakfast sausage, leftover rotisserie chicken, or holiday roasted turkey.
Cheese: I love a good sharp cheddar but you can also use pepper jack, swiss cheese, parmesan cheese, or omit the cheese completely for a dairy-free hash brown egg cup.
Eggs: Instead of whisking the egg, add a cracked egg into each cup for a fried egg or sunny side up pre
How to Make Hash Brown Egg Cups
Making these potato and egg hash brown cups is so easy in 4 simple steps!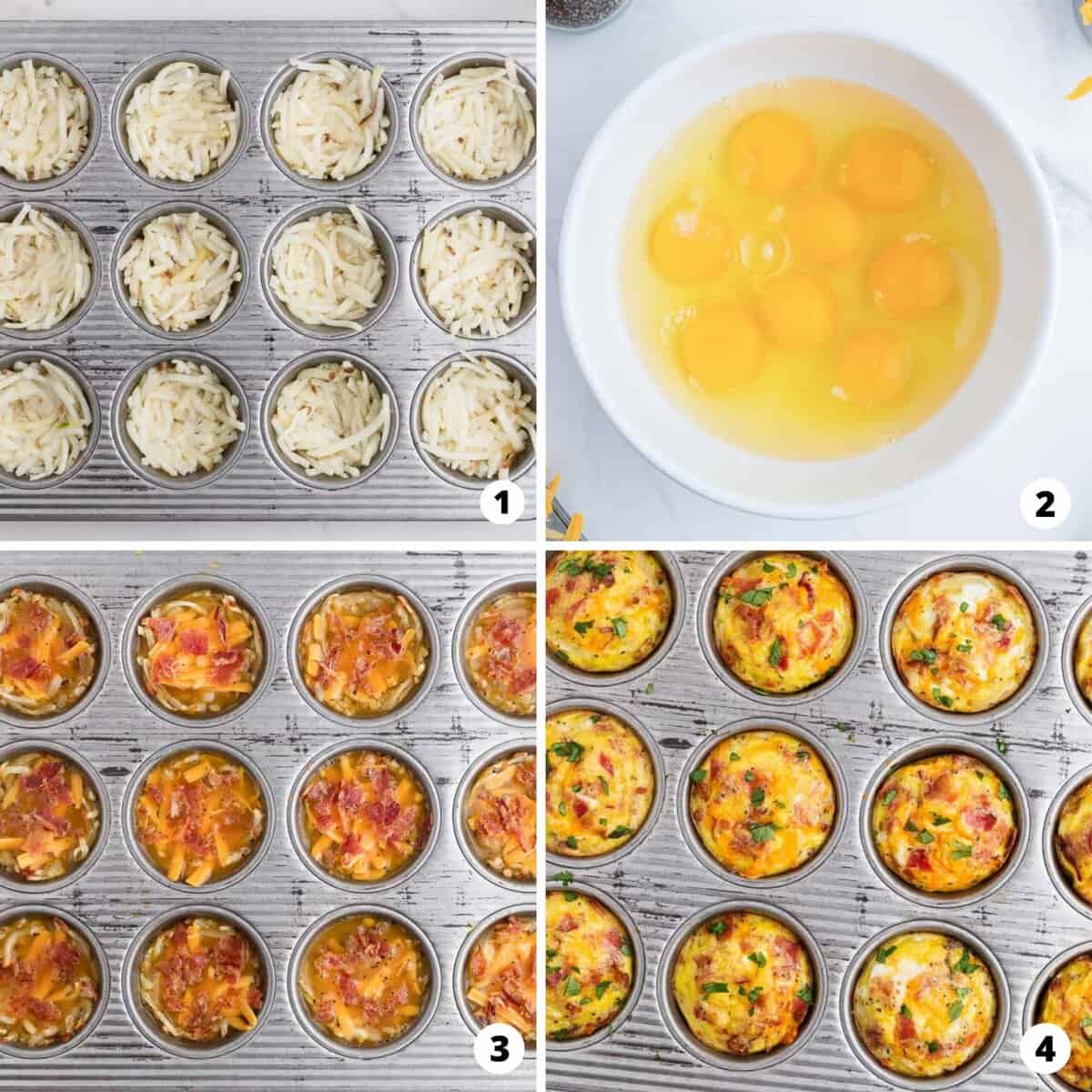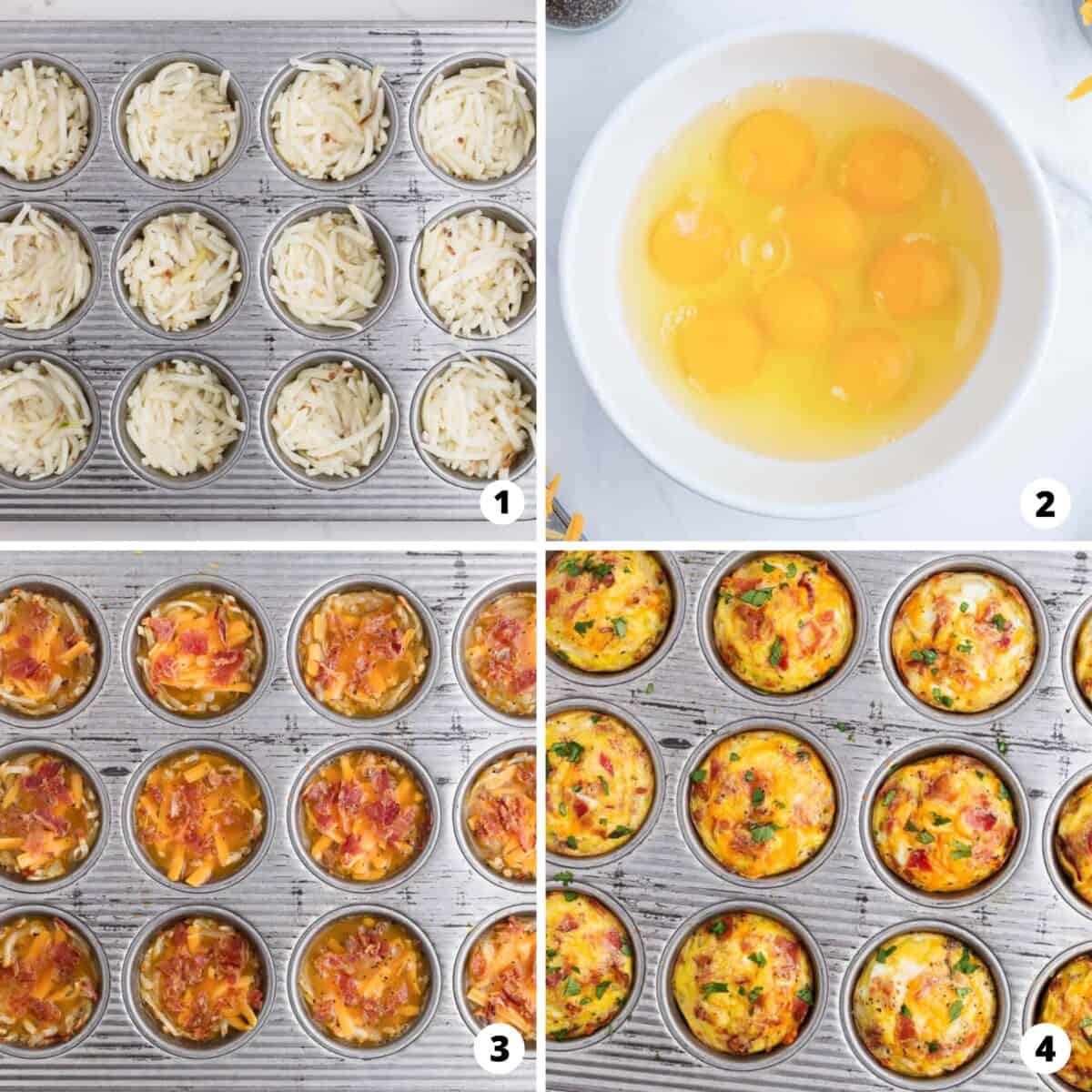 Press: Fill each prepared muffin cup with potatoes about 2/3 of the way up. Press the sides in so that the bottom and sides are covered. Bake in a preheated oven for 20 minutes until golden.
Whisk: In a bowl, whisk large eggs, salt, and pepper. Then, stir in the cheddar cheese. Turn the oven down.
Fill: Fill each of the nests with the egg mixture, adding more cheese if you like. Sprinkle bacon on top.
Bake: Bake for 12-15 minutes until the edges are set. Remove your hash brown egg cups from the oven and sprinkle with chives or parsley and perhaps a drizzle of hot sauce!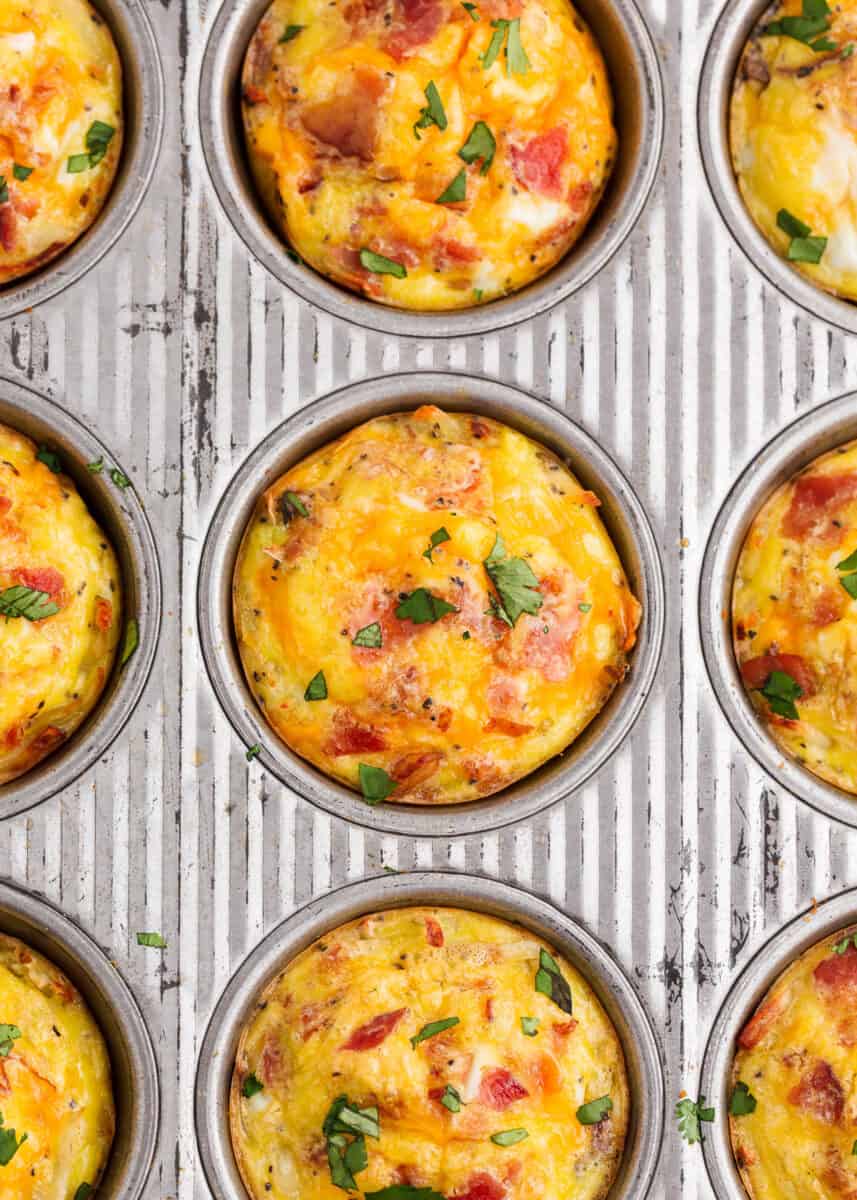 Pro Tips
Dice your add-ins quite small. If they are too big they will take up too much space leaving less room for the egg. This usually results in the egg cups falling apart!
Double or triple this hash brown egg cups recipe recipe if you have more than one muffin pan to hold everything.
Prepare the muffin pan. Use a cooking spray to create a nonstick surface. Otherwise, they'll be hard to get out which could ruin the cute presentation.
Serve these between toasted English muffins for a hearty egg Mcmuffin!
FAQs
Are egg cups healthy?
They're as healthy as you make them! Eggs provide protein, Omega 3s, vitamins, minerals, and iron! The bacon and cheese will add a bit of sodium to the mix, so if that's something that's an issue feel free to swap them for more veggies! Serve them with a leafy green salad for loads of added nutrition or quinoa or brown rice for fiber!
Can I use frozen hash browns?
You can as long as you thaw them first. I would go so far as to say you need to pat dry and squeeze as moisture as you can out of them, otherwise your nests will be soggy. If you are using freshly grated potato it wouldn't hurt to do this either!
How do you bind hash browns together?
I have never had that issue with these breakfast cups as the egg and cheese help bind them together while they bake in the muffin cups. If you are having trouble, though, you could try mixing 1 Tbsp of flour with the hash browns then press them into the muffin tin.
How do you keep them from sticking to the muffin tin?
Greasing your muffin pan with baking spray is the best way to prevent sticking, so don't forget that important step!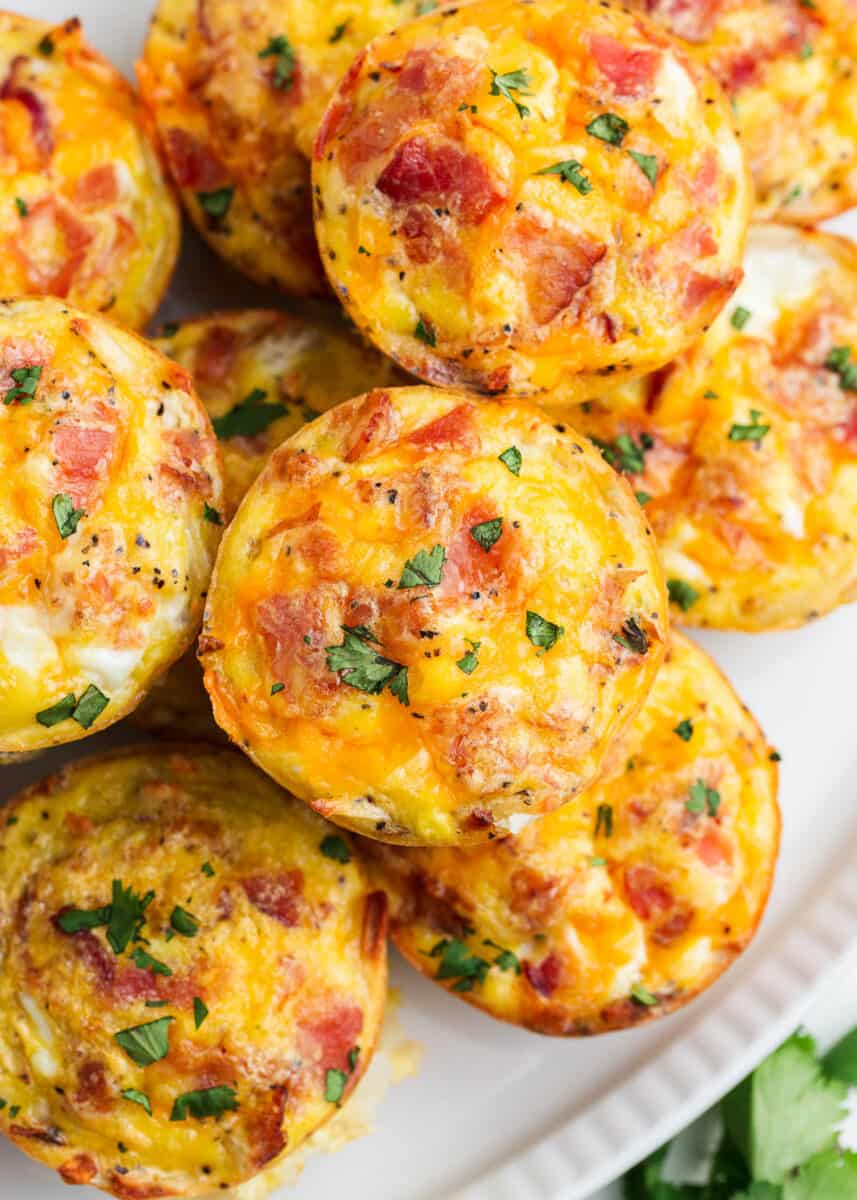 Storing and Freezing
Store: Once the breakfast cups are completely cooled, keep them stored in the fridge in an airtight container for up to 5 days. Reheat in microwave until warmed through.
Freeze: These hash brown egg nests also freeze quite well for up to 3 months. Store in a freezer-friendly container or a Ziploc bag. Take as many as you need out and thaw in the fridge overnight.

You want to make sure you cool eggs completely before storing them. Otherwise, when they reheat they'll release the moisture making them a bit runny and soggy.
More Favorite Breakfast Recipes
HUNGRY FOR MORE? Subscribe to my newsletter and follow on Facebook, Pinterest and Instagram for all the newest recipes!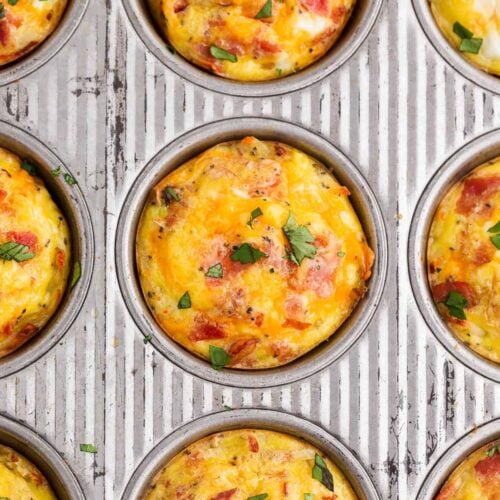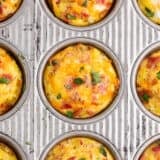 Hash Brown Egg Cups
These hash brown egg cups are packed with protein for on-the-go mornings to keep you full all day! Whether they're served with a salad for lunch, rice for dinner, or as part of an Easter brunch, everyone loves these savory breakfast bites!
Ingredients
20 ounces hash browns , thawed
Egg filling
8 large eggs
1 teaspoon kosher salt
¼ teaspoon ground black pepper
½ cup sharp cheddar cheese
4 slices bacon , cooked and crumbled
For serving
Chives or parsley
Hot sauce
Instructions
Preheat the oven to 400°F. Spray a muffin pan with non-stick spray and set aside. Prepare ingredients.

Fill each cup about 2/3 of the way full with the hash browns and press the sides in, so the bottom and sides are covered. Bake for 20 minutes, or until the edges are golden brown.

In a bowl, whisk together eggs, salt and pepper. Stir in cheese.

Turn oven down to 350°F. Fill the center of the potato cups with the egg mixture. If you'd like more cheese, you may add more here. Then sprinkle the bacon on top.

Bake for 12-15 minutes or until the eggs are set. Remove from oven and top with chives or parsley. Drizzle with hot sauce if desired.
---
Notes
Variation:
Instead of whisking the eggs, add a cracked egg into each cup.
Sauté onions, bell peppers and mushrooms and add to the egg mixture.
Storage: Store in the refrigerator up to 4 days.
Nutrition
Calories: 130kcal | Carbohydrates: 9g | Protein: 7g | Fat: 8g | Saturated Fat: 3g | Polyunsaturated Fat: 1g | Monounsaturated Fat: 3g | Trans Fat: 1g | Cholesterol: 119mg | Sodium: 324mg | Potassium: 195mg | Fiber: 1g | Sugar: 1g | Vitamin A: 209IU | Vitamin C: 4mg | Calcium: 56mg | Iron: 1mg
Nutrition provided is an estimate. It will vary based on specific ingredients used.
Did you make this recipe? Don't forget to give it a star rating below!