A rich, buttery, and oh-so-soft brioche bread recipe is easy to make and much more cost-effective than buying a loaf! Enjoy it on its own, toasted, or topped with your favorite jam!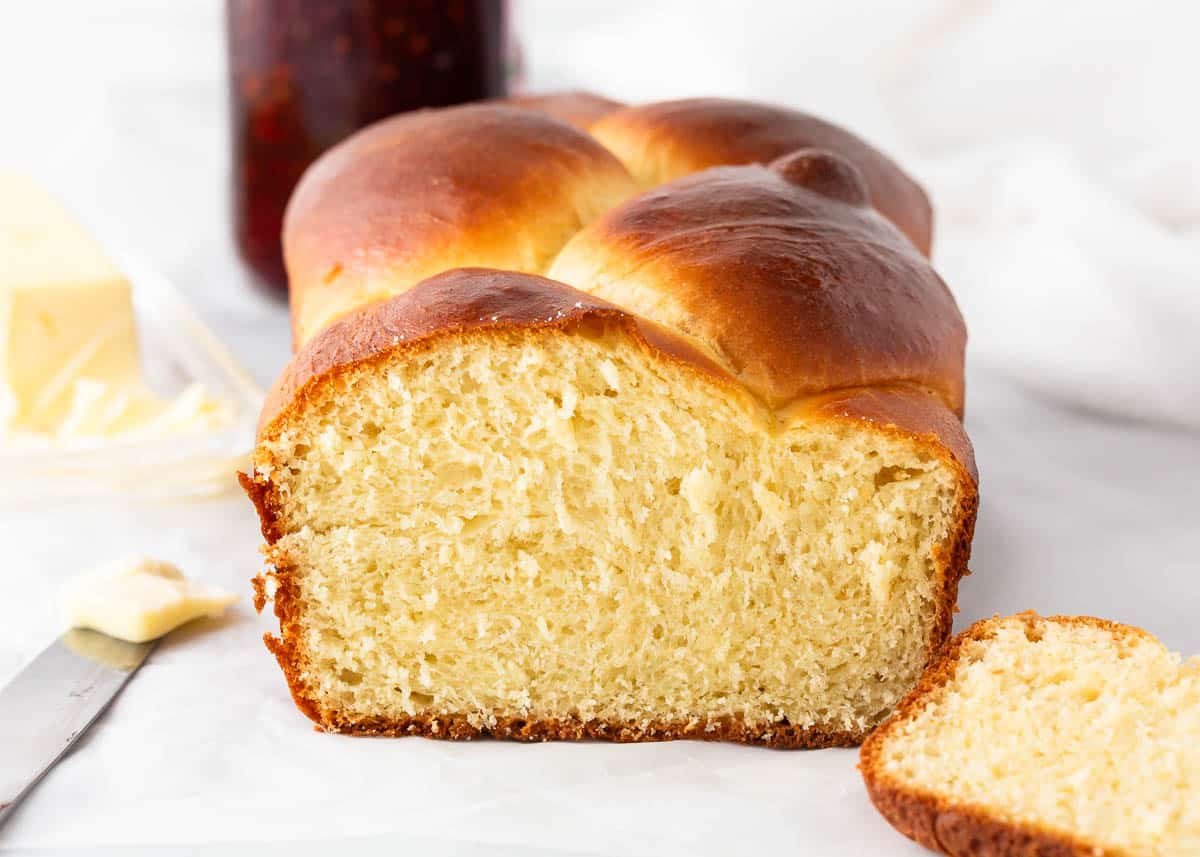 Best Brioche Bread Recipe
Brioche is known for its soft yellow hue, buttery, melt-in-your-mouth texture, and its cross between bread and pastry!
However, because this magnificent brioche bread is enriched with butter and eggs to give it its signature tender crumb, it is also known for its higher cost than artisan bread, or even a rosemary focaccia when bought at your local bakery!
When you make a light and airy homemade brioche loaf at home, it is done at a fraction of the cost and is surprisingly easy to make. The best way to enjoy a warm buttery slice of brioche bread with homemade strawberry jam!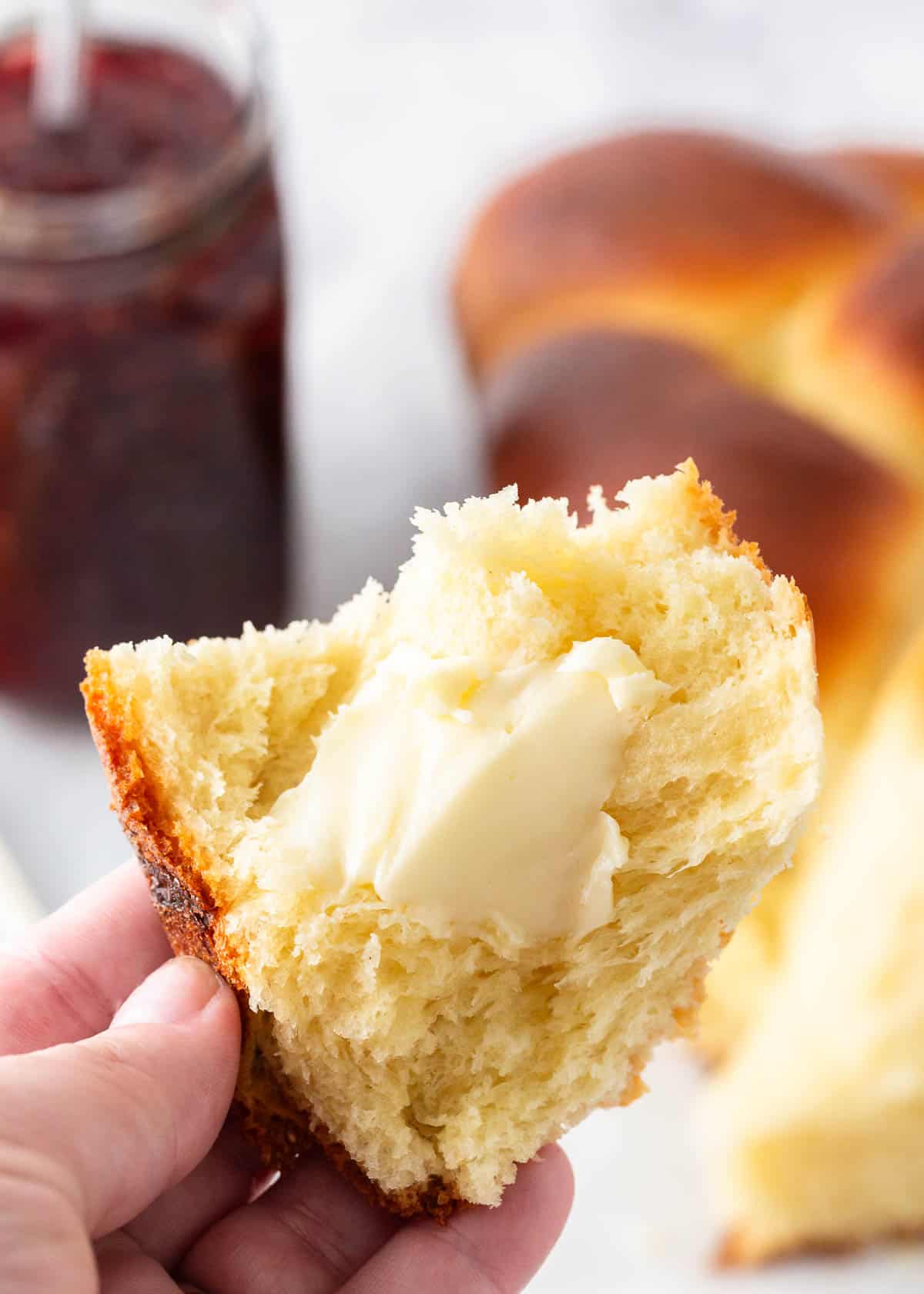 Why This Recipe Works
A versatile recipe. Cut your brioche loaf into slices of brioche bread for toast, sandwiches, French toast, or use brioche rolls for sliders, burger buns, and dinner rolls.
Better than store-bought. The aromas wafting through your house will have it smelling like a bakery, but the results will be so much better than the mass-produced brioche you get at the grocery stores.
Recipe Ingredients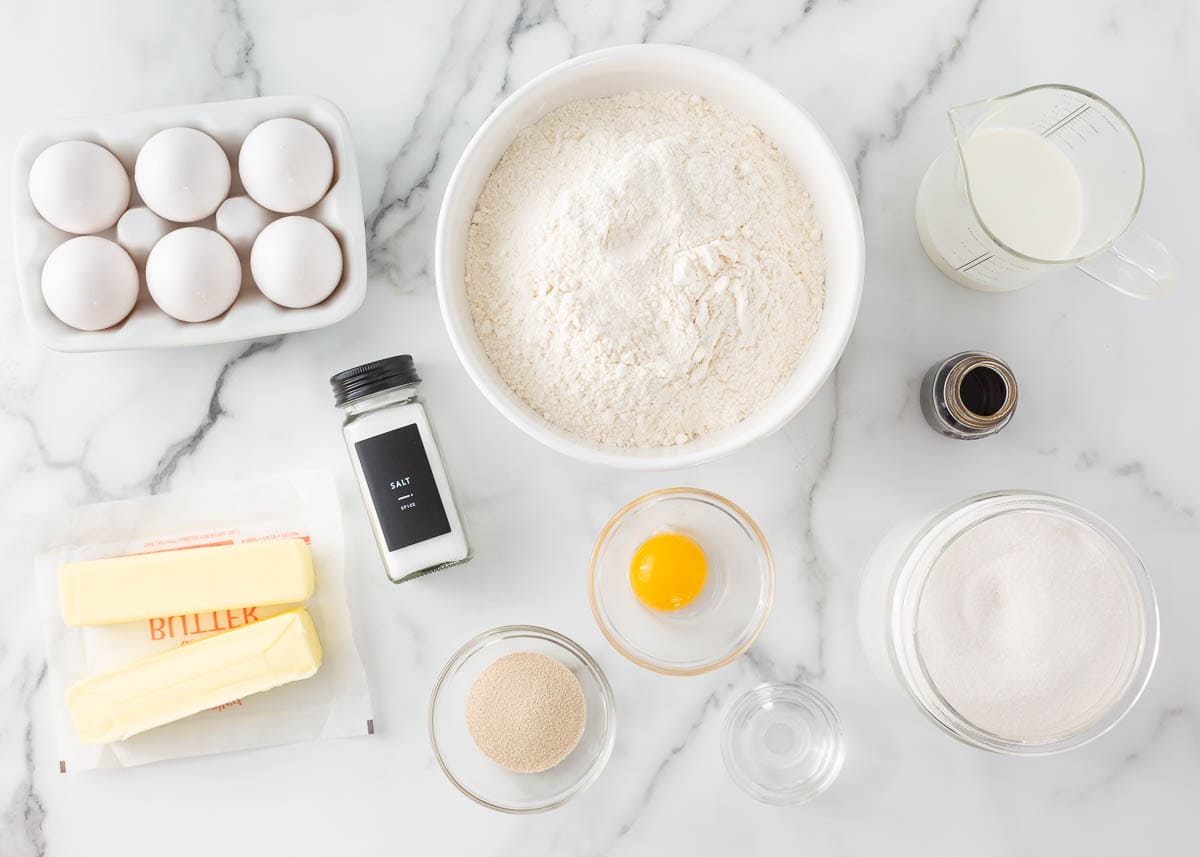 Find the full printable recipe with specific measurements below.
Warm whole milk: The temperature of the milk is super important to helping your yeast perform. If it's too cold, it won't do anything, if it's too hot, it will kill it. Make sure it stays between 105°F – 110°F for optimal results.
Instant dry yeast: Use fresh yeast that hasn't expired. If it's been opened, make sure it hasn't been sitting around for too long.
Granulated sugar: Yeast feeds on sugar to grow so it's needed to help activate the yeast. The sweetness also gives the brioche bread recipe extra flavor.
Large eggs & egg yolk: Enriched with 5 eggs and an extra egg yolk, this is part of what makes a brioche recipe so special. Make sure they're at room temperature so all ingredients start at the same temperature.
Flavor: Vanilla and slat are flavor enhancer that gives the loaf a pastry-like flavor that isn't sweet, but not quite so savory either.
Bread flour: This kind of flour is great for soft textured dough. You can substitute all-purpose if you want. Either way, make sure you're measuring it correctly!
Unsalted butter: Softened at room temperature so it blends easily into the pastry and helps with even baking.
How to Make Brioche Bread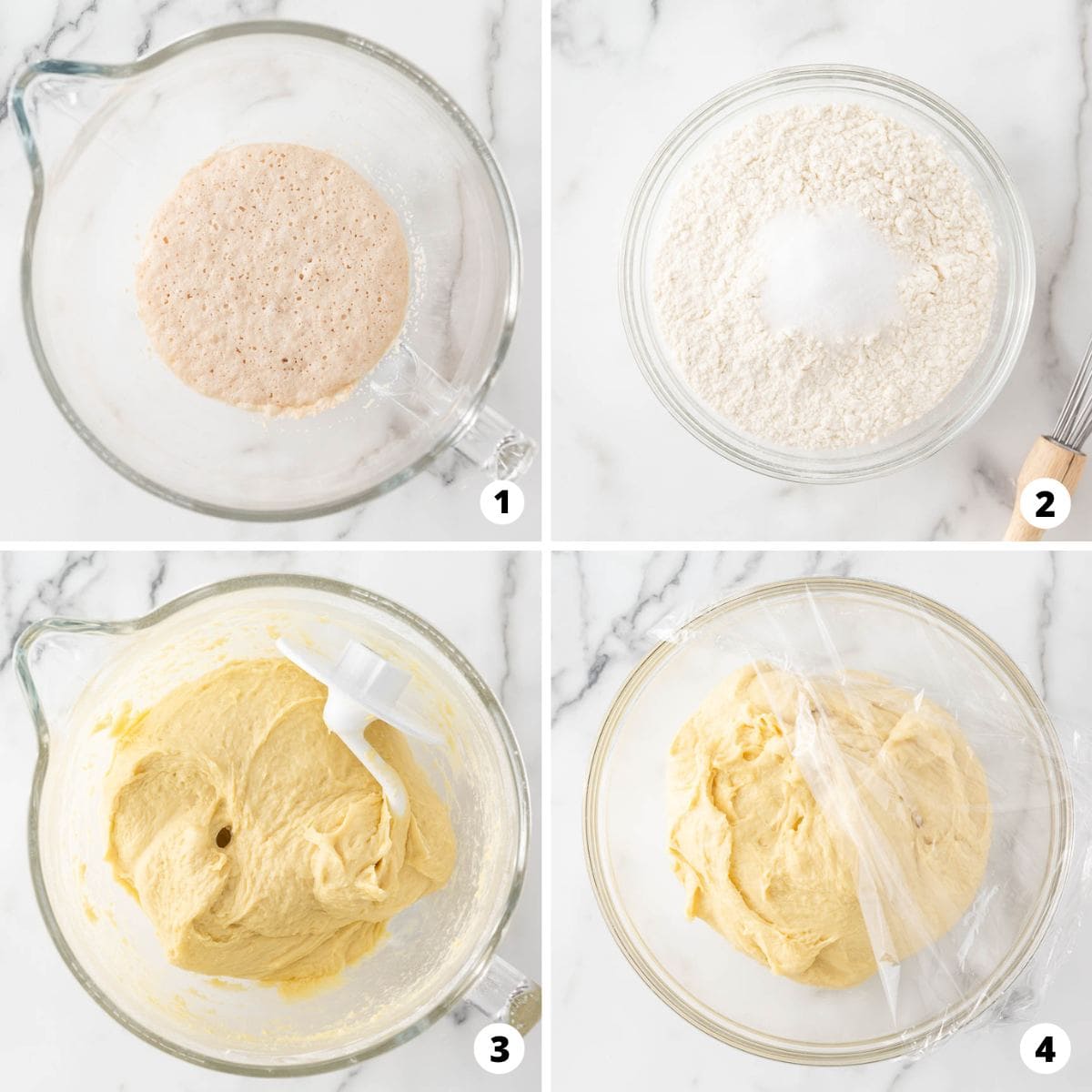 Proof the yeast. In the bowl of a stand mixer, use the paddle attachment to stir the warm milk, yeast, and sugar together. Let it sit for about 5-10 minutes until it starts to foam. I have some extra tips on how to proof yeast that always comes in handy.
Separate wet and dry ingredients. To the yeast mixture, add the eggs, 1 at a time, until combined. Then add the egg yolk and vanilla extract. In a separate bowl, whisk 2 cups of flour and salt.
Combine and make the dough. Add dry ingredients to the wet and stir 3 minutes on medium speed. Reduce speed to low and mix in the remaining 2 cups of flour. Mix for 5 minutes, scraping down sides of bowl as needed. Slowly mix in butter then switch to dough hook attachment and knead 8-10 minutes.
Cover dough and refrigerate. Transfer the dough to a greased bowl and cover with plastic wrap. If you plan to braid the brioche, divide it into three portions for each loaf. Chill in the fridge for 8 hours or overnight.
How to Braid Bread
Roll dough. To braid dough, remove dough from refrigerator and on a lightly floured surface roll each dough piece into an approximately 14″ log. Alternately, you can shape it into a loaf.
Braid dough. Place the three logs side by side and braid them together tucking the ends under to make the loaf nice and tidy.
Place in loaf pan and rise #2. Place in a well greased loaf pan and then place an oiled piece of plastic wrap over top of the pan. This will prevent the dough from sticking and potentially falling. Place in a warm draft free area and let rise until doubled in size or about 1-3 hours.
Brush and bake. Brush the tops with egg wash and bake in a preheated 375°F oven on the middle rack for 28-30 minutes until a deep golden brown color on top. Tap the crust to hear a hollow sound, and then you'll know your brioche bread is ready to come out of the oven!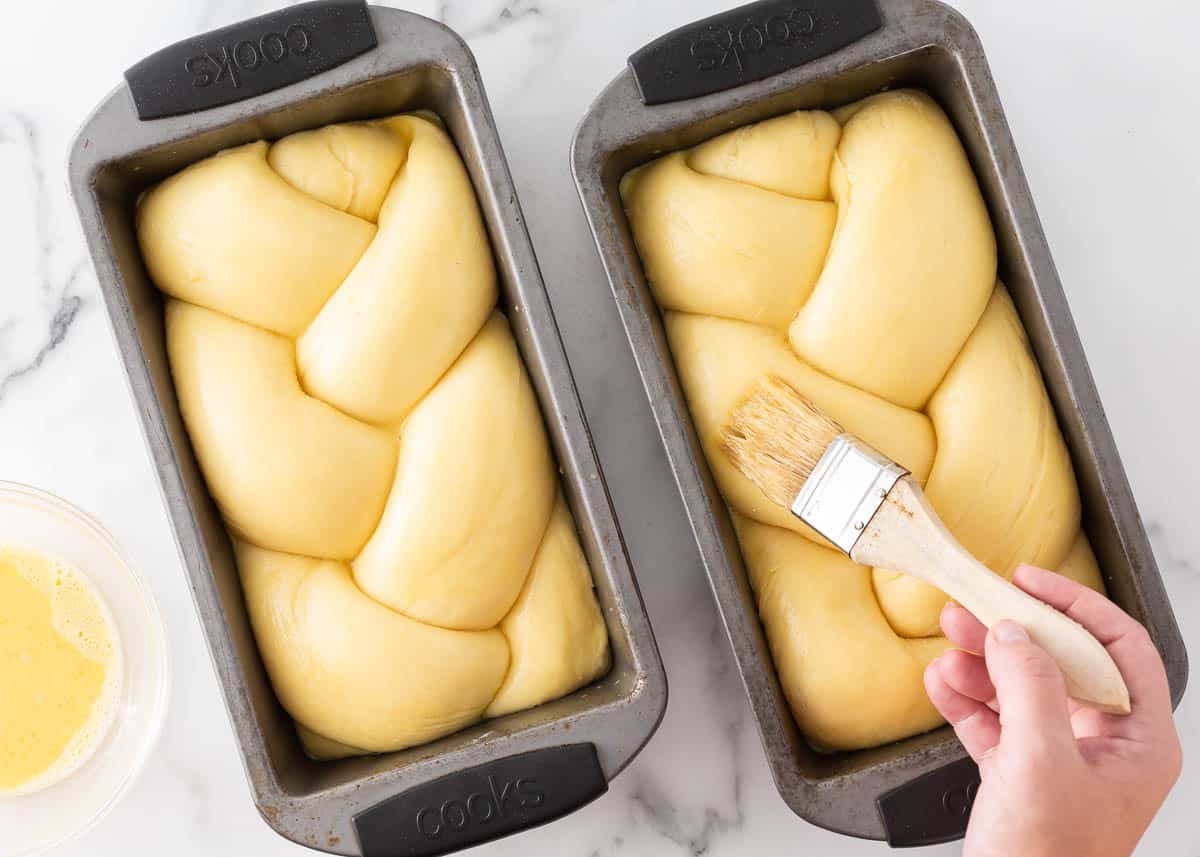 Expert Tips
Using a thermometer is the best way to ensure your milk is at the optimal temperature to activate the yeast.
Use a stand mixer. You can absolutely knead bread dough by hand, but a stand mixer with the dough hook attachment is the ultimate modern luxury! Save yourself time, energy, and sore arms!
If the dough is too sticky before adding the butter, add 1/2 cup more flour and continue kneading on low speed.
The window pane test. Once you've finished kneading the dough, you should be able to take a piece of it and stretch it out so that it is translucent enough to see light coming through without any tearing. If it tears, it needs more kneading time.
Best enjoyed warm. Let the loaves sit in the pans to cool for 10 minutes before transferring the bread to a wire rack to cool, but enjoy while still a bit warm!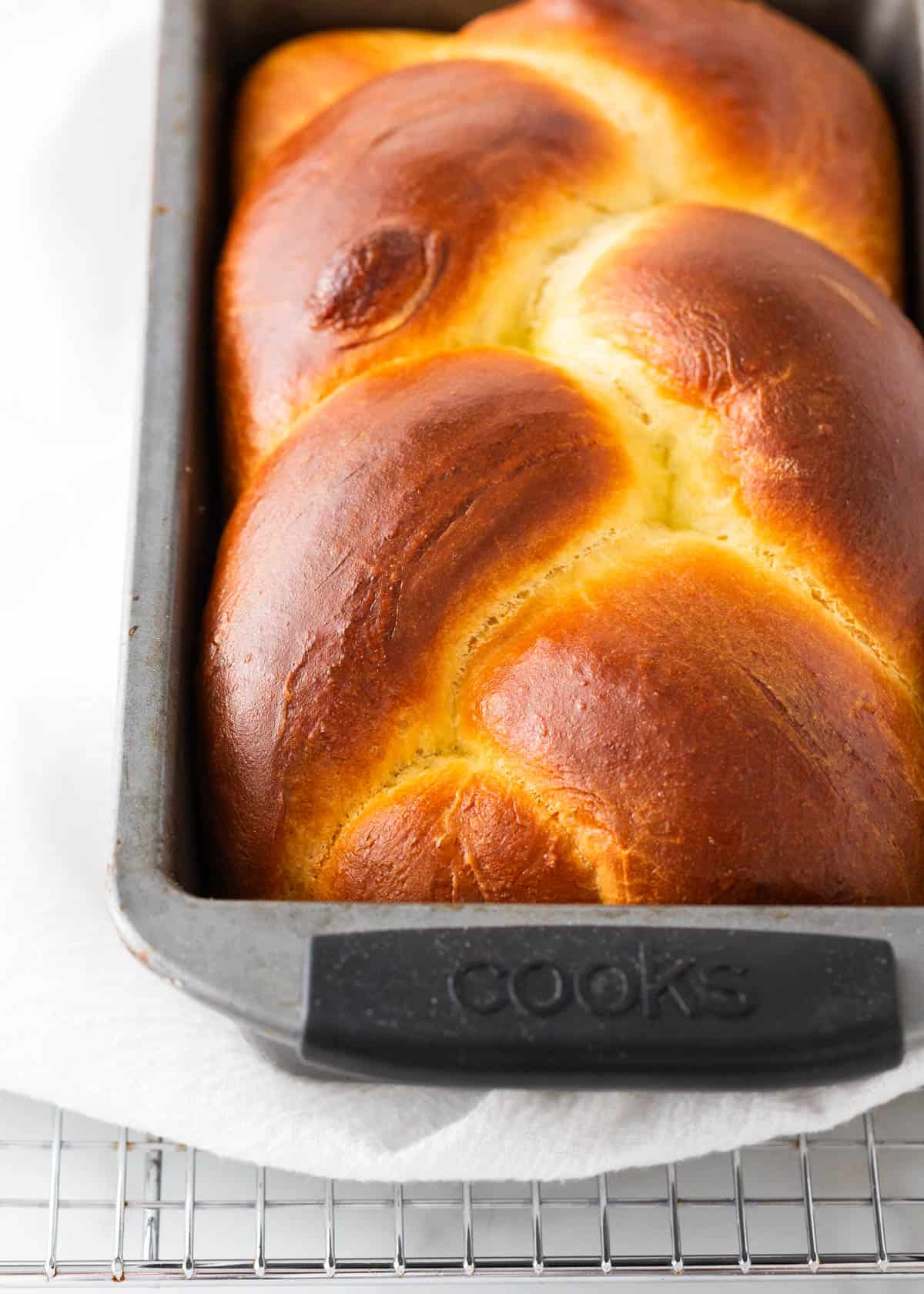 Recipe FAQs
What is Brioche Bread?
What makes brioche bread stand out is that while it is considered a type of French bread, it has similarities to pastries like croissants. The dough has a higher content of butter and eggs than traditional loaves of bread have.
What is so special about brioche bread?
The fact that it's a bread with pastry-like characteristics is pretty darn special! Its signature yellow color from the extra egg yolk, its richness from the butter, and its soft crumb are truly something worth indulging in.
Why is it so expensive to buy?
The increased amount of butter and eggs means a higher price tag. The more expensive the ingredients, the more expensive the product. This is why I'm partial to any and all homemade yeast bread recipes!
Do I have to use an egg wash?
You don't! I love the sheen and color it adds, but it's not a must. You can also choose to brush it with maple syrup or honey for a sweet finish.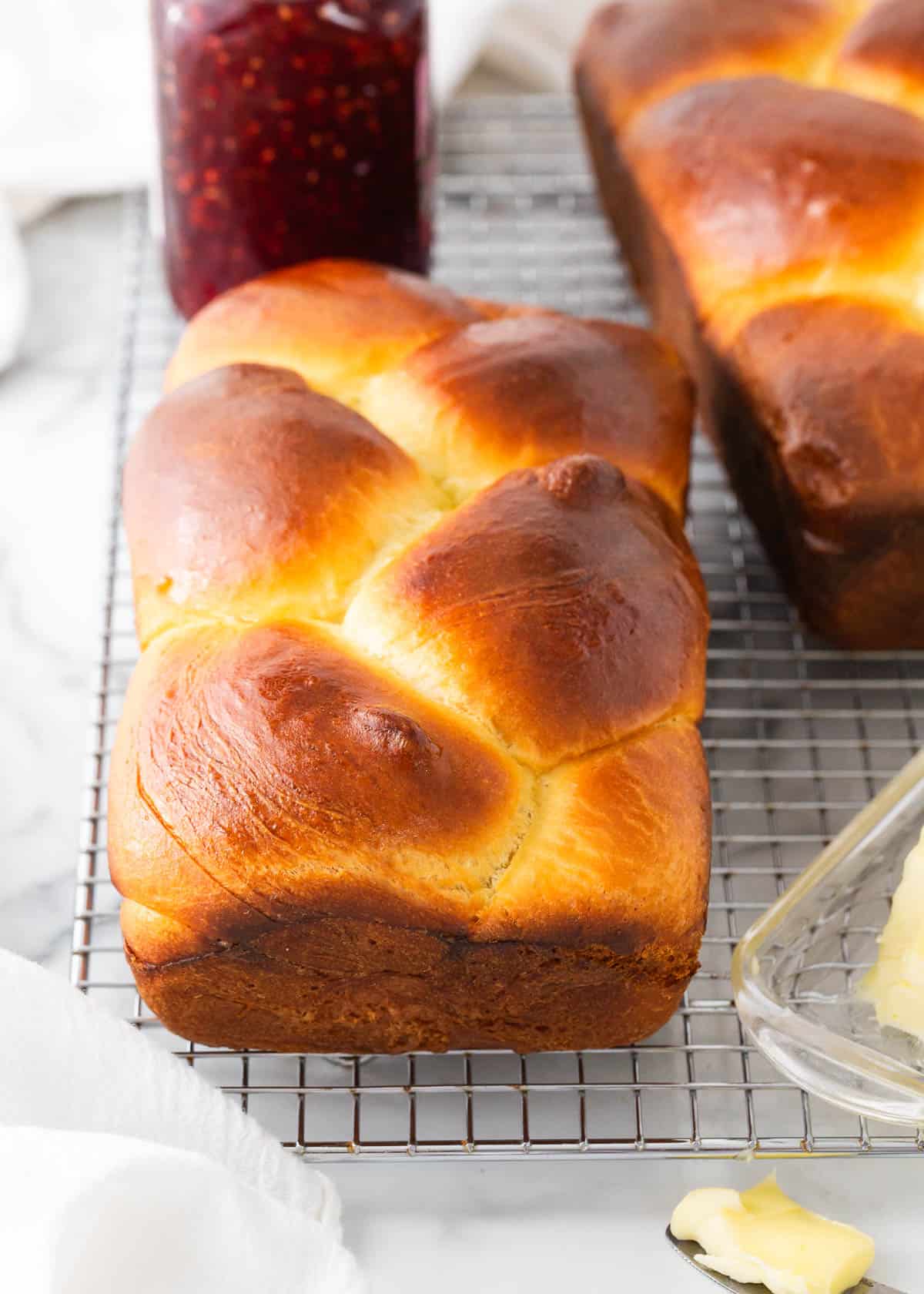 Ways to Enjoy Brioche Bread
My family's favorite way to enjoy a slice of brioche is warm and freshly made, or lightly toasted with a bit of butter and our favorite blueberry jam!
Nutella is a popular choice around here too :)
It's a popular choice for all kinds of French toast recipes, such as French toast sticks, overnight French toast, and Eggnog French toast for Christmas brunch!
Use it for easy 1-hour cinnamon rolls to bring a little extra fluffy, buttery, soft texture.
Use the dough to make brioche buns for sliders and for dessert make bread pudding!
Storing
Keep leftovers at room temperature. Store in a brown bag or an airtight container for up to 5 days.
Freeze the bread for up to 3 months! Wrap the entire loaf or whatever's left in plastic wrap or foil then transfer it to a freezer bag. Thaw overnight to enjoy the next day.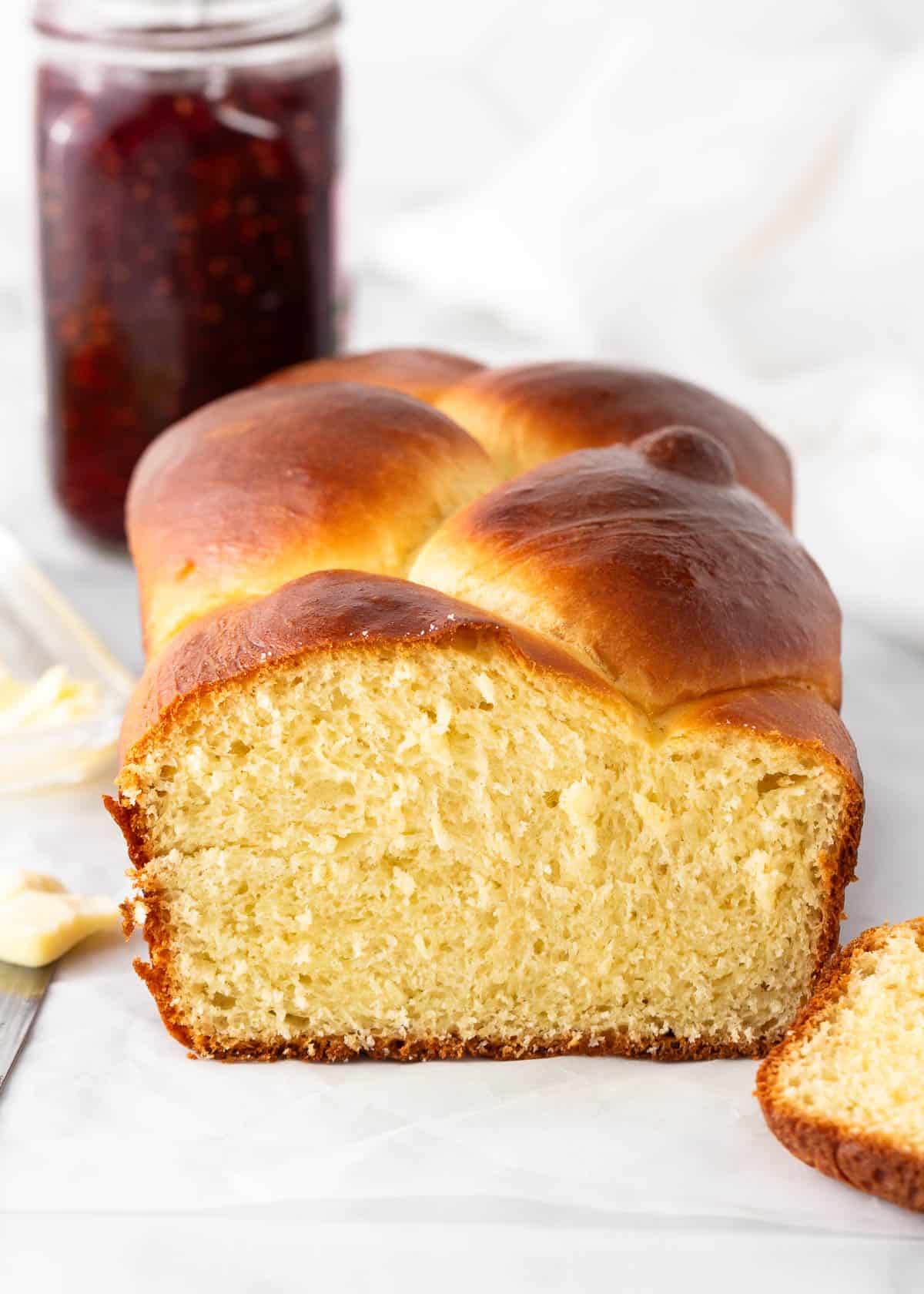 HUNGRY FOR MORE? Subscribe to my newsletter and follow on Facebook, Pinterest and Instagram for all the newest recipes!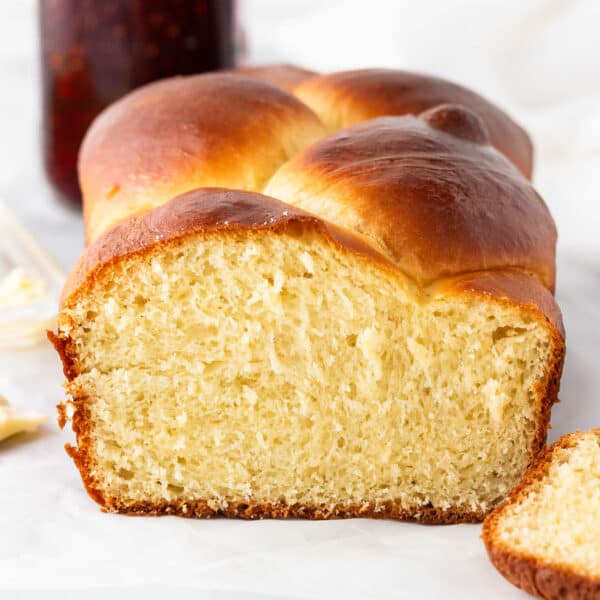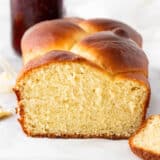 Brioche Bread Recipe
Rich, buttery and soft brioche bread is easy to make and much more cost-effective that buying a loaf!
Ingredients
½ cup warm whole milk (110°F)
1 Tablespoon + 1 teaspoon instant dry yeast
5 Tablespoons granulated sugar
5 large eggs , at room temperature
1 large egg yolk , at room temperature
½ teaspoon vanilla extract
2 teaspoons Kosher salt
4 ½ cups bread flour , or all-purpose flour
1 cup unsalted butter , at room temperature
Egg Wash
1 large egg , beaten
1 Tablespoon water
Optional topping: Butter and Jam
Instructions
In the bowl of a stand mixer fitted with a paddle attachment, stir the warm milk, yeast, and sugar. Let sit 5 to 10 minutes, or until nice and bubbly. If it doesn't foam, toss it and start over. The milk was either too hot or the yeast was not fresh (check the expiration date to be sure it isn't old).

Add the eggs, 1 at a time, until combined. Mix in the egg yolk and vanilla extract.

In a separate bowl, whisk 2 cups flour and the salt. Add to the mixer and stir 3 minutes on medium speed.

Reduce speed to low and gradually mix in the remaining 2 cups flour until combined. Mix 5 minutes, stopping halfway to scrape down paddle and sides of bowl. Turn off mixer. If the dough is too sticky, add up to 1/2 cup flour and mix on low speed until incorporated. Dough should be soft but not wet.

Slowly mix in the butter, 2 Tablespoons at a time. Swap out the paddle attachment for a dough hook and knead 8 to 10 minutes. Dough should be clinging to the dough hook in one ball. *Try window pane test (see notes).

Transfer dough to a medium bowl sprayed with nonstick spray. Cover with plastic wrap and refrigerate 8 hours or overnight.

Spray 2 9×5-inch bread pans with nonstick cooking spray.

On a floured work surface, divide dough into two portions. Shape into loaves and transfer to pans. Cover and let rise 1 to 2 hours, or until doubled in size. In a small bowl, beat the egg and water together to make an egg wash. Brush the tops of the loaves with egg wash.

Preheat the oven to 375°F and place the rack in the middle of the oven.

Bake 28 to 30 minutes, or until deep golden color. Tap on the crust to hear a hollow sound. Cover with foil the last 10 minutes if it's browning too fast.

Cool 10 minutes in pan before removing from the pans to a cooling rack. Slice once slightly cooled. Enjoy with butter and jam, if desired.
---
Notes
Thermometer: Using a thermometer is an easy way to make sure the temperature of your water is just right. It should feel like warm bath water, around 105°F.
Stand mixer: Although you can knead by hand, using a KitchenAid stand mixer with a dough hook saves you time and energy. It's a game changer for making homemade bread!
Window pane test: After the dough has kneaded 8 minutes, you should be able to stretch it without it tearing and it should be fairly translucent. If it tears before stretching 1 to 2 inches, knead an additional 1 to 2 minutes. Check again.
Storage: The bread will keep in an airtight container or brown bag on the counter up to 5 days .
Freeze: Let the loaves cool completely then wrap in foil or saran wrap. Place in a freezer bag. Freeze up to 3 months. Thaw the night before serving.
Nutrition
Calories: 141kcal | Carbohydrates: 15g | Protein: 4g | Fat: 7g | Saturated Fat: 4g | Polyunsaturated Fat: 1g | Monounsaturated Fat: 2g | Trans Fat: 0.2g | Cholesterol: 56mg | Sodium: 162mg | Potassium: 45mg | Fiber: 1g | Sugar: 2g | Vitamin A: 242IU | Vitamin C: 0.002mg | Calcium: 15mg | Iron: 0.4mg
Nutrition provided is an estimate. It will vary based on specific ingredients used.
Did you make this recipe? Don't forget to give it a star rating below!