Jump to Recipe⌄
Eggnog French Toast Bake
This Eggnog French Toast Bake is a perfect recipe for your Christmas morning or any brunch this holiday season!
Hi! I'm Jo-Anna from A Pretty Life and I'm really excited to be here today to share a delicious Christmas morning breakfast idea with you. This Eggnog French Toast Bake is simple to make, is rich and tastes delicious! Take it to the next level with an easy homemade caramel sauce.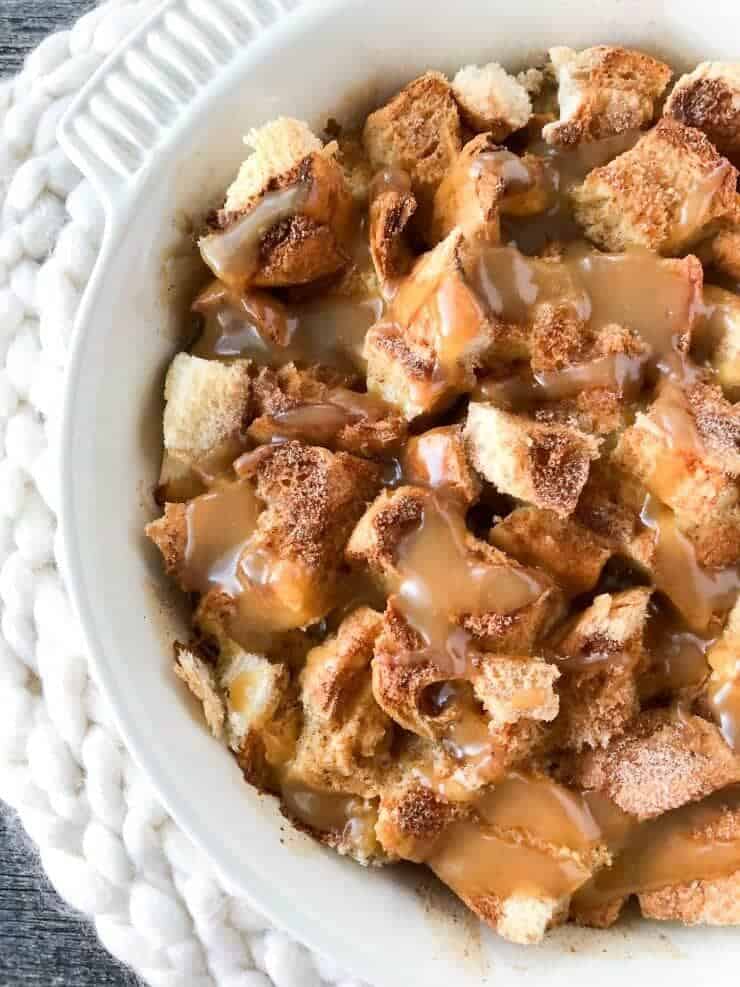 I don't know about you, but I like, actually I need, to have my Christmas morning breakfast ready to go on the big day. I don't have time to assemble a big breakfast after everyone has opened up their presents. To eliminate some stress for myself and to enjoy Christmas morning, I will assemble a breakfast dish the night before. When we get up in the morning, all I have to do is pop it in the oven when we start our gift opening, and breakfast will be ready when we are done!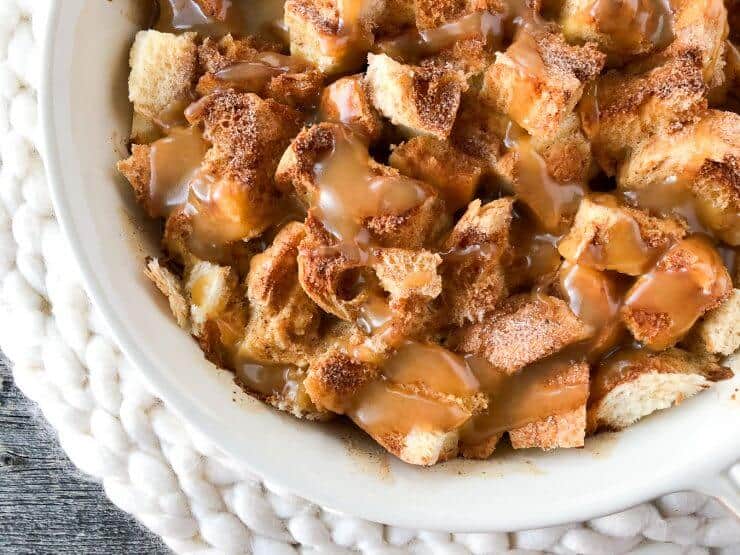 This year this Eggnog French Toast Bake is on our Christmas morning menu. It has all the delicious flavours of Christmas that everyone loves…eggnog, cinnamon and nutmeg. To top it all off, instead of offering maple syrup, I made an easy homemade caramel sauce to drizzle over the top. Yes, it is as delicious as it sounds! Yum.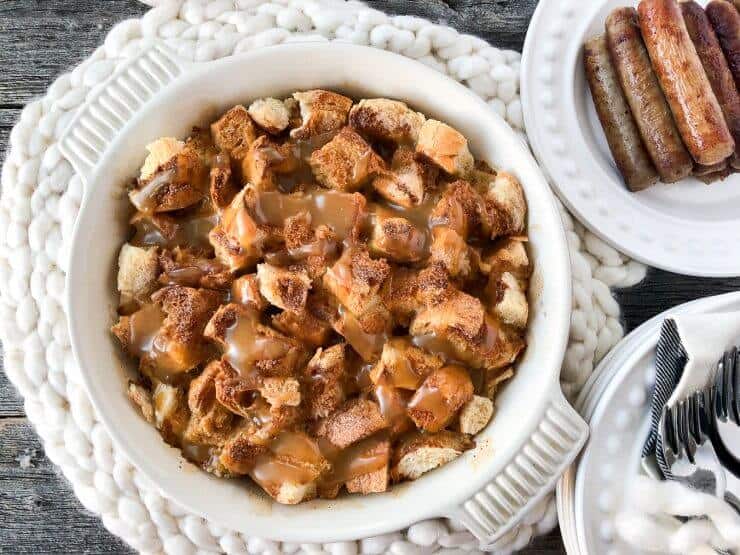 Because this is a rich and sweet breakfast, I will serve it up with bacon, sausages and fresh fruit. So good.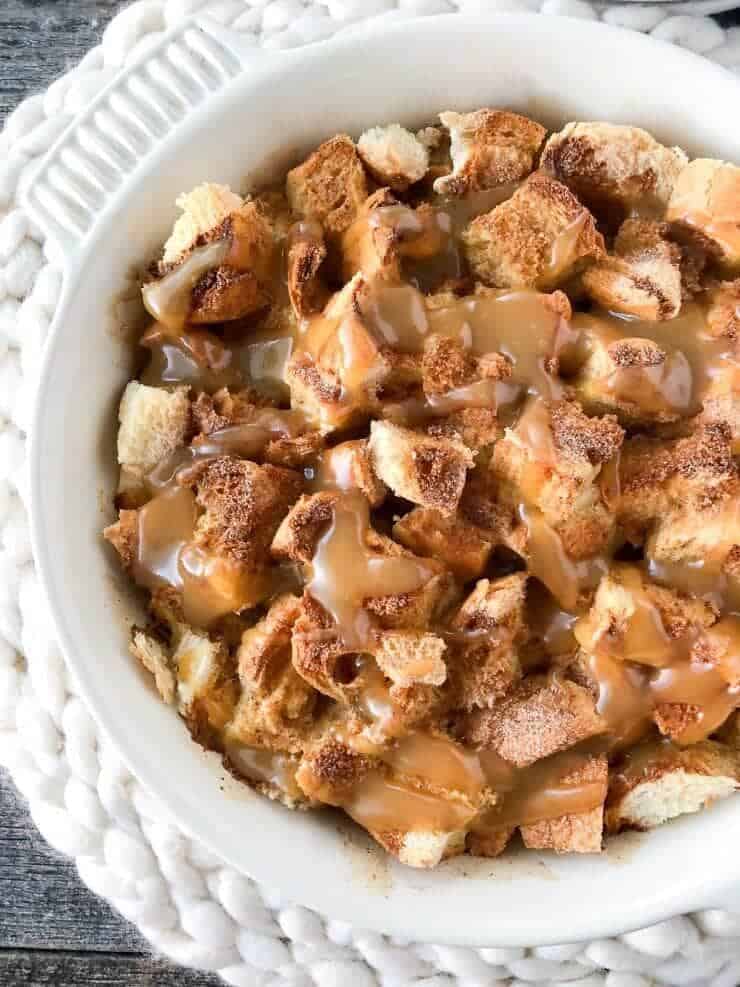 I hope you try this Eggnog French Toast Bake recipe and love it as much as we do! Happy holidays! xo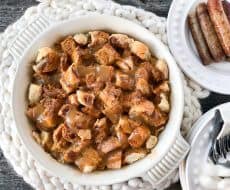 Eggnog French Toast Bake
This Eggnog French Toast Bake is a perfect recipe for your Christmas morning or any brunch this holiday season!
Ingredients:
Bread Pudding:
5 cups cubes French bread, day old is best
4 eggs
3/4 cup eggnog
1/4 cup half and half cream
1/2 tsp vanilla
pinch nutmeg
1/2 tsp cinnamon
Caramel Sauce:
1/2 cup butter
1/4 cup brown sugar
1/4 cup half and half cream
Directions:
In a bowl whisk together the eggs, eggnog, cream, vanilla, nutmeg and cinnamon.

Add the bread cubes to a 9 x 13 baking dish.

Pour the milk mixture over the bread and gently stir to ensure that all the ingredients are evenly distributed and the bread is covered in the milk mixture.

Cover and put in your fridge overnight.

In the morning, sprinkle with cinnamon and sugar, and add to a cold oven.

Turn the oven to 350 degrees and bake for about 1 hour, or until the pudding is puffed and firm in the center.

Caramel Sauce:
While the bread pudding is baking, you can make the caramel sauce that you will drizzle over this delicious dish.
In a sauce pan melt the butter, then add the brown sugar and cream. Stir over low heat until the sauce thickens.
Set aside to cool slightly. Serve the baked french toast warm with the warm caramel sauce!
All images and text ©
More Delicious Holiday Breakfast Recipes by Jo-Anna
If you are looking for more delicious Christmas Breakfast Ideas, you might love my recipes for Overnight Sausage and Egg Breakfast Casserole, Raspberry Baked French Toast or my Easy Ham and Cheese Crustless Quiche!
About Jo-Anna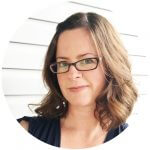 Jo-Anna blogs at A Pretty Life, where she shares her love of a simple home life through uncomplicated home projects and tips, daily life and fresh & easy recipes. Follow Jo-Anna along on Instagram and Pinterest!
Have a very merry delicious day!

Thanks so much for sharing in our Crazy Christmas Event!
Looking for more holiday breakfast ideas? You will love these too: