French toast sticks are fun for all ages! Strips of thick pieces of toast are made into cinnamon-flavored dippers perfect for dipping in your favorite syrup, whipped cream, or sprinkled in a little extra sugar!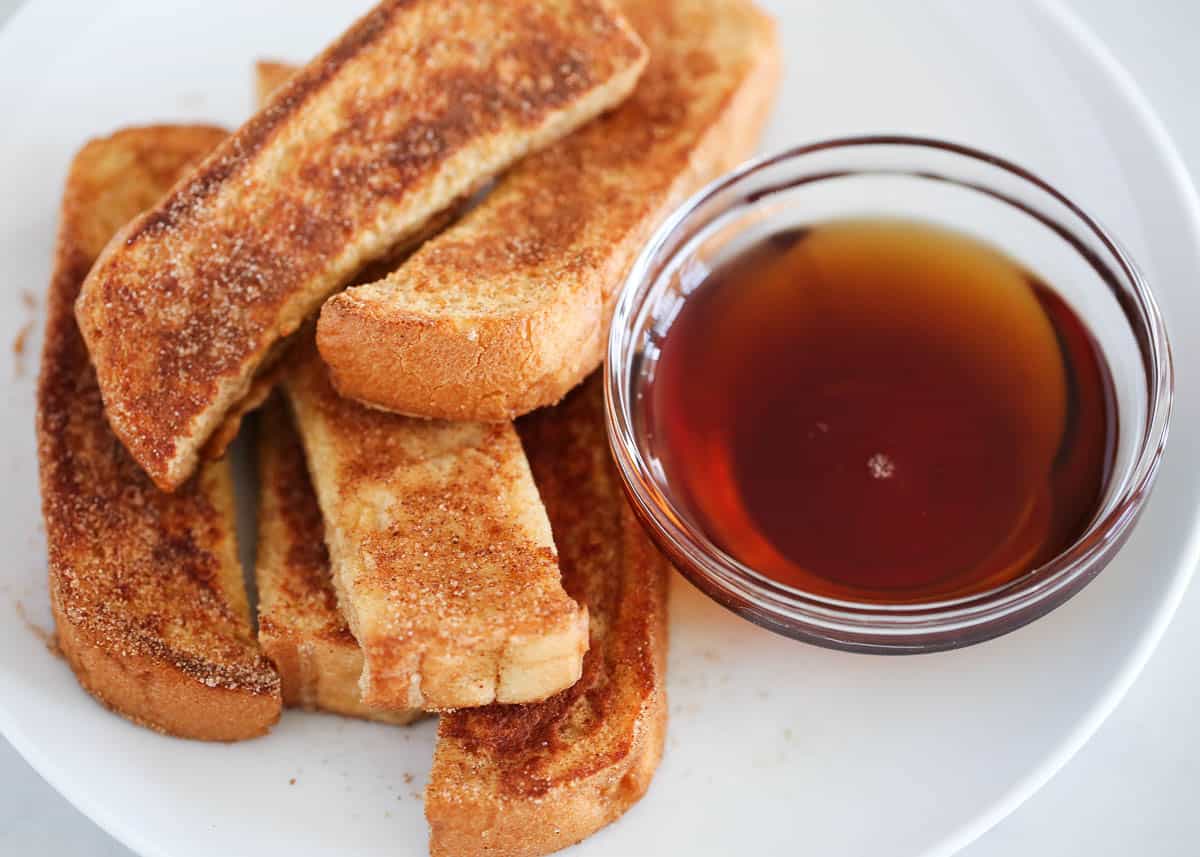 A Simple French Toast Sticks Recipe
Homemade French toast sticks are a fun twist on whole pieces of French toast, which as you can imagine, is a breakfast favorite around here. I mean French bread French toast and eggnog French toast is worth mentioning for sure, but these little handheld sticks are so much more fun!
Cinnamon French toast sticks are made from strips of day-old bread dipped into the egg mixture followed by a quick cook on the griddle to make them deliciously crispy and golden brown.
My kids absolutely love picking up the pieces and dipping them right into homemade maple syrup. It's always a toss up between making these and our favorite silver dollar mini pancakes on the weekends, and sometimes we make both!
How to Make French Toast Sticks
Slice each piece of bread into 1″ strips. Thick slices are ideal.
Combine egg mixture ingredients into a blender to mix. You can also use a bowl and whisk.
Preheat the griddle to 350 or a pan over medium heat to medium-high heat.
Evenly coat the strips with egg mixture and allow excess to drip off. Depending on how many strips you have, you may need to work in batches.
Melt butter on griddle or pan, and cook for 2 minutes per side until nicely golden brown.
Serve immediately with your favorite toppings like warmed maple syrup and a dusting of powdered sugar.
Cooking Tips
I prefer using brioche bread as it's very rich and buttery, and holds up against the egg coating quite well. If I have a loaf of my homemade bread that's been out a day or so, sometimes I like to use that when cut into thick slices. Texas toast is also a great option.
Make sure to use stale or day-old bread. Leave it out for a few hours or bake it slightly beforehand. Soft bread will get too soggy.
The butter does add a flavor element, but you can replace it with cooking spray if preferred.
For a thicker, richer egg mixture swap the milk for heavy cream.
Rolling the sticks in cinnamon sugar after they've been cooked adds a lovely sweet crispy finish.
If your crowd is not quite ready to eat yet, keep them warm on a baking sheet in the oven at 175 degrees.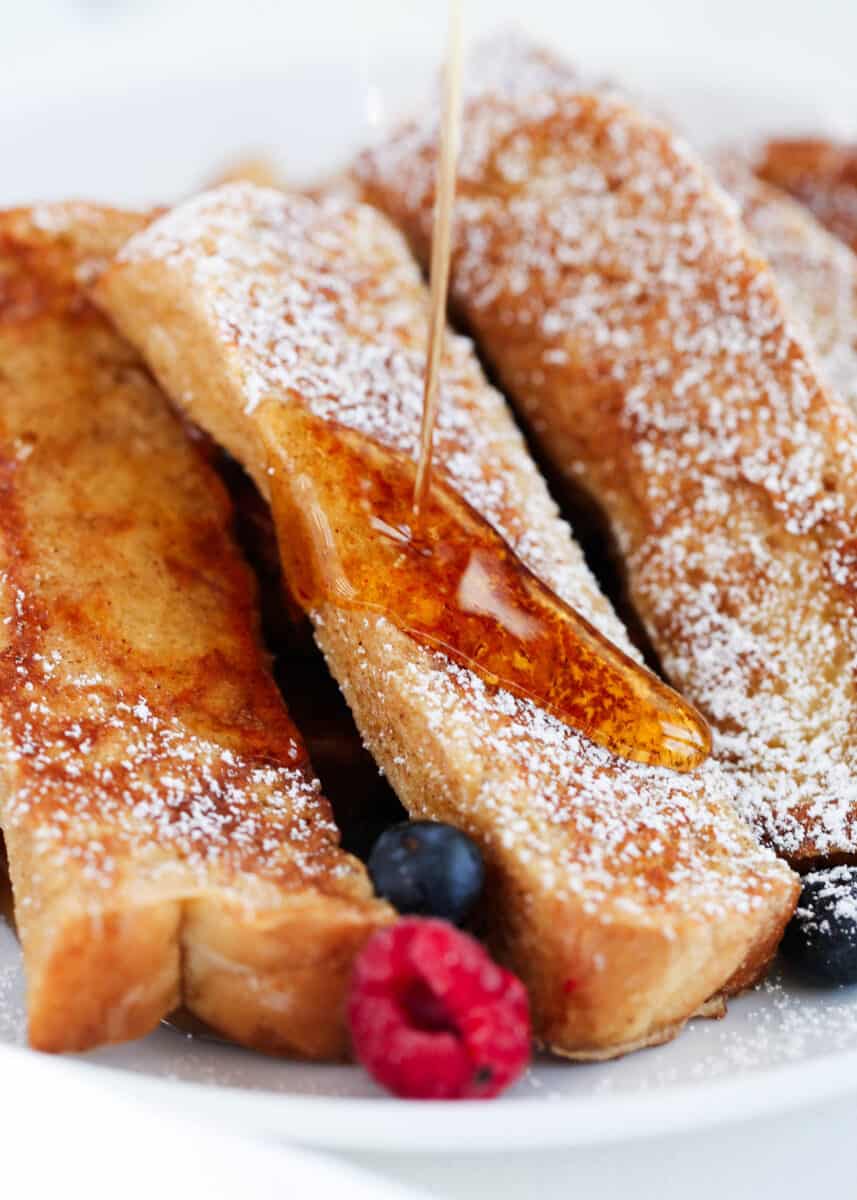 Make Ahead
To prepare these in advance you can soak your French toast overnight. If you go this route make sure to use thick hard pieces so that they won't get soggy by the morning.
Place bread strips in a pan and pour egg mixture over top to coat evenly. Cover and refrigerate overnight then cook on a preheated griddle in the morning!
Best Toppings for Any French Toast!
Berries or other sliced fresh fruit
Powdered sugar
Nutella
Jam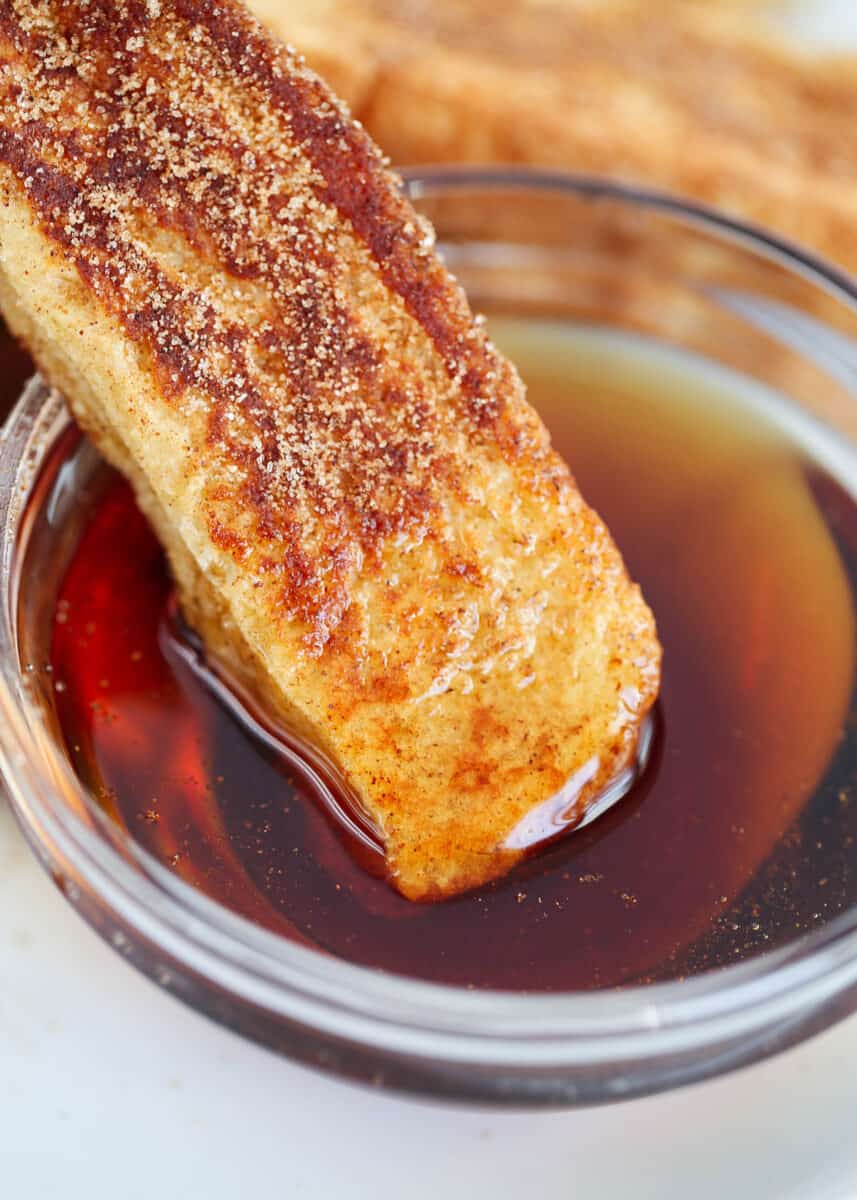 More Easy Breakfast Ideas:
HUNGRY FOR MORE? Subscribe to my newsletter and follow on Facebook, Pinterest and Instagram for all the newest recipes!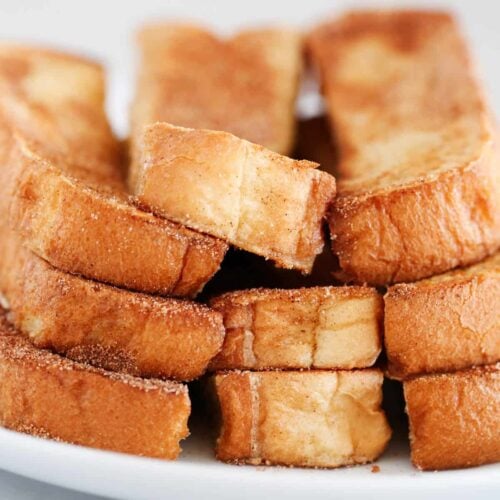 French Toast Sticks
French toast sticks are fun for all ages! Strips of thick pieces of toast are made into cinnamon-flavored dippers perfect for dipping in your favorite syrup, whipped cream, or sprinkled in a little extra sugar!
Ingredients
½ cup milk
2 Tablespoons all-purpose flour
2 large eggs
2 Tablespoons light brown sugar
1 teaspoon vanilla extract
½ teaspoon ground cinnamon
⅛ teaspoon Kosher salt
1 Tablespoon butter
6 slices thick bread , I prefer brioche
Optional Toppings: berries, fresh fruit, powdered sugar, nutella, whipped cream, jam, syrup
Instructions
Slice bread into 1-inch wide strips.

Place the milk, flour, eggs, brown sugar, vanilla, cinnamon and salt in a blender. Pulse until smooth. Alternatively place in a bowl and whisk until smooth and thoroughly mixed.

Preheat a griddle to 350°F or a skillet over medium-high heat. Butter before placing the bread on. Once the grill is hot dip the bread into the egg mixture and flip to evenly coat. Then place the bread on the griddle and cook 2 minutes per side (or until lightly golden brown). Whisk the egg mixture as needed.

Serve immediately and top with your favorite toppings.
---
Notes
Bread: Use thick day old bread or let the bread sit out for a few hours. If the bread is too fresh/soft it will become soggy.
Sugar: Sometimes I like to dust the sticks with powdered sugar after they're cooked or roll in cinnamon sugar while they're still warm.
Keeping warm: Place on a baking sheet in the oven at 175°F to keep it warm.
Soaking overnight: If soaking the bread overnight, it's best to use a variety that's thicker and hard so that it doesn't get soggy (bread that's a few days old works great). Place the bread in a large dish, then pour egg wash evenly on top. Cover and refrigerate overnight. Then warm on buttered skillet the next day.
Nutrition
Calories: 285kcal | Carbohydrates: 40g | Protein: 11g | Fat: 8g | Saturated Fat: 3g | Cholesterol: 133mg | Sodium: 422mg | Potassium: 209mg | Fiber: 2g | Sugar: 11g | Vitamin A: 305IU | Calcium: 150mg | Iron: 2.8mg
Nutrition provided is an estimate. It will vary based on specific ingredients used.
Did you make this recipe? Don't forget to give it a star rating below!