This easy overnight french toast casserole can be prepped the night before and baked in the morning. Topped with a brown sugar streusel and berries, it's perfect for the holidays or weekend brunches!
More make ahead breakfast recipes I love to serve include this cinnamon roll casserole, overnight breakfast casserole and overnight oats!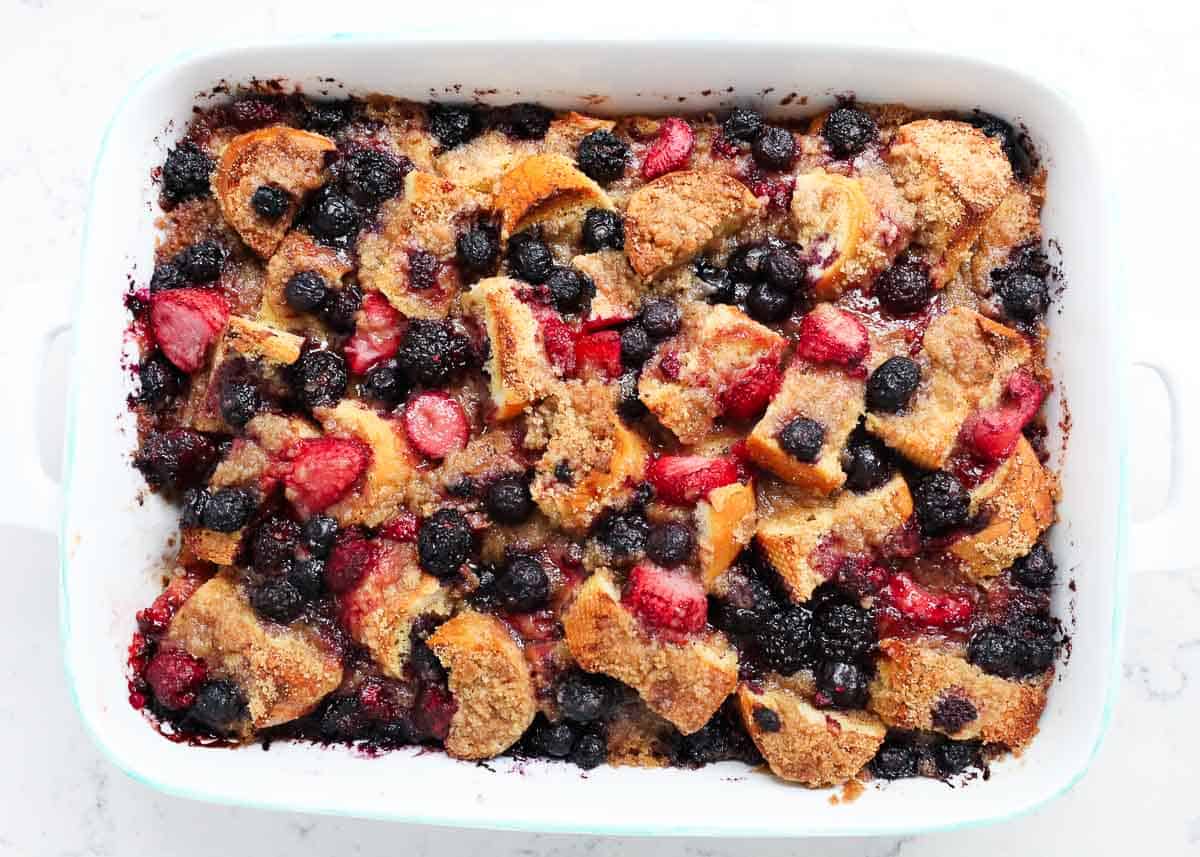 Baked French Toast Casserole
I love French toast and French bread French toast, but this overnight french toast casserole version is my go-to when serving a crowd. You can easily make it in advance and then bake it in the morning.
While my kids love these French toast sticks and eggnog French toast is a holiday favorite, this berry french toast casserole is the best Christmas breakfast idea when you want to just put something in the oven and enjoy family time.
Recipe Ingredients
There are two steps to this french toast, the filling, and the topping. Layer the ingredients on top of each other in a baking dish and get ready to enjoy. It all comes together and makes an amazing french toast breakfast recipe!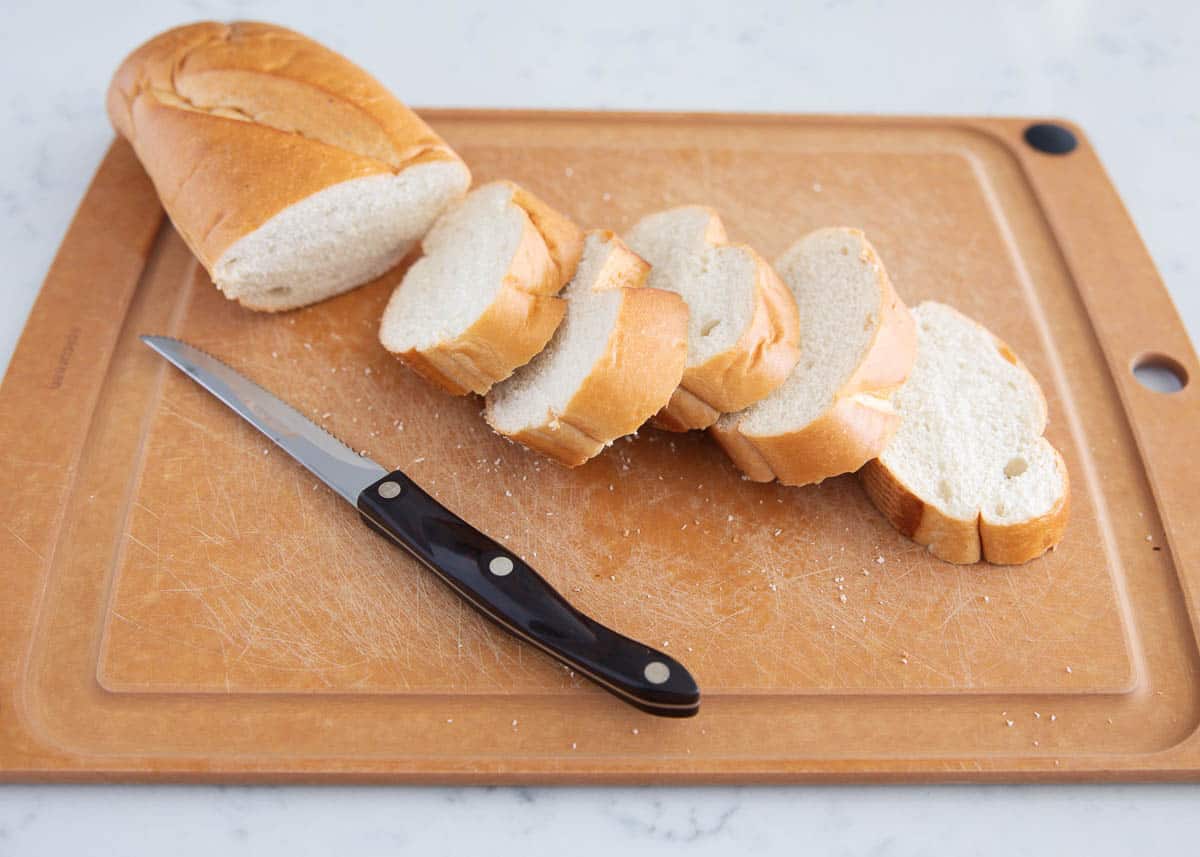 Find the full printable recipe with specific measurements below.
French bread: Go with a crispy outside and soft inside kind of bread. Add about 10 cups of sliced-up bread to the casserole dish.
Milk: The heavier the milk the creamier it will be. I used whole milk for this recipe.
Eggs: Large eggs are best! If you are using medium, double or add an extra egg just to be sure.
Brown sugar: Pack in the brown sugar. I used light brown sugar for a sweet taste but not overbearing of the berries.
Ground cinnamon: Always a classic spice to add to french toast.
Butter: This will help combine and moisten the bread.
All-purpose flour: Thicken the mixture to help add substance and help make it crumbly for the topping.
Berries: Frozen works great for this recipe!
Variations
There are many ways to make this overnight French toast your own!
Bread: Sourdough or challah can be used as well as you can make brioche French toast, too. Save the croissants for this breakfast croissant casserole.
Berries: Swap the berries for sliced apples or peaches, or omit the fruit altogether and mix in some chopped walnuts or pecans.
Warm spices: You can also add some vanilla extract or nutmeg to the egg mixture to give it an extra boost of flavor.
How to Make Overnight French Toast
Get ready for an easy overnight french toast that is assembled and put together in a matter of minutes. It is so simple to make and comes together in four simple steps. You will love the flavor combination and how simple this is to make ahead of time.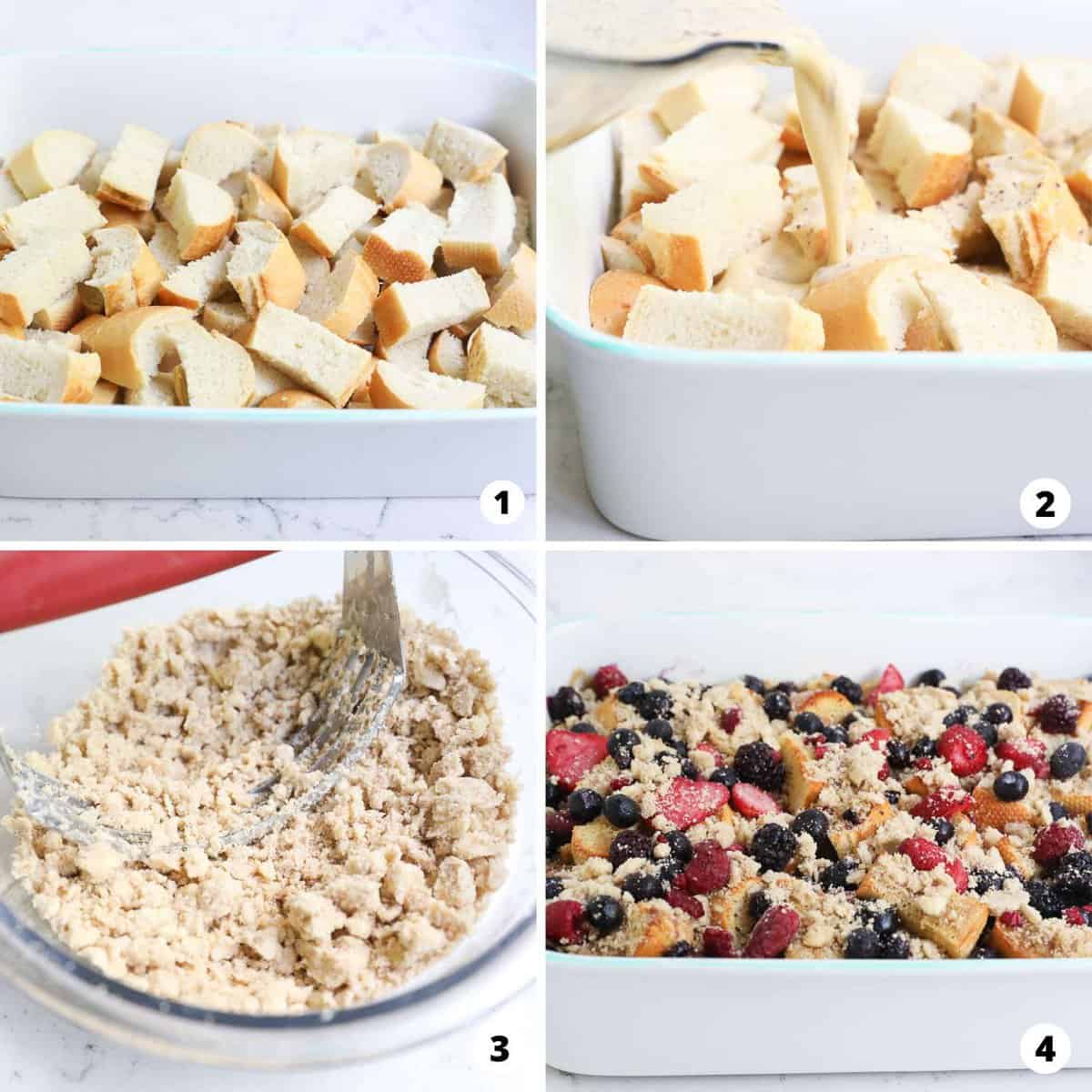 Slice bread. This recipe starts with a French bread base. Slice the bread into cubes and add it to your baking dish.
Assemble. Then whisk together the milk, eggs, brown sugar, and cinnamon and pour the egg mixture on top. This will sit overnight and soak up nicely into the bread.
Top. Then you'll add a brown sugar crumble topping and berries to the top of the bread right before baking. I love using frozen mixed berries because we always have them on hand in the freezer. They give it the perfect sweet flavor!
Bake. I love to cook my casserole the full hour so that the top of the bread becomes a little caramelized/toasted and the center is cooked through. If you'd like the center more of a bread pudding texture, I would take it out about 15 minutes sooner. Either way, it's delicious!
Helpful Tips
French toast bake is simple to make but does have a few key tips that will help make it even better! Choose your bread wisely, make sure to soak it for enough time, and have a good balance of ingredients. All these tips can help make your french toast casserole perfect in every way!
Bread. I like to use thick, day-old French bread or French baguette so that it doesn't become soggy. Sourdough, brioche, or challah bread work great also.
Soaking. The bread cubes need to soak in the milk mixture for at least 3 hours. But you'll get the most flavor if you let it soak overnight. Make sure to pour the milk mixture evenly over the bread so that it covers each piece.
Consistency. Cook for 1 hour for a crispy and caramelized texture. If you prefer it softer and gooier, cook for 45 minutes.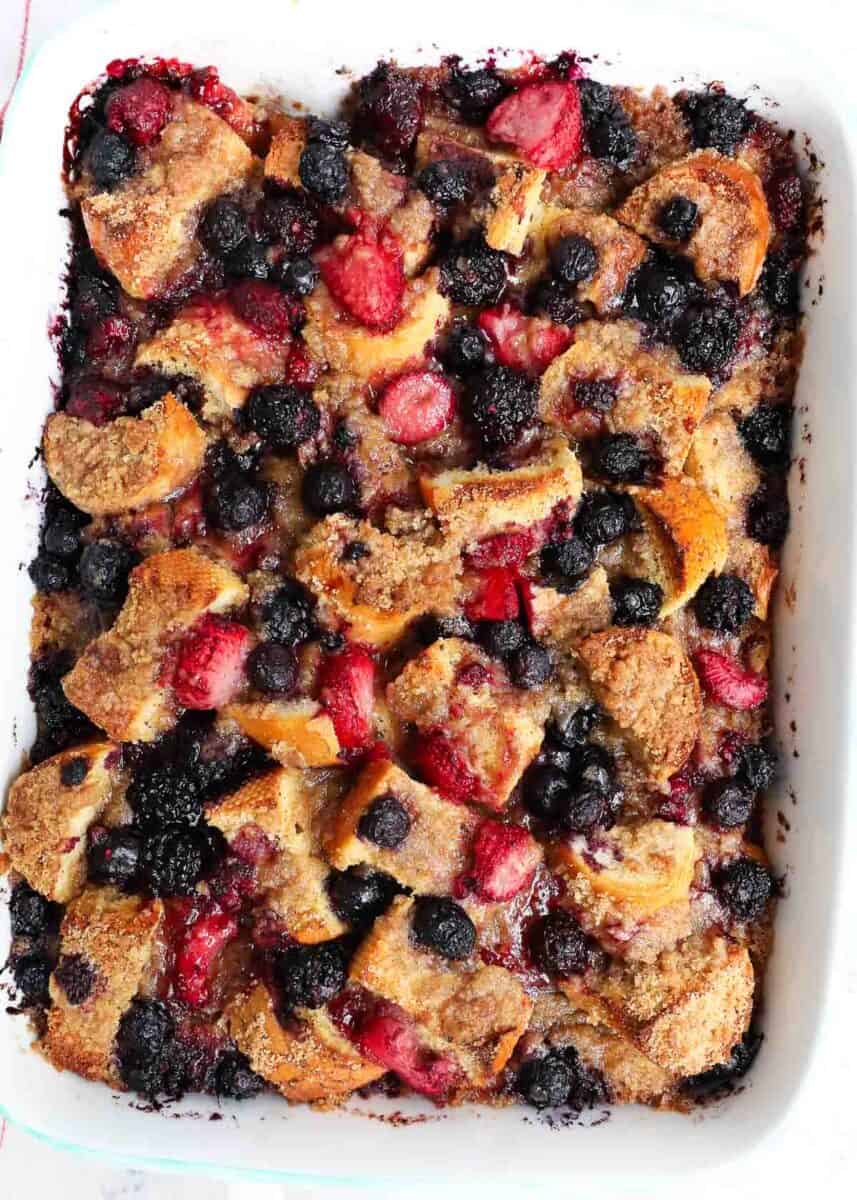 Toppings for Serving
Although this casserole tastes delicious as-is, you can also add a few extra toppings to take it up a notch. Any of the below would taste amazing:
Powdered sugar
An extra sprinkle of cinnamon
More fresh berries
5 star review
"I have made this several times. I actually put the topping on the same day and then refrigerate the night before. I add tons of blackberries, strawberries, blueberries on top. It's great for entertaining a brunch. I made several for about 16 and it was a hit. The recipe was actually repeated by several of the ladies at their functions. It's so delicious. I actually served it with whip cream. Enjoy!!!!"

– Grace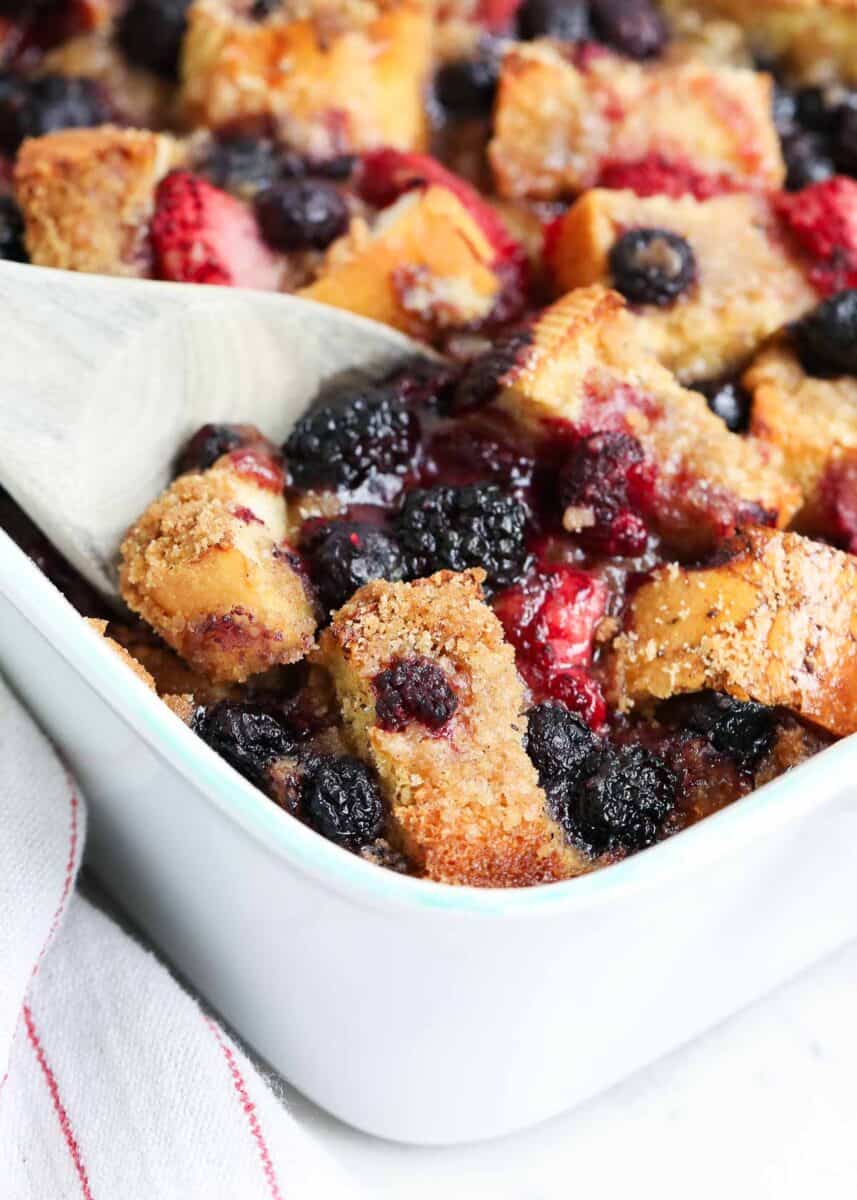 Recipe FAQs
Why is my overnight French toast soggy?
Bread is the key ingredient to making the best french toast casserole dish. Usually, if your toast is soggy it is because the bread is too thin, fresh, or flimsy slice of bread. You can also add in too much milk which soaks the bread too much leaving it soggy.
What to serve with overnight french toast?
The basics are always there like bacon, sausage, scrambled eggs, yogurt bowl, and more fresh fruit. This overnight french toast casserole is best alone but you can add sides to help provide more food.
How do you keep toast crispy overnight?
If you are wanting to dry your bread, place it on a rack. This will help the air circulate all around the bread to let it "breathe".
Storing + Making Ahead
Since this is made the night before, making this ahead works best. This will sit in the refrigerator for two to three days long. Once it is baked you can reheat it for up to one week. Place in the microwave or oven to reheat.
More Breakfast Favorites
HUNGRY FOR MORE? Subscribe to my newsletter and follow on Facebook, Pinterest and Instagram for all the newest recipes!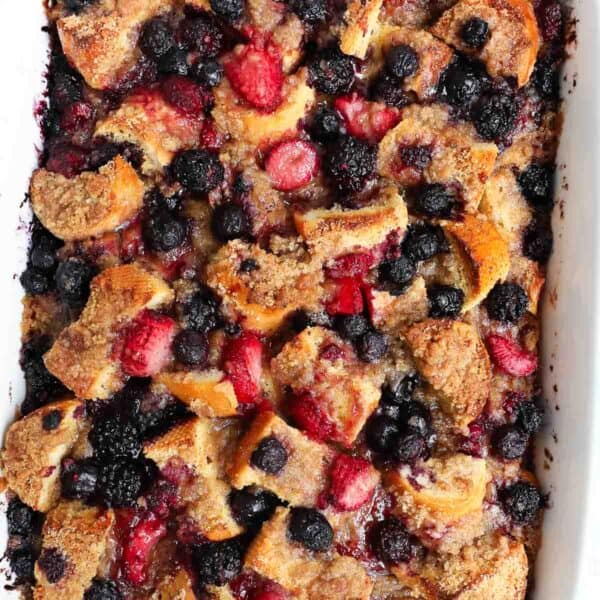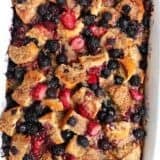 Overnight French Toast
Overnight french toast casserole topped with a brown sugar crumble and berries. A delicious spin on the classic and perfect for holiday gatherings or Sunday brunch!
Ingredients
French Toast
1 loaf day-old French bread , cubed (about 10 cups) (sour dough or challah work great too)
2 cups whole milk
7 large eggs
¾ cup light brown sugar , packed
¾ teaspoon ground cinnamon
Pinch Kosher salt
Topping
½ cup salted butter , cubed
½ cup all-purpose flour
½ cup light brown sugar , packed
1 cup berries (I used frozen)
Instructions
French Toast
Butter or grease a 9×13-inch casserole dish.

Layer the bread cubes evenly in the pan, equaling about 2 layers. In a medium bowl, beat the milk, eggs, brown sugar, cinnamon, and salt.

Pour evenly over the bread, making sure to coat each piece. Cover with aluminum foil and chill at least 3 hours or up to overnight.
Topping
In a medium bowl, mix together the butter, flour, and brown sugar with a pastry cutter or two knives. Use your hands if needed to make crumbs. Cover and chill.

When ready to bake, preheat the oven to 350°F. Sprinkle the topping over the bread and evenly disperse the berries on top. Bake uncovered 50 to 60 minutes, or until the top is lightly browned and the center is cooked through.

Enjoy by itself or topped with syrup.
---
Notes
Variations: Swap the berries for sliced apples or peaches, or omit the fruit altogether and mix in some chopped walnuts or pecans. You can also add some vanilla extract or nutmeg to the egg mixture to give it an extra boost of flavor. Storage: Leftovers will last in an airtight container in the refrigerator up to 3 days.
Nutrition
Calories: 405kcal | Carbohydrates: 57g | Protein: 11g | Fat: 15g | Saturated Fat: 8g | Polyunsaturated Fat: 1g | Monounsaturated Fat: 4g | Trans Fat: 0.4g | Cholesterol: 160mg | Sodium: 390mg | Potassium: 223mg | Fiber: 2g | Sugar: 32g | Vitamin A: 559IU | Vitamin C: 0.4mg | Calcium: 130mg | Iron: 3mg
Nutrition provided is an estimate. It will vary based on specific ingredients used.
Did you make this recipe? Don't forget to give it a star rating below!