Jump to Recipe⌄
Brownie strawberry trifle
Brownie strawberry trifle made with layers of strawberries, chocolate pudding, cream and brownies.
Two of my favorite desserts are brownies and chocolate dipped strawberries , so naturally I had to the combine the two. With fresh strawberries in season, I can't help but make all my desserts with strawberries.  I made this brownie strawberry trifle for my friends baby shower last month and it was a big hit. With my closer friends that are having their second or third baby, we do more of a "sprinkle" where we go to dinner with a few friends and bring dessert and some gifts. It's really fun.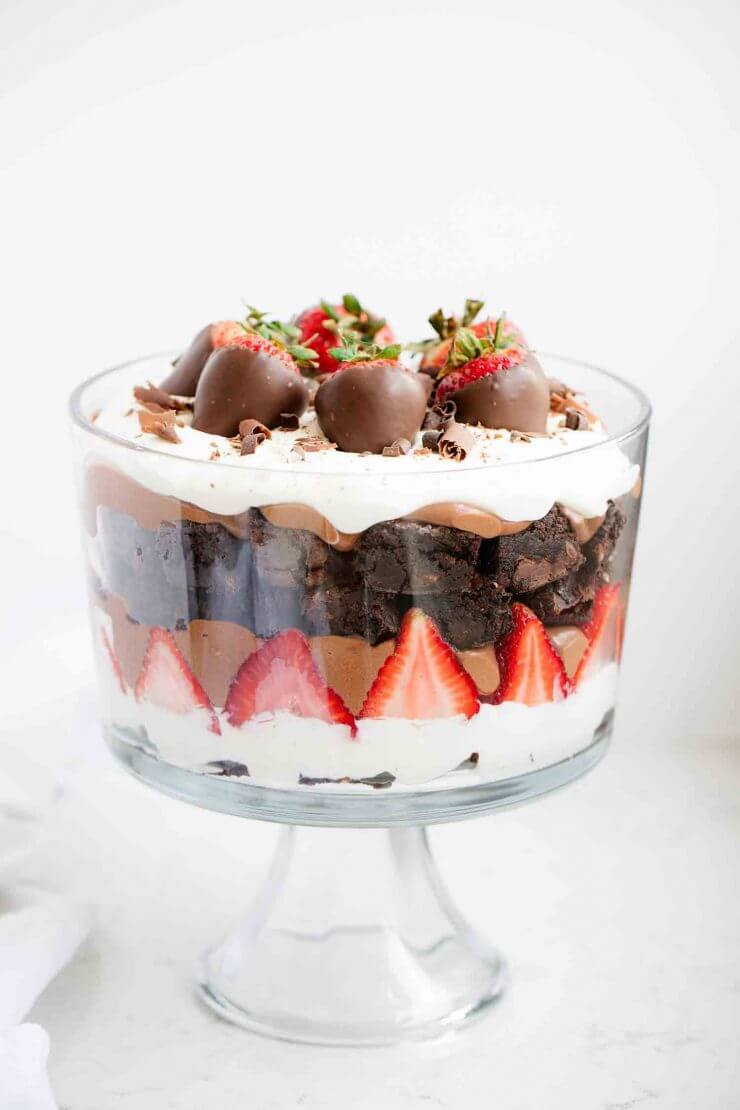 The best part is, it's fairly easy to make and you can make it a few hours ahead if you need to. It's so pretty too! I think any dessert looks better in a trifle bowl.
How to make this brownie trifle dessert
This trifle dessert really is so easy to make. You'll start by baking a box of your favorite brownies and then allowing it to cool. I love using the ghiradelli box with chocolate chips in the bag. That is our families favorite. Once the brownies have cooled you'll cut into 1-inch squares (or bite sized squares).
Next you'll layer the brownies, cream, strawberries and chocolate pudding. Then repeat until you reach the top of the bowl. I also melted some chocolate to dip the strawberries in and made chocolate curls with the leftover melted chocolate. I found this tutorial for making chocolate curls helpful. I've also found them pre-made in the sprinkles section at Hobby Lobby.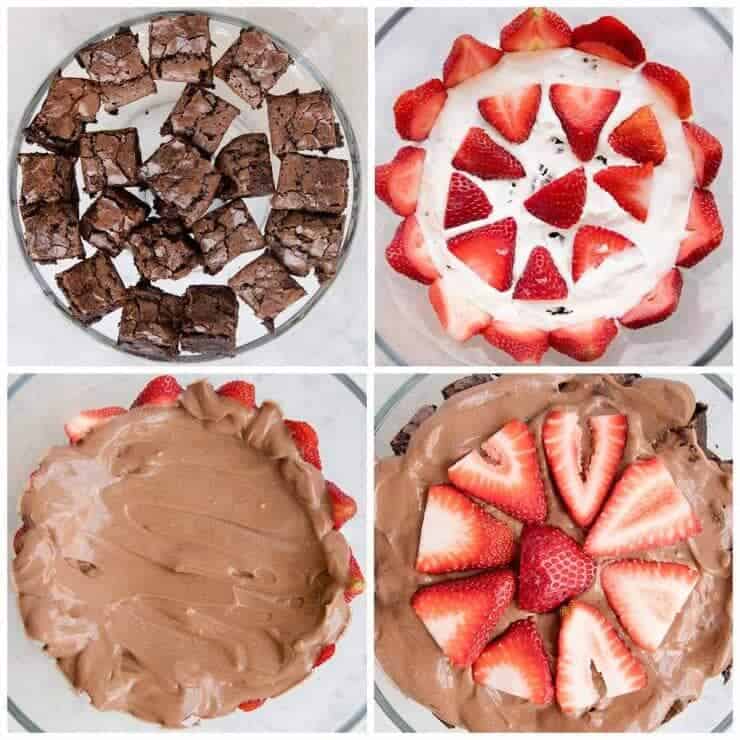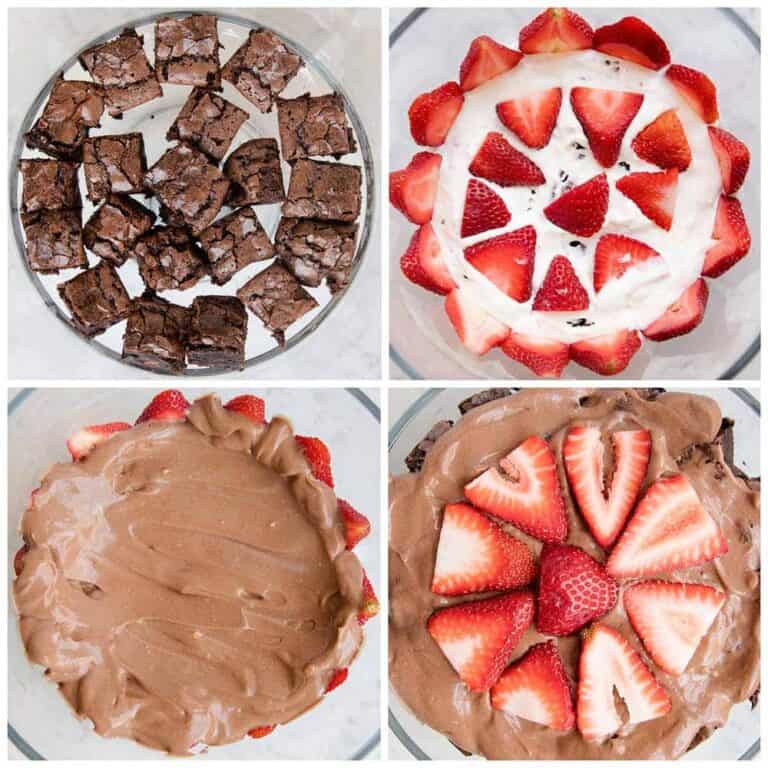 You can also make these brownie trifle desserts using fresh raspberries. I made this version in little jars and love how they turned out. These would be perfect for serving at a shower or get together with friends.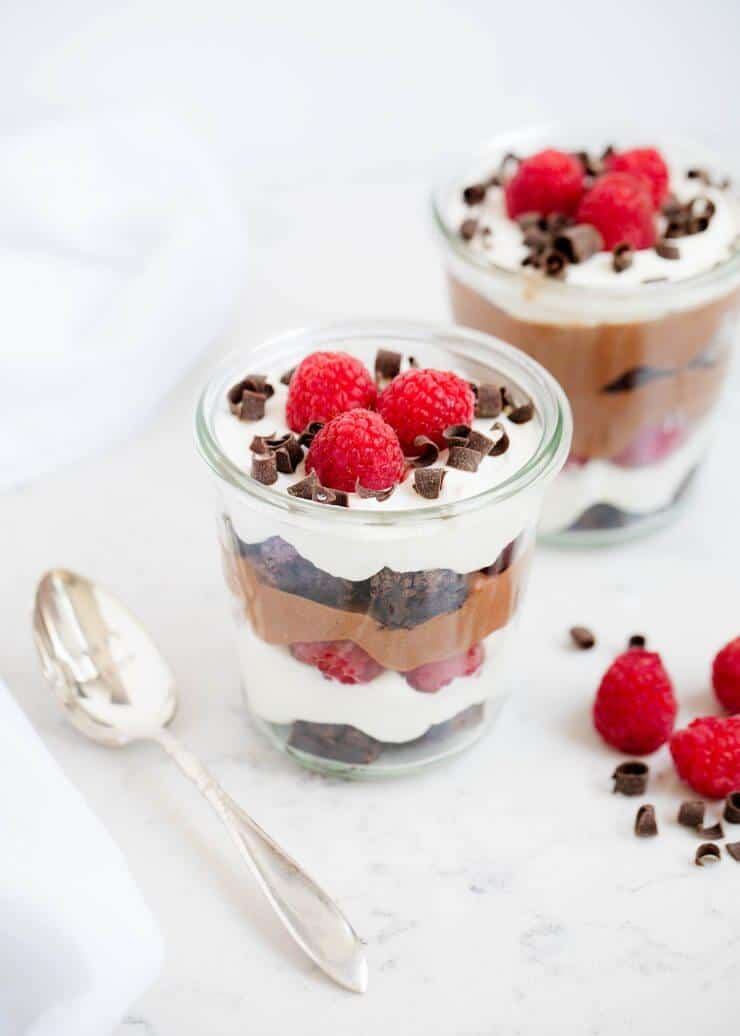 I love with the little jars that you get a bite of each layer when you go in for a spoonful. YUM!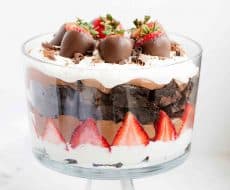 Brownie strawberry trifle
Brownie strawberry trifle made with layers of strawberries, chocolate pudding and cream and brownies.
Ingredients:
1 (20-ounce) box brownie (I prefer Ghiradelli) + ingredients on box
1 pint heavy cream
4 ounces cream cheese
1/4 cup sugar
1 (5.9 ounce) package instant chocolate pudding + ingredients on box
2 pounds strawberries
Directions:
For the first layer: Make the brownies according to the package in a half-sheet pan. If there aren't chocolate chips in the batter add 1/2 cup. Bake just until a toothpick comes clean and then allow to cool completely. Cut into 1-inch bite sized squares.
For the second layer: In a large bowl mix together the cream, cream cheese and sugar. Mix on medium speed until a peak forms (about 3 to 5 minutes).
For the third layer: Slice strawberries into thin slices.
For the forth layer: Make the chocolate pudding according to package.
Once all your layers are ready begin layering into a trifle dish. Repeat until you reach the top of the dish. Top with chocolate curls and chocolate dipped strawberries if desired.
Find the tutorial for chocolate strawberries here: https://www.iheartnaptime.net/easy-chocolate-covered-strawberries/
All images and text ©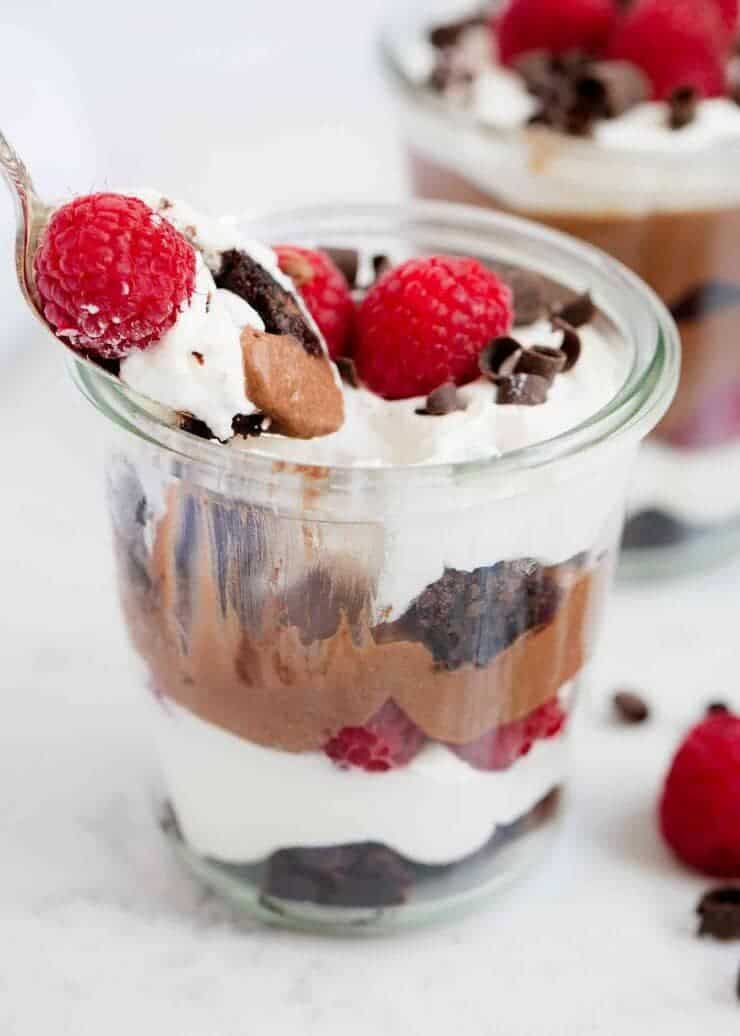 Looking for more strawberry desserts? You'll love these too: