These chocolate-covered strawberries are super easy to make and taste absolutely delicious. The perfect Valentine's Day dessert!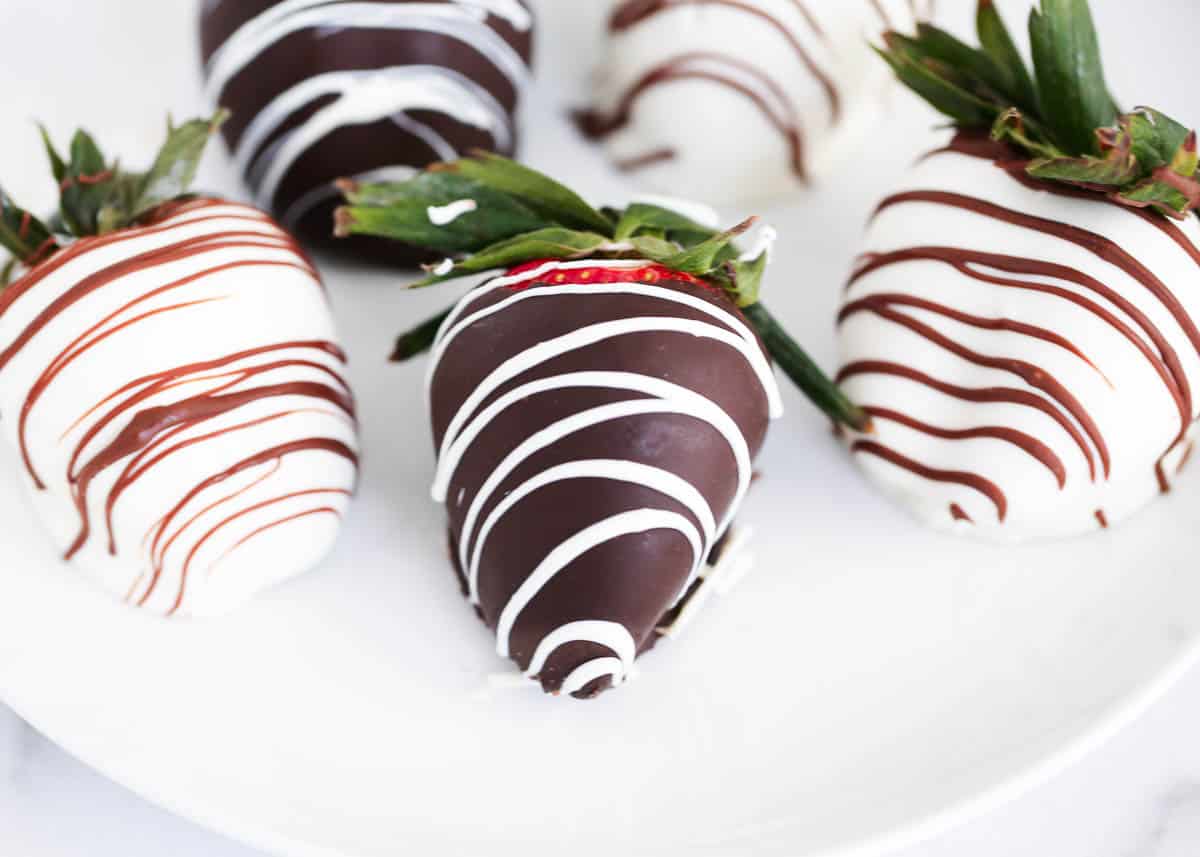 Valentines Chocolate Covered Strawberries
February is definitely my favorite month! I know people get excited about other holidays…but for me, Valentine's Day is totally where it's at! I've loved it since I was a child, and just seeing all the pretty pinks and reds at the stores this time of year makes my heart go pitter-pat.
I love that Valentine's Day is the perfect time to show my little family how much I love them. I always go all out with a big Valentine's breakfast and make french toast, German pancakes, crepes…you name it. Then I leave gifts and treats on each of my family members' plates. This year I will definitely be making these easy chocolate-covered strawberries for the big day!
If you haven't made DIY chocolate-covered strawberries before, rest assured that they are surprisingly simple and easy to make. They are still totally impressive, though! Strawberries and chocolate are always a delicious combination, and I love biting through the firm chocolate shell into the juicy berry beneath. YUM!
Recipe Ingredients
With only three ingredients you will love how quick and easy these are to make. Take your strawberries to the next level with good-quality chocolate. It is a simple recipe that will make for a delicious treat and gift!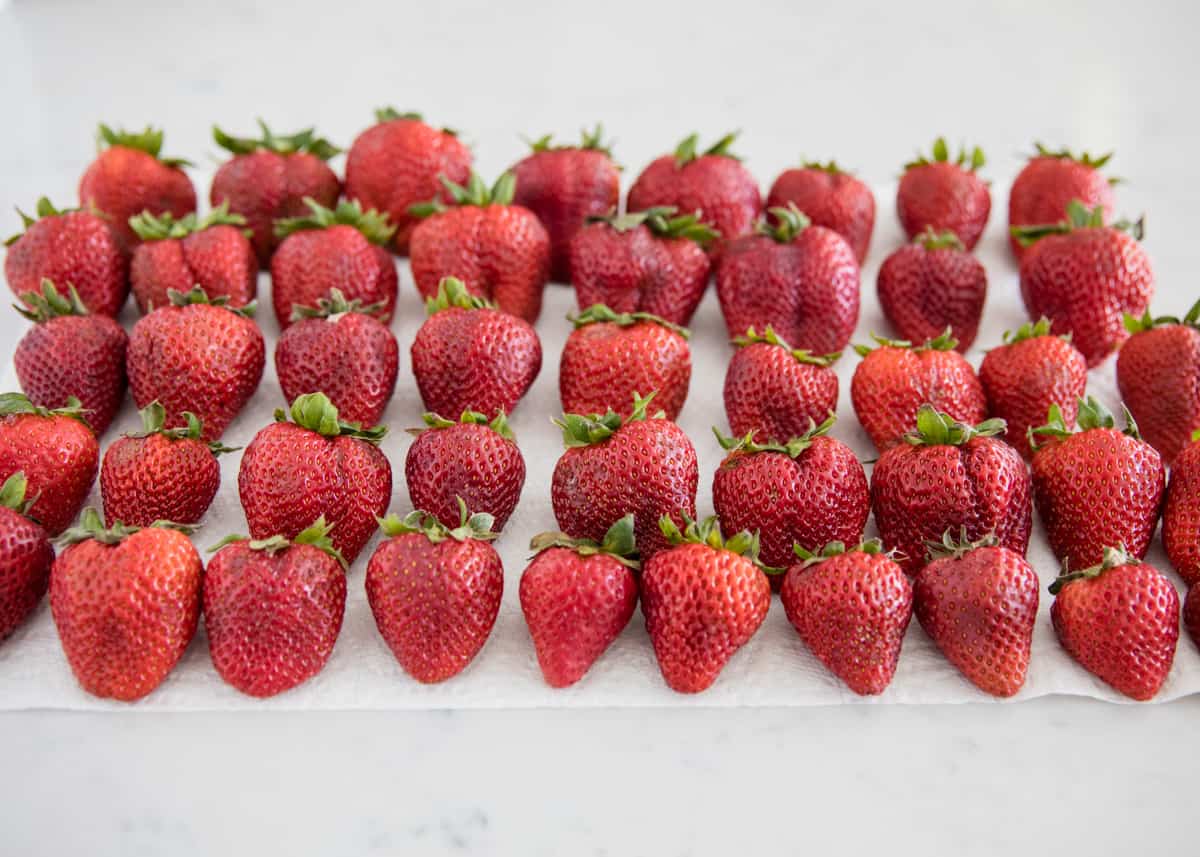 Find the full printable recipe with specific measurements below.
Fresh Strawberries: Wash and dry your strawberries before dipping them. They will need to be dry before adding the chocolate layer.
Chocolate: Good quality chocolate is best for melting. Try either milk, dark, or white chocolate for dipping.
White chocolate: This is a drizzle that you can add over top of the chocolate for a fancy appearance.
What is the Best Chocolate to Melt?
It's important that you use good-quality chocolate! It honestly makes all the difference. Below are a few of my favorites that I've used in the past. They each worked great and the dipped strawberries came out amazing!
Pound Plus Bars from Trader Joe's
Ghirardelli Bars
Ghirardelli Melting Wafers
Guittard
Tips for Melting Chocolate
I like to melt my chocolate in the microwave. It's not only easy but quick too! I've found that it's best to microwave at 50% power in 30-second intervals, stirring in between. Then when it's almost melted, you can take it out of the microwave and stir until it all melts through. This will prevent burning and give you that smooth and creamy texture that's perfect for dipping. You can also melt it in a double broiler if you have one.
How to Make Chocolate-Covered Strawberries
Chocolate-dipped strawberries are simple to make but so decadent and sweet! with a limited amount of ingredients, these strawberries will be covered and ready to share in less than 30 minutes. Leave the stems on and start dipping your strawberries into this delicious chocolate mixture.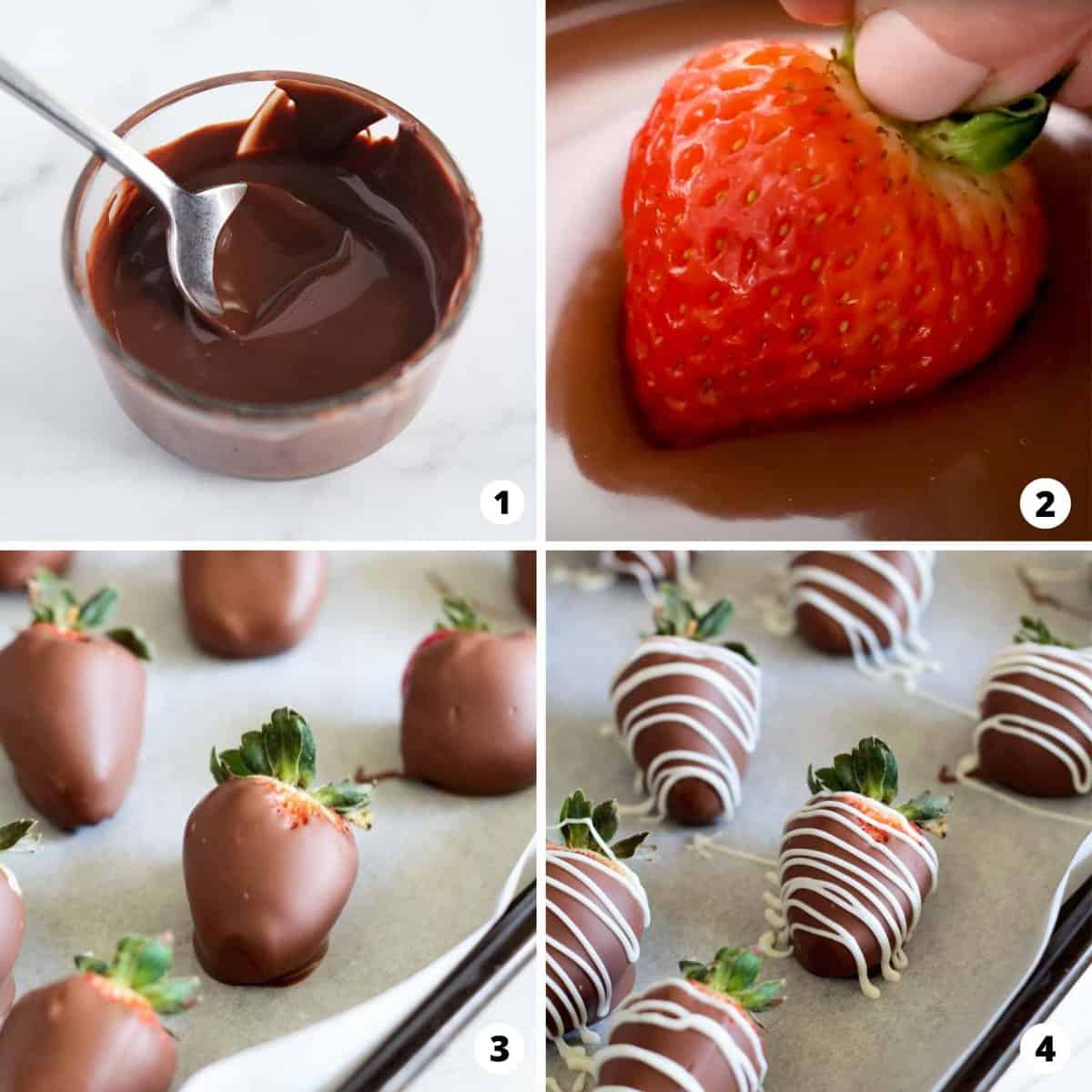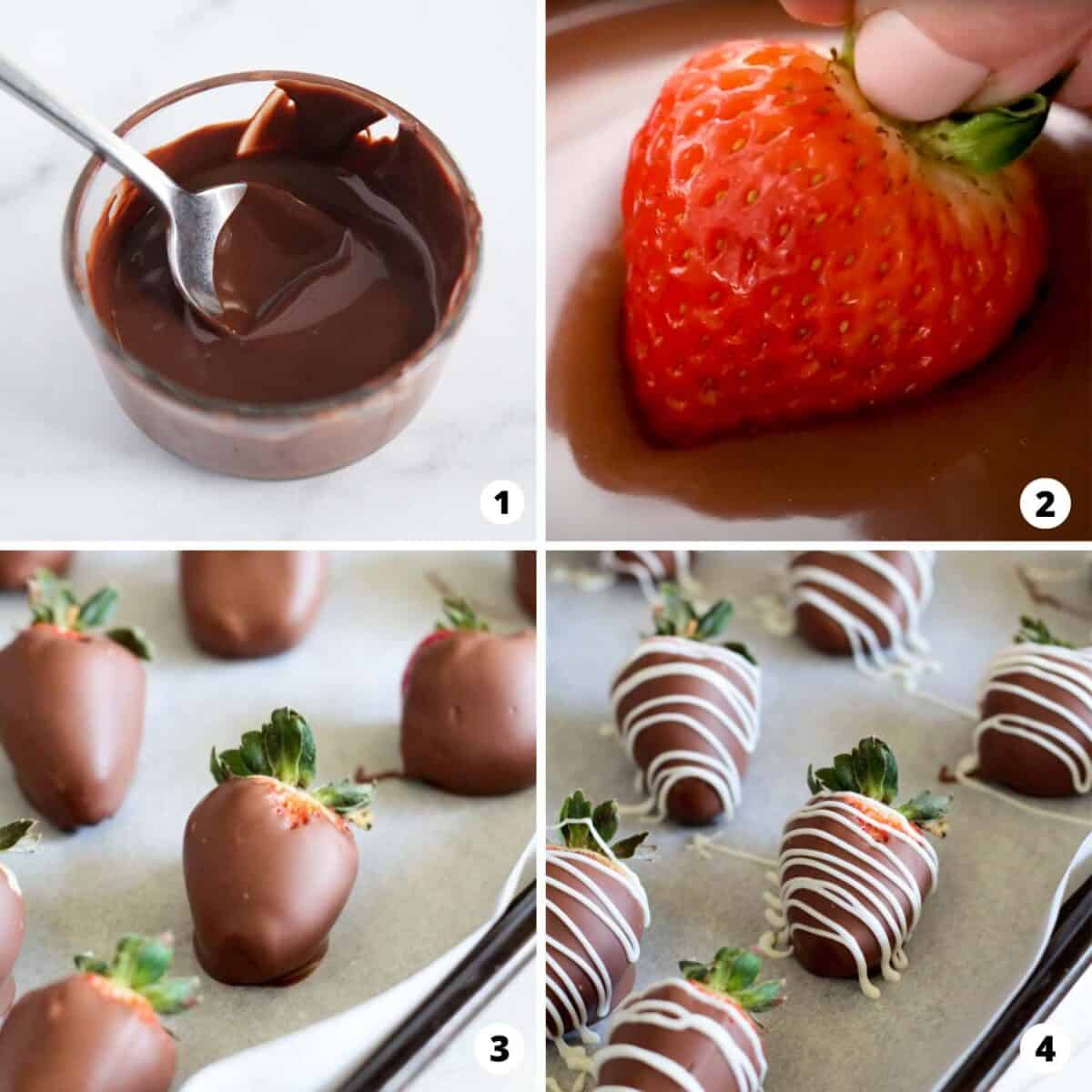 Melt. Place chocolate in a microwave-safe bowl and melt at 50% power in 30-second intervals (stirring in between). Once it has almost melted, remove it from the microwave and stir until smooth.
Dip. Dip each strawberry in chocolate, turning to coat all sides. Lift and let chocolate drip for a second, then place on a lined baking sheet. Refrigerate for 5-10 minutes, until hardened.
Decorate. To drizzle, melt the drizzling chocolate the same way you melted your dipping chocolate. Pour into a pastry bag (or ziptop bag) and cut a small piece off the tip. Remove strawberries from the fridge and drizzle back and forth over strawberries. To coat in chocolate chips or nuts, simply sprinkle with coating immediately after dipping in chocolate. It will harden fast, so be sure to move quickly! Then place on a baking sheet to dry.
Tips for the Perfect Chocolate Strawberries
I've learned a few tricks of the trade from making these strawberries and chocolate over the years! Picking the best strawberries, using good quality chocolate, and dipping just right will make these chocolate-covered strawberries perfect every time!
Firm strawberries. Use ripe, firm strawberries. If they start out a little mushy and soft, they're not going to turn out well. The strawberries will leak and the chocolate will most likely crack and break.
Let dry completely. Make sure your strawberries are completely 100% dry before you dip them. Even a small droplet of water will make the chocolate not stick.
Use good quality chocolate. I like to use the Pound Plus bars from Trader Joe's or Ghirardelli bars because I love the way they taste. I've used candy melts (the Ghirardelli brand is my favorite) successfully in the past as well. I usually use Ghirardelli melting wafers for the white chocolate drizzle.
Toothpick trick. After they've been dipped, place them on wax paper. You can draw a line around them with a toothpick (before the chocolate dries), so you have clean lines when they dry and you pull them up.
Practice. Don't stress about making them perfect! Like most skills, it may take a little practice to feel confident in dipping them, but I'm all for the rustic charm. The drizzle and coatings cover up a lot of mistakes, and they taste great either way!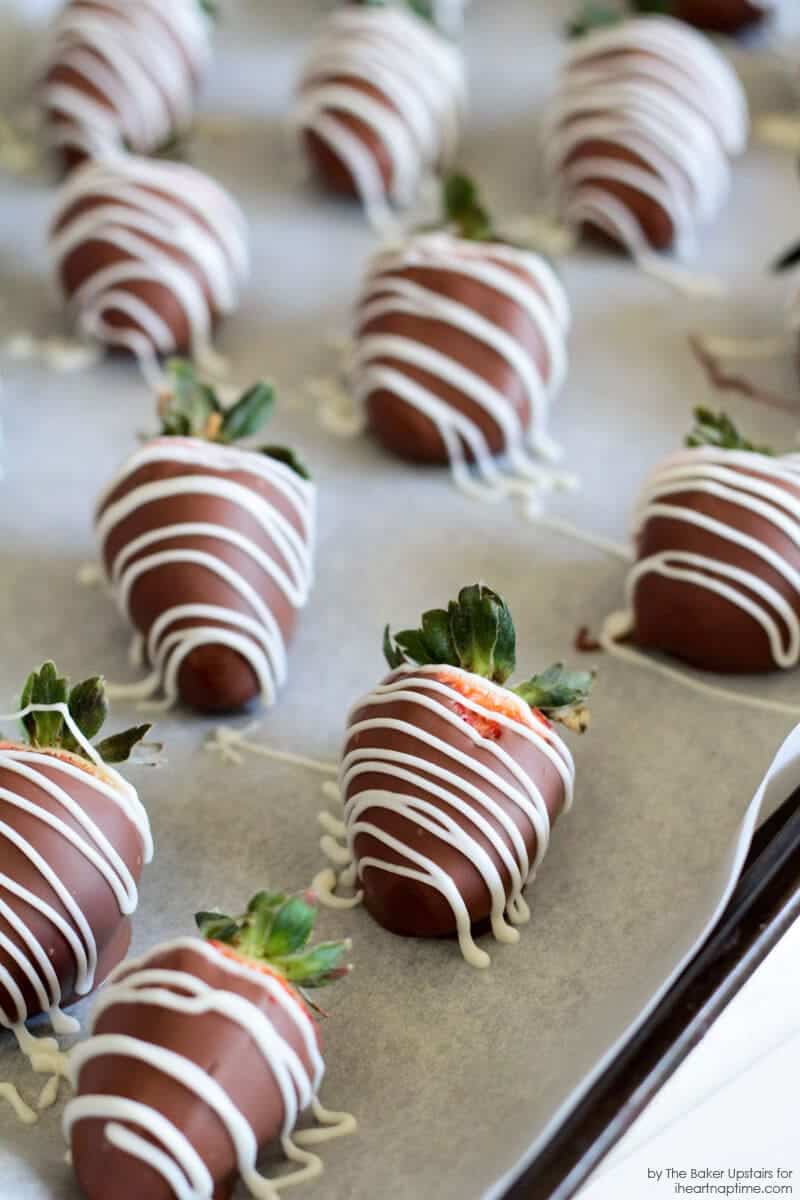 Decorations
There are so many fun decorations you can add. Stick with the classic drizzle of chocolate, or coat them in nuts or mini chips. They taste delicious no matter how you decorate them!
Dip strawberries in milk or dark chocolate and drizzle with white chocolate.
Dip strawberries in white chocolate and drizzle with dark chocolate.
Sprinkle mini chips on top.
Sprinkle crushed nuts on top.
Top with sprinkles.
TIP: If drizzling in chocolate, let the strawberries chill in the fridge for 5-10 minutes prior to adding the drizzle. It won't stick if the dipped strawberries are still wet. To add coatings like nuts or mini chips, immediately sprinkle while the strawberries are still wet. This will help the coating stick. Make sure to move fast…it hardens quickly!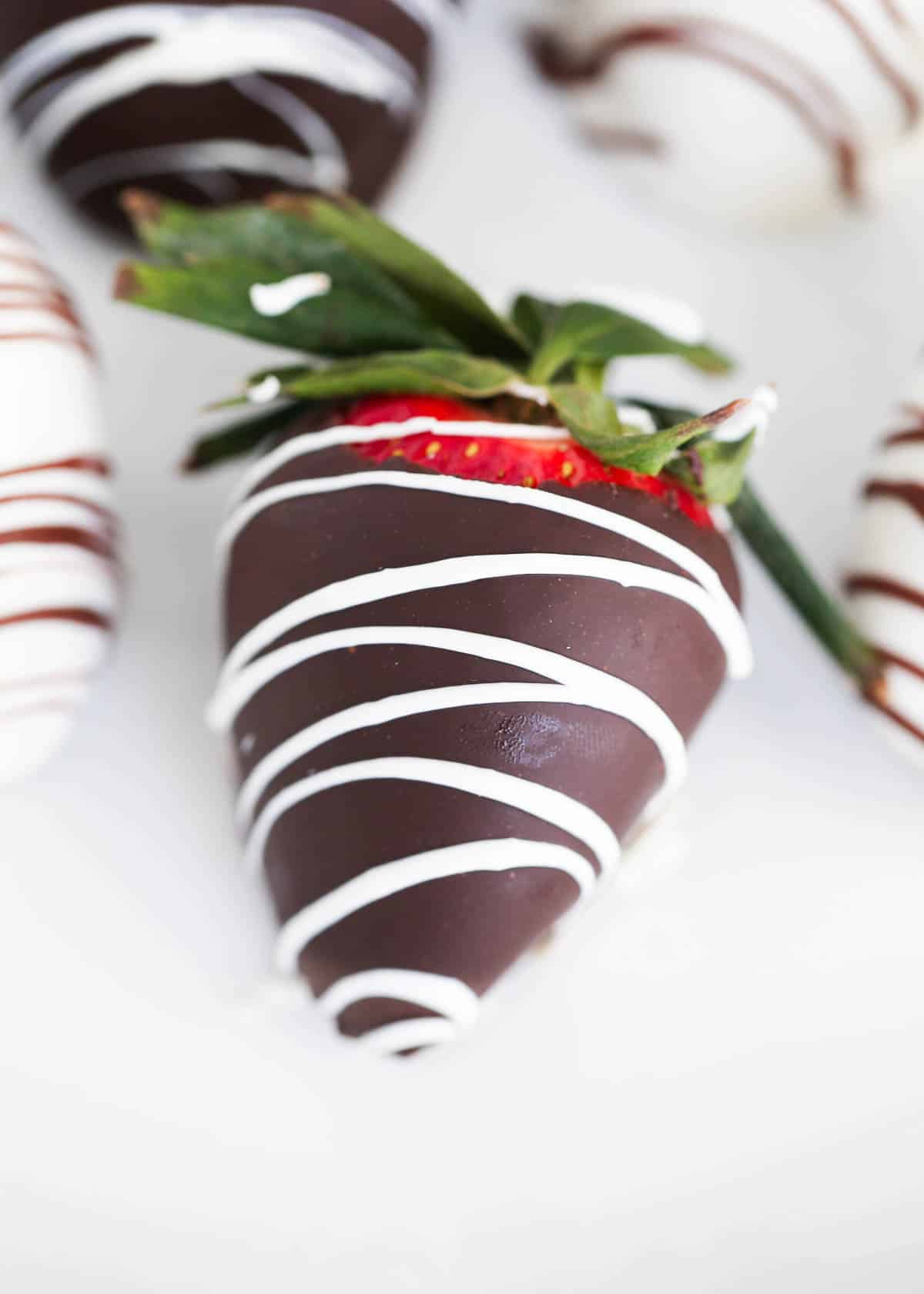 5 star review
"These are so pretty and perfect for Valentine's Day! They're always so much tastier homemade like this!"

-Jenn
Recipe FAQs
How do you get chocolate to stick to strawberries?
Before dipping, take the strawberries out of the refrigerator for about 15 to 30 minutes to reach room temperature. Wash them and gently pat them dry with a paper towel. They need to be very dry before dipping them.
Should strawberries be cold before dipping in chocolate?
You do not want your strawberries too cold. Room-temperature fresh strawberries are best.
What kind of chocolate will harden after melting?
Most types of chocolate chips don't contain enough cocoa butter to temper which leads them to harden once the chips dry outside of the heat.
Storage Instructions
To store, place in an airtight container and keep in the refrigerator. I like to place a paper towel at the bottom of my container and add them on top. This helps eliminate any extra condensation. They will keep in the fridge for 2-3 days.
More Valentine's Day Desserts
HUNGRY FOR MORE? Subscribe to my newsletter and follow on Facebook, Pinterest and Instagram for all the newest recipes!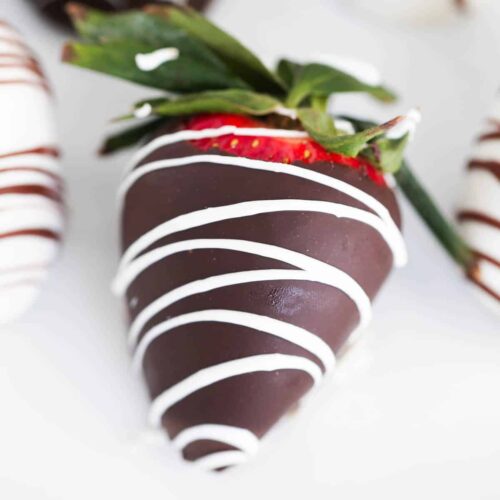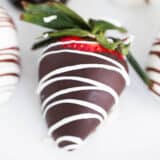 Chocolate Covered Strawberries
The perfect dessert for Valentine's Day! These chocolate covered strawberries are super easy to make and taste absolutely delicious.
Ingredients
24 medium strawberries , washed and dried very well
8 ounces good quality chocolate or melting wafers , chopped
4 ounces white chocolate or melting wafers , chopped
Optional toppings: Chopped nuts, mini chocolate chips
Instructions
Line a baking sheet or the counter with parchment or wax paper. Make sure your strawberries are completely dry before beginning (any water will ruin them).

Add the chocolate to a microwave safe bowl. Melt at 50% power for 30 second intervals, stirring in between. When chocolate is almost melted, remove from microwave and stir until until the chocolate is melted and smooth.

Dip each strawberry into the chocolate, turning to coat all sides. Lift and let the chocolate drip for a moment, then place on the prepared baking sheet. Complete with remaining strawberries. Refrigerate 5-10 minutes, or until the chocolate has hardened.

While the chocolate is hardening, melt the white chocolate according to the same directions as the milk chocolate. Pour the melted white chocolate into a pastry bag (or a ziptop bag) and cut a small piece off the tip of the bag. Drizzle back and forth over the strawberries.

Refrigerate until firm. Store strawberries in the refrigerator.
---
Notes
Tip: Wash your strawberries the day before so they have time to completely dry.
Variations:
Dip in white chocolate with dark chocolate drizzle.
Sprinkle crushed nuts on top of milk or dark chocolate.
Sprinkle mini chocolate chips or sprinkles on top.
Nutrition
Calories: 77kcal | Carbohydrates: 9g | Fat: 4g | Saturated Fat: 2g | Sodium: 5mg | Potassium: 59mg | Sugar: 8g | Vitamin C: 7.1mg | Calcium: 14mg | Iron: 0.3mg
Nutrition provided is an estimate. It will vary based on specific ingredients used.
Did you make this recipe? Don't forget to give it a star rating below!