This strawberry lasagna is a deliciously layered dessert where cheesecake meets strawberry jello in one perfect bite. With layers of an Oreo crust, fresh strawberries, and whipped topping, this refreshing and light dessert is always a hit!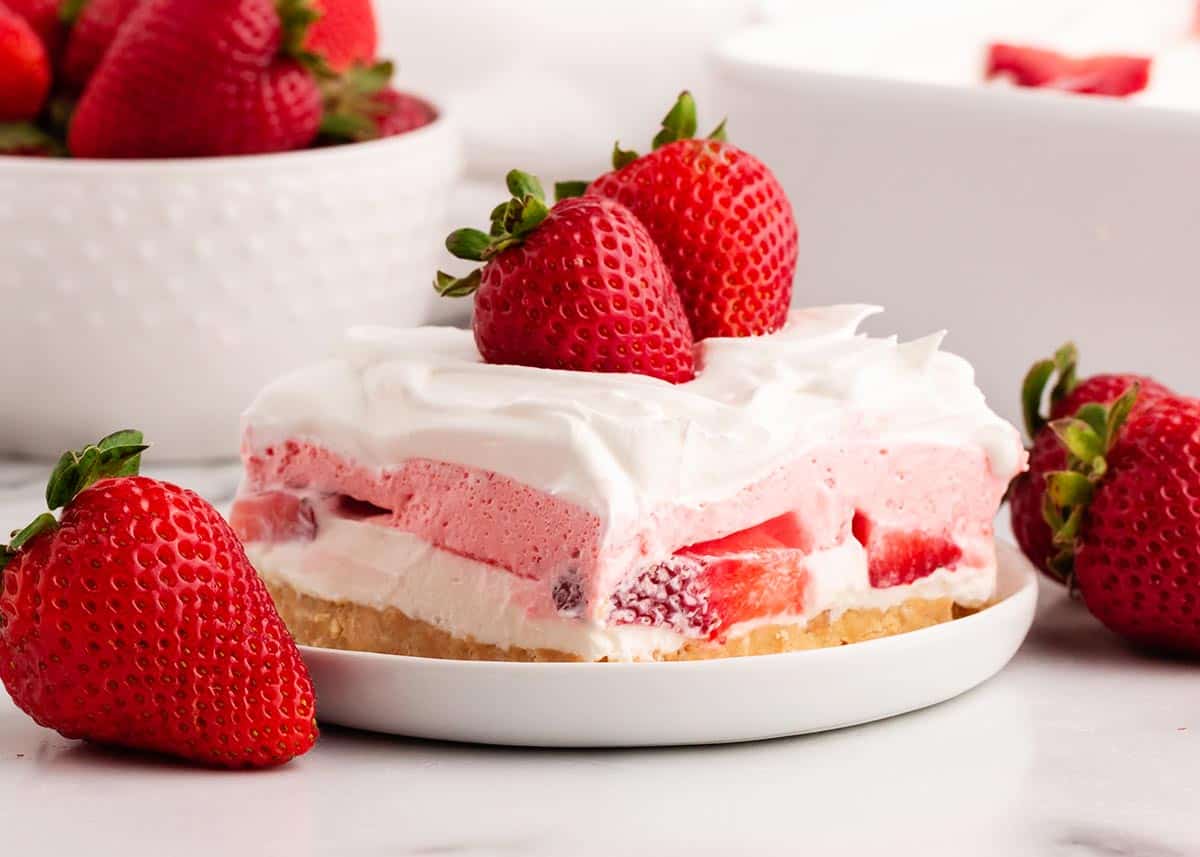 Easy No-Bake Summer Dessert
This strawberry cheesecake lasagna is the summertime version of chocolate lasagna. This is the perfect refreshing treat that has layers upon layers of deliciously sweet strawberries, creamy sweet cheesecake, strawberry gelatin, and a cool whip or whipped cream topping with sliced fresh berries all sitting on a buttery Oreo crust.
What I love about this no-bake dessert is that, much like an actual lasagna, the layers ensure you get a bit of everything in every bite and each layer is as mouthwatering as the next! It's where strawberries and cream meet a cheesecake meet a decadent fruit dessert, but it's chilled and served nice and cold!
This is one of my favorite strawberry dessert recipes and just like my strawberry ice cream recipe it's always a hit at BBQs, picnics, Fourth of July gatherings, and Mother's Day. You can bet it would be a hit on a regular Wednesday too!
Ingredients for Strawberry Lasagna
No-bake strawberry cheesecake lasagna is an easy dessert that can be made ahead of time and kept in the fridge until you're ready to serve. People hover over the dessert table as soon as it makes an appearance.
Find the full printable recipe with specific measurements below.
Oreos: These are the golden Oreos that are crushed and turned into a fine crumb using a blender or food processor.
Butter: Melt the butter in the microwave.
Cream cheese: Soften the cream cheese ahead of time. This makes a thick and sweet cream cheese mixture.
Powdered sugar: This will help thicken and add an easy sweetness stirred into the mixer.
Cool Whip: Thaw the Cool Whip tubs ahead of time. You will be using them in two different places throughout the recipe. One for each layer.
Milk: Make sure that your milk is cold and straight out of the refrigerator.
Strawberry gelatin: Jello brand strawberry flavored gelatin is an easy mix in with all the strawberry flavor.
Water: You will need both boiling water and cold water separately.
Strawberries: Fresh, cut, and sliced strawberries that are washed. These will be the top decoration of the dessert as well as added in the middle of the layers.
The Magic is in the Layers
A no-bake strawberry lasagna has a few moving parts. Everything is super simple but taking things one step at a time is important. It is a quick and simple dessert everyone loves!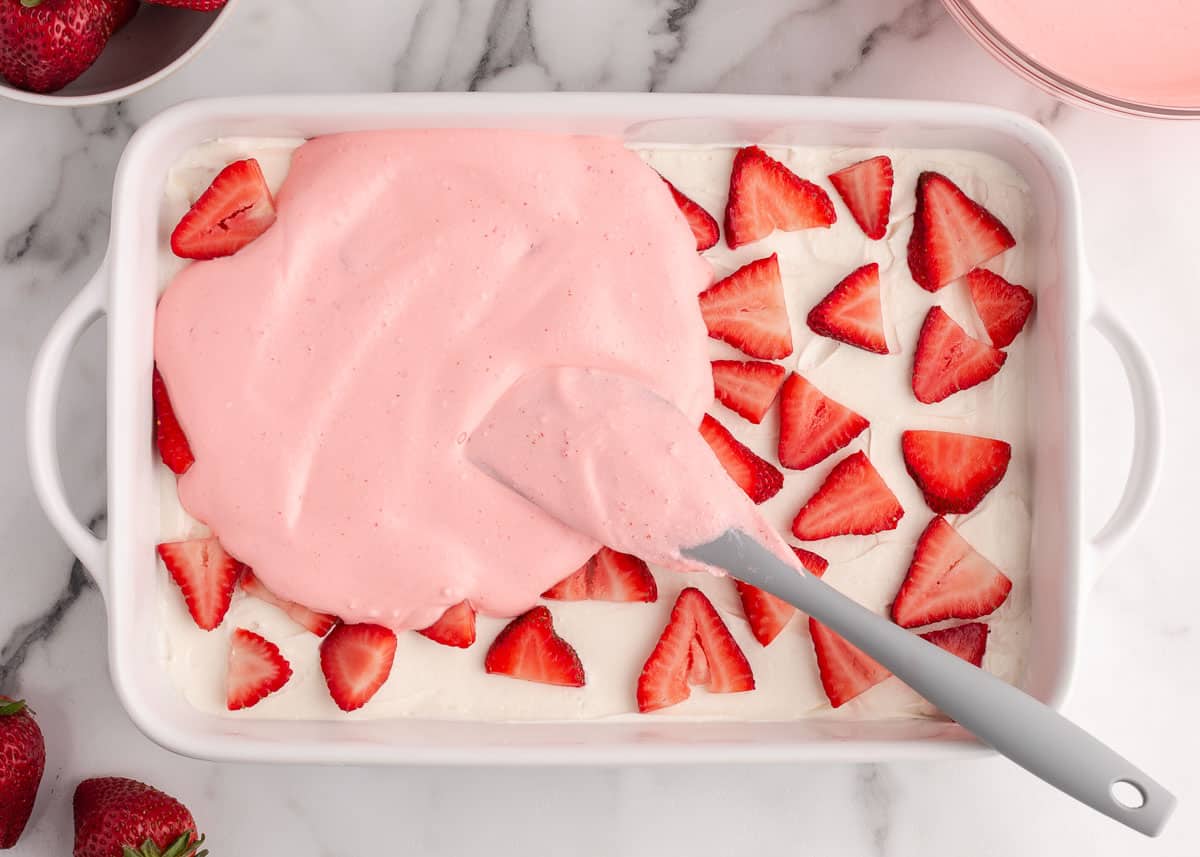 Oreo crust layer: Golden Oreo cookies base is made of a combination of melted butter and crushed Oreo. Pressed down into the pan and chilled to set. It is the foundation that holds up all of the rest of the dessert lasagna.
Cheesecake layer: Whipped cream, powdered sugar, and Cool Whip for a nice fluffy cheesecake layer, topped with sliced fresh juicy strawberries.
Strawberry gelatin layer: A gelatin mixture layer made with a combination of strawberry jello pudding mix and cool whip, which gets whipped into almost a mousse-like consistency. Other than the sliced strawberries, this is where you'll get most of the strawberry flavor and sweetness.
Whipped topping layer: A delicious and refreshing finishing top layer of either cool whip or whipped cream (homemade whipped cream is AMAZING if you can!) and then topped with some more delicious strawberries. The top layer is a light balance to the cheesecake and gelatin layer which have a heavier consistency.
Tips for Making this Strawberry Lasagna Recipe
Take your strawberry lasagna to the next level with these tips and ideas. Take the time to make each layer perfectly. Layer and chill each time. It is the best combination!
Bind crust. Keep the Oreo cream in the center as it helps bind the crust. You want them crushed pretty delicate, so I recommend using a blender or food processor.
There is a chill time between every layer. The longest being at the end, you want to chill it for a few hours before serving to make sure all the layers have set.
Add the top layers of strawberries just before serving. Otherwise, you might find they sink into the whipped topping and get lost while spending time in the fridge.
Best to enjoy while the dessert is still cool. Don't let the lasagna sit out too long otherwise, it might start to get soft. Keep it in the fridge for as long as possible before serving.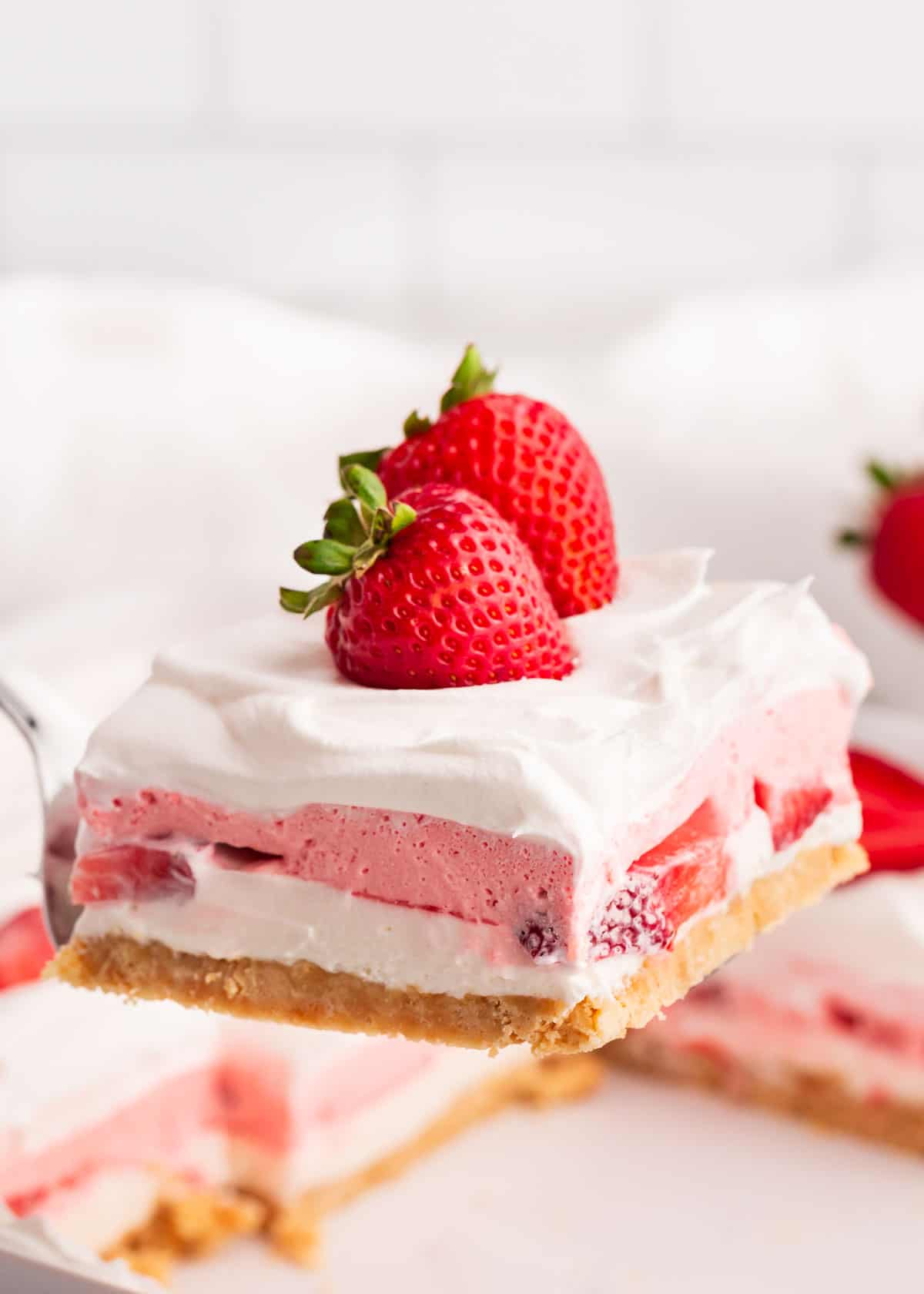 Variations
Make your strawberry lasagna just the way you like it! Make homemade ingredients or store-bought, use different cookies, and make it fancy. So many options for this layer of deliciousness!
Graham crackers. Try other crushed crackers for a graham cracker crust layer instead of Oreos.
Topping ideas. Add some crushed golden Oreos for the topping instead of fresh strawberries, or perhaps a bit of both. You could even mix freeze-dried strawberries with the golden Oreos.
Homemade. Make a homemade cool whip or whipped cream rather than a store-bought.
Cool Whip helps. Using Cool Whip for the first two layers helps make them thicker and sturdier. Save the whipped cream for the top!
Make it fancy! Get a little fancy and add some white chocolate shavings to the top.
Recipe FAQs
Do I make the Jello according to the box instructions?
No, you will not make the strawberry jello according to the box directions. The recipe has boiling water and cold water to mix together the perfect jello mixture for this strawberry dessert.
What does softened cream cheese mean?
You will want your cream cheese softened to the touch. Leave the cream cheese in the package on the counter to soften close to room temperature. This will allow the cream cheese to mix quicker and easier in the mixing bowl.
Can you freeze strawberry lasagna?
Yes! This strawberry lasagna dessert freezes really well. Simply, place the dessert in an airtight container or wrap it with plastic wrap two to three times and place it in the freezer for one month. When ready to serve, let thaw in the refrigerator or serve extra cold from the freezer.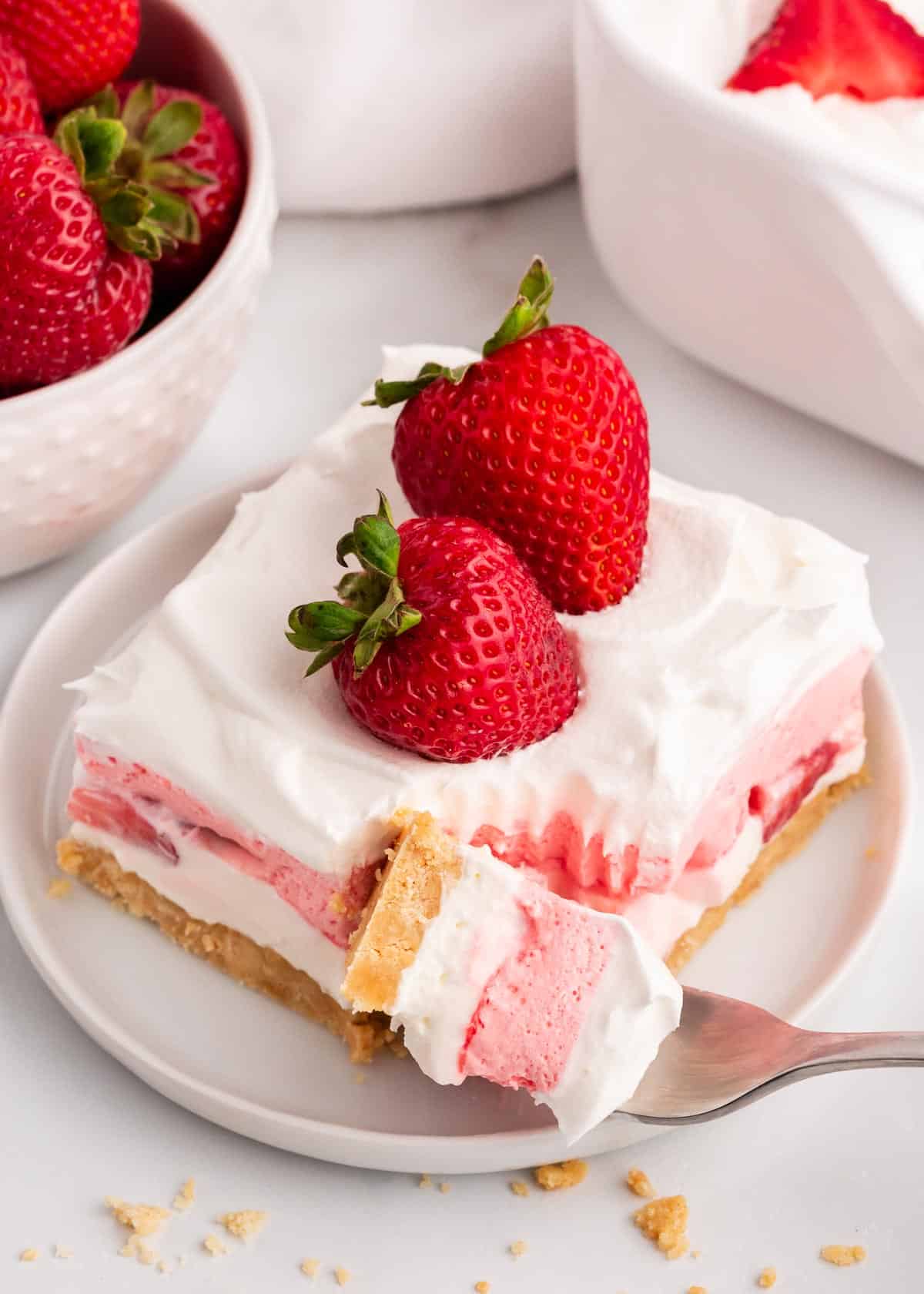 5 star review
"Made this for a birthday party and it was a hit! It tastes like those strawberry shortcake bars from the ice cream truck I always got as a kid! Thanks for the recipe!"

-Lacey
Make it Ahead
This no-bake strawberry lasagna dessert can be made up to 24 hours in advance. This means, once assembled it can stay in the fridge for up to a day before serving it. Keep in mind, anything longer than that and the crust may start to get soggy.
If you are looking for a way to get even further ahead, you can prep the crust ahead of time, up to 48 hours ahead, and keep the rest of the layers separate. Then, assemble when you're ready to chill and serve.
More Easy No-Bake Desserts
HUNGRY FOR MORE? Subscribe to my newsletter and follow on Facebook, Pinterest and Instagram for all the newest recipes!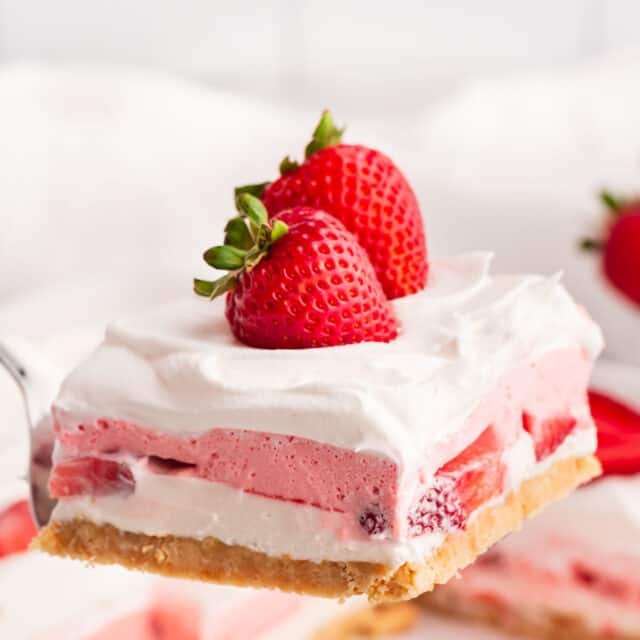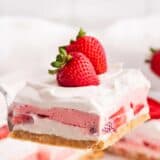 Strawberry Lasagna
This strawberry lasagna is a deliciously layered dessert where cheesecake meets strawberry jello in one perfect bite. With layers of an Oreo crust, fresh strawberries, and whipped topping, this refreshing and light dessert is always a hit!
Ingredients
Crust
36 golden Oreo's
6 Tablespoons butter , melted
First layer
8 ounces cream cheese , softened
1 cup powdered sugar
8 ounces cool whip , thawed
1 to 2 Tablespoons cold milk , if needed
2nd layer:
3 ounces strawberry flavored gelatin , 1 box of Jello
½ cup boiling water
½ cup cold water
8 ounces cool whip , thawed
Topping:
8 ounces fresh whipped cream , or cool whip
16 ounces fresh strawberries , sliced (more for top if desired)
Instructions
Crush Oreo's in a food processor or in a zip top bag with a rolling pin. Add melted butter and mix until combined. Press mixture into the bottom of a 9×13" dish and place in the freezer or refrigerator for 5 minutes.

In a medium-sized bowl, whip the cream cheese until fluffy. Add in powdered sugar. Mix until combined. Then add in 8 ounces of cool whip. Add in milk if needed to thin. Then spread the mixture lightly over the crust. Layer sliced strawberries on top. Place in the freezer or refrigerator for another 5 to 10 minutes.

In a separate bowl, combine the gelatin and hot water. Whisk together until the sugar is dissolved. Then add the cold water. Allow to slightly cool on the counter for 5 to 10 minutes (don't let it set). Then whisk in 8 ounces of cool whip.

Spread over the top of the cream cheese layer. Place back in the freezer or refrigerator for 20 minutes to allow jello to set.

Spread remaining cool whip or whipped cream (I prefer homemade whipped cream if I have the time for this layer) on top. Place in the fridge for 2 to 3 hours before serving.

Remove from the refrigerator just before serving. Add fresh strawberries just before serving. Slice and enjoy while cool.
---
Notes
Oreos: Keep the cream in the center. You want to crush them pretty fine, so I find using a blender or food processor is easiest.
Topping:
You could also add crushed golden oreos for the topping. Instead of fresh strawberries, you could even mix in freeze dried strawberries with the golden oreos.
Cool whip: If you prefer a homemade cool whip, it is fairly easy to make. https://www.iheartnaptime.net/how-to-make-cool-whip/. You could also make homemade whipped cream for the top layer. I prefer to use cool whip for the first two layers though because it makes the layers thicker.
Make ahead: This dessert can easily be made 24 hours in advanced. The crust will get softer the longer the pudding sits, so I don't like to prep it more than 48 hours in advance. You can also make the crust and then keep the layers in separate bowls until ready to assemble.
Nutrition
Calories: 226kcal | Carbohydrates: 30g | Protein: 3g | Fat: 11g | Saturated Fat: 5g | Trans Fat: 1g | Cholesterol: 23mg | Sodium: 156mg | Potassium: 91mg | Fiber: 1g | Sugar: 21g | Vitamin A: 267IU | Vitamin C: 11mg | Calcium: 50mg | Iron: 1mg
Nutrition provided is an estimate. It will vary based on specific ingredients used.
Did you make this recipe? Don't forget to give it a star rating below!