Pizza Caprese is made with a crispy golden crust topped with basil pesto, gooey mozzarella, zesty tomatoes, and fresh basil leaves. One bite is enough to transport you to an Italian pizzeria!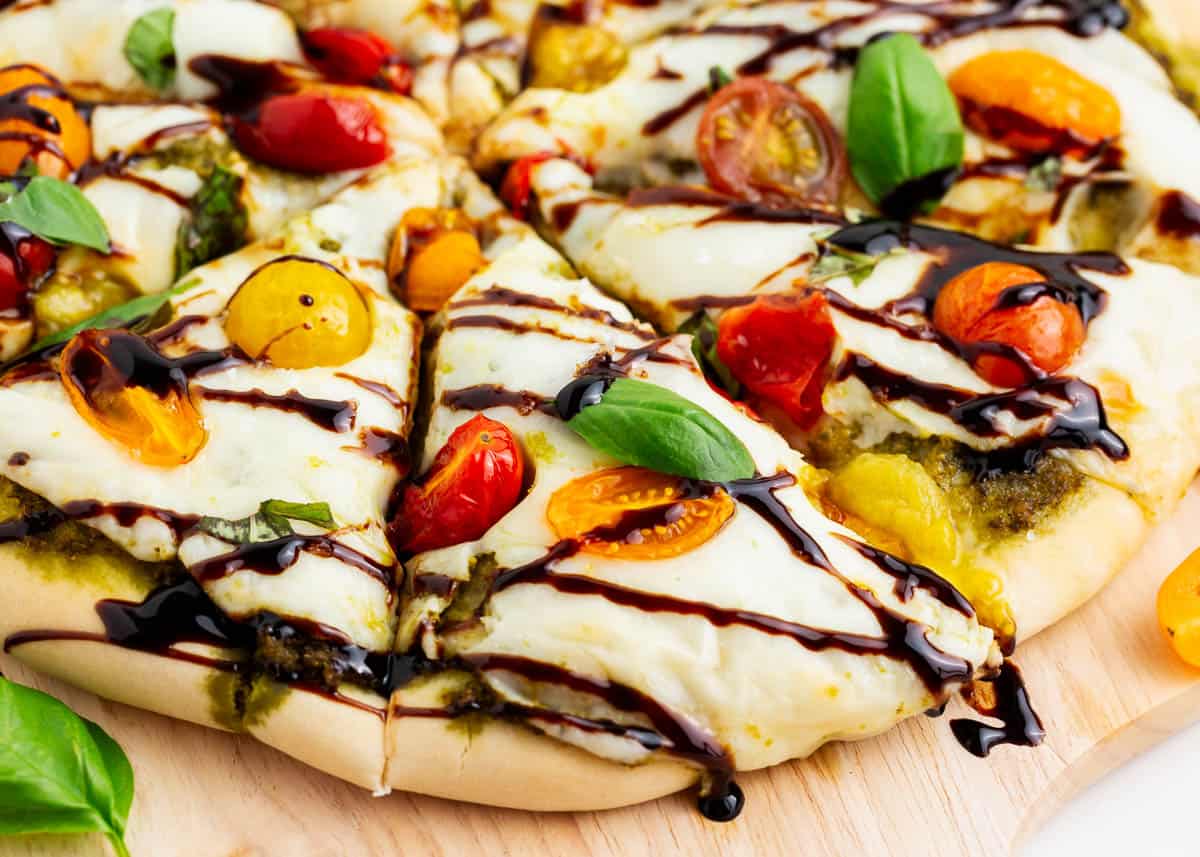 Easy Pizza Caprese
If you love the flavors of Caprese salad, you're going to love pizza Caprese just as much! Who am I kidding, it's pizza, you may love it even more!
We're taking the combination of simple ingredients like juicy tomatoes, fresh basil, fresh mozzarella, and delicious basil pesto then finishing it with a balsamic glaze. Once baked, golden, and cheesy it is hands down the best pizza ready to serve in under 30 minutes!
One of the reasons we all love Italian food is the high-quality fresh ingredients that deliver so much flavor. There's nothing complicated about it, and whether you use easy homemade pizza dough or store-bought dough, it's still so easy to make!
I use a pizza stone, which adds a little something special to the crust. If you don't have one, that's completely fine, some parchment paper or a baking sheet will do the trick!
Why We Love Pizza Caprese
Classic flavors. There's something unbeatable about tomato and mozzarella. Adding in a pop of fresh herbaceous basil just adds another fantastic element.
Versatile. Enjoy it as a quick light lunch, a dinner with your favorite sides, or cut into smaller slices for an appetizer.
Easy and impressive. There's nothing to it! Spread toppings on your dough and bake. What comes out on the other side is something outstanding that everyone will love!
Eat what you grow! If you grow your tomatoes or basil use it in this recipe. You'll taste the difference the quality of fresh ingredients makes when you make it from scratch.
Caprese Pizza vs Margherita Pizza
Both pizza Caprese and pizza Margherita use very similar ingredients. I'm going to let you in on a little secret though, true authentic Caprese pizza uses unbaked ingredients on a baked crust! Margherita pizza is baked.
So, if you were to ask an Italian, they might tell you this recipe is actually Margherita pizza. However, in America, we bake both of them and the balsamic glaze finish on the Caprese pizza is what sets it apart!
In a nutshell, they're both very similar, and you're basically getting a 2 for 1 recipe ;)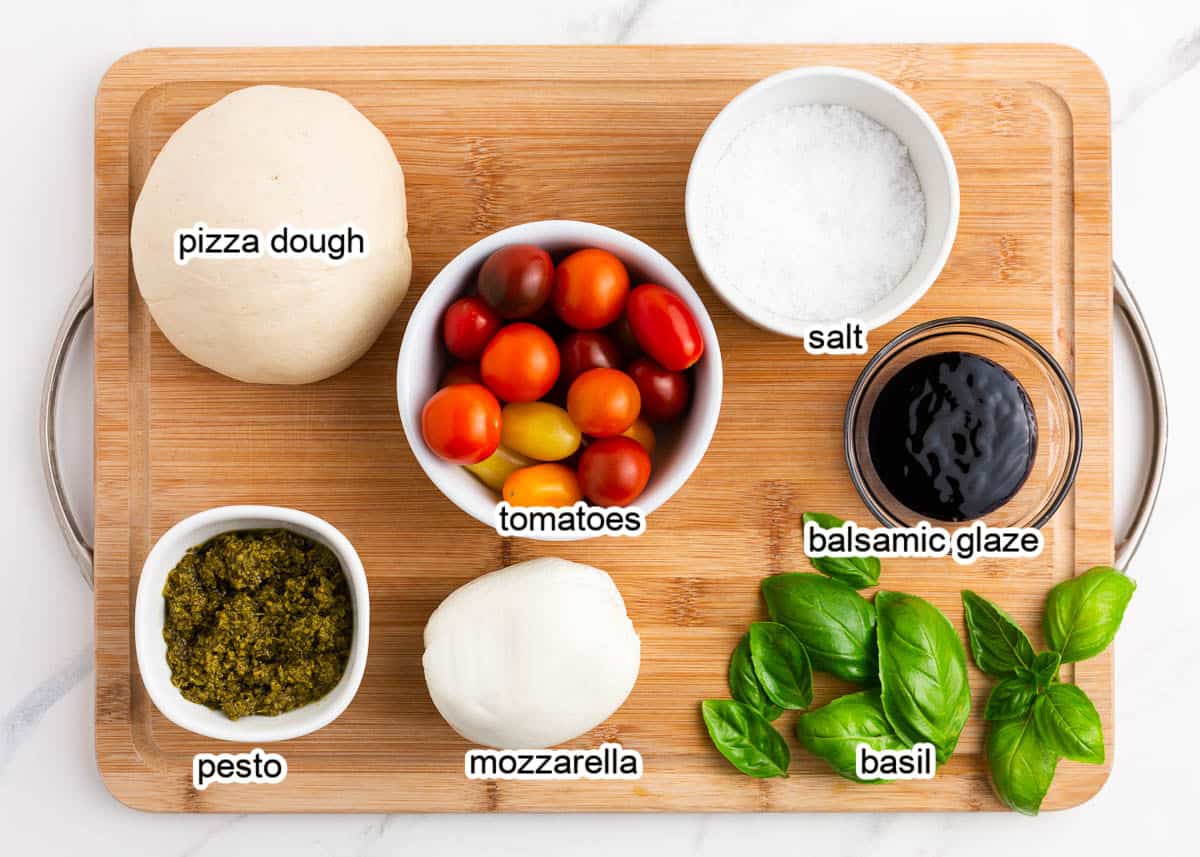 Ingredients Needed
Dough: Using homemade pizza dough is just one extra step you can take to make this completely from scratch. If you're in a pinch or you'd just rather buy it, I recommend Trader Joe's or Whole Foods ready-made dough. Bring it to room temperature beforehand.
Pesto: Store-bought or homemade basil pesto it's up to you. If buying it, I love Kirkland's brand. Pesto is a sauce made from raw ingredients and is never cooked. It's made from fresh basil leaves, pine nuts, Parmesan cheese, garlic, and oil.
Mozzarella: Fresh mozzarella cheese is the way to go. It's soft, melts way nicer, and can be found preserved in a brine.
Cherry tomatoes: Sliced in half, these are very juicy and flavorful. So good! If you grow your own, now's the time to show them off! Heirloom tomatoes, grape tomatoes, and Roma tomatoes are also great choices.
Fresh basil: Basil leaves will be added on top last, for garnish and added deliciousness. Make sure you wash them and dry them.
Balsamic glaze: Making a balsamic glaze from scratch is super easy using just balsamic vinegar and honey. However, Trader Joe's makes a good one too!
Flaked sea salt: A simple seasoning is all this tasty Caprese pizza recipe needs. Some people enjoy adding a little black pepper as well, so feel free!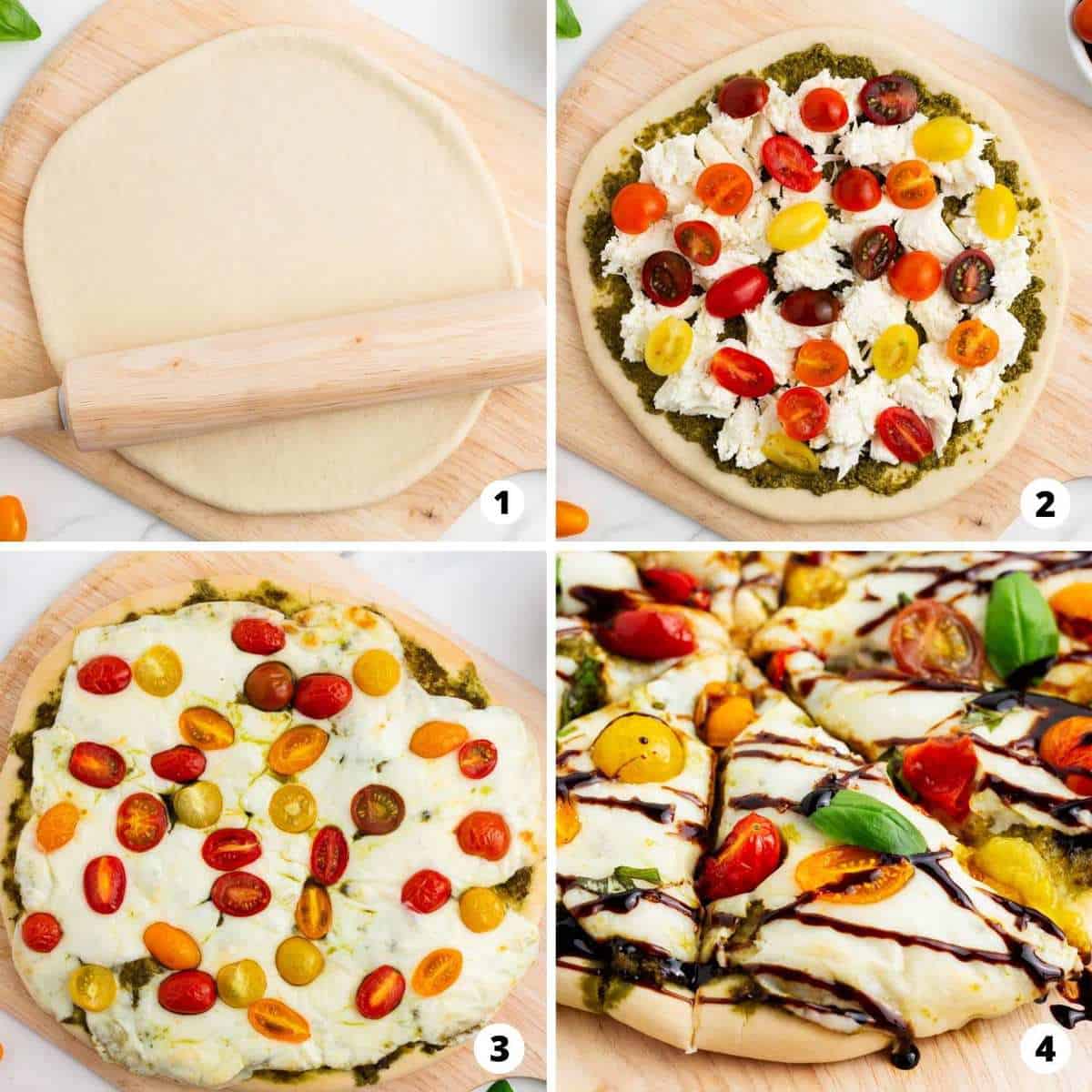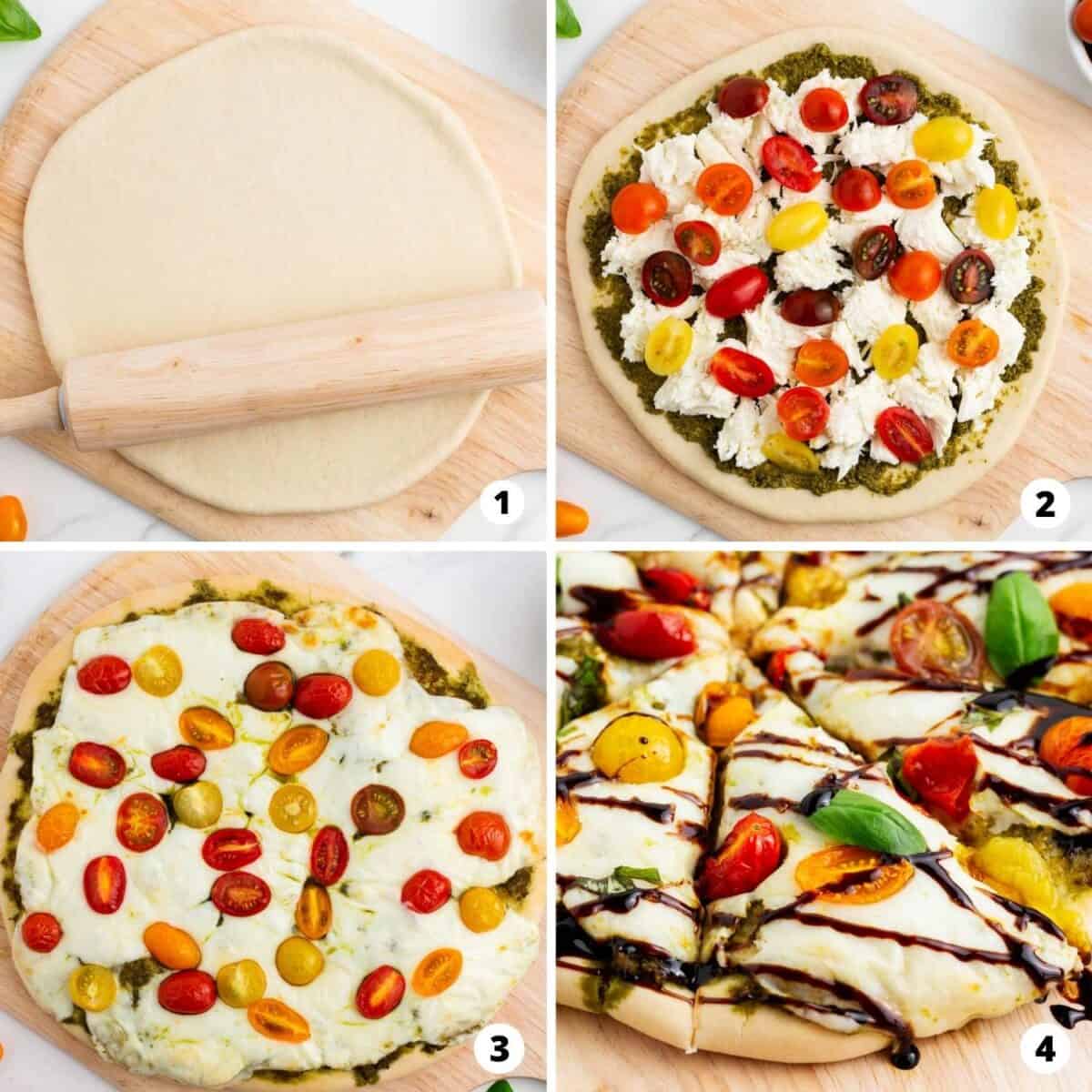 How to Make Pizza Caprese
Roll out the dough. A pound of dough will make a pizza about 12 inches in diameter and 1/4 inch thick. Roll it out on a flat clean surface and then transfer it to a pizza wheel, if you have one, or place it on a parchment paper, a pizza pan, or a baking sheet.
Add toppings. The first layer is a basil pesto which replaces a traditional tomato sauce. Spread it out over the dough leaving a bit around the edge of the crust. Tear pieces of mozzarella and place them evenly over top. They will melt beautifully so no need to worry about that! Follow that by topping everything with sliced tomatoes.
Bake. If you're lucky enough to have a pizza stone, carefully transfer it to the stone from the wheel. If not, place the pizza on the parchment paper or baking sheet in the preheated oven. Bake for 12-15 minutes until the crust is golden brown and the center is cooked through.
Cool, slice, and serve. Once it has a chance to cool slightly, tear fresh basil and sprinkle it over the top. Drizzle with the balsamic glaze and add a little bit of flaked salt overtop. Slice it into 6 or 8 pieces and enjoy!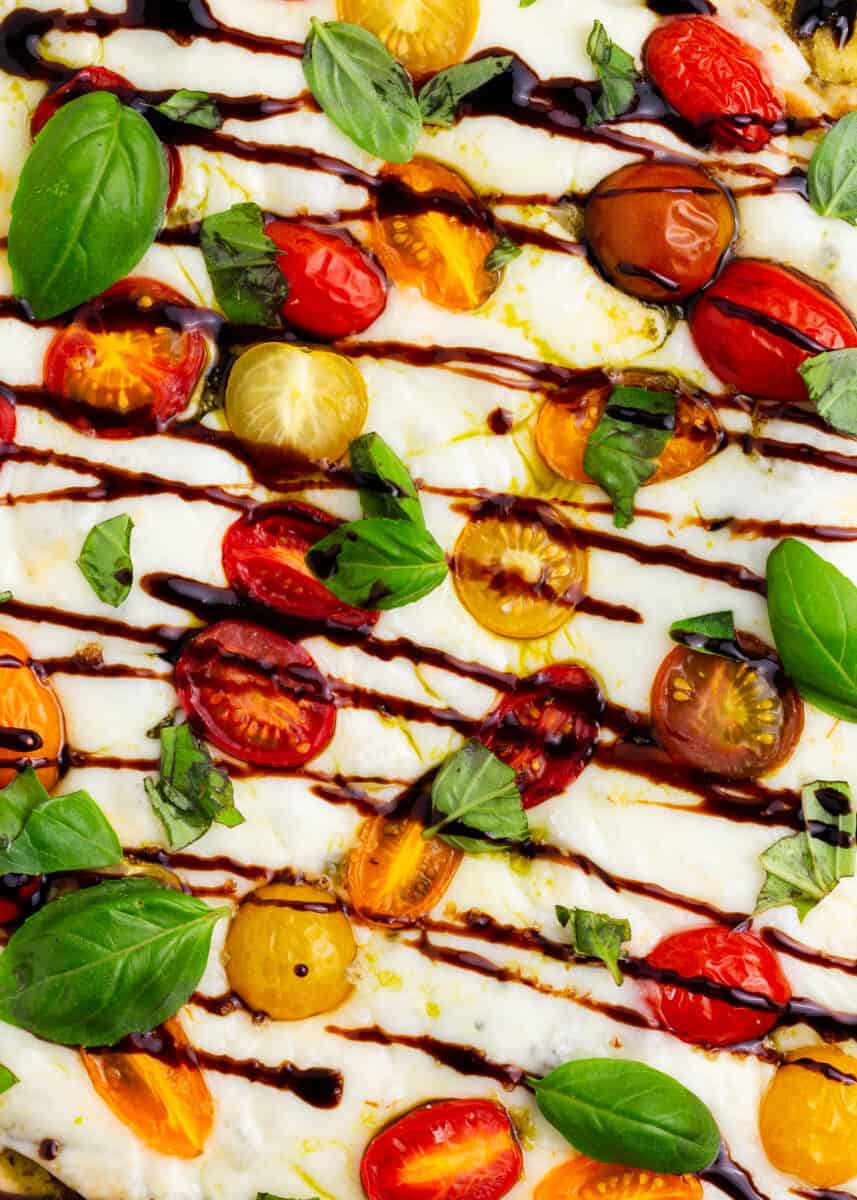 Variations
The word Caprese has no direct translation. It means a combination of tomatoes mozzarella, and basil, a salad originating from the island of Capri.
In reality, you could use this combination in so many ways! Here are just a few of the ways we like to switch things up.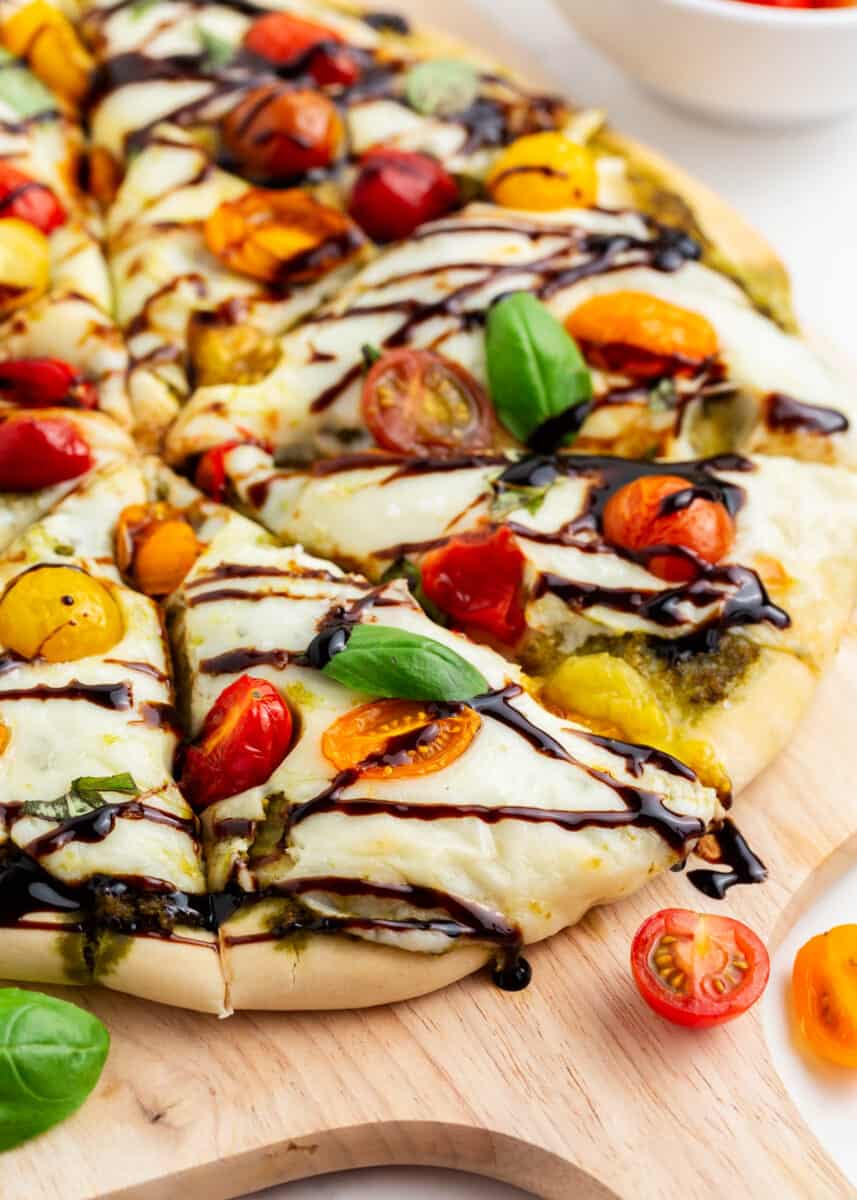 FAQs
How do I store leftovers?

Unlike your everyday pizza, pizza Caprese doesn't keep well. It tends to get quite soggy, so it's best eaten the same day. If you do have leftover pizza, store it in an airtight container in the fridge for no more than a day.

Pizza for breakfast? I think so!
Is pizza Caprese healthy?

What's healthy for one isn't necessarily healthy for another. However, this homemade wholesome recipe is full of fiber, protein, calcium, vitamins, minerals, and antioxidants. Although the crust is high in carbohydrates, there are ways of switching up the crust to make it suitable for your dietary needs.
Can I add meat to the pizza Caprese?

Absolutely! You can add whatever you want to your pizza Caprese! Grilled chicken, Prosciutto, bacon, or ham can all be used to add extra protein to the otherwise vegetarian pizza Caprese.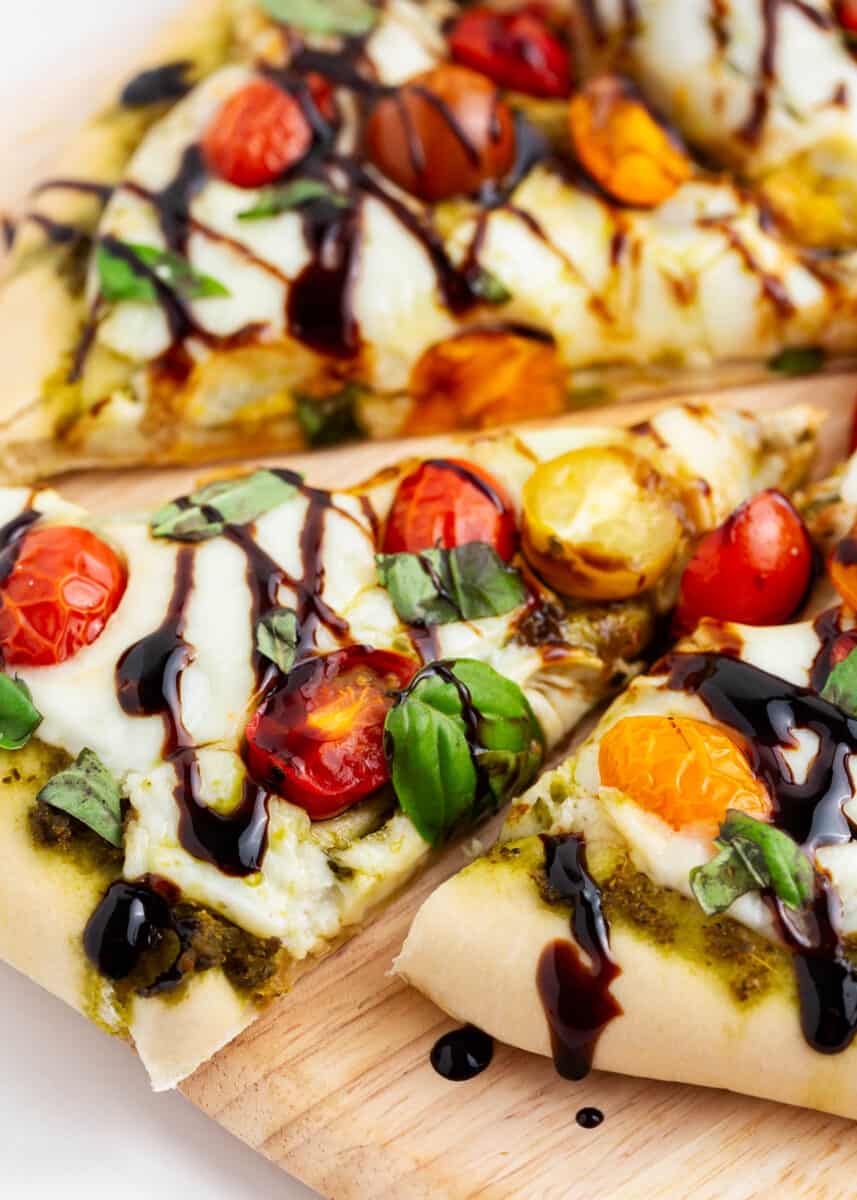 Enjoy one of these other easy and delicious recipes for pizza night!
HUNGRY FOR MORE? Subscribe to my newsletter and follow on Facebook, Pinterest and Instagram for all the newest recipes!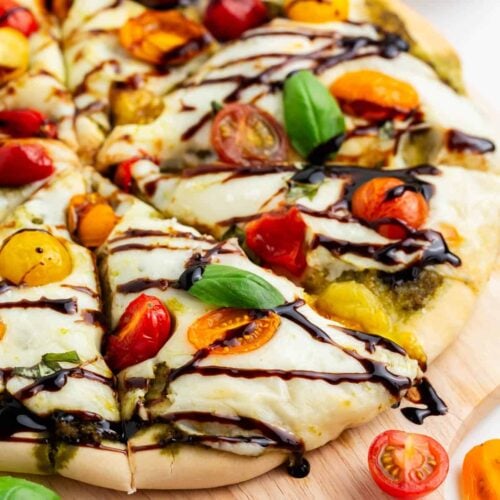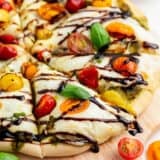 Pizza Caprese
Pizza Caprese is made with a crispy golden crust topped with basil pesto, gooey mozzarella, zesty tomatoes, and fresh basil leaves. One bite is enough to transport you to an Italian pizzeria!
Ingredients
1 pound pizza dough
¼ cup pesto , plus more if desired
6-8 ounces mozzarella cheese
1 cup cherry tomatoes , sliced in half
Handful fresh basil
Flake sea salt
Instructions
Preheat the oven to 450°F. If you have a pizza stone, you can place it in the oven while it preheats.

Roll out the dough to about 12 inches and 1/4-inch thick. If using a pizza peel to transfer, place it directly on the pizza peel. If not, place the dough on a piece of parchment paper or a baking sheet.

Spread the pesto over the dough. Tear the mozzarella and place evenly over top. Add the sliced tomatoes.

When the oven is preheated, use a pizza peel to transfer it onto the pizza stone or carefully transfer the parchment paper to the stone. Bake 12 to 15 minutes, or until crust is golden brown and the center is cooked through. Let cool slightly.

Tear fresh basil over the top of the pizza. Drizzle with balsamic glaze and sprinkle with salt. Slice into 6 to 8 slices. Serve warm.
---
Notes
Dough: When making it homemade, I love this pizza dough recipe. To make this recipe easier, you can use a store-bought pizza dough (I prefer Trader Joe's or Whole Foods). Make sure to let it come to room temperature if using store-bought dough.
Pesto: You can buy store-bought (I prefer the Kirkland's brand) or make a basil pesto.
Balsamic glaze: You can buy store-bought (I prefer Trader Joe's) or make a homemade balsamic glaze.
Grilled version: Oil your grill and turn heat to medium-low. Brush dough with olive oil and grill 2 minutes on one side, with the grill cover on. Flip to the other side and brush again with olive oil. Cook 2 minutes, with the grill lid on. Remove crust to a plate and add toppings. Return to grill and cook 1 to 2 more minutes, or just until cheese is melted.
Nutrition
Serving: 1slice | Calories: 269kcal | Carbohydrates: 29g | Protein: 11g | Fat: 12g | Saturated Fat: 5g | Polyunsaturated Fat: 1g | Monounsaturated Fat: 2g | Cholesterol: 23mg | Sodium: 687mg | Potassium: 76mg | Fiber: 1g | Sugar: 5g | Vitamin A: 521IU | Vitamin C: 6mg | Calcium: 163mg | Iron: 2mg
Nutrition provided is an estimate. It will vary based on specific ingredients used.
Did you make this recipe? Don't forget to give it a star rating below!