Light and tender pumpkin spice cupcakes with a rich and sweet maple cream cheese frosting. Easy to make and full of delicious pumpkin flavor!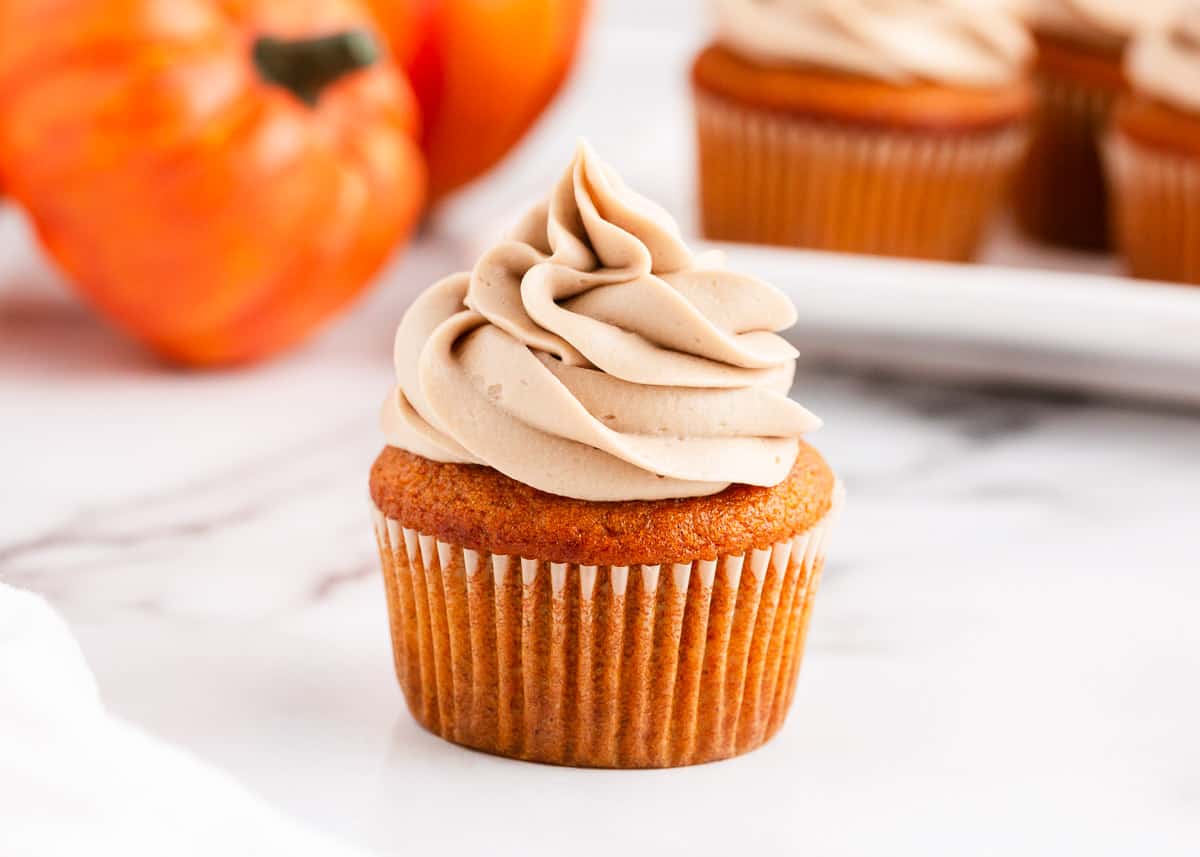 Favorite Pumpkin Cupcakes for Fall
Who else is excited for fall? As soon as I send the kids back to school, I start dreaming about crisp autumn days, warm homemade hot chocolate, fuzzy sweaters, apple cider and of course all of the delicious pumpkin recipes.
These pumpkin spice cupcakes (along with my pumpkin chocolate chip cookies)were first on my list this season. They're easy to make (you don't even need a mixer) and are full of delicious pumpkin flavor. They taste like a glorified pumpkin muffin with the addition of a tangy and sweet maple cream cheese frosting on top.
The pumpkin puree gives them a super moist and tender texture, while the pumpkin pie spice adds just the right amount of fall flavor. They are a great dessert to make for a Halloween party or to add to your Thanksgiving menu. Your guests will love them!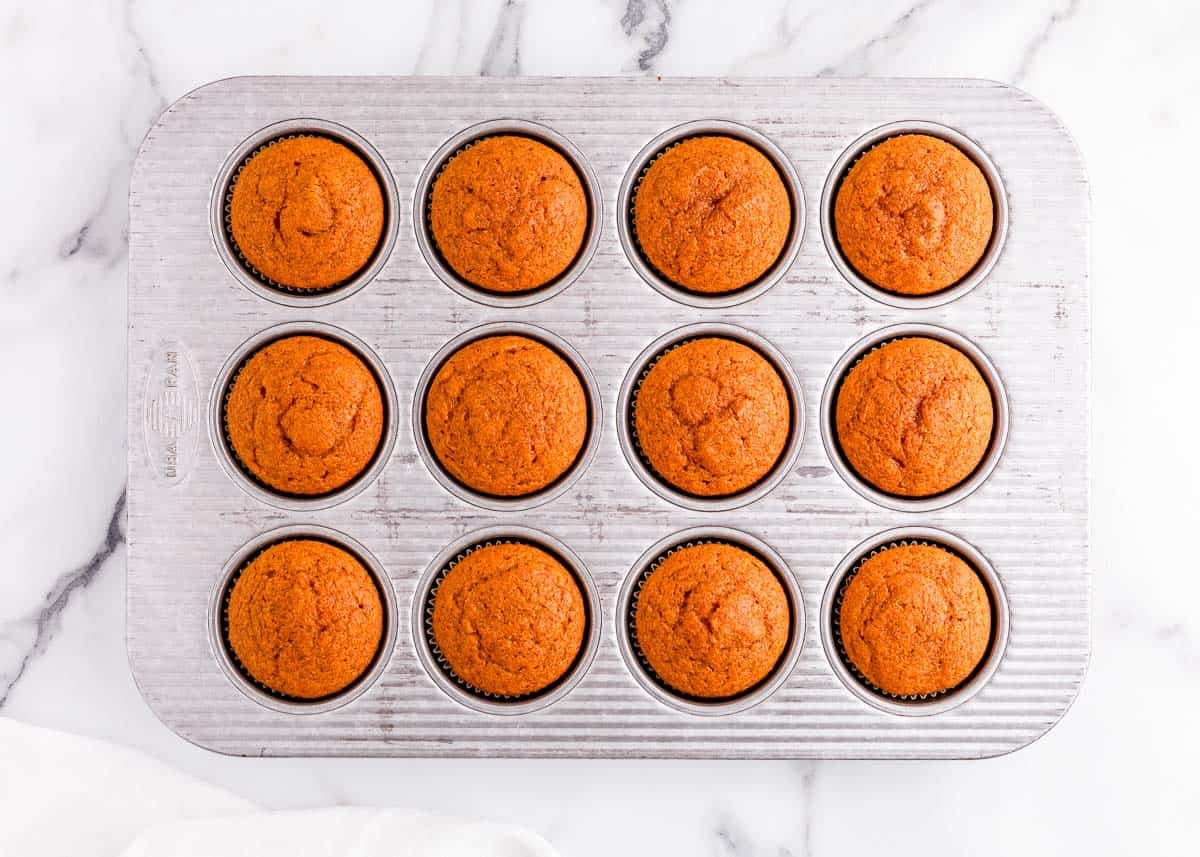 Baking Tips
Pumpkin puree vs. pie filling. Many people often get confused about whether to use pumpkin puree or pumpkin pie filling. Although they look similar, the pie filling has extra sugar and spice added in which will make the cupcakes overly sweet. Look for the plain puree, or even learn how to make pumpkin puree from scratch.
Filling the pan. You don't want to fill the muffin cups all the way with batter. Only about 1/2 to 2/3 of the way full so that they have room to rise while baking. I've found that using a large cookie scoop to fill each cup is the perfect amount.
Toothpick test. Stick a toothpick in the centers to test if they are done. Also try not to open the oven too much while baking (so that the heat doesn't escape and cause the cupcakes to deflate).
Cool before frosting. It's important that you let the cupcakes cool completely before adding the frosting on top. If they are still warm, the frosting could melt and won't hold it's shape.
Top with extras. To take these cupcakes to the next level, drizzle with a homemade caramel sauce and add an extra sprinkle of cinnamon or pumpkin pie spice.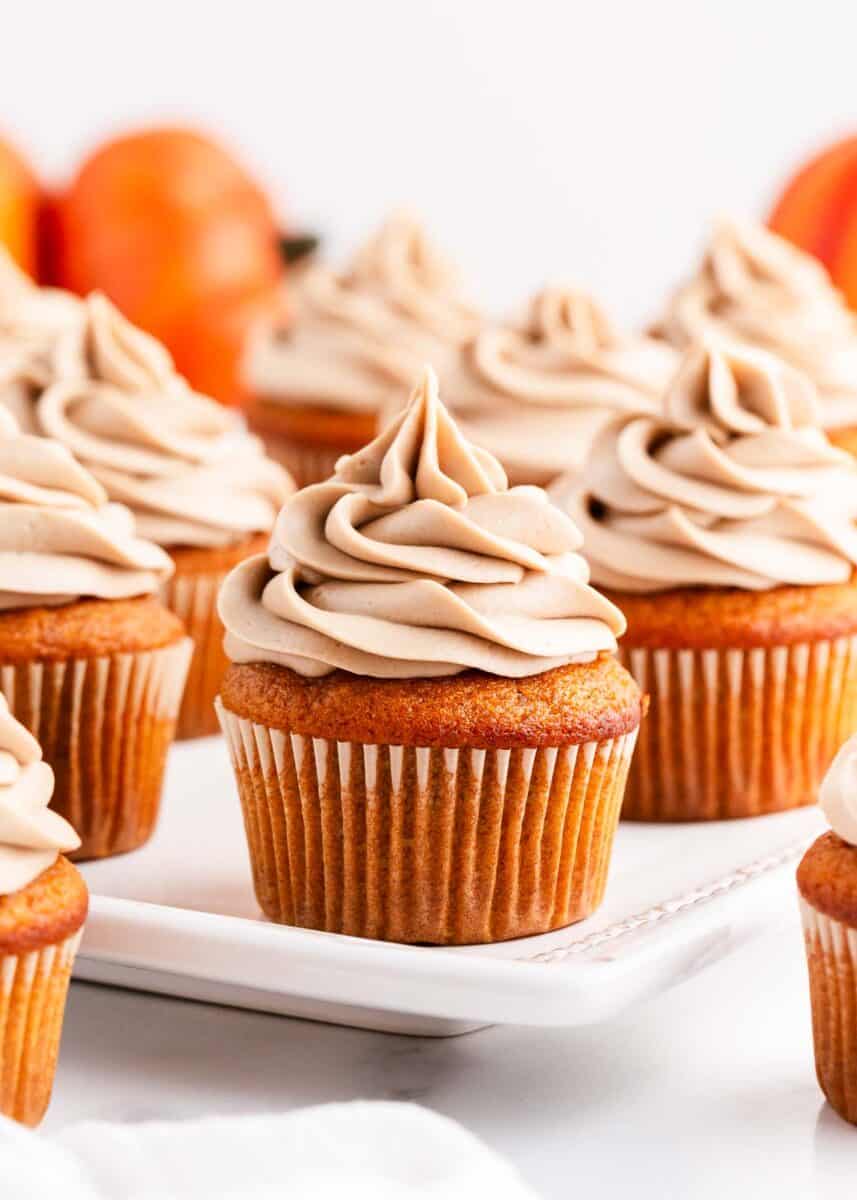 Frosting for Pumpkin Spice Cupcakes
The sweet maple cream cheese frosting is the perfect complement to the subtle spice in these pumpkin cupcakes. It's easy to make with only 5 ingredients in just 5 minutes. Of course you could always use a classic cream cheese frosting or cinnamon buttercream, but the maple extract adds a boost of sweet flavor that makes these cupcakes undeniable.
Make sure the consistency of your frosting is thick enough to hold it's shape when piping. I like to use a 1M star tip to frost the perfect cupcakes. It's easy to use and makes them look like they came from a local bakery! If you don't have a tip, you could always snip the corner off a zip top bag and pipe the frosting on that way.
PARTY DECORATIONS
These cupcakes make the perfect party treat for a fall gathering. Press a candy pumpkin or a few pieces of candy corn on top of each for a festive flare. Or transform them into the perfect Halloween dessert by using orange frosting and/or adding Halloween sprinkles.
Storing and Freezing
To store: Any leftover cupcakes will keep in the fridge for up to 5 days if stored in an airtight container. You can't keep them at room temperature due to the dairy content from the cream cheese in the frosting.
To freeze: You may also freeze the cupcakes for up to 3 months, however I prefer to freeze them before adding the frosting on top.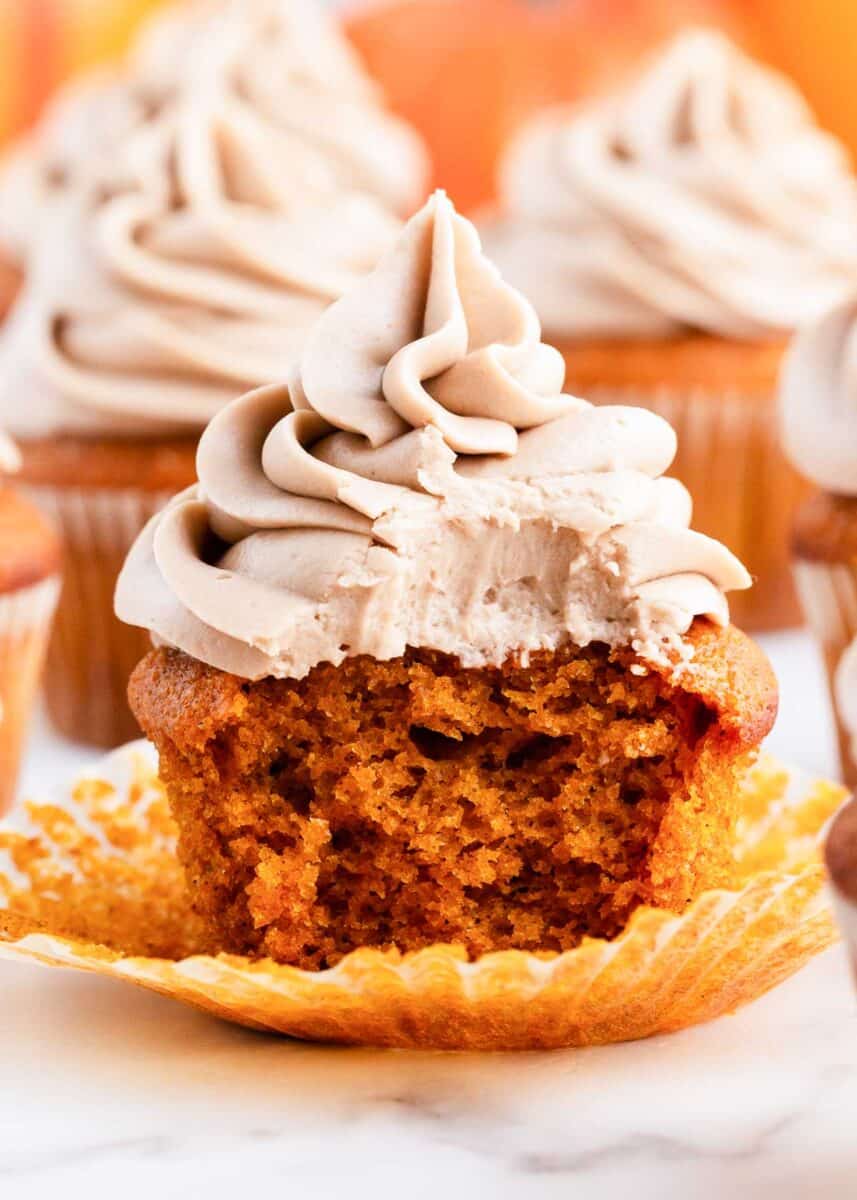 More Delicious Fall Desserts:
HUNGRY FOR MORE? Subscribe to my newsletter and follow on Facebook, Pinterest and Instagram for all the newest recipes!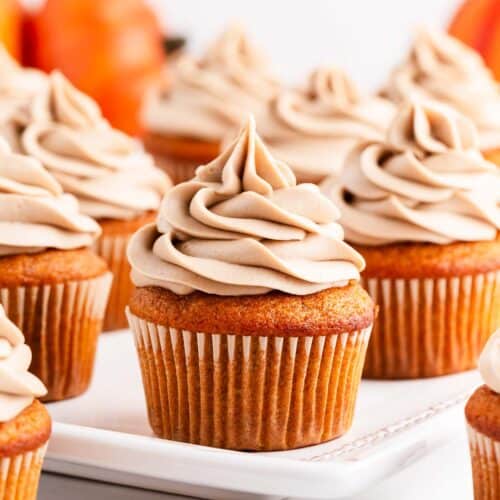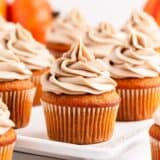 Pumpkin Spice Cupcakes
Light and tender pumpkin spice cupcakes with a rich and sweet maple cream cheese frosting. Easy to make and full of delicious pumpkin flavor!
Ingredients
Pumpkin Cupcakes:
1 cup all-purpose flour
1 teaspoon pumpkin pie spice
1 teaspoon baking powder
½ teaspoon baking soda
½ teaspoon Kosher salt
½ teaspoon ground cinnamon
1 cup pumpkin puree
½ cup light brown sugar , packed
½ cup granulated sugar
½ cup canola oil
2 eggs
Maple Cream Cheese Frosting:
8 Tablespoons butter , softened
8 ounces cream cheese , softened
4 cups powdered sugar , more as needed
½ teaspoon vanilla extract
2 teaspoons maple extract
Instructions
Preheat the oven to 350°F. Prepare 12 muffin cups by lining with paper liners. Whisk together the flour, pumpkin pie spice, baking powder, baking soda, salt and cinnamon in a small bowl and set aside.

In a large bowl, whisk together the pumpkin puree, brown sugar, sugar, canola oil and eggs and mix until well blended. Mix in the flour mixture until combined.

Scoop into prepared muffin tin, filling 1/2 to 2/3 of the way full. Bake for 18-20 minutes, or until a toothpick inserted into the center comes out clean. Remove from the pan and let cool on a cooling rack.

For the frosting, beat together the butter and cream cheese until light and fluffy. Add the powdered sugar slowly and beat until light and fluffy. Beat in the vanilla and maple extract. If necessary, add more powdered sugar until the frosting is firm enough to hold its shape but still light and fluffy.

Frost the cooled cupcakes with a 1M frosting tip or piping bag if desired.
---
Notes
Storage: Store in the refrigerator in an airtight container. The cupcakes will keep for about 4-5 days. You may freeze the cupcakes up to 3 months, however I prefer to freeze the cupcakes before frosting.
Nutrition
Calories: 494kcal | Carbohydrates: 68g | Protein: 3g | Fat: 24g | Saturated Fat: 9g | Cholesterol: 68mg | Sodium: 285mg | Potassium: 135mg | Sugar: 57g | Vitamin A: 3705IU | Vitamin C: 0.8mg | Calcium: 56mg | Iron: 1.2mg
Nutrition provided is an estimate. It will vary based on specific ingredients used.
Did you make this recipe? Don't forget to give it a star rating below!