This is the juiciest and most flavorful easy oven baked chicken breast recipe! It's made with or without a brine, a handful of simple seasonings, then baked to perfection every time!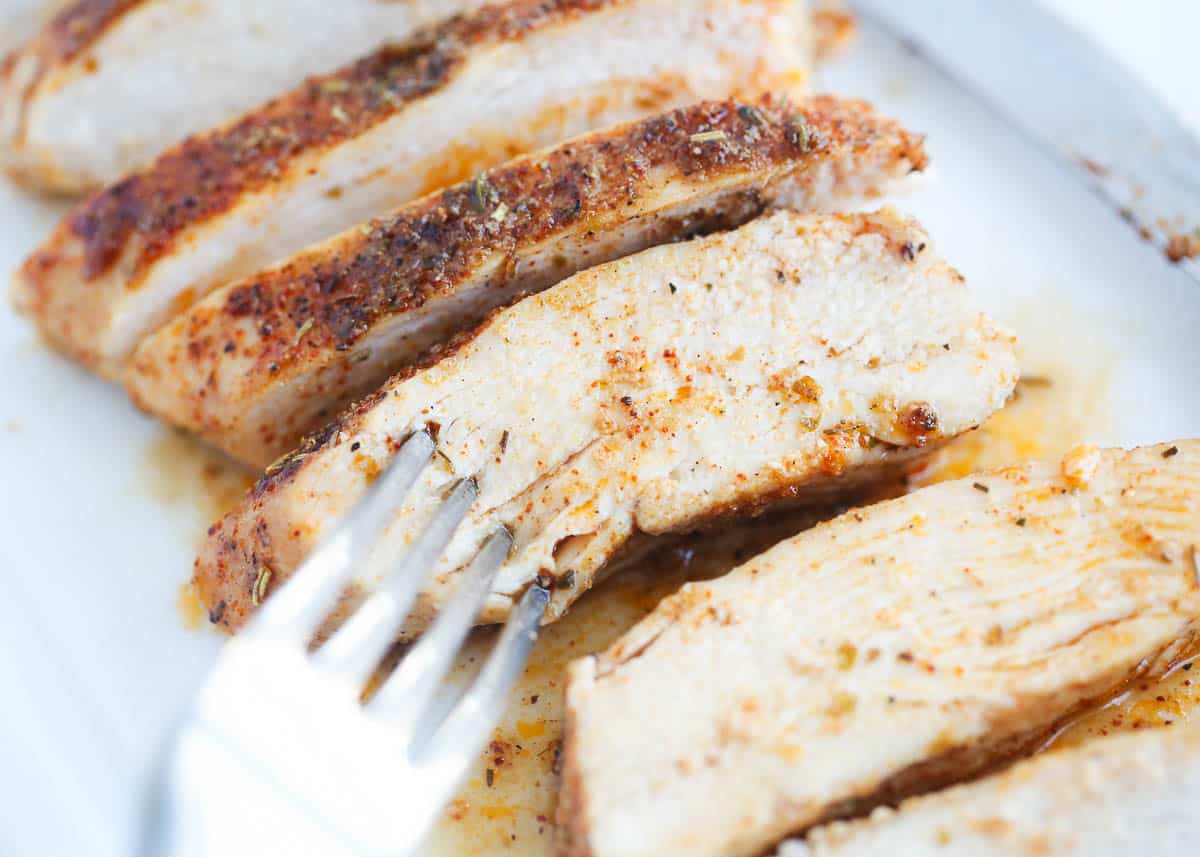 Ready In 25 Minutes!
We all need simple oven baked chicken recipes in our "what to make for dinner tonight" back pocket. Effortless, go-to meals around here usually involve oven baked chicken breast along with baked BBQ chicken, oven roasted chicken, or grilled chicken breast.
Quick and easy chicken breast recipes are something I know everyone loves and since we make them so often, I'm a big fan of shaking things up!
This recipe for oven baked chicken breast is so easy to make for quick and easy dinners or to get ahead with meal preps for the week. With it comes the option to brine, but even without it, it's basically foolproof.
Serve it over rice or mashed potatoes along with roasted veggies or a simple chopped salad for a complete easy meal that everyone enjoys!
Why This Recipe Works
Tender, juicy, and so much flavor. Say goodbye to rubbery overcooked meat and hello to tender, juicy, and flavorful bites every time. I use a simple seasoning of salt, pepper, paprika, Italian seasoning, and garlic powder but you can customize the flavor to your liking.
Everyone needs a basic yet delicious meal idea. It's one of the most widely used proteins, that meat-eating families enjoy during the week, so why not have more than a few ways to jazz it up?!
Healthy & cost-effective. Chicken breast is lean meat, a good source of protein, and a great way to feed your family on a budget. Stock up when the meat is on sale!
Versatile. Made with simple seasoning to give it flavor but not overly seasoned so that way I can use it in other recipes like soups, stews, or casseroles if I want.
Ingredients Needed
This oven baked chicken breast is made with a simple blend of oil and spices…that's it! Check out my favorite seasonings to use below that give it the absolute best flavor.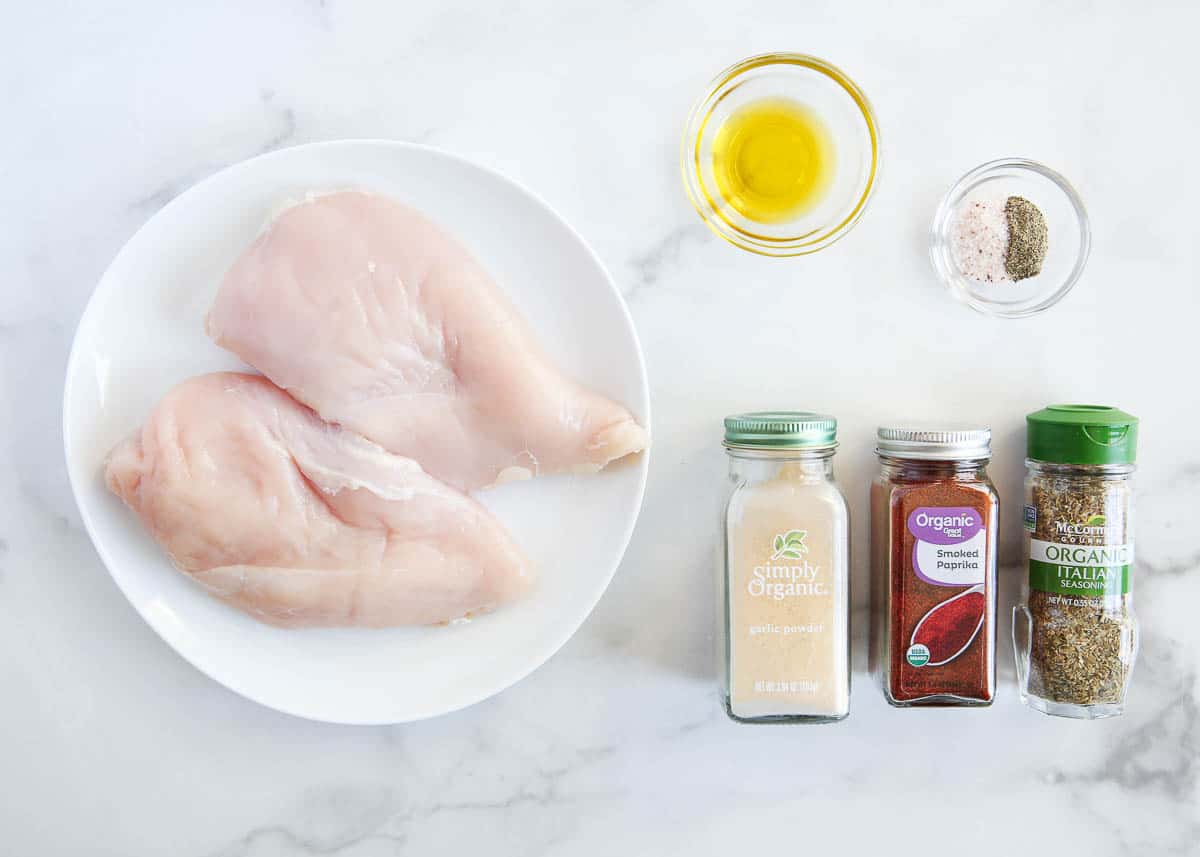 Find the full printable recipe with detailed measurements below.
Chicken: Boneless skinless chicken breasts. If they are overly plump, consider slicing them in half horizontally. This will make them easier to pound down to desired thickness. You can also use chicken thighs.
Olive oil: Will coat the breasts just before the dry rub. This will help to adhere to the seasoning, seal in moisture once seared, and provide a nonstick coating.
Kosher salt & black pepper: I use kosher salt because the granules are larger than table salt, so I know when I use the same amount, it will flavor it nicely, but won't be as salty. Use both salt and pepper to taste.
Seasoning: Garlic powder, Italian seasoning, and smoked paprika. You can replace smoked paprika with regular paprika if want.
Seasoning Variations
Don't have any of the above-mentioned herbs or spices? That's ok! There are so many others you can try. Use a different seasoning every time and you'll have a completely different flavored dish each time!
Try these:
Onion powder
Cajun seasoning
Brown sugar
Thyme
Oregano
Chili powder
Or, your favorite chicken marinade
To take the dish up a notch, try stuffing like the chicken with a delicious spinach and cream cheese filling, similar to this spinach stuffed chicken breast. Or if you have thighs, make these oven baked chicken thighs instead!
How to Bake Chicken Breast
With a few simple tips and tricks, I'll show you how to make the most tender, juicy and flavorful baked chicken breast you've ever had!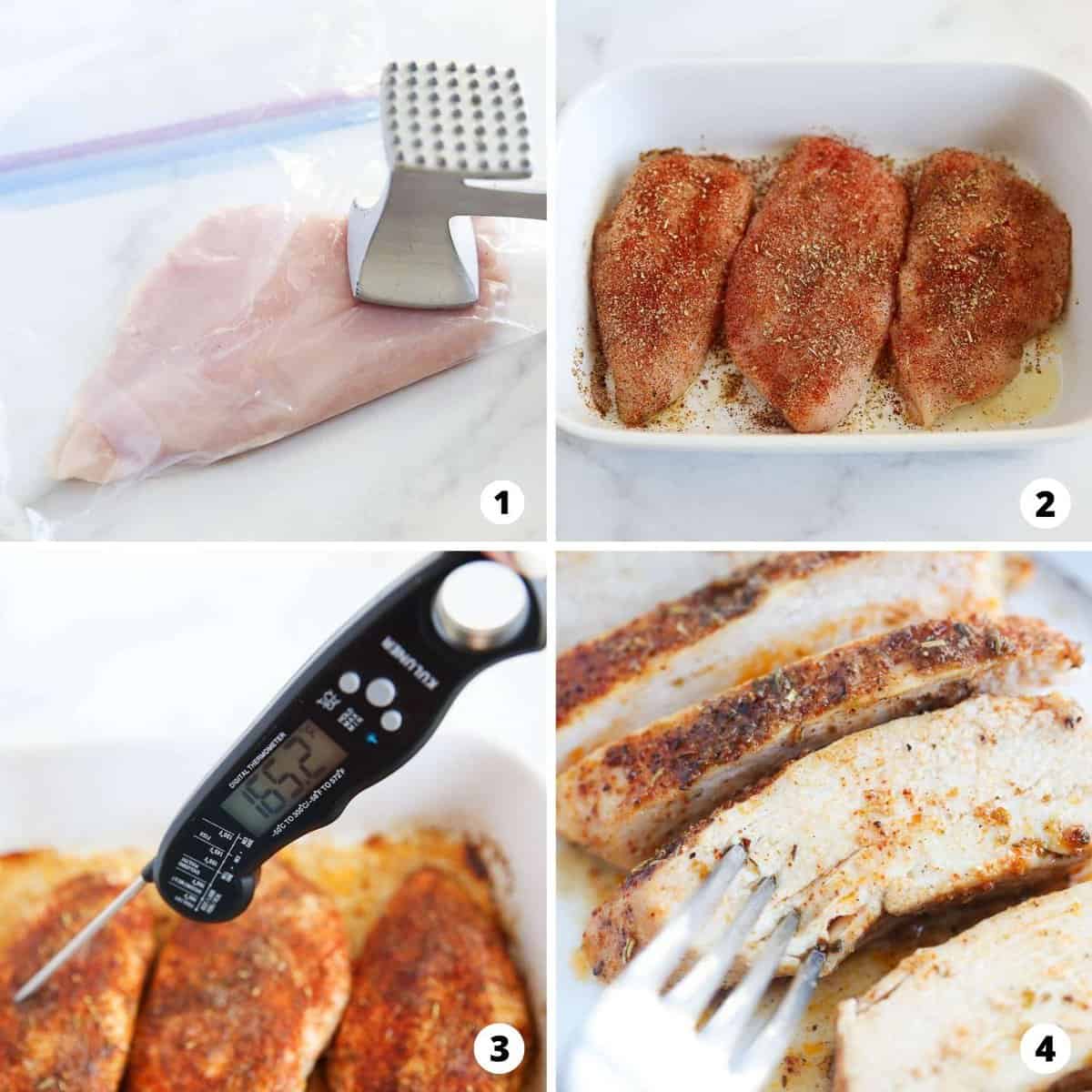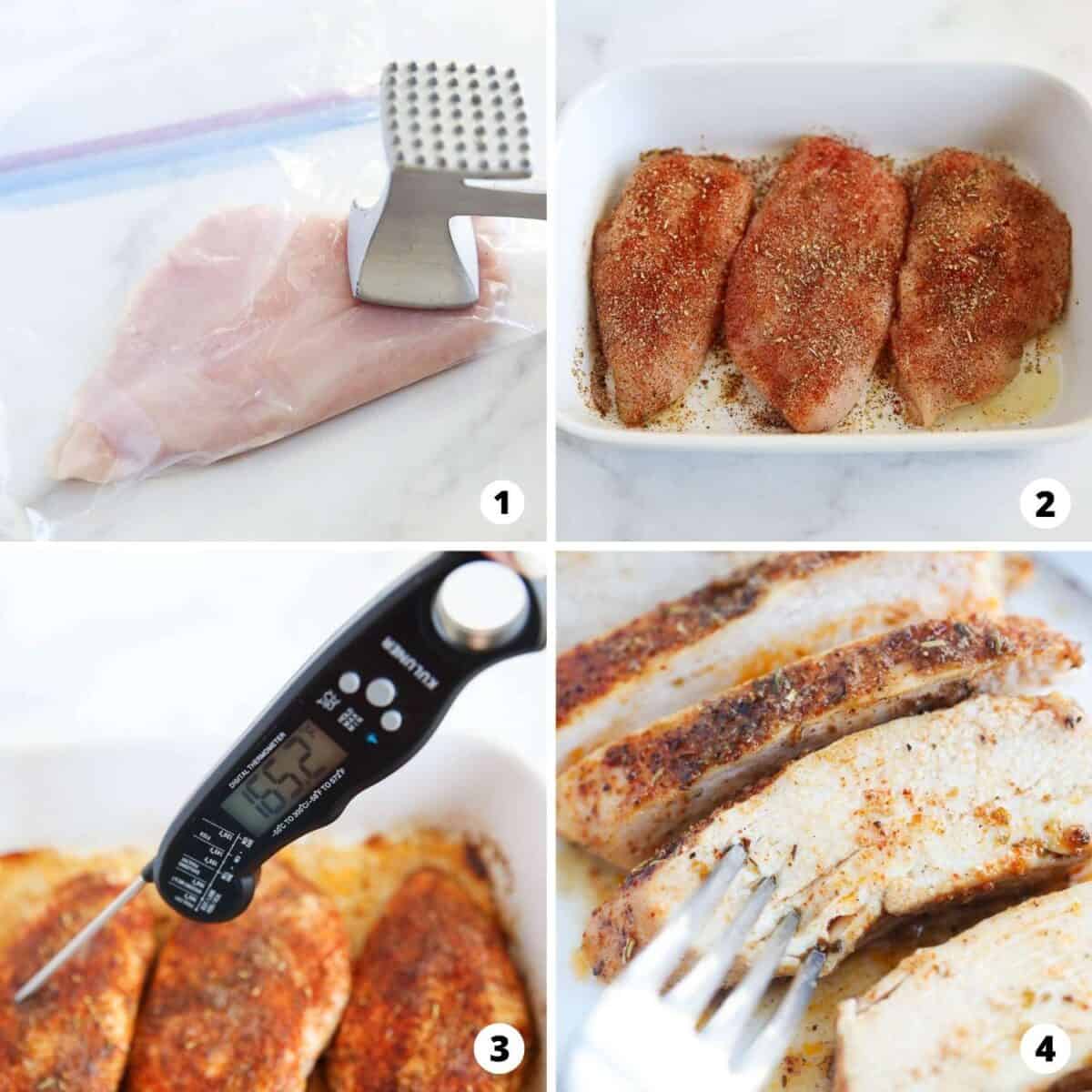 Even out the meat. Place the meat between two pieces of parchment paper, plastic wrap, or in a zip-top bag. Use either a meat mallet or rolling pin to lightly pound the breasts until they are an even thickness. I like mine about 1″ thick for fast even cooking. Trim the fat and pat dry with a paper towel.
Season the breasts. Coat the cutlets in olive oil, and don't be afraid to use your hands to make sure it's coated evenly. Rub the combined seasoning mixture all over the chicken breast and place them in a single layer in a greased 9×13 baking dish.
Transfer to the oven. Bake it until an instant-read thermometer reads 165°F. If you've pounded your chicken to the thickness of about 1″ this should take about 15-20 minutes. Give or take a few minutes depending on the thickness of yours.
Allow it to rest. You don't want to slice into it right away, otherwise, you'll lose all the juices and the pieces will dry out. Instead, remove the casserole dish from the oven and just let it stand for about 5-10 minutes to give the juices time to redistribute and settle. Then, slice and serve! But also…you can serve them whole.
How to Use a Brine
This is a simple thing you can do to make your chicken even juicier. It's worth the extra bit of effort! Fill a large bowl with lukewarm water and add 3-4 Tablespoons of Kosher salt. Submerge the meat in the brine and let it sit for 15-20 minutes. Rinse with water and pat dry.
Expert Tips
When using a brine, do not use hot water. You are not trying to boil anything!
Brining the meat gives the salt a chance to break down the muscle fibers and protein in the meat making it super tender. It also adds a ton of flavor.
Slicing horizontally. As mentioned above, it's much easier to pound it down if it's not too thick, to begin with. Slicing the pieces while they're still partially frozen (if not using fresh) can make it easier for you. Use a sharp knife either way.
Invest in a meat thermometer. Not just for this recipe, but for all your meat recipes! It's accurate yes, but it also means you don't have to slice open or pierce your meat too soon to check. This meat thermometer is my favorite one.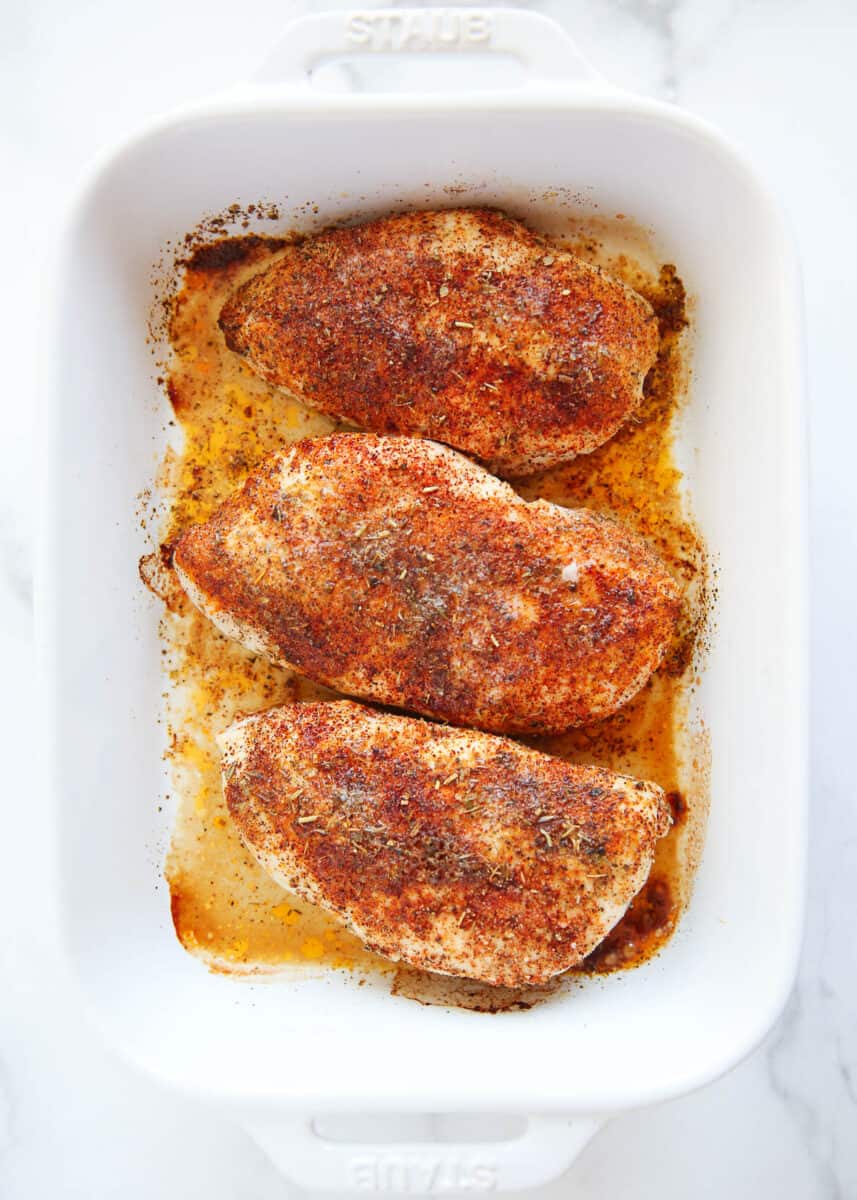 Recipe FAQs
How long to bake chicken breast?
This will always depend on how thick you've made your chicken breasts and the temperature you're using. At about 1″ thickness at 425°F, you want to bake it for about 15-20 minutes, using a thermometer to check. If it's a bit thicker than 1″ bake it closer to the 20-minute mark with a couple of extra minutes to spare.
How do you make sure oven baked chicken breast stays moist?
If you can, use a brine beforehand. It makes an incredible difference! You also want to be sure to pound the breast pieces yourself, rather than buying thinly sliced or butterfly breasts because then you're not tenderizing them.
Storing, Freezing + Reheating
Store: Keep leftovers in an airtight container for up to 3 days in the fridge.
Freeze: I like to slice mine first before freezing, however you can freeze it whole as well. Thaw it in the fridge overnight.
To reheat: Use the microwave or warm it up in the oven on low at 200°F until warmed through. Usually around 10 minutes or so.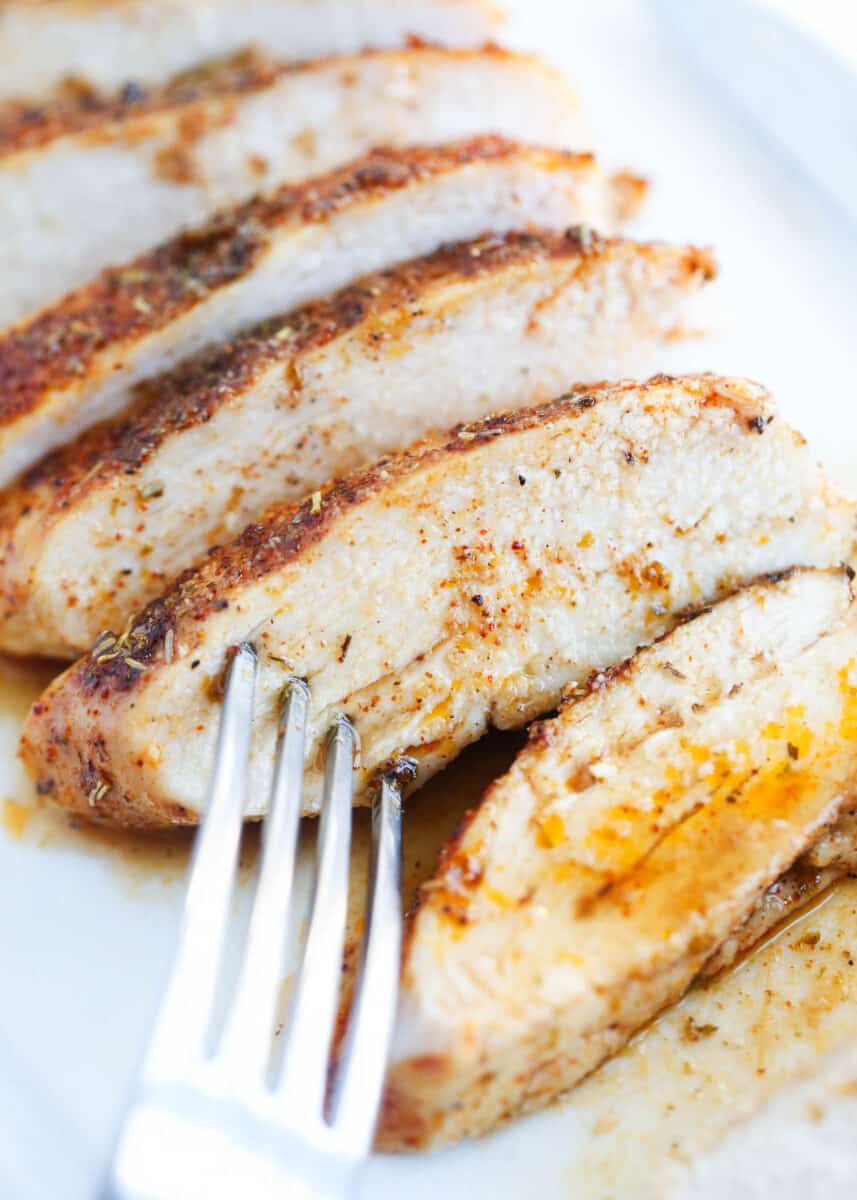 HUNGRY FOR MORE? Subscribe to my newsletter and follow on Facebook, Pinterest and Instagram for all the newest recipes!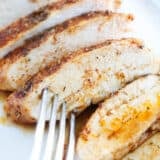 Oven Baked Chicken Breast
This is the juiciest and most flavorful easy oven baked chicken breast recipe! It's made with or without a brine, a handful of simple seasonings, then baked to perfection every time!
Ingredients
1 pound boneless, skinless chicken breasts
1 Tablespoon olive oil
1 teaspoon Kosher salt , plus more to taste
1 teaspoon garlic powder
1 teaspoon Italian seasoning
½ teaspoon smoked paprika
¼ teaspoon freshly ground black pepper , plus more to taste
Instructions
Preheat the oven to 425°F. Grease a 9×13-inch baking dish and set aside. If you have extra time, brine your chicken (see notes below).

Place the chicken breasts between 2 pieces of parchment paper or in a zip-top bag. Lightly pound with a mallet or rolling pin until the chicken is an even thickness. I prefer mine about 1-inch thick. Trim any fat and pat dry with a paper towel.

In a small bowl, whisk together the salt, garlic powder, Italian seasoning, paprika, and pepper. Rub the olive oil over both sides of the chicken and then cover evenly with the seasonings. Place in the baking dish.

Bake 15 to 20 minutes, or until the internal temperature reaches 165°F.

Remove from the oven and let rest for 5 to 10 minutes before slicing to allow the juices to absorb. Do not skip this step or your chicken will not be as juicy. Serve while warm.
---
Notes
Brining chicken: To make your chicken even juicier, try soaking it in a brine before cooking. I love to do this when I have extra time. Simply fill a large bowl with lukewarm water (not hot) with 3 to 4 Tablespoons Kosher salt. Place the chicken in and let sit 15 to 20 minutes. Rinse with water and pat dry. Chicken: You may also use chicken thighs, but for this recipe I prefer boneless, skinless chicken breast. Storage: Store leftovers in an airtight container up to 3 days in the refrigerator or freeze up to 3 months. If freezing, I prefer to slice first. When ready to eat, allow the chicken to thaw in the fridge overnight. Reheat in the microwave or the oven at 200°F for 10 minutes, or until warm.
Nutrition
Serving: 1g | Calories: 165kcal | Carbohydrates: 1g | Protein: 24g | Fat: 7g | Saturated Fat: 1g | Polyunsaturated Fat: 1g | Monounsaturated Fat: 3g | Trans Fat: 0.01g | Cholesterol: 73mg | Sodium: 714mg | Potassium: 442mg | Fiber: 0.4g | Sugar: 0.1g | Vitamin A: 166IU | Vitamin C: 1mg | Calcium: 16mg | Iron: 1mg
Nutrition provided is an estimate. It will vary based on specific ingredients used.
Did you make this recipe? Don't forget to give it a star rating below!