This dump cake recipe calls for just 4 simple ingredients and can be made so many different ways. Such a classic dessert and the perfect recipe to have in your back pocket!
Looking for more easy cake recipes? Try my chocolate dump cake, poke cake and peach dump cake.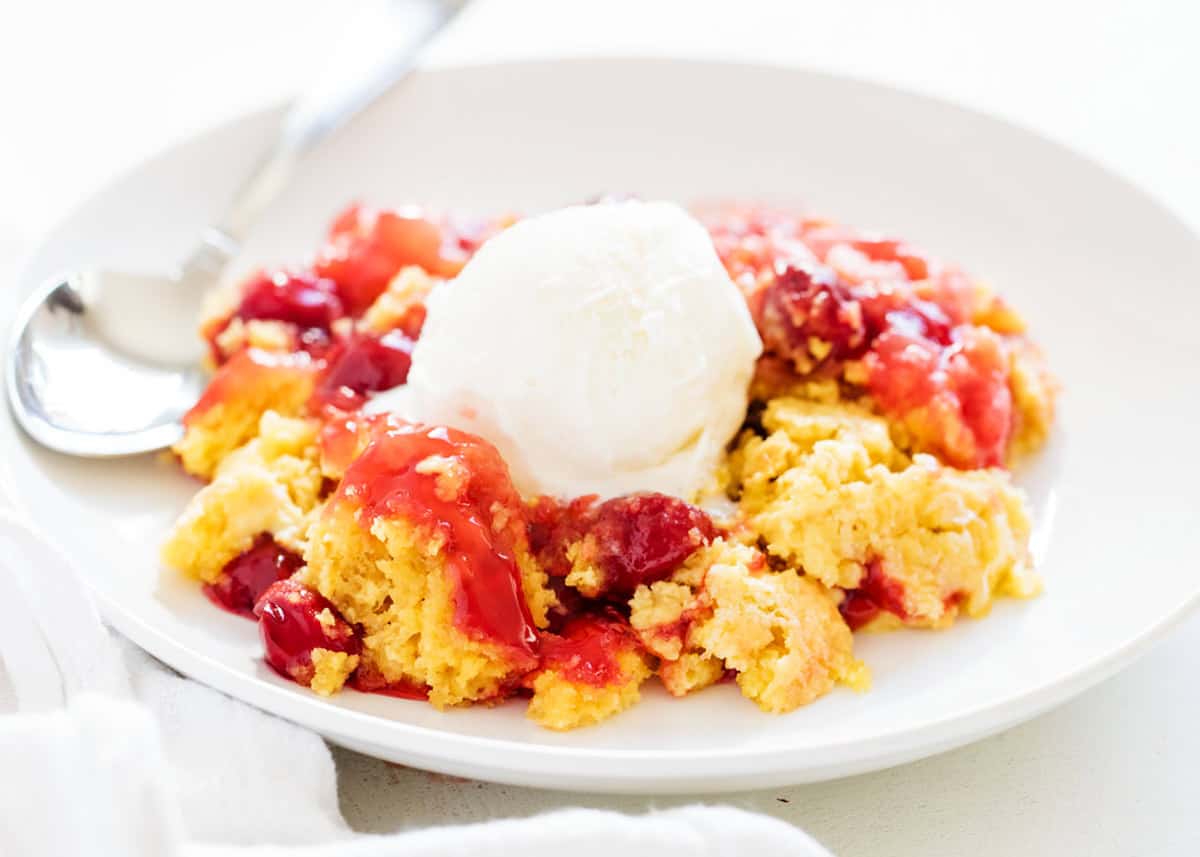 Easy Dump Cake Recipe
This easy dump cake is one of my go-to desserts to make when I'm in a hurry, as well as cake mix cookies, gooey butter cake and this tres leches cake recipe.
You absolutely need this dump cake recipe in your back pocket because it's the easiest dessert for last-minute occasions. With just 4 simple pantry ingredients, you can whip it up whenever you're in a pinch.
The options are limitless when it comes to making dump cakes. Use your favorite cake mix and canned fruit to customize the dessert based on what you're craving. In the fall, try apple dump cake and pumpkin dump cake!
I love to serve this delicious cake warm right out of the oven, topped with a scoop of vanilla ice cream and whipped cream. SO good!
Why This Recipe Works
Unbelievably easy. With only 4 ingredients and 5 minutes of prep time, this recipe for dump cake couldn't get any easier!
Customizable. There are so may flavor combinations you can try. Just use your favorite box of cake mix and a few cans of fruit and experiment with all the delicious variations that dump cakes have to offer!
Serves a crowd. This quite possibly might be the most simple dessert you could ever make to serve a crowd. It's perfect for celebrating holidays, birthdays or potlucks.
Why is it Called Dump Cake?
You guessed it…you literally dump the ingredients into a pan and bake it! No mixing or heavy lifting required. It's similar to a cobbler or even a pineapple upside down cake in the sense that there is a fruit filling on the bottom, followed by a buttery, cakey topping.
Simply dump the canned fruit into the pan, followed by the dry cake mix and butter slices. That's it! If this isn't the easiest cake recipe with few ingredients that you've ever made, then I don't know what is!
Recipe Ingredients
The great thing about dump cakes is that you can use any combination of cake mix or fruit that you have stored in your pantry. You literally can't mess them up!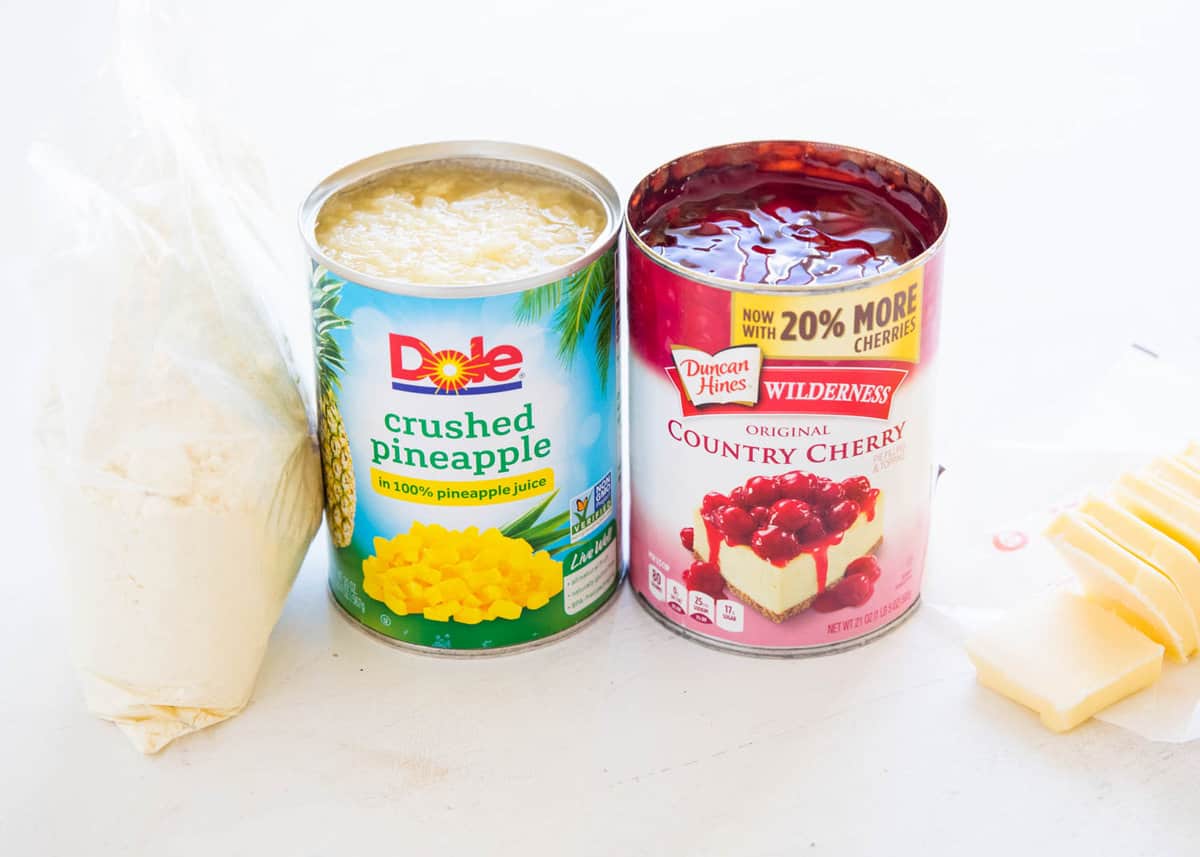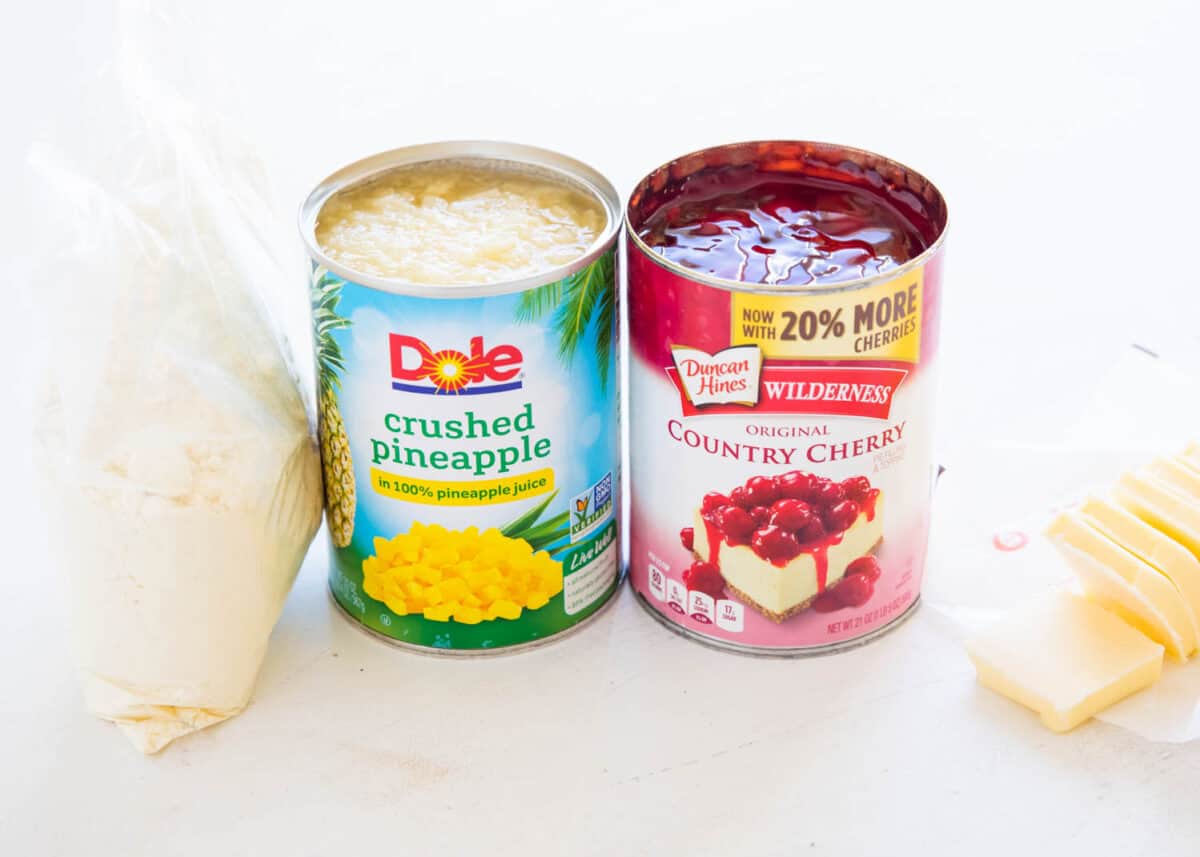 Find the full printable recipe with specific measurements below.
Canned fruit: Use 2 cans of any type of fruit, such as pineapples, cherries, peaches, apples or blueberries.
Cake mix: Use your favorite brand of yellow cake mix. White or vanilla cake mix will also work, although I prefer the flavor of yellow in this recipe.
Butter: You'll need a stick and a half of butter that's been thinly sliced into pieces.
Favorite Dump Cake Variations
There are many different variations for this dump cake recipe. Just use any 2 cans of fruit, like cherry, peach, apple or blueberry.
Cherry: For this specific recipe, I used a can of pineapple and a can of cherries. You could, however, make a simple cherry dump cake and use 2 cans of cherries if you prefer, you could also make this cherry pie filling recipe.
Peach dump cake: Use 2 cans of sliced peaches in heavy syrup (undrained). Or make a homemade peach pie filling. If you want to add some extra flavor, feel free to add in some cinnamon sugar.
Apple: To make apple dump cake, use 2 cans of apple pie filling. You can add in extra spices too, like cinnamon, nutmeg or apple pie spice. I also like to top with chopped nuts, such as pecans or walnuts and this streusel topping recipe. If you'd rather use fresh apples to make homemade apple pie filling, you can definitely do that. You'll need about 6 cups chopped apples.
Blueberry: Use 2 cans blueberry pie filling or 4 cups fresh blueberries. If using fresh blueberries, add 1/2 cup sugar. For additional flavor, you can mix in shredded coconut, vanilla or cinnamon. It also tastes great topped with sliced nuts, such as pecans or almonds.
How to Make a Dump Cake in the Oven
This recipe for dump cake couldn't get any easier. It takes just 5 minutes of prep time and the rest is waiting for it to bake in the oven. Follow the simple steps below to get started.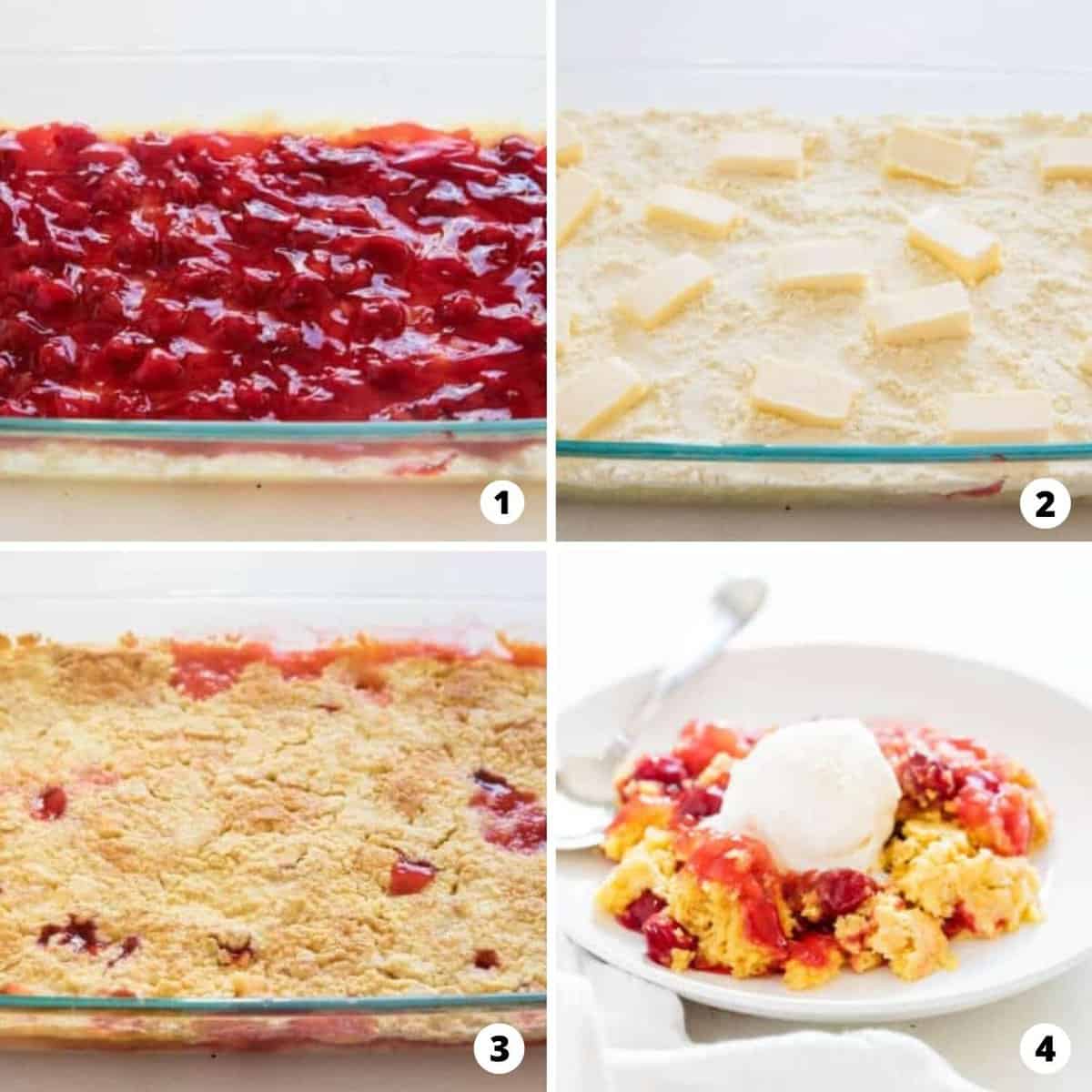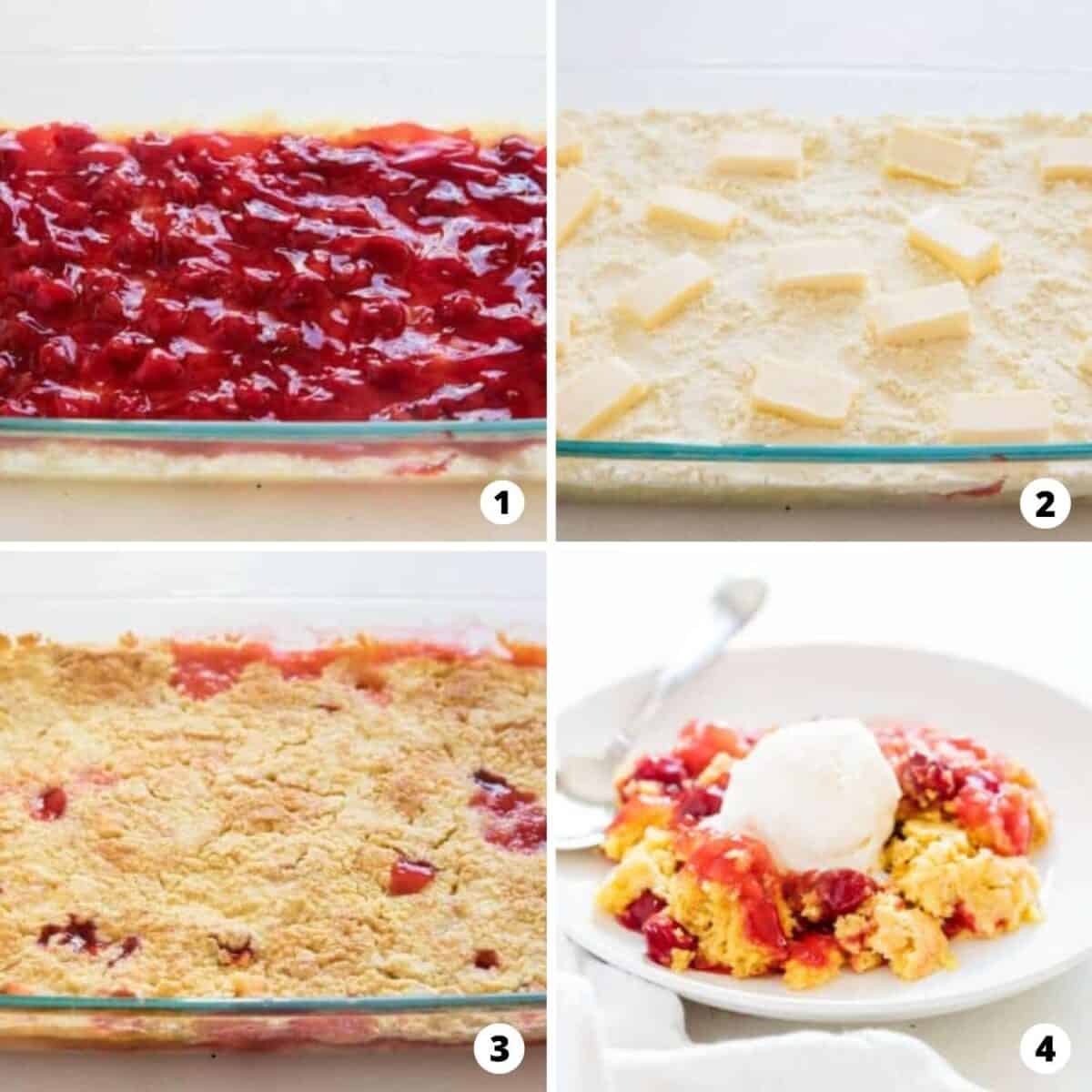 Fruit. Dump 2 cans of fruit into the bottom of a greased 9×13″ baking dish. Make sure to spread the fruit out evenly in the pan.
Cake. Dump the dry cake mix on top of the fruit. You want to make sure most of the fruit is covered with the mix when sprinkling on top.
Butter. Add thin slices of butter over top of the cake mix. It will melt and bake into the cake mix, creating a rich and delicious topping.
Bake. Place the pan in the oven and bake at 350°F for 35-40 minutes, or until the top layer is golden brown and bubbly.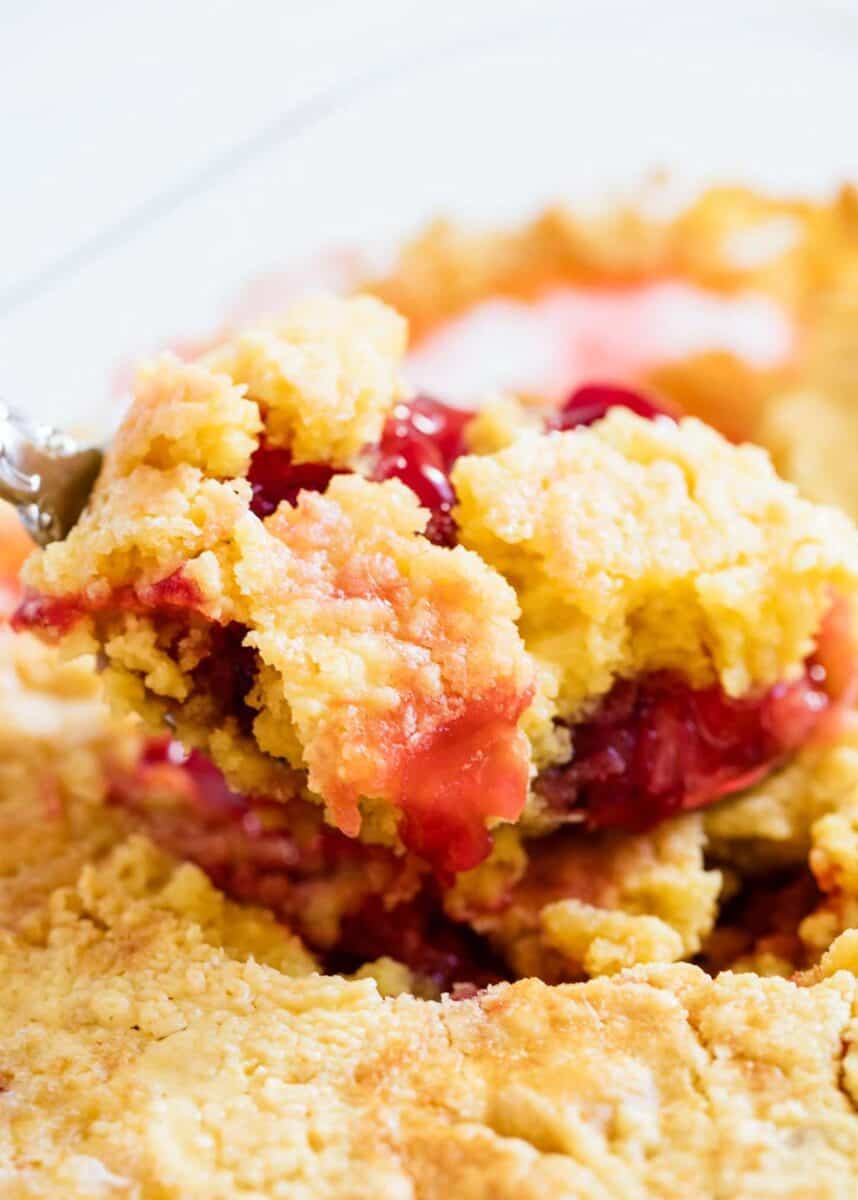 Recipe FAQs
Do you stir dump cake?
Nope! That's what makes this recipe so great and what literally gives the cake it's name. Just dump the ingredients into the pan with absolutely no stirring required!
How do you know when dump cake is done?
The cakey layer on top will be a light golden brown color and some of the fruit will likely be bubbling through. If the top still seems a little light, keep it in the oven for a few minutes longer until it browns a little more.
Is dump cake supposed to be gooey?
Once set, the fruit filling should be gooey and thick but definitely not runny. If you love an apple cobbler or peach cobbler, this dump cake recipe will have a similar consistency but with a fluffy cake topping.
Do you need to refrigerate a dump cake?
Yes, store any leftovers of this dessert in the refrigerator in a covered container or wrap tightly with plastic wrap. It will stay fresh in the fridge for up to 3 days. Reheat in the microwave until warm.
Can you freeze it?
Sure. Store in an airtight container in the freezer for up to 3 months. Thaw in the fridge overnight, then reheat in the oven until warm.
5 star review
"Excellent! This was delicious and so easy and fun…. my family wants it again real soon!!"

-Alexandra P.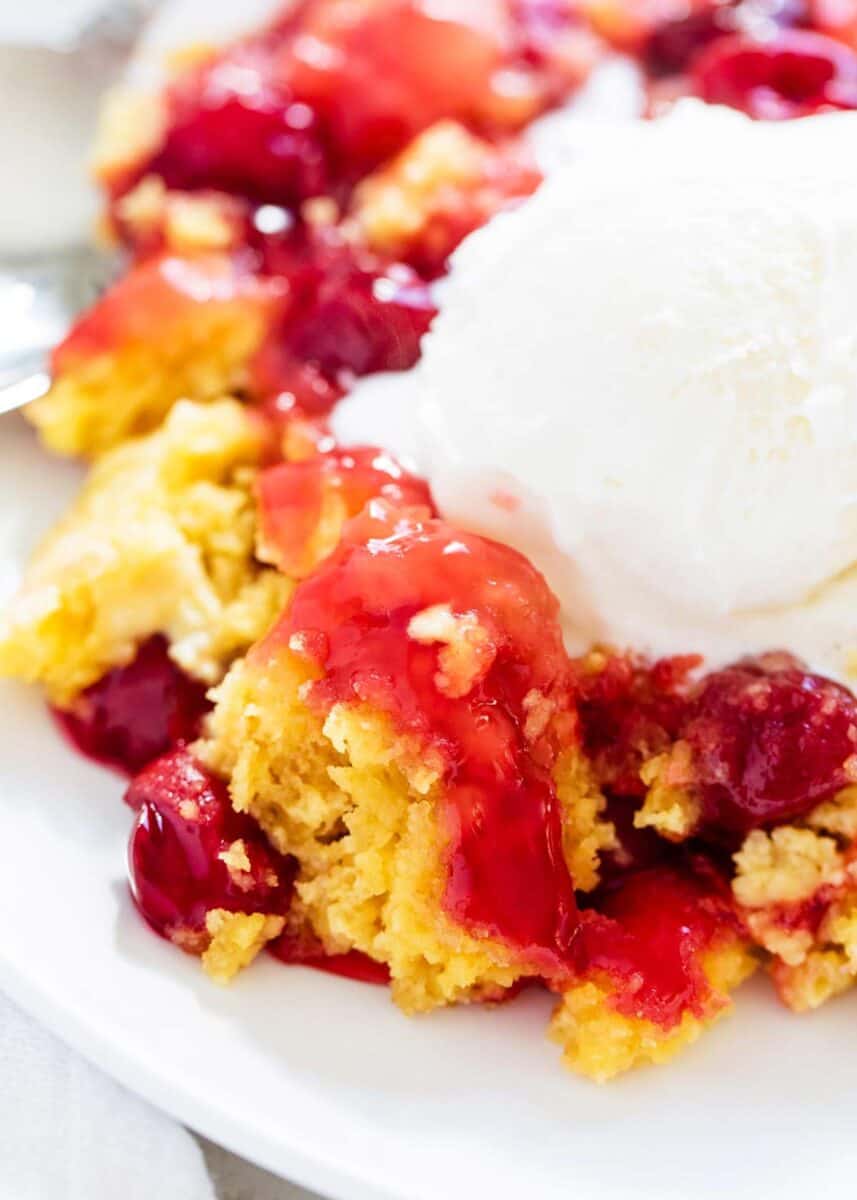 HUNGRY FOR MORE? Subscribe to my newsletter and follow on Facebook, Pinterest and Instagram for all the newest recipes!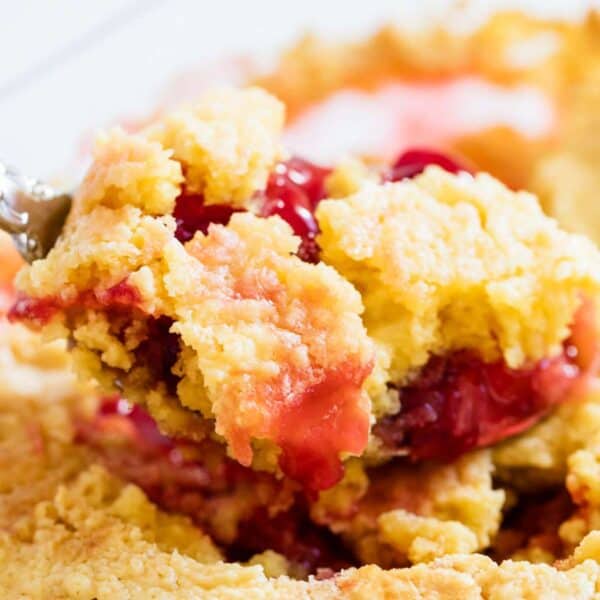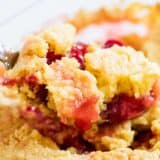 Dump Cake Recipe
This easy dump cake can be made 4 different ways and calls for just 4 simple ingredients. Such a classic dessert and the perfect recipe to have in your back pocket!
Ingredients
28 ounces cherry pie filling , 1 large can
15 ounces crushed pineapple , 1 can
18 ounce box yellow cake mix
12 Tablespoons butter , cold
Optional: Chopped nuts, vanilla ice cream or whipped cream
Instructions
Preheat the oven to 350°F and grease the bottom of a 9×13" pan. Pour the crushed pineapple into the bottom of the pan. Then top with the cherry pie filling.

Dump the cake mix over the fruit. Then slice the butter into thin pieces (about 24 pieces) over the top. I place 6 rows of butter across the top and 4 down, so it melts evenly. Top with nuts if desired.

Bake for 35-45 minutes or until golden brown and bubbly. Remove from oven and allow to cool for a few minutes before serving.

Serve with vanilla ice cream or whipped cream if desired.
---
Notes
More variations:
Peach: Use 2 cans undrained sliced peaches in heavy syrup. Or use 1 can sliced peaches and 1 can crushed pineapple.
Apple: Use 2 cans apple pie filling and top with chopped nuts. You can also use homemade apple pie filling if preferred.
Blueberry: Use 2 cans blueberry pie filling or 4 cups fresh blueberries + 1/2 cup sugar.
Crockpot method: Pour the fruit in the bottom of the crockpot. Dump the cake mix on top and add the sliced butter. Cook on low for 3-4 hours or on high for 2-3 hours.
Dutch oven method for camping: Line the pan with foil and spray with nonstick spray. Add the fruit filling, then pour the cake mix on top and then the sliced butter. Cover with lid and cook on hot coals for about 30 minutes.
Nutrition
Calories: 354kcal | Carbohydrates: 59g | Protein: 2g | Fat: 12g | Saturated Fat: 7g | Cholesterol: 30mg | Sodium: 421mg | Potassium: 136mg | Fiber: 1g | Sugar: 23g | Vitamin A: 505IU | Vitamin C: 5.7mg | Calcium: 106mg | Iron: 1.1mg
Nutrition provided is an estimate. It will vary based on specific ingredients used.
Did you make this recipe? Don't forget to give it a star rating below!