This Olive Garden salad recipe hits the spot when you crave this irresistible salad! Along with the zesty dressing, it has everything the original has with the flexibility of making it your own!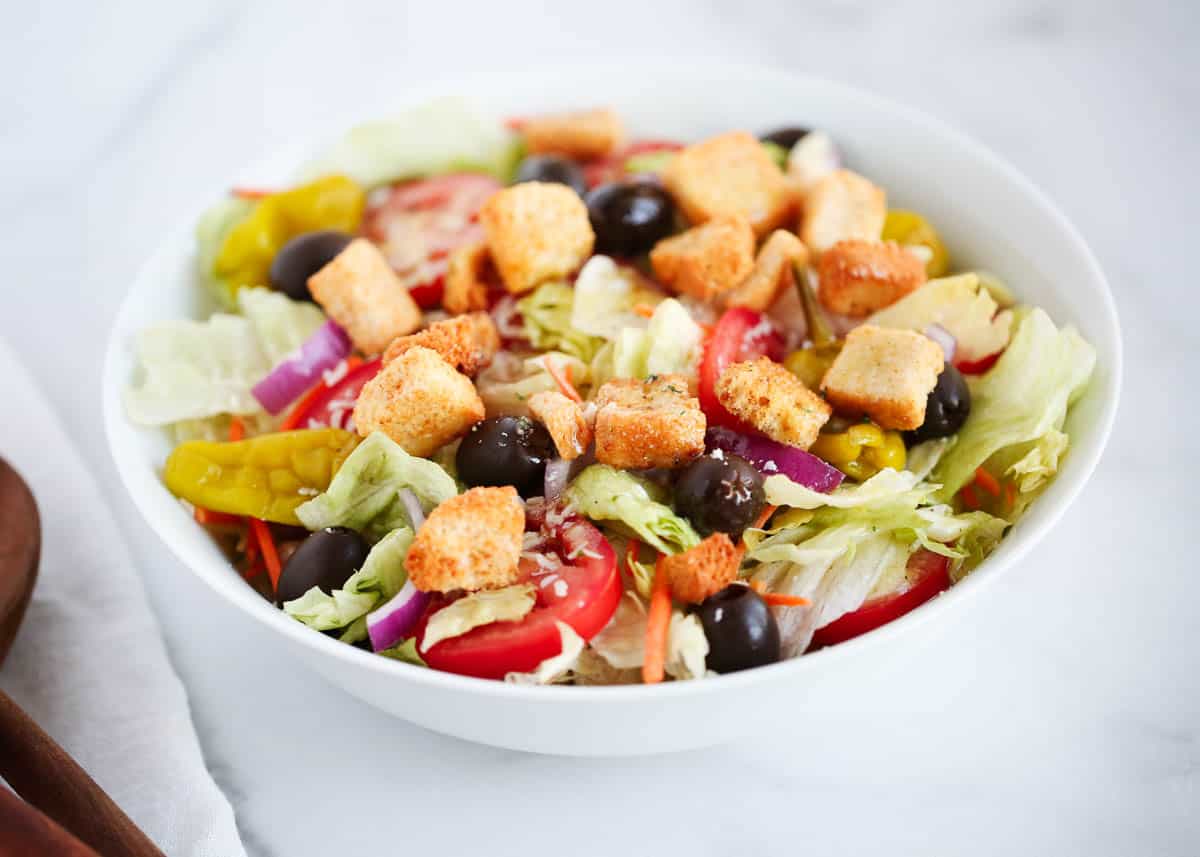 Copycat Olive Garden Salad Recipe
If you crave the house salad from Olive Garden like I do, it's for good reason! It's an irresistible combination of crisp colorful veggies, crunchy croutons then tossed with a vibrant tangy dressing. It's so good, I could eat it every day and if pasta e fagioli, alfredo pasta or sheet pan gnocchi are the one menu, you bet I am serving this salad.
Since I can't visit the restaurant on a daily basis, I came up with a copycat recipe that rivals the original every time! Made with crisp lettuce, juicy tomatoes, black olives, crunchy seasoned croutons, and those salty, spicy pepperoncini that I may or may not eat out of the jar while I'm in the kitchen!
This Olive Garden salad recipe is super simple to make with a few fresh ingredients and we top it off with a zesty homemade Olive garden dressing and a side of Olive Garden breadsticks. I mean, come on! What a way to enjoy a meal, or at least the start of one!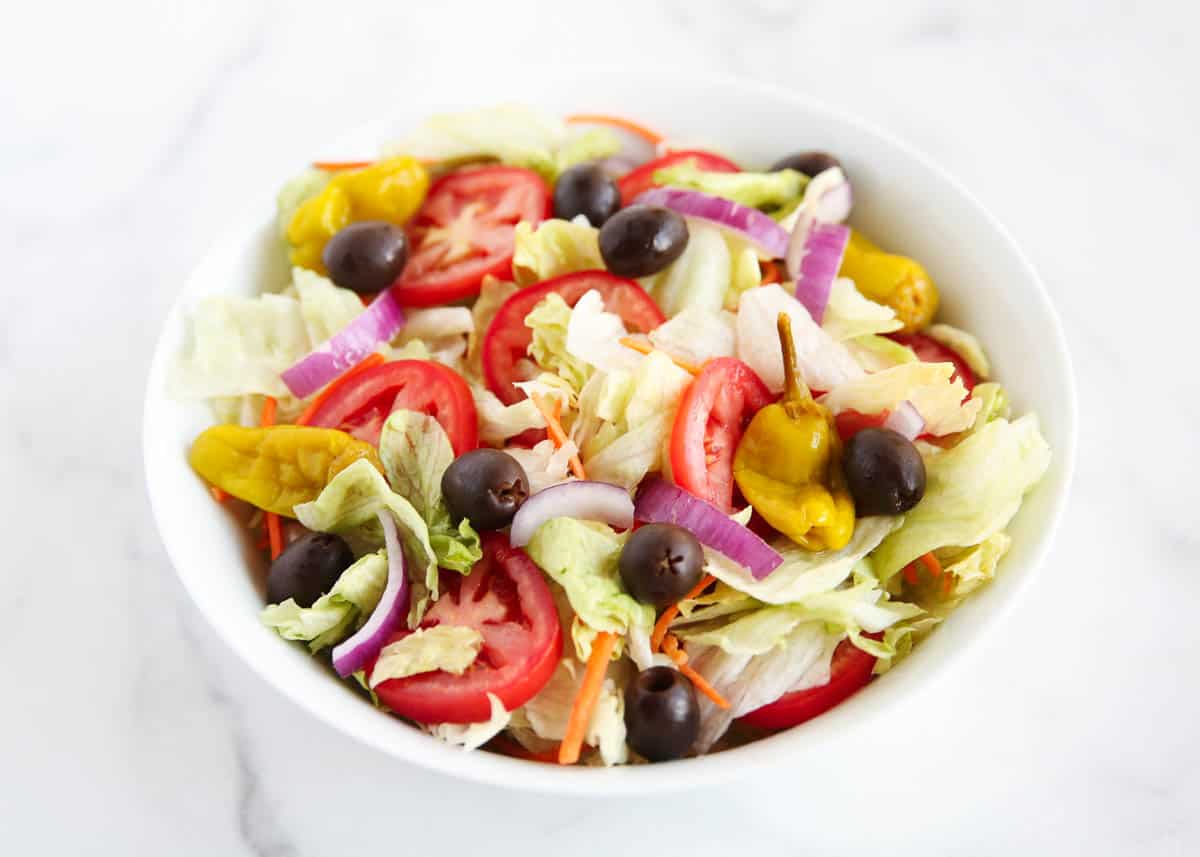 Salad Ingredients
Salad Mix – This pre-packaged garden blend can be found at your local grocery store. It's a bag of salad that contains iceberg lettuce, red cabbage, and matchstick carrots. If you'd rather make your own, by all means!
Tomatoes – I like to use slices of Roma tomatoes, but you're welcome to use whatever tomatoes you prefer. Cherry tomatoes and plum tomatoes are two other options to consider.
Black olives – Make sure they're pitted! Keep them whole or slice them, it's up to you.
Croutons – Nothing beats homemade croutons, but if you've got a package of croutons you'd like to use they'll work too.
Red onions – Sliced as thinly as you'd like. Red onions are sweet, mild and add crunch and flavor.
Shredded parmesan cheese – This is optional. Adds another element, but if you'd like to keep it dairy-free, it's not a must.
Pepperoncini – These pickled peppers are briny, salty, tangy, and spicy! They are delicious but they are also optional.
Homemade Dressing Recipe – See below!
How to Make This Copycat Recipe
Dump: Add the lettuce mix into a large bowl.
Top: Next, add in the tomatoes, olives, red onion, and cheese. Top with a few pepperoncini and any additional add-ins.
Toss: Drizzle with dressing and give it a good toss. Top with croutons and serve immediately!
Tip: If you want smaller pieces of lettuce, you can chop them up a little smaller before adding them to your bowl.
Extra Add-ins
Greens: When making your own, go ahead and use Romaine if you prefer. A spring mix, or any combination of romaine, iceberg, spinach, and bibb lettuce could work. It's not an exact copycat but it still works!
Protein: Grilled chicken, shrimp, steak, crumbled bacon, a hard-boiled egg.
Nuts and seeds: Sprinkle on some sunflower seeds, sliced almonds, cashews, walnuts, or pecans.
A different dressing: Italian dressing, a vinaigrette, balsamic, ranch, blue cheese, or a combination of olive oil, vinegar (or lemon juice), salt, and pepper.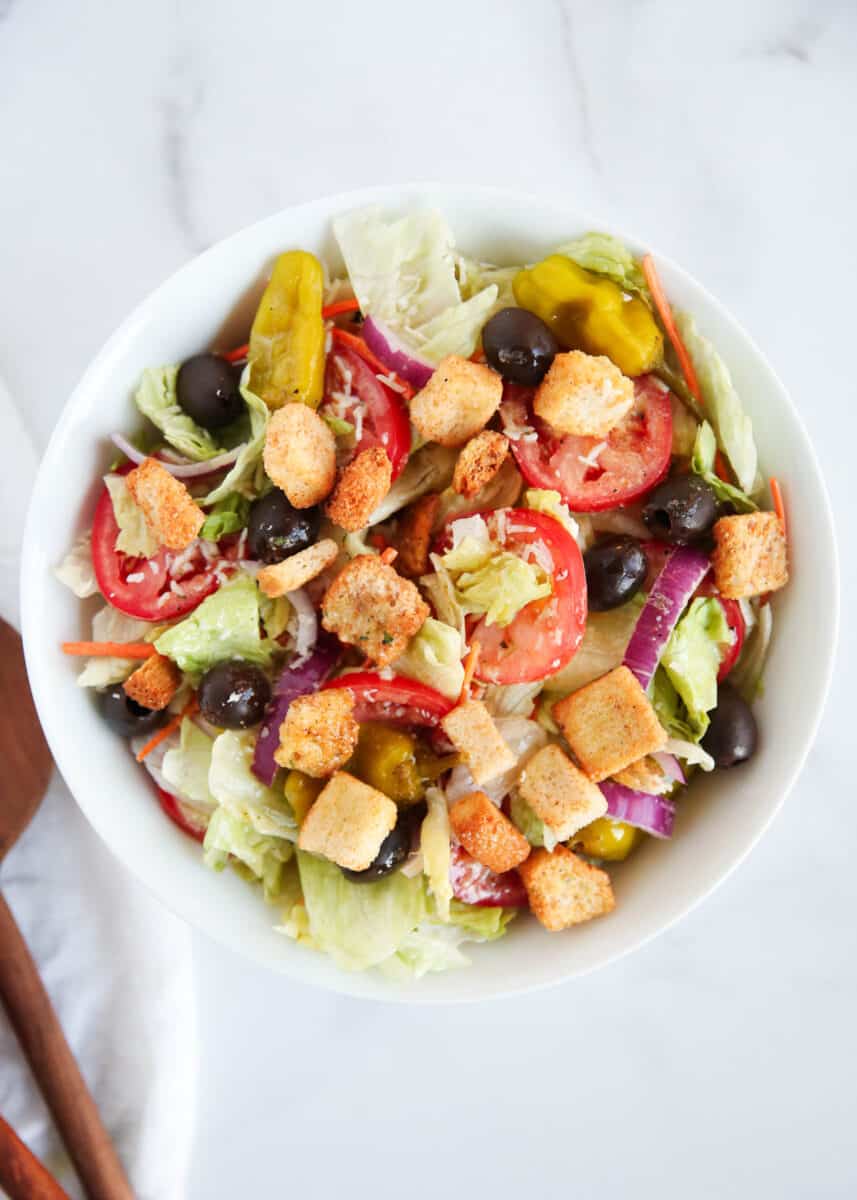 Make-Ahead
If you're serving a crowd and have a lot on the go, using prep time comes in handy. Wash, slice, and chop all the necessary ingredients. Place everything except the pepperoncini, croutons, and dressing into the bowl. Cover with plastic wrap and store for up to 8 hours beforehand.
Then, when you're ready to serve, top with the remaining ingredients and the dressing and give it a toss!
What is Olive Garden Salad Dressing Made Of?
The dressing ingredients are so simple, you probably already have everything you need.
Whisk together olive oil, white vinegar, water, sugar, mayonnaise, and salt and black pepper to taste. Check out my post for detailed instructions and amounts!
What to Serve with this Salad?
A soup and salad is a classic combination. Whether it's a small bowl of soup and a large bowl of salad, or vice versa, it makes for a great light lunch or dinner idea!
Need some extra carbohydrates in your life? Complete your meal with pasta and bread too!
FAQs
Is this salad recipe healthy?
As with any salad, it's all about what you add to it! Are we using the most nutrient-dense lettuce? No! Does that mean you can't? Also no! Not all salads are created equal, but you can add a ton of nutritional value by adding darker leafy greens, drizzling some extra avocado oil, or sprinkling with hemp hearts or chia seeds.

Even without those extra items, you're still using fresh veggies and a homemade dressing that is heads and tails above anything store-bought!

The best thing you can do is play around with the ingredients and do what works for you.
What is in an Olive Garden salad?

It's a very popular salad that fans of the Olive Garden restaurant chain are very familiar with. It's their house salad, made with crisp lettuce and fun add-ins like black olives, croutons, and hot peppers making it tangy, zesty, and delicious!
Is this a vegan recipe?

It is until you add the croutons and cheese. Since they're completely optional, if you leave it out you've got yourself a vegan recipe! You also want to watch out for the dressing. It does contain mayo, in which case you'll want to use an alternate dressing.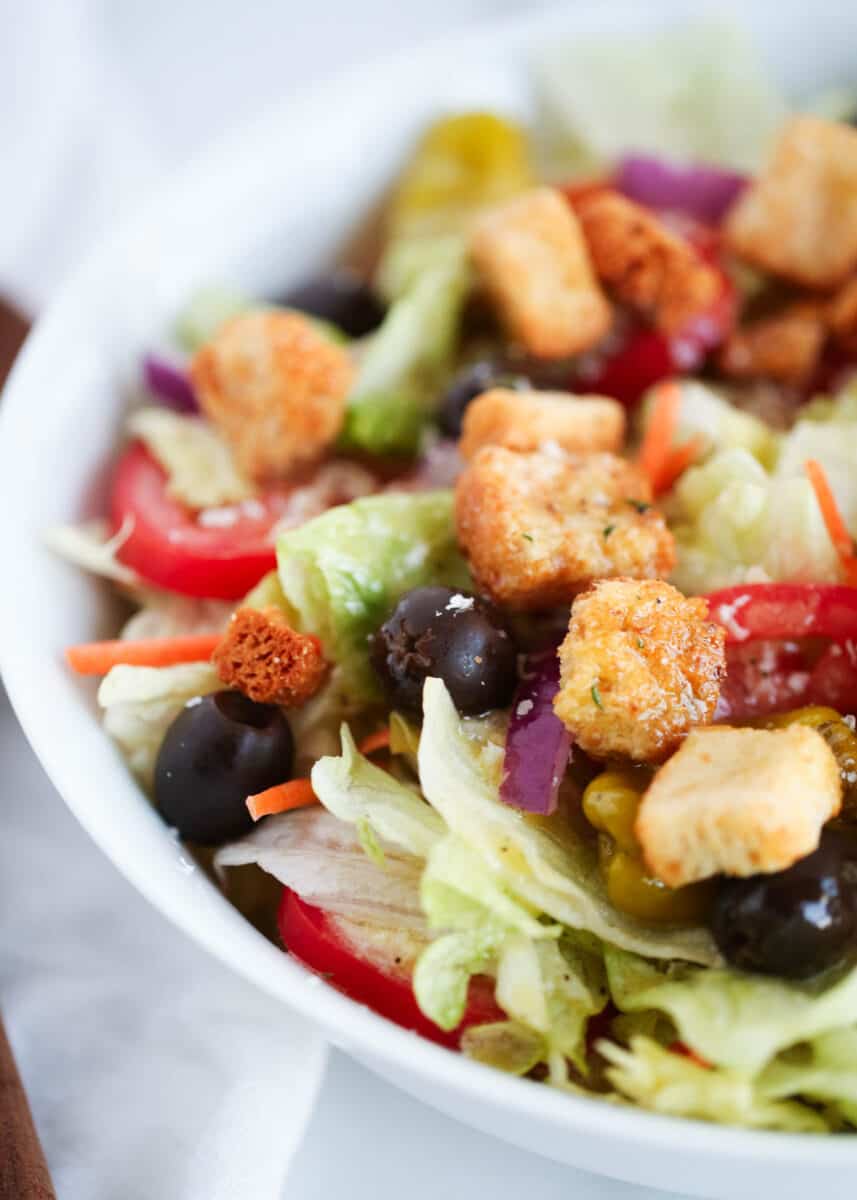 Other Easy Salad Recipes
HUNGRY FOR MORE? Subscribe to my newsletter and follow on Facebook, Pinterest and Instagram for all the newest recipes!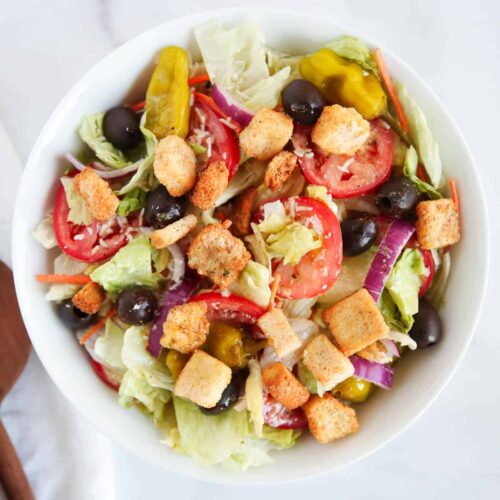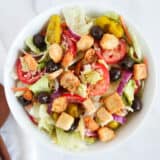 Olive Garden Salad Recipe
This Olive Garden salad recipe hits the spot when you crave this irresistible salad! Along with the zesty dressing, it has everything the original has with the flexibility of making it your own!
Ingredients
12 ounces garden salad mix , plus more if desired
2 roma tomatoes , sliced
1 cup black olives
1-2 cups croutons
¼ red onion , sliced
Shredded parmesan cheese , optional
Pepperoncini , optional
Olive Garden Salad Dressing Recipe , see notes
Instructions
Chop the greens smaller, if desired, and then place in a large bowl.

Add the sliced tomatoes, olives, croutons, and red onion. Add the cheese, pepperoncini, and additional mix-ins (see notes), if desired.

Drizzle the desired amount of dressing over the top and toss with salad tongs. Serve immediately.
---
Notes
Olive Garden Salad Dressing: You can buy this premade from the store or whisk together 3/4 cup extra-virgin olive oil, 1/3 cup white vinegar, 1 (.7-ounce) packet Italian dressing mix, 1/4 cup water, 1/2 teaspoon sugar, and 1 to 2 Tablespoons mayo. Salt and pepper to taste. Not included in calorie count.
Extra mix-ins (optional):
Greens: I use the garden mix bag. You could also do a mix of salad greens, romaine, iceberg lettuce, spinach or bibb lettuce.
Nuts and seeds: sunflower seeds, sliced almonds, cashews, walnuts or pecans
Protein: grilled chicken or steak, crumbled bacon, hard boiled egg
Alternate Dressing: Vinaigrette, balsamic, ranch
Nutrition
Calories: 100kcal | Carbohydrates: 11g | Protein: 2g | Fat: 6g | Saturated Fat: 1g | Polyunsaturated Fat: 1g | Monounsaturated Fat: 4g | Sodium: 588mg | Potassium: 227mg | Fiber: 3g | Sugar: 3g | Vitamin A: 818IU | Vitamin C: 7mg | Calcium: 43mg | Iron: 1mg
Nutrition provided is an estimate. It will vary based on specific ingredients used.
Did you make this recipe? Don't forget to give it a star rating below!