A classic wedge salad recipe is a deliciously simple wedge of crisp iceberg lettuce topped with a creamy tangy blue cheese dressing, sprinkled with crispy smoky bacon or your choice of garnish. A light salad rich in flavor and texture is the perfect side dish for any meal!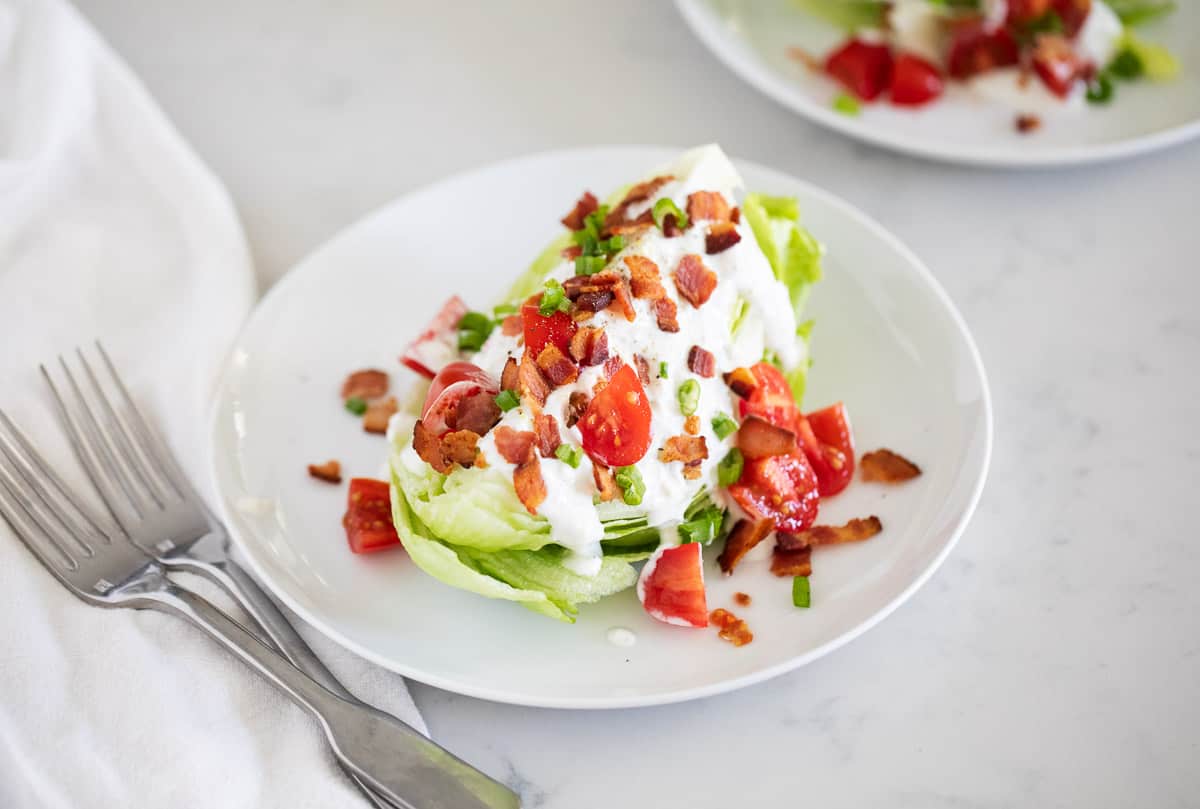 A Fully Loaded Salad
You might consider a blue cheese wedge salad a lighter version of the loaded baked potato. Or maybe you'll just think it's an awesome chunky yet light salad. Either way, one of the best things about it is you can easily customize it to add your favorite toppings and veggies and load it up!
The creaminess of the blue cheese dressing really does complement the cool refreshing crisp lettuce and although the tang of the blue cheese gives it a lip-smacking flavor, you can really use whichever dressing you prefer (ranch dressing or this easy tzatziki sauce tastes delicious too).
A down to earth side that can be dressed up or dressed down for any occasion. Grab a knife and fork, and get ready to enjoy the easiest steakhouse side salad you'll probably ever make. Also, the most delicious!
Why This Recipe Works
Simple ingredients. Made with just 4 ingredients, this wedge salad recipe couldn't be easier to make.
Quick. A fancy side salad that's ready from start to finish in just 10 minutes.
Textures. Crisp lettuce, crunchy bacon, juicy tomatoes and creamy blue cheese dressing. The textures in this dish give you a little bit of everything!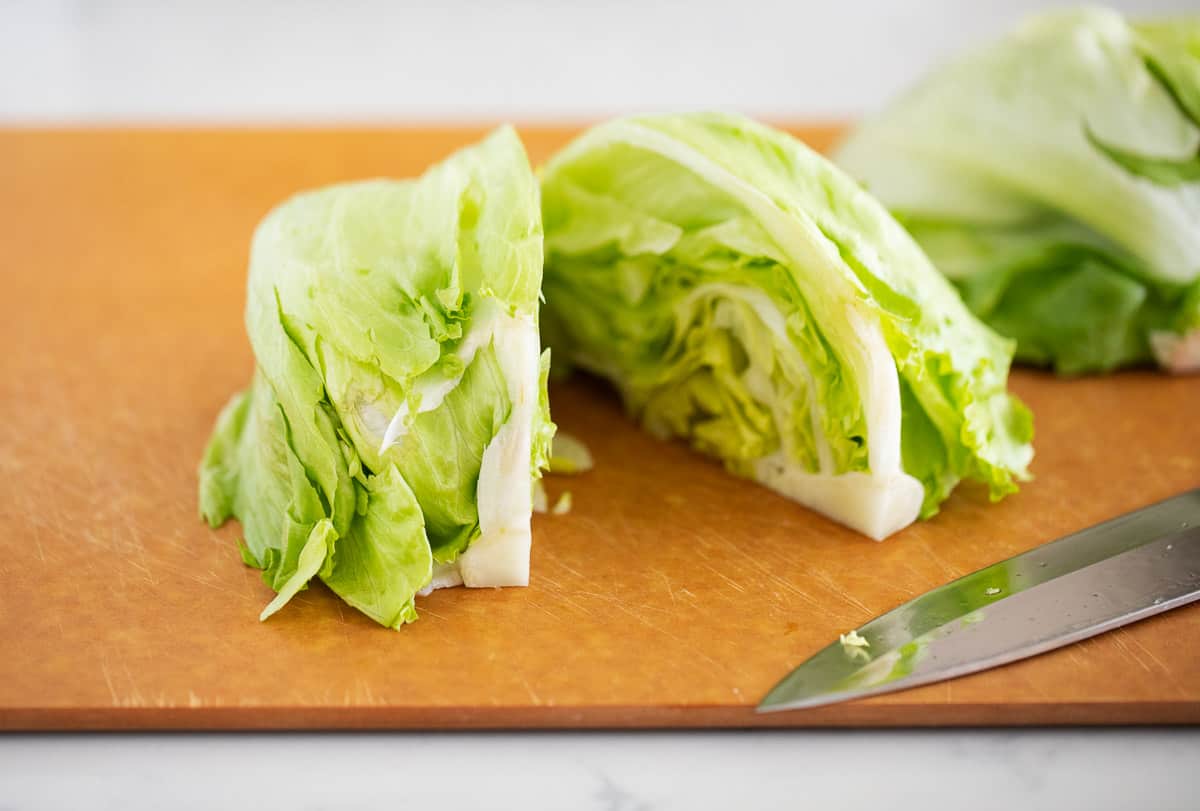 Main Ingredients
Iceberg lettuce: The base of the salad is a crispy wedge of iceberg lettuce. There's hardly any chopping required…just slice the head of iceberg lettuce into 4 wedges.
Blue cheese dressing: This dish is way too easy not to try your hand at homemade blue cheese dressing to go along with it! A lighter more flavorful version than store-bought, it's a nice addition to the crisp lettuce and perfectly cooked bacon crumbles!
Bacon: Pieces of crispy chopped bacon are one of the best parts about a wedge salad! I recommend using fresh bacon (instead of bacon bits) for the best flavor. For an easy shortcut, learn how to cook bacon in the oven.
Cherry tomatoes: Fresh and juicy chopped cherry tomatoes are the finishing touch on top. Look for fragrant tomatoes with a bold red color.
More Topping Ideas
You can definitely get creative with what toppings you put on it, but one rule of thumb to follow is to make sure you chop your toppings up into tiny pieces. This salad, because it's a wedge, is already chunky in nature. You don't want chunky toppings all over a chunky bite, it just might make it a little hard to eat!
Blue cheese crumbles
Chives
Green or red onion
Black pepper
Black olives
Red bell pepper
Shredded carrot
Cucumber
How to Make a Wedge Salad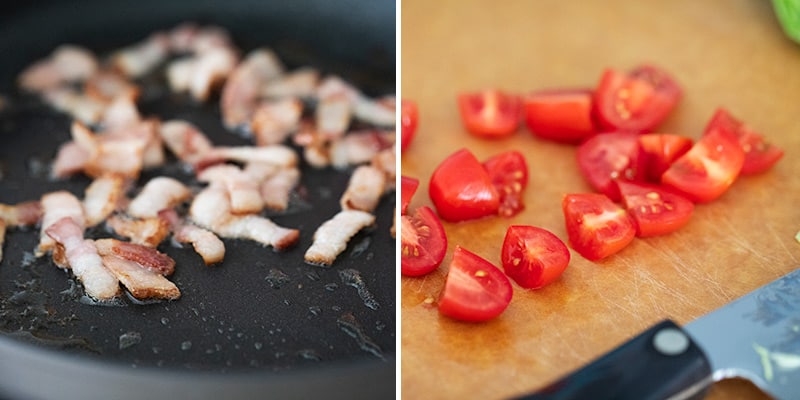 Prep. Before you do anything with the lettuce, make sure to peel back and discard any dirty or wilted leaves. Remove the stem and then cut the head of lettuce in half and then half again to create 4 wedges.
Toppings. Plate the wedges. If you're serving individually, you'll want to use individual plates. You can also serve on a big platter and share at the table. Drizzle 2-3 Tablespoons of blue cheese dressing on top of each wedge, adding more if you like it drenched! Sprinkle the bacon bits and tomatoes and any extra toppings if desired.
Serve. This is a salad that once prepared, you'll want to serve immediately so it doesn't get soggy. Enjoy all the loaded crunchy, creamy goodness.
Expert Tips
Finely chop the toppings into small pieces so that they don't fall off of the lettuce wedge. This way you'll get the perfect amount of flavors and textures in every bite!
Make a homemade wedge salad dressing to elevate the flavors of your salad. Blue cheese dressing or a buttermilk ranch dressing both taste fabulous!
Serve immediately so that the lettuce stays nice and crispy.
Recipe FAQs
How do you wash lettuce for wedge salad?
Run the iceberg lettuce under cold water to remove any dirt. You may need to gently separate the outer leaves slightly with your hands to let water get through.

Another alternative is to soak the heads of lettuce in cold water for a few minutes to remove any grime. Then let dry on a paper towel.
How do you eat a wedge salad?
Unlike traditional salad recipes that are made with chopped greens, this recipe is made with a wedge of iceberg lettuce. Therefore the best way to eat a wedge salad is with a fork and knife so that you can easily cut the wedge as you go.
Can you make a wedge salad without blue cheese?
Sure! Blue cheese is usually hit or miss for most people, so feel free to use a homemade ranch as your dressing instead. You can also use feta cheese crumbles on top instead of blue cheese crumbles.
What to Serve with an Iceberg Wedge Salad
This is the perfect side salad to serve with any of the below dishes.

HUNGRY FOR MORE? Subscribe to my newsletter and follow on Facebook, Pinterest and Instagram for all the newest recipes!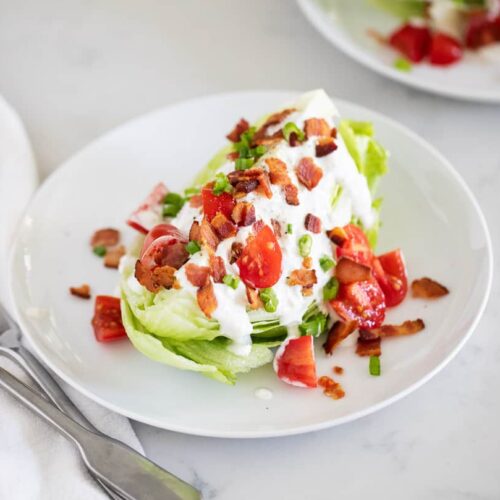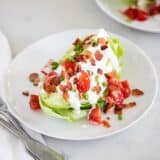 Wedge Salad
A classic wedge salad recipe is a deliciously simple wedge of crisp iceberg lettuce topped with a creamy tangy blue cheese dressing, sprinkled with crispy smoky bacon or your choice of garnish. A light salad rich in flavor and texture is the perfect side dish for any meal!
Ingredients
1 head iceberg lettuce
½ cup blue cheese or ranch dressing (more if desired)
4 strips bacon (cooked and crumbled)
16 cherry tomatoes (sliced in 4)
Optional: Extra blue cheese crumbles, chives, red or green onions, hard boiled egg, croutons, black pepper
Instructions
Remove the stem from the iceberg lettuce and remove any wilted leaves. Then cut in half and in half again to create 4 wedges.

Place each wedge onto a plate. Then add 2-3 Tablespoons of dressing to the top of each wedge. Add more if desired. Then sprinkle the bacon bits over top along with the tomatoes. Add any extra toppings if desired.

Serve immediately.
---
Nutrition
Calories: 153kcal | Carbohydrates: 8g | Protein: 6g | Fat: 11g | Saturated Fat: 4g | Cholesterol: 15mg | Sodium: 454mg | Potassium: 382mg | Fiber: 2g | Sugar: 5g | Vitamin A: 1009IU | Vitamin C: 19mg | Calcium: 59mg | Iron: 1mg
Nutrition provided is an estimate. It will vary based on specific ingredients used.
Did you make this recipe? Don't forget to give it a star rating below!