Chicken pot pie with biscuits is quick and easy comfort food that has all of the delicious signature elements of the classic dish but with time-saving shortcuts to get dinner on the table in under 1 hour!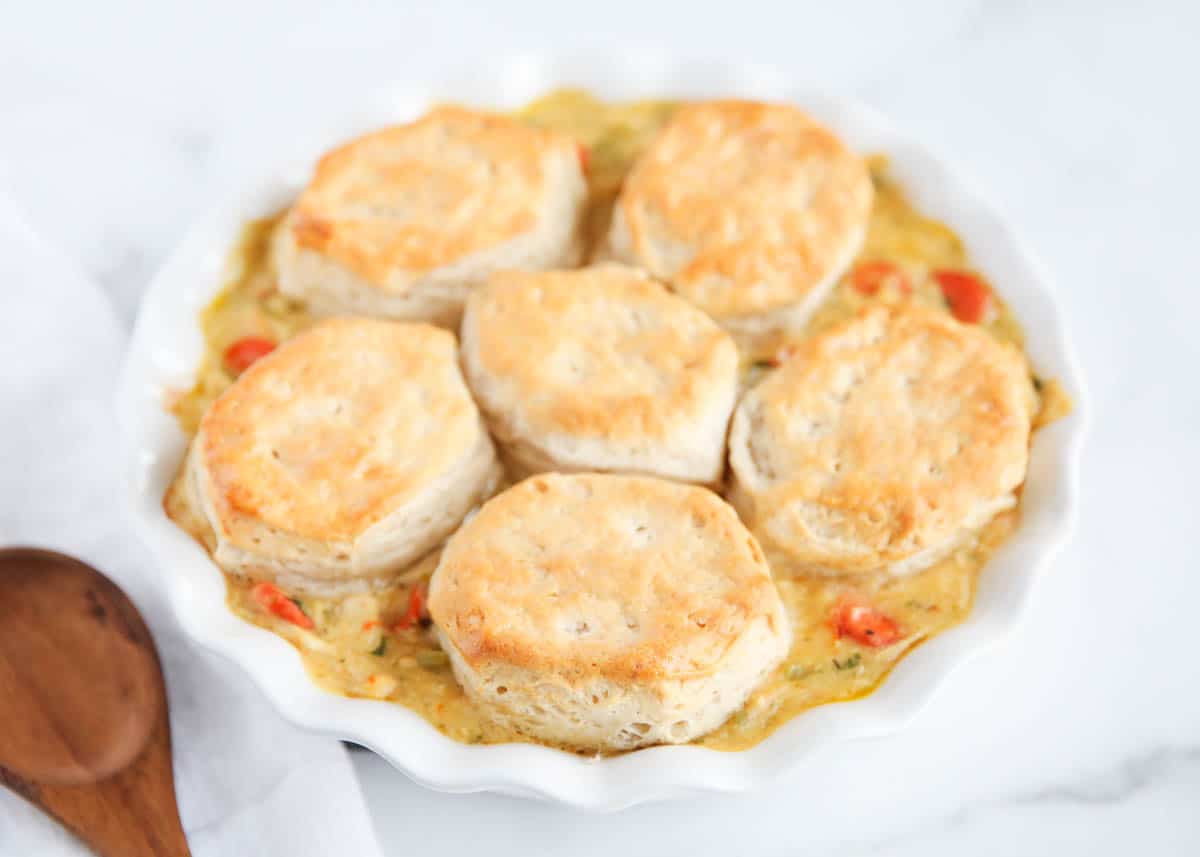 Easy Chicken Pot Pie with Biscuits
This chicken pot pie with biscuits is an easier take on homemade chicken pot pie using canned biscuits instead of homemade pie crust. It's a great way to get a homestyle meal in a fraction of the time it would take you if you were to make the crust from scratch.
On the weekends, however, when I've got a little more time I use homemade biscuits or these easy drop biscuits instead. Still super easy!
Let's face it, there's nothing more nostalgic and familiar than a good old-fashioned classic chicken pot pie recipe. This version just happens to fill your belly a whole lot sooner. Only easier would be my one pot chicken pot pie soup that requires no baking!
Recipe Ingredients
Here is a quick overview of the ingredients you will need to make this homemade chicken pot pie with biscuits!
Biscuit dough: I used 6 Pillsbury flaky-style biscuits from a 16 oz can. Use your preferred biscuits including homemade if you would like.
Chicken: You will need two cups of shredded cooked chicken. I love to use leftover rotisserie chicken!
Vegetables: Carrots, celery, onion and potatoes are simmered in the sauce and frozen peas added at the end. You could use a frozen vegetable blend or add green beans, too.
Sauce: Salted butter, chicken broth and flour make an easy homemade roux, then half and half adds creaminess.
Seasonings: Salt, pepper and fresh or dried thyme.
How to Make Chicken Pot Pie with Biscuits
This easy recipe starts on the stove and finishes in the oven for a cozy dinner that is the ultimate comfort food!
Cook vegetables: Melt butter in a large pot over medium heat. Add onions and vegetables and cook until tender.
Make creamy sauce: Stir in the flour and then add the broth, salt, pepper, and thyme to the mixture. Bring to a boil until potatoes are tender. Stir occasionally.
Simmer ingredients: Reduce heat to simmer on low. Add half and half, followed by the frozen peas and chicken. Heat through and season to taste.
Bake: Pour filling into your baking dish and add flattened biscuit dough on top. Bake until golden and cooked through (about 20-25 minutes).
Biscuit Options
Biscuit pot pie is easy to make since we are using biscuits instead of rolling out a pie crust topping! There are so many biscuit options you can use from homemade to store bought.
Homemade buttermilk biscuits would taste amazing in this recipe. To save time you could form them ahead and refrigerate until it is time to top your dish.
Drop biscuits are another great easy option. Mix the dry ingredients in advance to speed things along the day you make the pot pie.
Refrigerated biscuits are my favorite shortcut! I used Pillsbury flaky-style but Grands could be used as well.
Bisquick biscuits could be made and used, refer to the package directions for baking time and temperature.
Biscuits could also be baked separately while you make the filling although they really do taste best when added on top of the pot pie before baking.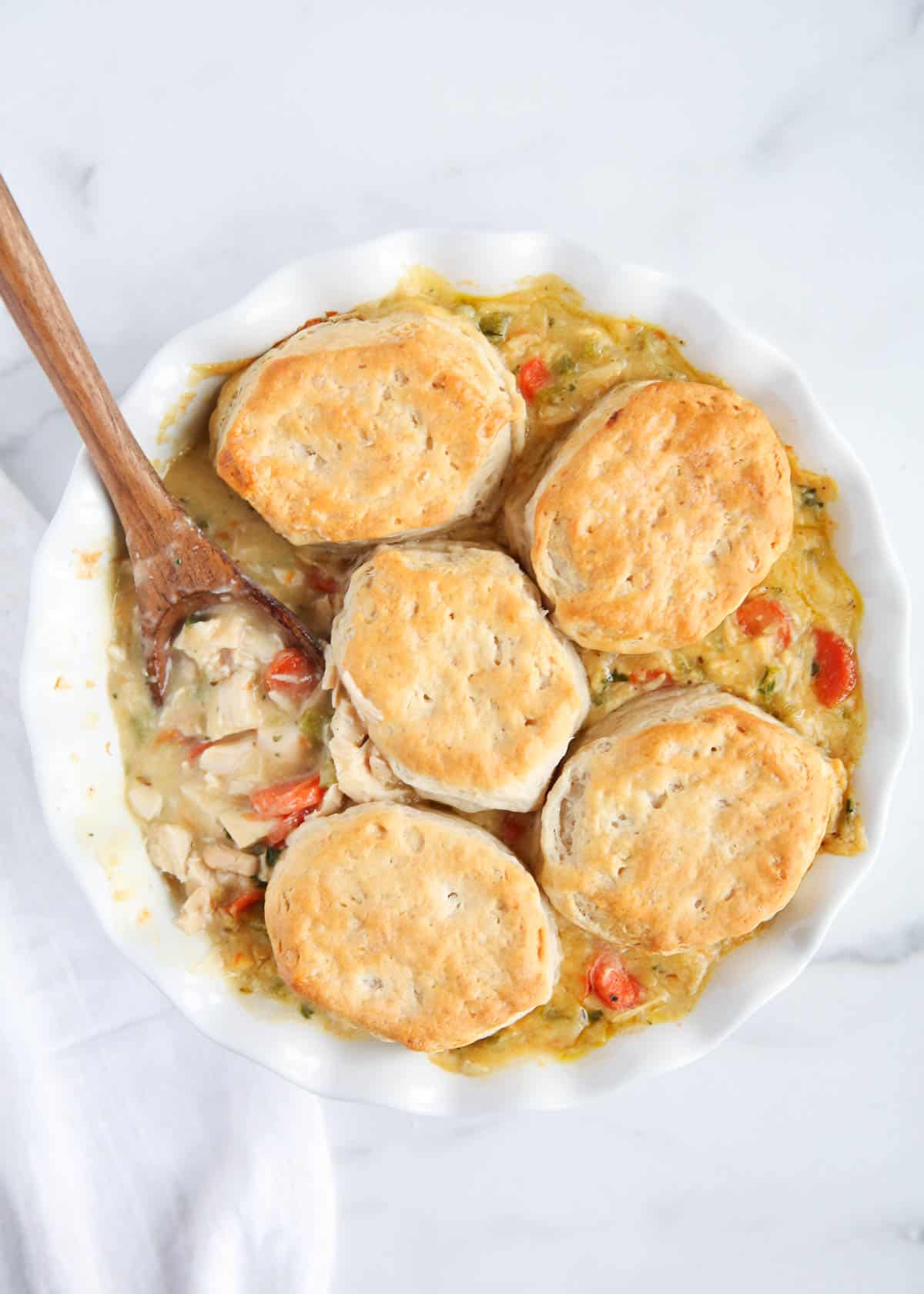 Make Ahead Option
You could make the filling up to 2-3 days in advance then store in the refrigerator in an airtight container until ready to use. Before baking warm up the filling again in the skillet, transfer to the baking dish, top with the biscuits and bake until the biscuits are golden brown.
Expert Tips
Chicken still frozen? No problem, cooking frozen chicken in Instant Pot is a great way to get it ready for use in this recipe.
Save time. Use leftover shredded chicken if you've got it.
New to making a roux? You might want to check out how to make a roux before getting started.
Tempering the half and half. Add a bit of the sauce to the half and half before adding it all back in. This way, the half and half will adjust to the temperature before being added to the hot liquid.
For that glossy golden brown finish on the biscuits, brush them with an egg wash (a beaten egg yolk) before baking.
Avoid burnt biscuits. Cover the baking dish with foil if you notice the biscuits are browning too quickly.
Shredded turkey. Swap the rotisserie chicken for turkey and make it similar turkey pot pie. It's one of the best turkey leftover recipes!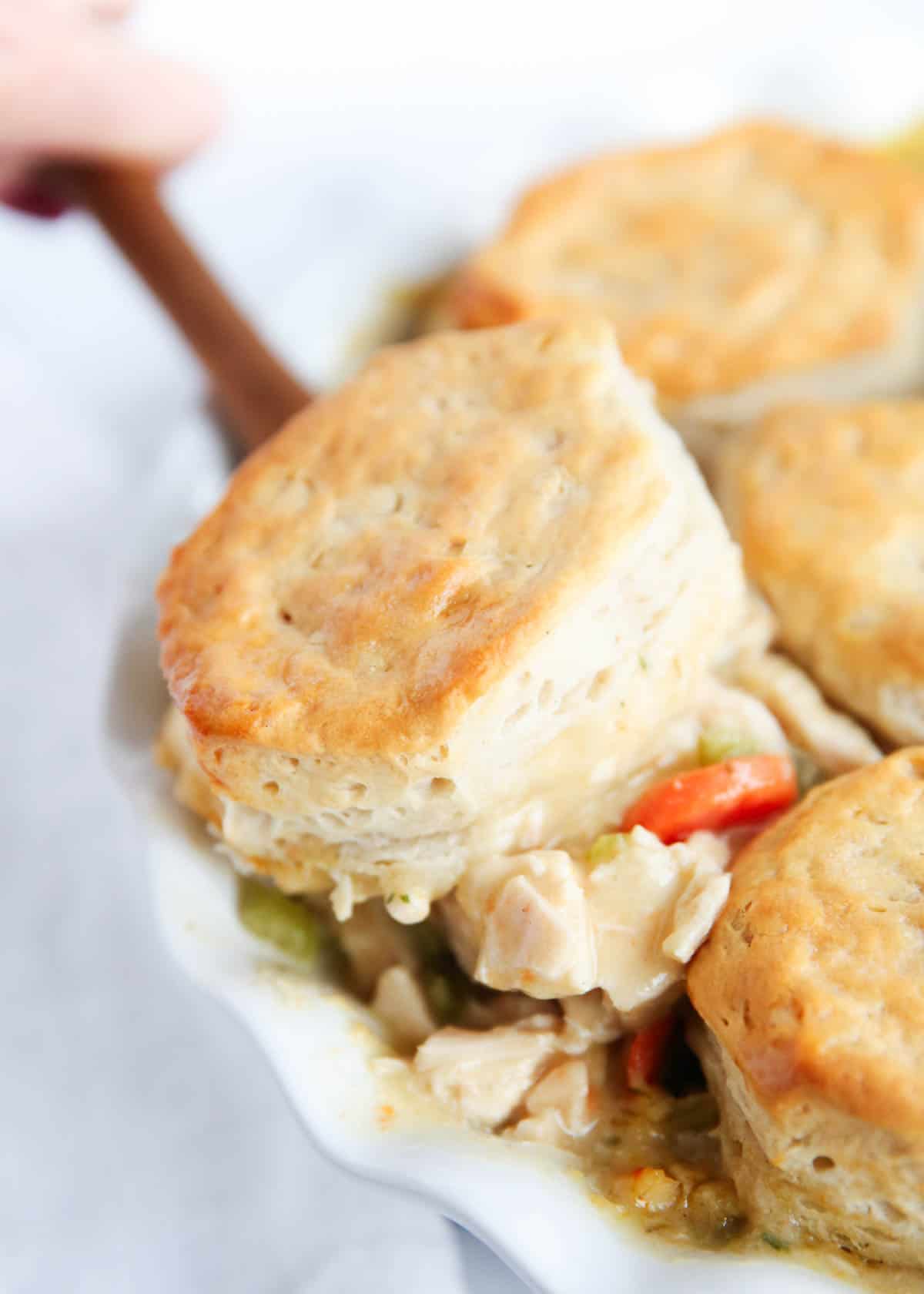 FAQs
What should I serve with this dish?
This hearty casserole is a meal in itself but sometimes I like to serve it with a side dish such as green beans, Caesar salad or this easy Italian salad.
Can I use frozen vegetables?
Yes! Using a frozen blend of vegetables with carrots, corn, peas or green beans is a great timesaver.
What is the sauce made of in chicken pot pie?
For this recipe the sauce is made with butter, chicken broth, flour and then half and half. Whipping cream or heavy cream could be used instead of half and half for a richer sauce. Milk could be used but your sauce will be thinner. You could save even more time and use cream of chicken soup instead of making a roux.
Can you roll out canned biscuits?
You could, but this recipe is super easy in that all you need to do is open the can of biscuits, place them on top of the pot pie and bake it all together. It's so easy!
Storage
Leftover chicken pot pie with biscuit topping can be stored in an airtight container in the refrigerator for 3-4 days or store in the freezer up to 3 months.
Reheat in the oven or in a skillet on the stove. Add a splash of milk or broth to rehydrate the filling.
More Easy Comfort Food:
HUNGRY FOR MORE? Subscribe to my newsletter and follow on Facebook, Pinterest and Instagram for all the newest recipes!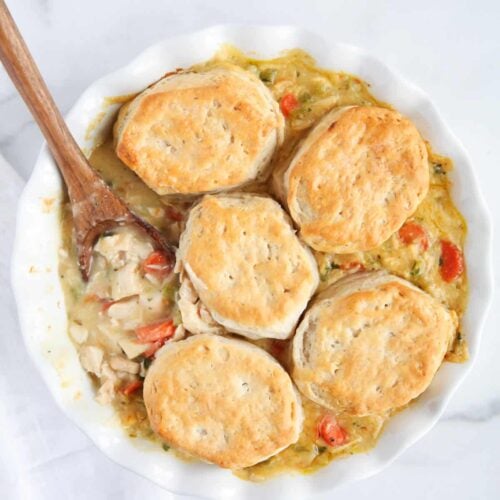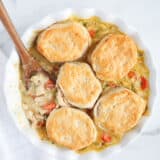 Chicken Pot Pie with Biscuits
Chicken pot pie with biscuits is quick and easy comfort food that has all of the delicious signature elements of the classic dish but with time-saving shortcuts to get dinner on the table in under 1 hour!
Ingredients
¼ cup salted butter
1 large potato , diced
3 large carrots , sliced
4 ribs celery , sliced
½ cup chopped sweet onion
¼ cup all-purpose flour
15 ounces chicken broth
½ teaspoon Kosher salt , more to taste
¼ teaspoon ground black pepper , more to taste
1 teaspoon fresh thyme , or 1/4 teaspoon dried
½ cup half and half
2 cups shredded cooked chicken , cooked turkey will work too
½ cup frozen peas
16 ounces canned biscuits , I only use 6 of the biscuits
Instructions
Melt the butter in a large pot over medium heat. Add the potatoes, carrots, celery and onion. Cook until the onions are tender (about 5 minutes).

Stir in the flour until blended. Then slowly add the chicken broth, salt, pepper, and thyme. Bring to a light boil over medium high heat, stirring occasionally. Boil until the potatoes are fork tender.

Preheat oven to 350°F. Reduce the heat to low so it is no longer at a boil. Then add a spoonful or the soup to the half and half to temper it. Stir together and then slow stir into the soup. Add the chicken and frozen peas. Heat through and then add more salt, pepper and thyme if desired.

Pour filling into a pie dish or 9×13" dish if desired. Then flatten biscuits and add on top of the filling.

Bake for 20 to 25 minutes or until the biscuits are golden and cooked through. Cover the top with foil if they are browning too fast. Allow to rest 5 minutes before serving.
---
Notes
Brushing egg on top: If you'd like your biscuits to have a glossy finish, brush 1 beaten egg yolk over top of the biscuits before baking.
Biscuits: I used Pillsbury flaky-style biscuits for this recipe. If you'd prefer to make homemade, try these homemade biscuits or drop biscuits. Add to the pot pie before baking.
Nutrition
Calories: 348kcal | Carbohydrates: 43g | Protein: 7g | Fat: 17g | Saturated Fat: 7g | Polyunsaturated Fat: 3g | Monounsaturated Fat: 6g | Trans Fat: 1g | Cholesterol: 28mg | Sodium: 958mg | Potassium: 602mg | Fiber: 4g | Sugar: 5g | Vitamin A: 5528IU | Vitamin C: 25mg | Calcium: 76mg | Iron: 3mg
Nutrition provided is an estimate. It will vary based on specific ingredients used.
Did you make this recipe? Don't forget to give it a star rating below!