Use leftovers from Thanksgiving to make this easy homemade turkey pot pie. The ultimate comfort food that's made with a flaky pie crust and a creamy pot pie filling.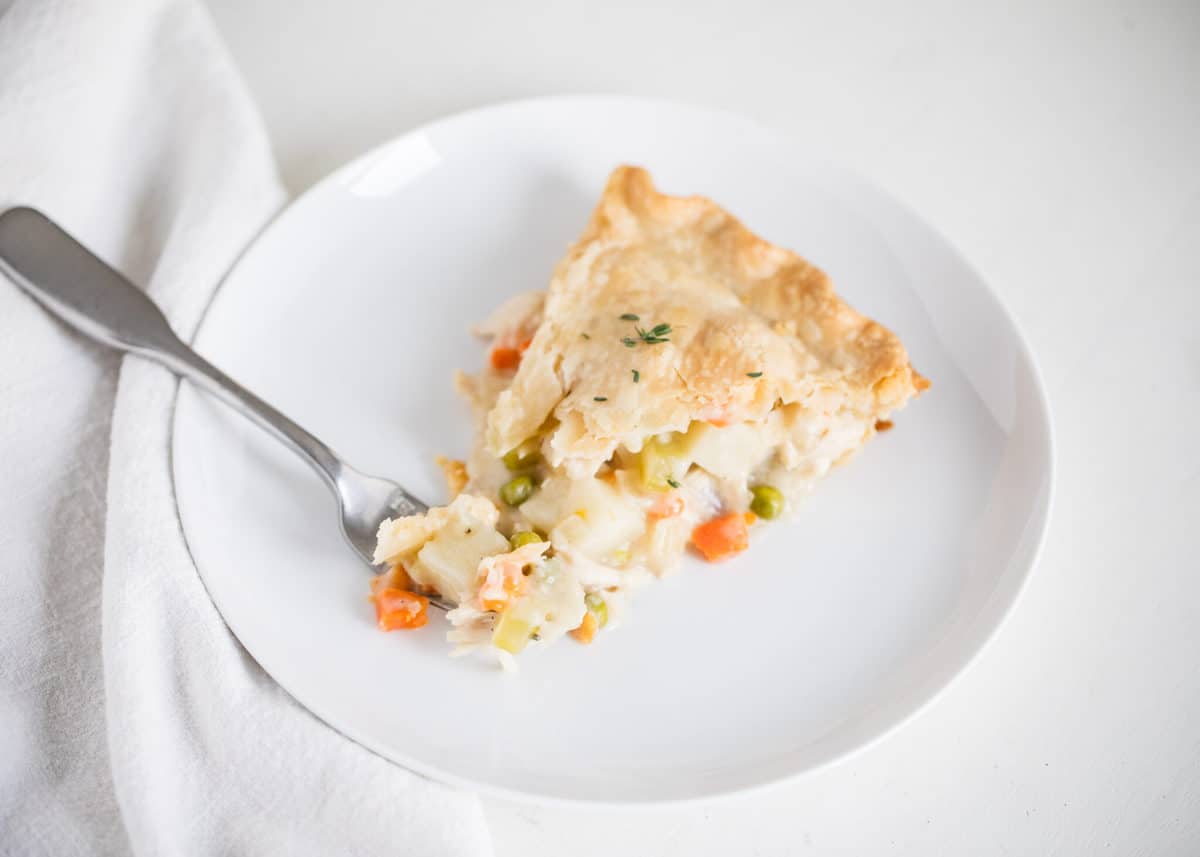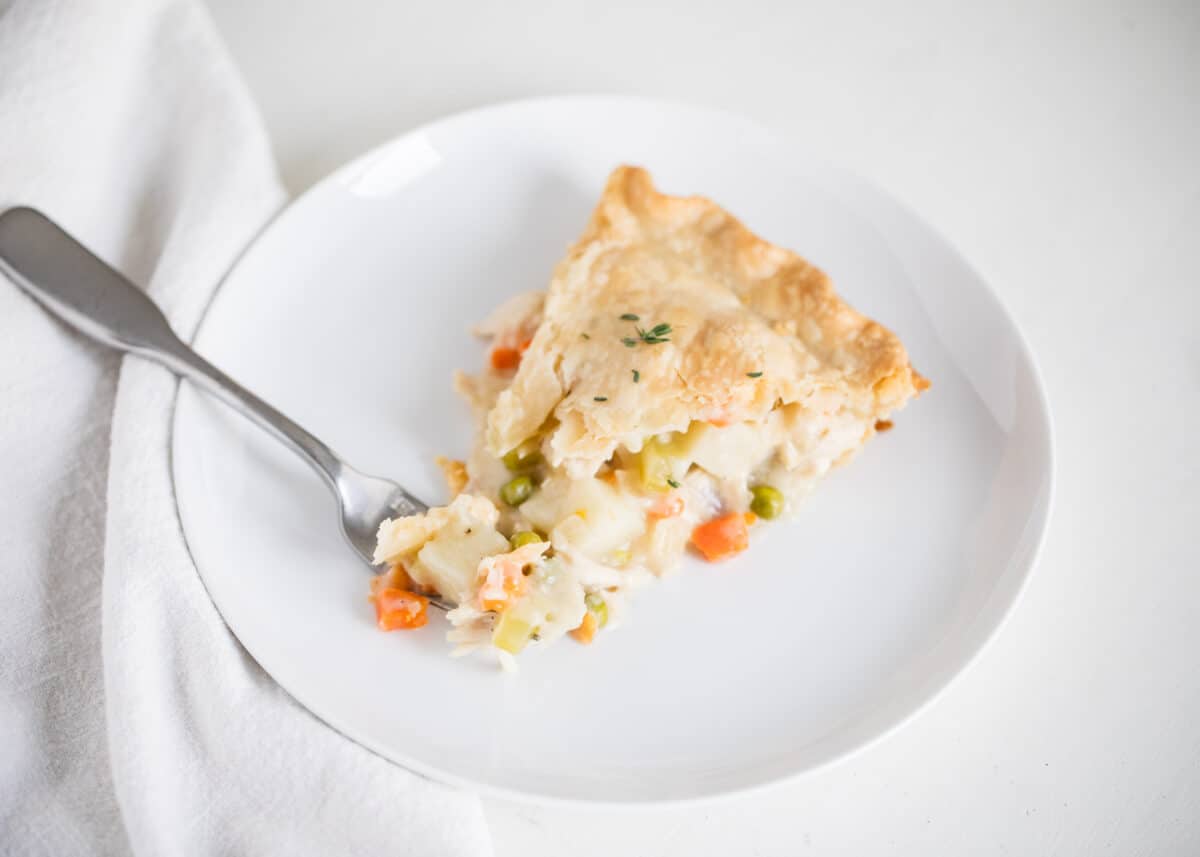 Homemade Turkey Pot Pie
One of my favorite ways to use up leftover roasted turkey from the holidays is to make a turkey pot pie. We always have extra meat and veggies leftover from our Thanksgiving dinner and this is the perfect way to use them up. I used my favorite chicken pot pie recipe and subbed out chicken for turkey. It tasted just as delicious!
I also love making turkey stock the day after Thanksgiving and then using the stock to make this pot pie the Saturday or Sunday after. It makes for a delicious comfort meal.
If I have enough turkey, sometimes I'll even make a second one to freeze for later. It's one of my family's favorite dinners and makes a great freezer meal. All of my kids love it! Pure comfort food at it's finest. This is one of my top leftover turkey recipes.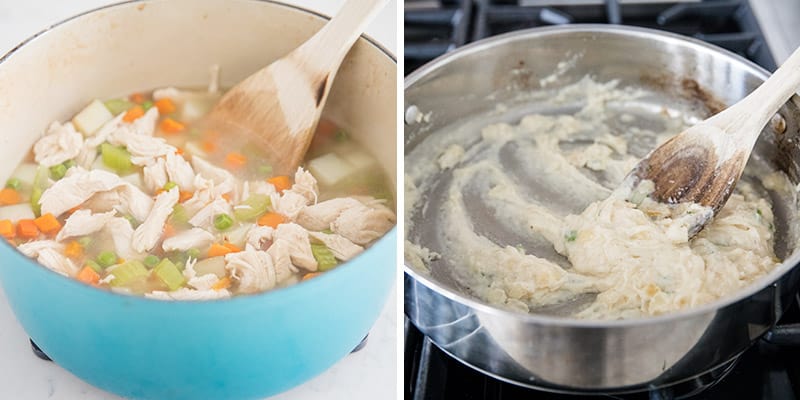 How to make Turkey Pot Pie
Cook veggies. Add the turkey and vegetables (except the onions) in a pot with a carton of chicken broth (or turkey stock). Boil for 15 minutes, then drain the mixture. Make sure to save 1 1/2 cups of the broth for when you make the filling later.
Bake crust. Press the pie dough into a pie pan and poke a few times with a fork. Bake in oven at 425°F for about 5 to 7 minutes. Then remove from oven and turn heat down to 375°F.
Make filling. Cook the onions in butter until soft and tender, then mix in the flour and spices. Slowly add in the reserved broth and milk. Allow the mixture to simmer until the consistency has thickened. Remove from the burner and stir in the meat and veggie mixture until combined.
Assemble. Pour the filling on top of the bottom crust. Cover with the remaining pie dough and seal the edges. Don't forget to make a few small slits in the center so that steam can escape while baking.
Bake. Bake until the top is golden brown, about 25 to 30 minutes. Allow the pie to cool for about 10 minutes prior to serving.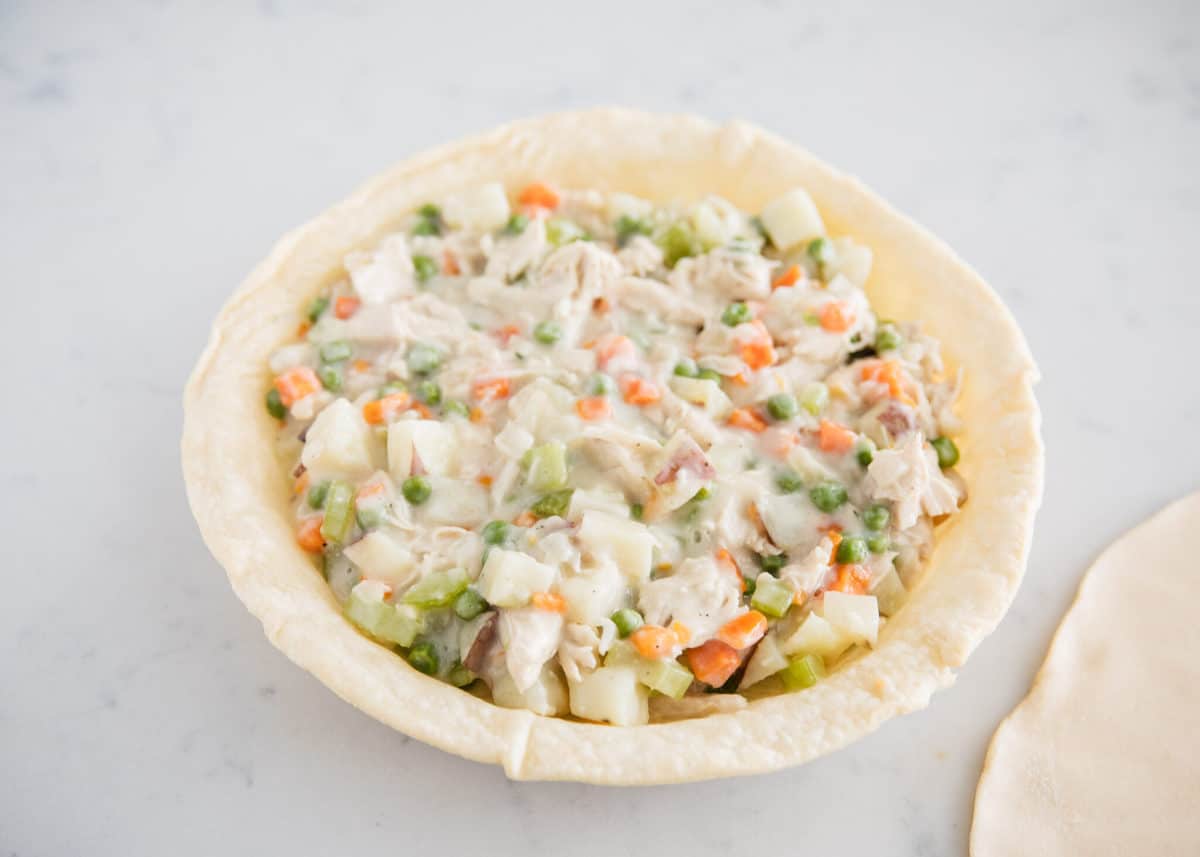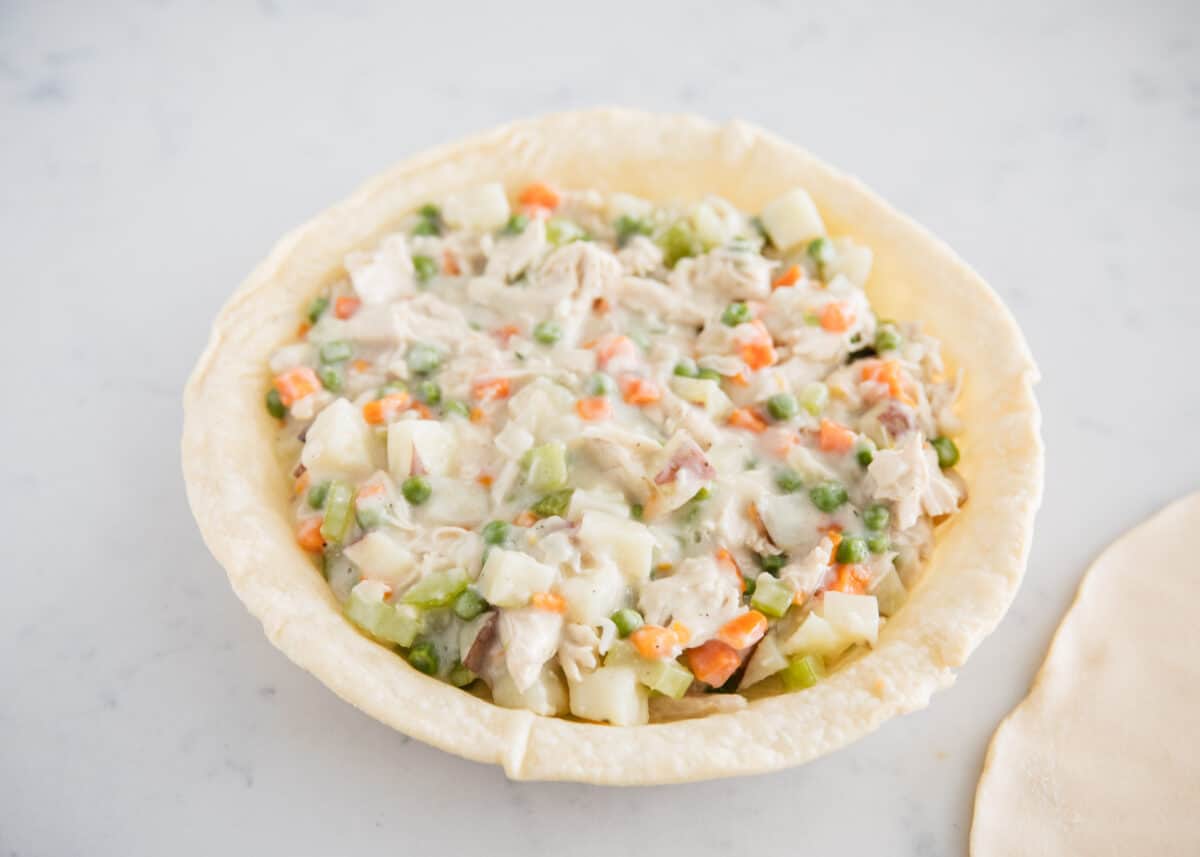 Cooking Tips
I love making a homemade pie crust if I have the time. If using premade refrigerated pie dough, Pillsbury is my favorite.
You can add in extra veggies like green beans, corn or mushrooms if preferred.
Feel free to replace turkey with chicken.
If the pie crust starts to brown too quickly, tent the top with foil.
Let the pie cool for about 10 minutes before slicing. The filling will set and thicken up as it cools.
Biscuit Version
To make this recipe even easier, you can use canned biscuits instead of pie dough like I did in this chicken pot pie with biscuits recipe. Just pour the filling in the bottom of the pie pan, then top with the biscuit dough and bake. So easy and just as delicious!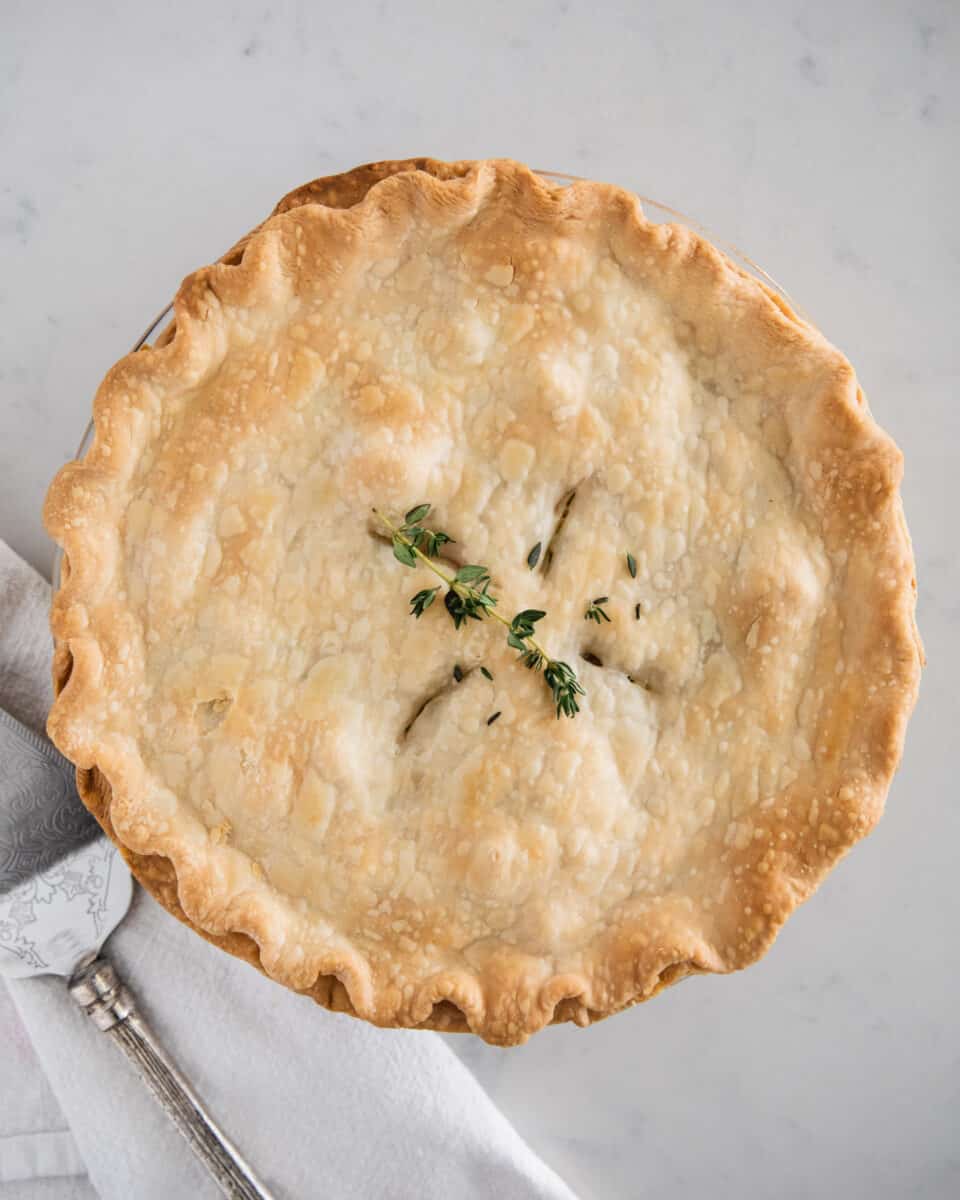 Make-ahead + freezer instructions
Make-ahead: You can prepare the filling a day in advance, then let cool and store in the fridge. You can also make homemade pie dough in advance (or use premade store-bought pie dough for no extra prep). The next day, simply bake the bottom crust, then add the filling and top crust and bake again.
To freeze: This recipe can be frozen baked or unbaked. Assemble as directed, then wrap tightly with foil or saran wrap. Store in the freezer for up to 2 months. Let thaw in the fridge overnight and then bake according to directions.
5 star review
"I made this after Thanksgiving to use up all the leftover turkey meat. This was just FABULOUS! This recipe is a keeper. I doubled the recipe and it made three pies."

-Rita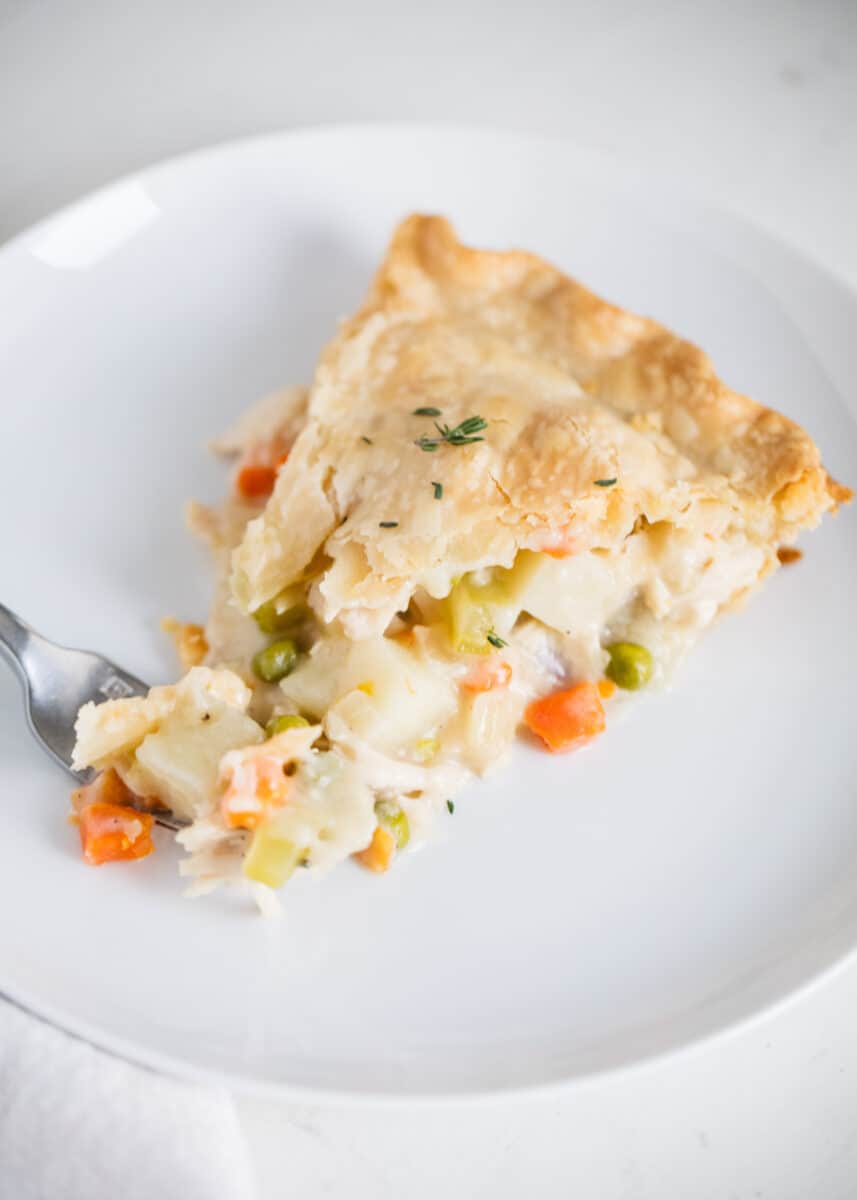 More ways to use Leftover Turkey: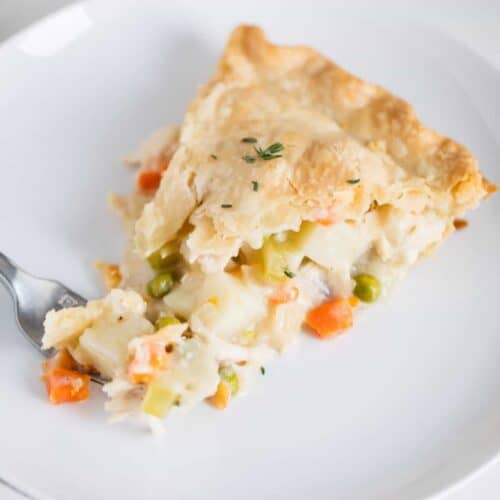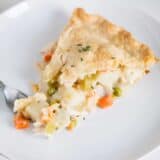 Turkey Pot Pie
Use leftovers from Thanksgiving to make this easy homemade turkey pot pie. The ultimate comfort food that's made with a flaky pie crust and a creamy pot pie filling.
Ingredients
2-3 cups cooked turkey (shredded or cubed)
1 cup frozen green peas & carrots
1/2 cup sliced celery
1 large potato (or 2 small potatoes, peeled and diced)
1/3 cup butter
1/3 cup chopped onion
1/3 cup all-purpose flour
1/2 teaspoon coarse salt
1/4 teaspoon ground black pepper
1/4 teaspoon celery seed (optional)
32 ounce carton chicken or turkey stock
2/3 cup milk
2 (9 inch) unbaked pie crusts (If using store bought I prefer Pillsbury)
Instructions
In a pot, combine turkey, carrots, peas, potatoes and celery. Add the chicken broth and boil for 15 minutes. Remove from heat, drain (reserving 1 and 1/2 cups broth for filling) and set aside.

Place the bottom crust on the pie pan and dab a few times with a fork. Place in oven and cook at 425°F for 5-7 minutes.

In a large sauce pan, cook onions in butter (over medium-heat) until soft and translucent. Stir in flour, salt, pepper and celery seed. Next, slowly stir in chicken broth remains and milk. Simmer over medium-low heat until thick. Remove from heat and combine with the turkey, carrots, peas and celery mixture.

Remove pie crust from oven and turn temperature down to 375°F. Place the filling in the bottom crust. Cover with top crust, seal edges and cut away excess dough. Make several small slits in the top to allow steam to escape.

Bake for 25 to 30 minutes, or until golden brown. Cool for 10 minutes before serving.
---
Calories: 370kcal | Carbohydrates: 36g | Protein: 10g | Fat: 21g | Saturated Fat: 9g | Cholesterol: 39mg | Sodium: 443mg | Potassium: 403mg | Fiber: 3g | Sugar: 3g | Vitamin A: 2990IU | Vitamin C: 11mg | Calcium: 53mg | Iron: 2mg
Nutrition provided is an estimate. It will vary based on specific ingredients used.
Did you make this recipe? Don't forget to give it a star rating below!