Try this easy 1-hour chicken shawarma sheet pan dinner for a quick Middle Eastern-inspired meal. Tender chicken thighs and onions are infused with a warm spicy marinade and then oven roasted to perfection!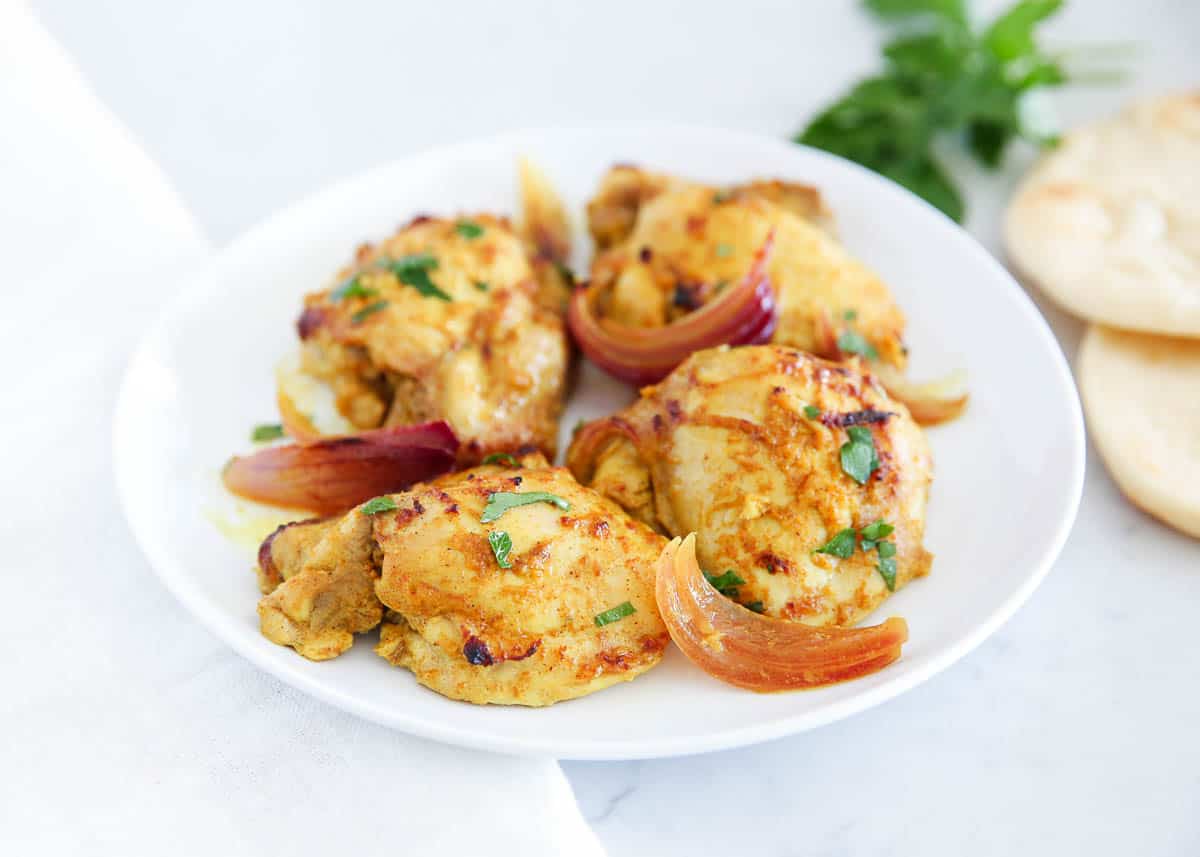 What is Chicken Shawarma?
You might have tried chicken shawarma before and have seen the slices of spiced meat, which could be lamb, beef, and even turkey twirling around on a vertical rotisserie, otherwise known as a vertical spit. This is the traditional way of making this popular Middle Eastern street food. The meat is usually incredibly juicy with crispy edges.
While this is not your typical authentic chicken shawarma recipe, it's inspired by the flavors of both the Middle East and the Mediterranean! I wanted to take this classic favorite and make it easy to prepare at home. That's when I knew a sheet pan was the way to go!
You probably know by now how much I love sheet pan dinners for their simplicity and time-saving ways. You really can't go wrong! This recipe is a fun variation of my sheet pan chicken thighs and is packed with so much flavor.
Start by marinating the meat in a lemony garlic marinade blended with a warm spice mix then bake them in the oven. The whole thing is ready in under an hour; most of it is the hands-off time!
Recipe Ingredients
This sheet pan chicken shawarma is very easy to make at home. With just chicken thighs and a few simple spices and seasonings, this easy dinner only takes 5 minutes of prep time.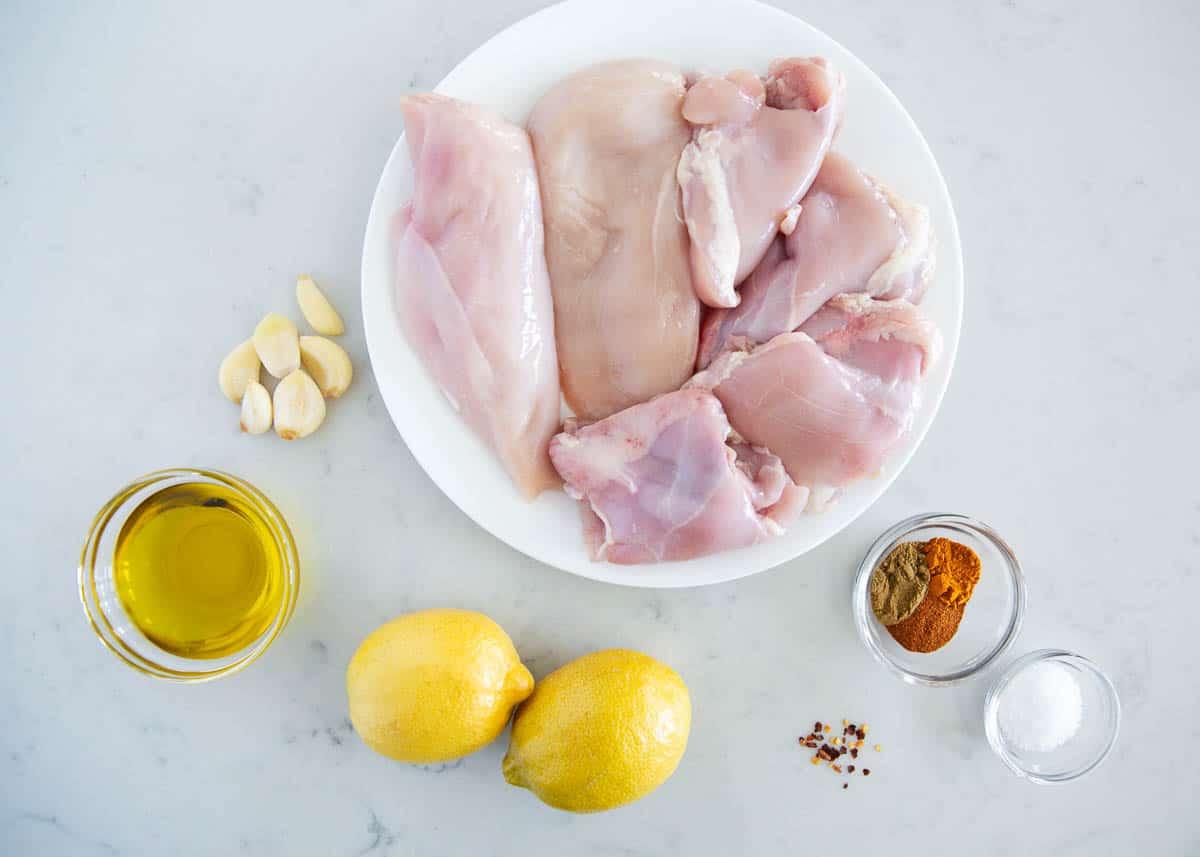 Find the full printable recipe with specific measurements below.
Boneless, skinless chicken thighs: I prefer thighs for this recipe; however, I usually add in 1 to 2 breasts for my kids. Either will work, but I find darker meat from the thighs is more tender and flavorful.
Shawarma seasoning mix: I used a blend of common shawarma spices – paprika, cumin, turmeric, pepper, red pepper flakes, and cinnamon. The spices are mixed with lemon, minced garlic, and oil to make the marinade. Check out my guide on how to mince garlic for tips on how to make the job easier!
How to Make Chicken Shawarma
My simplified version of how to make chicken shawarma requires only a few minutes of hands-on time to prepare the marinade. After that, you're free until it's time to pop the chicken and onions into the oven.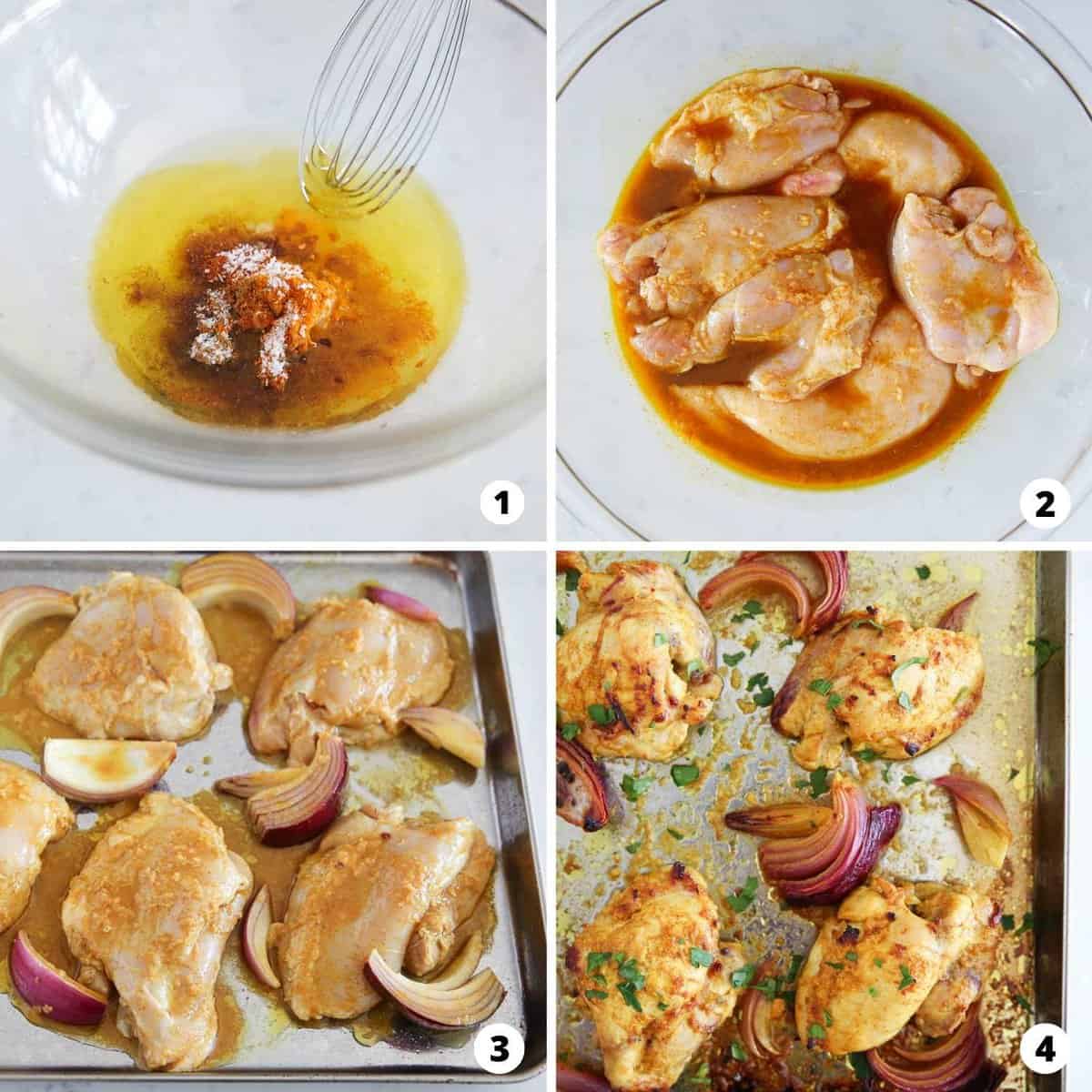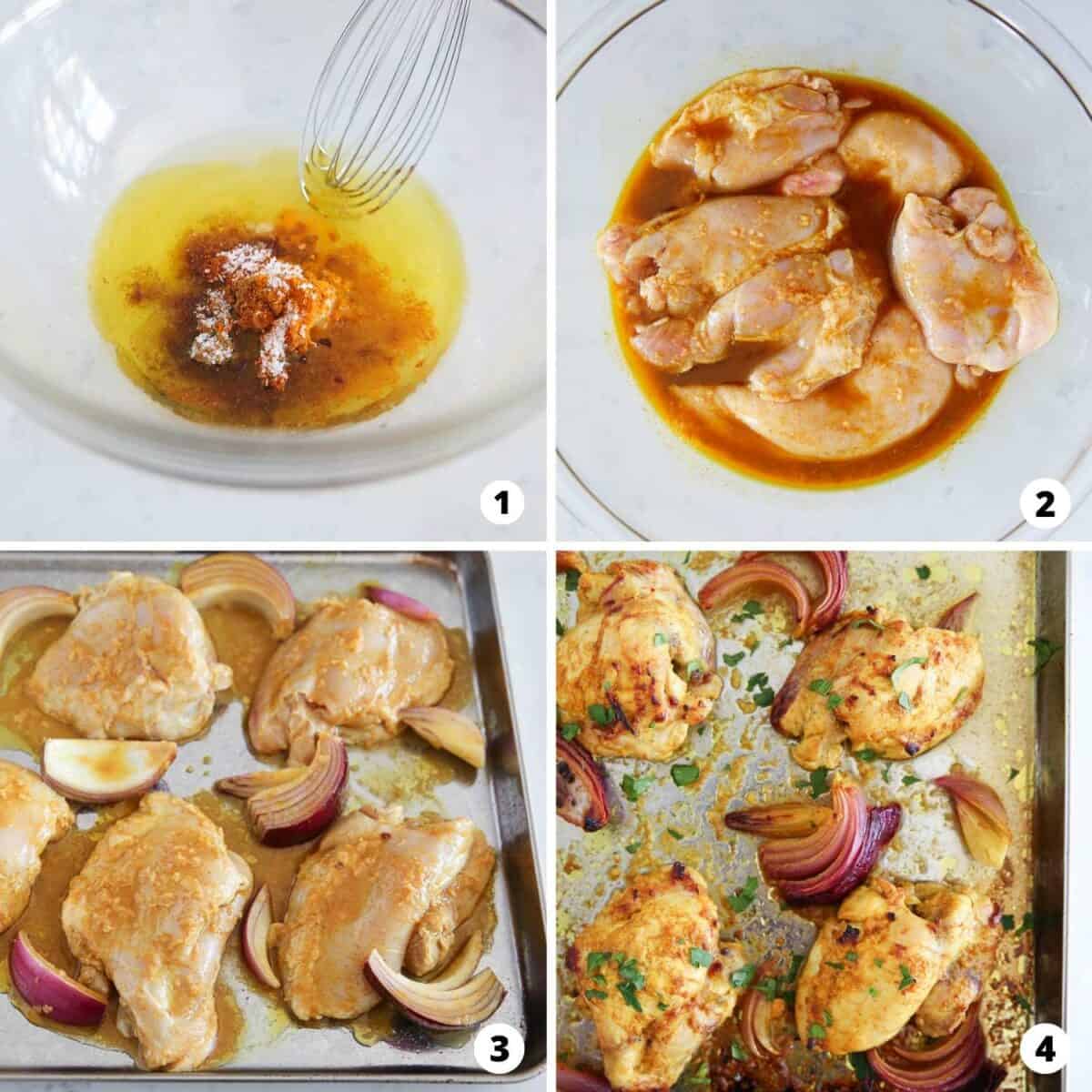 Make the marinade. Whisk together the shawarma seasoning mix, oil, and lemon juice.
Marinate. Add the thighs to the marinade and marinate in the refrigerator for at least 30 minutes or up to 12 hours. Cut the onions and add them to the pan before baking.
Bake. Put the meat and onions on a baking sheet sprayed with olive oil. You can add other vegetables here as well. Bake at 425°F for 15 – 20 minutes.
Serve. Let the chicken rest for 5 minutes on a cutting board or serving plate, then sprinkle chopped parsley over the top. Slice and serve while it's hot!
Expert Tips
Marinating the meat. The chicken can happily stay in the marinade anywhere from 30 minutes up to 12 hours. The longer it marinates, the more flavor it will absorb, but even a short amount of time is enough to give the meat a big hit of flavor!
Spray the pan. Don't forget to spray the sheet pan with olive oil or cooking spray. This will help avoid sticky messes and make clean-up much easier.
Don't overcrowd. Leave space on the sheet pan between the chicken so it will roast. If you overcrowd it, it will steam instead.
Crispy edges. If you want crispier edges, broil at the end or sauté it in a skillet for a couple of minutes before.
No fresh garlic? You can replace it with garlic powder. You can also replace red pepper flakes with cayenne pepper.
Serving Suggestions
We love to serve this easy chicken shawarma sheet pan dinner family-style so we can all choose how we want to eat it. I usually just put everything on the table, and we make up our own plates. Here are a few suggestions for what to serve alongside: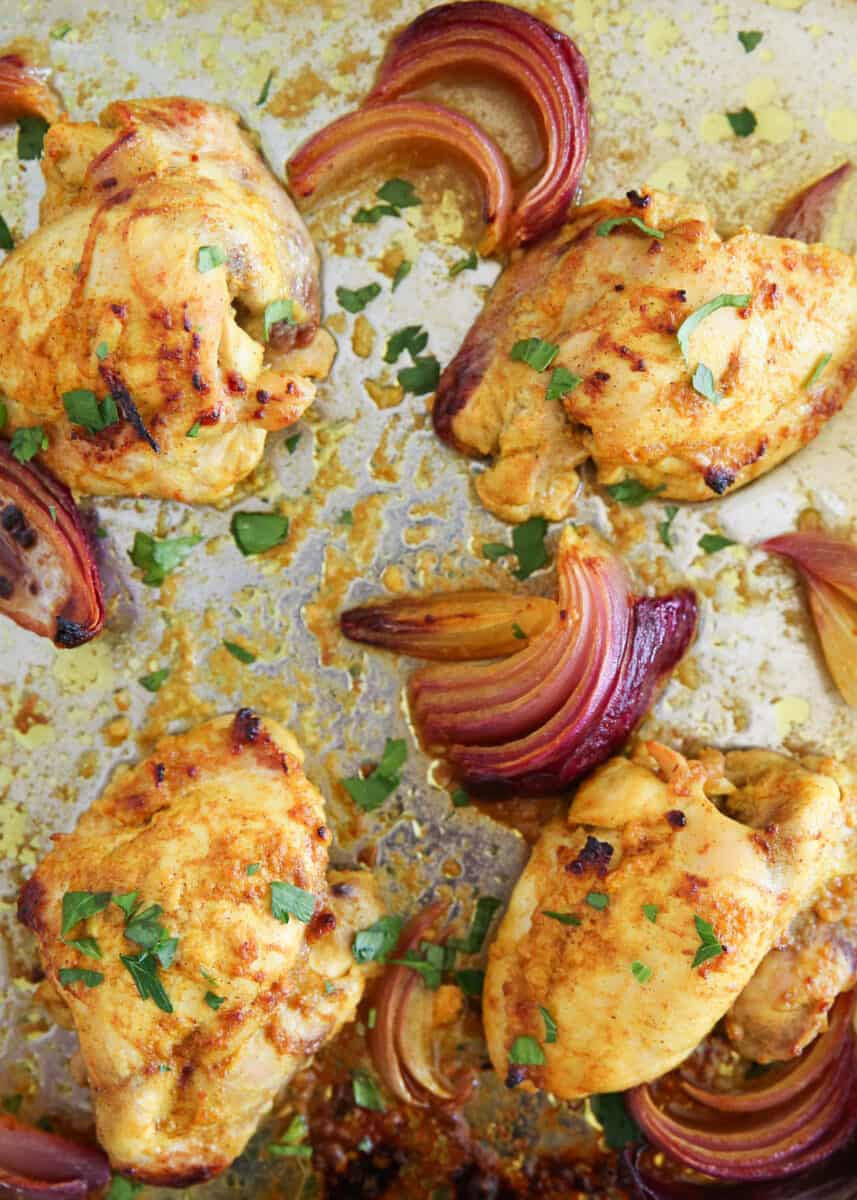 Ideas for Leftovers
If you have some leftovers or you decided to make a double batch for lunches, don't worry, I've got you! Try some of these ideas for enjoying your shawarma:
Chicken shawarma bowls: Add leftovers to a bowl of rice, veggies, hummus, and feta cheese.
Dress up a pizza: Chop it up and sprinkle over homemade or store-bought pizza.
Chicken shawarma wraps: Cut them up into thin slices of meat and pile it on top of your flatbread. Top with lettuce, red onions, tzatziki sauce, or a drizzle of tahini sauce. Add a side of fries too!
Chicken salad: Chop up leftover chicken shawarma and use it in your favorite chicken salad recipe to make sandwiches for lunch.
Recipe FAQs
Can you make a chicken shawarma sheet pan dinner in advance?
Yes, you can! It keeps well in the refrigerator in an airtight container for 2 – 3 days. Make it in advance to enjoy within the next day or two.
How do I know when the chicken is done?
Thighs are cooked when the internal temperature reaches 165°F and the juices run clear. Investing in a kitchen thermometer is always a good idea!
Why did my dinner stick to the sheet pan?
Remember to spray the pan with olive oil before adding the chicken and onions. You can also line the pan with parchment paper, just know that the meat won't brown in the same way if you line the pan.
Storing and Reheating
In the refrigerator: Store leftovers in a covered container for up to 3 days.
How to reheat: Put the cooked chicken into a microwave-safe dish and add a splash of water. Heat for 30-second intervals until warmed through. If you don't have a microwave, you can reheat in a skillet with a splash of water over medium heat until warmed through.
Make ahead: Prepare the chicken shawarma marinade and add it to a large freezer-safe zip-top bag along with the raw chicken thighs. Make sure the chicken is coated fully in the marinade and then store it in the freezer for up to 3 months. To prepare it, thaw the chicken in the bag overnight in the fridge and cook according to the recipe directions.
5 star review
Made this for my son and myself. Was a really tasty combination of spices to marinate the chicken in. I used bone in chicken thighs and marinated overnight. Will definitely make again. Thank you for sharing the recipe.

– Mel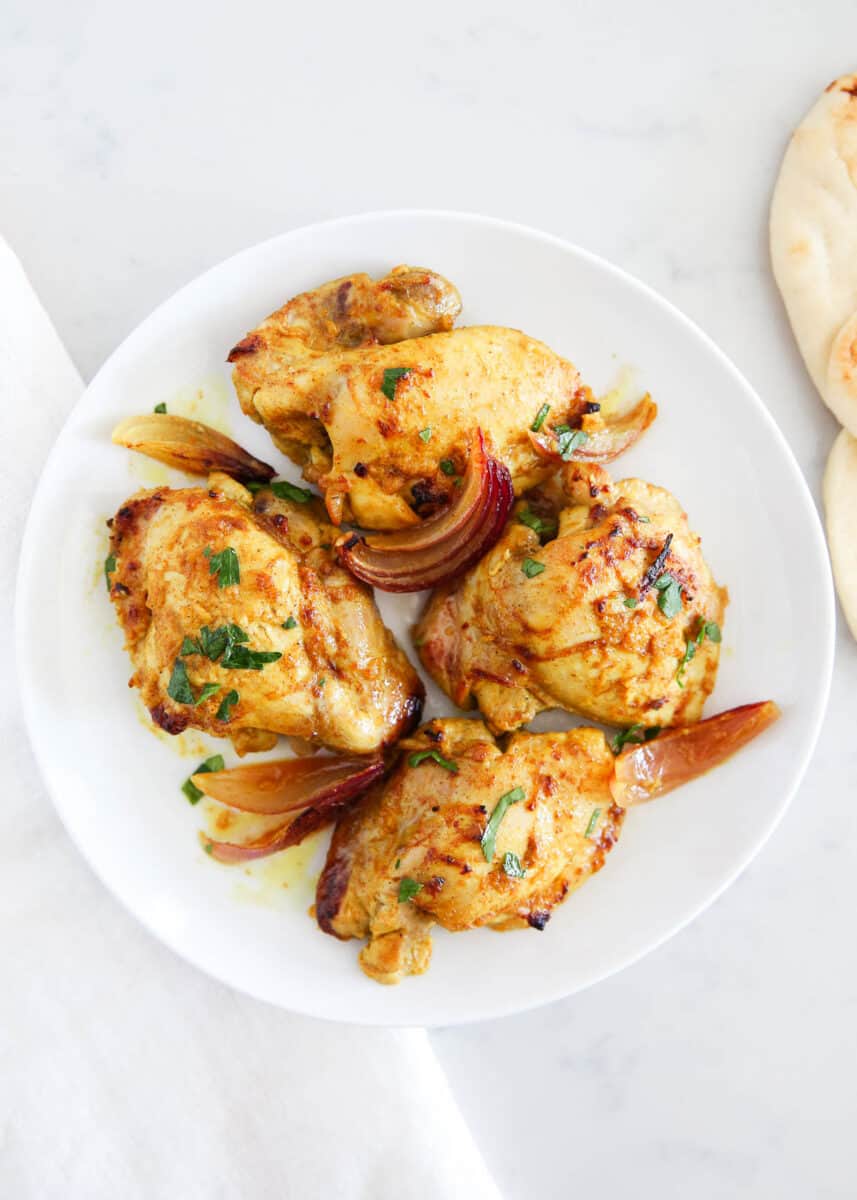 HUNGRY FOR MORE? Subscribe to my newsletter and follow on Facebook, Pinterest and Instagram for all the newest recipes!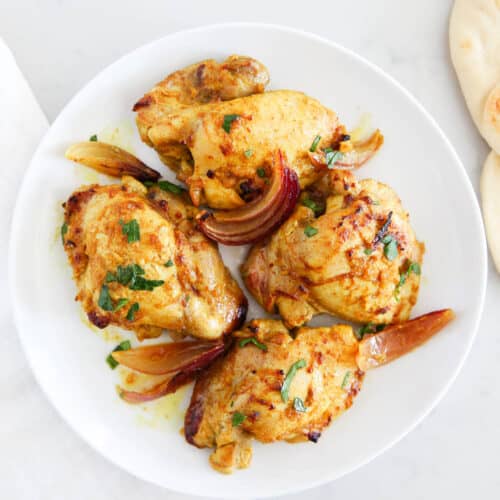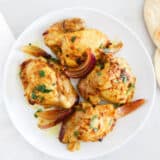 Sheet Pan Chicken Shawarma
Try this easy 1-hour chicken shawarma sheet pan dinner for a quick Middle Eastern-inspired meal. Tender chicken thighs and onions are infused with a warm spicy marinade and then oven roasted to perfection!
Ingredients
⅓ cup olive oil
1 lemon , juiced
4-6 garlic cloves , minced
2 teaspoons Kosher salt
1 teaspoon paprika
1 teaspoon ground cumin , use more for extra spice
¼ teaspoon ground turmeric
¼ teaspoon ground black pepper
Pinch ground cinnamon
2 pounds boneless, skinless chicken thighs (see notes)
1 red onion , peeled and quartered
Chopped fresh parsley
Instructions
In a large bowl, whisk the oil, lemon juice, garlic, salt, paprika, cumin, turmeric, pepper and cinnamon until combined.

Add chicken to marinade and spoon sauce evenly over the top. Cover and marinate at least 30 minutes, but up to 12 hours, in the refrigerator. Toss in the onion before baking.

When ready to cook, preheat the oven to 425°F. Spray a rimmed baking sheet with olive oil.

Place chicken and onions on the baking sheet. Roast 15 to 20 minutes, or until the chicken has reached an internal temperature of 165°F. Make sure to check the temperature so you don't overcook. Remove from the oven and let chicken rest at least 5 minutes so the juices can absorb. If you'd like to sear the edges you can broil the chicken or sauté in a skillet a few minutes.

Sprinkle parsley over the top. Slice and serve while hot. We love to serve with rice or on top of pita with tomatoes, cucumbers, and Greek yogurt sauce.
---
Notes
Chicken: I prefer chicken thighs for this recipe, however I usually add in a 1 to 2 chicken breasts for my kids. Either will work, however chicken thighs are more tender.
Spice: Add an extra teaspoon of cumin and a pinch of red pepper flakes if you'd like to bring up the spice.
Storage: Store leftovers in a covered container in the refrigerator for up to 3 days.
For serving: We love to serve this with coconut rice, pita bread and a cucumber tomato salad.
Nutrition
Serving: 1g | Calories: 311kcal | Carbohydrates: 7g | Protein: 30g | Fat: 18g | Saturated Fat: 3g | Polyunsaturated Fat: 3g | Monounsaturated Fat: 11g | Trans Fat: 0.03g | Cholesterol: 144mg | Sodium: 913mg | Potassium: 477mg | Fiber: 2g | Sugar: 2g | Vitamin A: 214IU | Vitamin C: 21mg | Calcium: 38mg | Iron: 2mg
Nutrition provided is an estimate. It will vary based on specific ingredients used.
Did you make this recipe? Don't forget to give it a star rating below!