Beautifully seasoned and crispy on the outside and flavorful and juicy on the inside, this simple and comforting baked chicken thighs recipe is even better with the 20-minute brine instructions included!
Looking for more chicken recipes? Try baked chicken breast, chicken piccata and chicken francese.
Perfect Oven Baked Chicken Thighs
If you're looking for a very simple dinner recipe that's meant to take the stress of deciding what to make for dinner away, this recipe for baked chicken thighs is the one!
Similar to the convenience of making sheet pan chicken thighs, when you want a fuss-free dinner that tastes great and goes with everything, however, this recipe is just for the chicken. This way you can serve it with anything from pasta and salads to creamy mashed potatoes or rice.
It's made with simple ingredients like smoked paprika, Italian seasoning, and garlic powder which you may already have. We're using budget-friendly boneless chicken thighs for even faster cooking, but you can use this recipe to make baked chicken breast for a leaner cut and even grilled chicken thighs if you're firing up the grill.
I make this for weeknight dinners and weekend dinners whether it's a busy day or not! It's a family favorite, so the fact that it's an effortless recipe is a win-win in my books!
Why This Recipe Works
Fantastic with or without brine. If you have about 20 extra minutes, this recipe has instructions for a brine too!
Quick and simple. The entire dish is baked and ready to eat in 30 minutes. While it's in the oven, prepare some sides, and dinner is served.
Make ahead. Crispy baked chicken thighs can be made ahead and even frozen for later. Double the batch if that's the case!
Baked Chicken Thighs Ingredients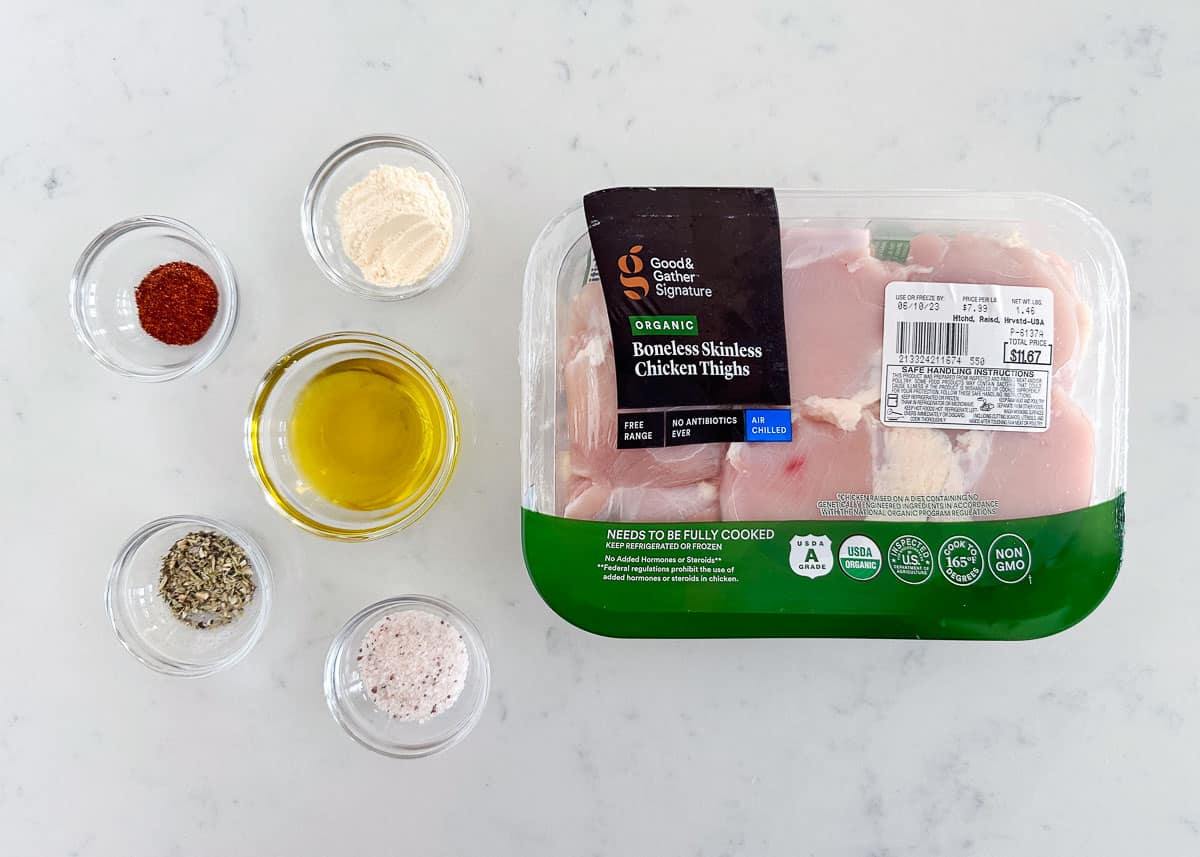 Find the full printable recipe with specific measurements below.
Chicken thighs: I use about 5-6 boneless skinless chicken thighs but you can also use bone-in chicken thighs with the skin on if you'd like. Bone-in just takes a bit longer to cook through. Trim excess fat and pat dry with a paper towel.
Seasoning: Salt, garlic powder, Italian seasoning, smoked paprika, freshly ground black pepper. Use either 1 tsp of Kosher salt or 3/4 teaspoon sea salt. Kosher salt has larger granules therefore you'll need more of it to achieve the level of saltiness you would with regular table salt.
Olive oil: Helps to coat the meat to retain moisture, adhere to the spices, and brown it nicely on the outside.
Variations
For a variation in flavor, you can use all kinds of different seasoning options. Here are some of our favorite alternatives:
If you don't have an Italian seasoning blend, you can use individual dried herbs like rosemary or oregano. Onion powder can also be used.
You can use skin-on chicken thighs for extra crispiness! Or if you prefer breast meat in place of juicy chicken thighs, do that! I would definitely recommend using a brine in this case.
Add a little heat with a sprinkle of cayenne pepper.
A little BBQ sauce would turn these into a baked BBQ chicken recipe. Brush with sauce during final minutes of baking time.
Add a honey mustard glaze just out of the oven, or try my favorite chicken marinade or use a simple marinade with olive oil, lemon juice, and fresh parsley.
How to Bake Chicken Thighs in the Oven
Combine seasoning. In a small bowl, whisk together the seasonings.
Season the thighs. Rub olive oil over both sides of the thighs and sprinkle evenly with the dry rub until well coated.
Assemble onto the tray. Place the pieces onto the wire rack that sits on your foil-lined baking sheet.
Bake, rest, and serve. Bake the thighs for 35 minutes in a preheated 425°F oven and then broil for the final 1-2 minutes if you desire a darker, crispier skin. Let it rest for 5 minutes before serving.
How Long to Bake Chicken Thighs
This depends on whether you're using bone-in skin-on chicken thighs or boneless chicken thigh meat and the temperature of your oven.
425°F for 35 minutes is perfect for boneless skinless thighs, but for bone-in thighs, you can up it to 45 minutes. At 350°F you'll want to keep them in for about 50-55 minutes.
Use your discretion based on the size of your thighs and always use a meat thermometer to check for doneness. At the thickest part of the meat, the internal temperature should be at 165°F.
Expert Tips
Use a simple brine for juicier chicken. Place thighs in a large bowl filled with lukewarm water and 3-4 Tablespoons of kosher salt. Leave it for 20 minutes, then rinse with water and pat them dry.
Even if you're not using the brine, you still want to pat the pieces dry with a paper towel. Any excess moisture will hinder the process of getting a crispy coating.
All thighs should be similar in size for even baking. This way, if you check the internal temperature of one piece, they're all likely to be the same.
Let the chicken rest. If you don't, all of the juices will run out leaving the chicken high and dry.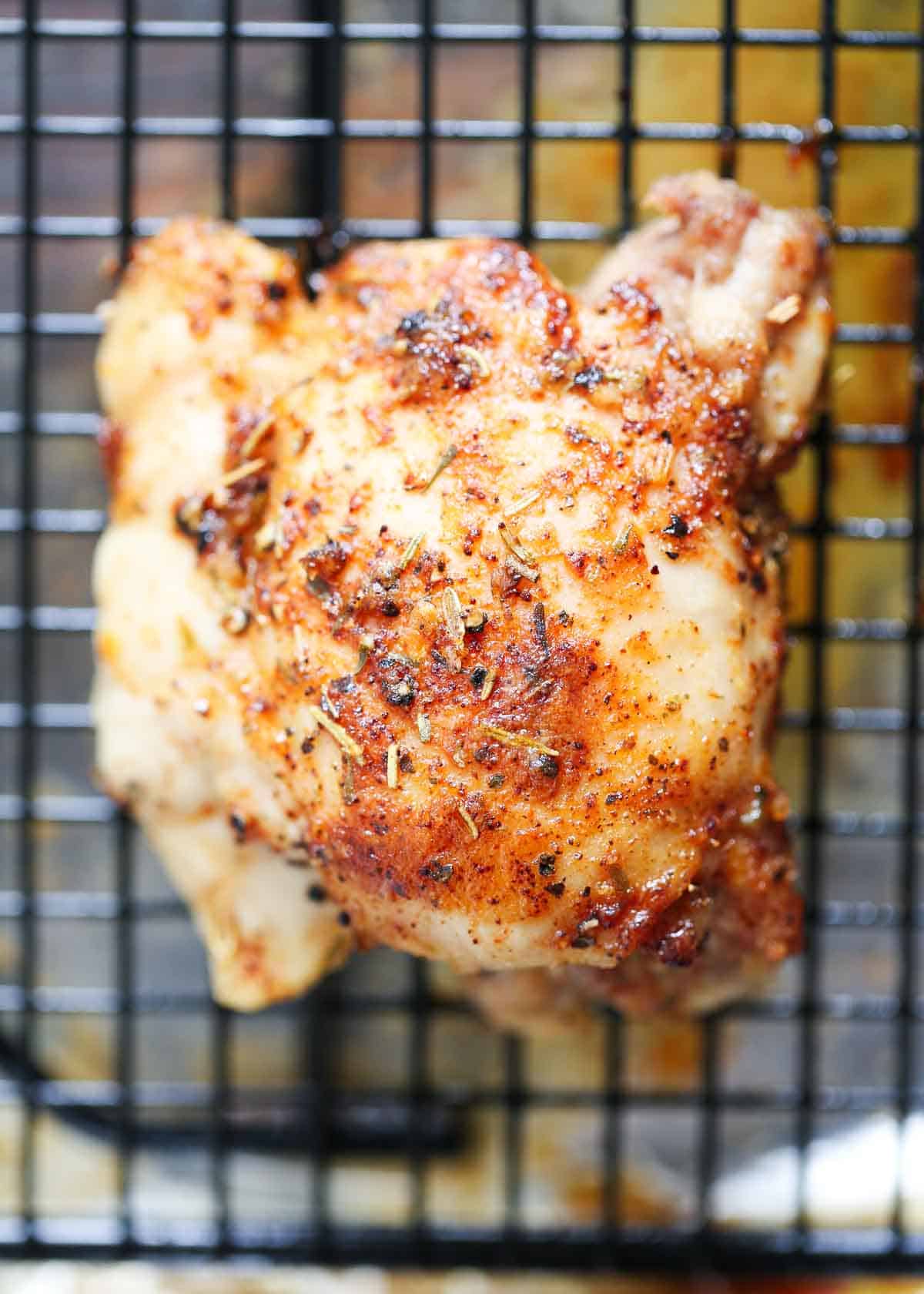 Recipe FAQs
Can I use other cuts of chicken?
Definitely! Follow this recipe for drumsticks, chicken breasts, and even wings. You'll need to adjust the bake time depending on what you're using, but the flavor will be there no matter what!
Why is it so smoky when I open my oven?
The grease that falls through the wire rack and collects in the tray underneath can cause it to smoke. A great way to combat this is to add some chopped carrots, onion, and celery to the tray to catch all that yummy fat.
Is it better to cook chicken thighs at 350°F or 400°F?
If I'm doing just the baked chicken thighs I'll keep it at 425°F. Sometimes I like to have some sides going at the same time, so I'll turn it down to 400°F to make it even for my side dishes.

I don't usually keep it any lower than that or I find it takes too long!
Storing
Keep leftovers in the fridge in an airtight container for up to 3 days.
To freeze, I like to slice it first and then transfer it to a freezer-safe container to store in the freezer for up to 3 months. Thaw in the fridge overnight before reheating.
If you're reheating it in the microwave, just a couple of minutes will do. You can also use the oven on low for 10 minutes.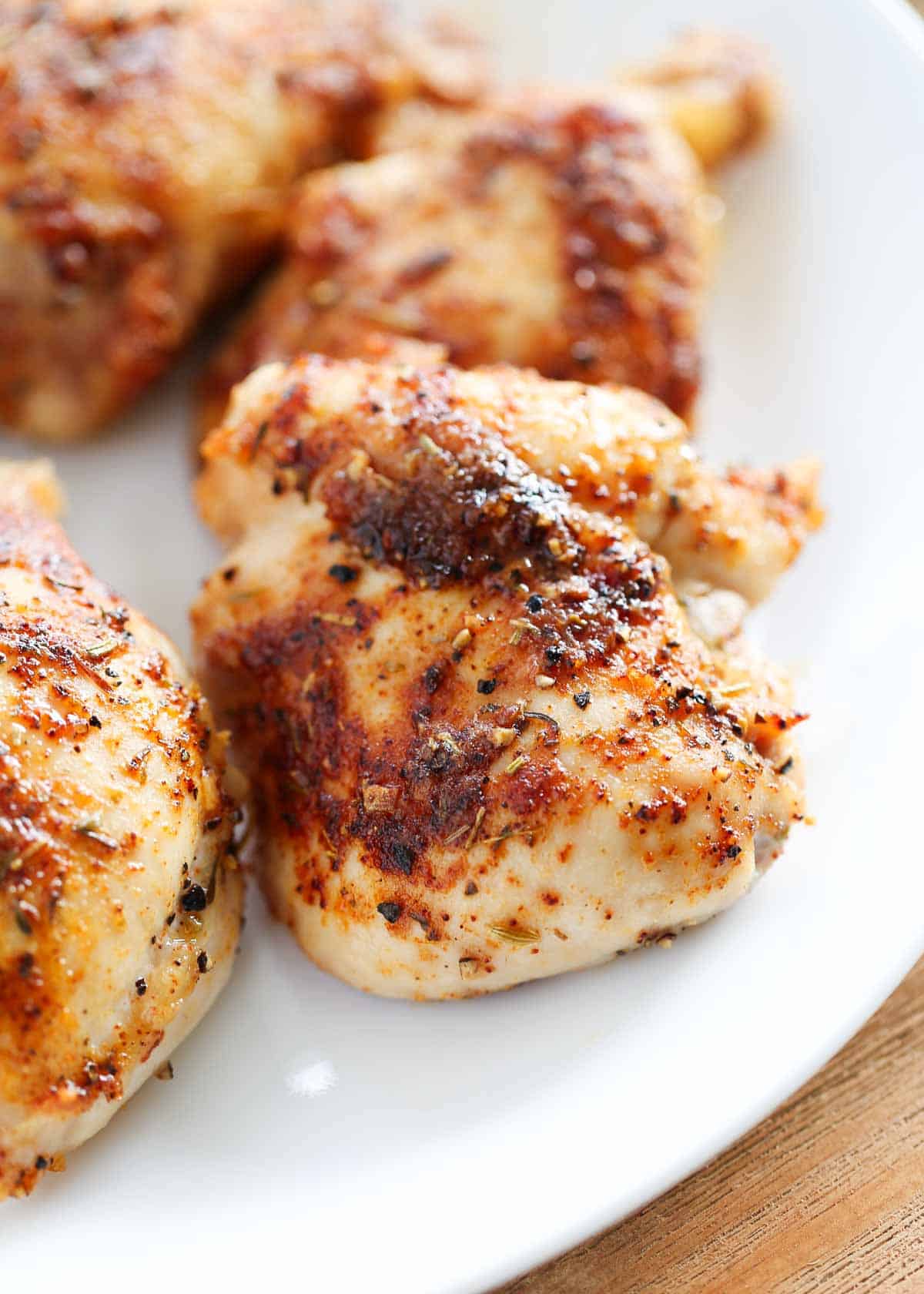 HUNGRY FOR MORE? Subscribe to my newsletter and follow on Facebook, Pinterest and Instagram for all the newest recipes!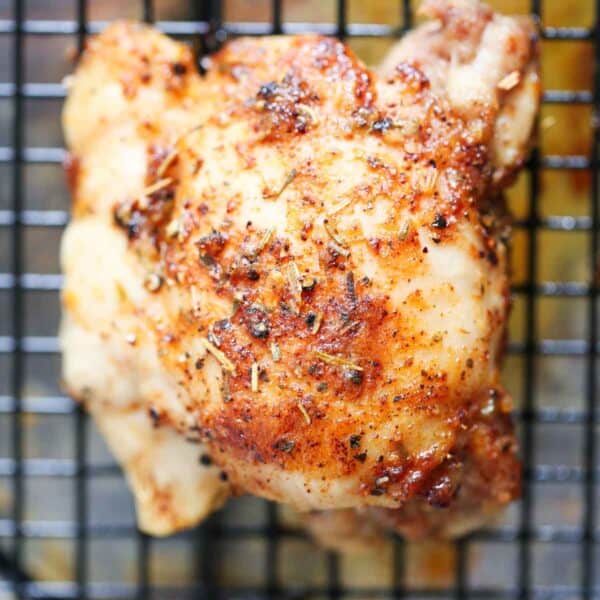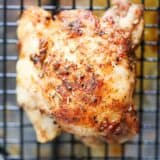 Baked Chicken Thighs
Beautifully seasoned and crispy on the outside and flavorful and juicy on the inside, this simple and comforting baked chicken thighs recipe is even better with the 20-minute brine instructions included!
Ingredients
2 pounds chicken thighs (about 5-6)
1 teaspoon Kosher salt , or 3/4 teaspoon sea salt
1 teaspoon garlic powder
1 teaspoon Italian seasoning
½ teaspoon smoked paprika
¼ teaspoon freshly ground black pepper , plus more to taste
1 ½ Tablespoons olive oil
Instructions
Preheat the oven to 425°F. Line a baking sheet with foil and place a wire rack on top for crispier skin, if desired. If you have extra time, you can brine the chicken (see notes below).

Trim any excess fat on the thighs and pat dry with a paper towel.

In a small bowl, whisk together the salt, garlic powder, Italian seasoning, paprika, and pepper. Rub olive oil over both sides of the chicken. Sprinkle evenly with the salt mixture until well coated. Place on the baking sheet

Bake 35 minutes, or until a digital thermometer 165°F in the center. Broil the final 1 to 2 minutes for a crispier, darker skin, if desired.

Let rest 5 minutes before slicing to allow the juices to absorb. Do not skip this step or your chicken will not be as juicy. Serve while warm.
---
Notes
Brining chicken: To make your chicken even juicier, try soaking it in a brine before cooking. I love to do this when I have extra time. Simply fill a large bowl with lukewarm water (not hot) with 3 to 4 Tablespoons Kosher salt. Add the chicken and let sit 15 to 20 minutes. Rinse with water and pat dry. Rest: The chicken needs to rest 5 minutes before slicing, or it will lose all of its juices and could end up tasting dry. Do not skip this step! Storage: Store leftovers in an airtight container in the refrigerator up to 3 days. Freeze: Slice the chicken before placing in an airtight container in the freezer up to 3 months. When ready to eat, thaw the chicken in the fridge overnight. Reheat in the microwave or the oven at 200°F for 10 minutes, or until warm.
Nutrition
Serving: 1g | Calories: 548kcal | Carbohydrates: 2g | Protein: 37g | Fat: 43g | Saturated Fat: 11g | Polyunsaturated Fat: 8g | Monounsaturated Fat: 19g | Trans Fat: 0.2g | Cholesterol: 222mg | Sodium: 757mg | Potassium: 488mg | Fiber: 0.4g | Sugar: 0.1g | Vitamin A: 309IU | Vitamin C: 0.02mg | Calcium: 28mg | Iron: 2mg
Nutrition provided is an estimate. It will vary based on specific ingredients used.
Did you make this recipe? Don't forget to give it a star rating below!