Add roasted broccoli and cauliflower to tonight's menu because this quick and easy side dish takes just a few ingredients and a total of 30 minutes! Well-seasoned crispy tender veggies are so good, you might end up eating them as your main!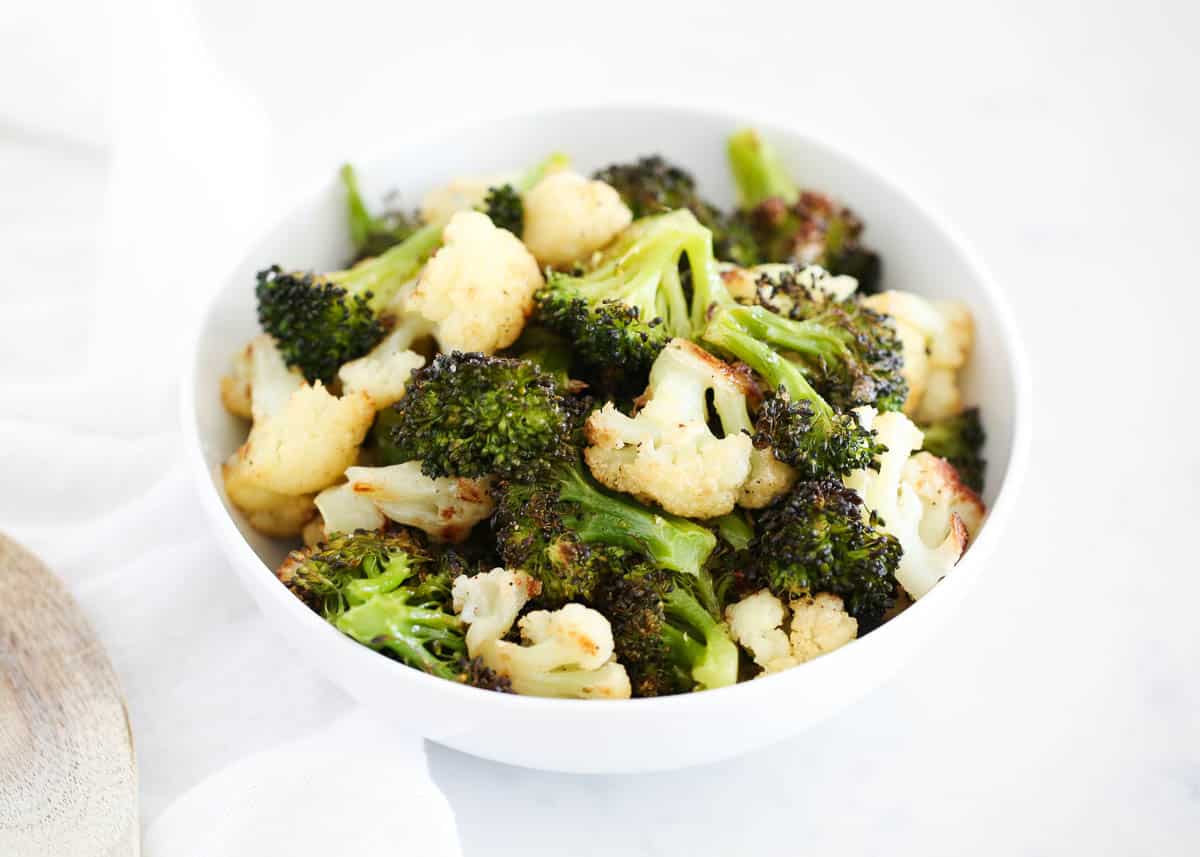 Roasted Broccoli and Cauliflower Recipe
Getting my kids to not only eat veggies but ask for seconds is much easier to do with this amazing oven-roasted broccoli and cauliflower. Everyone just loves it! If you love my parmesan roasted broccoli or my roasted cauliflower, this is especially for you!
It's a quick and easy way to put together a healthy, gluten-free, and vegan side dish with minimal effort. It doesn't need any hovering which means you can concentrate on putting together an epic main dish.
I love that you can play around with the seasonings and decide if you want more of the Parmesan cheese crunch or a little bit of extra garlic. Maybe both! Either way, these crispy tender veggies boast so much flavor!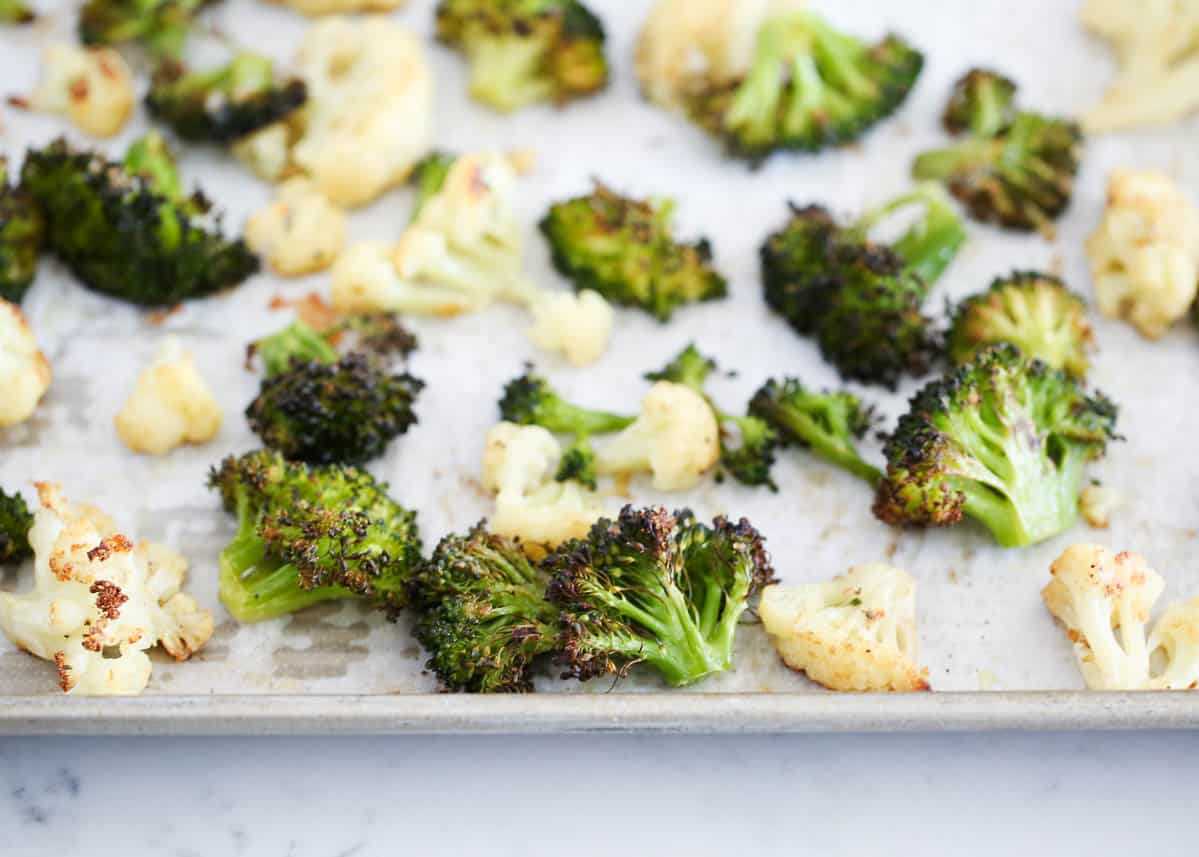 Key Ingredients
Cauliflower florets – Pick cauliflower that is white, firm, no brown or black spots, and whose leaves are firm and not wilted. It should feel heavier than it looks when picked up!
Broccoli florets – Same goes for the broccoli, it should be nice and green, no black spots, and it should look fresh overall.
Olive oil – Needed to coat the veggies to allow the seasoning to stick but also to help avoid the veggies sticking to the baking sheet.
Seasoning – Salt, black pepper, and garlic powder are all you need. Roasting veggies at high heat gives them a beautiful char and brings out all of their natural flavors.
Parmesan cheese – Optional, but I love adding a sprinkle to mine for extra cheesy crispiness.
TIP: Cut the head of cauliflower and the head of broccoli in half lengthwise so there is a flat side to the florets. It's easier to lay them flat on the baking sheet this way.
How to Roast Broccoli and Cauliflower
Oil: Lay cut veggies down on a sheet pan lined with parchment paper. Pour olive oil over all of them.
Seasoning: Sprinkle an even amount of seasoning over top and give them a good toss.
Roast: Cook the vegetables in the preheated oven for 20 minutes before flipping. Add some parmesan cheese if desired and continue to bake for another 5-10 minutes. They should be nice and crispy on the outside edges and fork-tender on the inside.
Serve: Remove them from the oven and sprinkle with salt and pepper to taste. Enjoy this easy side dish while it's hot!
Recipe Tips
Don't overcrowd the pan. For everything to crisp up nicely, you'll need to leave room for the air to circulate. Otherwise, you'll end up with mushy veggies.
The above-mentioned note is why it's important to give the florets a straight edge. There's less chance they'll roll around and move.
Make sure to dry your florets before seasoning. Again, you don't want soggy veggies!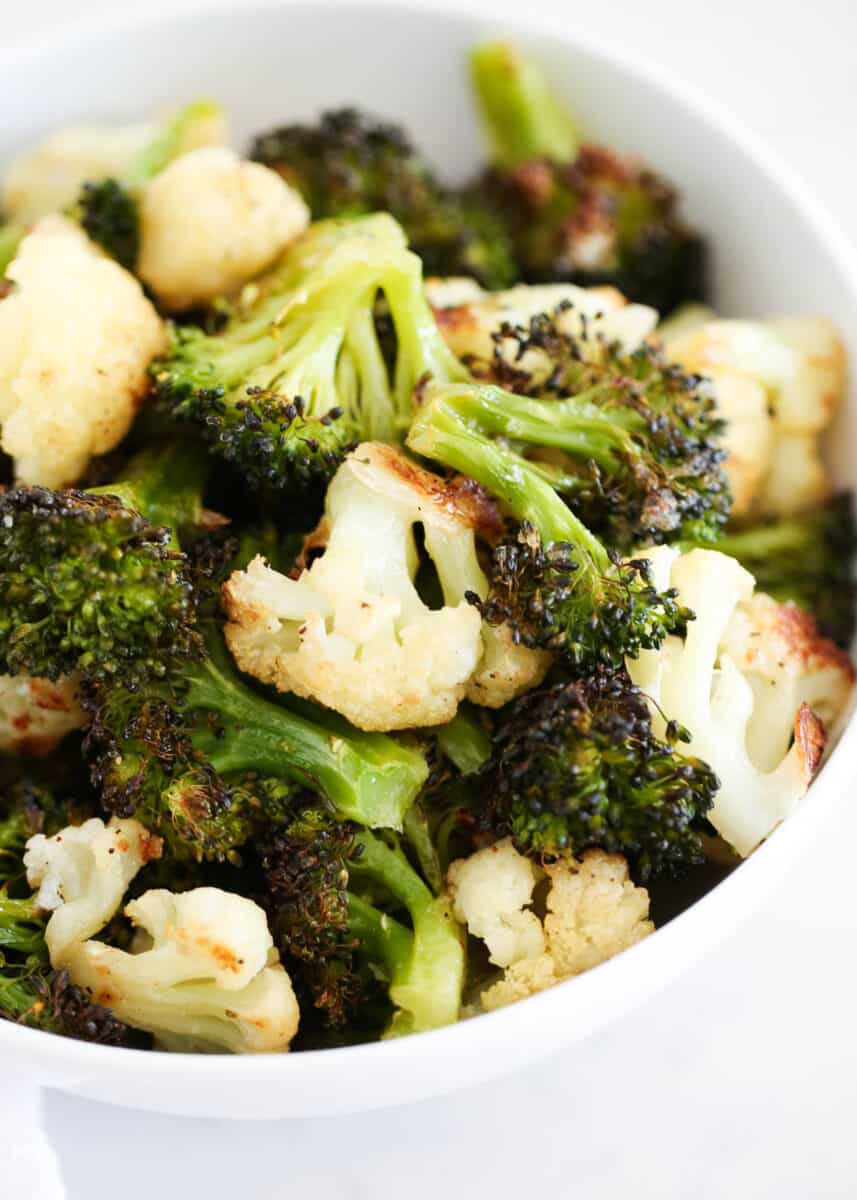 Seasoning Variations
If you're working with the seasonings already listed, feel free to play around with the amount.
Love you some garlic? Find tips on how to mince garlic and add about 2 cloves worth in here.
Add more parmesan cheese if you like.
Red pepper flakes
Lemon pepper
Everything bagel seasoning
Grating a bit of lemon zest or a drizzle of lemon juice.
FAQs
Can I roast broccoli, cauliflower and carrots together?

Absolutely. If you're looking to add more veggies to your tray you want to make sure you're roasting veggies that have the same cook time. That way you're not burning and under baking at the same time.

Brussels sprouts, potatoes, and sweet potatoes also work, but you may need to start roasting them first and then add your cauliflower and broccoli in after. You can add faster cooking veggies if you want, but you'll have to time it so they all finish cooking at the same time.
Can you freeze roasted broccoli and cauliflower?
You can! Make sure they're completely cooled then transfer them to an airtight container or freezer-friendly bag. Keep them frozen for up to 3 months.
What temperature to roast cauliflower and broccoli?

Roasting anything usually requires high heat. I like to preheat my oven to 400 degrees. I find that always leads to perfectly crispy yet tender roasted vegetables.
What to Serve with Roasted Cauliflower and Broccoli
This is the perfect side dish for simple and casual or a little more elegant. It's also just as acceptable to eat an entire bowl on its own.
How to Store and Reheat
Store any leftovers of your roasted broccoli and cauliflower in an airtight container in the refrigerator for up to 3 days.
To reheat, spread in an even layer on a large baking sheet and heat at 350°F for up to 10 minutes or until heated through. You could also reheat in a skillet on medium heat with a drizzle of olive oil or in the microwave until warmed throug.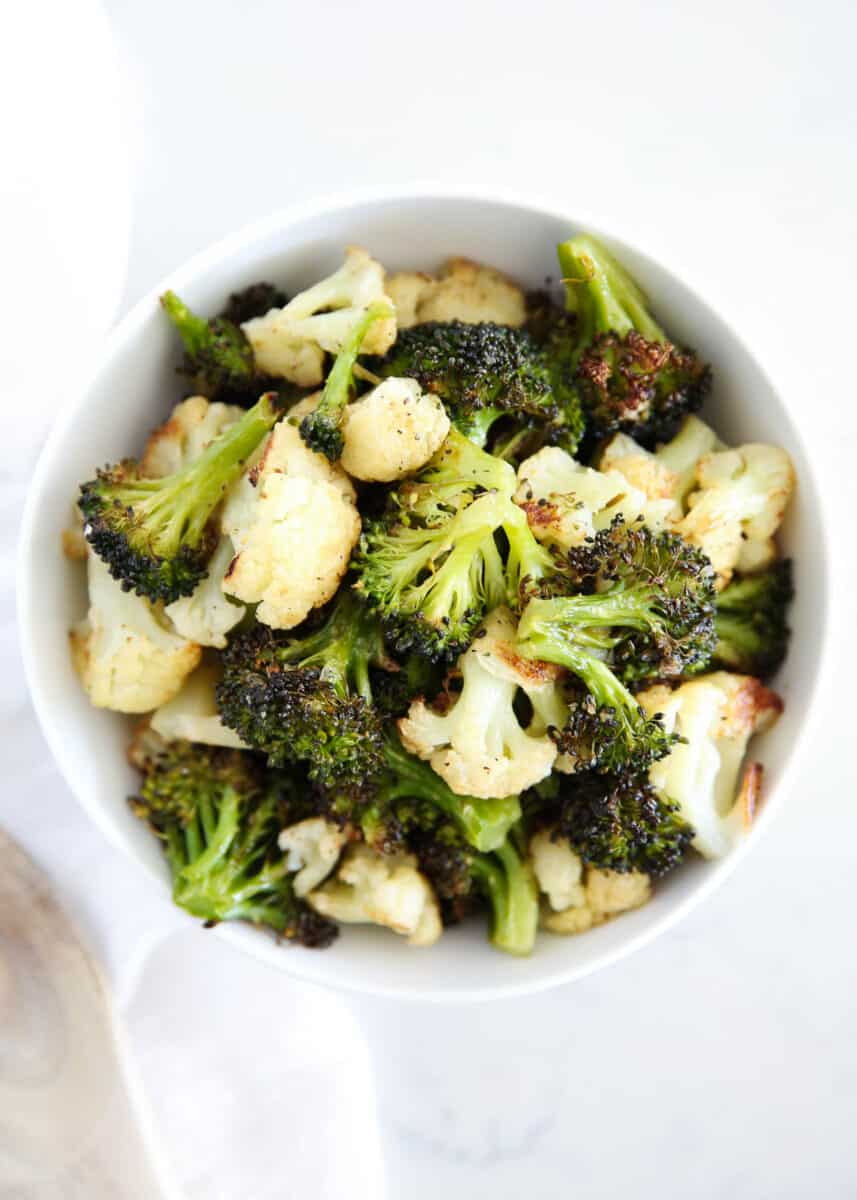 More Roasted Vegetable Recipes
My family and I can't get enough roasted veggies! We usually always enjoy at least one vegetable side dish at each meal. Below are some other delicious options to choose from.
HUNGRY FOR MORE? Subscribe to my newsletter and follow on Facebook, Pinterest and Instagram for all the newest recipes!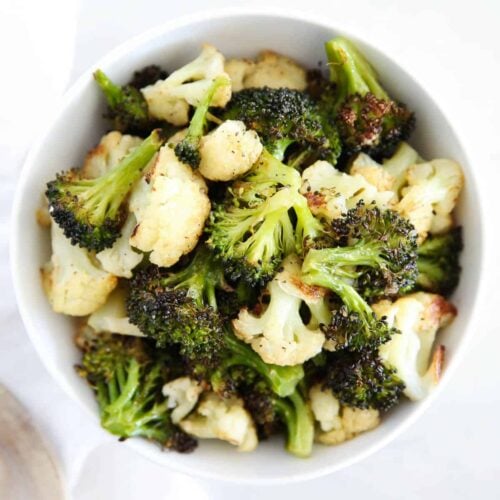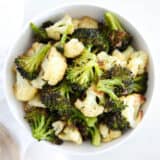 Roasted Broccoli and Cauliflower
Add roasted broccoli and cauliflower to tonight's menu because this quick and easy side dish takes just a few ingredients and a total of 30 minutes! Well-seasoned crispy tender veggies are so good, you might even end up eating them as your main!
Ingredients
4 cups fresh broccoli florets
4 cups fresh cauliflower
3 Tablespoons olive oil
¼ teaspoon garlic powder , plus more to taste
½ teaspoon Kosher salt , plus more to taste
⅛ teaspoon ground black pepper , plus more to taste
Shredded parmesan cheese , optional
Instructions
Preheat the oven to 400ºF. Line a baking sheet with parchment paper.

Cut the broccoli and cauliflower lengthwise, so they lay flat.

Place on the baking sheet and drizzle the olive oil evenly over the broccoli and cauliflower. Sprinkle with garlic powder, salt, and pepper. Toss to combine.

Bake 20 minutes. Remove pan from oven and flip vegetables. Sprinkle parmesan cheese on top, if desired. Return to oven for an additional 5 to 10 minutes, or until the broccoli is fork tender and crispy around the edges.

Remove from oven and season with salt and pepper, to taste. Enjoy while hot!
---
Notes
Garlic: If you want the garlic flavor to shine, use 1/2 teaspoon garlic powder or add 2 cloves minced garlic in the oil before baking. Storage: Store leftovers in a covered container in the refrigerator for up to 3 days.
Nutrition
Calories: 100kcal | Carbohydrates: 7g | Protein: 3g | Fat: 7g | Saturated Fat: 1g | Polyunsaturated Fat: 1g | Monounsaturated Fat: 5g | Sodium: 234mg | Potassium: 393mg | Fiber: 3g | Sugar: 2g | Vitamin A: 378IU | Vitamin C: 86mg | Calcium: 44mg | Iron: 1mg
Nutrition provided is an estimate. It will vary based on specific ingredients used.
Did you make this recipe? Don't forget to give it a star rating below!