This chicken tortilla soup recipe is made in ONE pot in 30 minutes. Always a crowd pleaser and tastes great loaded with cheese, avocado and tortilla chips.
Love soup recipes? Try my chicken vegetable soup, taco soup and chicken enchilada soup.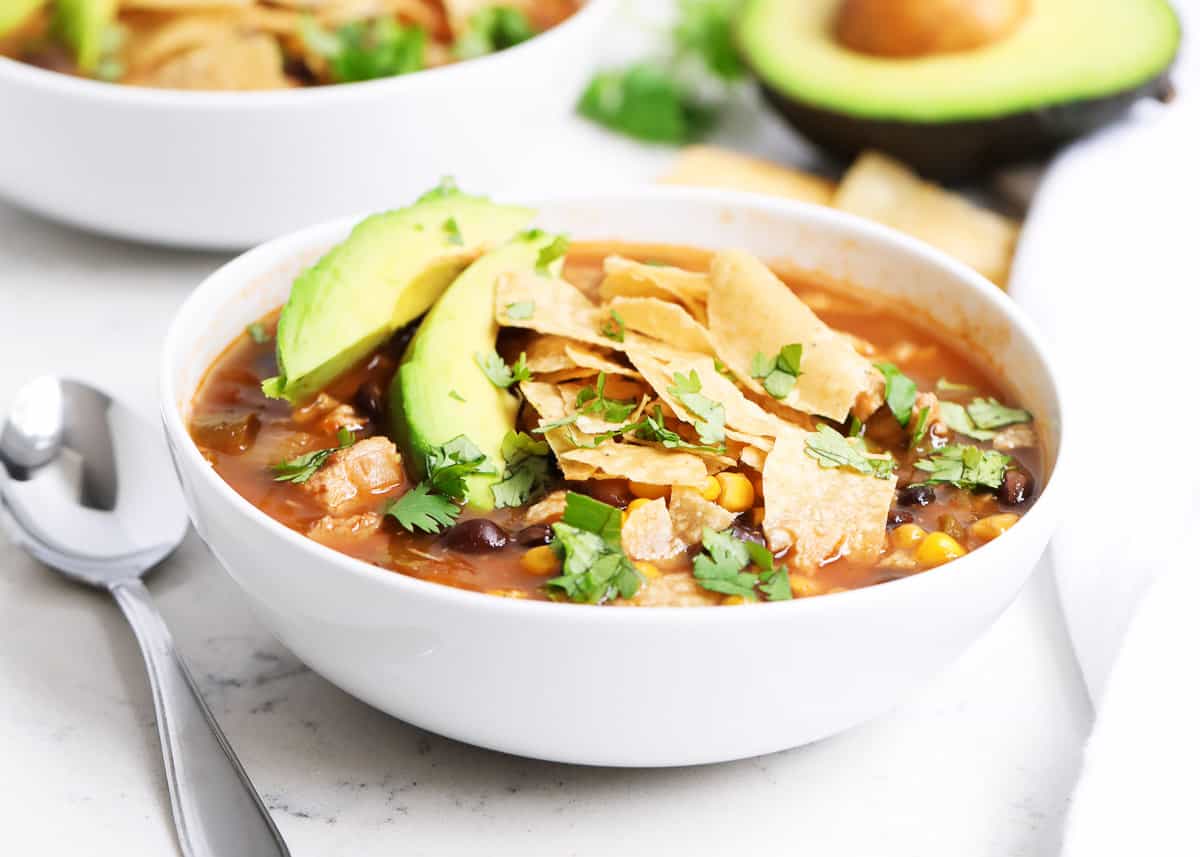 30-Minute Mexican Tortilla Soup
There's something about cooler weather approaching that makes me want to eat soup EVERY single day! I've tried out a few new soup recipes over the last few weeks and a buffalo chicken soup recipe and this authentic chicken tortilla soup were both keepers. It's hearty and delicious and has just the perfect kick.
The soup is filled with healthy ingredients like chicken, corn, beans, spices and salsa. It's really easy to make when you're looking for something quick to warm up on the stove. I tend to always have the ingredients on hand in my pantry which makes it so simple to throw together. Serve it with your favorite toppings and a warm piece of Mexican cornbread for the absolute perfect meal.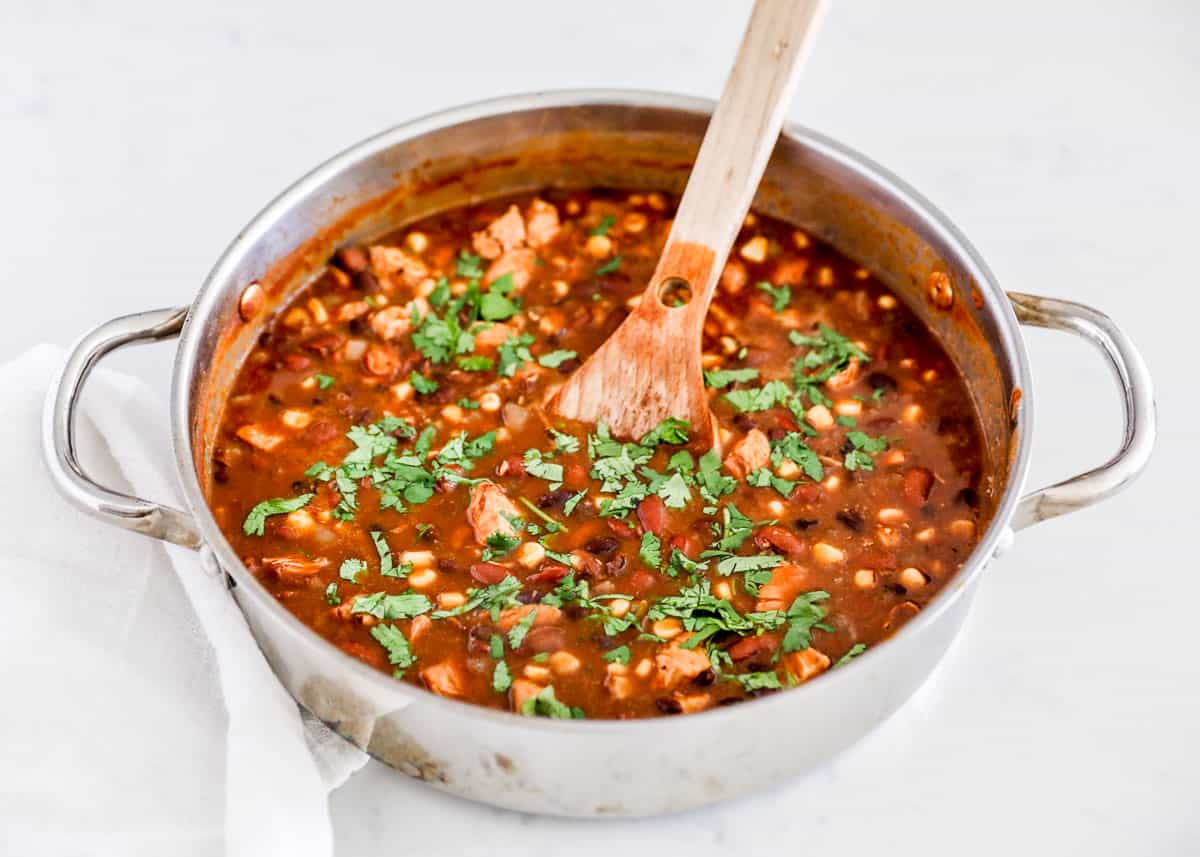 Cooking Tips
Rotisserie chicken. For an easier alternative, you can use cooked and shredded rotisserie chicken instead of raw chicken breasts. Simply add it to the pan while sautéing the onions and garlic.
Customize. This recipe is very easy to make your own. Throw in some chopped bell peppers or add an extra can of pinto beans to bulk it up even more. You can't mess it up!
Thickening the soup. Feel free to add in some cream cheese or shredded cheese during the last few minutes of cooking. The additional cheese helps to make a thick and creamy consistency, similar to my chicken enchilada soup.
Make spicy. This soup has a small kick, but ramp it up even more with another 1/2 to 1 teaspoon of chili powder. Or add in some chopped jalapenos when sautéing the onions and garlic.
Slow Cooker Chicken Tortilla Soup
This recipe also makes an easy dump and go meal. Just add all of the ingredients in the slow cooker (no need to add olive oil since we aren't frying the chicken) and then cook on high for 3 to 4 hours or on low for 6 to 8 hours. Then shred the chicken and add back into the crockpot and mix.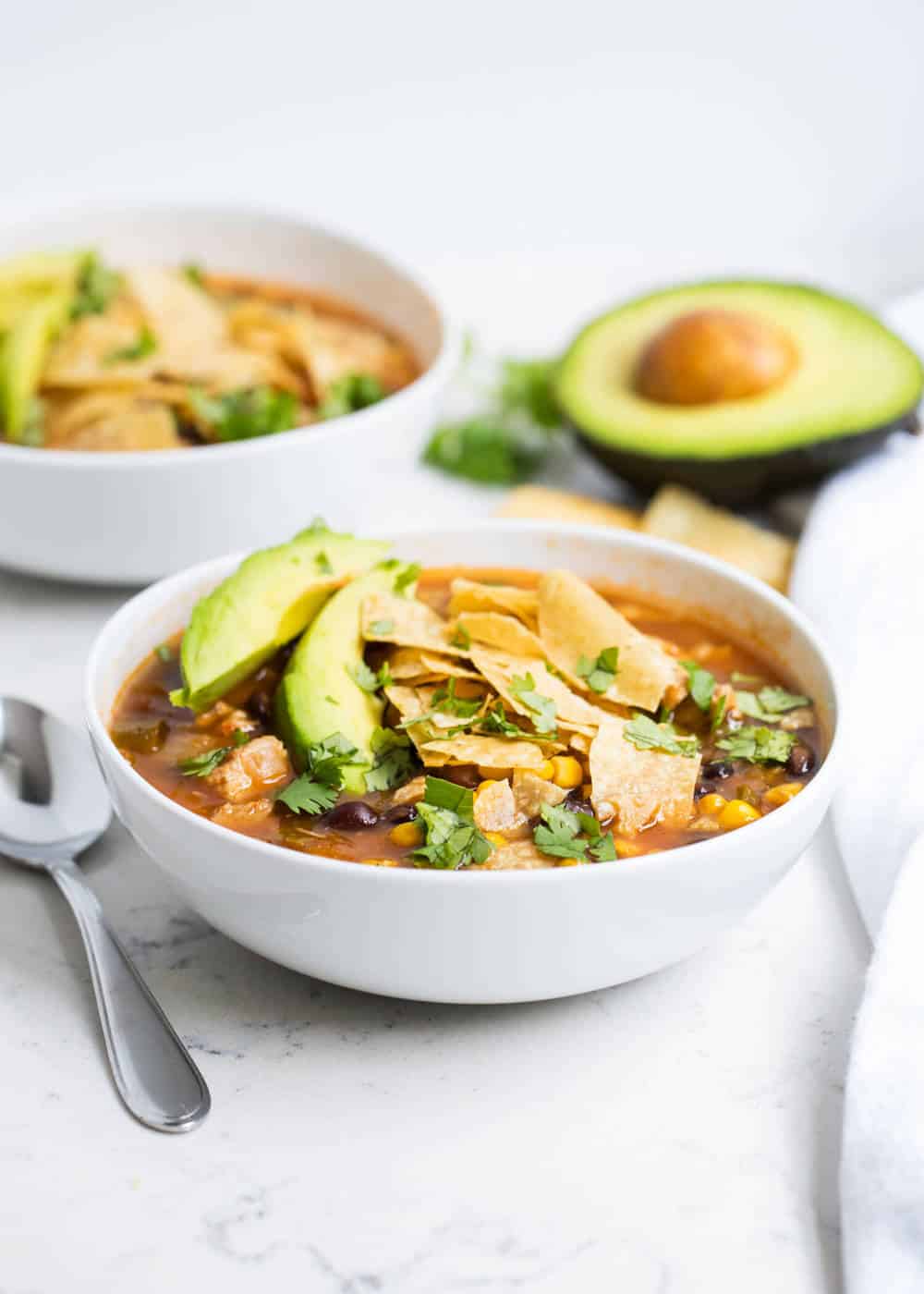 Toppings Ideas
A sprinkle of fresh cilantro, avocado and crunchy tortilla strips are the perfect finishers to this delicious bowl of soup. Add a few spoonful's of sour cream to make it a bit creamier, or some sliced jalapenos for extra heat. The beauty of adding toppings is that you can make the soup just how YOU like it!
Tip: I love to save the crushed tortillas chips at the bottom of the bag, so don't throw them out! Place them in a zip top bag or small container and you'll love the extra flavor and crunch it adds.
Freezing + Reheating
Once the soup has cooled, store in a freezer bag or airtight plastic container (make sure to leave about an inch of space from the top so the soup has room to expand). Then store in the freezer for up to 3 months.
Thaw in the fridge overnight or in the microwave if preferred. Then pour into a pot and let the soup simmer over low heat until it's warm throughout.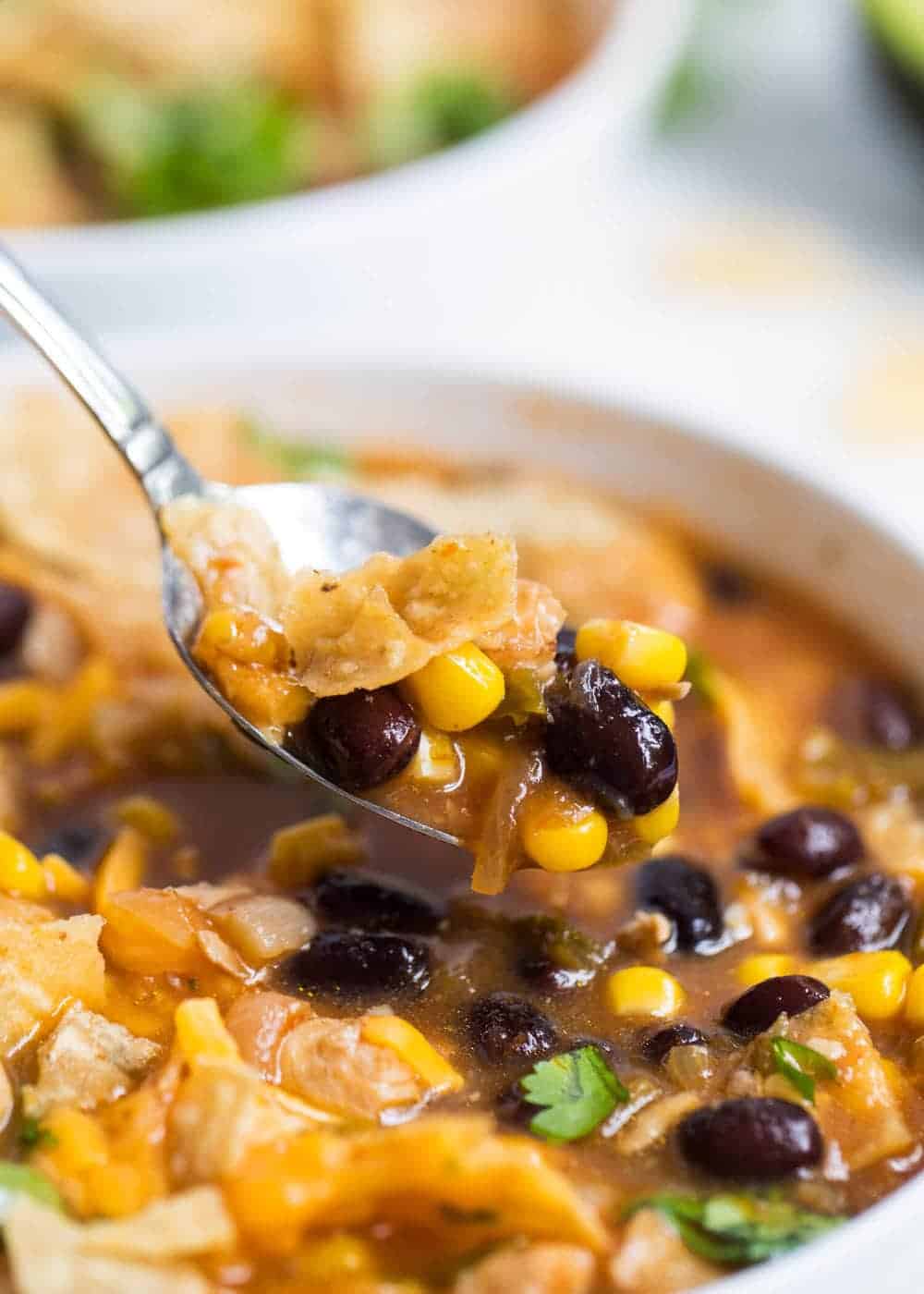 For More Soup Recipes, Check Out:
HUNGRY FOR MORE? Subscribe to my newsletter and follow on Facebook, Pinterest and Instagram for all the newest recipes!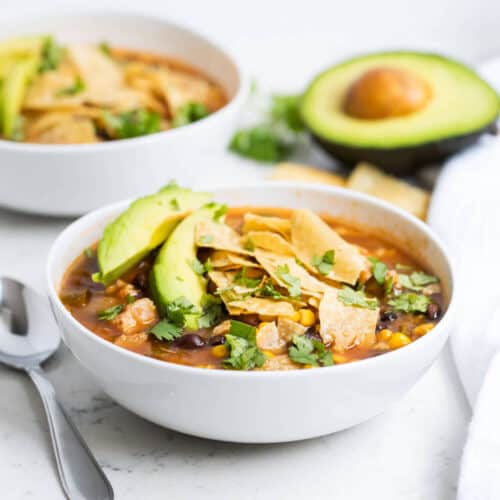 Chicken Tortilla Soup
This chicken tortilla soup recipe is made in ONE pot in 30 minutes. Always a crowd pleaser and tastes great loaded with cheese, avocado and tortilla chips.
Ingredients
1 pound boneless skinless chicken breasts , cut into bite sized pieces
1 Tablespoon olive oil , more as needed
1 onion , chopped
2 to 3 cloves minced garlic
29 ounces chicken broth (2 cans)
1 ½ cups frozen corn kernels
½ teaspoon ground cumin
½ teaspoon chili powder (can add another 1/2-1 tsp if you like spicy)
15 ounces black beans (1 can)
1 ½ Tablespoons fresh lemon or lime juice
1 ½ cups chunky salsa
salt and pepper
Toppings: Freshly chopped cilantro, tortilla strips or sliced tortillas, shredded cheese, sour cream, lime and avocado
Instructions
In a large pot heat the oil over medium heat. Add the chicken in. Sprinkle salt and pepper over top. Sauté in the oil for 3 to 5 minutes, or until center is no longer pink.

Add the onions and cook for about 2 minutes. Then add the garlic and mix well, continuing to cook for 1 more minute.

Next add the broth, corn, cumin, chili powder, beans, lemon or lime juice and salsa. Reduce heat to low, cover and simmer for about 20 to 30 minutes.

Top the soup with fresh cilantro if desired. Break up some tortilla chips or tortilla strips and add to individual bowls. Ladle tortilla soup over tortillas. Add desired toppings.
---
Notes
Additions and substitutions: This recipe is easy to add in additions. Many times I'll add in a chopped bell peppers with the onions. I also like to add an additional can of pinto or kidney beans (whatever I have on hand). If I don't have salsa on hand, I'll use a can of Rotel or diced tomatoes. Slow cooker version: Combine all ingredients in slow cooker (no need to add oil) and cook on high heat for 3 to 4 hours or on low for 6 to 8 hours. Then shred the chicken and add back to pot. Freezing: Pour in a freezer bag or container, leaving room at the top for the soup to expand. Store in the freezer for up to 3 months.
Nutrition
Calories: 298kcal | Carbohydrates: 31g | Protein: 24g | Fat: 8g | Saturated Fat: 2g | Cholesterol: 48mg | Sodium: 1088mg | Potassium: 796mg | Fiber: 8g | Sugar: 4g | Vitamin A: 445IU | Vitamin C: 14.6mg | Calcium: 61mg | Iron: 3mg
Nutrition provided is an estimate. It will vary based on specific ingredients used.
Did you make this recipe? Don't forget to give it a star rating below!