Chicken Tortilla Soup
There's something about this cold weather that makes me want to make eat soup EVERY day! I've tried out a few new recipes over the last few weeks and this one was a keeper, so I thought I would share it. This soup recipe was delicious! It warms you right up on a cold day, and has just the perfect kick to it. Try it out and let me know what you think.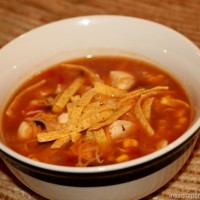 Chicken Tortilla Soup
Ingredients:
1 pound of boneless chicken breasts
1 teaspoon olive oil
2 cloves minced garlic
1/2 teaspoon ground cumin
3 (14.5 ounce) cans chicken broth
2 cups frozen corn kernels
1 chopped onion
1/2 teaspoon chili powder (If you like it spicy add another 1/2-1 tsp.)
1 1/2 tablespoons lemon juice
2 cups chunky salsa (I used the Costco brand, but if I had this one on hand I would of used that.)
1 can black beans
tortilla strips
sour cream (optional)
1 cup shredded Monterey Jack cheese (optional)
Directions:
In a large pot over medium heat, sauté the chicken in the oil for 5 minutes. Add the onions. Then add the garlic and cumin and mix well. Next add the broth, corn, chili powder, beans, lemon juice and salsa. Reduce heat to low and simmer for about 20 to 30 minutes.
Break up some tortilla chips or tortilla strips, into individual bowls and pour soup over chips. Top with the Monterey Jack cheese and a little sour cream.
Join in! Leave a comment!
Comments