Jump to Recipe⌄
Best Taco Soup Recipe
World's Best Taco Soup Recipe… taco soup is by far the most requested meal at my house. My husband LOVES it and could probably eat it everyday. It's one of my favorite meals too. The kids even love it…and they are PICKY! It's definitely one of our all time favorite and EASY recipes to make. We usually have all the ingredients on hand and it's something that I usually make without a recipe. Just dump and taste.
Everyone I've made this recipe for always asks for the recipe. I first got this recipe from my husband's grandma. All the family had gotten together for an event and this soup was served with chips and all the toppings. I was pregnant with my first son and it was the one thing that had tasted good in a long time. After that I made this recipe atleast once a month and couldn't wait to eat the leftovers.  It reheats really well.  I promise it's super easy to make. If my husband can make this …you can too! ;)

How To Freeze Taco Soup
Allow the soup to cool down
Place into a zip top bag or freezer container (leaving room for it to expand)
Place in the freezer. It will stay good for up to six months in the freezer.
When ready to reheat, place in the refrigerator or microwave to thaw. Then simmer in a pot over low heat.
If I want to make it go further, sometimes I'll add in an extra can of beans and tomatoes with a little more taco seasoning.
How To Make Taco Soup
World's Best Taco Soup Printable Recipe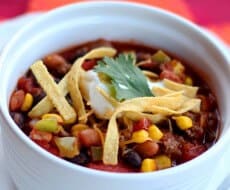 World's Best Taco Soup Recipe!
Ingredients:
1 pound hamburger or turkey burger
1-2 Tablespoons taco seasoning (more or less to taste)
1 medium sweet onion, chopped finely
1 green bell pepper, chopped
1 red bell pepper, chopped
1 15 oz can black beans, drained
1 15 oz can kindey beans, drained
1 15 oz can pinto or white beans, drained and rinsed (optional)
1 15 oz can corn
1 15oz can tomato sauce
1 10 oz can rotel tomato's
1 15 oz can diced tomato's
1/4 cup salsa (fresh is best)
Directions:
1. Brown hamburger in a large pan over medium heat. Add in the onions, bell peppers and saute for a few minutes.
2. Add in the remaining ingredients and stir until combined. Let simmer for about 20 minutes, stirring occasionally. You can add a little water if it starts getting too thick. If you have more time let it simmer longer. You could also put this soup in a crock pot and let cook on low for several hours.
3. Top with sour cream and cheese. Serve with tortilla chips. Enjoy!
All images and text ©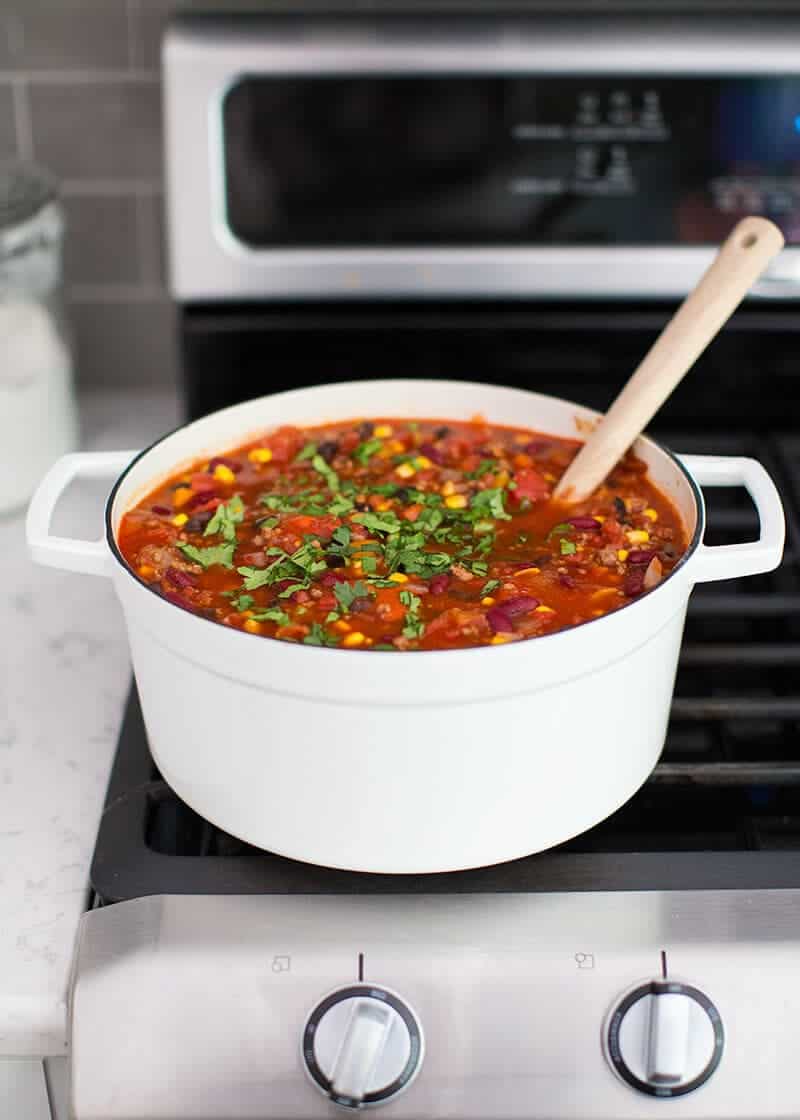 For more yummy recipe make sure to check out my

recipe box

. You'll love these too:

Delicious chicken taco bowls 
Thanks for stopping by. Hope you have a great day!
To get the newest recipes 
subscribe
 or join us on facebook.