Easy chicken taco soup made with chicken, tomatoes, corn and beans in one pot! Ready in only 30 quick minutes, this is our favorite hearty soup recipe full of Mexican flavors!
More soup recipes with a similar flavor profile that we love include this chicken tortilla soup, Mexican chicken soup and chicken enchilada soup!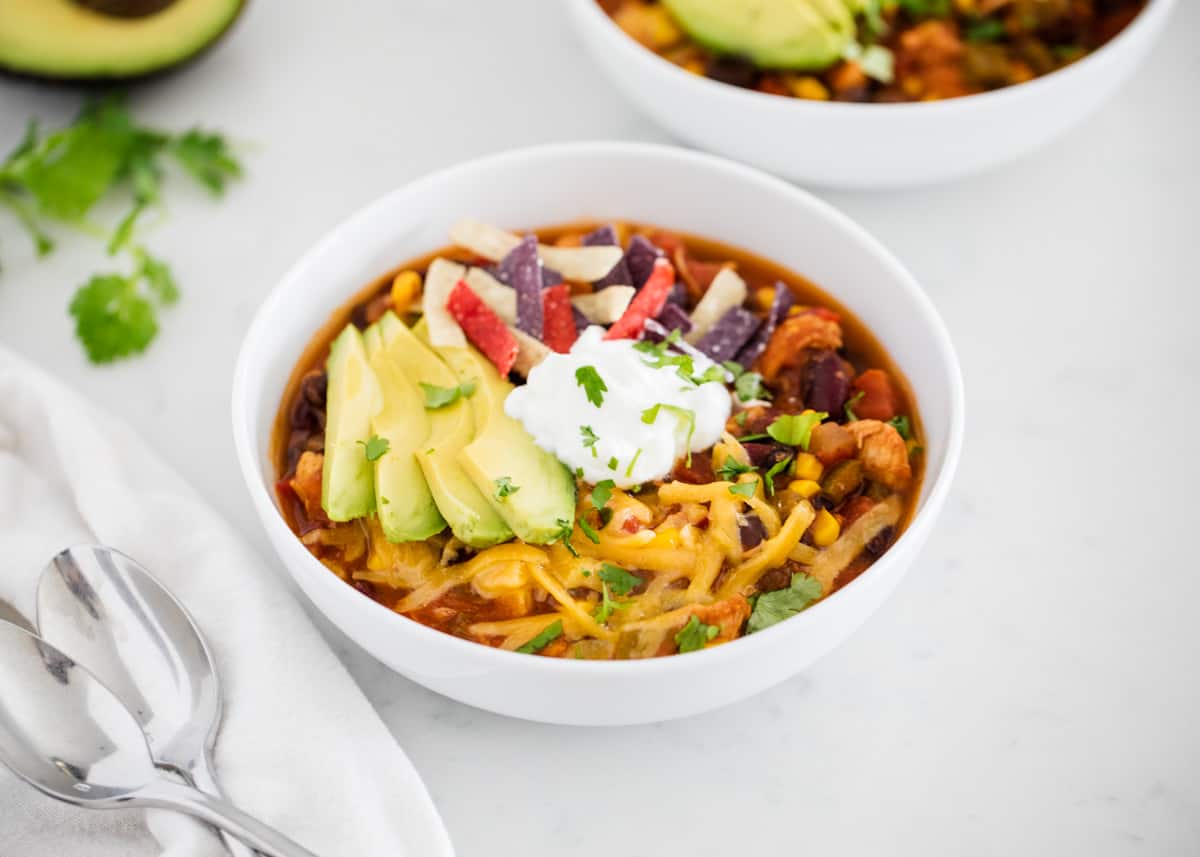 Easy Chicken Taco Soup
One of my families favorite meals is taco soup. We make it at least once a month and love digging in with a big bowl of tortilla chips. My original recipe calls for ground beef, but we make this chicken version quite often too. It's the perfect way to use up any leftover chicken sitting in the fridge.
I love this chicken taco soup recipe because it's so easy to make in one pot and it's done in less than 30 minutes. It's also very adaptable to what you have on hand and to your personal taste.
It's loaded with flavor and is the perfect hearty soup recipe with chicken to enjoy on a chilly fall day. We love to load on all of our favorite toppings and also love serving sweet cornbread alongside with honey butter. So yummy!
Recipe Ingredients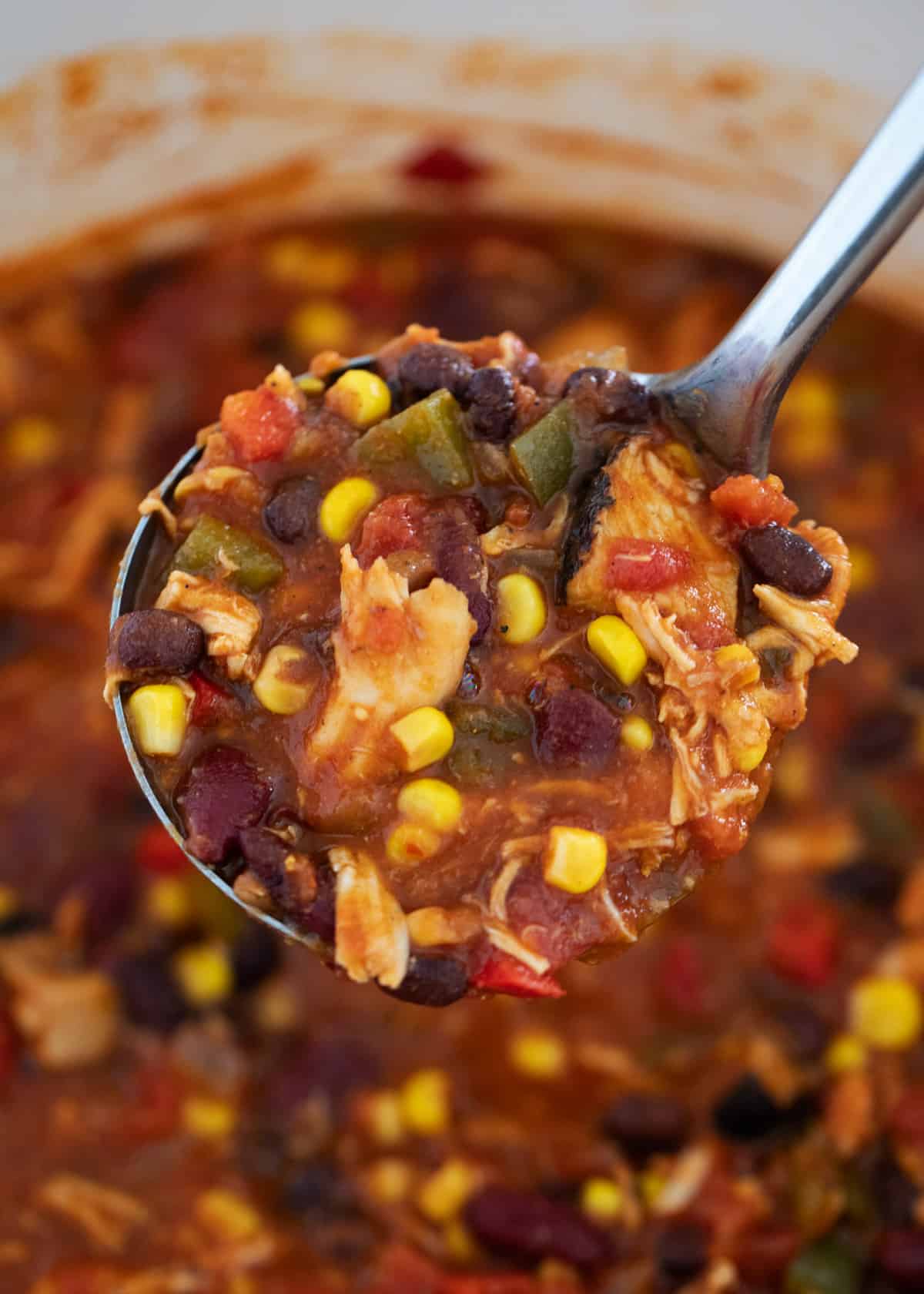 Find the full printable recipe with specific measurements below.
Chicken: I like using precooked and shredded chicken, like a rotisserie, to save time.
Beans: This taco soup boasts a whole lot of beans, including black beans, kidney beans, and pinto beans.
Onions + peppers: The base of the soup relies on these two staples.
Corn: Just a little bit of sweetness and color to cut the spice.
Tomatoes: I use a mixture of tomato sauce, diced tomatoes, and Rotel to really add richness and acidity to this soup.
Salsa: I prefer a salsa with a lot of flavor, and this is a great way to add a little heat, if you'd like.
Seasonings: Homemade taco seasoning, salt, and pepper is all it takes to make a flavorful soup.
Toppings: I like to top the soup with cheese, sour cream, avocado, and a little lime juice with tortilla chips on the side.
Variations + Tips
Use precooked and shredded chicken to make this dish super fast. I love making this recipe whenever we have leftover Instant Pot Mexican chicken to use up.
Add everything to the crockpot with raw chicken to make this soup even easier.
Feel free to use a mix of beans (black beans, kidney beans, pinto beans, chili beans).
Additional spices that would be great include chili powder, cumin, paprika or a little cayenne pepper for kick.
Add in extra vegetables such as sweet potato, carrots or pumpkin.
How to Make Chicken Taco Soup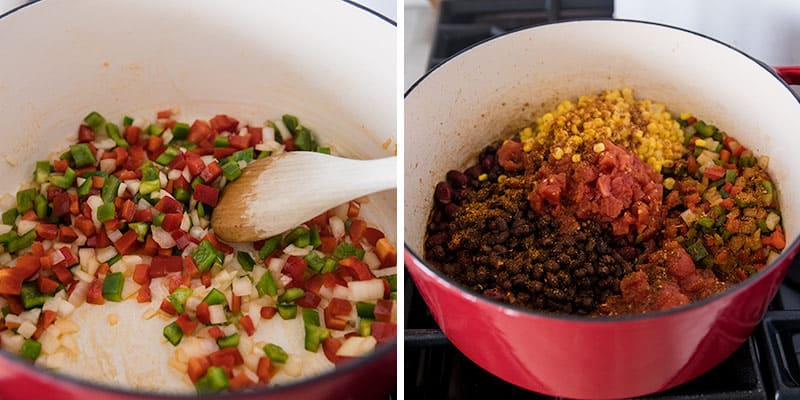 Sauté. Cook the chopped onions and peppers in a pan with oil for a few minutes, until soft.
Simmer. Stir in all of the remaining ingredients and let simmer for about 20 minutes (or longer if you have the time), stirring occasionally. If the consistency gets too thick for your liking, feel free to mix in a little water to thin it out.
Serve. Ladle the soup into bowls and serve with your favorite toppings.
Chicken Taco Soup Toppings
Don't forget the toppings! This soup tastes amazing with any of the following toppings: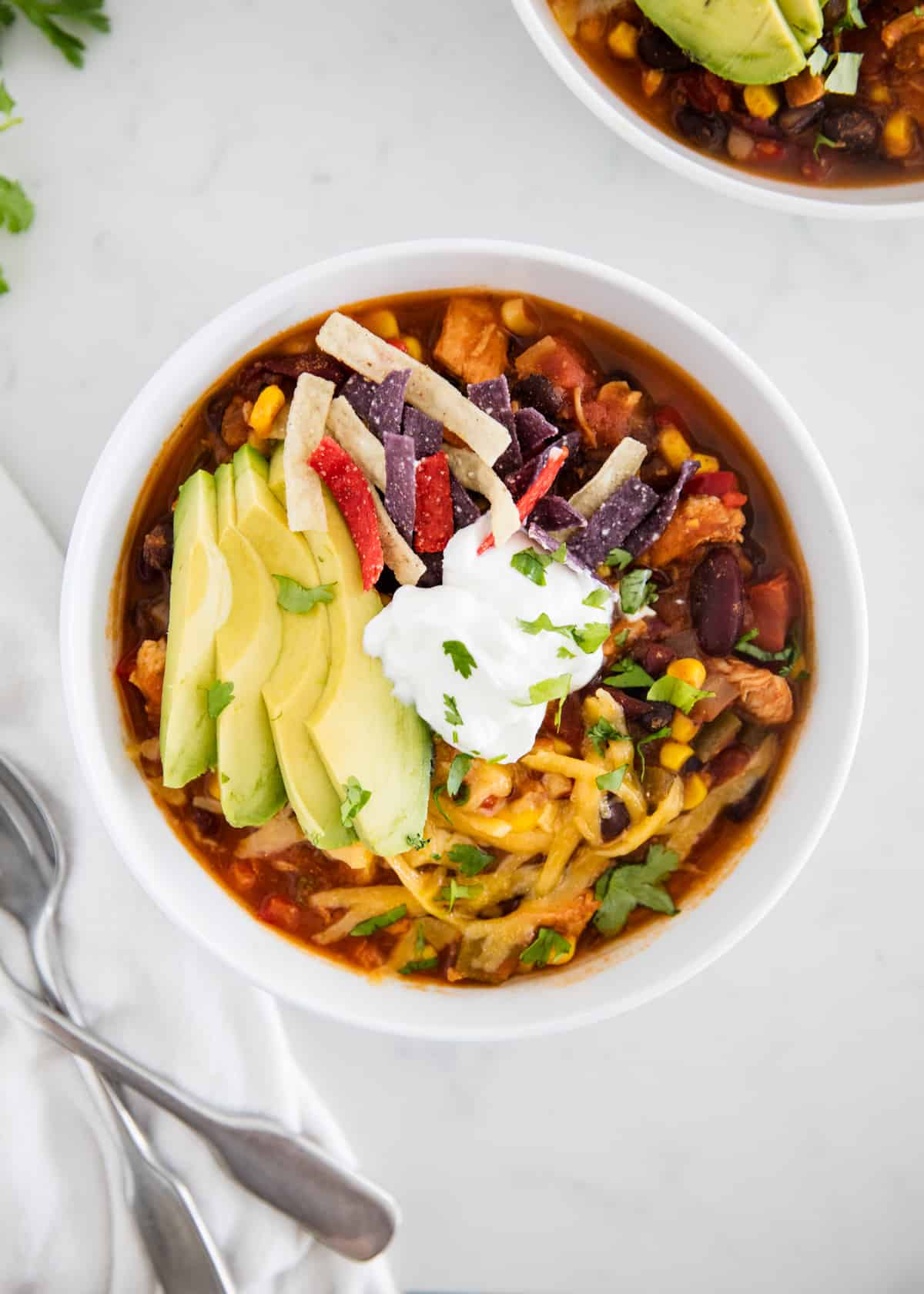 Recipe FAQs
Can this Chicken Taco Soup be made in the crockpot?
Yes! This soup can also be made in the slow cooker just as easily. The only difference is you'll want to use raw chicken (instead of cooked) if using this method. Simply add all of the ingredients to the crockpot and cook on low for 6 to 7 hours, or on high for 3 to 4 hours. Right before serving, shred the chicken and then mix back into the crockpot.
Can I make this vegetarian?
Absolutely! Simply omit the chicken and maybe add in some extra veggies, like sweet potato or pumpkin.
Freezing + Thawing
This soup is one of our favorite freezer meals. Make sure it has cooled completely, then pour into a freezer bag or container. It's important to leave room in the container for the soup to expand…so don't fill it all the way to the top. Then store in the freezer for up to 6 months. When ready to enjoy, thaw in the microwave or in the refrigerator overnight. Then pour into a pot and simmer on the stove over low heat until warm.
More Soup Recipes to Try
HUNGRY FOR MORE? Subscribe to my newsletter and follow on Facebook, Pinterest and Instagram for all the newest recipes!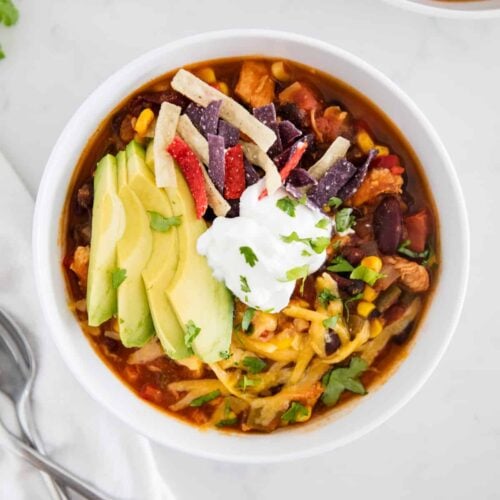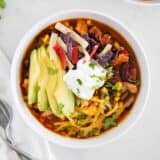 Chicken Taco Soup
Easy chicken taco soup made in just one pot in 30 quick minutes. Our favorite hearty and flavorful soup recipe to enjoy during the fall season.
Ingredients
1 teaspoon olive oil , plus more if needed
1 medium sweet onion , finely chopped
1 cup chopped bell peppers (I prefer red or orange)
1-2 Tablespoons taco seasoning , plus more to taste
1 (15-ounce) can black beans , drained and rinsed
1 (15-ounce) can kidney beans , drained and rinsed
1 (15-ounce) can pinto or white beans , drained and rinsed
1 (15-ounce) can corn
1 (15-ounce) can tomato sauce
1 (10-ounce) can Rotel
1 (15-ounce) can diced tomatoes
¼ cup salsa
3 cups shredded, cooked chicken breast (I use rotisserie chicken)
Salt , to taste
Ground black pepper , to taste
For serving: Tortilla chips, Shredded cheddar cheese, Sour cream, Avocado, Lime wedges
Instructions
In a large pan, heat olive oil, Add the onions and bell peppers and sauté a few minutes, until softened.

Stir in the taco seasoning, black beans, kidney beans, pinto beans, corn, tomato sauce, Rotel, diced tomatoes, salsa, chicken, salt, and pepper until combined. Simmer at least 20 minutes, stirring occasionally. Add a little water if the soup is too thick. If you have more time, let it simmer longer.

Ladle into bowls. Top with sour cream, cheese, avocado, and a little lime. Serve with tortilla chips. Enjoy!
---
Notes
Adding raw chicken: Add bite-sized chicken pieces to the pot with oil and sprinkle taco seasoning over top. Cook until lightly browned and then follow the instructions by adding the onions and bell peppers. Crockpot version: Use raw chicken for the crockpot. Add all ingredients to the crockpot and cook on low 6 to 7 hours, or on high 3 to 4 hours. Remove chicken and shred and then add back to pot. To freeze: Let soup cool. Place in a zip-top bag or airtight container (leaving room for it to expand). Store in freezer up to 6 months. To thaw, place in refrigerator or microwave. Simmer in a pot over low-heat until warm.
Nutrition
Serving: 350grams | Calories: 406kcal | Carbohydrates: 61g | Protein: 31g | Fat: 6g | Saturated Fat: 1g | Polyunsaturated Fat: 2g | Monounsaturated Fat: 2g | Cholesterol: 39mg | Sodium: 456mg | Potassium: 1305mg | Fiber: 17g | Sugar: 10g | Vitamin A: 1150IU | Vitamin C: 42mg | Calcium: 108mg | Iron: 6mg
Nutrition provided is an estimate. It will vary based on specific ingredients used.
Did you make this recipe? Don't forget to give it a star rating below!