Homemade chimichurri is a herb-loaded sauce packed with garlicky, tangy, and spicy flavors. It comes together in minutes and is used as a fresh, flavorful marinade or topping for grilled beef, chicken, and fish!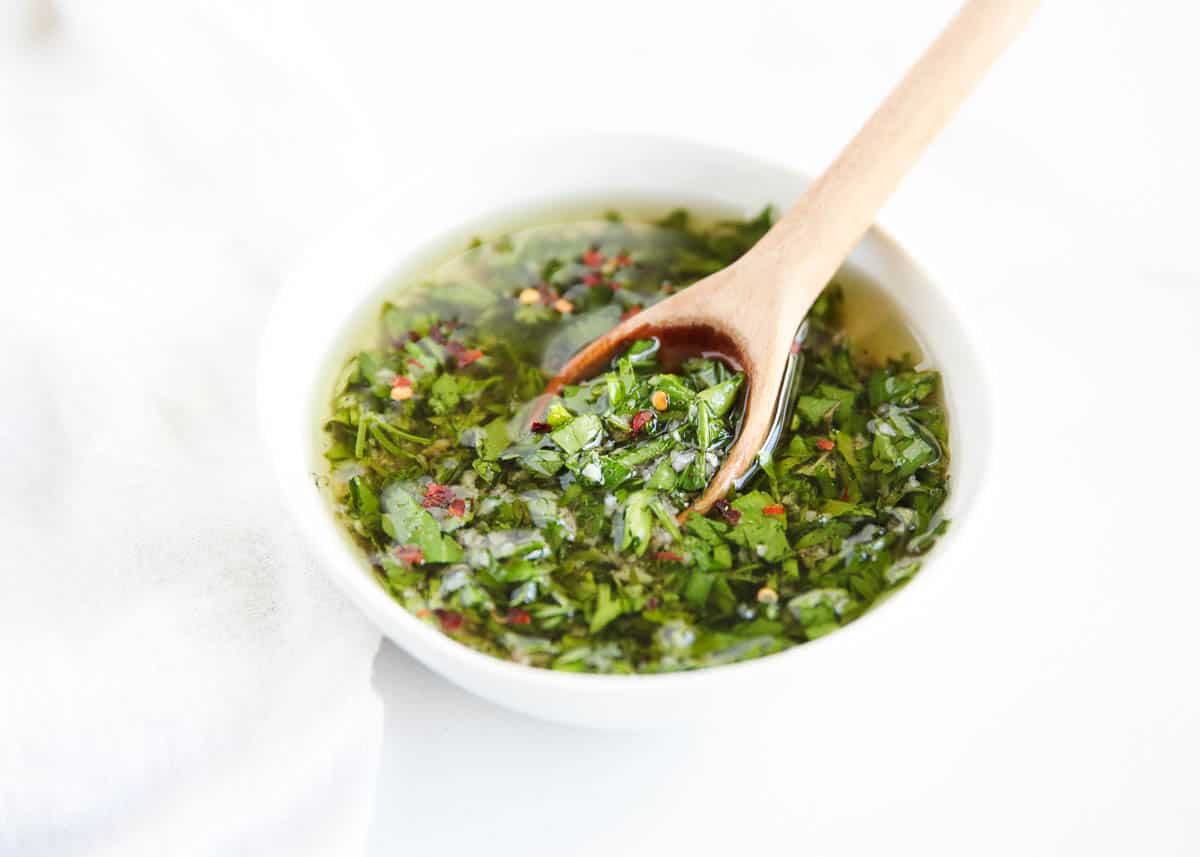 Fresh Chimichurri
They say chimichurri means "mixture of a lot of things" but I'd say it's a flavorful mixture of just a few simple things that packs a ton of flavor!
This bright green homemade chimichurri sauce is made with oil, red wine vinegar, garlic, fresh herbs, and a little bit of heat. It's a tangy, garlicky, vinegary, condiment that has a little bit of spice and is heavy on the herbaceous flavors.
This popular sauce can be used as a marinade, a condiment, and a dip and is perfect for things like chimichurri steak, on top of juicy homemade hamburgers or grilled sweet potatoes, grilled salmon and meats. You name it.
If you're looking for an easy combination of fresh flavors that packs a punch and can be whipped up in no time, you're going to love this homemade chimichurri recipe just as much as we do!
Why We Love Homemade Chimichurri
Versatile. It's a lively, herbaceous, and incredibly refreshing green sauce with a golden touch. It just makes everything better!
Budget-friendly. All of the ingredients are easily accessible, especially if you grow your own herbs! There are a handful of ingredients in this recipe, and most of them are customizable.
Better than store-bought. There is nothing better than a fresh batch of chimichurri made right from scratch. That delicious combination of garlic and fresh herbs along with zesty vinegar is not something you can get from a bottle.
What is Chimichurri?
This delightful sauce is an oil-based blend of finely chopped herbs, garlic, vinegar, and red pepper flakes. It's widely used in South America, predominantly in Argentina and Uruguay.
Homemade chimichurri can be used as an ingredient in a dish, as a marinade, or as a condiment meant to accompany a dish, traditionally consisting of grilled meat.
Chimichurri Ingredients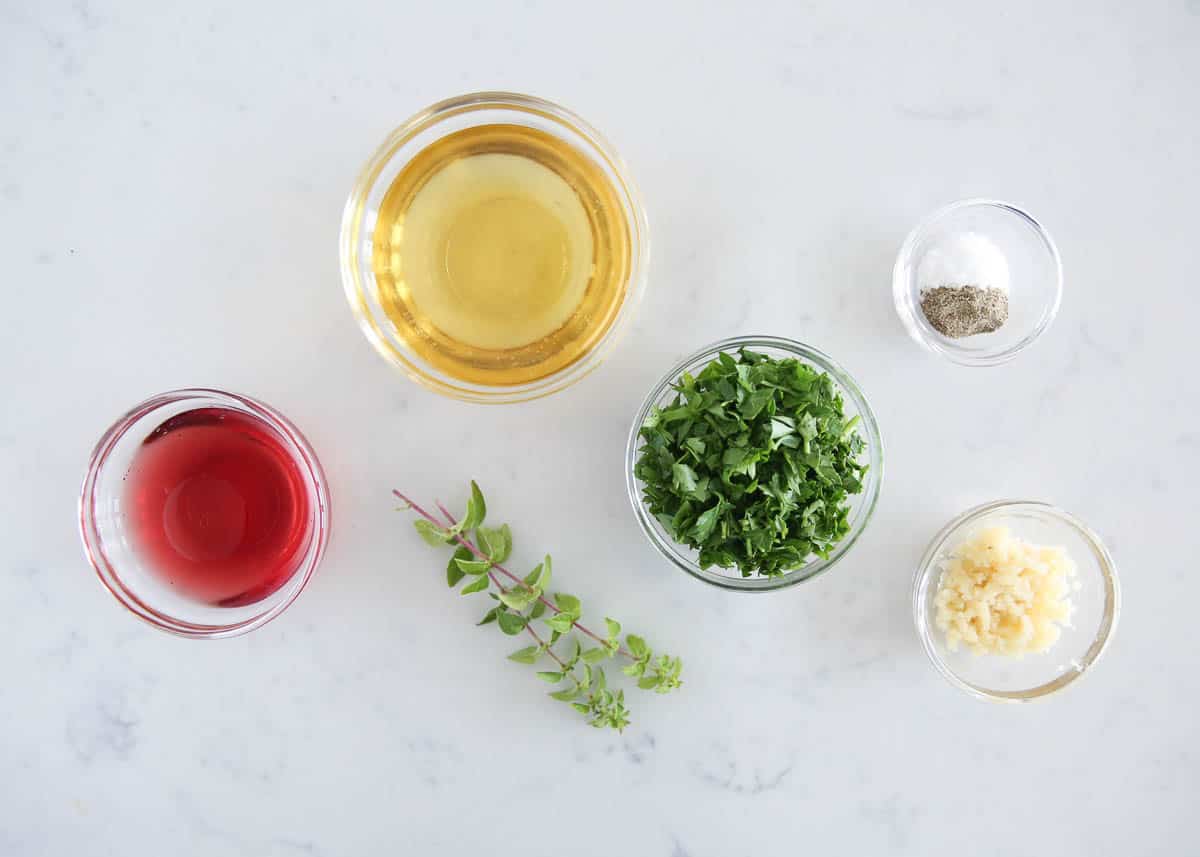 Olive oil: The base of this mixture which keeps easily pourable and loose instead of heavy and paste-like.
Red wine vinegar: The acidic component which gives it a tartness and a zing.
Garlic: This is one of the ingredients that you can adjust in the amount you use. The garlic infuses into the oil giving it an incredible flavor. My post on how to mince garlic will come in very handy right about now!
Parsley: Must be fresh, flat-leaf parsley. Do not substitute for dry.
Oregano: I highly recommend using fresh oregano leaves, but for this, you can use dried oregano if that's what you have.
Salt & pepper: To taste.
Red pepper flakes: Traditionally, chimichurri has some heat to it, but you can also play around with this ingredient to taste. More or less to your liking.
Variations
If you don't have red wine vinegar on hand, use white wine vinegar instead. Lemon juice or lime juice can also be used if preferred.
For a Mexican flair, use 1/4 parsley leaves and 1/2 cup chopped fresh cilantro. Throw in 2-3 chopped chives if you'd like to.
For even more heat than red chili flakes, use chopped red chili. It's quite hot, even without the seeds, so be sure to remove them first!
Chopped red onion is an added ingredient you can choose to include in this homemade chimichurri sauce recipe.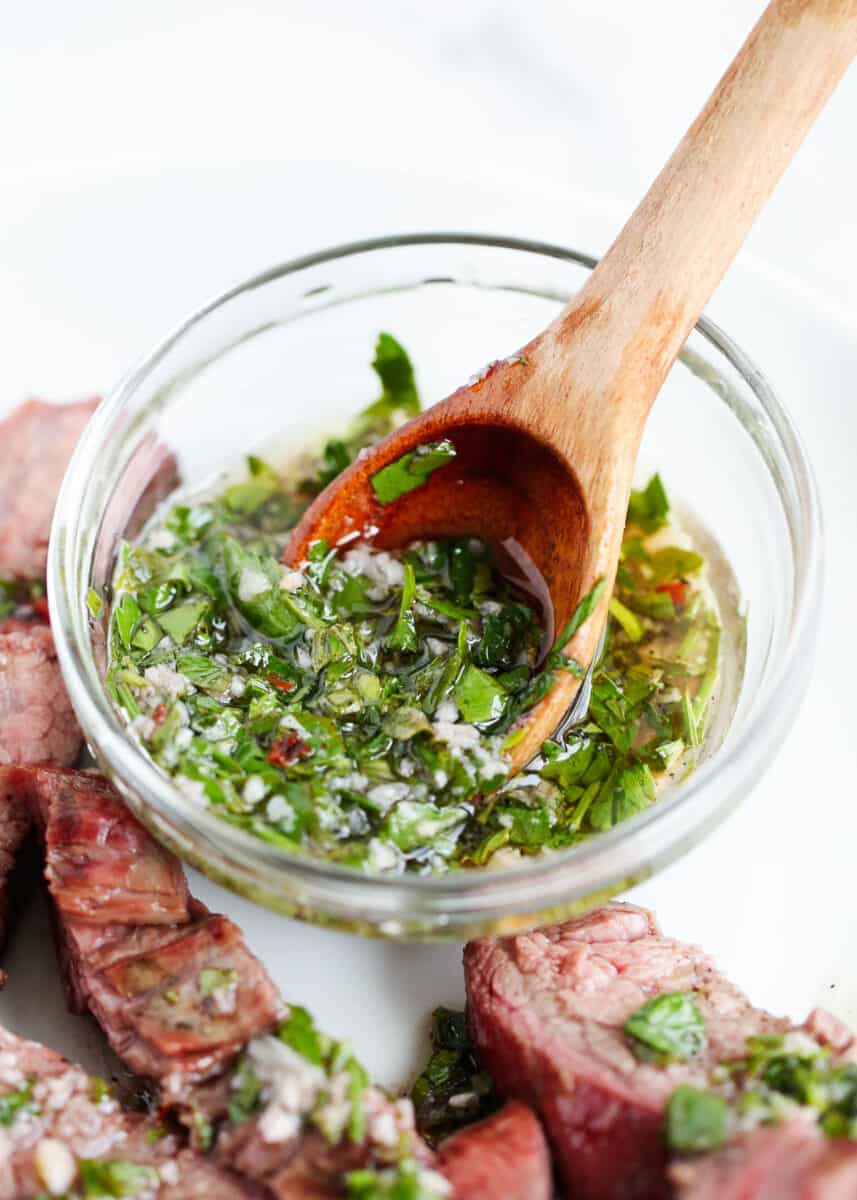 How to Make Chimichurri
Combine the ingredients. In a small bowl, add the oil, vinegar, herbs, garlic, salt, and pepper and mix to combine. If you are using the red pepper flakes, add those in too.
Sit then serve. You can use this homemade chimichurri right away, but I like to let it sit for about half an hour to really let the flavors meld together and infuse all of it into the liquids. You can use it to baste or marinate your meat ahead of time, and then use some more to dress it afterward.
Recipe Tips
Do not chill. Homemade chimichurri is meant to be served at room temperature.
The right consistency. You might be tempted to use a food processor and a few quick pulses to combine your ingredients. If you take this shortcut just be careful it doesn't turn into a paste instead of a loose oil-based sauce. Otherwise, it loses some of its authenticity.
Extra virgin olive oil has a light flavor that won't interfere with the taste of the other ingredients.
Use a sharp knife to chop up the herbs, or use an old-fashioned mortar and pestle, if you have one. Herbs should be finely chopped.
Fresh is best. When looking for the freshest herbs, avoid any wilted, discolored, or sad-looking bunches.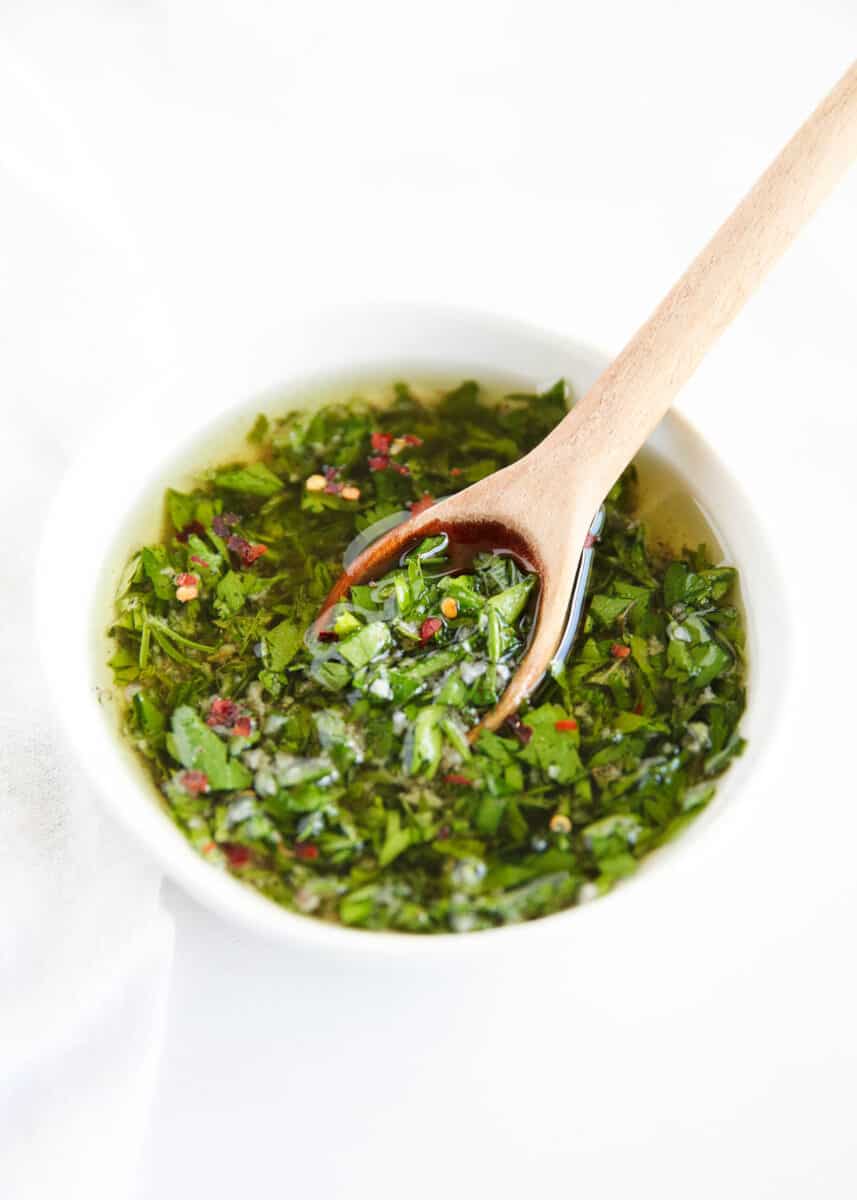 Ways to Use Chimichurri Sauce
There are so many ways to enjoy this beautiful sauce. Use it as a marinade, a topping, a condiment, dip, or dressing!
Recipe FAQs
How do you make authentic chimichurri?
Depending on who you ask, true authentic chimichurri comes from Argentina and uses oil, red wine vinegar, parsley, garlic, parsley, oregano, and red chilis. I for one, believe my recipe to be as close to authentic as you're going to get!
How long does homemade chimichurri last in the refrigerator?
It will stay fresh for up to 1 week. Just make sure you bring it back to room temperature before you serve it.
How healthy is chimichurri?
Homemade chimichurri is very healthy! Both parsley and oregano have a ton of vitamins and antioxidants. If you're using a good quality olive oil, that is a source of healthy fats, and of course, garlic has anti-inflammatory properties.

Overall, every ingredient on its own has something to offer and when combined, it contains a ton of nutrients!
Love easy sauce recipes? This fish taco sauce recipe is creamy, spicy and the perfect way to jazz up any protein!
HUNGRY FOR MORE? Subscribe to my newsletter and follow on Facebook, Pinterest and Instagram for all the newest recipes!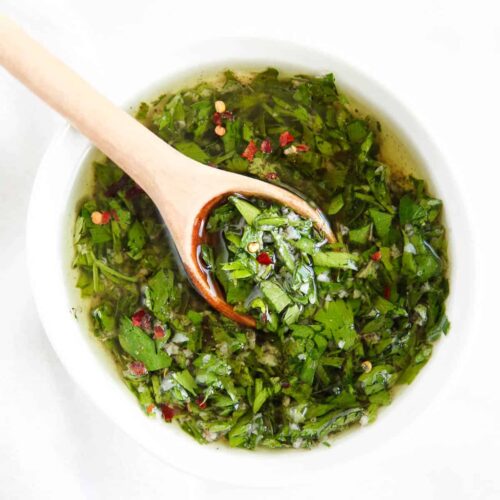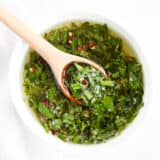 Homemade Chimichurri
Homemade chimichurri is a herb-loaded sauce packed with garlicky, tangy, and spicy flavors. It comes together in minutes and is used as a fresh, flavorful marinade or topping for grilled beef, chicken, and fish!
Ingredients
¼ cup olive oil , more if desired
3-4 Tablespoons red wine vinegar
4 cloves garlic , minced
½ cup finely chopped parsley , do not substitute for dried
1 Tablespoon fresh oregano , or 1 teaspoon dried
¾ teaspoon Kosher salt , plus more to taste
¼ teaspoon freshly ground black pepper , plus more to taste
Red pepper flakes , to taste
Instructions
In a small bowl, combine the olive oil, vinegar, garlic, parsley, oregano, salt, and pepper. Add red pepper flakes, if desired. Season to taste. For a smooth finish, you can also pulse in the blender a few times.

You can serve right away, but I like to let it sit about 30 minutes before serving. Use it to baste your meat before grilling and top it on your meat after it's done cooking.
---
Notes
Variations:
You can use white wine vinegar or lemon juice instead of red wine vinegar, if preferred.
To add a Mexican flavor, use 1/2 cup chopped cilantro and 1/4 cup basil.
To kick up the heat, add in a deseeded and finely chopped red chili.
Storage: Store in the refrigerator for 1 week. Bring to room temperature before serving.
Nutrition
Calories: 86kcal | Carbohydrates: 1g | Protein: 1g | Fat: 9g | Saturated Fat: 1g | Polyunsaturated Fat: 1g | Monounsaturated Fat: 7g | Sodium: 221mg | Potassium: 38mg | Fiber: 1g | Sugar: 1g | Vitamin A: 327IU | Vitamin C: 5mg | Calcium: 19mg | Iron: 1mg
Nutrition provided is an estimate. It will vary based on specific ingredients used.
Did you make this recipe? Don't forget to give it a star rating below!