Chimichurri steak is made with tender strips of classic grilled flank steak topped with the popular South American sauce made with fresh herbs, garlic, oil, and vinegar!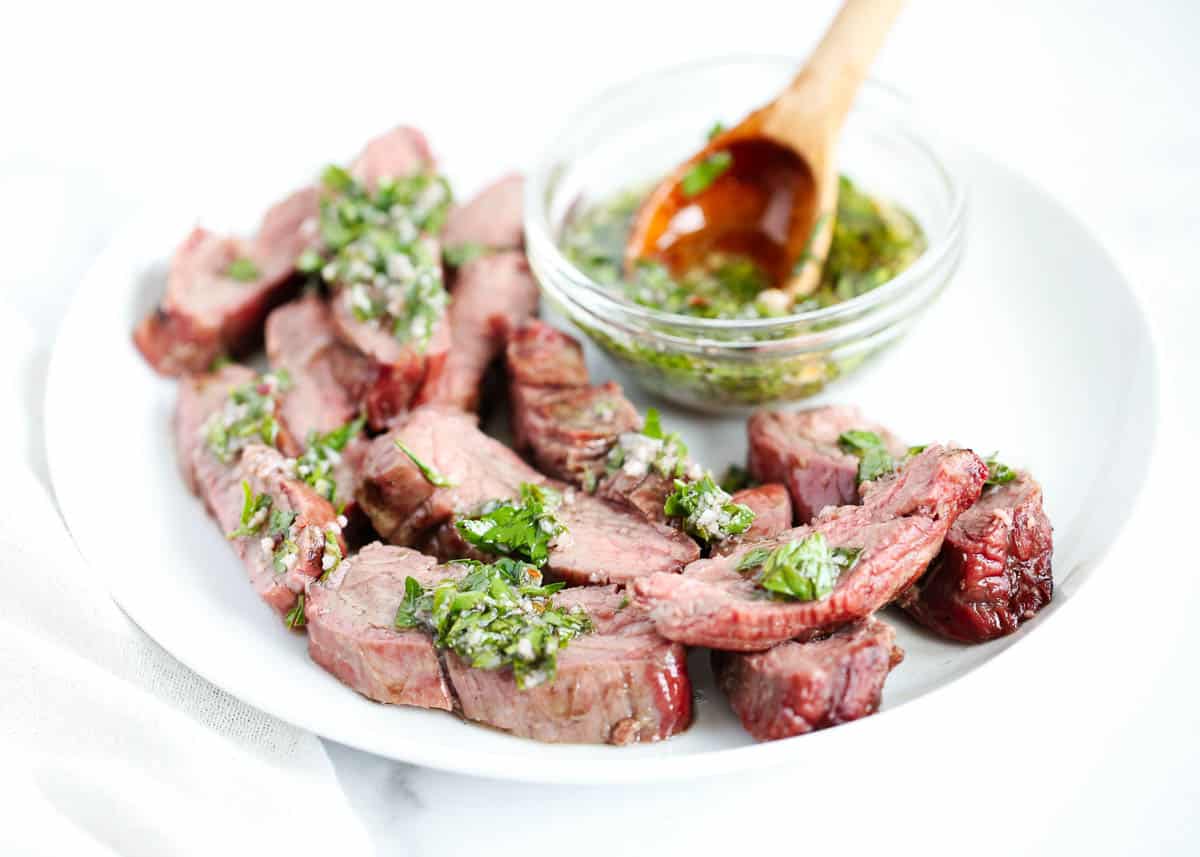 Grilled Steak Chimichurri
Chimichurri steak is one of the most delicious ways to prepare a grilled flank steak. The simplicity of it is just mouth watering just like in my carne asada recipe! Juicy tender meat, grill marks, and just a bit of salt and pepper are all you need this BBQ season!
Top it with a drizzle of homemade chimichurri and you've got a delicious chimichurri steak dinner that is hard to beat!
Chimichurri is an oil and vinegar-based condiment made with tons of fresh herbs, garlic, and a bit of heat from red pepper flakes. It can also be used as a chimichurri steak marinade, but for this easy recipe, we're using it as a topping.
Watching that sauce drip over top of a sizzling meat is one thing, having it all melt in your mouth with every bite is another!
Why We Love Steak With Chimichurri
It's really good. There are no two ways about it. You can't beat a perfectly grilled beef with a tangy with a herbaceous sauce on top.
Even kids love it! It's easy to cut it into thin strips so kids have an easier time eating it. Make it as spicy or mild as you want, and watch them dip their pieces into this sauce.
So easy. This chimichurri steak recipe is probably one of the easiest ways to BBQ! No marinating involved, no cooking of the sauce, just a combination of fresh ingredients.
Ingredients Needed
For the Chimichurri
Olive oil: A good quality olive oil is what I use.
Red wine vinegar: You can use white wine vinegar, apple cider vinegar, lemon juice, lime juice, or white vinegar (last resort) if need be.
Minced garlic: Fresh garlic adds amazing flavor with a little pungency. Cuts the oil along with the vinegar to brighten up the overall taste.
Fresh parsley, chopped: A must! Do not substitute with dried.
Oregano: Preferably fresh, but this one is a little more flexible. You can use dried if you have it.
Salt & pepper: To taste.
Red pepper flakes: Some people use fresh diced red chili peppers. It's a beautiful pop of red and can be made milder without the seeds, however, I find the dried chili flakes to have a more concentrated flavor.
For the Steak
Flank steak: When it comes to the cuts of meat best used for chimichurri steak, flank steak is my favorite hands down. Skirt steak is a close second, as it is also a cut of beef that is tender, however, flank is still a bit leaner.
Salt & pepper: All the seasoning you'll need for this recipe!
Chimichurri Sauce for Steak
If you're interested in proper techniques of how to mince garlic you should check out my tips and tricks. There is a science behind it, how much to use, and when to mince, chop, or mash your garlic.
To make the sauce all you need to do is combine all of the ingredients into a bowl and set it aside. Easy, I tell you!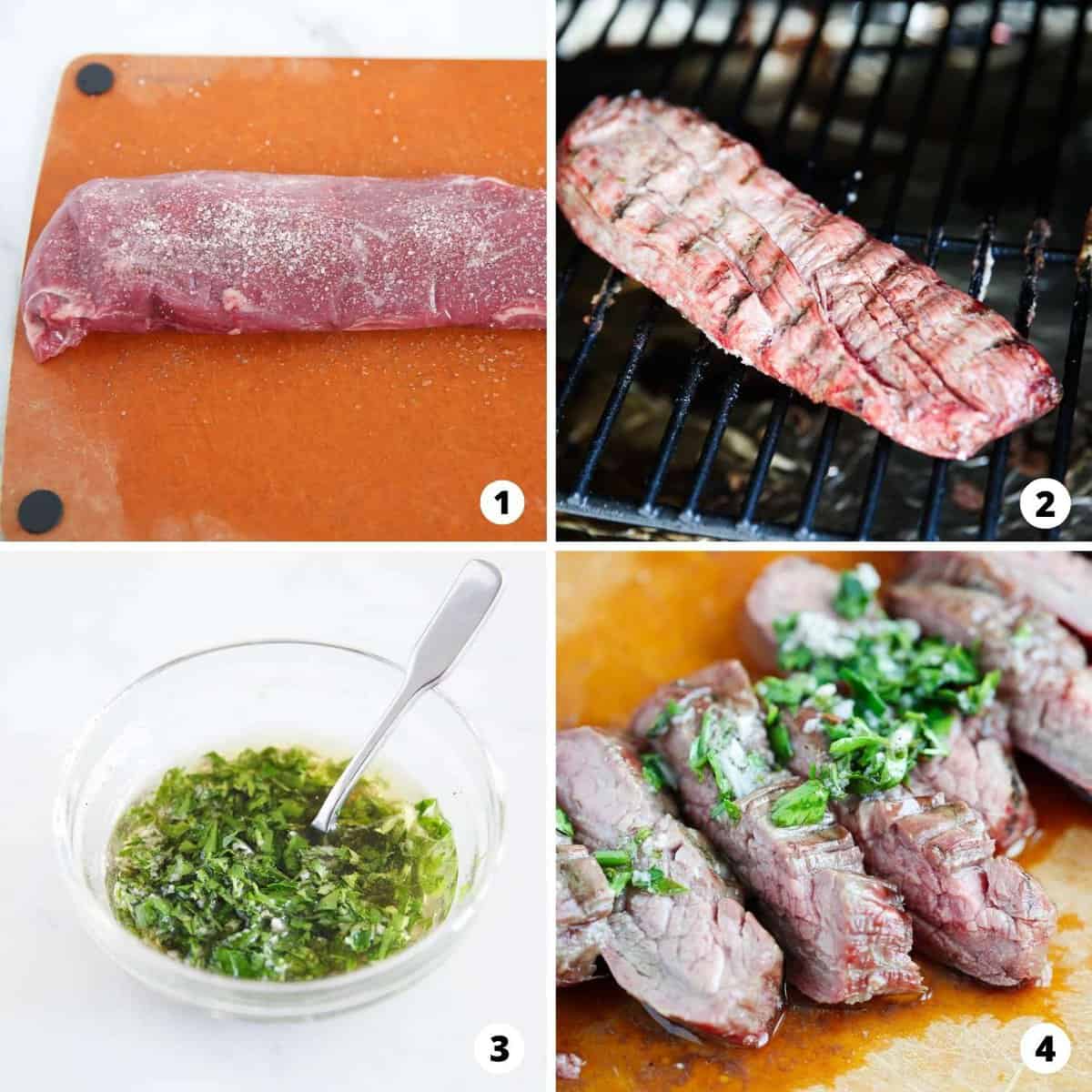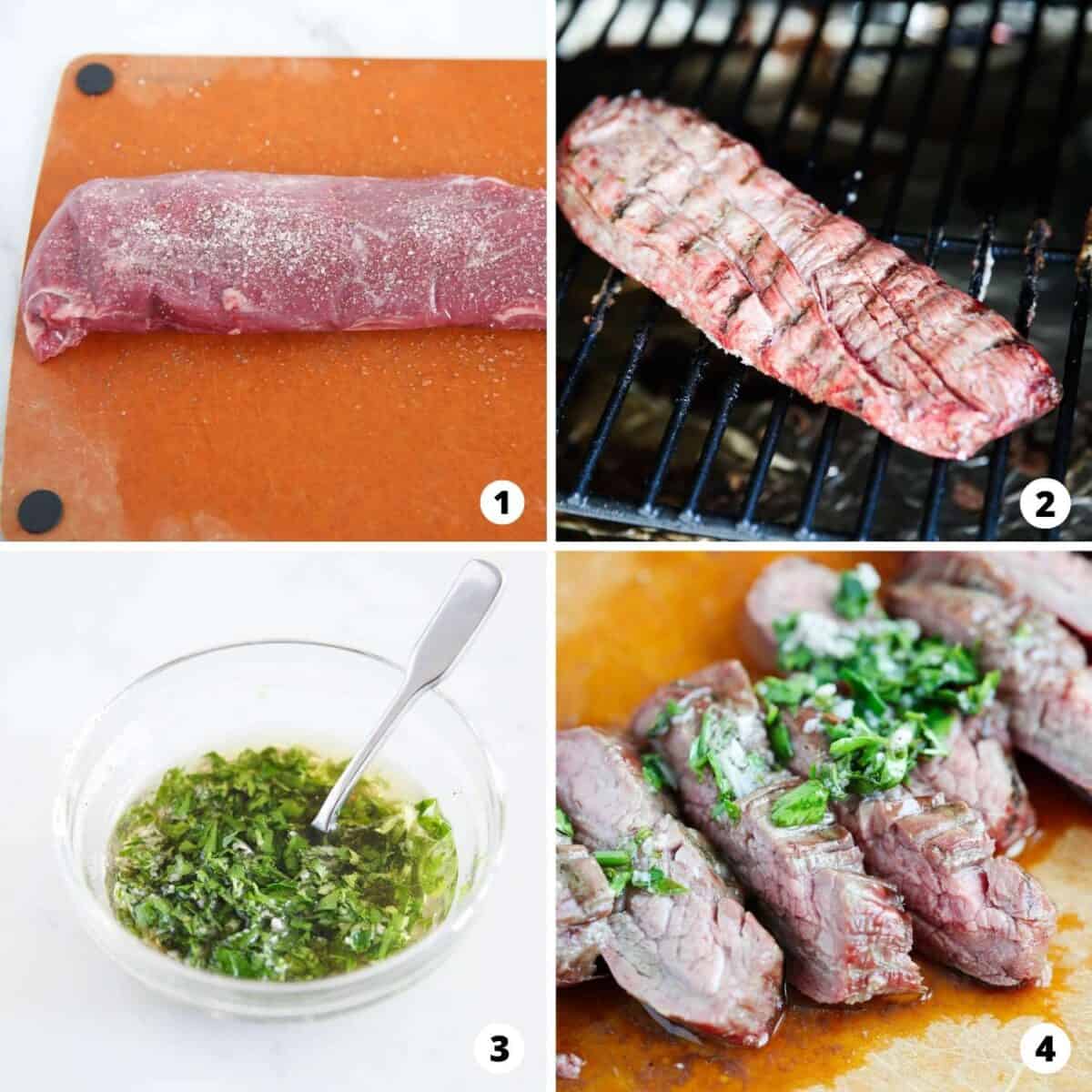 How to Make Steak Chimichurri
Bring your beef to room temperature before you begin. It's always a good idea to avoid adding cold meat to a hot grill.
Season the meat. Pat it dry with a paper towel. This way you'll get a nice seared crust on the outside and it'll help the seasoning stick to the meat. Season with salt and pepper.
Cook the steak. Place it on a preheated grill over medium-high heat and cook to desired internal temperature. This usually equates to 6 minutes per side, depending on the thickness of the meat. Let it rest for 5-10 minutes.
Prepare the chimichurri sauce and give it a little stir as it may have settled by now.
Cut the flank steak against the grain into even slices. Drizzle chimichurri sauce over each strip to serve. Enjoy!
How to Know When Steak is Done
To get the most accurate outcome, I recommend using a meat thermometer. Some people can tell just by touching their meat, or from experience, but if neither of those applies, here's a guide for you:
Medium Rare: Between 130 degrees and 140 degrees F
Medium: Between 140 degrees and 150 degrees F
Medium Well: Between 150 degrees and 160 degrees F
Well: Anything over 160 degrees F. (At this point, you need to be very careful not to overcook it!)
Cooking Steak in the Oven
Preheat the broiler. Place seasoned meat on a baking sheet and cook until it's reached the desired temperature. Flip halfway through. Use the temperature guide below to determine when it's done.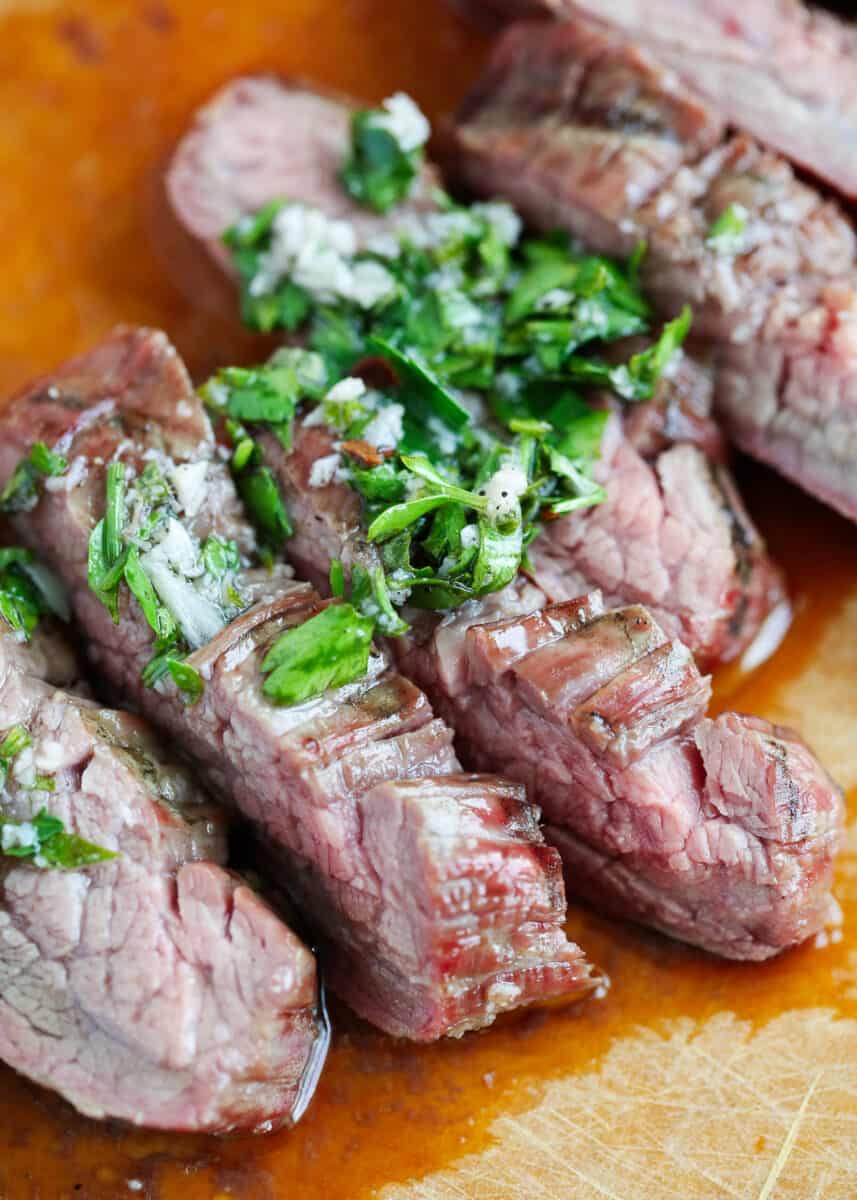 Recipe Tips
To get a good sear, make sure your meat is dry and at room temperature and the grill is hot before you add anything to it.
Make more chimichurri sauce than you need for this recipe. It's great on so many other kinds of protein. Try it on fish, chicken, pork and vegetables, too. We love to serve it with these grilled steak kabobs!
As I said, flank and skirt steak are my top choices for this recipe, but you can absolutely use a ribeye, New York strip, or even a T-bone. This sauce really does pair well with everything!
FAQs
What does it mean to cut against the grain?
Cutting against the grain means you're slicing the meat perpendicular to the fibers you see along with the cut of meat. This way, you're shortening those muscle fibers making them much more tender and easier to eat.
Do I have to let the meat rest first?
Yes! You need to give it the time to settle and redistribute the juices throughout the meat. If you cut it too soon, all the juices will run out and it will leave behind a dry steak.
Is chimichurri spicy?
A little yes. However, when you make a homemade chimichurri sauce you get to decide how spicy you make it.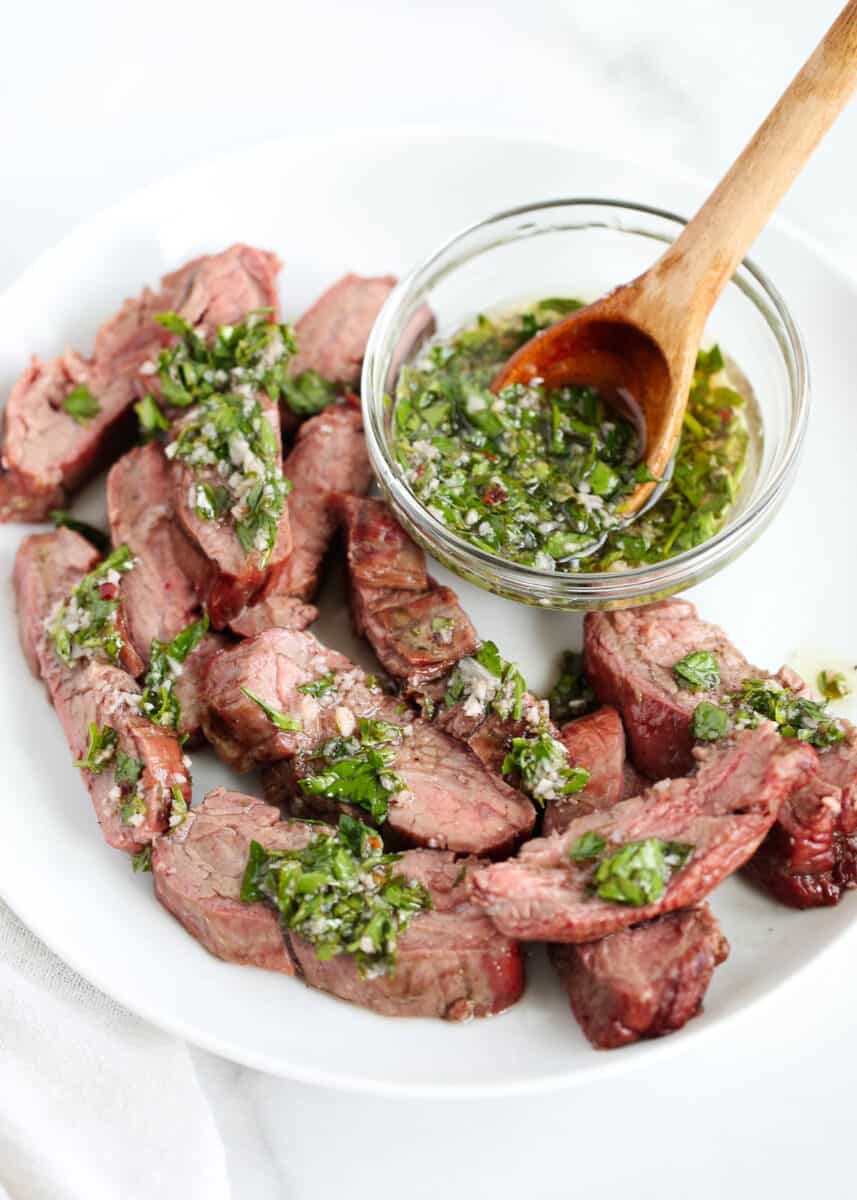 HUNGRY FOR MORE? Subscribe to my newsletter and follow on Facebook, Pinterest and Instagram for all the newest recipes!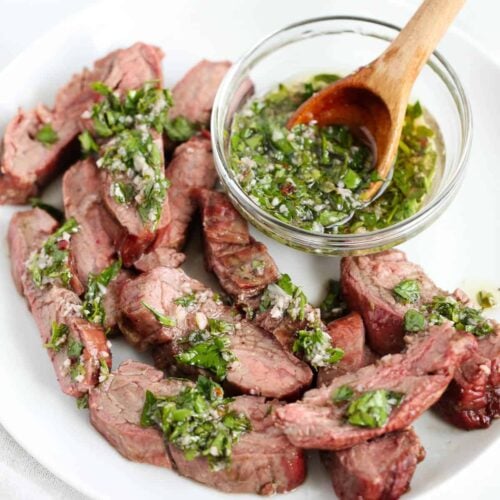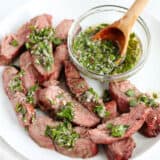 Chimichurri Steak
Chimichurri steak is made with tender strips of classic grilled flank steak topped with the popular South American sauce made with fresh herbs, garlic, oil, and vinegar!
Ingredients
Chimichurri
⅓ cup olive oil , plus more if desired
3-4 Tablespoons red wine vinegar
4 cloves garlic , minced
½ cup finely chopped parsley , do not substitute for dried
1 Tablespoon fresh oregano , or 1 teaspoon dried
¾ teaspoon Kosher salt , plus more to taste
¼ teaspoon freshly ground black pepper , plus more to taste
Red pepper flakes , to taste
Steak
1 pound flank steak
Kosher salt
freshly ground black pepper
Instructions
Chimichurri
In a small bowl, combine the olive oil, vinegar, garlic, parsley, oregano, salt, and pepper. Add red pepper flakes, if desired. Season to taste. Set aside while steak cooks.
Steak
Pat the meat dry with paper towel. Season each side with salt and pepper.

Preheat the grill to medium-high heat. Place steak on the grill and cook to desired internal temperature (about 6 minutes per side for medium, depending on thickness of steak). See notes for cooking temperatures.

Let rest 5 to 10 minutes before slicing against the grain.

Drizzle with chimichurri to serve.
---
Notes
Cooking steak in the oven: Preheat the broiler. Place steak on a baking sheet. Cook, turning once halfway through, until cooked to desired internal temperature (about 6 minutes per side for medium rare, depending on thickness of steak). See notes below for cooking temperatures.
Steak doneness:
Medium Rare (130°-140°F)
Medium (140°-150°F)
Medium Well (150°-160°F)
Well (Over 160°F)
Chimichurri variations:
You can use white wine vinegar or lemon juice instead of red wine vinegar, if preferred.
To kick up the heat, add in a deseeded and finely chopped red chili.
Nutrition
Calories: 218kcal | Carbohydrates: 2g | Protein: 17g | Fat: 16g | Saturated Fat: 3g | Polyunsaturated Fat: 1g | Monounsaturated Fat: 10g | Cholesterol: 45mg | Sodium: 335mg | Potassium: 308mg | Fiber: 1g | Sugar: 1g | Vitamin A: 436IU | Vitamin C: 7mg | Calcium: 41mg | Iron: 2mg
Nutrition provided is an estimate. It will vary based on specific ingredients used.
Did you make this recipe? Don't forget to give it a star rating below!