This rich, creamy, and comforting crockpot crack chicken is a delightful version of everyone's favorite bacon cheddar ranch dip, aka crack dip! We're adding shredded chicken to make it heartier for a complete meal, but truth be told you can serve it as a dip too!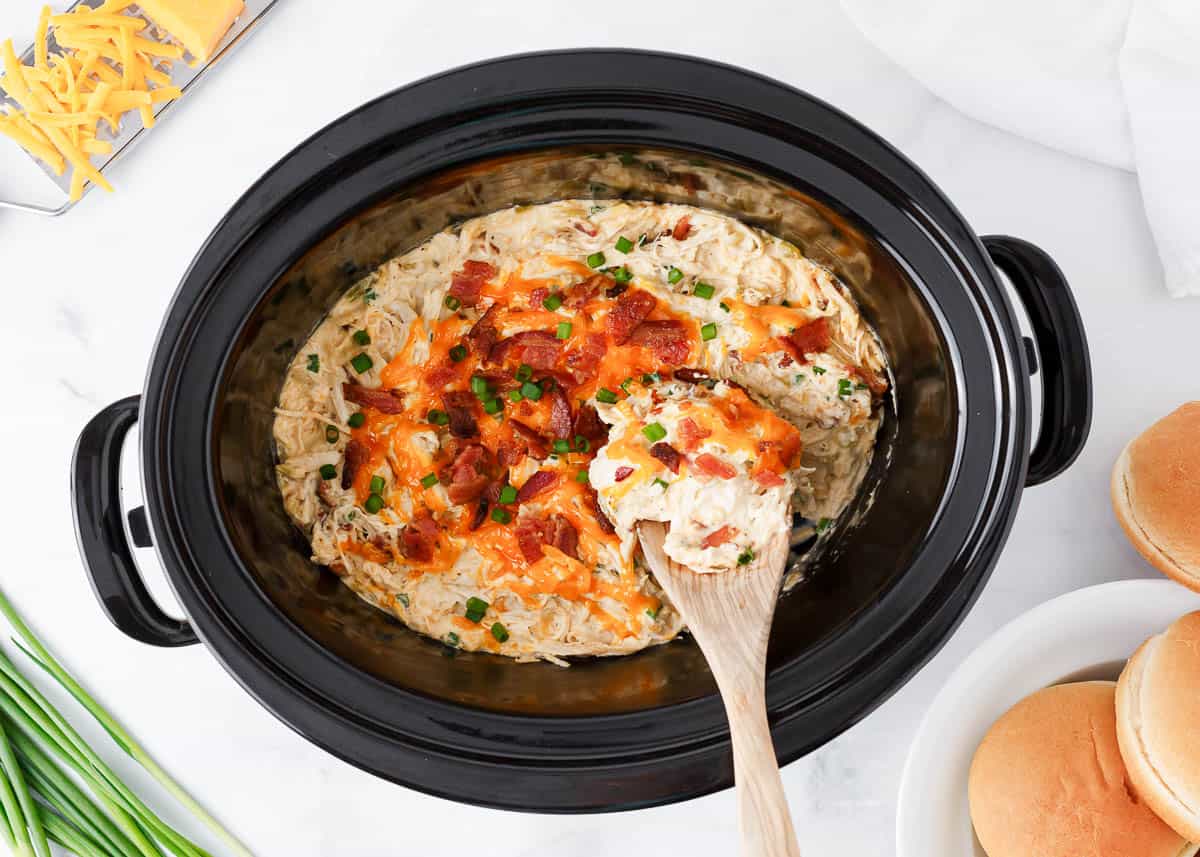 Creamy Crockpot Chicken Crack
This crockpot chicken crack comes together so easily using chicken breasts, cream cheese, and ranch. It's cooked low and slow until it falls apart tender and then all of the extras like sharp cheddar, salty smoky bacon, and green chiles for a bit of heat get mixed in. It's one of our favorite chicken breast recipes and it couldn't be any easier!
Just think of it as the opportunity to eat as much dip as you want without having to take scoop after scoop. I mean, why break the sweat when you can take a bite out of a sandwich or pile as much as you want onto a plate for dinner?
Serve your crockpot crack chicken on top of a bun to make a sandwich for lunch or over rice for dinner. You can have so much fun with a casual meal like this, and it's one you'll always come back to, it's one of our favorite easy slow cooker recipes!
Maybe it's the cream cheese and crispy bacon, or maybe it's the ranch dressing and cheddar that makes people go wild for this stuff. Whatever it is, these flavors are addicting. I mean, I've even made a chicken bacon ranch pizza!
Why This Recipe Works
Everyone loves it. This recipe is a hit with everyone, young and old. Crockpot crack chicken is classic comfort food that not only fills your tummy but your soul. It's that good!
Simple. There's nothing fussy about this recipe and it's not meant to look pretty. One bite and it speaks for itself.
Made with just a few ingredients. Everything can probably be found in your fridge and if not, easily found at any local grocery store.
Can feed a crowd. Easily double the recipe if needed to feed a larger family or a party. As written this recipe makes enough to feed six people.
Recipe Ingredients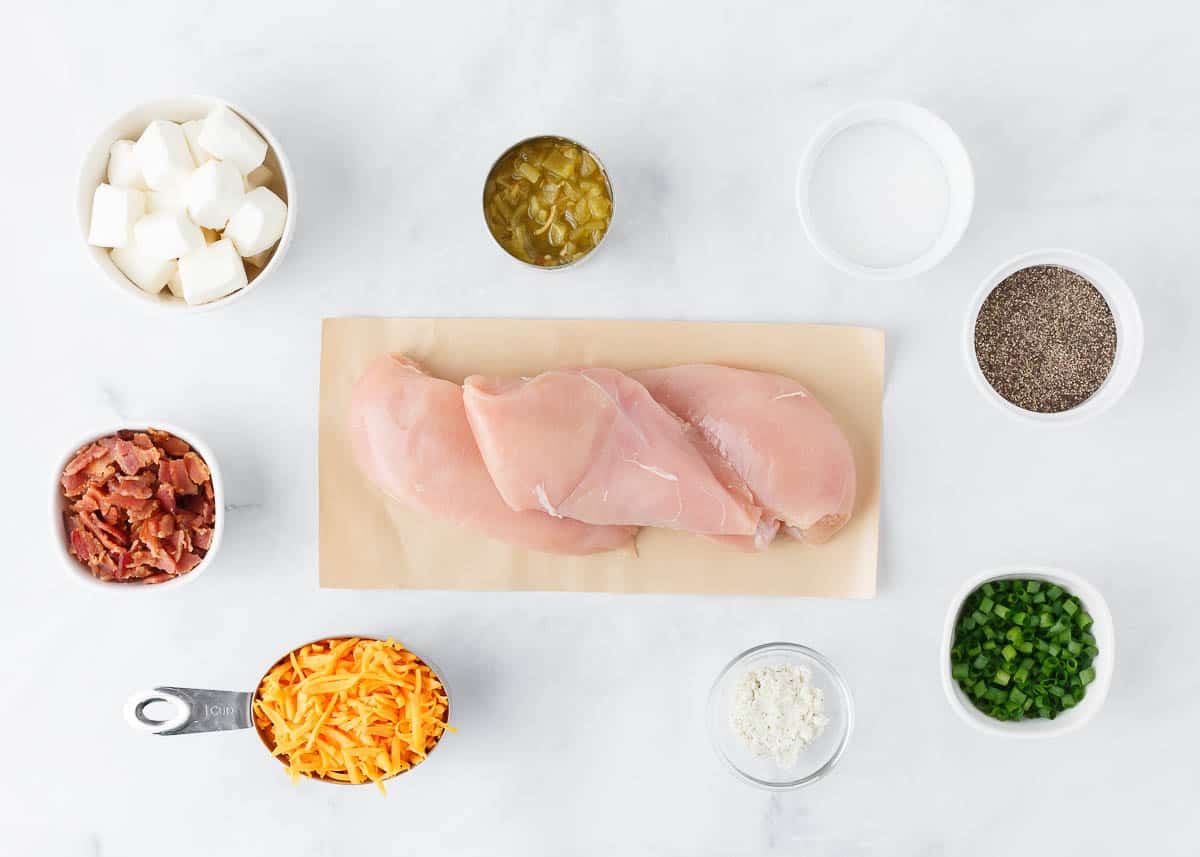 Find the full printable recipe with specific measurements below.
Chicken: We're using raw boneless, skinless chicken breasts. They will be fully cooked and shredded easily by the end.
Ranch dressing: I make a homemade dressing in 5 minutes, which I like to use for this recipe. It's got far less sodium than any store-bought dressing.
Cream cheese: It's helpful to make sure to use softened cream cheese so that it doesn't take too long to melt. Cut it into cubes to make it a bit easier to spread around the pot.
Green chiles: A can of these flavorful chiles adds a spicy kick that cuts through the heavy cream cheese.
Cooked bacon: This gets stirred in at the end, so while you have the slow cooker going, cook the bacon in the oven so it's ready when you need it.
Cheddar cheese: Freshly grated sharp cheddar is what I use for the best flavor and easy melting.
Green onions: These add a bit of pungency that gives it just another layer of flavor.
Salt & pepper: To season to taste! There is plenty of salt in the bacon, cheddar, and even the canned chiles, so be mindful of how much you are adding in.
Variations
Instead of ranch dressing, you can opt to use a ranch seasoning mix that comes in powder form, or even ranch dressing mix.
Swap chicken breasts for chicken thighs if preferred. You can also swap the cheese for something like Colby, pepper jack, Monterey jack, or even a combination.
Serve on top of homemade hamburger buns.
Use flavored cream cheese like herb and garlic, jalapeno, or chive.
If you're not a fan of any sort of spice you can omit the green chiles. However, if it's more spice you're after, use jalapenos instead.
How to Make Crockpot Crack Chicken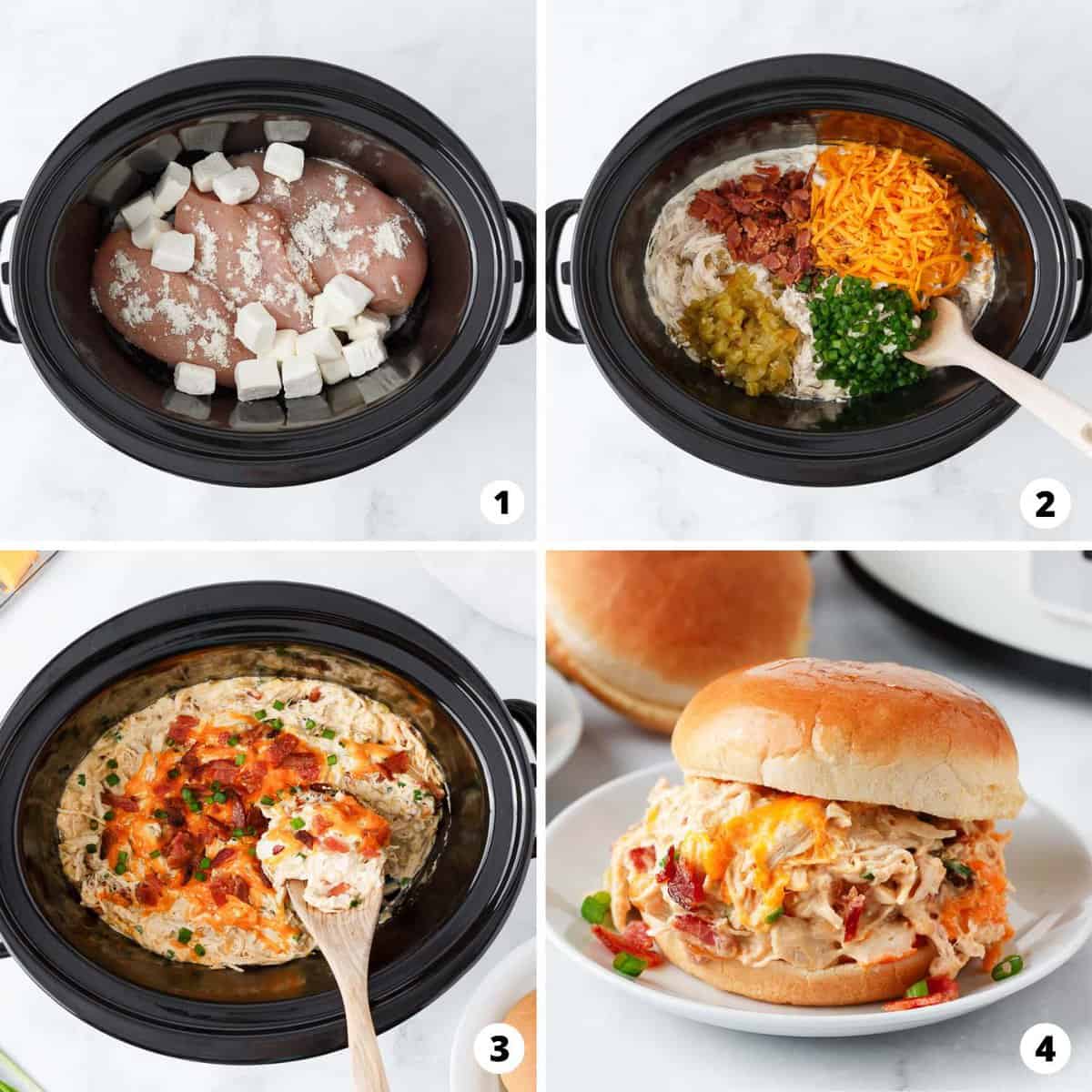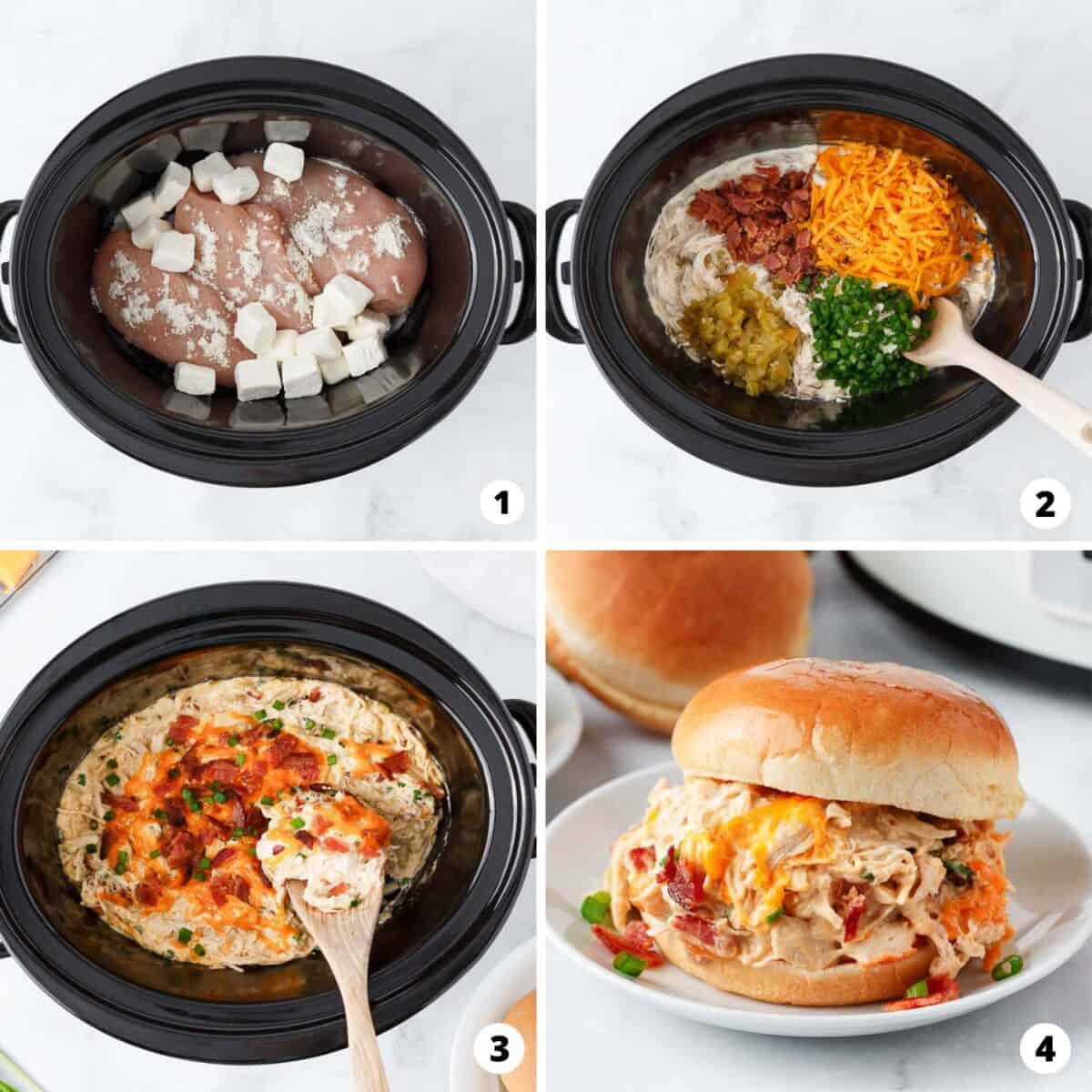 Add chicken and cream cheese. Pat the chicken breasts dry with paper towels so they don't add any extra moisture to the crockpot crack chicken. Then place them in the bottom of the slow cooker in a single layer. Sprinkle the ranch dressing overtop and then evenly distribute the cubes of cream cheese over everything.
Cook until it shreds easily. Cover with the lid and cook on low for 5-6 hours or high for 3-4 hours. Once it is done cooking, shred the chicken right in the pot, pulling away at the meat using 2 forks. Then, add the green chiles, bacon, cheddar cheese, and green onions.
Stir everything together until combined. Sometimes I like to add a little extra cheese and bacon on top and then place the lid back until that top layer of cheese has melted.
Serve crockpot crack chicken on kaiser or hamburger buns, in a tortilla, over rice, or with a side salad. It's up to you how you want to devour this crack chicken crockpot recipe!
Expert Tips
Be sure to use a block of cream cheese rather than the spreadable kind in a tub. It contains more water than the block which will affect the consistency.
Avoid low-fat cream cheese. It won't melt as easily as regular full-fat cream cheese.
While we're at it, use real bacon too! It's that smoky, salty, bacony flavor you want, not imitation bacon bits.
Do not overcook the meat. Chicken breast is the worst when overcooked! I recommend low and slow for this one to avoid any rubbery results.
Pro tip. Use electric beaters (a hand mixer) to shred the chicken right into the pot. It's quick, easy, and kind of fun!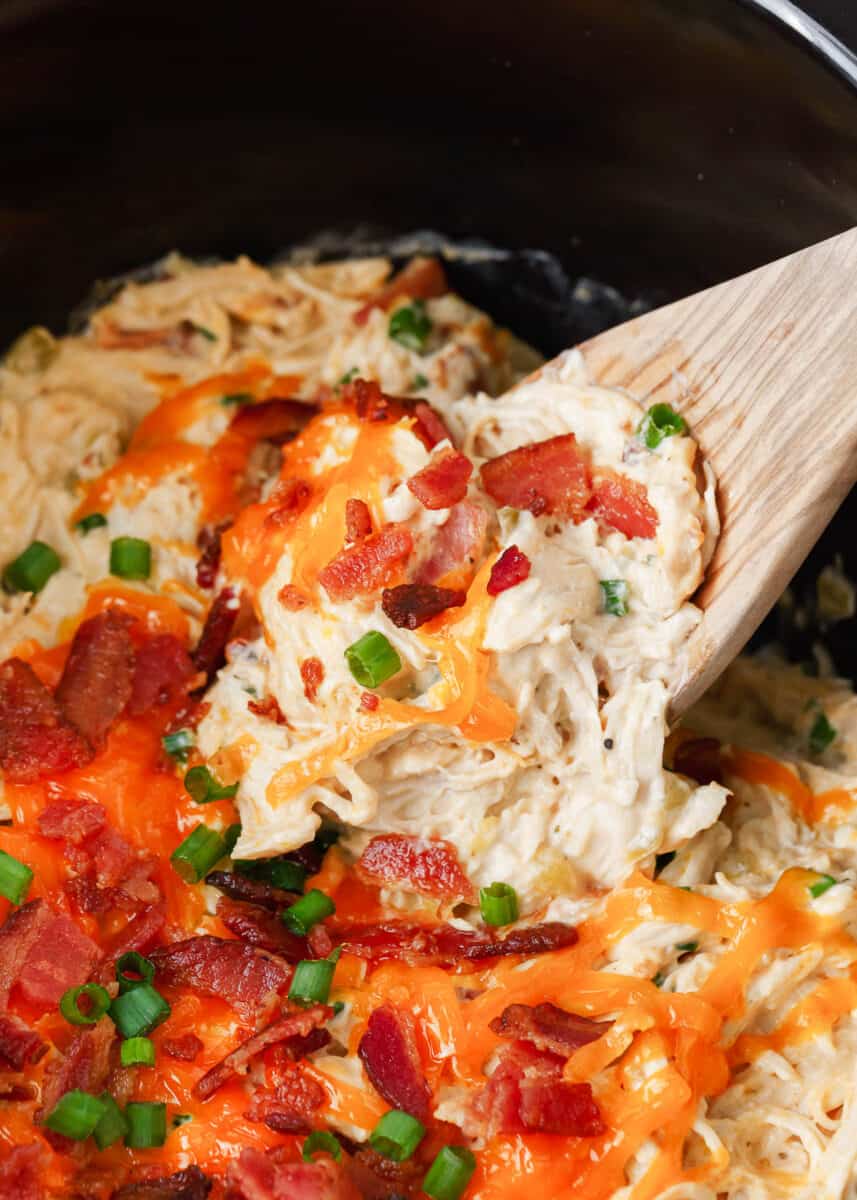 Recipe FAQs
What's the best cut of chicken to use?
Skinless, boneless chicken breasts or thighs are what I recommend. The cooking will release fat from the meat as is, so you don't want to give it any more than that. I enjoy the breasts because they're leaner and easier to shred, however, the dark meat will have more flavor.
Can I use packaged bacon bit instead of cooking and crumbling my own?
You might be able to if they are real crumbled bacon bits not the fake soy kind. This crack chicken recipe really does taste best though when you cook your bacon fresh plus it's so easy to make and hands off that you could make the bacon while it's cooking in the crockpot!
Is crack chicken supposed to be watery?
In the end, your crockpot crack chicken shouldn't be. Once you open the lid you may notice some extra liquid, but once you stir everything together and let it sit for a few moments it shouldn't be.

Just be sure not to use meat with too much extra fat, and avoid low-fat cream cheese or spreadable cream cheese as well.
What toppings can I add to crockpot crack chicken?
For a little extra something before serving, top with diced tomatoes, extra green chiles, french fried onions, red onions, sauteed mushrooms, or sliced cheese.
Serving Suggestions
There are plenty of easy ways to make this crockpot crack chicken work for your family, whether as an appetizer, a snack, or an entire meal.
Keep it keto-friendly by using it as a dip for fresh veggies like carrot and celery sticks, raw broccoli, juicy tomatoes, cucumbers, etc.
You could make a lettuce wrap with it as a filling, or enjoy a tossed salad on the side.
Most often, my kids love it served on a toasted bun or a croissant for a casual dinner or brunch.
Turn it into a filling for a loaded baked potato or a topping on a plate of nachos. Sometimes we'll have it over rice or mashed potatoes.
Storing
If you're serving a crowd that's not quite ready to eat yet, you can keep crockpot crack chicken warm in the slow cooker for a little while.
After that, transfer any leftovers into an airtight container, and once completely cooled, store it in the fridge for up to 3 days. You can also freeze it for up to a month.
The easiest way to reheat it is in the microwave. If you are reheating a larger portion, you can toss it back in the slow cooker if you'd like.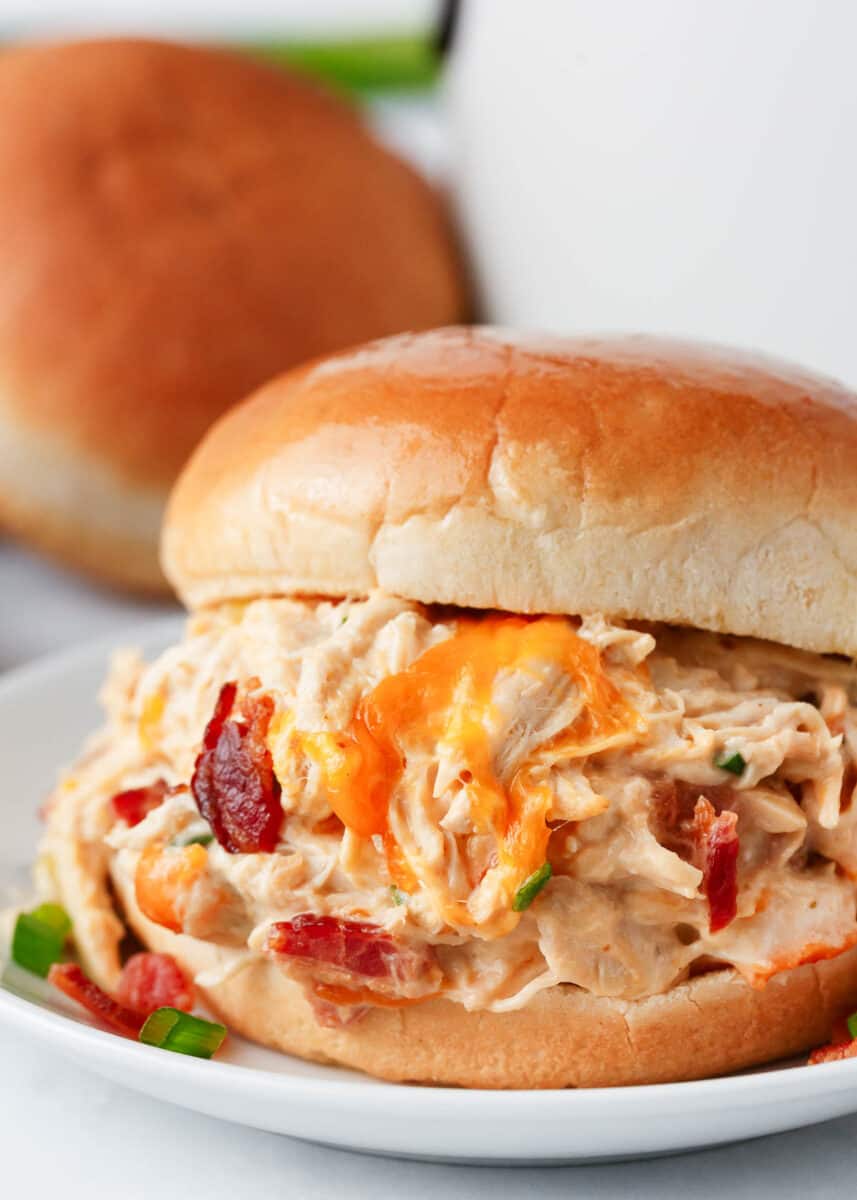 HUNGRY FOR MORE? Subscribe to my newsletter and follow on Facebook, Pinterest and Instagram for all the newest recipes!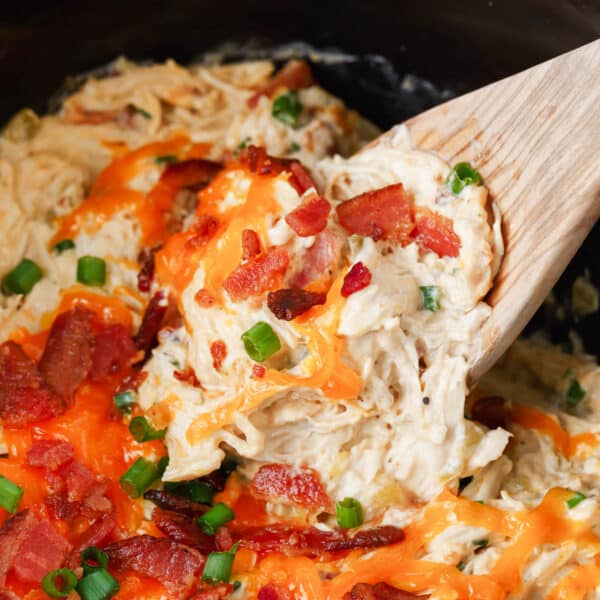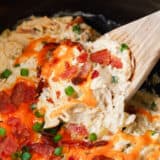 Creamy Crockpot Crack Chicken
This rich, creamy, and comforting crockpot crack chicken is a delightful version of everyone's favorite bacon cheddar ranch dip, aka crack dip! We're adding shredded chicken to make it heartier for a complete meal, but truth be told you can serve it as a dip too!
Ingredients
2 pounds boneless, skinless chicken breasts
1 Tablespoon ranch dressing
1 (8-ounce) package cream cheese , cut into cubes
1 (4-ounce) can diced green chiles
4-6 slices bacon , cooked and crumbled
1 cup shredded cheddar cheese
⅓ cup sliced green onions
Kosher salt , to taste
Ground black pepper , to taste
Optional for serving: Buns, Tortillas
Instructions
In the bottom of a crockpot, place the chicken. Sprinkle the ranch dressing over the top. Add the cream cheese cubes. Cook on low for 5 to 6 hours or high for 3 to 4 hours.

Shred chicken. Stir in green chiles, bacon, cheddar cheese, and green onions until combined. Season with salt and pepper.

Serve on buns or tortillas.
---
Notes
Cream cheese: Avoid low fat cream cheese, it doesn't melt as well as regular cream cheese.
Variations:
Swap chicken thighs for chicken breasts
Use flavored cream cheese for even more flavor, like jalapeno, garlic, chive, or herb cream cheese
Optional toppings:
Diced tomatoes
Green chiles
French fried onions
Red onion
Sauteed mushrooms
Sliced cheese
Nutrition
Calories: 459kcal | Carbohydrates: 4g | Protein: 41g | Fat: 30g | Saturated Fat: 14g | Polyunsaturated Fat: 3g | Monounsaturated Fat: 9g | Trans Fat: 0.04g | Cholesterol: 164mg | Sodium: 613mg | Potassium: 691mg | Fiber: 0.5g | Sugar: 2g | Vitamin A: 827IU | Vitamin C: 9mg | Calcium: 190mg | Iron: 1mg
Nutrition provided is an estimate. It will vary based on specific ingredients used.
Did you make this recipe? Don't forget to give it a star rating below!