This crustless spinach quiche is a delicious low-carb breakfast idea that's super flavorful and filling. So easy to customize with all your favorite seasonings, meats, cheeses, and vegetables.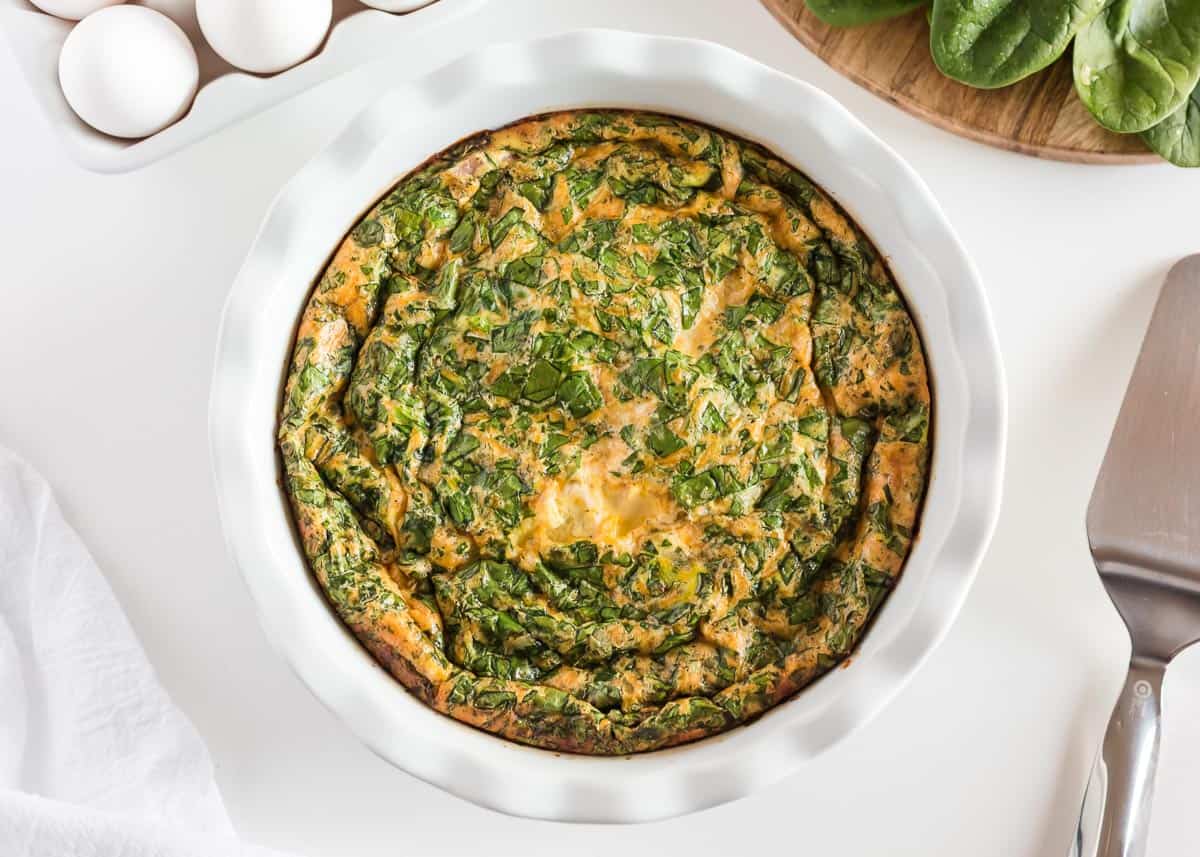 Crustless Quiche Recipe
I love a traditional ham and cheese quiche with homemade pie crust. But when I'm looking for something lighter, this crustless version is a great option. It's similar to a frittata and is lower in carbs and packed with veggies.
Not only is this crustless quiche super simple to whip up, but you can easily make customizations with different meats, cheeses, and vegetables. We especially love to make it whenever we have leftover baked ham from our Easter or Christmas dinner.
It's also the perfect dish to serve when hosting brunch for a crowd. You can even double the recipe and make two with different quiche additions. We love to serve ours with a berry fruit salad, a side of mixed greens, or some crispy hash browns.
Homemade Quiche Ingredients
Healthy and delicious ingredients are filled in a dish and baked perfectly! It is a savoy quiche with no crust. The perfect combination!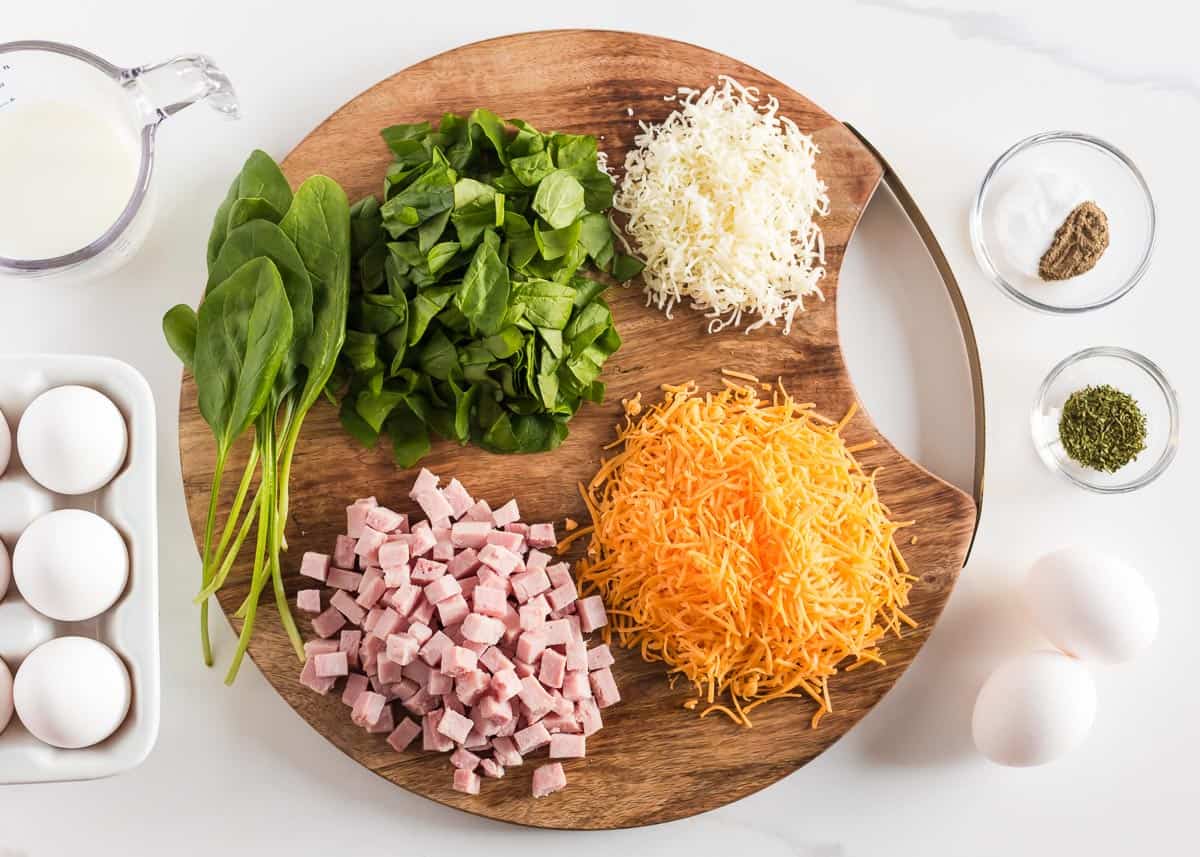 Find the full printable recipe with specific measurements below.
Eggs: This is the base and helps bind all the ingredients together while baking.
Milk: Makes a creamy base that blends together.
Parsley: Gives an earthy and peppery flavor that has a beautiful green throughout the quiche.
Ham: Cube the ham ahead of time or use leftover ham.
Cheese: Shredded cheddar cheese and mozzarella cheese blended together give it a rich blend. The cheese melts perfectly in between all the ingredients allowing each bite to have stringy cheese goodness!
Spinach: A slightly sweet taste is added to make this crustless quiche recipe more healthy.
Substitutions and Variations
Switch the filling with different veggies, and spices, or even add a crust! Make this favorite breakfast just the way you like it.
Filling swaps. Feel free to use whichever meats, veggies and any type of cheese you have in the fridge. Use sausage or crumbled bacon and mix in other veggies like mushrooms, broccoli, peppers and onions.
Spices. Add other seasonings like garlic powder or onion powder. If you like spice, sprinkle in a few red pepper flakes or add a dash of hot sauce.
Add crust. You can easily turn this dish into a traditional quiche recipe by adding a pie crust. Feel free to buy premade pie dough from the grocery or make your own crust if preferred.
How to Make Crustless Quiche
Mix, pour, and bake this quiche in less than 30 minutes! Combine these ingredients together and make one of the best breakfast recipes. It is that easy!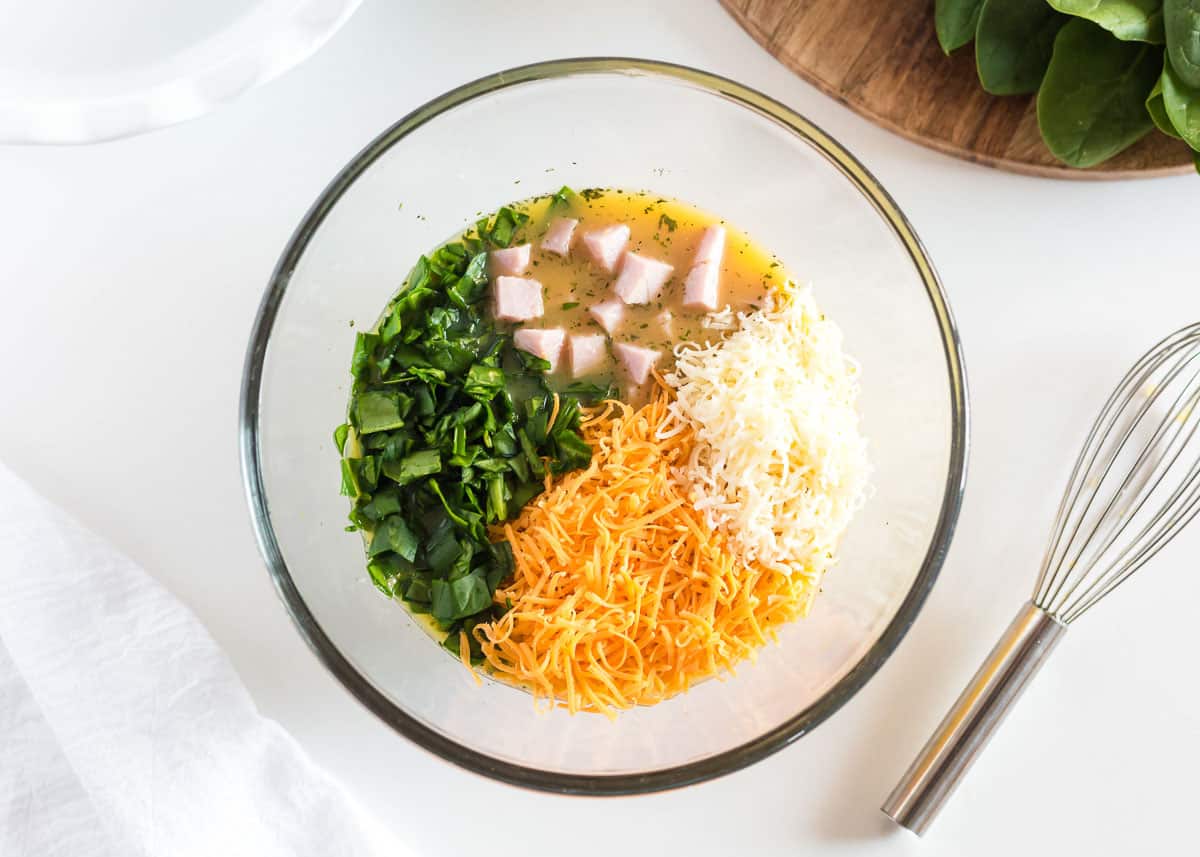 Mix. Add the eggs, milk, and seasonings to a large bowl. Whisk the eggs until combined, then stir in the cubed ham, shredded cheese, and spinach.
Pour. Next, pour the egg mixture into a greased 9-inch pie dish.
Bake. Place in the oven and bake at 400°F until the top is golden about 25 to 30 minutes. Remove from oven and let sit for about 5 minutes. Then slice and enjoy!
Expert Tips
Helpful tips will help make this homemade quiche even better.
Milk vs. cream. For a creamier texture, use half and half in place of milk and for extra creamy results use heavy cream like I do in this recipe for quiche lorraine.
Toothpick test. Even if the top of the quiche looks golden, I still like to use the toothpick test to double-check that it's cooked all the way through. Simply stick a toothpick into the center of the quiche and it should come out clean.
Let rest. Don't slice into the quiche right when you take it out of the oven! It needs to rest for about 5 minutes so that the eggs have time to set.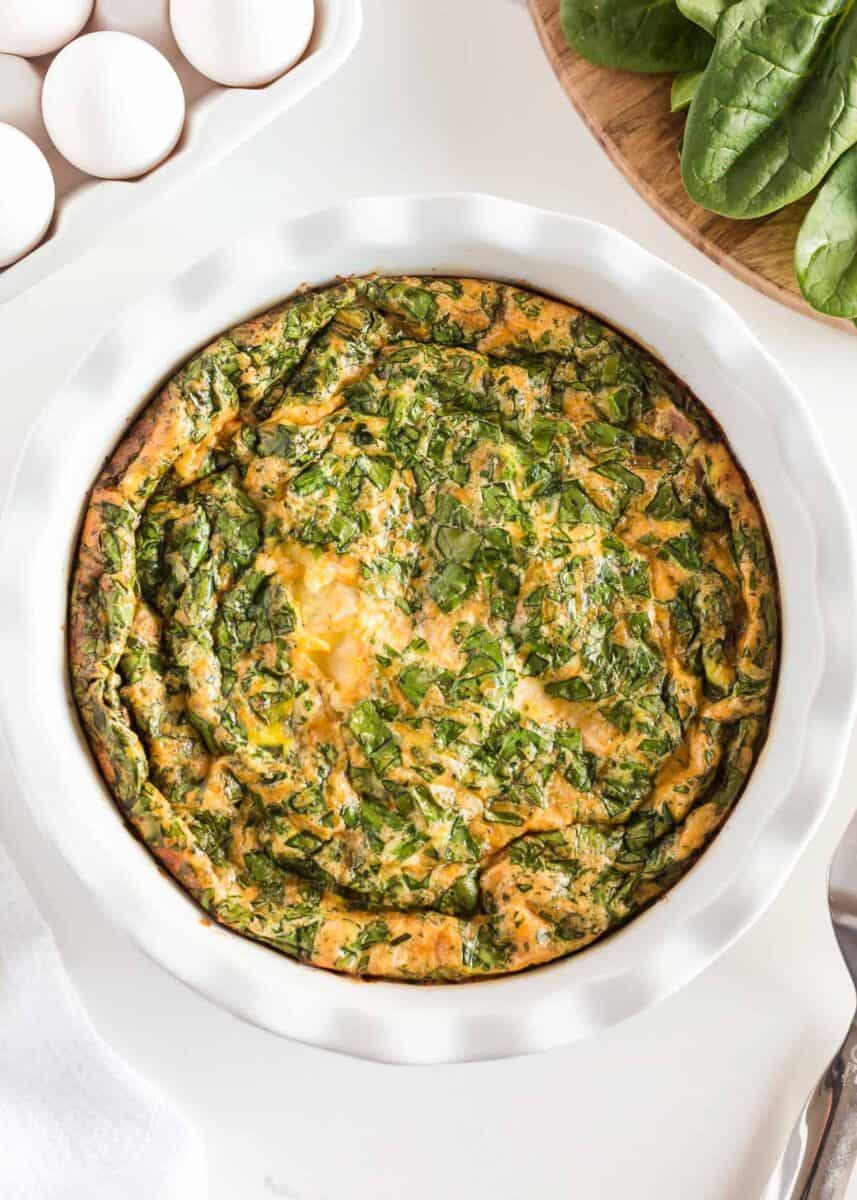 Recipe FAQs
What is the difference between a crustless quiche and a frittata?
A crustless quiche is actually known as a frittata. Frittatas do not have a crust under them. A pastry crust usually holds together the quiche filling.
Why is my crustless quiche soggy?
When adding too many wet ingredients to the quiche, will lead to having a soggy quiche. The wet and dry ingredients need to be balanced when mixing together.
How do you know when the quiche is cooked?
The best way to know if the quiche is cooked is by using a toothpick. Insert the toothpick into the center of the quiche and remove it quickly. If there is still an egg like texture on the toothpick, then the quiche needs to bake a little longer.
Crustless Spinach Quiche Serving Suggestions
Whether you serve this warm out of the oven or at room temperature, here are a few favorite sides I like to include:
Garden salad
Muffins or biscuits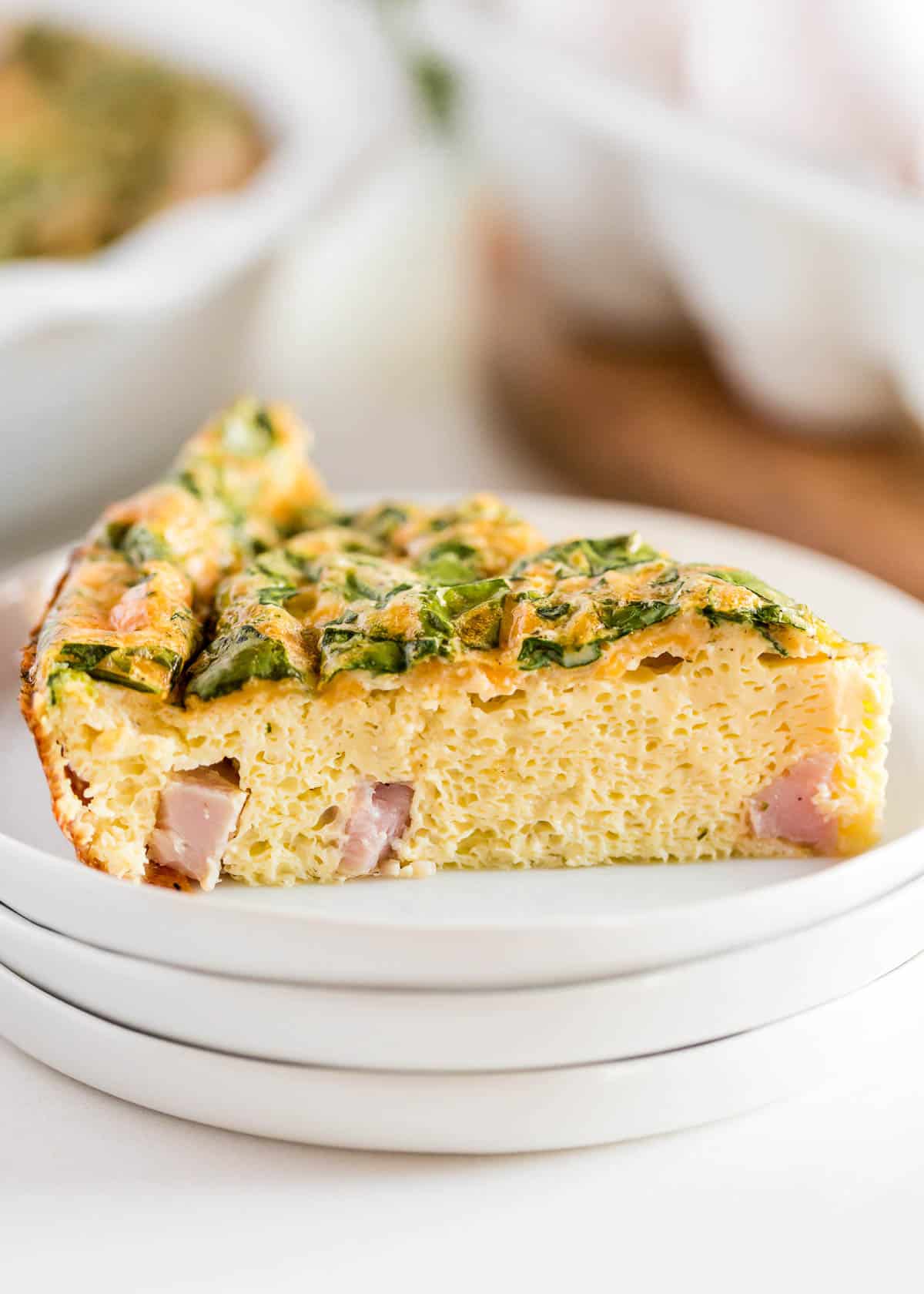 5 star review
"This was so good and easy! I did sauté about 1/4 cup onion, red bell pepper and fresh mushrooms that gave it a nice flavor."

-Mary
Storing, Freezing + Reheating
This is the perfect breakfast to make ahead, freeze, and have leftovers throughout the week.
Storing: Make sure the quiche has cooled completely, then wrap the pan tightly with foil or saran wrap. It will stay fresh in the refrigerator for up to 3 days.
Freezing: Wrap the cooled quiche as mentioned above, then store it in the freezer for up to 2 months.
Reheating: If frozen, let the quiche thaw overnight in the fridge. Then cover with foil (to prevent too much browning) and bake in the oven at 300°F until warm.
More Breakfast Recipes to Try
HUNGRY FOR MORE? Subscribe to my newsletter and follow on Facebook, Pinterest and Instagram for all the newest recipes!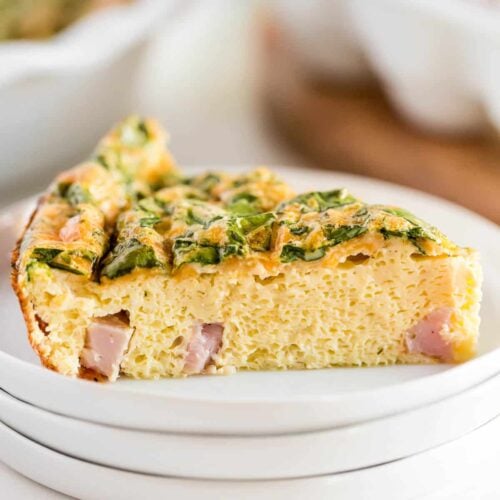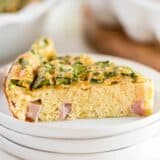 Crustless Quiche
This crustless quiche is a delicious low carb breakfast idea that's super flavorful and filling. So easy to customize with all your favorite seasonings, meats, cheeses and vegetables.
Ingredients
4 large eggs
4 egg whites (can use 1/2 cup liquid or 2 whole eggs instead)
½ cup milk
¾ teaspoon Kosher salt
¼ teaspoon ground black pepper
¼ teaspoon dried parsley flakes
1 cup ham (cubed, use a ham steak or leftover ham)
1/2-1 cup sharp or mild cheddar cheese (finely shredded)
2-3 Tablespoons mozzarella or parmesan cheese (finely shredded)
1/2-1 cup spinach (chopped)
Instructions
Preheat the oven to 400°F. Spray a 9" pie dish with nonstick cooking spray.

In a large bowl, whisk together the eggs, milk, salt, pepper and parsley flakes. Stir in the ham, cheese and spinach. Then pour into the pie dish.

Bake for 25 to 30 minutes, or until the top is golden brown and a toothpick comes clean. Remove from oven and allow to rest for 5 minutes before slicing. Enjoy while warm!
---
Notes
Feel free to add in extra veggies like mushrooms or peppers. Storing and freezing: Let cool completely, then wrap the pan or individual slices tightly with aluminum foil or plastic wrap. Place in fridge for up to 3 days. You can also freeze the quiche for up to 2 months. Reheating: Cover with foil and bake at 300°F until the quiche is warm throughout.
Nutrition
Serving: 1g | Calories: 142kcal | Carbohydrates: 1g | Protein: 12g | Fat: 10g | Saturated Fat: 4g | Cholesterol: 161mg | Sodium: 554mg | Potassium: 141mg | Fiber: 1g | Sugar: 1g | Vitamin A: 503IU | Vitamin C: 1mg | Calcium: 111mg | Iron: 1mg
Nutrition provided is an estimate. It will vary based on specific ingredients used.
Did you make this recipe? Don't forget to give it a star rating below!