Beat the heat with a slice of this refreshing Mississippi mud pie recipe. Made with a luscious ice cream filling, velvety hot fudge, and a delectable Oreo cookie crust, this summertime treat is pure bliss!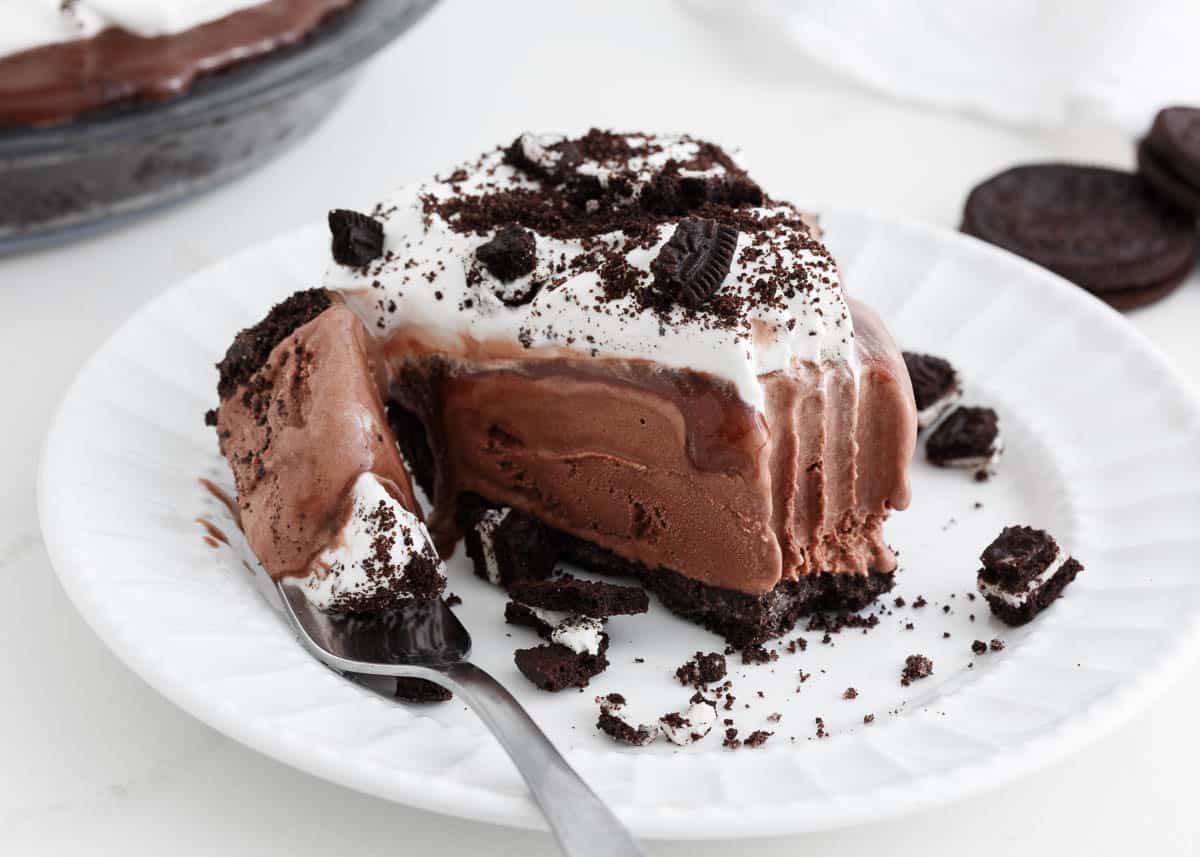 A No Bake Summer Dessert
The hot weather is here and that means I'm thinking about no-bake desserts! This mud pie recipe is the perfect summery solution.
The crunchiness of the crust with the cool creaminess of the ice cream is a winning combination and just when you think it can't get any better, we add some gooey hot fudge and fluffy whipped cream on top. A chocolate lover's dream!
What is Mississippi Mud Pie?
This classic dessert is a combination of an Oreo cookie crust, a layer of creamy ice cream, and a topping of rich chocolate fudge. It's the perfect summertime treat!
Sometimes you'll see recipes for mud pie that have chocolate pudding layer, using instant chocolate pudding mix, instead of ice cream, or a brownie layer for added texture, which also tastes amazing, but there's something about the ice cream version that keeps me coming back for more!
For more warm weather treats, check out my recipes for Oreo peanut butter pie and Oreo ice cream cake.
Ingredients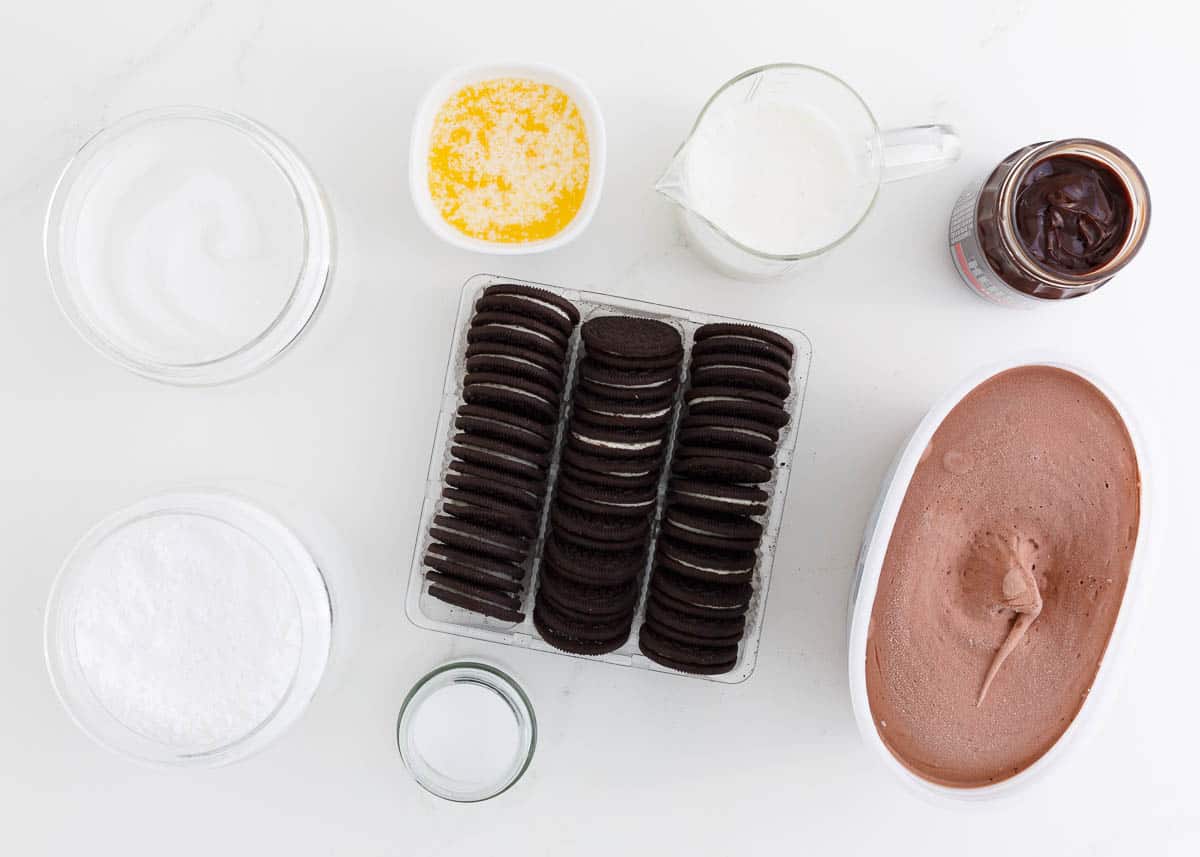 Find the full printable recipe with specific measurements below.
Ice cream: You'll need about half a gallon of any flavor. Store-bought is easy and convenient or you can make your own at home. Vanilla ice cream and chocolate ice cream are the classic choices, but you can do something different like coffee ice cream, cookies n' cream ice cream, mint or whatever you have on hand!
Oreos: I use one pack of regular Oreo cookies. You don't have to remove the cream filling first, just throw the whole cookie into the food processor. An easy way to make the chocolate cookie crust!
Hot fudge: A rich layer of hot fudge is the 'river mud' in a mud pie! You can use a jar from the store or make your own hot fudge at home.
Heavy whipping cream: Whip the cream until it holds its shape right before you're ready to serve your pie.
Variations
You can add your own twist to this irresistible mud pie dessert by adding different mix-ins or switching up the crust. Here are a few simple ways you can put your own spin on it:
Add texture with Mix-ins: Incorporating mix-ins can take your ice cream pie to the next level. Chopped pecans, walnuts, or almonds, crushed cookies, chocolate chips, or swirls of sauce can add texture and flavor.
Customize the Crust: A crushed Oreo crust is a delicious and convenient choice, but it's not your only option! Experiment with other crushed cookies, a crushed pretzel crust for a salty-sweet flavor, or even use a layer of homemade brownies as the base.
Salted caramel mud pie: Introduce a touch of salted caramel goodness to your mud pie. Instead of hot fudge, layer caramel sauce between the ice cream and crust, and sprinkle some flaky sea salt on top.
Nutella mud pie: For a hazelnut-chocolate twist, incorporate Nutella into the filling. Swirl it into the ice cream or add a layer of Nutella spread. Top the pie with chopped hazelnuts or drizzle with melted Nutella.
How to Make Mud Pie
Make this tasty pie at least 24 hours before you want to serve it because it does need time to freeze.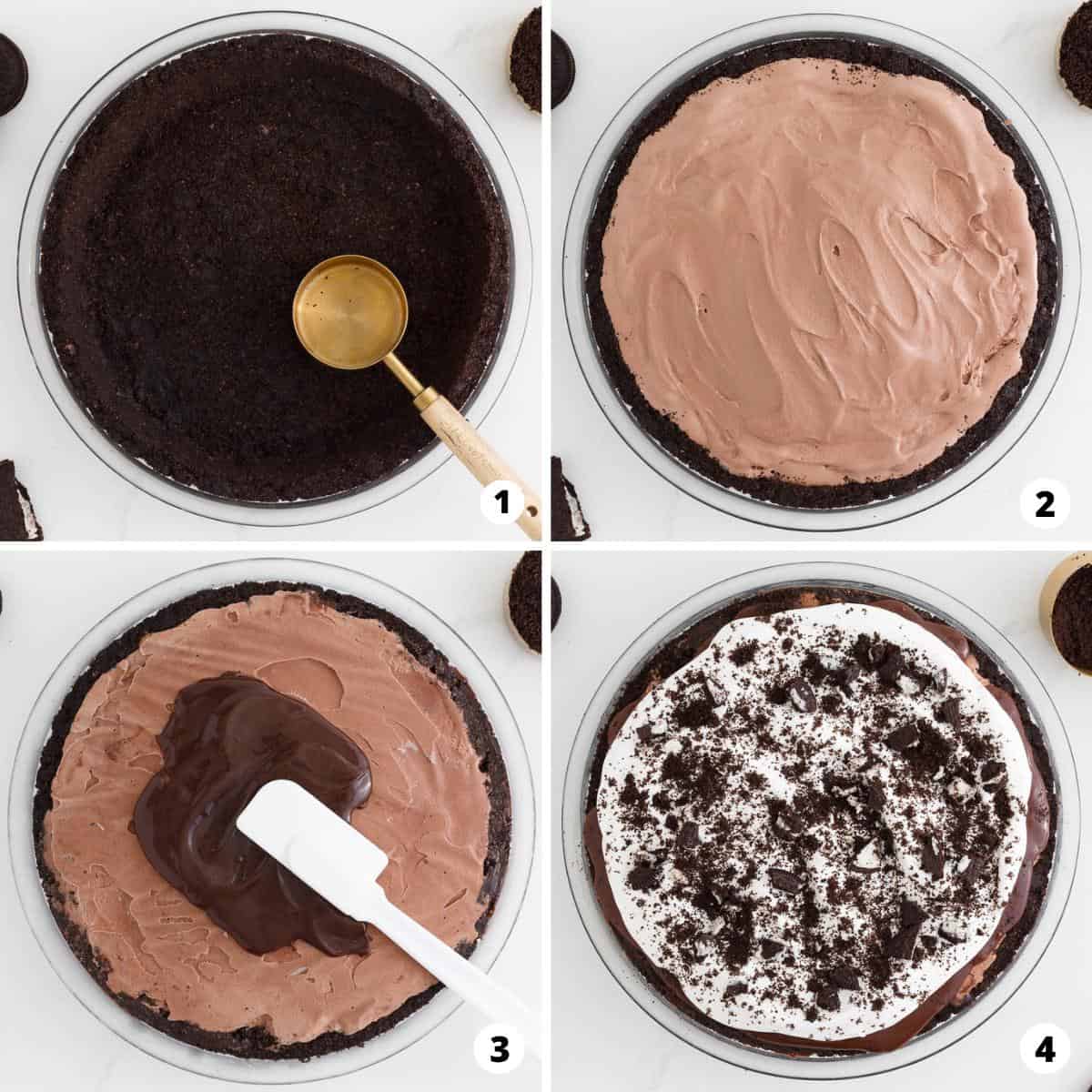 Day Before
Make the crust: Pulse the Oreos in a food processor until finely crumbled. Set aside some for the top and then combine the rest with melted butter, sugar, and salt and press into a pie plate or springform pan.
Top with ice cream. Spoon and gently spread the softened ice cream over the crust with a rubber spatula and freeze for 24 hours.
Serving Day
Top with hot fudge. Pour the fudge sauce over the ice cream, spread it evenly, and freeze for another 2 hours or simply drizzle it over the pie before serving.
Whip Cream. Whip the cream until thickened and then dollop it onto the pie and sprinkle the reserved Oreo crumbs over the top.
Now the wait is over! Get ready to enjoy your mud pie recipe!
Expert Tips
Here are some tips to help you make this scrumptious treat:
Thaw the ice cream properly. To make sure it spreads smoothly over the crust, let your ice cream thaw slightly while you prepare the crust. Don't leave it out too long though, or you'll end up with ice cream soup!
Make an even crust. Use the back of a measuring cup or the bottom of a flat glass to firmly press the crust mixture into the bottom of your pie plate.
Be gentle while spreading the ice cream onto your crust. Pressing too hard can cause the crust to tear or break apart.
Let the pie freeze for 24 hours before adding the topping. If you try to rush the process, your pie may not hold together when sliced.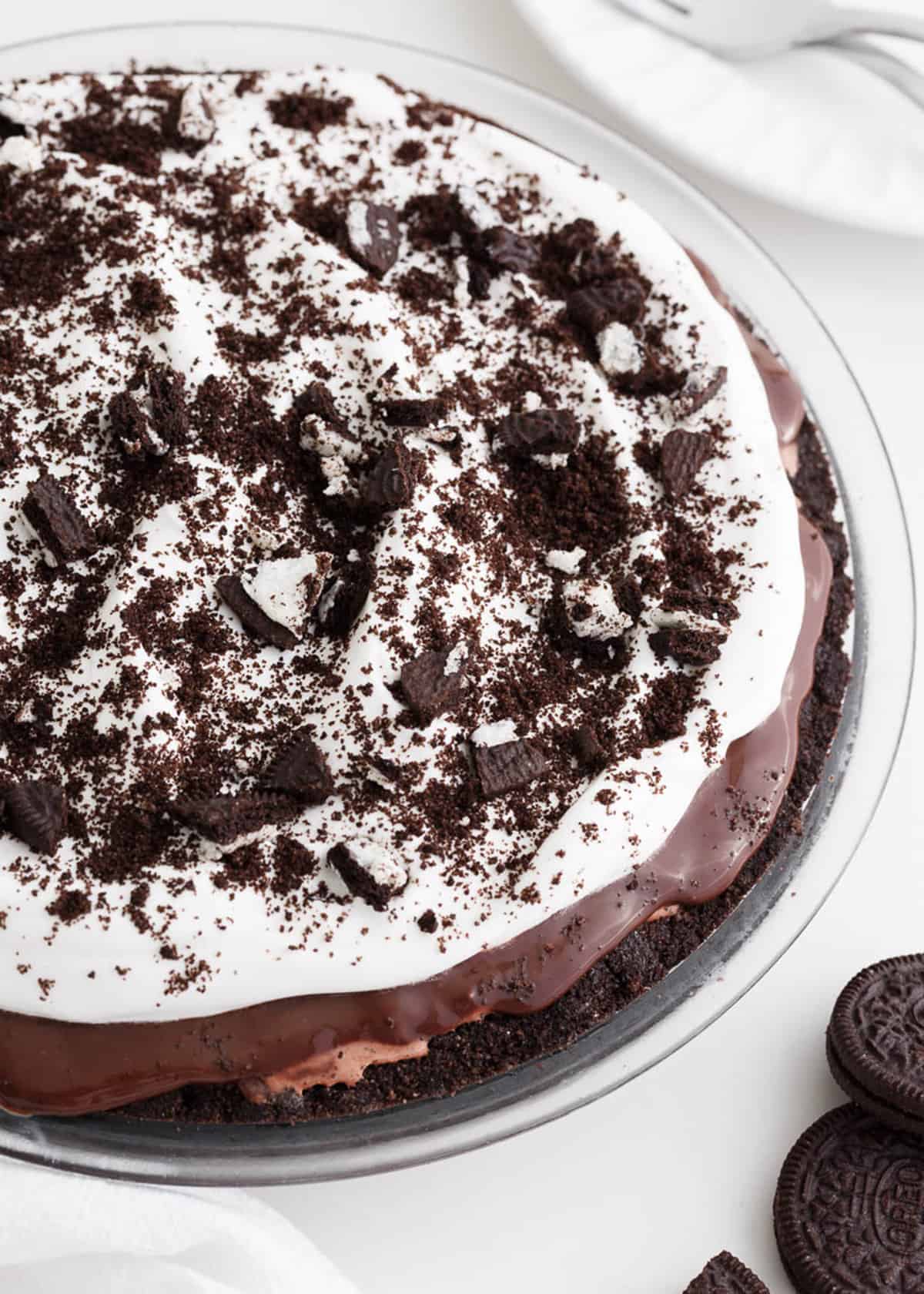 How to Slice Your Pie
Slicing ice cream pie can be a bit tricky since the ice cream is frozen and the crust can sometimes be hard. I have some tips that will make it easier for you to get neat and clean slices:
Run the knife under hot water and wipe it dry with a towel.
Apply gentle pressure when slicing through the pie. Using too much force might cause the ice cream to squish and slide around.
After each cut, wipe the knife clean with a warm, damp cloth or run it under hot water again and dry it. This helps the knife to glide through the pie easily giving you cleaner edges. It seems a bit fussy, but it really does make a difference!
Remember that Oreo mud pie will soften quickly at room temperature, so it's best to slice it just before serving.
Recipe FAQs

Can I make this Mississippi mud ice cream pie ahead of time?
Yes! In fact, they are often a convenient make-ahead dessert for parties or special occasions. Just make sure to store the pie properly in the freezer, tightly wrapped or in an airtight container, to maintain its freshness until you're ready to serve.
How long does Mississippi mud pie need to chill?
The pie will need to chill for at least 24 hours before adding the topping. Make sure you plan ahead!
Can I use homemade ice cream for the pie?
Absolutely! I love the convenience of using store-bought ice cream, but homemade ice cream is a great option too. Just ensure that the ice cream is properly churned and frozen to a firm consistency before spreading it into the pie crust.
Why is my crust falling apart?
You might not have pressed it firmly enough into your pie dish. I use a flat-bottomed measuring cup or my fingers to make sure the Oreo crumbs are pressed into the bottom and up the sides of the dish.
How do I prevent the crust from getting soggy?
You can always pre-freeze your crust for a few minutes before adding the ice cream to it. It's also important to tightly cover your pie when storing it to make sure moisture doesn't affect the texture of the crust.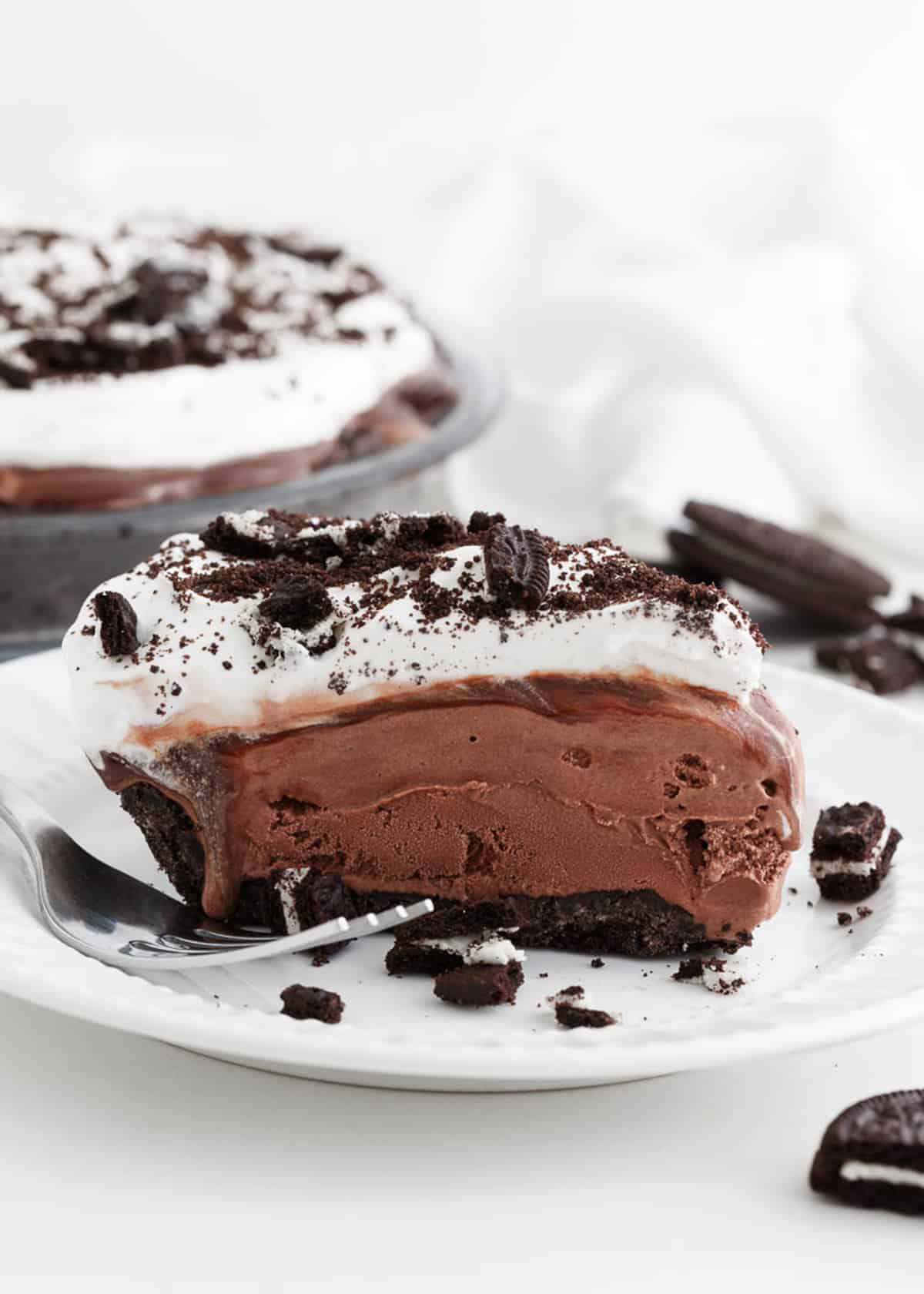 Storing
Cover the pie tightly with plastic wrap to help prevent freezer burn and place the pie in the coldest part of your freezer. For me, that's near the back away from the door.
It's best to eat your pie within a week of making it as it may lose its optimal texture and flavor over time.
Remember to thaw the mud pie for a few minutes at room temperature before serving. This will make it easier to slice and enjoy!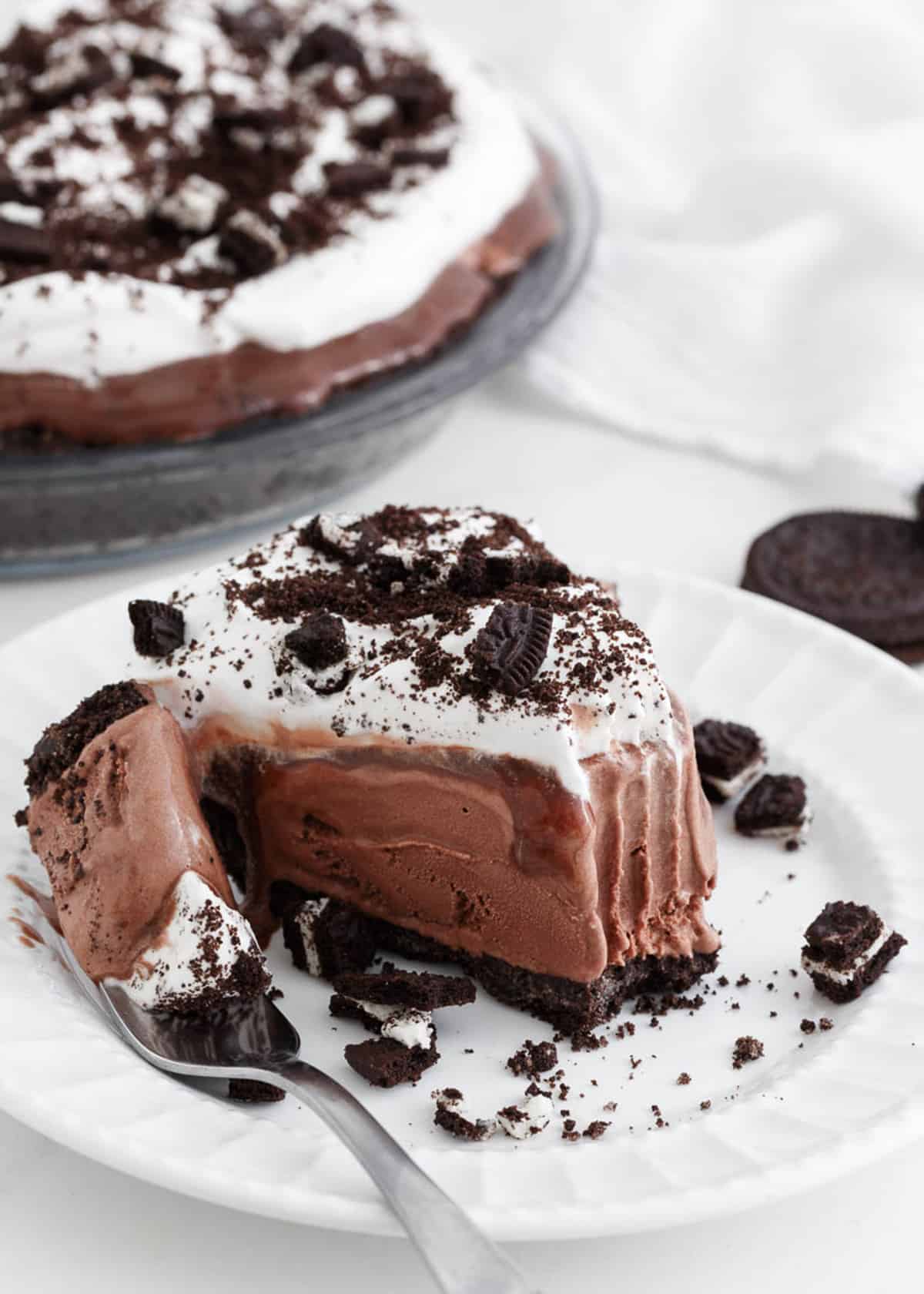 HUNGRY FOR MORE? Subscribe to my newsletter and follow on Facebook, Pinterest and Instagram for all the newest recipes!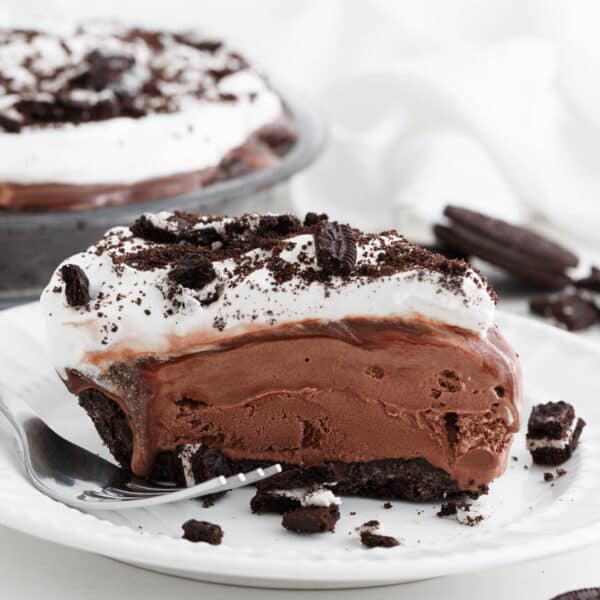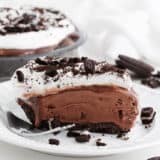 Mud Pie Recipe
Beat the heat with a slice of this refreshing Mississippi Mud Pie. Made with a luscious ice cream filling, velvety hot fudge, and a delectable Oreo cookie crust, this summertime treat is pure bliss!
Ingredients
Day Before
½ gallon ice cream , any flavor
1 (14-ounce) package regular OREOS
5 Tablespoons unsalted butter , melted
1 Tablespoons granulated sugar
Pinch Kosher salt
Day of
½ cup hot fudge
1 cup heavy whipping cream
2 Tablespoons powdered sugar
Instructions
Day Before
Pull ice cream out of freezer and let thaw while preparing the crust.

In a food processor or blender, pulse the Oreos until finely crumbled. Remove 1/3 cup and set aside. Transfer remaining crumbs to a medium bowl. Stir in the butter, sugar, and salt until combined.

Transfer mixture to a 9-inch pie plate or springform pan, Using a measuring cup, press firmly up the sides and into the bottom.

Spoon and spread softened ice cream into prepared crust, being careful not to press too hard or the crust won't hold. Cover with plastic wrap and freeze 24 hours.
Day Of
Spread hot fudge sauce (warm it only enough to spread, you don't want it to be too hot) evenly over the top of the ice cream pie. Cover and freeze at least 2 hours. Alternatively you can skip this step and just drizzle the hot fudge on top just before serving.

In a large bowl, beat cream with an electric mixer on medium-high speed until thickened. Mix in powdered sugar on low speed until stiff.

Spread whipped cream over the pie and top with reserved 1/3 cup Oreo crumbs.
---
Notes
Make-ahead: The pie crust can be topped with the ice cream and frozen in advance.
Nutrition
Calories: 642kcal | Carbohydrates: 73g | Protein: 9g | Fat: 37g | Saturated Fat: 18g | Polyunsaturated Fat: 5g | Monounsaturated Fat: 10g | Trans Fat: 0.2g | Cholesterol: 91mg | Sodium: 216mg | Potassium: 278mg | Fiber: 1g | Sugar: 43g | Vitamin A: 1128IU | Vitamin C: 0.2mg | Calcium: 160mg | Iron: 1mg
Nutrition provided is an estimate. It will vary based on specific ingredients used.
Did you make this recipe? Don't forget to give it a star rating below!