One slice of this peanut butter lasagna is never enough! This chocolate and peanut butter lover's dream is light, creamy and simply delicious. It is an easy no bake dessert that everyone can make!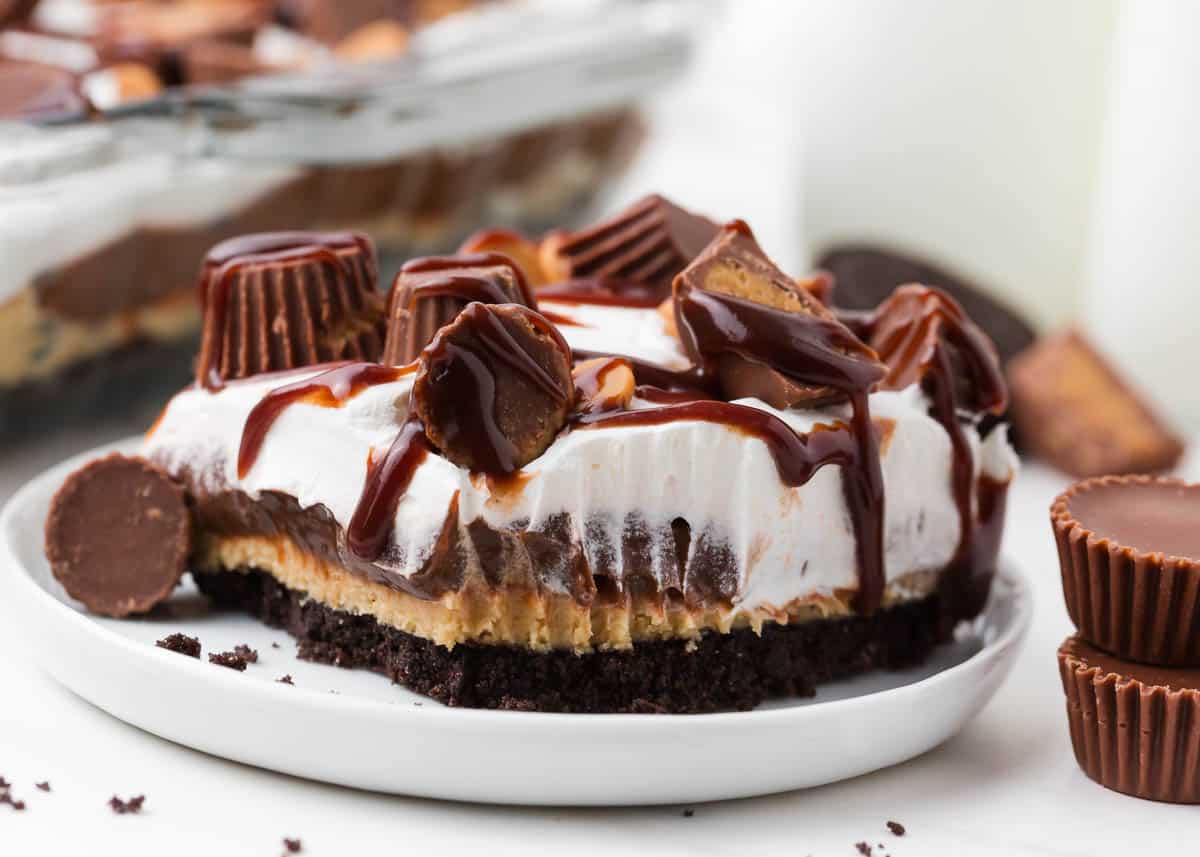 An Easy No-Bake Dessert Lasagna
This is a fun no-bake dessert I like to whip up for potlucks, cookouts, and summer birthday parties! It's like a mix between my chocolate lasagna and Oreo peanut butter pie.
This dessert starts with a bottom Oreo crust which is then layered with a creamy, fluffy peanut butter layer, followed by a rich chocolate pudding layer, and finally a whipped topping. Then just for kicks, I like to add even more decadence with a topping of peanut butter cups and hot fudge!
Why We Love This Recipe
It's easy! The individual layers probably look way harder than they are! They are super simple on their own and come together so easily.
Make ahead. When it comes to entertaining, having a dessert prepped and ready to go the day of can make a world of difference!
No bake. Serve chilled, so never need to wait to warm up. Eat it straight out of the fridge!
Delicious! The nutty flavor in this recipe is quite delicate and not overwhelming. The sweetness of the chocolate and cool whip balance it out and it's just a big slice of heaven.
What's in Each Layer?
This dessert lasagna is made with 4 delicious layers. Check them out below.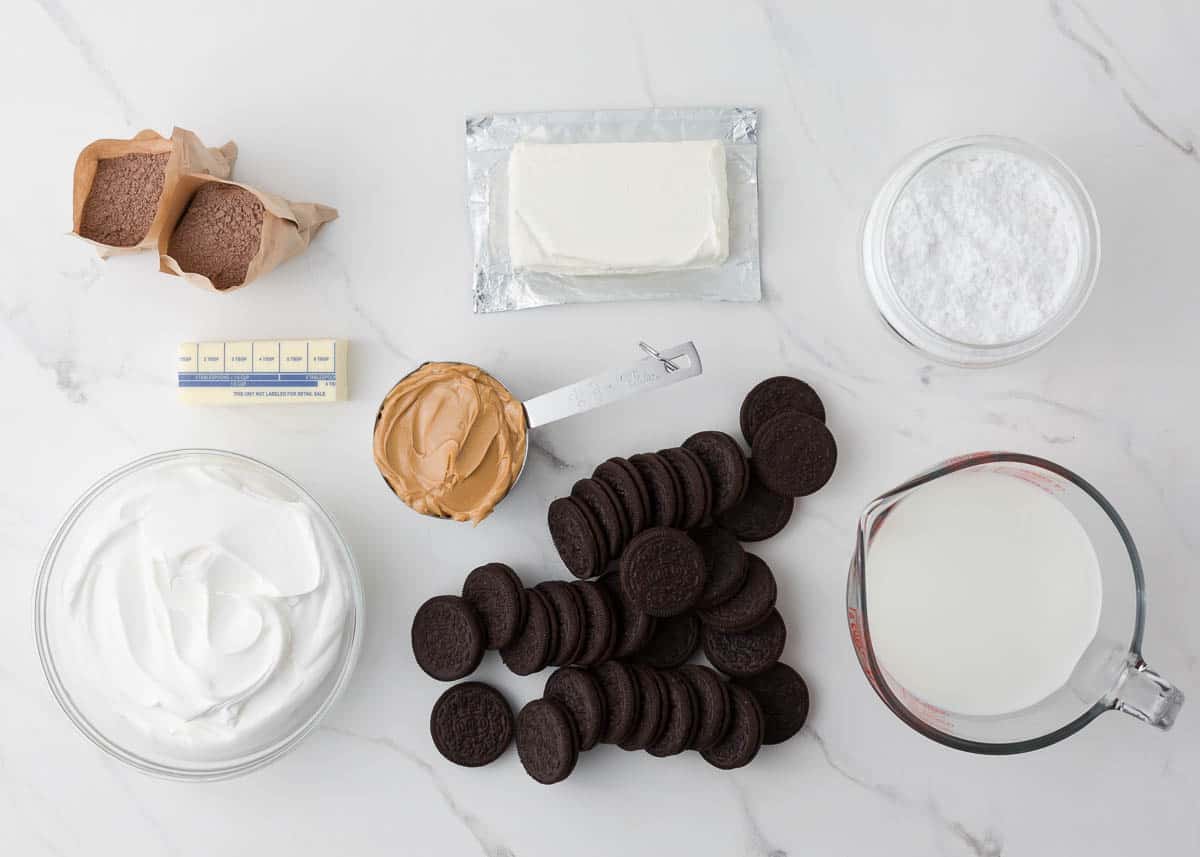 The Oreo Crust
A base made with Oreo cookies, keeping the cream intact as it acts as a binder. You'll also need unsalted butter, melted to help bring the cookie crumbs together.
Peanut Butter Layer
The first layer is made with softened cream cheese, powdered sugar, peanut butter, and cool whip. Bring the cream cheese to room temperature ahead of time so that it creams easily. Here are some tips on how to soften cream cheese if you need them. The powdered sugar adds sweetness without any granules and also helps as a stabilizer. Use commercial smooth nut butter as the natural kind will separate and won't hold as well.
The Chocolate Layer
The second layer consists of just 2 ingredients. Dry chocolate instant pudding and cold milk. In the end, you'll have a delicious pudding, so feel free to make extra!
The Topping!
It's a layer of cool whip. Remember to thaw it ahead of time! If you're interested in learning how to make cool whip for this and other desserts, I highly recommend trying it!
For optional added yumminess, top your dessert lasagna with some Mini Reese's cups, Peanut butter chips, mini chocolate chips, melted peanut butter drizzle, or chocolate syrup.
How to Make Chocolate Peanut Butter Lasagna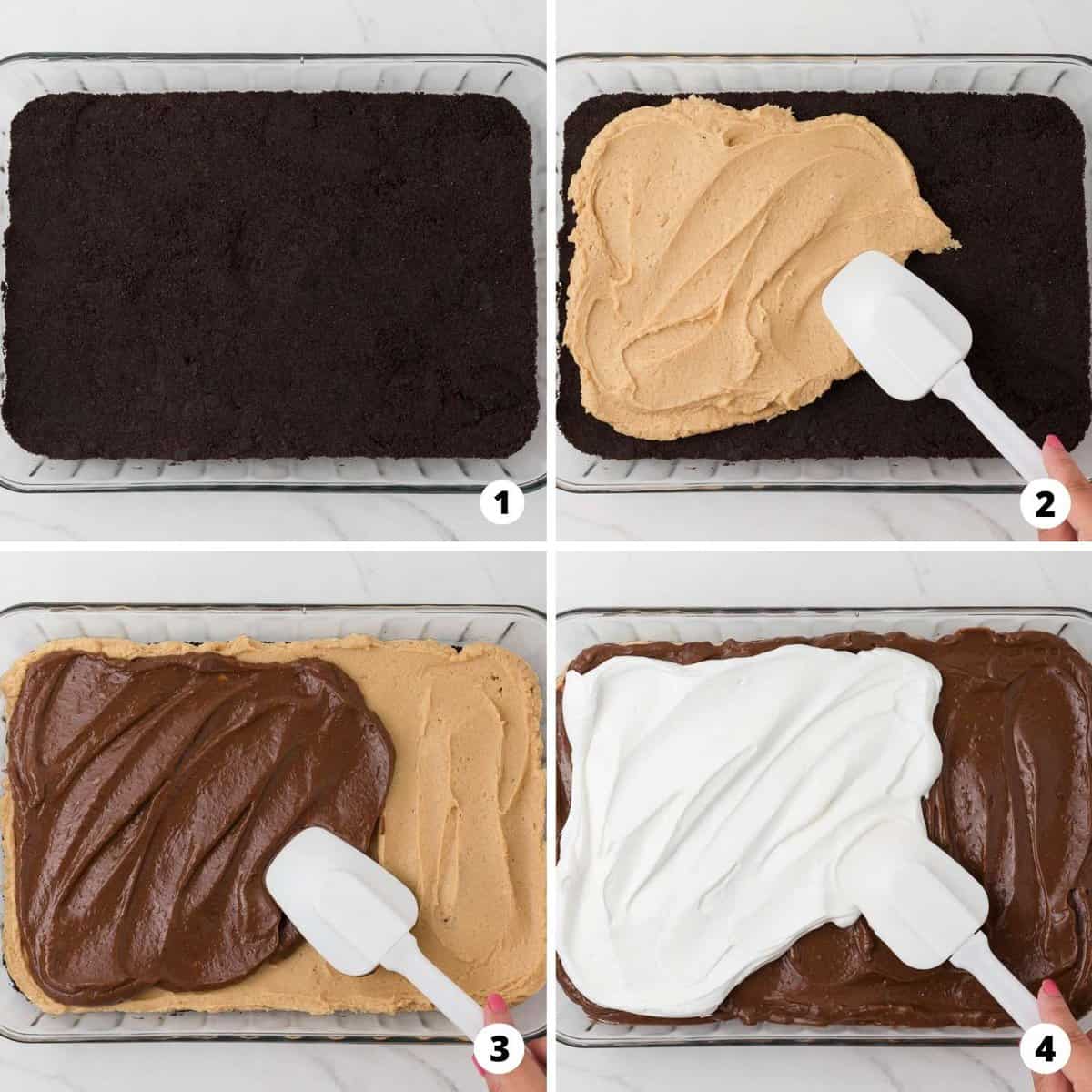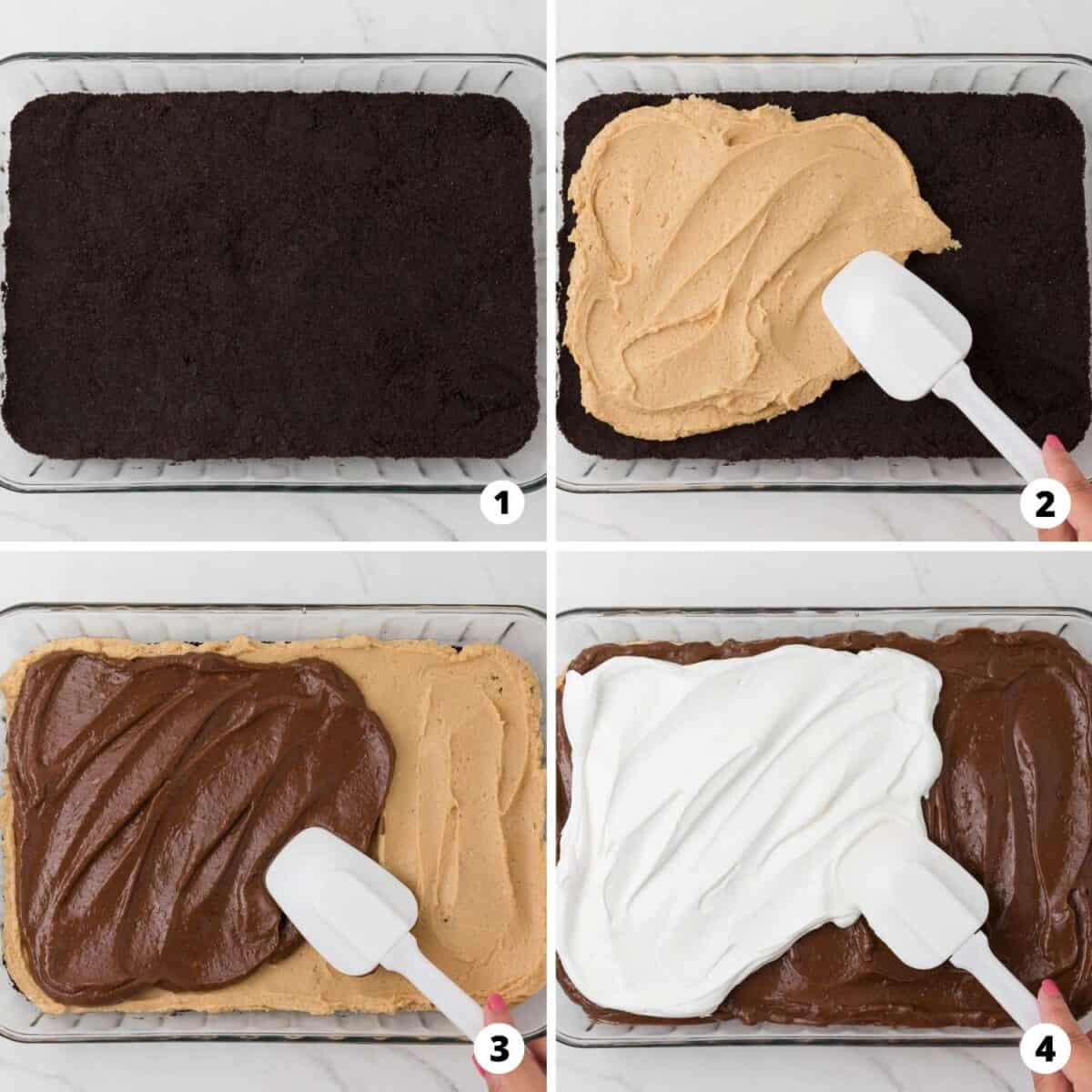 Make the crust. Pulse the whole Oreos into a fine crumb and mix with melted butter. You can do this in a bowl, or a Ziploc bag for easy cleanup. Press mixture into the bottom of a 9×13-inch baking dish. Chill in the fridge for 5 minutes while you prepare the remaining layers.
Make the peanut butter layer. In a medium bowl, use an electric mixer to whip the cream cheese until it's fluffy. Add in the powdered sugar and mix to combine. Stir in the peanut butter and any added powdered sugar you think you need to thicken it up. Fold in the cool whip then spread that luscious layer lightly over the crust. Continue to chill for 10 minutes.
Chocolate pudding. Whisk together the pudding and cold milk until thick. Spread it overtop the other layers and chill again for another 10 minutes until the pudding has set.
Top it! Spread remaining cool whip on top and sprinkle with any of your favorite topping ideas. Allow it to sit and chill in the fridge for at least 2 hours before serving. If you're going to be drizzling it with chocolate sauce you can do this before or after chilling.
I know it's tempting to dig in but believe me it'll be worth the wait! Find the full printable recipe below.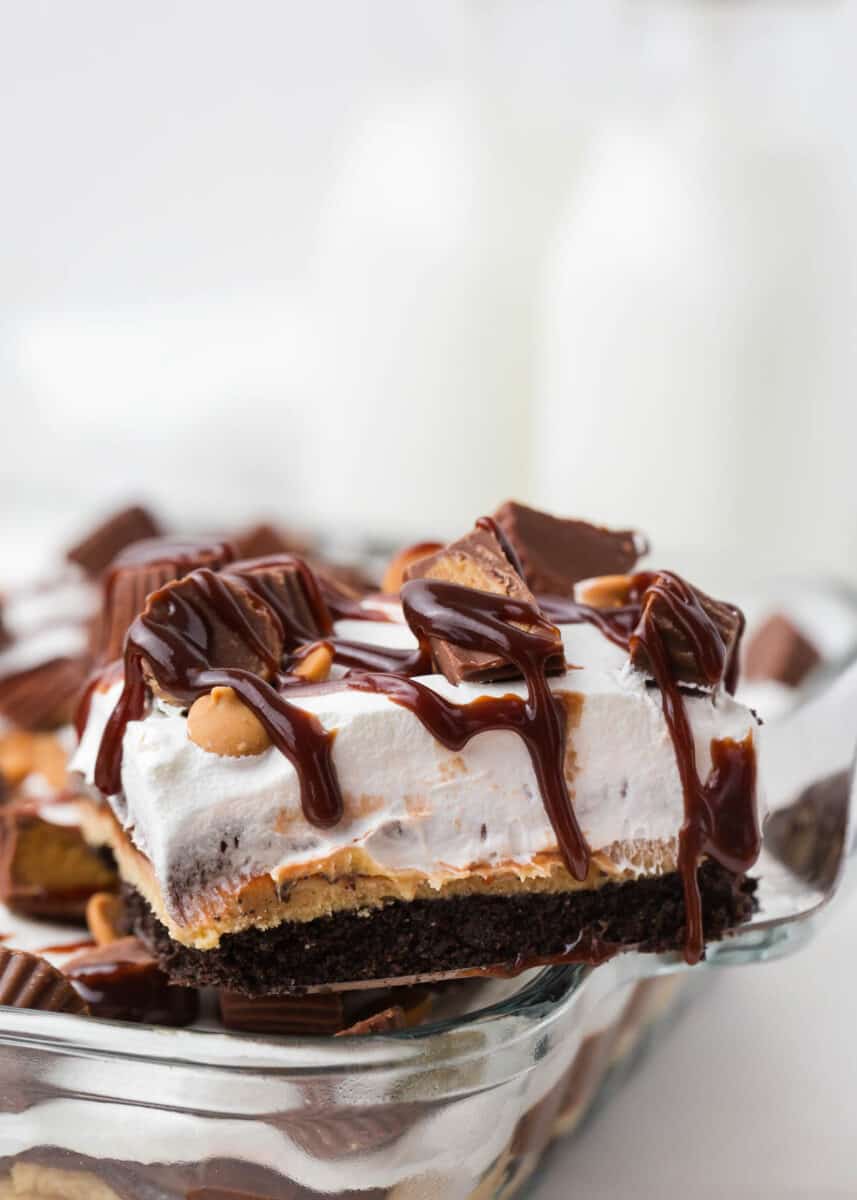 Expert Tips
Crushing the cookies. I find using a food processor or blender the easiest way to get fine crumbs. If neither is an option, you can add them to a zip-top bag and crush them with a rolling pin.
The pudding. Use an instant pudding mix, not the cook and serve kind. It takes too long and requires you to heat up the stove.
Whole milk. You can use whatever milk you have, but the higher fat content in whole milk will add richness to the pudding.
Recipe FAQs
Do I remove the cream center from the Oreos?
Nope! Use the whole Oreo, including the cream center, to make the crust. It acts as a binder for the crust, as well as adds a rich flavor.
Can I use graham crackers instead of Oreos?
The Oreo crust adds another element of chocolate that pairs wonderfully with the creamy nut butter layer. If you would prefer to make a graham cracker crust, I recommend using chocolate graham crackers for a similar flavor.
Is this dessert gluten-free?
Technically, no. Classic Oreos are not gluten-free, however you can easily swap them out for gluten-free Oreos instead. The only other ingredient in this recipe to keep an eye out for is the dry pudding mix, although most pudding mixes are gluten-free. Be sure to check the label to confirm before using!
Best Way to Serve This Dessert
Normally, I like to slice this dessert into squares so that each of the layers is on display. However, I'm not opposed to plopping the dish down in the middle of the table and handing out spoons for everyone to dig in!
It depends on the situation. A casual after-dinner dessert with the fam, I say have at it. Potlucks, barbecues, holidays, and special occasions, I say stick with slicing individual servings!
Make Ahead & Storage
I don't recommend making this dessert any more than 48 hours ahead of time. I actually prefer to stick to just 24 hours that way the butter doesn't start making the cookie crust soggy.
You can also make each layer ahead of time but keep them separate in the fridge and then assemble it just before serving.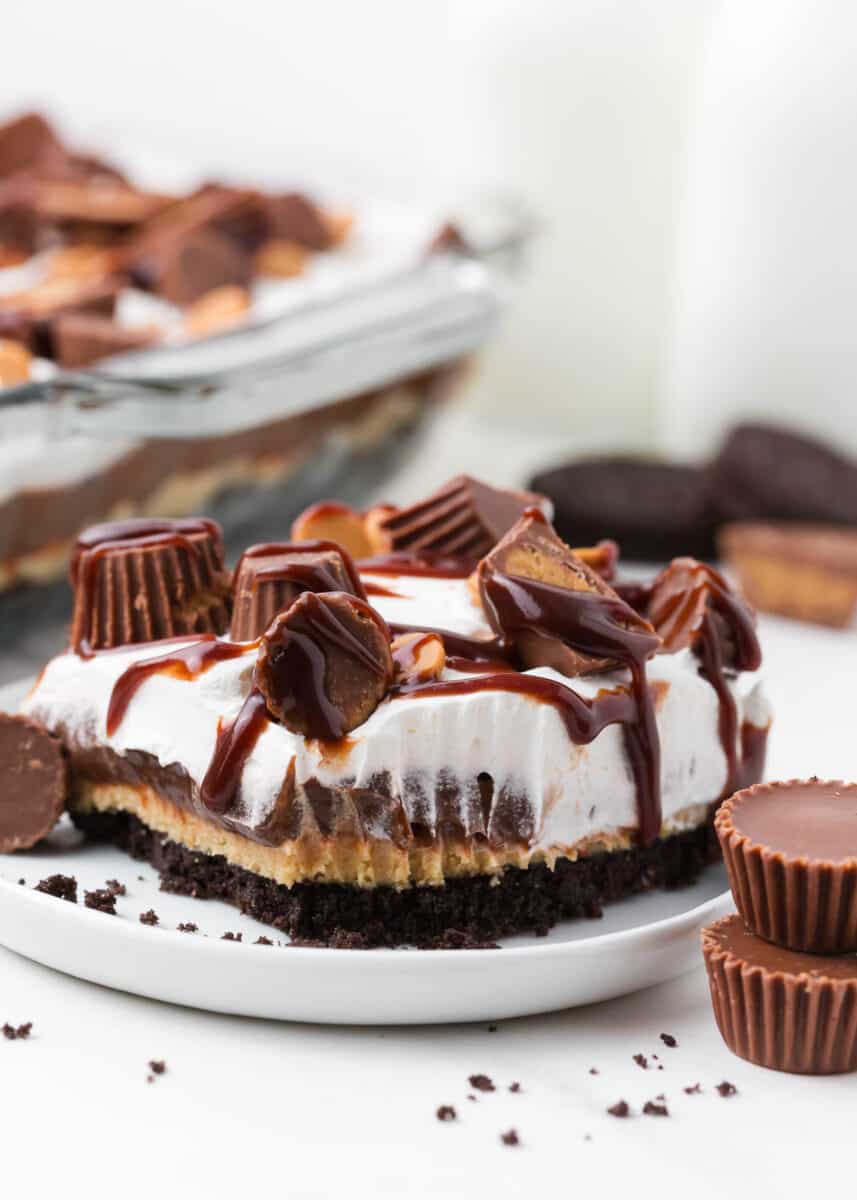 HUNGRY FOR MORE? Subscribe to my newsletter and follow on Facebook, Pinterest and Instagram for all the newest recipes!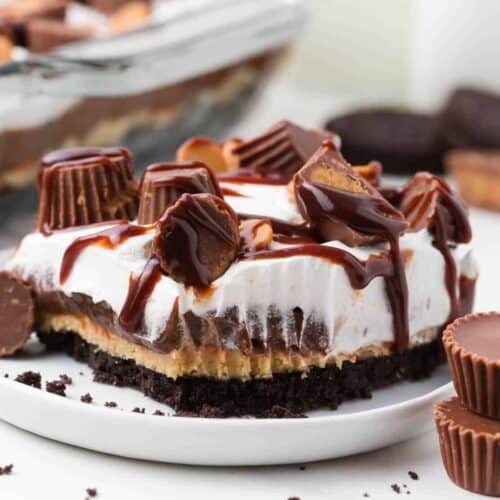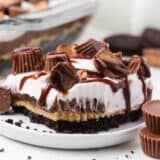 Peanut Butter Lasagna
One slice of this peanut butter lasagna is never enough! This chocolate and peanut butter lover's dream is light, creamy and simply delicious. It is an easy no bake dessert that everyone can make!
Ingredients
Oreo Crust
36 original Oreo cookies
6 Tablespoons unsalted butter , melted
First Layer
1 (8-ounce) package cream cheese , softened
½ cup powdered sugar , plus more to taste
1 cup peanut butter
1 cup Cool Whip
Second Layer
2 (3.9-ounce) packages dry chocolate instant pudding
3 cups cold milk
For topping (optional): Mini Reese's, Peanut butter chips, Mini chocolate chips, Melted peanut butter drizzle, Chocolate syrup
Instructions
Oreo Crust
In a food processor or blender, pulse whole Oreo cookies into a fine crumb. In a zip-top bag, add Oreo crumbs and melted butter. Mix until combined. Press mixture into the bottom of a 9×13-inch baking dish and chill in the refrigerator 5 minutes.
First Layer
In a medium bowl, whip the cream cheese with an electric mixer until fluffy. Add in the powdered sugar. Mix until combined. Stir in the peanut butter. Add more powdered sugar to taste or to thicken, if needed. Stir in Cool Whip. Spread the mixture lightly over the crust. Return to the refrigerator to chill 10 minutes.
Second Layer
In a medium bowl, whisk together the pudding and cold milk until thick. Once the thickened, spread over the top of the first layer. Return to the refrigerator another 10 minutes to let the pudding set.
Third Layer
Once pudding has set, spread remaining 2 cups Cool Whip on top. Sprinkle with optional toppings. Chill in the refrigerator 2 to 3 hours before serving.

Top with any additional toppings. Slice just before serving and enjoy while cold.
---
Notes
Oreo's: Keep the cream in the center. I find using a blender or food processor is easiest to crush them.
Pudding: Make sure to use the instant chocolate pudding. Do not use the cook and serve variation.
Cool Whip: If you prefer making homemade cool whip, it is fairly easy to make. https://www.iheartnaptime.net/how-to-make-cool-whip/
Make ahead: This dessert can easily be made 24 hours in advanced. The crust will get softer the longer the pudding sits, so I don't like to prep it more than 48 hours in advance. You can also make the crust and then keep the layers in separate bowls until ready to assemble.
Nutrition
Calories: 199kcal | Carbohydrates: 17g | Protein: 5g | Fat: 13g | Saturated Fat: 6g | Polyunsaturated Fat: 2g | Monounsaturated Fat: 5g | Trans Fat: 0.1g | Cholesterol: 22mg | Sodium: 226mg | Potassium: 152mg | Fiber: 1g | Sugar: 13g | Vitamin A: 280IU | Calcium: 64mg | Iron: 0.3mg
Nutrition provided is an estimate. It will vary based on specific ingredients used.
Did you make this recipe? Don't forget to give it a star rating below!