Bring the taste of Italy to your kitchen table with this easy baked eggplant parmesan recipe! Made with layers of crispy coated eggplant, flavorful marinara sauce, and fresh mozzarella cheese!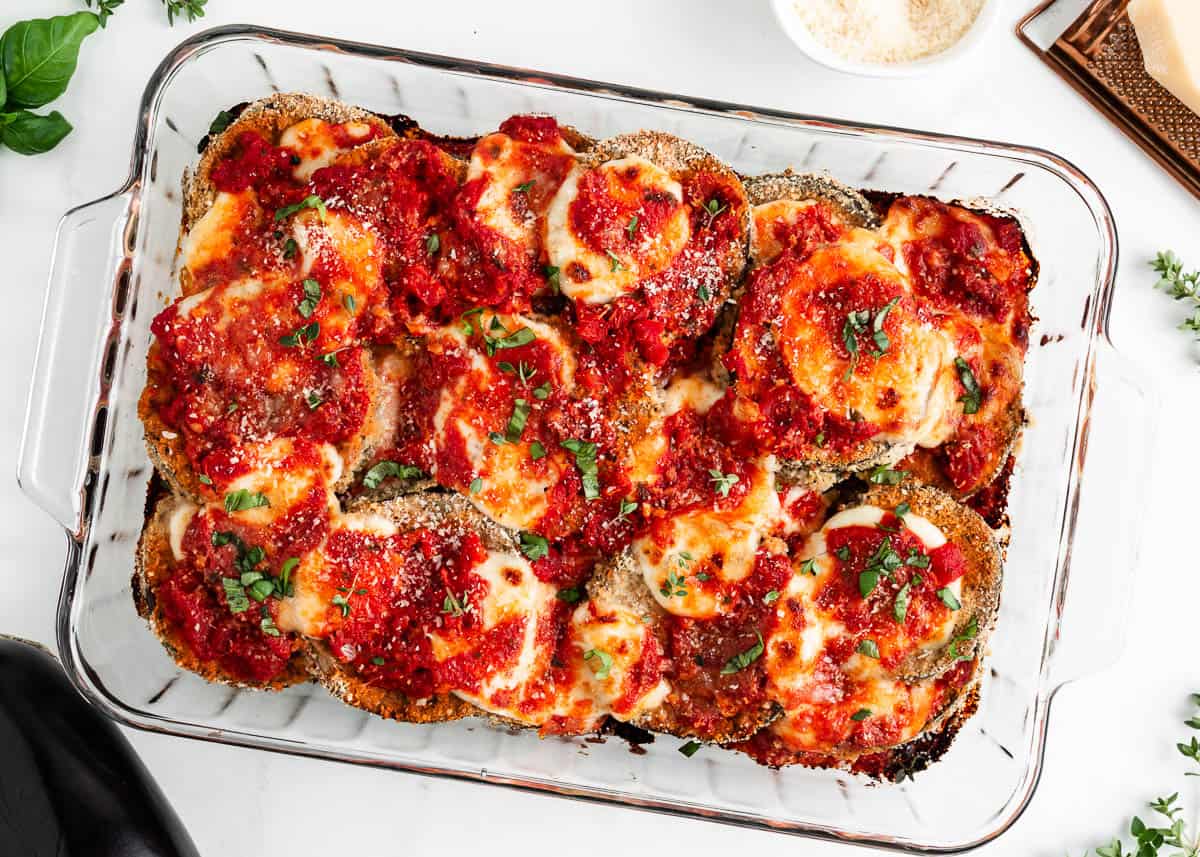 A Classic Italian Dish
This eggplant parmesan is a vegetarian version of a classic baked chicken parmesan. It's made with layers of crispy breaded eggplant, a flavorful marinara sauce, and melted mozzarella cheese. It's a similar idea to my easy lasagna recipe but using earthy, tender eggplant instead of lasagna noodles.
An eggplant lasagna of sorts!
It's a comforting dish the whole family will love and the perfect way to enjoy eggplant throughout the summer season! Saucy, cheesy, and crispy golden layers are what the Italian-inspired recipe eggplant parmigiana is all about.
Freshly baked eggplant parm is a family favorite around here, and soon it'll become yours too. Forget waiting to eat out to enjoy this dish, making it at home is easy, convenient, and better than anything you'd get at a restaurant!
Why This Recipe Works
Ready in just over 1 hour. With only 15 minutes of prep time, the oven does the rest, and then it sits and cools before it's ready to be served. It's so easy!
Great for meatless Monday meals. Or any other day of the week, whether you're vegetarian, just cutting back on meat, or you forgot to defrost chicken this morning. Ei
Freezer-friendly. Make eggplant parmesan ahead and freeze it for later, or freeze your leftovers for a convenient way to serve a crowd.
Eggplant Parmesan Recipe Ingredients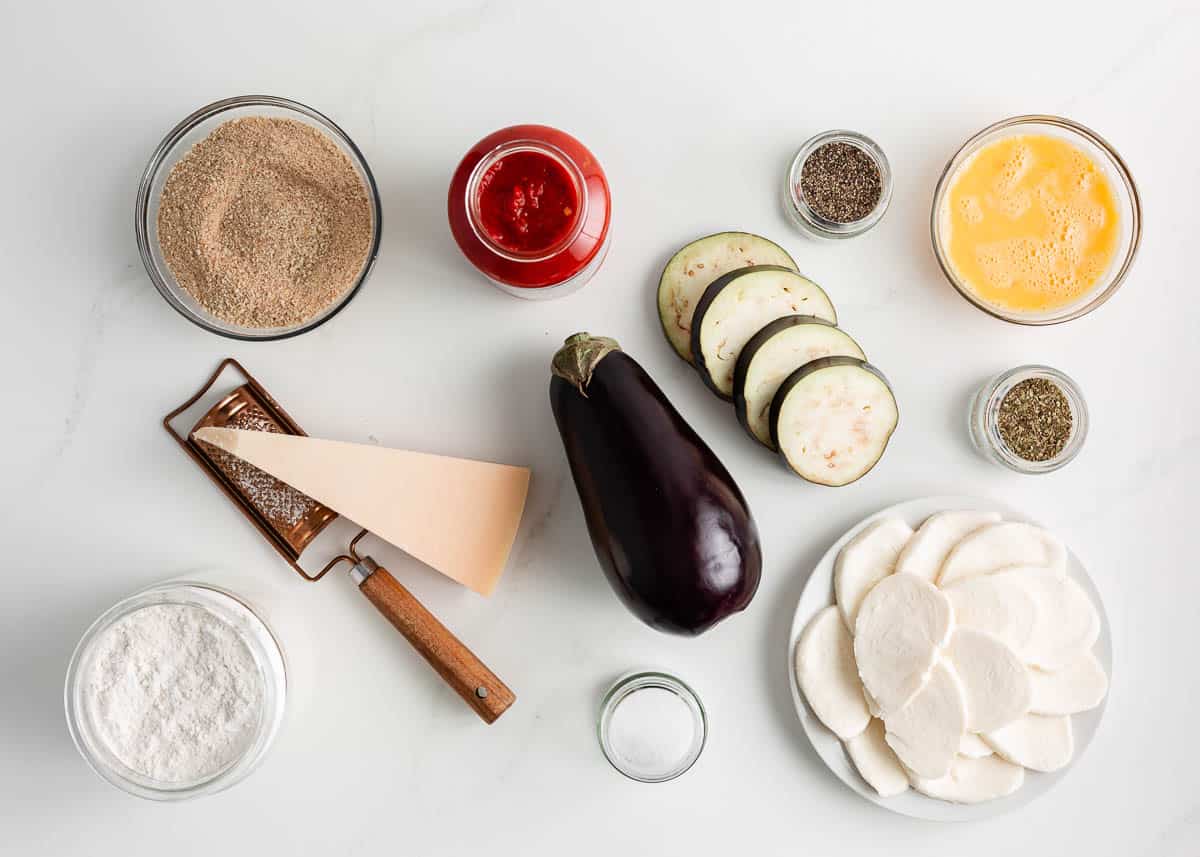 Find the full printable recipe with specific measurements below.
Eggplant: Some people like to slice their eggplant lengthwise to make them similar in size to lasagna noodles, but I like to cut them into 1/4"-1/2" rounds, crosswise. The eggplants we typically find in grocery stores are called globe eggplants. If you can get your hands on Italian eggplants, go ahead and use those.
Salt: We're adding salt to the breadcrumbs for flavor but you also need some to sweat out the eggplant. This is because eggplant contains water which will cause the eggplant parmesan to become too soggy if the water isn't extracted.
All-purpose flour: The first step in the dredging process. Flour helps to absorb excess moisture but it also adhere the egg to the eggplant so that it doesn't fall off.
Large eggs: The eggs are the second step in the dredging process and they help the breadcrumbs to stick.
Breadcrumbs: Anytime I've got leftover bread ends or day-old bread, I make homemade breadcrumbs. You can use store-bought breadcrumbs if you prefer, with or without seasoning.
Italian seasoning & ground black pepper: Extra seasoning for the breadcrumbs!
Sauce: Any of your favorite homemade or store-bought marinara or spaghetti sauce. I always opt for homemade marinara or garlic roasted tomato sauce but that's because I usually have either one on hand.
Mozzarella: Fresh mozzarella cut into 1/4" slices. You want the moist mozzarella either in brine or in a package.
Grated Parmesan cheese: Freshly grated from a block tastes the best! Forget the shakers if you can.
Variations
There are a few ways to tweak this eggplant parmesan recipe to make it your own. It's nice to know that it's flexible if you're making it for dinner guests.
Use Panko bread crumbs instead of Italian breadcrumbs if you have them. They're a coarser crumb but also lighter and flakier.
You can also add red pepper flakes to your sauce for some heat.
If you'd rather shred your mozzarella than slice it, by all means, do that.
You can also add some extra seasoning if you'd like, such as garlic powder, thyme, or onion.
Last, you can actually make this recipe without any breading at all. It won't have that crunchy texture, but it'll still taste amazing.
How to Make Eggplant Parmesan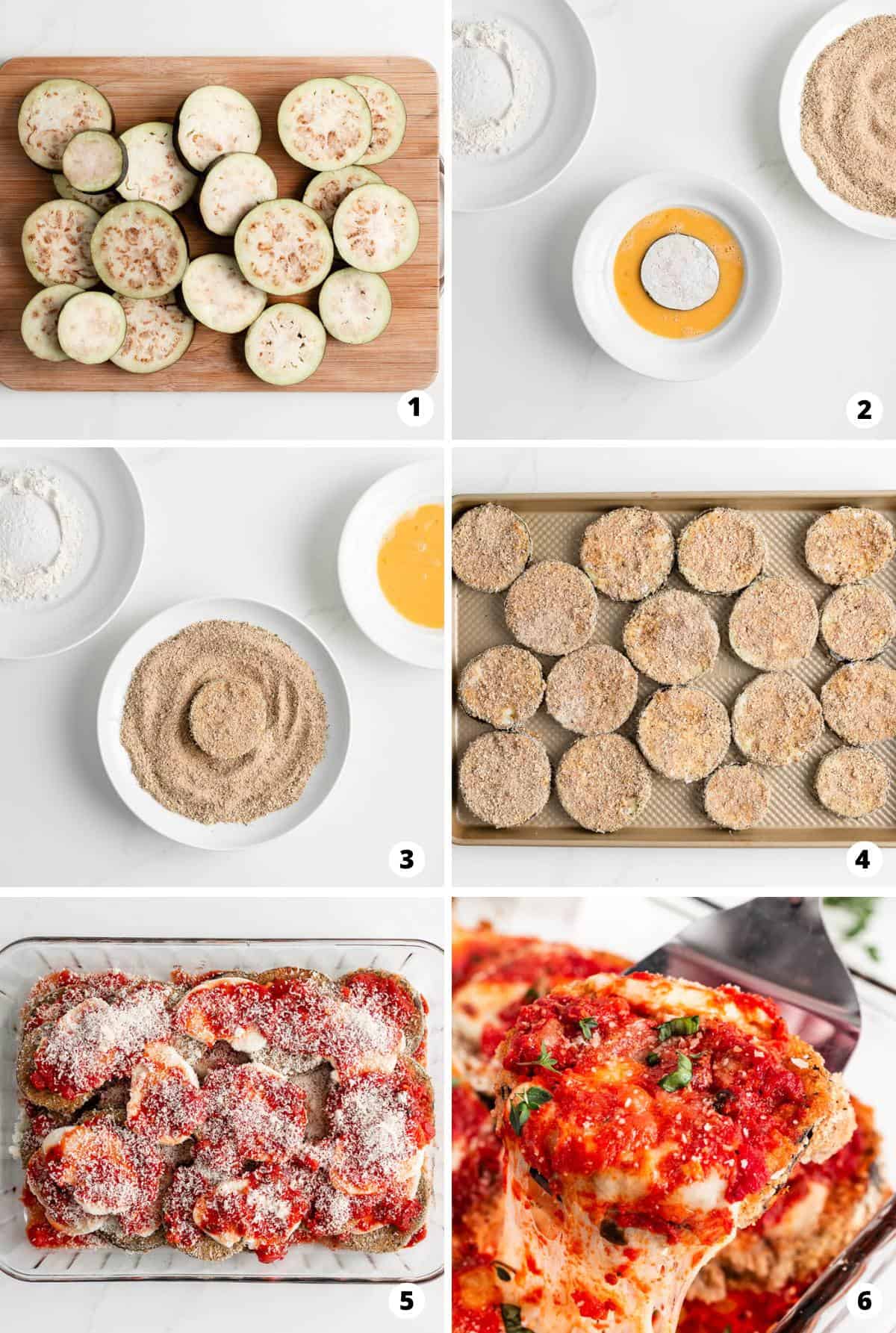 Sweat the eggplant. On a clean flat surface, either a cutting board or baking sheet, lay the eggplant slices in a single even layer. Sprinkle both sides with salt and let them sit for 10 minutes. The salt will extract the excess moisture (otherwise known as sweating), then pat firmly with paper towels.
Dredge in flour and eggs. Set up a dredging station with 3 separate shallow bowls. One with flour, one with eggs, and one with breadcrumbs, Italian seasoning, salt, and pepper. Coat the slices in flour first, then dunk them in the egg mixture allowing the excess to drip off.
Coat in breadcrumbs. Press firmly into the breadcrumbs making sure both sides are coated fully. Place them onto a prepared baking sheet and do this with remaining slices.
Crisp up the eggplant. Bake them in a preheated 350°F oven for 20 minutes until golden brown, flipping halfway. In the meantime, spread 1/2 cup of marinara sauce onto the bottom of a 9X13 casserole dish.
Arrange the layers. Once the crispy eggplant is out of the oven, arrange half of the slices in an even single layer over the marinara. Top with half of the mozzarella slices, another 1/2 cup of sauce, and 1/4 cup of parmesan. Repeat the layering process with the remaining layers making sure the last layer is Parmesan.
Bake and serve. Bake uncovered for 35 minutes until bubbly and golden brown. Serve garnished with fresh herbs like basil or oregano and enjoy!
Expert Tips
Choose the best eggplant! Pick ones that have a smooth skin and shiny exterior. They should have a good weight to them. Larger sized eggplants will have more seeds in them which you may want to avoid, so choose smaller eggplants if possible.
Even slices. Making sure your eggplant is sliced evenly will help to ensure even baking. You don't want some undercooked while others are mushy.
Slice no more than 1/2″ thick. With that being said, don't cut them too thick, otherwise, they will all be underdone and tough to chew.
Be generous with your seasoning. You can even sprinkle salt and pepper overtop each layer if you'd like.
Don't skimp on the coating. The breading on the layers of eggplant is where the crispy texture comes from, so be sure to coat them evenly and well!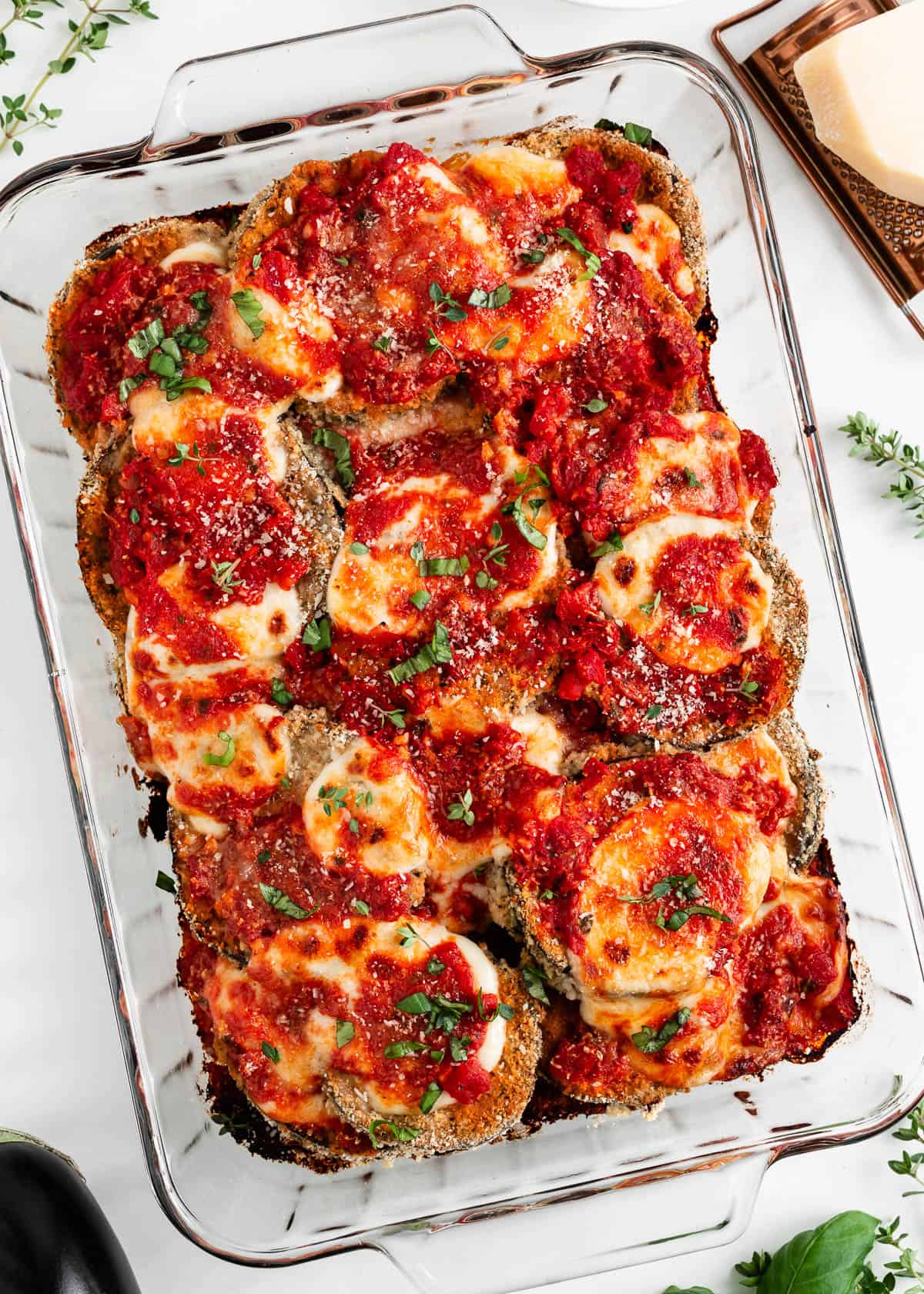 Recipe FAQs
Can I make this easy eggplant parmesan gluten-free?
Certainly! Use a gluten-free flour all-purpose flour or oat flour as well as gluten-free bread crumbs.
Can I pan-fry the eggplant instead of baking it?
Brown the eggplant in 1-2 Tablespoons of oil for 2-3 minutes per side until golden. Transfer them to a paper towel-lined plate to absorb any excess grease.
Should I peel the eggplant before slicing it?
I recommend leaving it on. It's completely edible and helps to keep the shape of the eggplant as well as give it a meaty texture. However, if you prefer to peel it you can, your eggplant parmesan will be great either way.
Can I make this recipe for eggplant parmesan ahead of time?
Yes! This is a great make-ahead freezer meal. Assemble it completely and cover it in plastic wrap. Keep it frozen for up to 1 month and then thaw it in the fridge overnight. Bake and serve as directed.
What to Serve with Eggplant Parmesan
This hearty meal deserves the spotlight! It's a complete meal on its own, but I always like to have a side of either a Caesar salad or a crispy chopped salad and a basket of garlic bread to scoop up the sauce.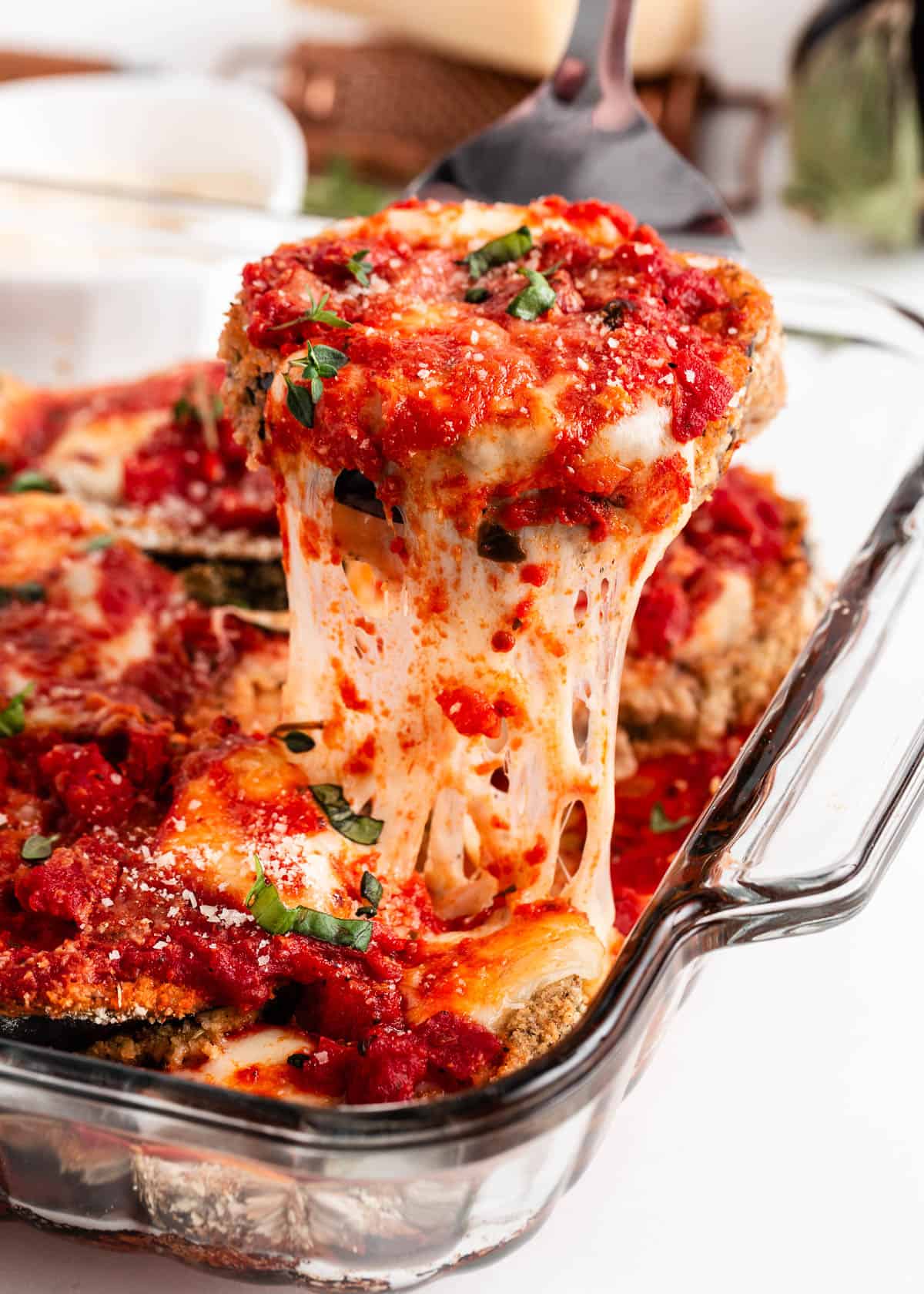 How to Freeze and Store Leftovers
Store any leftovers in an airtight container in the refrigerator for up to 5 days or in the freezer for up to 1 month. Thaw in the fridge overnight.
To reheat eggplant parmesan, bake in the oven at 350°F until evenly warmed through and the edges are bubbly. If it's been in the freezer for a while, feel free to warm it at 400°F instead.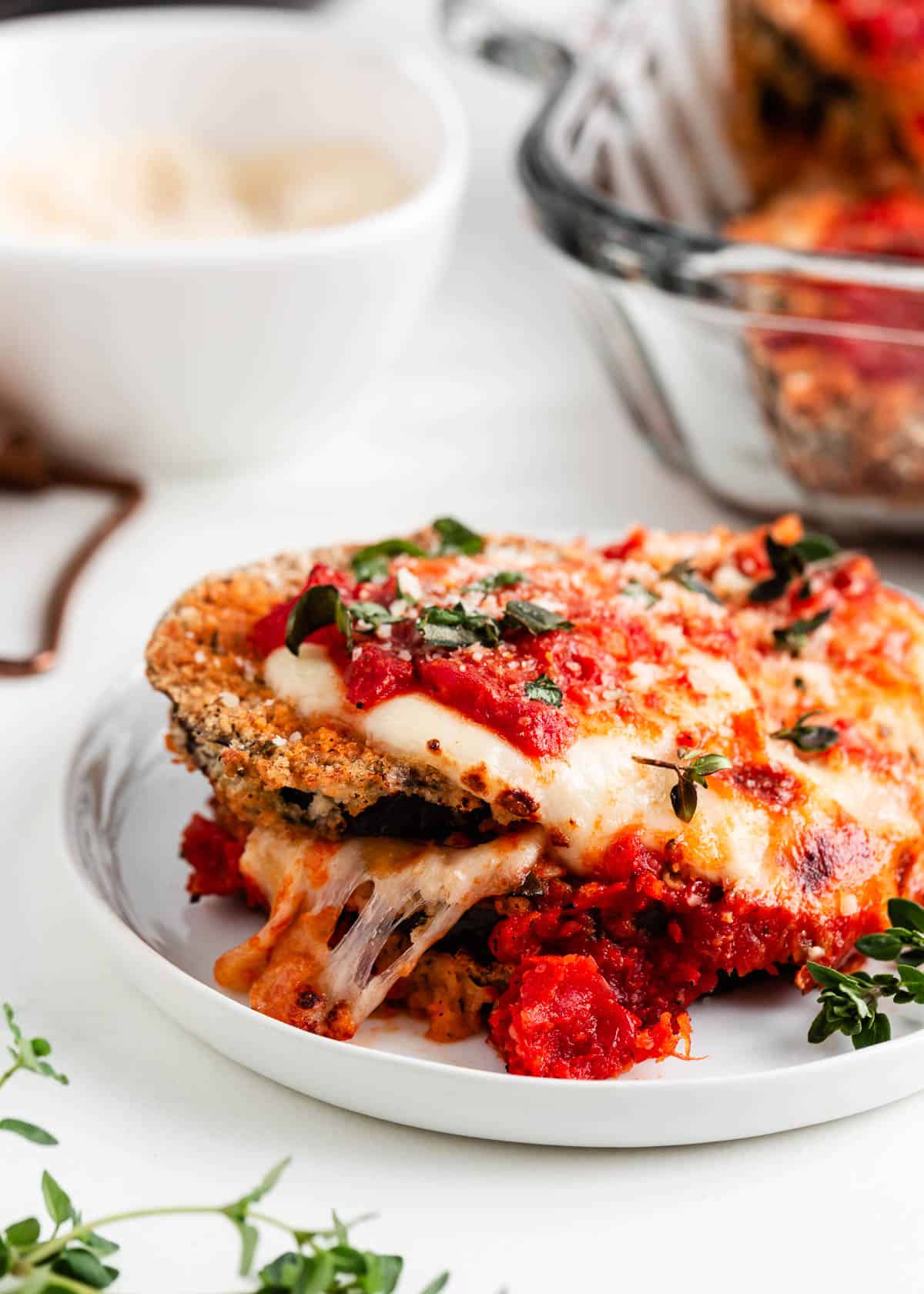 HUNGRY FOR MORE? Subscribe to my newsletter and follow on Facebook, Pinterest and Instagram for all the newest recipes!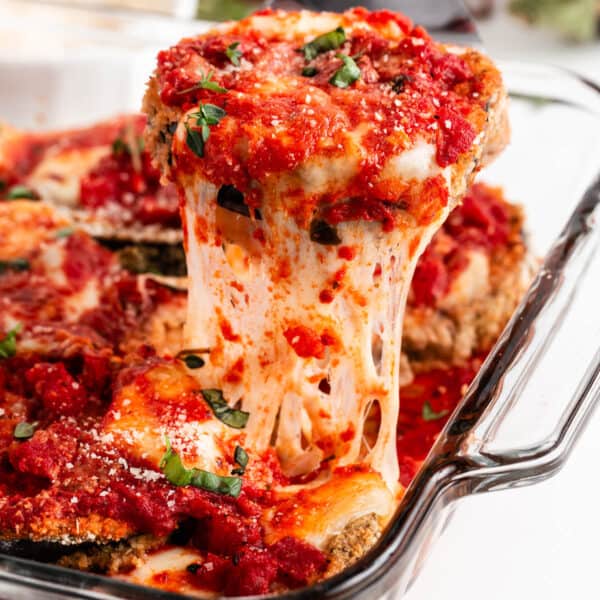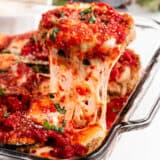 Eggplant Parmesan Recipe
Bring the taste of Italy to your kitchen table with this easy baked eggplant parmesan recipe! Made with layers of crispy coated eggplant, flavorful marinara sauce, and fresh mozzarella cheese!
Ingredients
2 large eggplant , cut into 1/4"-1/2" slices
½ teaspoon Kosher salt , plus more for sweating the eggplant
½ cup all-purpose flour
3 large eggs , whisked
1 ½ cups homemade breadcrumbs , or store-bought
2 teaspoons Italian seasoning
¼ teaspoon pepper
1 ½ cups marinara or spaghetti sauce
1 (16-ounce) package fresh mozzarella , cut in 1/4" slices
½ cup grated parmesan cheese
For serving: Freshly chopped basil or oregano
Instructions
Preheat the oven to 350°F. Spray a baking sheet with nonstick cooking spray or brush it with olive oil.

On a work surface, place eggplant slices in an even layer. Sprinkle with a pinch of salt on both sides. Let sit 10 minutes to "sweat" excess moisture. Pat firmly with paper towels.

Separate flour, egg, and breadcrumbs into 3 shallow bowls. Stir Italian seasoning, 1/2 teaspoon salt, and pepper into the breadcrumbs. Coat eggplant slices on both sides in flour. Dip in the egg, letting excess drip off. Press gently in breadcrumbs for an even coating and place on the baking sheet.

Bake 10 minutes. Flip and bake 10 minutes more, or until golden brown.

In the bottom of a 9×13-inch baking dish, spread 1/2 cup marinara. Arrange half of the eggplant slices in an even layer. Top with half of the mozzarella slices, 1/2 cup marinara, and 1/4 cup parmesan. Repeat layers with remaining ingredients, ending on parmesan.

Bake 35 minutes, or until bubbly and golden brown. Top with fresh basil or oregano to serve. Enjoy!
---
Notes
Pan-fry: If you would rather cook your eggplant on the stovetop instead of bake it, you can pan-fry it. Simple heat 1 to 2 Tablespoons of oil in a skillet and brown breaded eggplant 2 to 3 minutes per side. Repeat until all of the eggplant is fried. Transfer to a paper towel-lined plate to absorb any extra oils. Storage: Store leftovers in an airtight container in the fridge up to 5 days. Reheat in a 350°F oven and cook until the edges bubble. Freeze before baking: Cover unbaked eggplant parmesan with plastic wrap and cover with foil. Freeze up to 1 month. Thaw at room temperature and bake when ready to eat. Freeze leftovers: Store leftovers in an airtight container in the freezer up to 1 month. Thaw at room temperature and reheat in a 400°F oven until warm.
Nutrition
Calories: 554kcal | Carbohydrates: 43g | Protein: 34g | Fat: 28g | Saturated Fat: 15g | Polyunsaturated Fat: 2g | Monounsaturated Fat: 8g | Trans Fat: 0.01g | Cholesterol: 175mg | Sodium: 1459mg | Potassium: 727mg | Fiber: 7g | Sugar: 10g | Vitamin A: 1158IU | Vitamin C: 8mg | Calcium: 649mg | Iron: 4mg
Nutrition provided is an estimate. It will vary based on specific ingredients used.
Did you make this recipe? Don't forget to give it a star rating below!